Thanks so much for coming to my presentation for the FPA Northern Alabama 2015 Symposium!
Presentation Materials
Click the links/images below to download a copy of the presentation materials: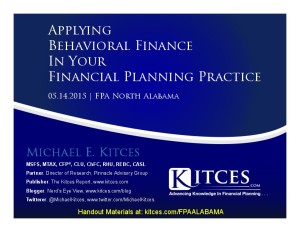 Further Reading/Materials
The Salience of Financial Planning Fees – It's Not Just About How Much You Charge, But How Your Charge Price Saliency, Value Saliency, and Getting Paid For Shadow Work
"Future of Financial Planning" Reading List
Real-Time Collaborative Financial Planning and the Evolving Role of the Financial Advisor
3 Ways the Digital Age Will Change Financial Planning in the Next 10 Years
Growing a Planning Firm in the Digital Age: The Rise of Inbound Marketing
The Delivery of Financial Planning in the Digital Age
Why Robo-Advisors Will Be No Threat to Real Advisors
What Robo-Advisors Truly Threaten to Disrupt: Index ETFs and Mutual Funds, Smart Beta and Algorithmic Investing, Custodians and their Advisor FinTech Ecosystem
Separating Risk Tolerance From Risk Capacity – Just Because You Can Afford To Take Rick Doesn't Mean You Should
Can We Really Measure Risk Tolerance or Does It Swing Too Wildly With Market Volatility?
Markets May Be Volatile, But Research Shows Risk Tolerance Isn't!
Difficult Investment Clients? It's Not Their Risk Tolerance, It's Their Risk (Mis-)Perceptions
The Kitces Report September 2008 – Rethinking Risk Tolerance