Executive Summary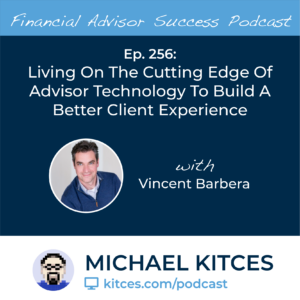 Welcome back to the 256th episode of the Financial Advisor Success Podcast!
My guest on today's podcast is Vincent Barbera. Vince is the founder of Newbridge Wealth Management, an independent RIA based right outside of Philadelphia that oversees nearly $120M of assets under management for 75 client households.
What's unique about Vince, though, is the way he stays on the cutting – or sometimes bleeding – edge of advisor technology by continuously experimenting with new tech tools for his advisory firm, setting a new strategic focus every year to identify a new category of solutions to try out, either internally with his team, or externally with his clients.
In this episode, we talk in depth about the new technology tools that Vince has been trying this year with a theme of improving his Client Experience, including using Knudge to keep track of and collaborate with his clients on their financial planning tasks, Pulse360 to keep his meeting agendas and post-meeting notes more organized, and Hubley to help systematize the firm's workflows above and beyond what his CRM alone can accomplish.
We also talk about how Vince manages his technology choices and budget to avoid having the cost spiral upwards out of control by just adding more and more technology, how Vince compares the cost of new technology tools to his financial planning software to determine if it's a 'reasonable' price (because if it costs more than his planning software, he'd better be using it more than his planning software!), how Vince regularly assesses how often he's logging into his technology tools to decide what to prune, and where Vince goes to find the latest and greatest tools to try out (and the gaps he still can't find a solution for!).
And be certain to listen to the end, where Vince shares his own journey through the financial services industry, from starting out at a major asset manager's HNW advice department but finding that the advice was still too focused on the firm's asset management products and not the rest of the client's financial advice needs, how Vince made the transition to go out and launch his own independent firm (with an eye towards using all the technology tools that are available today to stay competitive without an asset manager's size and scale), and why Vince ultimately decided that he did not want to try to build the next billion-dollar firm and has actually felt even happier in his business by consciously deciding to take his foot off the gas and grow a little slower for a while.
And so with that introduction, I hope you enjoy this episode of the Financial Advisor Success podcast, with Vincent Barbera.
Never miss a Financial Advisor Success podcast episode! Get notified of the latest episodes (and all our research as it's released!) directly via email:
Resources Featured In This Episode:
Full Transcript:
Michael: Welcome, Vincent Barbera, to the "Financial Advisor Success," podcast.
Vincent: Thank you, Michael. Happy to be here.
Michael: I'm really looking forward to today's discussion. And talking a little bit about just evolution of advisory firms and just as I view it, the amazing things we can do to run firms today with all the technology that's out there. And it's just like the constant flow of new technology that's coming out as we like to track on our advisor tech map, that there's... I feel like there's all this discussion right now about consolidation in the industry. It's happening in technology firms. It's happening in advisor platforms. It's happening in advisory firms themselves. And a lot of folks are pounding the table to say, "The small to midsize firm can't survive. You need all this size and economies of scale in order to succeed."
And I just reflect back. I started almost 20 years ago, bounced around for a few years and then finally, had the good fortune to land in a well-established, fast-growing advisory firm. And they were a little under $200 million under management. And I think I was team member number nine. And I look out today and I see firms that have less...approaching $200 million that are running with six team members, five team members, four team members. I saw one that had three.
And it's, "Well, where are all the other people going?" The answer is, "Well, yeah. We used to have a bunch of team members that did all this back-office and administrative stuff. And now we have a bunch of software that we pay $49 a month for that makes all that automagically happen." And to me, there's just this strange paradox that a lot of people in the industry are beating the table about how it's going to be so much harder to build and scale advisory firms and the need to consolidate.
And then when I just actually look at the real data and the practice management metrics, and even just looking out there on the advisor landscape, just, we can do so much with tech that used to take people that it seems like the small to mid-sized firm has never been more efficient and capable than it is today. And I know you live a lot of that because you're one of those advisors that really likes to experiment and play with all the new tech and I think are living a little bit of this front edge of just how lean and efficient you can be with all the technology that's out there today.
Vincent: Yeah. And to take that example even to apply it to my own situation, it was very similar. We had about 200, 225 and, yeah, we had about 11 or 12 employees. And two people were assigned to just doing reconciliation, right?
Michael: Yes...
Vincent: That's $120,000...
Michael: ...the good old days of PortfolioCenter, downloads, and reconciliation. Uh-huh.
Vincent: Yeah, I mean, it was like Advent Axys. And then we had ByAllAccounts. We always had issues with the Raymond James feeds. And there was people assigned to... And I remember even printing out Advent Axys reports and writing the trades that I wanted, "Sell X amount of this, buy this," and then even giving it to that individual who then punched it into the computer and made the trade. Think about that. That's mind blowing, right?
Michael: Yeah.
Vincent: And it's like now, yeah, I can completely leverage tech to eliminate all back office. Sometimes I have guilt, Michael, because I'm not hiring and giving somebody a job. Because I'm utilizing technology, it's taken their job away. It's like should I decrease the amount of tech I use and hire somebody just to sort of hire somebody and give somebody a job?
Michael: It's an interesting shift, though. And even around... Yeah, that point around hiring, we feel like we had this cycle in the 2010s of, "Oh, my gosh, the robo advisors are here. The robo advisor is going to replace human advisors." And the robot said, "Yes," and the humans said, "No," and part because we're human advisors. What else are we going to say? "Yes, I think I'm completely doomed from this robot." Even if you were, you probably wouldn't say that.
Vincent: Right.
Michael: But we've gotten to the end of the decade. Obviously, we're all still here. Advisor business is still growing. We're powering forward. But there are a lot of support jobs that just don't seem to be getting hired the way that they used to, that I think part of even the effect that's coming from technology and there was all this discussion about robots versus human advisors... And the human advisor here is still doing fine. We're just leveraging more technology.
But the jobs that do seem to be getting shifted are not the advisor jobs. It's all the back office jobs that, as you said, you used to be multiple team members doing downloads or reconciliation every single morning. And now it's just, "Well, I got performance reporting software and I expect them to have the right data because that's what I paid them for. And I pay them...
Vincent: A good amount of money for that.
Michael: ...$40 in accounts per year, not tens of thousands of dollars per team member to do this manually every day."
Vincent: That's absolutely correct. Yes, that's absolutely correct. Yeah, there's actually a... What's been fantastic, it's allowed us to emphasize the advice. And actually, the advice, I think, is probably even better than it was. And when that robo thing... We went through the whole thing. We looked at Jemstep. We looked at all those...Trizic. We looked at all those potential robos. RobustWealth, which was local, but it was missing the heartbeat. And our relationship is all about heartbeat, right, and just the personal relationships that you form with individuals. That's why I always think there's going to be a place for us small guys. I don't think it's going to be the big warehouses. There's always going to be a place because somebody is going to want that personal touch.
Utilizing Robo-Advisor Technology Isn't Always Best For Advisors Or Clients [8:04]
Michael: So I'm struck, though, that just you said when they were coming out, you were looking at the players like Jemstep and Trizec and RobustWealth, which were not the direct-to-consumer robos. Well, Jemstep was really early on, but pivoted to the advisor channels. Those were not the direct-to-consumer robos. Those were the platforms that were supporting us as advisors, in theory, to free up more of our back office so that we could spend more time with clients and do more new and cool things. So I'm curious, did you try some of those? Did you use them? Did you buy them? Did you not buy them? As a tech adopter, what did you do with robo tech for advisors?
Vincent: No, that's a good question. Because I was looking at the Betterment and Wealthfront and you saw the interest, right, and you saw all these individual retail investors loving it. And maybe it was because of the user interface. It was sexy, right? And it was neat. And it's, "Okay, maybe there's an opportunity for us to push this out to capture..." For us, it was all about capturing potentially, because we're multi-generational. A lot of us are, right?
And to ensure that we're providing something to the younger generation, let's have something like this that they can at least monitor their investments, get them in a model portfolio that is managed by this robo, what have you. Some people, though, thought, "All right, if I just sort of open this up and put it on the website, all of a sudden, I'm going to get this huge business development crush.
Michael: As though there were many millennials coming to the average advisor's website in the first place.
Vincent: Yeah, come on. That was foolish. No, but we were like, "If this is going to be something that sticks around, we at least need to dip our toe into it and be prepared and be ready." So we did talk to a few of them. And as we were talking to them, they were starting to be acquired. Jemstep was acquired by Invesco and it's, "Okay, well, who's left?" And RobustWealth was somebody that actually we had a relationship with. We started a relationship. The funny thing is we went so far as to help create the back office and tie it into our systems and things like that, but we never really pushed it out to our clients.
Michael: So why not? What happened?
Vincent: Honestly, I was never really comfortable with it. It didn't quite have the user interface that I particularly wanted. I didn't think it was strong enough. And I even surveyed the clients that we did have and I'm like, "Is this something that's of interest. Nobody really cared." And I'm like, "The work that would be involved in pushing this out and the cost potentially at the end of the day just really wasn't worth it to us." And then I love the guys at RobustWealth, though, man. They were really cool. They were doing cool stuff. And then a year or two later, they were acquired by Principal. And it's, "I'm not interested." Our interest then died when it came to the digital solutions.
Michael: So why was it that even talking to clients, they... You said they were lukewarm. I'm not even sure lukewarm. I think you said you surveyed them, they just didn't care.
Vincent: Yeah.
Michael: In theory, the whole point of this was supposed to be like, "Here's the next generation of client experience." And then you surveyed your clients and they were like, "Nah."
Vincent: Yeah.
Michael: So what's the gap?
Vincent: Yeah. So what I do every time when I'm trying to introduce a new tech that the clients are going to be touching. Obviously, there's some tech that are purely back office, but others that sort of cross that. And I had them go through it. And the feedback was, "Okay, this is cool, but what am I getting out of this? Why is this different than something else? Even if you sign my son up and put him in a model portfolio, why can't he just log into TD or Schwab? Why is this necessary? Because it does some automatic rebalancing?"
So from that perspective, they just didn't really see anything. And I'm like, "Well, if you're not going to adopt it, if you're not going to...if this isn't going to be something that interests you, then why should I spend the money?" Give them 20 basis points for every account or what have you... And then it was we had some discussion where well, maybe it'll attract other people, back to my earlier point. And I'm like, "Well, then you got to spend a good amount of money on marketing to drive traffic to the website to potentially take advantage of something like this." At the end of the day, this wasn't worth it.
Michael: Right, this was just the put the button for millennials between the lighthouse and Adirondack chairs and hope that they click on it when they come to your website.
Vincent: Exactly. And the other thing too, though, Michael, is so what they were selling there was all these efficiencies when it comes to portfolio management, right? It's, "Oh, well, we'll do it all..." And honest with you, when we sort of broke it out and looked at the time... Well, number one, we absolutely love doing that stuff so we weren't really ready to assign it to a machine, but then we were using iRebal.
We had things in place that allowed us to get these things done pretty efficiently and pretty cleanly even for these...what I call young savers. So again, at the end of the day, it just really wasn't worth it. And then they were... And the money that they were taking off of the top, even for a Betterment for advisors, it wasn't worth the cost.
Michael: It wasn't worth the cost for what functionally was a tech solution.
Vincent: Correct.
Michael: Right. It's one thing that we... I think it's always the classic split in our industry. We pay basis points for asset management, but we pay monthly or annual fees for tech to the point where it's usually...it's pretty easy to tell which platforms are actually software companies in which are really in the asset management business because asset managers charge basis points and software companies charge user fees. I think it's the dream of every software company to manage to charge basis points.
Vincent: I think so. You're right.
Michael: It's a pretty lucrative business as many of us live in the business ourselves. There's a lot of nice things about how you scale it. But there is just that divide that if you're charging me basis points, it's usually because I'm...it's usually for asset management. If I didn't actually want to outsource the asset management and it's just the tech, as you said I...so the collective feeling I got from the whole advisor community when all these B2B robos came out was like, "Wow, this is awesome tech. I so want my custodian to do this as part of what they do where I don't have to pay for it because my custodian already does it and they've already got my money." There was the whole like, "Yes, I want this, but no, I don't want to buy a separate layer to make my custodian better. I just want my custodian to be better.
Vincent: Right, right, right.
Michael: And have the account opening wizards and the better user experience and the website stuff and the trading tools and all the rest so that I don't need to pay for separate software. I just expect my custodian upgrade," which, by and large, I think they have eventually managed to do, some a little bit more than others. But we are a lot further along on that than we were eight or nine years ago when robo advisors were first showing up on the scene. And I think a lot of that was spurred by robo advisors showing up in a lot of existing firms, both advisor platforms and direct-to-consumer saying like, "Oh, yeah, I guess this is embarrassing." We were all comparing to each other and thought we had pretty decent tech. And then a robo advisor comes along, it's, "Oh, we're really all not very good."
Vincent: No, I know. That was. I remember looking at Personal Capital. Now, that's a little bit different, what they showed, but I was like, "Wow, that is good looking."
Michael: Yeah, I was like, "I'm not being replaced by that, but I actually would like that."
Vincent: Yeah.
Michael: It's a new firm. That would be lovely.
Vincent: I know. I remember getting so mad at TD Institutional because remember, Schwab came out with the Intelligent Portfolios. Right now they're in a little bit of hot water. But TD, they had something on the retail side. Remember that? But they didn't make it available to us on the institutional side. And it was like, "What, why?" Come on. That always frustrated me about that. But yeah, that kinda just died away.
And then, yeah, a lot of these mutual fund companies bought it for distribution. It's just amazing how things change. And that's the one thing when it comes to technology, is you just have to be careful not to fall in love. I look at it as when you're buying your primary residence, you want to feel warm and fuzzy. It's going to be your home. You're going to raise a family and it's got to mean something to you, right? There's got to be this connection.
But when you're buying investment property, you have to avoid any emotional attachment. You have to just look at it as an asset that you're purchasing, this and that. And I look at the same thing with technology. You can't get emotionally involved with technology. You can't because they could disappear in a heartbeat. You just sort of have to somewhat stay detached.
The Importance Of Avoiding Emotional Attachment When Choosing The Right Technology [16:11]
Michael: But just how do you do that in practice in a world where just as we've said, you get a lot of efficiency and scalability out of the technology? But the flip side is it's because you actually ingrain it into your processes, which means it's really a pain and disruptive when one of them goes away.
Vincent: You're absolutely right about that. It's funny, I have a whiteboard up and I have all these defined process with the client experience. I'm just really trying to create the client experience. And I have to make note of which technologies are involved and what part of its client experience process, right? And it's almost like, "All right, well, what would that process look like if that particular tech were to go bye-bye?" I need to have something that can sort of step in and replace that, same thing with the back office. So, a big thing... to sort of jump ahead a little bit, but a big thing that we implemented this year was a tech called Hubly. Are you familiar?
Michael: Yep.
Vincent: Yeah. So Hubly is fantastic. We've been using Redtail really since the advent since the beginning of Newbridge. Well, I lied. We actually used Salesforce first because it was offered by TD, but it was a little too big. So we moved to Redtail and we've been using Redtail ever since. But I've never been in love with their workflows. I just haven't liked them. It hasn't worked for me. And then Hubly came around.
Michael: What is it about the Redtail workflows that don't work for you? I know they've been trying to put more into it, make them more effective. All the CRM companies have over the past couple of years. Workflows has become a big focus. So what wasn't working for you that made you say, "I got to find something else?"
Vincent: First of all, it seemed to be overly complex. Building anything took so long and I found it to be so regimented. It was almost like... I was looking more like Asana, something like a task flow-type that wasn't connected to the calendar but that was just...it was just smooth and it was much easier to get done. Whenever I went into a Redtail workflow, it just seemed to be overly complex. All right, well, I have to assign this 15 days before this particular task, but it's not always 15 days. It wasn't as nimble as I needed it to be. And with the Hubly, it's a lot more nimble. It just allows me to sort of, "All right, I got to change this workflow on the fly because it might be a little bit different for this particular subset of clients," right?
Michael: So for those who aren't familiar, just can you explain a little bit more about what Hubly is and what it does and how it works?
Vincent: Yeah, sure. Hubly is almost like...it sits on top of a Redtail or Wealthbox, are the two CRMs that'll work. So it pulls in a lot of the client data, right? And then it has its own, what they call a hub of all these different workflows. So for example, let's talk about an onboarding process. So you have this onboarding process with all these tasks assigned to that particular process, right? And you can assign it to individual people within the firm and things like that. And then they get a notification that something has been assigned to them.
And then once you're done one workflow, it can automatically feed into another workflow, right? It works in unison. What's really great about it is an annual service calendar. So it's, "Okay, this is what I need to do in first quarter." So I've built all these particular...let's say, for example it's an insurance review, right? So, insurance review for these particular clients and it's built into Hubly based on that timing. And then once that's done, it feeds into another workflow which is going to notify me at the end of next quarter that this has got to be done. So it's very proactive.
But it's basically just a workflow system that sits...in a way, sits on top of the Redtail CRM to the point where you hope it almost replaces it where you're not having to dial into Redtail at all. Because I still use the Redtail calendar, but that's pretty much it. Everything else I sort of manage in Hubly. It's just this workflow database. It's awesome.
Michael: What about just all the client notes and activity capture and the rest? Is that at the Redtail level as well, or is that also at Hubly level?
Vincent: I capture it all at Hubly. So I put my meeting notes in Hubly, which then feeds directly into Redtail, so at least it's captured in Redtail. So, yeah, I do everything, all my meeting notes, all my prep, things like that in the Hubly system.
Michael: Interesting.
Michael: And again, the reason you don't build all this in Redtail is just...you find it easier to build it in Hubly just from an interface UI perspective, it's just easier to build these? Because what you're describing are a lot of workflows and some not simple ones. So I'm sure there are folks out there that are envisioning this and like, "Yeah, that sounds really awful to spend all that time building." But you're fine with that because the whole point is it makes it easier that that's actually not such a big deal.
Vincent: Exactly. And the huge thing too is when we first signed on with Hubly, they really worked with us in creating the workflows. So they did a deep dive. It's, "All right, what's your firm? What's your process? What's all this stuff?" I even shared with them some of the incomplete workflows I had created in Redtail. I even had my virtual assistant, Michelle Wong, going into it. And it's, "All right, this is what we need to build." And they took it and they ran with it.
And then they have other, so many other templates. It's like best-of-breed type. They have so many other templates that other RIAs use that you can then borrow, and work that into your own workflow. And it's so much easier. It's got all these nice little colors in it, but it's just...you actually have some fun in it building the workflows.
Michael: I have to admit. That might be a thing where you have fun with it, but I'll totally take your word for it.
Vincent: Well, if you get in there and look at all the pretty colors, it's nice.
Michael: Well, I do like pretty colors and check boxes that check off and look at at the end of my day for all the things that got done.
Vincent: Yeah, see? It's a Canadian company and I'm partial to Canada. So that helps.
Michael: That helps.
Discovering The Best AdvisorTech Tools To Enhance The Client Experience [21:52]
Michael: How do you find tools like this in the first place? Granted, Hubly is one we followed for a little while just through kitces.com, but I think certainly it's not a mainstream company yet as it were in the advisor space. They're still a little newer and under the radar screen. So how do you find tools like Hubly to be into this in the first place?
Vincent: Yeah, that's a good question. A couple ways. Number one, your tech map helps. So sometimes when I need to fill in...say, for example I expect to have a significant amount of retirement income planning on the horizon, you know what I mean? I use eMoney for my financial planning software. And if I know eMoney is not going to be able to help me get it done, it's, "All right." I'll bring out your map. It's, "Okay, what are sort of the retirement income softwares?" That might be my first step.
The other thing is I try to make a point to even go to T3. This was a little bit of...some time ago, kind of like pre-COVID, unfortunately. The first step is the emerging tech. You know how they have an entire area for emerging tech?
Michael: Yeah.
Vincent: Yeah. So it's, "Let me go there first." What is up and coming? And then you kind of just...it sort of goes from there. You try to say, "All right, what's the new and up and coming?" talking to colleagues, things like that. And like, "Oh, you got to check this out. They're new. They're looking for beta testers." I'm like, "Sign me up." I beta tested, I don't know, 15, 20 different techs.
Michael: When people say they're looking for beta testers, you're one of those people that raises their hands like, "Yeah. I'm so in on that."
Vincent: Yeah, I have a whole CV specifically giving my bona fides as to why I'm a great beta tester.
Michael: Oh, wow. All right. I didn't realize it had become that competitive an environment.
Vincent: Oh, my gosh. Yes.
Michael: You've got to win the application process to be an awesome beta tester.
Vincent: Oh, yeah.
Michael: But you're all in on that.
Vincent: I'm all in on that. It's like 10 years of experience being a beta tester just to get access to that at low costs and things like that. It's just, "All right, let's see it." Yeah, it's exciting. But it's really just a lot of just searching around.
Michael: So what's on your radar screen besides tools like Hubly? What else are you using or testing or eyeing and going to be testing?
Vincent: Well, it's interesting. So every year, I'll go over my own tech roadmap, right? So it's what tech did I use last year that I'm not using this year? What do I want to improve on this year from a business perspective? So for example, this year, I really wanted to improve on the client experience. And that client experience even included outputs. So what tech can I use to improve my overall client experience? Last year, it was about investment management, right? What can I do? What kind of tech is out there to help improve the conversations around investment management? This year, it's all about client experience.
So for example, that's where Hubly came about, right? So it allows me to improve my client experience because it allows me to be proactive with clients and get in touch with them. The other thing that I brought on was Pulse360 and Knudge, right, again, specifically about the client experience. Knudge allows me to communicate with the clients with task reminders, right, so as part of the client experience. Another thing with Pulse360, it allows me to be a little bit more organized when it comes to delivering agendas to clients. But it's a consistent agenda. It looks the same every time as well in a meeting summary after the fact. So that's how I'm able to focus on the tech. It's okay, what do I want to accomplish this year and what tech out there would allow me to do that?
Michael: Wait, can you take us a little bit further on these because, again, I suspect these are tools that not a lot of other advisors know? So talk a little bit more about Pulse360 and what they do and what you're doing with them.
Vincent: Yeah. So Pulse360 is...it's also about task management. So what you do is you could create... It integrates with Redtail and Wealthbox, same thing, right? But you can create meeting agendas for client meetings that are almost sent out automatically. And then after the meeting is done, there's a lot of pre-built templates and things along those lines. But also, you sort of create...all right, you feed in the information. This is what we discussed, boom, boom, boom, boom, boom. It's a nice letter that gets sent out to the client after the meeting.
Michael: So like a pre-built templated post-meeting follow-up letter. So the template is there. You just literally have to drop in the things we discussed. And then I can hit "Send" and save a couple of minutes on my email follow up.
Vincent: That's right. And it looks more professional. It's more consistent. In the past, I would send out an email summary, or maybe a text message, something like that, but it just wasn't a consistent approach. So talk about building efficiencies in the practice, this is a consistent approach that happens automatically, on time, every client meeting, boom, boom, boom, boom, and the client receives that.
So it saves me time not having to send an email because honestly, Michael, my worst problem is when a client meeting is over, it's recording the notes for that meeting. Sometimes it'll be two, three weeks later and I still have the Redtail entry in my calendar but I haven't completed it and put in any meeting notes. And that's horrible because I have to use that information to then plan for the next meeting. So this allows me to just get that done a little bit quicker.
Michael: So just getting...so I guess both meeting prep, so prepping meeting agendas and then the post-meeting capture and follow up of more templates just means you have to type less and capture less, which means you can get it done in less time. So A, you save time and B, maybe we get around to doing it a little bit faster because it's not quite so painful since we can do it quickly.
Vincent: And it makes it easier too when I have to look back to say, "All right, we have a meeting coming up. What did we discuss last time? What needs to... All the information is organized and it's very, very clean. And again, it saves me time. And that's the name of the game, right?
Michael: And then what is Knudge?
Vincent: So Knudge with a K is... It's interesting. It's only been around out maybe a year and a half, maybe? Maybe two. But what Knudge is specifically about the action items. So you have a meeting with a client, right? And you always have homework. You are always assigning homework to the client. So what the Knudge does, it nudges them to say, "Okay, I need your social security statement," or, "Don't forget to send me a copy of your power of attorney." And that nudge, that little message, gets delivered to them via email, via text message, something like that. It's ongoing reminders. Because a lot of times, especially when we're working with... My clients are...most of them are between the ages of 45 and 55. So not only are their lives being dominated by kids' activities, but their work, everything else, so it's just very difficult for them to keep track of everything.
So with the Knudges, here's a friendly reminder being delivered via their preferred method of communication to say, "All right, you got to get that stuff to me," or, "You're about to max out on social security, right? Your paycheck is going to be a little bit bigger. Why don't we save some additional dollars into a taxable account at this point in time?" Or it's, "Make sure you send your 1040 to your accountant, and you send that out February 15," or something like that. So again, it's just these ongoing reminders that clients receive that, again, enhances the client experience.
Michael: I'm struck here as well that as you're describing Pulse360 for meeting prep and meeting follow up, Knudge for their follow up, I guess...I feel like there's a little bit of duplication there...
Vincent: There is. There is.
Michael: ...of just the follow-uppy stuff. What do you put in Pulse for meeting follow up and what do you put in Knudge for follow-up for clients?
Vincent: Yeah. For example, the Pulse360 is more sort of the overview. The Knudge is just specific reminders that you want to send to clients, all about nudging them. It's always about just the reminders. Pulse360 can't really...can't do that. They'll just send the meeting summaries and things like that. But like I said earlier, when I do my audit in January, to your point, Michael, I may find going through you know what, there might be too much duplication here. Or maybe I can do this a little bit differently a little bit better. So let me lose one of these techs."
Accomplishing The Vision For An Excellent Client Experience Begins With Communication [30:08]
Michael: I am struck, though, that just... Also, two things, one, all of your client...all of the things you're talking about for client experience are kind of Hubly and Pulse and Knudge, are all actually...the industry tends to talk about client experience as basically beautiful portals for clients to log into. It's usually what it comes down to, a beautiful thing clients can log into. And these are very tasky-workflowy for you. Literal client workflows should to be more proactive and meeting prep templates and meeting follow-up templates and templates to nudge clients. I'm sure it's very tasky-oriented as opposed to beautiful portals as a way to think about client experience.
Vincent: Well, it's interesting. So, yeah, I do. I think of client experience in two ways. Number one, so we use...like I said, we use eMoney, and we use the portal of eMoney. So, that's, if you will, the hub. But I would say 10% of the client base logs into the eMoney portal on a regular basis, right? So, for me too, with new clients, I want to ensure that the experience that they have with onboarding and getting the information that they need is seamless. And I do try to leverage eMoney, since the beginning of the relationship, to do that.
But as for ongoing work, to me, part of the client experience is that the planning items are communicating with clients. They're receiving consistent messages. They know it's, "All right, it's the third week at the end of the quarter. I know I'm meeting with Vince." So everything is just a very consistent approach. And that's where I need these things to be able to deliver that consistency. So that's where I see the client experience as well.
Also with the client experience is the things that they do receive, the outputs, and that's important, but I think the way that we communicate the ongoing proactive communication is very important to that experience. So they just know what they're getting, when they're getting it. It's not just always about the shiny portal that looks great. That's part of it, but again, the adoption isn't there to spend tens and tens and tens of thousands of dollars on doing that. More important to the client is to be able to be proactive and deliver service quickly and efficiently, that they just need to get done what they need to get done.
Most of the compliments and the thank-yous I receive from clients is, "Thank you for holding me accountable." Thank you for ensuring that I get done this stuff be it finalizing the state documents. That to them is very valuable than logging in and seeing a sexy eMoney portal.
Michael: Yeah, well, because I'd... Right. If I think about it at a high level, as you'd mentioned earlier, clients are most appreciative when they can actually reflect on just ways their lives have actually gotten better. I've worked with you and I'm in a better place. Our house is in better financial order. We've made changes we needed to make. We did things. You rarely hear a client is like, "I am so thankful that I'm paying you all these thousands of dollars every year because let me tell you, when I log into your website, mm."
Vincent: Right.
Michael: Nobody has that conversation, right? It's, "Wow, we've been needing to do that stuff for a long time. We worked with you, and we finally got it done. And it turned out to really matter because this thing happened not long thereafter. And I'm so thankful that we work with you and you helped us get our house in order before the bad thing happened that we were totally not prepared to deal with because of the work we'd done with you." That's what creates the moments. It's not the beautiful login.
I think at the end of the day, if they want a beautiful login, they can get a really cool tech platform that does that without us. Usually, at the point they're hiring an advisor to delegate or to work with, the whole point is, "I need someone to help me get this stuff done because if I was actually really good at doing it myself through technology, I literally wouldn't have hired you. I just would've done it on the internet myself with technology."
Vincent: And you're absolutely right about that, Michael. And sometimes they've tried that. Most of the individuals that come to us, have never worked with an advisor before. They tried to do it themselves. They tried to use one of those online tools. And after two, three weeks, the novelty wears off. The user interface becomes less important. And they're like, "I'm no better off now than I was three weeks ago. It's like I need to hire somebody to hold my butt to the fire, to hold me accountable to ensure that I get this done."
I work with one couple and the husband is...he's the family CFO. He's in charge of everything. He just dominates those conversations and dominates all the tasks. But the wife, she is the one who communicates with me more and she's like, "He's not getting it done. He's not getting this stuff done." So then I have to call him and I'm like, "Okay, it's time to be...forget my friendship, but it's time to be A-hole Vince This is what you need to get done. And this is what you...you got to get it done by this. Otherwise, we're going to have a situation on our hands, and I'd rather not have to be a marriage counselor. So do me a favor and get it done." He's like, "You're right. I'll make it a priority."
And that's a lot of what we do do, is coaching and holding our clients accountable to make sure things get done when they need to get done because time is of the essence. What about all the Roth conversions that we were doing in March, April, last year? It was just in some clients where you're not directly managing those assets if they're elsewhere, say they're at Vanguard. There were a couple situations where I'm like, "This is a perfect opportunity maybe to do some Roth conversion." And guess what? They didn't do it. So next thing you know, they're coming to me at October, December, and it's, "Ah, well, still get it done, but it would've been a lot better if you did it when I asked you to."
Michael: The other thing I'm struck by on this is just you're using Hubly for the workflows to overlay your CRM. You're using Pulse360 for the meeting prep and the meeting follow-up that overlays the CRM. You're using Knudge to do all the task follow up directly to the clients instead of through the CRM. Like all of these are basically overlays to your CRM, different ways to add things to your CRM beyond the CRM, which I guess just even akin to the earlier robo discussion, do you see these as long-term solutions? Or do you see these as, "This is what I'm using until eventually the CRM systems all do this themselves and then I'll just use my CRM again."
Vincent: Well, it's a good question. Yes, really, I use the Redtail CRM as almost just a collection of data and compliance. You know what I mean? And again, the calendar. But yes, if all of a sudden, Redtail would have come out with something that would be very similar to something like this, even like a Pulse, or a Hubly or something along, yes, there may be a business case that I would just then keep it with Redtail.
Michael: Because I'm assuming every app these days, it seems is pretty much $49 a month give or take a little. So I'm assuming you're paying that for each of these. So you're paying significantly more for the add-ons beyond Redtail than you actually pay for Redtail.
Vincent: That's absolutely correct. That's absolutely correct. And some of these are a lot more...they're more than the 49. Then that's where this tech audit becomes so important to try to keep these expenses in check, because like I said, I could spend all the money in the world on these tech solutions. But, no, you're absolutely right. But for me to just deliver what I want to deliver, sometimes I have to use technology that would be hoping that the Redtail would take care of or the CRMs would take care of. But no, you're right.
Until the CRMs are able to deliver this...but I see the CRMs too as just like a Rolodex. They hold to the client data, the addresses, all that information, some archiving, but I don't necessarily look to the CRM in delivering these services now or in the future. I'd be surprised if they bring this in-house. But it's, "All right. These are the things that I need to get better at that I want to be able to do with my client. Is there something out there that I can use, or am I simply going back to Excel and Word Docs and managing these things?" And luckily, I don't have to.
How Vincent Evaluates ROI Of The Tech Software He Utilizes [38:16]
Michael: And so as you just buy all these different tools, and I guess particularly since it sounds like you experiment with them and see how they go. And at the end of the year, you do kind of the post mortem and the updated roadmap to say, "Am I keeping this? Am I not keeping it? Am I going to keep one of the three, but not all three?" or wherever it comes out. I'm presuming that at some point, you have to start making the budgetary and financial decisions of just is this tool worth it at the end of the day? And how much should all my tools add up to at the end of the day?
How do you think about technology budget? How do you decide what's a reasonable expense, either for any particular piece of software, when you get, as noted, stuff that can go anywhere from $20 a month to $100 a month or more and you've got a whole bunch of these different tools that can quickly add up? So how do you how do you evaluate ROI of tech software?
Vincent: Yeah, that's a good question. So right now I'm spending probably about 10% of my revenue on tech. Now, a big part of that is Orion and eMoney and things along those lines, right? But what I do do to determine the return on investment is... So when I was going through the process last year, the focus last year was investment management, right? So looking at, for example, Kwanti, Riskalyze, HiddenLevers, all that good stuff, right? And they tend to be a little bit more expensive than these other things that we're discussing, the Pulse360s and the Knudges of the world, which makes sense. The computing power necessary is more.
But it's, okay, well, on a month-to-month basis, how often am I logging in? How often am I using this? On a client experience, if I provide this... Let's use HiddenLevers, for example. If I'm providing this HiddenLever proposal to a client, number one, is it allowing me to win additional business? Is it improving the communication that I have with clients? When a client comes on board, one thing I'll ask is, "How tech savvy are you?" And if they say... "Would you want to be part of Newbridge beta where you can try out some of this tech especially like that?"
Michael: So you actually offer that to clients...
Vincent: Oh, yeah.
Michael: ...to say, "We're a tech-forward firm that tries things. Do you want to be one of the clients that tries to things with us?"
Vincent: Yes, absolutely. And it's almost like the old meetings you would have with clients and you would discuss the investments and the process and how things are moving forward with your investment process, but same thing. It's, "All right, this is what we're looking to do. Do you see any value out of this?" Or, "How would you like for this information to be delivered differently to you?" So their feedback is essential especially the expensive stuff.
And if it's not that valuable, because the one thing that I've realized over the last few years is especially with myself, since I can so easily fall in love both with tech and everything, really, I'm just...but yeah. My heart got broken a lot growing up, by the way. It's, okay, I can love something, right? But if the client doesn't like and they're not getting the value out of it, what's the point of using it? Because it's so easy for us to love these things. "Oh, my god, it's going to improve. I'm going to be able to deliver this kind of communication," or, "I'm going to be able to visualize the advice that I provide this way." But if a client shrugs their shoulders and they see no value of it, I'm not going to use it.
Michael: Thus your world of, "We tested all these robo portals and they look beautiful and they look sharp and it seems like it's a 'great client experience.' But then we asked our clients and they were like, 'Yeah, I don't really care.' I just want to log in to Schwab and TDA or work with you directly. This is doing nothing for me.'"
Vincent: Well, that's exactly correct. The one thing that has come up recently that I've spent a good amount of time thinking about is the one-page financial plan. Now, I don't necessarily go with the one...but it's like they want to at least be able to say, "All right, where am I? How am I tracking? Am I going to be all right?" And they basically want that snapshot provided to them. There's no real good tech out there that necessarily provides that, that snapshot. But that's really what they want. Obviously, they don't want all these pages of reports. They don't want all this jazz. They just want the high level.
Now, if my client base... Again, and it's also about your client base, right? So my client base, like I said, 45 to 55. Maybe the individuals that I work with, which this is a little bit, they do want to see sometimes a little bit more, like individuals who are retired. They want to see some more outputs. They want to see some more graphs, this and that. The majority of our clientele, they're just like, "All right, I just want to ensure that I'm going to be on track, that I'm doing what I need to do, that I'm not paying too much in taxes, and that my family is protected. So delivering that to them, it's all about high-level snapshot, right?
But if I worked with a group of engineers and they wanted to dial into the weeds, well, maybe I would provide them more cash flow reports from eMoney versus just the five-year. Maybe they want that... So it's also about who you're working with, which helps determine the technologies that we use. For example, we didn't put much emphasis on retirement income planning because the majority of our clients weren't quite there yet. That changed a little bit last year.
So it's, okay, we need something that might be able to help us deliver better advice. So what technologies are out there that help us deliver that? I went through a bunch and I landed on Income Solver. That allows me to deliver and it coincides with our advice metric, if you will, to deliver something like that. So it's a moving target. But then if I evaluate it in January of next year and I look at Income Solver, how often did I use it? What was the benefit to the client? Did they get something out of it? Did it help enhance the advice that I provide? And if the answer is yes, well then, I'll continue using it.
Vincent's Thought Process On Deciding Which Advisor Tech To Cut [44:12]
Michael: How often do you kill or remove tech? I guess we're running both ends. How many things do you try and how many actually survive and how many end out on the cutting room floor, at the end of the day?
Vincent: Yeah, it's a great question. I might use 20%. One thing I was really excited about was cash flow, right? I want to enhance cash flow, really take a deep look at it. So I use something called Cash Flow Mapping, software out there. Good stuff. I love the people behind it. The support was incredible. It was a really good tech. But after six months of using it, I wasn't using it. I wasn't utilizing it, and it was costing me about 130 bucks a month. So that was something that I'm like, "I need to chop that." Even though me as an advisor, I like it, I like what it's providing, I think it's cool, it just wasn't doing at the...it wasn't satisfying the end user. When I wasn't utilizing it, the web, because...
Michael: What was it doing? Just for folks that aren't familiar, what does it do? What's the software?
Vincent: Yeah. So basically what it says is it looks at the income that you're bringing in. It really takes a deep look at your paycheck. It's, "All right, how much is going to taxes? How much is going to insurance? Then it looks at your expenses."
Michael: Because you punch all this in.
Vincent: You feed it in.
Michael: Your client punches all this in, or is this account aggregation automagically sorts out your cash flow?
Vincent: It's punching in. Either you do it or the client does it. So I would just ask for a copy of a current paycheck and plug that information in there. And then you also get their expenses. And then you plug that in and the point of it is saying, "All right, this is it. These are the income. These are the expenses. This is how much you might have in excess. And they do it with a little bit more spin and a little bit more hands, but I'm like, "I'm not using it enough because I can kind of do that a lot of times using Excel, which might be a little bit quicker," things along those lines. But that's something that boom, I chop.
The one thing that I always want to chop is portfolio management software costs. I would love to be able to shave that. We use Orion. We spend a good amount of money on Orion. The one thing that I do like... The other thing too, though, Michael, is when I go through that tech audit in January of every year, I reach out... The tech companies are going to start to hate me if they haven't already because I'm like, "What's your roadmap? I need to see your 12-month roadmap," so then I have an understanding of, all right, what enhancements are coming down the line that might be worth it especially with companies that I might slice.
Well, if their roadmap for the next 12 months is going to be that strong and it's going to make a difference in my practice, well, maybe I'll keep them around. But it's always about, "What is that roadmap? What enhancements are you making to the software?" Like RightCapital right now has intrigued me because of their new income, their new retirement income thing?
Michael: Mm-hmm.
Vincent: Yeah. So anytime I hear something like this I'm like, "Oh, looks like I'm going to have to try out something new." The other thing is YCharts. YCharts, they were at the top of the list last year, but then due to the cost and the fact that I don't know if I necessarily would be dialing into that software every single day, I didn't buy it. But they're persistent sales people. I'll tell you that.
Michael: So what was it? What was it that drew you to YCharts? And then what was it that's not doing it for you with YCharts?
Vincent: Yeah. Well, YCharts, it is a very robust investment research due-diligence-type platform. You can do all types of cool stuff when you want to analyze past performance, when you want to analyze even at a macro level. The user interface is really good. It's got that Excel download and I love Excel. So it's got a lot of great things. That model where you plug into your model and you can do a lot of analysis on the model, it's really unique. But the price point, I'm like I would have to use this more than I'm even using my financial planning software, really, for it to be worth it, unless I'm able to really score new clients with it. And I don't necessarily think that. At the end of the day, it just wasn't...
Michael: So you're kind of thinking in those terms like, "I use eMoney a certain amount of time. It costs me my $300-something a month. So if you're going to cost more than my financial planning software, I better either use you more than my financial planning software, or you better bring me revenue to make up the fact that you cost more than my financial planning software."
Vincent: That's right. Otherwise, you know what it just becomes? It just becomes your own personal sandbox and you're just having fun in it. And that's not fair when you're trying to run a business.
Michael: So it strikes me just in that context that if planning software is the benchmark comparison point on this, that the challenge with pretty much everything in the investment world, whether it's the portfolio management tools like Orion or the investment research tools like YCharts, all that stuff, that whole category is more expensive than planning software...
Vincent: Yes, it is.
Michael: ...just kind of across the board. So I guess that connects back to your earlier comment of you really want to cut portfolio management costs like Orion in particular because it's...you're spending more time in the planning software than you are in the investment software but the investment software is charging you more than the planning software.
Vincent: Yeah, absolutely. That's where Altruist becomes interesting to me, because obviously as you do too, we lead with financial planning. Investments are important, but most of our discussions are around financial planning. So that's where I need to be able to spend the money. And most times when I am looking at tech, it's around more the financial planning, or additional elements that I can add like Lightfield, maybe. I've used that in the past, certain things like that.
How Vincent Uses His Advisor Tools To Deepen Client Services Offerings [49:46]
Michael: And thus again, why when you said you're going after a better client experience, it was not a better portal for clients to log in to see their investment accounts. It was Hubly, Pulse, Knudge, which are all financial-planning-tasky, tracking, follow-up, nudging...the center of that is a client-service calendar. Those are all tools you're buying for planning tasks, not investment stuff.
Vincent: That's absolutely correct. That's absolutely correct. And the other benefit to a lot of that stuff too, is it does allow you additional touches. So you are touching your client much more often. And sometimes, too, have you ever run into this situation where you have a client say, "I didn't know you did that?" Right?
Michael: Yep. Yep.
Vincent: Because I always want to be part of the process during open enrollment, right? So I always want to be part of that process. And that's even part of one of the nudges I use. "Oh, open enrollment time. Let's set up a call to discuss your options for this year." It's certain things like that. Does an HSA make more sense at this point than your typical PPO, HMO plan, right? And they're like, "Oh, you do that?" "Of course, I do that." So having these things...
Michael: Yeah.
Vincent: ...yes, also almost enhances what you do do. So that's great. The other thing, too, that I've spent some time on is on the marketing side. So one thing I wish I could do more, Michael, to be honest with you, is write. I don't hate it, but I wish I could spend the time in creating more original content. But one thing, it's like I'll write these other curated content platforms. I looked at Vestorly. That was probably the worst expense I've ever had.
Michael: In terms of what you spent and not feeling like you got the ROI?
Vincent: Yeah, totally.
Michael: So what was the gap on Vestorly?
Vincent: Yeah, it was curated content. I wasn't pushing it out. I didn't feel as though there was any value. I almost had the feeling that it could've been potentially negative value because clients just getting these articles that they could get anywhere else. I just didn't feel like... I don't know. It didn't seem like there was much heart to it. One thing I like right now is the Seven Marketing platform, their content is pretty cool. It's a little bit more topical. It's written a little bit more conversational. So that's not bad. I do enjoy that, but there's been... That's it. There's such a push on content, it's like, "All right." Even with Orion, Orion does... eMoney does it. They all do it, right? And it's kind of all the same thing, isn't it?
Michael: Yeah. I think that always becomes the challenge. These things just start blending together. Everybody does everything and does everything else. And if they don't do it yet, they're offering it soon, right? Just there's this whole phenomenon that I feel like a lot of the big players want to become, "platforms," which means they do everything on their platform, so you don't need to go anywhere else. Except in practice, often we are somewhere else, which means we just send out with redundant features, which gets kind of annoying and aggravating because it feels like you're paying for it twice. Then you don't really necessarily want to switch because the people that only do that thing are often better than the people who just add that on as the 47th feature on everything else. And yeah, it seems like we get squeezed at that point.
Vincent: Yeah. And even with Orion adding that feature... I mean, the one thing that interests me, and I wouldn't mind getting your take on it, is I remember when I first started Newbridge and this and that, it was important to get best-of-breed. So it's like, "Okay, what is the best financial planning, the best...?" but it was different technologies that you would hope would all integrate together. Now there's obviously this big, much more of a push for all in-platform. So like Orion adding all these various components so you stay within their...almost like Apple. You stay within their ecosystem.
Michael: Right.
Vincent: Right? And Advyzon now, it's like they were early, but it seems like now they're almost ahead in a way that they were like just all in with their CRM even in there and things like that. And I guess going forward, this might be the reality, where it's like, "Forget about trying to integrate everything. Let's just build an all-in platform that we can take just do it all."
Michael: Yeah. I think there's probably two or three effects that are happening at the same time. One is there is kind of this pendulum swing that happens in the industry where all...if you go back 20-plus years ago, all the technology was proprietary. The biggest firms that had the biggest budgets had the best technology because they could hire technology teams to build it. It's like good tech was basically in wirehouses and big bank and trust companies, and the independents had nothing.
Then some techs started getting built for independents, which made a few people go more independent because there's more tech to support independents. Then the more independents brought more tech companies because the market was bigger. And then more tech companies brought more independents because there were more solutions. And then more independents brought more tech companies because there was a lot more independents. We went through this cycle and built more and more to the point that we started making the AdvisorTech Map a couple of years ago just to literally help navigate all of the choices.
We still do it for that reason, but I know there are companies and platforms that use that map as the butt end of a joke of here's how crazy bonkers it's gotten out there. And I think a lot of us advisors feel at the visceral level just...granted, folks like you are fantastic and that you go pioneer out there, you live a little bit on that bleeding edge, you like beta testing and trying it out. I think a lot of advisors are not necessarily there. It's just this overwhelming number of choices. And even more frustrating because not everything integrates with everything else and it's hard to even figure out what integrates with everything else. And everybody says they, "integrate" with everybody else, but sometimes, those aren't really actually very deep and meaningful integrations.
And so I think that just started the pendulum swing in the other direction of, yeah, you know what would really be cool? If one platform that just did all of those things where I didn't have to patch all of them together with my hands or using Zapier or whatever it is that we got to do to force these integrations or just...so we don't have to keep begging the companies like, "We use this and this other software. And we found seven other people who do as well. If the eight of us send you an email all at the same time, will you please make this integration?" And so much of that is kind of a frustrating bubble-up from advisors just begging integrations to be billed.
So I think the pendulum is swinging the other way because just...we hit the logical extreme on how many different best of breeds you can patch together. Now the pendulum is going the other way because I think there is more willingness for firms to say, "All right. Maybe it won't all be the best of breed, but it's going to be pretty good and I don't have to be the integrator engineer anymore." That'll run for some number of years and then it'll be two-all-in-oney and not enough innovation. And then the pendulum will swing the other way again because that's how pendulums...
Vincent: Yeah. Look at politics, we're having... But no. And it's interesting because part of our review is, all right, well, what software is for us or a non-negotiable, not going anywhere like eMoney? So part of that conversation is which technologies out there integrate with eMoney? That's why we love Orion because of that deep integration. And that's why it's so hard to leave Orion because of that deep integration. And it makes a big difference.
Michael: I call this the balkanization of the advisor tech world that certain platforms became really big hubs that everybody else built too... So Orion has built an integration hub, eMoney has built an integration hub. Envestnet has a deep integration hub on their end. TD Ameritrade's VO was a big integration hub. There are these certain platforms that have become particularly significant hubs. And if you get attached to one of those hubs, you immediately tend to kind of narrow down the view and really only work with the solutions that fit into that hub. So new startups try to find their way to hubs and platforms try to become hubs because as you said, once you're attached to a hub and all the things that come off that hub, it's really hard to move the hub.
How Vincent Leveraged Holistiplan To Begin His Own Tax Practice For Clients [57:21]
Vincent: It is. No, you're absolutely right. And that's where we are. But it's like the cool thing, too, with technology, sometimes it even opens up different avenues. So, for example, for the 2020, I guess, tax year, we created a tax filing company, Newbridge Tax Services. And really, we did that because of Holistiplan. So Holistiplan, and I remember talking to Ben and Roger when I got back from a T3 conference on their podcast.
And I'm like, "You guys, you're awesome. You talk taxes, which is my favorite discipline of all the financial planning disciplines. So you do all this. It's awesome." And then they're like, "Yeah, we got this thing, this new tech. I'm like, "Well, I got to see it. Let me see it." And I'm like, "All right, this is awesome." And then what it was allowing me to do is like, "You know what? This has given me enough confidence to start my own tax practice." And right now, it's basically...
Michael: Interesting. So you have now built a tax practice for clients leveraging Holistiplan?
Vincent: Correct. That's absolutely correct. We've partnered up with a local EA. He's absolutely fantastic. And right now, it's just for our own existing clients. But there was. It was over a period of two to three years, we had so many individuals coming to us, "We're looking for a new accountant," or, "Our prior accountant failed to file two years of 8606s." They're not up to date on the new tax laws when I'm sending out a newsletter every two weeks about taxes. And I'm like, "Look." And so I send out a survey. I'm like, "How much interest is there from our clientele?" And it was like a third of the clients were like, "Yeah, we'd sign on next year, as soon as you have it."
And Michael, I got to tell you. Now just think about the data and the information that you now have at your fingertips with them uploading everything. We're basically servers, the front of the house. We have a shared platform with the accountant. They're the ones that actually put their name on it when they file their taxes. Now I have all this information available like their W2s. It's fantastic and it allows us to be so much more proactive. But because of technology, it allows us to push out this entirely different service model. So it's good.
Newbridge Began By Vincent Taking A Chance On Himself [59:27]
Michael: So Vince, tell us a little bit more just about your advisory firm itself. We've talked a lot about all the wonderful tech toys. But talk to us a little bit about the advisory firm itself.
Vincent: Yes. Well, really, it all kind of started in Vanguard. When I was at Vanguard, there was an asset management department there which no longer exists. It's now the financial planning thing that they have. But we're providing advice to clients, high net worth. It was very similar to what we do do now. And I absolutely loved it. It was absolutely fantastic.
And the issue that I did have, though, is Vanguard would always stop you whenever you were providing advice on something that they did not have, nor did they sell. For example, the estate advice that we were providing was limited. We weren't able to really talk about cash flow, taxes, things along those lines. And I'm like, "But that's the interesting stuff." I can't even talk about what's interesting? It forced me to say, "All right, what else is out there?"
Michael: So you actually started your career at Vanguard, not just using Vanguard funds, literally worked at Vanguard?
Vincent: Yeah, I was a crew member. It was actually Bogle had just hung it up about a year or two prior and Jack Brennan was in charge. But Mr. Bogle was still present. I had lunch with him in the Galleys. My wife actually was running one of the Galleys at Vanguard.
Michael: Very cool.
Vincent: Yeah. It was a really cool environment. I loved my time there. But with any big corporate entity, constantly, we're hitting these walls. It's like, "Well, I want to be able to talk to my clients about what they want to talk about and I can't do that." And then it became meetings upon meetings. I'm like, "I'm out. I can't do this. My soul is being compromised. I got to get out of here." And so I actually took my time at that point in time to figure out the landscape of financial services because even when you were at Vanguard, at that time, they have since opened their doors, but you aren't really able to get involved in the Financial Planning Association. I joined a fee-based firm out in Radnor and it was similar to what you were talking about with Pinnacle, 200 million and double-digit employees.
Michael: Help me understand that a little bit more, just the leap out of Vanguard, particularly if you didn't actually have a lot of other experience and familiarity outside of that world because you hadn't been involved in membership associations and the like. How did you decide to make the leap? How did you get comfortable going from a wonderfully large, safe firm into the virtual pioneering wilderness? How does that come to fruition in practice?
Vincent: Yeah, because that was in '07, okay? So I was at Vanguard five, six years. And it was about reaching out to a lot of people. And it started with...because I didn't know what an RIA was at that point in time, fee-based... I didn't know what that was. So it actually started with a conversation I had with somebody, at Principal, who was a friend of my uncle's because I just wanted to understand what else is out there because before Vanguard, I was in advertising for two years. I was a psych major, so I didn't quite know much about this world at all. I just loved math and people.
But is there somewhere else out there that I can have more in-depth conversations with individuals and really make a difference? And so this guy, at Principal, he turned me on to a bigger RIA at the time. So I just started talking to a lot of people and trying to understand what the landscape looked like, what these firms were, what they did, what they didn't do.
And that's when I found this firm in Radnor, TGS. And they were actually looking for somebody because they were mostly an investment shop. And they were looking for somebody with Vanguard process, experienced, Six Sigma. Remember that?
Michael: Yep.
Vincent: Is that even still used anymore?
Michael: I think it's still out there.
Vincent: Yeah. They brought me on to help create this financial planning department. And the first thing I did was, all right, what industry organizations are out there? And I happened on FPA. The first conference I ever went to, now, this is a very long answer to your short question, but was actually Business Solutions. Remember that?
Michael: Oh, yes, absolutely. Yes. FPA was doing its own practice management plus tech conference back in the mid-2000s.
Vincent: Right. And it was like, "Wow," and coming from the closed network of Vanguard, it was like, "This is interesting." And that's where I met... I know I'm going to mispronounce his last name, but Dwight Chiklis?
Michael: Oh, Mikulis.
Vincent: Thank you. Thank you. And he was beyond awesome. Then he introduced me to you and then that's how I found FPA NexGen. And FPA NexGen was instrumental. If there are people listening to this, if you have an opportunity to get involved, I hope NexGen is... This was like Jude Boudreaux... These were the glory days of NexGen, man. But it was incredible to be involved at that level. And I learned so much about everything. And it really put me in a position to say, "All right, in a few years, I know I want to do this myself."
Michael: So you knew pretty early on that this was going to be your endpoint?
Vincent: Yes. And even part of that due diligence, that process was doing road trips. We saw three or four different firms just to understand how RIAs did things specifically with the planning because mind you, the firm that I was with didn't have a very robust planning, right?
Michael: Right. They were still trying to figure that out.
Vincent: Exactly. So it's like, "What is this going to look like when I go out on my own? What do I need to do?" this and that. And then it was finally really... There was a lot of internal things that I won't go into, but I think maybe financial services is the worst when it comes to tech. The only industry that might be worse is healthcare. There was finally some things happening and it was actually around portfolio management because we were using Advent Axys.
And there was other things coming out that were just really cool. I think Black Diamond was something at that point in time that I was falling in love with. I'm like, "You know what? I can leverage a lot of this tech and not have to hire anybody," because at that point in time, my wife was just getting started in real estate. We just had our third child. So it was very scary.
And then I was introduced...via FPA, I was introduced to this other guy. He was a CFA and I'm like, "This is great." And then I can focus on financial planning and the relationships. This is like a dream come true. And he had good stock. He came from good people. And then we did it, we absolutely did it. I actually, though, which was unique, I was given the opportunity because I asked for it to buy out my existing book of business, right? Now keep in mind, work for an RIA, just like you're working for the big RTDs and you come through the ground level. At that point time, you're not...one of your responsibilities is not business development so much. It's serving the existing book of business. So 98% of the clients I was working with at the time were given to me.
Michael: Which creates the whole awkward, "I've got the relationship with them and I put all the time into them, and I built with them, but I didn't bring them in. It was the firm's client. They "assigned" it to me. So what do we do? What do we do if you're leaving?
Vincent: Right, exactly. So we did negotiate, actually, a price. And it was two times trailing 12 months, 100%, seller financed. I think Live Oak Bank came about maybe a year or two later. So there wasn't many funding mechanisms for young RIAs at that point. I knew I was going to be clearing with TD. And they didn't have anybody to really offer. So it was like, "All right, I paid a little bit more, 100% seller financed, but I was able to stake Newbridge with about, I guess, yeah, 12 million, 13 million.
Michael: Interesting. So that was sort of the compromise, right? From there on, they may say, "Well, we'd really actually rather keep these clients and not sell them off. But if we say we're going to keep them, then there's a risk that some of them are going to fall out events." You can sit there and say, "Well, some of these clients are probably following me anyways. It would really suck to pay for the clients that were going to come with me anyways. But I run the risk that they're not going to come with me and this gets messy." Both sides have something to lose by cutting a deal, which is how they often get to a really good deal.
Vincent: That's absolutely correct. That's absolutely correct. And I mean, obviously, I was under a non-solicit, non-compete, a two-year. And I didn't want to mess with that. I wanted to maintain a good relationship with the firm and things like that. It was funny. My attorney a couple of times said, "You know what, Vince, let's just go to the courts," because it was taking a while. It took 90 days to draw up the documents and I was approved within 30 days by the state.
So there was a disconnect there. And obviously, being out of touch with your clients as they're being assigned to new people kind of hurts, hurts a little bit. But from that point, it's been...it was the greatest decision of my entire life, greatest decision. The only thing is I would caution sometimes young advisors. So I was spending so much of my time servicing those clients that had come with me and I had been using a lot of the tools that I had gained from the other firm to provide that advice. So I wanted to make it seamless.
The issue though is, Michael, is I didn't spend the necessary time in creating Newbridge from the ground up. I didn't spend enough time at that point in time defining who my ideal client was, defining who my niche was, defining my back office and putting things in place. It was much more reactive than proactive. And now I'm finding myself, over the last couple of years, having to create that. You know what I mean?
I've been able to get enough, obviously new clients to be able to help define my ideal client, but all types of different people came to me from the other firm. There wasn't one specific subset of clients that I could create a niche out of. But that's the only thing, is I take that time in the beginning to create your process, create your mission statement, create who you are, because it felt like I was just running to make sure that these clients were happy because I was so concerned of losing them because it was our primary income coming into our household at the time.
But from that point forward, then the technology just got better. The conversations with individuals just got better. And it's been a great experience. And the other thing too is, real quick, is what I did learn at my old firm... So are you familiar with Strategic Coach?
Michael: Yep, absolutely.
Vincent: That's where I fell in love with Canada, mind you. So I would go to Toronto every quarter and spend a couple of days up there just hardcore Strategic Coach and it was absolutely fantastic. And it really allowed me to look at my days differently where it's "Okay, you got buffer days, you got free days, and you got focus days." And the buffer days are the days that you're working on the business, creating workflows, doing all that great stuff, doing all the sort of...
And then you have your focus days where it's more business development client activities. Those are Tuesdays and Thursdays. Monday and Wednesdays are my buffer. And then Friday becomes my free. And if I need to meet with clients that day, I can, or, I take the kids and we hit the Jersey Shore, what have you. But you have to earn that Jersey Shore time, mind you. So that really gave me...allowed me to create my days and create my year. And it helped. It helped big time. It helped me sort of think about things.
And also, what it also allowed me to do is, all right, what are my core competencies? What are the things that I enjoy doing a lot that I'm really good at? Let's focus on those and everything else, outsource, get rid of it. So that's how I found Michelle, from Nifty, who's been absolutely insanely awesome. How I've outsourced all of my marketing, all that kind of stuff. It's like let me just do the financial planning and the relationships and the tech, of course, got to include the tech.
Michael: So, Nifty does outsourced virtual assistance work, operations work for you?
Vincent: They do. They do all my operations. They communicate, helping me with scheduling. They also do some marketing, pushing out content and things along those lines. If I get stuck on something or something needs to happen, it's, "Hey, Michelle, can you handle this?" So it's been it's been great.
The Importance of Remaining A Smaller Firm Despite Serving A Large Amount of Clients [1:11:12]
Michael: And so then talk to us about the clientele. Who do you serve? How many clients are under the firm?
Vincent: Yeah. We have probably about 70 clients. So the structure is there's myself, there's my partner, Chris Wiegand. We really work on relationships together. We don't necessarily have, "He's mine." The only situation might be retainer clients where they have their assets at Vanguard or something like that and we provide financial planning annually. Obviously, I'm much more involved in those types of relationships, right? But otherwise, we really work with clients together. We have another individual who's actually an estate attorney, but he's also a CFP. So for a lot of this...
Michael: Is he an advisor or what is he doing?
Vincent: He is an advisor and he'll probably be... He's an older gentleman. We have an agreement in place to purchase out his clientele. But he's slowly introducing them to us. So he'll probably be with us another few years. But it's great at least now having that estate. So even if our clients need estate work done, we just call Tom and we bring Tom into the process and then we get the estate work done at a fraction of the cost, very similar to the accounting work. So it's really the three of us on staff.
Michael: And it's just literally just the three of you on staff, there's no one else?
Vincent: No. And then we outsource everything else.
Michael: So truly just three advisors and everything else is outsourced.
Vincent: Correct.
Michael: And well, I guess, outsourced in tech. And it sounds like functionally, all the outsourcing is just Nifty for all of your operations-related support, or is there another outsourcing provider that does some stuff as well?
Vincent: Yeah. We have another for additional marketing, much more detailed marketing. That's where we use Seven. So we do have that. I mean, my old firm, we had two marketing people, two specific marketing people that basically...that Seven and Michelle are now doing for me. So maybe not, maybe a little bit different. So, yeah, just a lot of that. And obviously then when you even look at technology if you want to consider Orion doing the daily reconciliation, that's sort of outsourcing when I think about...because I'm always comparing it to the prior firm. And then where we had two heads that did that as well, to me that's outsourcing that. So we don't need... But we are getting to the point that we are going to need to consider a power planner to help with that part of the firm. But yeah, 75 clients...
Michael: And what's the asset base for you?
Vincent: About 120. Okay. Yeah, so it works well. We're starting to see, obviously, when we first started was much more AUM. Now, the individuals you speak to, it becomes more of a...sometimes a retainer-type relationship. So that was a little bit different.
How Newbridge Determines The Type Of Clientele They Serve [1:13:59]
Michael: And just who's the clientele? Who do you guys serve? Who do you go after at the end of the day?
Vincent: Yeah, we go after families with complex issues with... It's usually like I said, 45 to 55. They're at a point in their life where they've been working 20, 25 years really doing the same thing in the corporate world. It's mostly corporate guys or girls, right? And they're faced with burnout, man. They're just faced with, "Is this what I want to continue doing?" They're working just to maintain their household, but they don't really have any freedom. They don't have much choice.
They've just been trying to do the right thing, saving for college, saving for retirement, this and that. But it's so cloudy, they can't sort of see through and says, "All right, well, what do I want for the next 30, 40 years of my life? Do I want to continue doing this?" A lot of stock options that they might have. Like I said, it's a lot of corporate execs. And they've been driving. It actually reminds me when I was at Vanguard, all I wanted to do was be a manager. I wanted that level E salary, become a manager, this and that. You were driven for that. These individuals are driven for maybe VP, maybe managing director, but they really look at the VP. And that's been their focus. And now they get a little bit older, 45, 50? Maybe they haven't quite hit that VP?
It's like is this something that I want to continue pushing for? Do I want to add a little bit more balance to my life? But if I'm adding a little bit more balance to my life, how the heck am I going to do that? So that's where I can really bring in my psychology to say, "All right, what do you want? What is your mission statement? If you were to lose your job today, how would you feel? If you could choose anything to do in your life...because a lot of these individuals we work with, they've done well for themselves.
They've made a lot of smart decisions in the past. They've done good things. Their parents had taught them well to start saving at an early age. It's not necessarily where we're breaking bad habits. It's just ensuring that they can really add some real value and worth to their life, and they need some help in doing that. And that's where we step in. So it's fascinating. The conversations that we have are enlightening. I'm learning a lot about the future my kids are stepping into because of their own kids being in college. So it's fascinating.
Giving Extra Care To Clients Means More Satisfying Work [1:16:16]
Michael: So what surprised you the most about building an advisory business?
Vincent: It's always more work than you think it is. I don't know if you remember, but the first two years, it was, "Oh, I own my own RIA. I own my RIA." Nowadays, that's not even important really anymore. It's just, "All right, I just need...I want to be able to provide good value to my clients, right?" And sometimes you just get in your own way because what you think is important is not necessarily what's important to the end user. So just trying to always capture their feedback and really, a lot of what you want to do, right?
But the most challenging thing is it's very easy to sort of rest, sit back, especially when you attain a certain income or asset level, right? And then you make this decision like, "All right, do I want to maintain a lifestyle practice or do I want to continue to grow at a decent clip?" It's those types of thoughts and decisions that are quite challenging. It's, "Do I have enough even as a firm here?" Do I need to continue to push it and push it?" And the challenge is always kind of staying ahead of the curve because if you rest, if you sit back for six months, somebody is going to pass you. Somebody is going to be providing a better client experience.
So that's probably the most challenging thing, is just constantly staying ahead of the curve. And you just really can't let yourself rest. And then if you do let yourself rest and you're resting too much, that's where you need those conversations. "Well, is this something where it is just a lifestyle practice?" And I'll own that. Because I remember when we first started Newbridge...and I was actually inspired talking to John at Pinnacle. I was like, "All right, well, I want to billion-dollar firm? How long is it going to take me to hit a billion dollars? What's it going to take?" Michael now, what's it been, six years, seven years?
Michael: Yes.
Vincent: That's not important to me anymore, man. It's really not because then I got to hire a bunch of people. I got to manage those people. I've had some experience in managing and I realize I'm not a great manager because I have no patience and I demand you do it my way. So it doesn't work well. Is that something that I want or do I want to just provide a kick-ass experience for the current clients that I have and curb a little bit of growth and keep it manageable? And that's where I am right now.
As you age and mature, it's not about "Go, go, go." It's, "Let me just do what I'm doing. And let me do an excellent job at it." That billion-dollar mark isn't as important as it once was just because of everything that comes with it. And I think COVID helped me realize that a little bit because the time that I spent with my three boys... Michael, I think we're luckier than we were than even our parents. Now, it's horrible COVID happened, of course. But the benefit is I got to know my kids, even my wife, at such a deeper level.
You're stuck. And it was an incredible experience. And it's like I don't want that to end. And it's like maybe when they hit puberty it'll be a different story because they're going to hate me and they're going to annoy me. But right now just spending that time with them has been absolutely fantastic. I can just say, "All right, maybe I do take my foot off the gas a little bit." And that's okay. That's okay.
Channeling A Career Low Point To Provide Better Quality Advice To Clients [1:19:29]
Michael: So what was the low point for you?
Vincent: The low point was actually probably losing my first client that came with me.
Michael: Ooh.
Vincent: Yeah.
Michael: So what happened?
Vincent: That was tough. And that was a smack. It was really about the experience, the client experience, and the service. And it was a point where...talk about resting on your laurels a little bit and just letting...all right, the machine will just do what the machine does without much input from me. And they felt that they weren't getting the attention or the service. And it made me sit back and look at everything. And you know what? You're right. I'm not. I don't deserve you as a client. I'm not providing you what is necessary.
And it forced me to look at the client experience, what I've been doing the last year and a half to say, "Okay, what can I do to ensure that I'm providing quality advice to my clients and they're getting it when they need to get it and they're not waiting to hear from me when important things are happening." I was shaken up by that. And it took me a while to get over it.
Michael: And part of it sounds like ties to...systems and processes and technology were tied in really well. In fact, it was making the business very efficient. But the problem was that made it too easy to get complacent about the more proactive communication or outreach. And that's ultimately what the client decided to take action on.
Vincent: That's absolutely correct. Yeah, I wasn't providing them with what they were paying for. It got to the point where it was like...yeah, it's like what you were saying. Things are being delivered. It's efficient, this and that, but they're not getting that heart. They're not getting that human relationship. And that's what they want.
Michael: If they really wanted tech, they could buy it off the internet without you anyways, if they only wanted the tech,
Vincent: That's absolutely correct. So it's, "All right, well then I get a..." Yeah, thinking that the eMoney portal was enough. Well, it's delivering everything you need. No, it's not, Vince. Come on, what are you doing?
What Vince Would Have Changed When He First Started His Journey [1:21:22]
Michael: So what else do you... Do you know now that you wish you could go back and tell you from eight years ago when you were getting ready to take the leap and launch Newbridge?
Vincent: It would be with a couple of things. Number one, I would spend the time building it a little bit more proactively and a little bit more intentional.
Michael: In what context of going out and getting clients and trying to grow it faster, or the actual structure of the business in the offer or something else? Which parts?
Vincent: Yeah, actually, the structure of the business itself. Because what I think you're doing really well with XY, you're pushing niche. You're pushing, "All right, look at the business." And for me, I didn't spend that time in really defining who we were as a firm, right, and using that as our North Star to say, "Based on that, and who we want to be and who we're serving, this is the firm that we want to be." We didn't do that from the beginning. And it felt like then we were always trying to chase who we were and what kinds of services that we were providing. It was almost like we were a generalist, we'll just take everything. And as a result, we were spreading ourself too thin. There's too much. There's too much.
The other thing too, is I would rather... I wish I had more conversations with my wife in the early part of the process because no matter how much you think they know about what we do, they don't. They don't really understand it's, "All right, this is...what my career is, this is how my days are going to be defined. It's not 8 to 5." When I was working in my old firm, it was. I showed up at 8:30. I would work late with client meetings, but it was still within that sort of... Here, it's not. It's all over the place. Sometimes it's weekends, everything like that. And it really, at least initially, for the first few years really added some significant stress that if I was a better communicator with my wife, it wouldn't have been that bad.
Michael: Because it was an expectations issue of just she hadn't communicated what it was going to entail in the first place. And so if you'd had the communication, you feel like it would've gotten better, but because you hadn't, there was a lot of expectations that were turning out different than reality.
Vincent: That's right. That's right. When you start moving into that resentment...which we didn't, thank God. But if you go into that resentment, next step sometimes is separation, divorce, right? So it's, "All right, we got to sort of stop short of that resentment period." But we have now created a process where if I have client meetings, it's only Tuesday nights, things along those lines, again, just putting those things in place to say, "All right," so it allows freedom for both of us.
But that would be the big thing, just ongoing communication with your spouse as to what it takes because there's always things that are going to happen that you're not quite prepared for. You know what I mean? There's always something there. We were actually...what's it this year? Yeah, we were audited earlier this year. And it was funny. We're preparing to go SEC, and then we get audited by the state. I think it's almost as though they knew that somehow. They saw the number.
Michael: You're actually leaving. Let's visit for a moment before you leave, shall we?
Vincent: Yeah. But I think we made out all right because it was during COVID. So everything was virtual. And my business partner, yeah, he's the chief compliance officer. So my responsibility was just helping...get to gather the docs. But otherwise, yeah, it was like two Zoom calls and then it was done which was nice. Yeah, you can tell all your people that...at least in the state of Pennsylvania, it's not horrible. So don't be intimidated by the audit process.
Vincent's Advice For Newer Advisors And The Importance Of Having A Business Owner Mentality [1:24:51]
Michael: So what advice would you give younger, newer advisors looking to start their careers today and want to get off on a good foot?
Vincent: You have to work your butt off and you have to earn it. You can't expect to be working 60, 70 hour... I'm hesitant to say an hour because it's really...a lot of times, you can be efficient and work less than that but you got to put the time in and you got to work on the technical. You got to be able to write financial plans. You got to have technical knowledge of everything. You got to just be able to run a business, have a business-owner mentality.
Sometimes what I see is these individuals will jump in especially maybe if they haven't had enough experience. And the advice they're providing and things like that...or just they're not seasoned enough. So it's like maybe it's not a horrible idea to get a little bit more seasoned before you jump into starting your own RIA. And clients just aren't going to be knocking on your door. It's like the most difficult part is sometimes the business development. It's very challenging. NAPFA was a big help in the beginning. And I don't know if it's the change of the algorithm, that they're not as helpful, at least with providing their referrals to the website. I'm sure you've heard things about that. But business development, it's no joke. It's hard. You have to pound that pavement to get those clients.
Michael: So where would you tell the newer advisors start first in tackling that? That's a lot of stuff to learn and absorb. So where do you start or what do you focus on first?
Vincent: The first thing that I did was I did a 10-mile radius. I just took it from the office, 10 miles around and I tried to get to know a lot of accountants, attorneys within those 10 miles knowing that maybe 5% would be an active referral base, but sometimes it's not them. Sometimes it's a friend of theirs, right? But just getting to know everybody in that particular network and learning as much as you possibly can. To me, the FPA, even when I first started Newbridge was instrumental in assisting. And maybe it's study groups, things like that.
You just want to be able to sharpen your skills as a business owner because as you have more experience, you're able to make better decisions and those decisions can be much quicker. But it's very important that you learn as much as you possibly can. Get off the bloody internet and go meet some people. Talk to people.
Michael: So as we wrap up...
Vincent: Really, already?
Vincent's Definition Of Success Is Making Others Happy [1:27:21]
Michael: Time flies. As we wrap up, this is a podcast about success, and one of the themes is always just the word success means different things to different people. And so as someone who's built a successful business, as you said, getting to a point where you're feeling really good about the business and a place where you don't have to keep your foot on the gas as hard... So the business is doing well. How do you define success for yourself at this point?
Vincent: Yeah. It's a great question because if you asked me the same question five years ago, it would obviously be a different answer. Because at that point, success was all defined about the growth of the company and making it as big as it possibly can. How I define success now is the ability of your business to create a business that allows me to do two things.
Number one, make the end user very, very satisfied and happy. But number two, allows me to be a present father. With a lot of the individuals even that we work with, part of what we try to do and tell them is, "Let us remove things so you can have more time with your family unit." It's all about spending...is that work life? You don't necessarily want to give up things. But to me, success is just being...is being a present father and creating a business that allows me to do that.
Michael: I love it. I love the focus. I love the focus. Well, thank you, Vince, so much for joining us on the "Financial Advisor Success," podcast.
Vincent: Thank you, Mike. It was fantastic. Hopefully, I didn't ramble too much.
Michael: No, it was fantastic. Thank you.
Vincent: Awesome. Thanks, Michael.