Executive Summary
As financial planners seek out differentiation in an increasingly crowded environment, a new trend is emerging towards the use of more interactive software tools to provide a more engaging client experience. While many of these new approaches revolve around the use of financial planning software live with clients - replete with quick data entry support and sliders for clients to manipulate the goals and see immediate impact - the reality is that even the old-fashioned data gathering meeting represents an opportunity to use technology to better engage new clients, and the tool of choice appears to be the mind map.
Although mind mapping has been used in other business contexts - from keeping personal thoughts organized to creative team brainstorming meetings - the tool may be especially appealing for financial planning, as it not only visually captures a lot of client information that is otherwise hard to see all at once, but it does so in a manner that provides a tangible deliverable to what others is some of the most intangible "shadow work" that we do for clients. Whether as a way to justify fee increases, or simply to increase the firm's value proposition, adopting mind mapping becomes an appealing way to create perceived value for work that is ultimately useful for clients but also time-intensive and often unrecognized.
The rising interest in the use of mind mapping in financial planning has even led to the emergence of a training program being offered specifically to advisors on how to use the tool with clients, build a business model around it, and provides some templates to help get started. Of course, ultimately any mind mapping templates will still become very specific to the planning firm and its clientele - in no small part because the template becomes a de facto checklist process for the client discovery meeting - so some firms may simply wish to dive in themselves and get started! But regardless of the adoption route that is chosen, mind mapping appears to be an increasingly appealing tool for cutting edge firms to create a unique value and experience for clients.
Mind Mapping In Financial Planning
Created by British psychologist Tony Buzan, mind mapping is a graphic method of taking notes and capturing information, where a central idea expands outward into branches, and then further detail is added from there. Contrasted with the traditional, "linear" approach to note taking, using a mind map relies more on associative thinking and the connections our brains naturally make in jumping from one concept to another. As a result, mind mapping is often considered an effective tool for creative brainstorming with a team to tackle complex business issues.
However, the mind mapping tool doesn't have to be used in a purely business context. It can also be effective as a way to complete the data gathering process in a financial planning context. For instance, imagine the template below on a large monitor in your conference room, visible to both the planner and the (new) client. Ultimately, the branches below simply represent areas in which the planner might ask typical discovery questions, from technical areas like tax and investments to more personal questions around communication issues, the family's estate plan, or their goals for family education.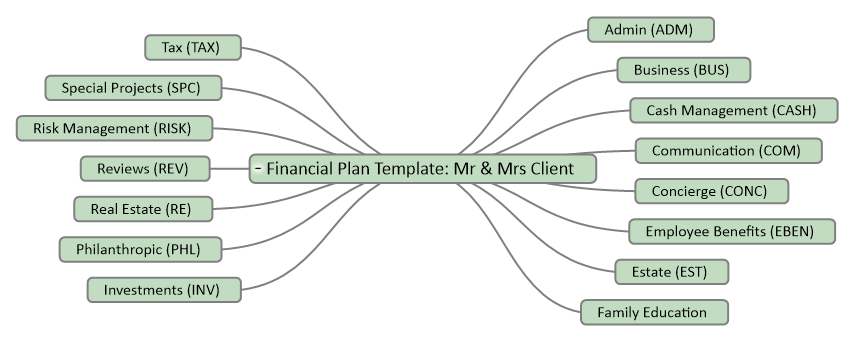 As the conversation progresses with the client, the information from the client's answers is not merely scribbled down by the planner on a yellow pad for only the planner to see; it fills out the mind map with the client directly engaged in the process in a more build-a-plan oriented experience. Imagine it from the client's perspective - the client actually get to see his/her financial life take shape in the form of a mind map before their very eyes!
And of course, the above is only a sample template; planners could adjust it to include whatever areas they think are most important to cover in a client discovery meeting. In fact, from that perspective, the mind map template for a data gathering meeting could actually serve as a form of checklist for the new client process!
A Deliverable For Shadow Work
A key aspect for the value of mind mapping in financial planning is that it creates a deliverable for what otherwise is often an intangible, hard-to-measure, and easily forgotten aspect of what planners do - the busy work that helps clients to get more financially organized and remain that way. Mind mapping advocate Gary Klaben calls this the "shadow work" - all that back office work your clients don't see you do but value greatly.

For instance, it's one thing to say that clients have gotten more organized by working with their planner, but it's another to actually provide them a document that helps them to see their life organized, all in one place. For instance, a fully completed sample mind map for a high net worth client based on the template above is shown to the right (click on the image to see a larger version).
Notably, the full mind map not only captures virtually everything important about the client in one place (though not all clients necessarily have this much complexity!), but the key documents, information, people, and resources, are actually linked/connected directly to the mind map, making everything literally no more than one click away for further information. While much of this information is often captured within a financial plan, the distinction is that physical plans are rarely opened after the initial presentation, while the mind map can become a living document for the client, updated electronically and continuously with every new change in the client's financial life.
Getting Trained On Mind Mapping
The biggest caveat, of course, is that mind mapping is an entirely new tool for most planners, and taking clients through the process would be a learning experience as well. Fortunately, Klaben is not only an advocate of mind mapping in financial planning, but also offers a training program through his company ProtinusPro on how to implement it in a financial advisory practice, with templates to get started (including the ones shown above), and use mind mapping to get paid for shadow work (e.g., by adding retainers and/or increasing fees). Of course, some planners might prefer to simply add mind mapping as a value-add or differentiator in their practice (given the ongoing crisis of differentiation for most advisors), without necessarily changing their fee structure, while others may find it an effective tool to work with (and get paid by) clients who don't fit the traditional AUM or product model (e.g., higher income young professionals).
The training (the only one I'm aware of that's intended specifically for financial advisors, which I attended last month along with two of our own Pinnacle team) occurs over the span of a single day in the suburbs outside of Chicago (not far from the O'Hare Airport if you want to fly in and out that day), at the offices of Klaben's wealth advisory firm (where his primary business is implementing financial planning, including the use of mind maps, with real world clients). The cost is $2,995 to go through their "Mind Map Illustrator" workshop and receive Protinus' templates and sample materials, with an extra cost of $745 for each additional staff member who attends after the first. (Klaben has offered to provide Nerd's Eye View readers a discount of $500 off the training cost for the first staff member; just mention this blog post when contacting them.)
Of course, the reality is that some firms may simply choose to build their own templates, as ultimately the use of mind mapping - especially regarding what areas will be discussed and included on the mind map - will likely be specific to the firm, its style and approach, and its target clientele. Nonetheless, for those who don't wish to reinvent the wheel, the Protinus guidance on mind mapping - from the templates themselves to suggestions on how to use it - may be a very helpful head start, perhaps to initially implement with some existing clients who are willing to be early adopters with the firm and provide some constructive feedback.
The bottom line, though, is simply this - in an environment where financial planning continues to get more crowded, using mind mapping creates an opportunity to create a more genuinely differentiated experience from the competition. Beyond that, the reality is that building a mind map interactively with a client can lead to a far more engaging client experience than the traditional process where clients just sit there while notes are taken about them (who enjoys that, really!?). If you're curious to try it out for yourself, download a trial version of MindGenius (Protinus' mind mapping software of choice), and check out the video below for a basic "How-To" for getting started. Or if you'd prefer the workshop experience, contact Protinus to request information on the next available workshop (and don't forget mention this blog post for a $500 discount on the training fee!).