Executive Summary
It's an inevitable reality in the job of being a financial planner that there will be a lot of sitting. It may be at a desk doing financial plans on a computer, writing emails to or having phone calls with clients, or just outright sitting across from clients meeting with them. The problem: research finds that sitting for 8+ hours/day can increase the risk for everything from cardiovascular disease to type 2 diabetes (and an overall 24% increase in mortality rate!).
Of course, a financial planner can't exactly avoid this by shirking their job duties. But it is possible to be productive in different ways, that don't involve extensive sitting.
For instance, over the past year I've been 'experimenting' with everything from a standing desk (which I now use for all of my writing and office work) to doing conference calls with a headset while walking outside. You may find that meetings with colleagues or even some clients can be done while taking a walk together as well (at least if there isn't any paperwork to go over!).
The end result, at least for me – the change in habits have helped me to lose over 40 pounds this year, accompanied by a material decrease of what was previously borderline high blood pressure, and my cardiovascular health has improved enough to drop my resting heart rate by nearly 10%! Of course, not everyone's body may react quite the same way, but the fundamental point: it really is possible to get healthier, and remain productive, too!
The Hazards Of Jobs With Too Much Sitting
Early this year, the Annals of Internal Medicine published a meta-analysis of 47 separate medical studies on the consequences of extensive sitting and a sedentary life. The conclusion: sitting too much is hastening our demise.
Specifically, the researchers found that extensive sitting (e.g., more than 8 hours per day) is associated with a 24% increase in mortality rate, along with increased risk for everything from incidences of cardiovascular disease (up 14%) to cancer (up 13%), and type 2 diabetes (up a whopping 91%)!
And notably, the results showed that these deleterious effects persisted even for those who get regular exercise as well. While exercise was found to have positive health effects, exercise as a means of punctuating an otherwise highly sedentary lifestyle was still associated with adverse health effects!
For any financial advisor, this is highly concerning, given that most of us spend extended periods of time either sitting in an office in front of a computer, or across from a client in a meeting!
So what's the best way to address the situation? Simply put – find ways to spend more of your day standing up!
Replacing The Desk Chair With A Standing Desk
The first option for standing up more throughout the day is to transition from the typical chair-at-desk setup to a "standing desk" – literally, a desk that is raised to a greater height, so that you can actually stand at the desk while you work.
The use of a standing desk helps to avoid the adverse consequences of extensive sitting. While the difference may seem trivial, the reality is that our metabolism is significantly higher while standing (it increases our "non-exercise activity thermogenesis" or NEAT for short), which not only addresses many of the metabolic challenges of sitting but can contribute to outright weight loss as well! And it is arguably more in line with the natural state of our species – which is to be upright (and walking around), not sitting in a chair!
Having read extensively about standing desks, I actually took the plunge myself to purchase one earlier this year. And consistent with what I had heard from colleagues who had done the same, the reality is that you really are able to be just as productive while standing as sitting. It may seem quite unfamiliar, but it actually feels quite natural, as long as the computer keyboard and monitor are properly positioned, allowing your arms to be perpendicular to the body and type without hunching, and your monitors to be right in front of you at eye level. In fact, the reality is that for those – like me – who tended to have poor posture after sitting at a desk for much of the day, a standing desk makes it virtually impossible to have bad posture (if the desk is properly positioned in the first place), because it's actually harder to type while slouching!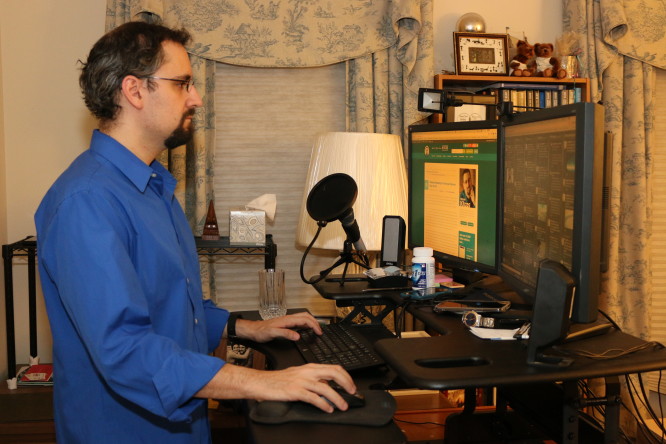 Choosing The Best Standing Desk – Varidesk Vs ErgoTron vs Jarvis
For those who are interested in a standing desk, the leading providers are Varidesk and Ergotron. Both make a wide range of standing desk solutions in various configurations. Most of their standing desk solutions are meant to rest on top of, or attach to, your existing desk to increase the height of your working space and make it a "standing" desk.
Key distinctions will include the overall size, whether it has room to fit one monitor or two, and how it physically attaches to the desk (does it bolt or clamp on, or just rest on top). Higher quality models will have an adjustable height mechanism so you can move the standing desk configuration up and down – thus, for instance, you can work standing for much of the day, but bring over your chair and sit down for a while if you need a break (and drop the height of your standing desk configuration back down to match).
For those who want to get a simple and straightforward solution to just put right on top of their existing desk, I recommend either the Workfit-TL from ErgoTron, or one of the VariDesk Pro Plus series, which are 'reasonably' priced around $300 to $500 depending on the size of the unit. Given that I use a dual-monitor setup, I went with the VariDesk Pro Plus 48 to have the maximal amount of working space.
Note that buying a standing desk includes another $50-$100 in shipping costs that you cannot avoid – these are seriously heavy units (that's what ensures they remain stable on your desk!), and will likely even require two people to just lift it up onto your desk when it arrives, as it's quite large and bulky and weighs 60 pounds. (Though notably once it's on your desk, the spring-loaded height mechanism makes it very easy to move up and down if you're transitioning from standing to sitting and back again.)
For those who are not necessarily attached to their existing desk, and are willing to replace it entirely for an entire desk unit that can be raised and lowered, you may also want to check out either the Jarvis Bamboo Adjustable-Height Desk, or the full size VariDesk Pro Desk 54.
For those who are normally used to sitting all day, it's also worth noting that being on your feet for most/all of the day can be tiring, especially at first. Be certain that you either have very comfortable shoes for standing long periods of time, or if you prefer you may wish to simply stand barefoot (or at least in socks). If you're not going to be in comfortable shoes (or perhaps even if you are), you'll also want to get a comfortable/cushioned mat to stand on, as a hard floor or even a carpet may make your feet sore. I ended out buying this basic soft mat to stand on after my first day with the standing desk and continue to use it (happily).
Having used my standing desk, I found within the first week that I was comfortable to stand at the desk for the entire working day without sitting down. Ironically, compared to the past – where I would sit all day and occasionally take breaks to walk around – now after about six months, I find that I'm generally standing throughout the day but occasionally take "sit breaks" to read for a few minutes in a nearby soft chair (and some people I know buy a high barstool and keep it nearby to pull up when they want to take a break).
Walk-And-Talk On Your Conference Calls And Phone Meetings
While the standing desk is a great start for reducing the amount that you're sitting, it still doesn't necessarily mean you're getting any more substantive exercise by walking. It is standing (which helps), but it is still stationary (at least unless you get a treadmill desk, but that's a whole other conversation!).
However, the reality is that not everything we do at a desk really needs to be at a desk. Sometimes we're actually working on the computer and need to be looking at a screen. But often we're just on a phone call. Or sitting in a meeting across the desk with someone else.
In these situations, I've adopted a strategy I call the "walk-and-talk", which as the name implies is just exactly that – when I need to talk, on the phone or sometimes even in-person with someone, I suggest that we do it while taking a walk. Conference calls are perhaps the best situation for this. Those calls where you're primarily in listening mode, but need to participate, that often take an extended period of time. So instead of just sitting at the desk – or even standing at the desk – try taking a walk outside instead.
It sounds like a rather trivial change, but the reality is that even at a comfortable stroll (which is about 2mph to 2.5mph for most people), a one-hour conference call turns into a 2+ mile walk that hardly feels like working. Two hours of calls and you'll knock out 4-5 miles in a day (which I track on my FitBit HR). Or as much as 20 extra miles of walking in a week. Which amounts to burning almost 2,000 additional calories. Which means you can lose half a pound a week (or more as you build a little more lean muscle mass), or shed about 25 pounds in a year, just by walking around while you're doing the telephone calls you were doing anyway!
Of course, the caveat is that not every phone call will be conducive to a walk-and-talk format. Sometimes you really do need to be in front of a computer screen, or at least in front of papers you can read and follow along with. And for some in-person meetings, the other person may not share your enthusiasm for walking. Though you might be surprised how many people say yes (at least, if you're not living in an area where it's bitter cold outside right now!). Similarly, I now deliberately schedule conference calls (or not-necessary-to-be-in-the-office phone calls) in consecutive time blocks, specifically so I can do them while out for an extended walk (and time-blocking activities is a great productivity enhancer, too!).
For those who are interested, it's important to follow a few key tips and tactics to make it work:
- Make sure you have comfortable shoes to walk in. Even at a slow stroll, you can cover some real distance with an extended series of calls, and you don't want your feet to hurt!

- Keep your phone charged, and/or bring a portable battery. Because the last thing you want to have happen when you're out for a walk-and-talk is have your cell phone battery die mid-way through. I carry an Anker Powercore with me, which is barely larger than the phone itself and fits comfortably in my pocket.

- Get a (nice) headset. You're going to be walking outside, so you want to be certain that you can still hear the people on the call, and that they can hear you. Background noise can be distracting, and actually just the background wind can be a nuisance. I've tried many Bluetooth headsets trying to find one that is comfortable and has good audio quality (as the listener) and a good mic (for when I'm talking). The best I've found is the Plantronics Voyager Edge, though I find that just getting simple earbuds with a built-in mic generally has better audio quality (if you don't mind the cord dangling from your ear to the phone in your hand/pocket). Even with a nice mic that minimizes background noise, though, it's still polite to put yourself on mute if you're not talking on the conference call though! And you may want to let the listeners know you're walking outside, so they're not puzzled or surprised if they still hear some background noise.

- Gloves that deliver capacitive touch. I've found the walk-and-talk so effective that I try to go out even when the weather is cold. Bundling up warm is pretty easy, but the caveat is that if you're wearing gloves, you can't use a standard capacitive touch smartphone! Unless you get gloves that specifically work with touchscreen phones!
And although it's not necessary just to make the walk-and-talk "work" for you, I do strongly recommend getting a fitness tracker like a FitBit HR, as being able to see how much walking you've been doing is great positive feedback to make it a habit!
Notably, the benefits of the walk-and-talk are not merely about calorie burning. There is a growing base of research to suggest that walking and light exercise can help stimulate the brain and creativity. Walking and talking also makes it harder for you to actually use your smartphone to entertain yourself, which increases the likelihood you actually listen and pay attention on that otherwise-sometimes-boring conference call (we've all had them!). And if you're physically walking with someone, it's a great way to make a more personal connection. (Though if you're doing it via telephone, you may want to let the other person know, if only so they're not surprised if there is a bit of background noise that you happen to walk by!)
The idea of the "walking meeting" is becoming so popular, it was even commemorated recently in a TED talk!
Losing Weight And Getting Healthier
So what's the end result of all of this? For me, it's been transformative. As many of you have noticed from seeing me speaking at conferences in the second half of the year, or from my Periscope #OfficeHours broadcasts, I've dropped a significant amount of weight since adopting these habits at the beginning of the year. In fact, between starting the walk-and-talks in May, and getting the standing desk at the end of July, I've dropped over 40 pounds!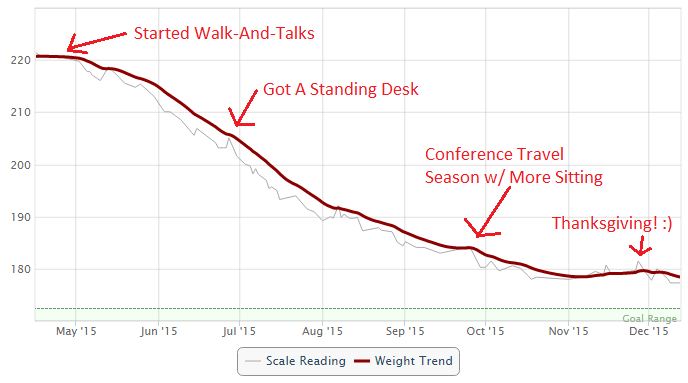 Notably, I'll admit that my weight loss hasn't been purely a function of the standing desk and walking more. I've also been trying to eat a bit less overall (as many of you know, I'm a foodie with a 'healthy' appetite!), and near the beginning of the year I also eliminated sweetener (both diet sodas, and the Sweet-And-Low in my coffee) which also appears to have been impacting my appetite control (i.e., making me want to eat even more!).
That being said, I'm fairly certain the standing desk and walk-and-talks themselves have been having an outright positive effect as well. My FitBit tracking reveals that my resting heart rate had dropped almost 10bpm over the past six months of getting healthier, and my previously borderline high-blood-pressure has returned to a normal healthy range as well. My goal in the new year is to continue the trend by actually getting more real cardiovascular exercise as well (as the standing desk and walk-and-talks are great for a slight increase in metabolism, but aren't 'real' exercise for your heart!).
Nonetheless, the positive impacts for me have been more than enough to make me a fan of these tactics to improve health. The added benefit for acknowledged work-a-holics like me is that these are ways to get healthier and improve metabolism while still being productive. I'm able to work and write just as effectively at a standing desk as sitting down, and can be just as engaged (or even more) on a telephone meeting or conference call when I'm walking (compared to being in front of a computer that may distract me!). To help promote their health, we've even given the core staff members of our XY Planning Network team the option to get standing desks for themselves as part of their end-of-2015 bonuses!
In other words, while it's always going to be a challenge trying to stay active and healthy in what is nominally a "desk job" like financial planning, there are ways to improve health and stay productive as well. Hopefully ideas like standing desks and doing walk-and-talks will work for you too!
So what do you think? Have you ever tried a standing desk? Would you want to now? What about going for a walk while you talk on conference calls or phone meetings (where you don't really have to be chained to the desk)?