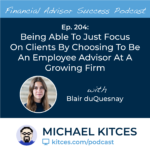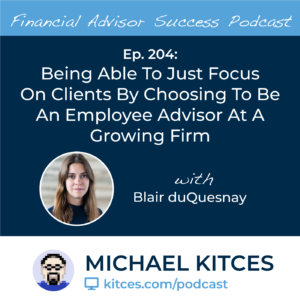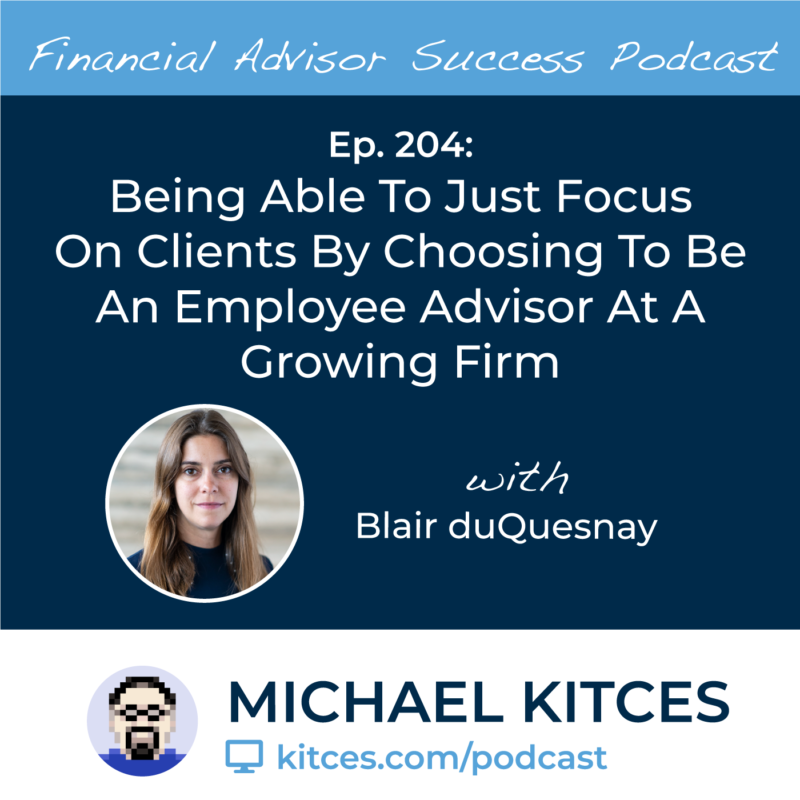 Welcome back to the 204th episode of Financial Advisor Success Podcast!
My guest on today's podcast is Blair duQuesnay. Blair is a financial advisor with Ritholtz Wealth Management, an independent RIA based in the New York City area that oversees nearly 1.3 billion of assets under management for more than 1000 affluent clients.
What's unique about Blair though, is the way that she's been able to build her client base of the firm up to $90 million of client assets in barely two-and-a-half years in a role that, by design and her choice, doesn't require her to actively prospect for business and instead lets her focus on the client relationships and the investment committee work she enjoys most, and why she gave up being a partner at her prior firm for this current employee role.
In this episode, we talk in-depth about the journey that Blair has taken through different types of firms in the industry, from starting out at a major wirehouse in various operational and investment support roles to the transition she first made to the independent channel not as a proactive decision to break away from the wirehouse world, but simply out of a need for a job after the financial crisis. Why her decision to launch her own independent RIA was driven more by a family change and limited alternatives than a desire to hang her own shingle. The opportunity that led her to merge her firm into a larger local one. And why finding an advisory firm that had a strong organic growth rate of its own was ultimately such a driving factor in her decision to join Ritholtz Wealth Management.
We also talk about the steps that Blair took to reinvest in herself to advance her career. The reason she decided to pursue the CFA Charterholder as her first professional designation, the path she took to obtain her CFP marks thereafter, why Blair has no regrets for having spent several years working as a sales assistant before becoming a financial advisor, and the moment when Blair was attending a financial advisor conference that she realized she was going to have to make a change.
And be certain to listen to the end where Blair shares the real-world challenges and frustrations that came with starting her career in financial services as a young person straight out of college and as a female in a male-dominated industry. The steps she took to make sure she stayed in the industry, whatever it took until she found the right role. And why, in retrospect, she believes it's so important to be patient and taking early entry-level roles that form the foundation of a long-term career as a financial advisor.
So whether you're interested in learning about how Blair's career path changed from aspiring professional ballet dancer to financial advisor, how she discovered real financial planning, or how making a mindset shift to optimism changed everything for her, then we hope you enjoy this episode of the Financial Advisor Success podcast.