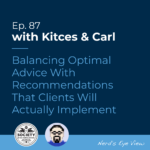 Clients rely upon their financial advisors to provide expert advice that will optimize the possibility of achieving their financial goals. And naturally, advisors want to deliver a plan with the best possible outcomes for their clients. Yet, as advisors come to understand their client and their limitations, they may foresee that the optimal plan may be too time intensive and may not be something the client can fully accomplish. Advisors are then faced with the conundrum of presenting a financial plan with optimal recommendations or presenting a suboptimal plan that clients will actually implement.
In our 87th episode of Kitces & Carl, Michael Kitces and client communication expert Carl Richards discuss how advisors can address the challenge of working with clients who have neither the capacity nor inclination to carry out what needs to be done to implement their financial plan. As while pushing a 'perfect' financial plan that an advisor knows the client will not follow may eventually lead to the client 'burning out' and leaving the advisor, recommending a suboptimal plan that the advisor knows the client will be able to follow can make the advisor feel as though they are not truly working in the client's best interest.
As a starting point, it's important to understand the particular client for whom the financial plan is being made. Some clients require more in-depth information and will welcome the advisor explaining all possibilities before making a decision on which financial path to follow. On the other hand, some clients may be overwhelmed with too much information and may feel the number of tasks to accomplish their goals is not worth the amount of time it would take. By understanding the client and their preferences, it can become clear as to which recommendations the client may or may not be willing to implement. The advisor can then outline a financial plan they know their clients have a better chance of implementing. Importantly, if there are good recommendations that the client is not willing to take, the advisor can still use these recommendations to educate the client, helping them to fully understand their situation and the options available to them. Furthermore, ensuring that the client is fully aware and understands the nuances of their plan is an opportunity for the advisor to reiterate their value to the client.
Ultimately, the key point is that the best advice is the advice that actually gets implemented. It's okay to give suboptimal advice if it means the client will have a better chance of reaching their financial goals over time, but challenging clients to understand all of their options can help advisors educate clients and, at the same time, reiterate the value they provide to clients. Because the best financial plan is one that is tailored to the client's needs and designed to help the client reach their goal, but that outlines realistic expectations of how the client can achieve those goals and how the advisor can help them!