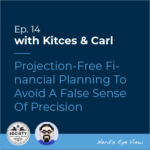 Developing trust is one of the most important things financial advisors can do to establish lasting relationships with their clients. For which developing a comprehensive financial plan is often an opportunity not only to deliver value as a financial advisor but to deepen client trust by demonstrating the advisor understands them in the first place. Once clients have stepped into the proverbial Cone Of Trust, though, does a client really want (or need) to review and discuss a full-blown financial plan? Or would they rather just be told, very simply, what they specifically need to do to meet their goals and solve their problems?  Alternately, is it still preferable for clients to review their plan in depth so that they might better understand where they are today and how decisions they make now will affect their plan in the long run… no matter how complex or lengthy their financial plan might be (and how much trust they've already imbued with from their financial advisor?)?
In our 14th episode of Kitces & Carl, Michael Kitces and financial advisor communication expert Carl Richards  explore the various functions that a physical financial plan deliverable plays in the financial planning (and client relationship trust-building) process, share their viewpoints on how written financial plans can be used effectively to help clients, and discuss what ultimately matters most for clients, regardless of whether their financial plan is one page or requires a 2" binder and color-coded tabs.
Generally speaking, there are two (if not more) camps when it comes to the usefulness and structure of financial plans. Some advisors feel that detailed financial plans give a false sense of security by predicting future outcomes with unwarranted certainty; instead, these advisors prefer to establish trust and develop empathy without using the financial plan as a central conversation tool. Once a strong connection is formed, and they understand the client's core issues and concerns, they often find it easy to discuss "good" behaviors the clients can follow to avoid mistakes and stay on track and do so using simple terms that apply to and make sense for the client. Interestingly, the level of trust that clients have in their advisor may often influence the degree of understanding they want/need to derive from their advisor, and/or their willingness to accept the recommendations being provided, based on the financial planning discussions they have together.
Other advisors, meanwhile, prefer to develop and discuss a detailed plan with clients and feel that their clients appreciate the clarity a good plan provides for their current financial situation, and that clients value understanding how different outcomes of important decisions considered today (such as funding education, modifying spending habits, and retiring early) will affect their overall financial picture years into the future. This is especially important because clients often fail to realize the powerful impact small changes in behavior and compounding growth can have on saving goals. Not to mention that delivering the financial plan itself can often be part of the trust-building process… as clients may not be willing to take the plan recommendations unless they're also backed up by a thorough analysis (even if the client won't read the analysis once they see it's there and trust that it's been done).
In the end, the key point is simply that advisors can use financial plans as effective tools for helping clients stay on track and make smart decisions, and that different advisors have their own distinct styles of conveying this feedback. Clients, too, are unique, and they have different preferences about how much of a full plan they want to see. Regardless of how advisors create and implement financial plans, though, clients need to be confident that their advisor is competent and that their recommendations are credible… which means either in advance of developing the plan or as part of the plan delivery process itself, it's still essential to first establish real trust in the client relationship.