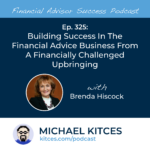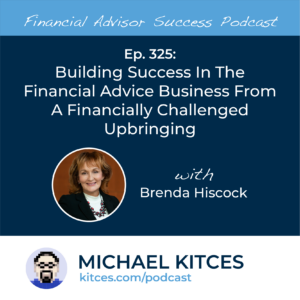 Welcome back to the 325th episode of the Financial Advisor Success Podcast!
My guest on today's podcast is Brenda Hiscock. Brenda is a financial planner with Objective Financial Partners, an advice-only advisory firm based in Ontario, Canada, that works with clients on project-based financial plans, and also offers outsourced paraplanning to other Canadian advisory firms.
What's unique about Brenda, though, is how she not only came to the financial services industry without any financial background, but did so despite a very financially challenging upbringing, and while navigating challenges of homelessness, bankruptcy, and alcoholism in her 20s, through which she not only persevered and rose through the ranks as a financial advisor, but has been able to leverage those real-world experiences and challenges to provide an even deeper more meaningful level of engagement with her current clients and how their financial pasts can impact their financial behaviors in the present and future, too.
In this episode, we talk in-depth about how, while Brenda was still in high school, her mother died suddenly and she was left with the responsibility of caring for her younger sibling which created a large financial burden that Brenda couldn't handle despite working 2 jobs and eventually led to her becoming homeless and beginning a cycle of alcohol addiction as a coping mechanism, how Brenda learned after her early struggle with alcoholism and 2 failed stints in rehab before finally getting sober 19 years ago that being able to work from home with a flexible schedule wasn't just a nice-to-have for work/life balance but essential for her to have the space she needed for her mental health, and how Brenda's perspectives on financial planning and especially the benefits of insurance were so deeply shaped by both her financial struggles as a teenager after her mother died without life insurance, and her financial stability after disability insurance kept her from falling back into homelessness when she was diagnosed with cancer just 1 year after getting sober and had to take a year off from work to get the care she needed.
We also talk about how, when Brenda realized she would have to take care of her younger sibling, she asked for help and her high school placed her in a cooperative education program that got her a job as a teller at a credit union which began her career in the financial services industry, how, later in her career, Brenda began a job in insurance (because she knew how important having insurance can be) but ultimately found that her first-hand experiences in the benefit of insurance didn't make it any easier to sell insurance and prospect for new clients, and how Brenda's effort to find the right position for her in the financial services industry ultimately led her to financial planning where she realized that she could have a greater impact in the lives of clients as she could use her personal experiences and life lessons to educate them on how to properly handle their finances and break through their emotional issues with money.
And be certain to listen to the end, where Brenda shares how she found she enjoys financial planning because she can combine her intuitive math skills with her love of working with people, educating, and having deep conversations that can impact the future of clients' lives, how Brenda is continually working on making peace with the struggles she has endured through her life but feels that they were necessary to get her where she is today and to become a living life lesson to others in the importance of having insurance, support from others, and a good financial plan of your own, and why Brenda believes it is important for younger, newer advisors to not only find mentors but be ready to proactively ask their mentors for help in achieving their career goals to ensure they get the support and wisdom they want and need.
So, whether you're interested in learning about why Brenda feels it is vital and beneficial to have life and medical insurance, how Brenda overcame her addiction and cancer diagnosis, or how Brenda helps her clients get past their emotional connections with money, then we hope you enjoy this episode of the Financial Advisor Success podcast, with Brenda Hiscock.