Executive Summary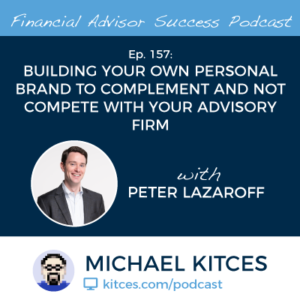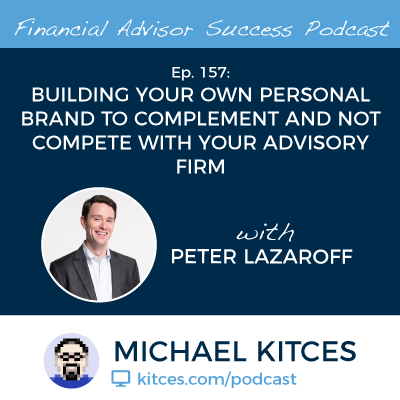 Welcome back to the 157th episode of Financial Advisor Success Podcast!
My guest on today's podcast is Peter Lazaroff. Peter is a shareholder and the co-chief investment officer of Plancorp, an independent RIA based in St. Louis that oversees nearly $4.4 billion of assets under management for almost 1,300 affluent clients.
What's unique about Peter, though, is the way that he's been able to build his own personal brand as he's grown his career, both as a mechanism to build a client base of nearly $100 million of assets under management while still in his 20s and 30s to help him navigate career opportunities as well to build even further.
In this episode, we talk in-depth about how exactly Peter built his personal brand. From simply proactively taking notes on what he was already reading and sharing them with co-workers to launching an email newsletter and pursuing networking meetings as a chance to build his email list, pivoting later to a blog that would further allow him to expand his readership and reach, publishing a book to go even deeper still to reach his target clientele, and how now his personal brand is producing such strong results in generating new clients that his advisory firm is investing into his personal brand to help refine it even further.
We also talk about the practical challenges of building a personal brand inside of a larger advisory firm. Why Peter's original firm was comfortable with him launching a newsletter but concerned about having him own a separate blog, how Peter got his new advisory firm on board with his branding efforts by first spending time writing for the firm's own website to show his value, the way Peter handles his blog content for compliance purposes and why he set up a separate LLC structure to own the intellectual property of his blog content and email list and then licensed it back to his advisory firm, and why Peter, despite the fact that many advisory firms are wary of their employees building personal brands outside of the business, thinks that firms allowing employees to do so will actually have a better chance at attracting and retaining the most ambitious, growth-oriented advisors.
And be certain to listen to the end, where Peter shares why he wishes he had launched his blog website earlier rather than just sending out an email newsletter. The importance of being proactive and getting your firm's leadership and compliance officer on board to be successful in building a personal brand that will complement and not compete with the firm, and the realization that Peter had after getting immersed into the so-called FinTwit community of financial advisors on Twitter, that while it's great to connect with colleagues through blogging and social media, in the end, it's crucial to stay focused on the target clients you want to reach to really have success in the world of blogging and social media.
What You'll Learn In This Podcast Episode
Peter's Role At Plancorp And What The Firm Looks Like Today [05:17]
Peter's Path Into Plancorp [13:19]
How His Networking And Newsletter Helped Him Build An Initial Book Of Business [22:51]
How Peter Started Carving Out His Own Brand [45:40]
How The Legal And Compliance Considerations Work Within The Firm's Structure [59:54]
How Peter's Writing Ties Back To His Role At Plancorp [1:13:44]
The Marketing Efforts That Drive Results For Peter And Plancorp [1:26:20]
What Most Advisors Don't Understand About Brand-Building [1:31:00]
What He Knows Now That He Wishes He Knew Earlier And What Success Means To Him [1:42:47]
Resources Featured In This Episode: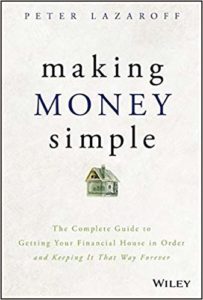 Peter Lazaroff
Never miss a Financial Advisor Success podcast episode! Get notified of the latest episodes (and all our research as it's released!) directly via email:
Full Transcript:
Michael: Welcome, Peter Lazaroff, to the "Financial Advisor Success" podcast.
Peter: Hey, Michael. Thanks for having me.
Michael: I'm really excited about today's podcast and the discussion. You are one of the few advisors I know out there that has really done a great job of building a personal brand for yourself and sort of navigating this challenge that I think is emerging, probably particularly on the social media world, where sort of like, with social media and blogging, anybody can kind of stand up their own little platform, their own little soapbox and start talking from their soapbox, hopefully, build an audience of some people who are interested in what they have to say and suddenly start developing a brand for yourself.
And it's one thing to do that if you're literally a solo advisor starting from scratch and saying, "Hey, I want to put my mark out there and try to build a client base that follow the stuff that I do." But I know you come at this from a little bit of a different angle because you are in an already existing multibillion-dollar firm that has built its own brand, its own client base, its own referral networks and all the rest, and here you are building this personal brand under the umbrella of a large, very successful corporate RIA brand. And so I'm fascinated in that dynamic of how you do that, how you navigate that. How you get a large firm on board with that, where you don't just answer to yourself, but there's a bunch of other people you have to get on board, and kind of how you look at that balance of a, "Hey, I'm building a personal brand for me, but I want to be good to my firm, but I'm building my personal brand and not my firm's brand." So like, how exactly does all of this work together at the end of the day?
Peter: Well, it wasn't a straight line. I'll give you that. And we can jump right in and I can start going, or by all means, tell me where to start.
Michael: So I think as a starting point, let's set a little bit of the context first. So tell us a little bit about the advisory firm that you're at today, and then I want to understand sort of the path into the firm and this personal brand building thing you have been doing along the way.
Peter's Role At Plancorp And What The Firm Looks Like Today [05:17]
Peter: Sure. Well, Plancorp is, as you mentioned, a multibillion-dollar RIA. The last time I checked, I think we were at $4.4 billion in assets under management. And we work with clients across 44 States. And I've been at Plancorp just a little under five years now and spent the past two or so years as the co-chief investment officer alongside our founder, Jeff Buckner. And so the firm was founded in 1983 as a fee-only financial planning firm, believe it or not. It seems like that was maybe even before it was really a thing. And we didn't invest any dollars that first decade or so, only financial planning for a flat fee.
And it's a lot of what attracted me to Plancorp was the emphasis on planning. But my role here as co-chief investment officer is to oversee the portfolio management team. So we have centralized trading. We don't have our wealth managers in the software making trades themselves or making recommendations for trades. I chair the Investment Committee, which oversees the policy and the messaging and education both internally and externally. And the, I guess somewhat twist in my day-to-day roles, I'm also the co-chief investment officer of a digital RIA that focuses on financial wellness, corporate financial wellness called BrightPlan. We can put a pin in that just so that we don't complicate things because that's relatively new. Plancorp, this company that's been around for, say 36-plus years at this point, it has really embraced a lot of what I have viewed as an opportunity to introduce Plancorp or introduce our message to a broader or different audience that they'd reach maybe through traditional RIA marketing practices.
Michael: Well, and I know BrightPlan made interesting news when the deal was struck between BrightPlan and Plancorp, gosh, I'm trying to remember, that was probably like two-something years ago.
Peter: That's right, early 2017. Yeah.
Michael: Yeah, when BrightPlan came from this direction of like being a "robo-advisor," although I think more towards, as you said, the financial wellness employer channel as opposed to being 100% direct-to-consumer like a Betterment or a Wealthfront. As memory serves, BrightPlan actually took a stake in Plancorp. The robo took a stake in the human firm to try to build these synergies, as opposed to the robo is going to replace the humans or defeat the humans, it was like, "Let's build this synergy from day one."
Peter: It's close. So we were approached by some executives from the Silicon Valley who wanted to partner with a financial planning firm. And Plancorp actually helped set up a holding company and we sold 40% of our company to a holding company called Prumentum. Prumentum owns 40% of Plancorp and 100% of BrightPlan. And a lot of that was because Plancorp is a great business. And we wanted to remain independent. And we didn't want to get sold because...that was a big reason I was attracted to Plancorp was the act of succession plan. And the three founding partners I believe are maybe 20% of the company, but they had over a decade offloaded most of the shares to shareholders, and much younger. I look around and it's people in their 30s and 40s.
But with BrightPlan, the thought here was we wanted some customized software for our own internal use and our own clients use. So having a team of engineers allows us to, instead of plucking one of the great brand name softwares off the shelf, lets us build something a little more unique to our needs and our clients' needs. But certainly has been a fun venture and a way to let the tech people focus on what they're really great at and the financial people focus at what they are really great at. And we've just found that the best way to spread that message thus far has been through corporate financial wellness, because it is a very competitive space when you're trying to deliver to the masses like the Betterments and the Wealthfronts and the Personal Capitals of the world. I think what we're offering is slightly differentiated, and there's a real need for it. And it's the number one...it's in the top I think two or three requested benefits in the Silicon Valley right now. And so, really, we're seeing a lot of traction on that front and been excited about that project.
Michael: And so I guess the idea is there's sort of this spectrum, like clients that aren't big enough to fit Plancorp can get referred to BrightPlan, great, executives and employer retirement plan can get referred from BrightPlan up to Plancorp, and then the rest of the time it's just separate services for separate clientele. If you've got more complexity and planning needs, you're on the Plancorp side. If you've got, hey, you just want investment-only platform and more straightforward investment needs, here's BrightPlan.
Peter: Yeah. Obviously, referring up to Plancorp is available, but it actually is not what the business model is...the success of it is predicated on. So it really is a matter of getting users on the platform. And Plancorp, it serves as a small client solution for us. There's...I'm going to probably get some of the options wrong, but Betterment has a white label option that I see a lot of advisors use really well. And we just figure if we already have this platform, why not use it for our clients as well. So it's never...it's really specifically focused at the employee in those benefits just because we have so much expertise and education through 401(k), 403(b), 457 plans, that sort of thing.
Michael: All right. And so how many clients does Plancorp have?
Peter: Plancorp has roughly 1,300 clients across 44 States. And that $4.4 billion number I was quoting, I think that's as at the end of November last time...that's the last time I took a look. I have to update that ADV. I know a lot of firms had a down December, right, last year, and now we all get to update a new annual ADV. We're all excited for that.
Michael: Yes, roll off that bad final quarter of last year. And so for Plancorp, right, I'm just kind of doing my napkin math here, $4.4 billion, 1,300 clients, that's an average client of north of $3 million. Although I believe you have some level of institutional and retirement plan business you do under the Plancorp umbrella as well that's probably lumpier assets?
Peter: Yeah, there's a couple business lines. So you have your traditional wealth management business line. We have exit planning, which has been probably our most successful business line this year. Just approaching business owners and helping them develop an exit plan, whether or not they are actively exiting this year or next, we're working with them through all different stages of the business planning process. Yeah, we have a retirement plan division, an institutional division, and then we have a family office that tends to look more like a multi-family office kind of under our umbrella. And our chief planning officer is kind of lead of that unit.
Michael: Okay. And I guess I'm just wondering like, where's the center of gravity overall for the firm across these different lines? Primarily, multi-family businesses look a little bit different than primarily wealth management, which look very different than primarily institutional asset management. Is there a particular focus of sort of what's the dominant for the firm and then what are the things that we add over time? Because we tend to add these things over time.
Peter: That's right. We're a wealth management firm, first and foremost. And while this isn't an exact number, it's a guess, I'd say 95% of our business is wealth management business. It's really the core of what we do. And something like retirement plans and institutional asset management, those are business lines we added as a result of client demand. So a client is sitting on a charitable board and wants help, or they have a company where they need their 401(k). The exit planning has been a more strategic move and really been quite an impressive growth avenue. And the family office, I think the average net worth of our families is north of $125 million. Again, I'm hoping I'm getting these numbers correct, but yeah, the wealth management is the core piece of our business.
Michael: And how many employees under the umbrella are doing all this work for so many clients?
Peter: We have roughly 65 employees, and most of them are in the St. Louis headquarters, but we have a Silicon Valley office that has 2 people, a Nashville office with a single person, and a Florida office with a single person.
Peter's Path Into Plancorp [13:19]
Michael: Okay. So I kind of got a sense of the firm. You were very early in the wealth management business in St. Louis. Started 1983, so what, 36, almost 37 years ago now, built up this multibillion-dollar independent RIA across 65 employees based mostly in St. Louis and across the country. So I kind of have the sense of this, 1,300 clients, just have built and accumulated a really good base. So now help us understand your path into the firm. Because I think as you'd said, you joined just 4 years ago for a firm that's been around for, closing in on 40 years in a couple of years. You came in at a fairly senior role. So help us understand that path. What brings Peter to a multi-decade old, multibillion-dollar independent RIA?
Peter: Well, as I mentioned at the onset, it wasn't a straight line, but I did start out of college. So I graduated college in 2007 and went to work for another RIA in St. Louis. And I was there a little over eight years, maybe eight and a half years. And one of the things that really helped me gain early success in my younger advisor years was writing. So I'd started out as a trader and analyst. I had been studying for my CFA exams. And when I finished my CFA exams, it was 20...2012 was the year I finished the CFA, the third level. And I started going out, and rather than just being a trader and analyst, I was out recruiting business. But what I found at age 25 was that not that many people wanted to give a 25-year-old $1 million, which was the firm's minimum at the time.
And I had always taken a lot of notes. I really benefited from the chief investment officer there. We shared a desk, we shared a Bloomberg. And those first few years, I'd say, "Hey, what else can I do?" And he goes, "Well, there's nothing else to do, just make sure you're learning." And that meant for me to read a lot and take a lot of notes. And I do remember sitting in a portfolio manager meeting, and we're going around around this topic and I said, "Well, actually, I have some notes on that if you want me to send you them." And this was to the president of the firm. He said, "That'd be great." So I forwarded him the notes right after the meeting. He goes, "Wow, why do you do this?" And I go, "What? I do it every day, actually." He goes, "Will you send them to me every day?" And so sure, of course, you're going to do whatever your president says when you're young. I was probably 23 at this time.
So I started sending them to him. And the next time we're in a portfolio manager meeting, he mentioned, "Well, Peter's daily notes had this, that and the other." And people are going, "Ooh, what is this?" So ultimately, it got spread around internally. And over time, bullet points turned into sentences and sentences to paragraphs and paragraphs became these articles. And so when I started going out to find clients, I was using blast email through Constant Contact to have a newsletter that was coming out once a week at that point in time.
And I remember, as you remember, coming out of the financial crisis, financial blogs were just starting to gain in popularity. And my company at the time didn't want me to start a blog. They felt like it was a confusing line of competition, which certainly we can talk about in a different context in a second. But they were very happy with me sending this email out to my prospect list. And so I would go to networking events and shake hands and the next day I'd follow up and say, "Hey, I've got this newsletter, comes out once a week roughly. It's about markets and economy, and they're just my thoughts. It's really easy to unsubscribe if you'd like." And ultimately, I built a book of business myself that was a little over $100 million.
And ultimately, I reached an inflection point in my career where I felt like I wanted to be at a firm where the owners would be the same people I'd be working with. I wanted to be an owner myself. I wanted a personal blog. I felt like I was watching other people do something that made a lot of sense to me. Because to me, having a personal blog wasn't competing with your firm, it was just another way for others to discover you. There's one door here at Plancorp or any firm, it's the front door, but when you have a Peter Lazaroff door to walk in, well, suddenly, it's a little easier to access. And I also felt like maybe other people would promote my material more if it wasn't on a company blog. And so these were really important issues to me. So in 2015, I left my first job, which was a really hard decision to make because I loved who I was working with. And they were all so bright and wonderful mentors, but ultimately, it felt like this was the right move for me. And I had looked at nearly every firm in St. Louis. Most people don't realize St. Louis has the second most financial services employees to New York. So there is a lot of financial services action here.
Michael: Yeah, there's an immense density of financial services in St. Louis. You've got mega-firms. Scottrade was built there. I think Stifel Nicolaus is there. Wells Fargo Advisors has a monster presence. Edward Jones is there. And then you've got a huge RIA community as well. Like, a whole bunch of multi-multibillion-dollar RIAs all built around St. Louis.
Peter: Yeah, double-digit billions. Yeah. We're in town with a couple giants that each manage over $10 billion and maybe some...I don't have the exact...and across the state is the fastest-growing RIA in the country. And so there's certainly a lot of opportunity here. And I had looked at firms in St. Louis. And I knew this was my passion. I knew that I was in the right profession. And I had looked at a couple of firms nationally, and ultimately, I landed on Plancorp because I came in and I saw this very intentional attracting of students in college and recruiting them and training them. And there was a succession plan in place. And they had a technology plan in place. And I had them run financial plans on me and my parents and one of my mentors, and I felt like the planning was much stronger than what I was going to be able to deliver on my own if I started my own practice.
And the last time I looked, I think the average age advisor here at Plancorp is 36 years old. So it's a very young group. And that was attractive to me. I wanted to put my roots down. And if I was going to launch a personal brand in a more meaningful manner, I wanted to make sure I could really put my roots down and work with people I trust. And so coming to Plancorp was part because I was attracted to the model. I was attracted to how they were training people and how systematized they'd become. But then also, I really trusted our CEO, Chris Kerckhoff. The first conversation I had with him wasn't even really about Plancorp. He was the first person to buy into Plancorp outside the founders. And so it was a dilemma that I was wrestling at my existing firm. And I really had just reached out to him to get advice on that situation. And once we started talking, the process moved really quickly relative to everyone else who I had been speaking with.
And I think the strong trust relationship with our CEO and with our board really laid a lot of foundation for what it is I have done here. Because I think when you have an established firm, taking a risk on the marketing front seems scary. And I think it's a lot of why financial services marketing seems to lag best practices in marketing by almost a decade. You look at consumer brands and retail brands and they're doing things that financial services firms aren't doing, maybe in part because of regulation, but mostly because it's risky to do something different. And so, when I came to Plancorp, I came with my book of business as a wealth manager and the director of investment research. And after a few years doing that was promoted to co-chief investment officer. And really, in that time, I've become an owner. I think that was January 1st of 2017. Sometimes I get a little confused, but that sounds about right. Once I became an owner, I launched my own website. And so that was really a big part for me. It felt like I finally got to do what I wanted to do but with a seven-year delay.
And the fact that I'm a shareholder matters big time to the trust because if I were to do something that harms the Plancorp brand, well, then that harms me. There's people today, based on what I've done, that are now benefiting. So now Plancorp is able to invest in the brands of people who aren't owners because I've created a little bit of a roadmap. But it always comes back to this trust issue and making sure that... There was a lot of hand-holding in the early weeks of me doing it. And I meet with our compliance officer proactively, not about a specific issue, but just to talk and make sure that I understand the way he sees the world. And that's a big part of how I got here.
Michael: So I'm fascinated by this path and even the early years, this sort of dynamic of, "I took notes, and then it turned into an email newsletter within the firm, and then it turned into an email newsletter that I would sign people up for when I went to networking meetings, and then actually turned into a following that I was getting business from." So talk to us a little bit more at that end. Because just this phenomenon of, I think you said like you ended out building almost $100 million book of business in your 20s is just in and of itself something that is pretty rare anywhere in the advisor world. As you noted, well, it's hard to get clients in general as a 20-something, even harder when your firm has substantial minimums and the people with those assets are often looking at you like, "Oh, that's so sweet. I have a grandson your age." And like, "Yeah, I'm trying to get a living here." So talk to us more about just this path of like, I'm meeting people, I'm getting their business cards and signing them up for my mailing list. And this is turning into business.
How His Networking And Newsletter Helped Him Build An Initial Book Of Business [22:51]
Peter: The age thing that you mentioned was so real. And hiding behind words seemed like a good idea at the time. And there wasn't a lot of email marketing going on at that point. And so I used to look at my week as, how many opportunities did I have to get in front of somebody? So I did a lot of traditional networking. I would say, okay, I can have breakfast or coffee with somebody, I can have lunch, or I can go to drinks or a networking event at night. And so, that's three opportunities a day, and there are five days in a week. And so I looked at that, there were 15 opportunities to be with somebody, and I tried to fill 10 of them. And when I would meet with 10 different people, now, granted, there were some repeats in there. You'd follow up with somebody every 3 months or every 6 months or every 12 months.
But when you're meeting with that many people, it was a really great leave behind to, you send an email, "Hey, it was great catching up with you," if you had coffee, or, "Hey, it was great meeting you at this event, we should definitely grab coffee sometime," or, "Hey, I loved talking about this." But there was always at the end of messages, "I can't believe I didn't remember to say this, but I have an email newsletter about the economy and markets and personal finance. I send it once a week," or there was a point in time where it drifted back to once a month, "I'd love to put you on the list. I know none of us are short for emails and I don't want to send you something you don't want." And everyone was always like, "Sure, yeah, sign me on. Sign me up, and let's do it."
And then what I would do is what...it was more of a manual process that I run now, but I would look at opens. And I would track opens and clicks. And the people who were clicking and opening or people who were just flat-out replying to me, I kept track of that. And I was able to gauge a little bit of who is really interested in what I have to say. And it was not only who's interested in what do I have to say, you learned what it was that people were interested in through your click rates and your open rates. And most of this was happening in Excel. Now, I don't know if in 2010 there were systems that would have helped me. I used Constant Contact at the time and it was...gave me the data I needed to plug into Excel and create a strategy that made sense to me.
But this idea of writing an email, if you had asked my parents or any of my teachers, they would have just laughed because writing was not natural to me. And I think the writing, even when I look back at something two years old, I'm like, "Oh, my goodness, it's gotten so much better." I think had the financial blogosphere been as robust then as it is today, I might have gotten a little insecure about the quality of my writing. And I think ultimately what I had always done was try to be as clear as possible and remove extra words and just explain it as simple as possible, but also write about topics that could appeal to somebody who is more than a novice. And that's generally been my sweet spot ever since. And with more and more practice, like anything, you're going to get a little bit better. I think I have now been more intentional about how to learn my craft. I read more intentionally, I interact with others. When I read something that's good, I go, "That was amazing." And then I go back and I go, "Why was it amazing?" And I try to look at that a little more closely. Yeah. And there's like little sentences.
Look, I think my objective is to be a competent writer when I'm grouped with other writers. When I'm grouped with the general population, I think yeah, sure, above-average writer, but there's so many wonderful writers out there, and just learning from them. And especially with the community these days of finance, Twitter or the financial blogosphere, it's really been a welcoming community to help you learn and hone your craft. So it definitely... When I say it started as bullet points and bullet points turned to sentences and sentences to paragraphs, writing is a really daunting thing, and even my first drafts are just disgusting. They are just a total stream of consciousness. They're very messy. It takes a lot of editing. And I obsess over sentences. But it's just that starting of putting down your thoughts in bullet points is often a lot less intimidating than writing a 600-word article or 1,000-word article or whatever.
Michael: Yeah, there's so much there, I think, that you talked about that's really powerful. The biggest anchor of which is just like, as you said, writing was not natural to you. Just the more you do it, the more comfortable you get with it. And first drafts are messy for everyone. That's why you sit down and edit them and try to refine them more. Or for some people I know, you get an outside editor who can help refine what's being said and tighten it up and focus it a little more. Sort of the sad irony of just the ongoing devastation of the traditional media world right now as the economy shifts is there are a lot of really good, very underemployed writers and editors out there who can even help if you want help for a pretty reasonable cost because the supply is pretty high right now and offset the supply-demand balance a bit. So there's a lot of ways that you can practice to do it and get better at it and refine it and tighten up what's a messy first draft for almost everyone. The distinction to me, what's so powerful about your story is like, but you just did it.
Peter: Right. You always hear people just go. Yeah.
Michael: Yeah. And I don't know if this was an effect for you in what you were building as you were writing early on in email form. But I do remember, kind of reflecting on this, when I was starting the blog on my end in the early years is there is sort of this recognition deep down of like, there still aren't actually that many people that read this, it's fine. It was mostly my parents and some friends and a few colleagues in the industry. And a lot of the early years was writing to those folks and not all that very many more or people that I asked to sign up and follow it. Just like, well, at least if you like me enough to sign up for it, you'll probably have a little bit of patience to tolerate what I'm writing. And then over time, you build the muscle and it gets stronger and you get better at what you do. By the time sort of more of an audience shows up, it's like, "Oh, a lot of people are reading this. All right, well, I'm glad I've got my first sucky articles out of the way and gotten a little bit better at this now with the practice by the time more people are showing up."
Peter: I read your content all the time and I listen to this podcast all the time and I'm sure you feel better about this podcast than you did the first one or your next article than even one from a year ago. And I think I have in many other ambitions and desires for content creation really stalled and waited for like the perfect title or the perfect scenario. And I think what helped me was, the way I was compensated was if I brought in business, that made me more money. And I was looking for ways to do that. And just being very candid, I don't think I worried about what people thought of my writing. I figured if it's a way to stay in touch then let's do it. And that first email I sent out externally, I don't think it had more than 30 people. It might have had 25 people. And they were some of my best friends from high school. And yeah, they were my parents and my in-laws. And it really was a tight small group of friends and family that today, I don't know if they read my stuff or not, I don't have time to notice at that sort of micro level.
Michael: But I am fascinated sort of what you were talking about in the early years when it sounds like you were a little bit more at the micro level. Because you were literally like looking at the data of not just what is the percentage open rate and percentage click rate on this article, on this email, but it sounds like you were literally drilling down to like, "Jim Smith is opening 80% of the things that I send him. Jim must be really into my stuff. I'm going to do a follow-up call for Jim and try to get another meeting because apparently, he's really into this investment stuff. And I'm sharing with him. So he must like my content and be willing to have another meeting."
Peter: And I think that was possible because the list was small. And I was filling it up with people whose hands I've shaken before. A lot of the digital efforts I make now, they're people I've never met, and they find me via number of channels. But back then I was just networking. And it was a way to follow up. So, I would go to the opens and I'd take a look. Because I'd want to see if anybody I was interested in reading. I was just always like, "Yes, so-and-so read this one."
Michael: I remember that back when the list was a manageable size, like, yep.
Peter: Right. And you know everybody. And you're like, "Oh, that's great." And then it gave me more confidence to reach out to somebody who maybe I had met at a charity event or a sporting event or we'd had coffee once but I know they read all my stuff. So it gave me all this confidence to reach out to them via email and say, "Hey, we'd love to grab lunch." And then they would mention that they read all the time and I go, "Really? That's great." And I think that people now know that they're being watched on the internet. But back then, I say back then, it was about a decade ago.
Michael: Back in the dark ages.
Peter: Right, right. Things have changed, I think, with the internet and the marketing techniques. And I never had a sales pitch in an email. It was always educational. I was trying to be helpful. And I always asked others for feedback and just trying to make it better. Now, what I do on a macro level with the benefit of software and technology was doing at a micro level and just working really hard. And I mentioned the business that I was able to build, I still feel like I got unbelievably lucky a couple times. However, I was working really hard. I still don't know that I've ever worked as hard as I was in my 20s when I was doing this after hours, or when I would show up at the office at 6 a.m. and leave at 6 p.m., and then go to a networking event from there just so that I would be able to meet one person so that I could email them in the morning.
I would go to a networking event at 6 and it stopped being fun, and I'd go and I say, "Great, after I meet one legitimate person, I'm going to leave." And then if that took 10 minutes, great, I'd leave after 10 minutes. If it took two hours, I'd stay two hours. And I think it just was, I definitely, by doing that, put myself in a position to get lucky a couple times and really make me an attractive candidate to a firm like Plancorp or some other firms that when you had a book of business, it was a little easier to say, "Hey, so here's this other thing I'm doing." They could all see the writing, but I had a bigger vision. And you know as well, having struck out on your own a little bit to start your own brand as part of an RIA, it sounds weird at first to the people who are running the show.
Michael: Yeah. So I want to come back to that end in a moment and sort of those dynamics of launching within a larger firm, but I am also intrigued by how you frame the way that you thought about business development, that it sounds like this is a version of the book "Never Eat Alone."
Peter: Yes. So many people have told me that. I should read it, apparently.
Michael: Yeah. And so you looked at it like...was it like, "There's lunch, there's happy hour drinks and there's evening networking 5 days a week, there's 15 of those opportunities a week. I'm going to do something at 10 of them." And just everyone was like, I've got to get at least one person where I make a connection and get a business card and have someone I can send a follow-up to in order to just sign them up for my newsletter." That was the goal? Like, "I don't need to close a client here. I'm just closing for a business card so I can get an email."
Peter: That's right. And once you have the email, if I see that they're reading it, there's some people who I'd be like, "Hey, let's go grab coffee." I'll reach out to you. But there were more people who I was like...I'd reach out the next night, "Hey, it was really great to meet you. By the way, I totally forgot to mention, here's this newsletter." And if they started engaging, well, then I was more likely to reach out and schedule a coffee or a lunch. What was interesting is when you network that much, you make real friends. It's really all about building relationships. And I think of some of the closest relationships I have here in town was based on just being out all the time with different people, and they introduce you to people. And if you are networking that hard, you're going to see the other serial networkers. You're going to meet those people who are doing the same thing and they end up being good friends. It's really fun. It's a fulfilling way to work really hard at building up your network.
Michael: And then the follow-up to them really was a like, "Hey, I've noticed you've been reading a lot." Like, you got them, you got them on your mailing list from the networking meeting, you're seeing them reading a bunch of your stuff because you can see the open rates and click rates. Like, you would actually follow up with them and say...
Peter: Oh, no. No, no.
Michael: "I know you've been reading a bunch of my stuff," or just like, "Hey, just wanted to catch up with you because we haven't chatted for a while," and you're thinking deep down like, "And I know you've been following my stuff because you've been opening all my emails." How did that follow-up work when you were then taking someone where you're looking and saying, "Wow, this person really seems to be into the stuff I'm doing, how do I re-open this engagement?" Because, right, from there and as far as they know or as far as they know you know, you met months ago at a meeting, you did a business card thing, you sent a follow-up, they signed up for your email list, and that's the last time they know that you know about them.
Peter: Right. And so I would never reach out and be like, "Hey, I see you're opening my emails." Again, because I think that would not work today, I don't think either. But even a decade ago and the years leading up until now, I feel like that would feel violating to me.
Michael: Well, back then, we didn't actually realize the internet was watching us. That probably would have felt really creepy.
Peter: That's right. That's right. Cookies were like, what are these cookies I'm always clearing? And typically, it was a, "Hey, it's been a while. Just thought maybe we could catch up. Do you have any time for breakfast or lunch this week?"
Michael: And you just knew the odds were going to be good. They were going to say yes because they were already gobbling up your content. So you know they're pretty well engaged.
Peter: And it gave me the confidence to reach out. Of all the people who weren't opening emails and clicking, maybe I could have done the same thing, but I wasn't confident enough to do so. If I had an open rate of 30% to 45% and a click rate of 20%, then that's a lot of people eventually that are engaging on a regular basis. And I think that for a financial advisor, I've never really understood how the ebbs and flows of business development are, what the pattern is, but it does seem like it all happens at once without notice. And if you're in front of somebody and top of mind, you only get that one shot. People aren't walking around every day saying, "I want a new financial advisor." They may like you, and if you give good advice and they suddenly become upset with their situation, or maybe they finally come to a point where they can meet your minimums, you want to be top of mind. And for me, this seemed like the best way to do it.
And honestly, I'm not that organized of a person. I think I drive my wife crazy. I have a lot of people here at work who help me stay organized, but this was a way to help me organize my follow-up. Because I knew if everybody I met was getting this email, then I'd be touching base. And sometimes they'd reach out being like, "Hey, this is great. It's been a while, let's grab lunch." That might be the type of person who I've met with three or four times over a two-year span, and being pretty patient with it. And that worked with referral sources as well is they read it and they knew that I was working hard. And I think it also wasn't canned content. I think a lot of people have embraced email marketing, and it's relatively canned. This was very clearly me, and it was personal. And I was sharing links of things that I was reading. And it just...I think it came across as very authentic. And when I made these reach-outs, I had high confidence.
And the people that I met with, we'd catch up, and oftentimes they'd have some small question about their 401(k) or 529 plan, or they're just about to have a kid or they're about to have a grandkid, and they'll ask the question because they know I'm in the field and I can deliver them good insight and not make it a big sales pitch. And just that way when they do need somebody, who are they going to think of that was giving them a good advice and was a good person that they could trust? It's just building that trust over time. And when you're 25, you can't expect trust right out the gate. I feel like I was dying, that's the wrong word, but I was going to say dying for gray hair. I could have dyed my hair gray.
Michael: I know advisors who have done that in their 30s, and usually men in their 30s and 40s who have actually dyed it gray or salt and pepper.
Peter: Well, I will say, I felt like people told me, "Well, once you have a ring on your finger, people will take you seriously. Well, once you have kids, they'll take you seriously. Once you're 30, they'll take you seriously. Well, once you have a few gray hairs, they'll take you seriously."
Michael: Turns out people just never take you seriously.
Peter: That's right. You've just got to build trust at your own speed. And I think I had this really hard time getting over mental barrier of my age up until a few years ago. And maybe that's because I have the backing of Plancorp behind me or my role there. But I'm about to turn 35 in a couple days and this is the first time I don't feel young. And it's the first time where I feel like my current age is a real benefit. And it's just getting over that. The confidence of seeing these open rates and knowing that people value what I have to say, and just being someone who's being consistent with the advice that's not self-serving just builds that trust over time. And it's really been powerful.
Michael: So one more question around this and then I want to move on, but I'm just...help me understand how this literally translated into business. Was it someone is opening stuff regularly, so you do a follow-up outreach to them, because you know they're probably going to take the meeting because they're already really following your stuff, and then that becomes an opportunity to ask them for the business or was this still like, you'll follow up with them and you'll get a lunch with them, and now it's another touch and the relationship is still deeper, but at the end of the day, you're still waiting for them to have something in their life happen and call you and just hope you've dripped on them enough and done enough relationshipy stuff that when their moment comes they'll actually call you? What direction did that street go when you were actually getting down to the point of trying to get business and get clients?
Peter: It was more passive. I usually let the business come to me unless someone opened the door. And that didn't always...it wasn't somebody openly saying, "Hey, I'm interested in becoming your client." There were more subtle ways that you could tell the door was open to talk more about your services and, "You should really come in and let us do a review for you," or, "I've never talked to you about this before, but you obviously know what we do. I'd love to have you explore becoming a client." You had to seek those doors. But I mostly just waited.
And when I mentioned I got lucky, in addition to this email I was sending, I was also writing a hardcopy newsletter. And if I had your mailing address, I was mailing it to you, whether I'd met you or not. And I got a couple big wins from that as well that I feel like one in particular that really kind of set off a lot of success for me, and it was a matter of just finding different ways to get my message into different people's hands. And in one case, the message really resonated. And it was one of my largest...it was my largest client and still remain so just because he was reading. And I didn't know him. I happened to be sending it to his son and I didn't know that there was any relation between these two individuals. And the son gives it to dad and dad's ready to go. And that was cool. But usually, it was never, "Hey, I'm going to take this meeting and I'm going to strategically ask for business." However, today, today, I might be a little more intentional than I was in my early 20s. It sort of depends on who it is and what's the context.
I've come to realize that there's nothing wrong with telling people that you can help them. I think that there was a part of me that didn't want to do that. It felt salesy. But I'm salaried. Everybody at Plancorp is salaried, and so, I'm not working on commission. There's no pressure for me to make the sale. If you let someone know like, "Gosh, we could really help you a lot. There's this, this and this and this that we could be doing. Are you interested in that? We can set you up with a team and they can go through a discovery process that would build you a draft financial plan." I don't really feel bad about offering to help people now. I don't know what switched in my brain, but certainly back then it was more, "I'll just wait till they ask for my help."
Michael: I love that framing, just there's nothing wrong with telling people that you want to help them. To me, what that actually strikes at pretty quickly is, do you actually think and believe you have a skill set that helps other people? And are you really confident in that? Because if you're really confident you can help other people and that you do it well, as you said, why would it feel bad to tell people you could help them?
And most advisors I know that really struggle with that, at the end of the day, it usually comes down to either they're not actually fully confident in their own services. Because as you said, it takes a while to build that confidence, like seeing them open your emails every week to feel confident you're adding value. Like, either we may not deep down really have confidence in our own value, or for some advisors I know, they don't actually believe in the firm that they're at deep down. It's like, it feels awkward to tell people I want to help them because I'm not actually proud of the firm that I work for and the work that they do. Sort of unfortunate reality, but that is out there for some advisors. And if you're not proud of what you do or where you work or the value you deliver, it gets really hard to tell people about it.
Peter: I think that's really true. And as I think about having Plancorp's backing, when someone comes on board, I'm never their lead advisor. I think I realized when I came to Plancorp that I would never be a great lead advisor, in part because the tax depth and estate planning depth people have here and the ongoing training, I am super confident that when someone comes in the door, they're going to get taken care of so well. And maybe it did feel like when I was running a book myself I was great at attaining the business, but maybe I started to realize over time I may not have been able to provide them everything they possibly could. I do remember at a younger age always emailing my accountant or my estate attorney for different questions relating to different people. But here, I know that they come in the door, one, they're not going to get a hard sales pitch, and two, part of our prospect process is to build a draft financial plan. So no matter what, you're going to leave with a couple things that you didn't know about your financial life. And some of them are actionable, some of them are not, whether or not you hire us. It's a really compelling proposition.
And because we have the scale to do that kind of work, like I said, I feel like I'm helping anybody who walks in the door. And I'm never going to push the issue. They know what I do, they know what my firm does. I'm very loud about what my firm does. That's part of what...it's not in my job description, but I certainly feel like it's a role of mine to be a megaphone for Plancorp. But knowing how sound the team is here, it's such a deep team. I trust them so much. It's part of what attracted me here is all the talent. And yeah, you feel great. You feel great anytime someone comes in and just takes a look.
How Peter Started Carving Out His Own Brand [45:40]
Michael: So now talk to us in the context of, you were doing this as a newsletter because, I guess the mindset from the firm was like, newsletter okay, blog not okay, kind of competing. So help us understand what was going on there? I know you were kind of on the other side of that probably wanting to do the blog and saying like, "Why won't you guys let me do this? Don't you understand?" But I guess, at least as best you can interpret what was going on on the other side, what was different? Well, because I'm sure you had a bunch of conversations with them over time. What was going on there of what made newsletter okay but blog a concern for the firm?
Peter: I'm not really sure, to be honest. I get the question a lot from other advisors. They'll email and say, "Hey, I want to launch a blog but the partners won't let me or compliance says we can't do it." I think that there was...it was enough of an unknown to have a separate entity that, what is the compliance risk? I do think that was an absolute part of it. And, "Hey, here's this young person who's bringing in a bunch of business and he wants to start his own website. Is he trying to start his own company?" I'm sure that ran through their head a little bit. But ultimately, it looked so different that it was hard to understand. And they were like, "Well, why don't we just start a blog for our company?" And so we did. And I'm really glad that they did that. And I was not the only talented writer. There was a lot of talented writers. And so we had a really, really great blog but no one went to it, because no one is going to a company blog to get their everyday news. It's just not the way consumers are aimed.
And so when I wanted to have my own individual blog, I think it looks like competing because when you're young and you're bringing in business, it is something that in a non-compete, for example, how would you determine who gets it? Is it something you get to take? And is it allowing me to lay the groundwork to start my own firm? And for me, I genuinely thought it would just allow me to get more readers, and as a result, then have more people and data points to potentially turn into clients. And I also felt like, gosh, the people I'm following and reading, they're doing it. So I know that there must be a way to do it. But their compliance issue, I don't think I had enough experience myself to really understand what the nuances of all of this was. And certainly, I was asking when I was 25. I think if a 25-year-old had a blog and blogs weren't a big deal then, yeah, it's a risky proposition. It feels like a big unknown, why take that risk? I suppose that's what was going through their head. But I couldn't say with certainty.
Michael: Well, and I certainly understand it, right? If I'm just putting on a firm owner hat, when a team member comes to me and says, "Hey, I want to build a blog where we start creating valuable content that will get people interested in our business, oh, but I don't want to do it on the company's website, I'm going to do it on my own," I think it sort of does raise this question like, so are you getting ready to leave? Are you building a platform so you can exit off the firm? It even sort of strikes me, the irony, in retrospect, is you did build a platform that got you enough business that facilitated your ability to leave and go work for another firm. So there's even sort of a weird self-fulfilling prophecy thing that kind of came off of that. So I guess I'm even wondering like, how did you justify this to Plancorp? What was the difference in the conversation when you came in to Plancorp that firm A said, "I'm afraid if you do this, you're going to build a pathway to leave," and firm B said, "Hey, cool, let's do it. Build your thing." And apparently, either they're not concerned it was going to be a pathway to leave or just okay anyways?
Peter: Well, I think at the time, so when you are not currently working for somebody, you have a little bit more leverage in what you want to do. But it wasn't just Plancorp I was talking to, as I mentioned earlier, but everybody I spoke to I said, "A deal breaker is a personal blog. I'm not going somewhere where I can't have a personal blog. It's really important to me. I know I can build my audience, I know I can get more media mentions. I know I can get more visitors. I think it's going to be a key part of my business development strategy." And I had a large sample of writing at that point, both on the old company blog. And I think at that point, I'd been writing... CFA Institute has a blog called the Enterprising Investor, and I'd made a couple posts there. And I also had the opportunity to write for CNBC because I had helped a reporter out once with a very niche topic. And when they came back, they were like, "You know what? This has all gotten too complicated. Do you just want to write it?" And I go, "Yeah, of course, I do." So scoring a few byline articles through just a little bit of hustle and networking.
By the time I came to Plancorp, I didn't want to go somewhere where I couldn't do this. And what we said at Plancorp, they had never done it before. They had a blog but it maybe had a dozen posts on it. And I said, "Look, I'll come in, I'll write once a week for our blog. You'll get a sense of it. I'll send everything to the chairman of the board and everything to the CEO. You guys will see everything before it's posted." As we were talking, they had a chance to watch my emails going out live. They signed up for my email list. And I think the ultimate agreement was, "Okay, we want you to do this. We want you to be a shareholder." Because that was the other thing, I was going around saying, "I want to be a shareholder and I want to have a blog." And they said, "You can become a shareholder by this date. We'll have a test period." I think the real benchmark was that I was a team player and was able to help others out and prove that what I've said I've been doing, I do actually perform with. "And once you become an owner, you can launch your blog."
And that's really where it started. And there was some feeling out of what does it mean from a compliance standpoint. We set up legal structures. All of my content is owned by an LLC. Look, you can have all the legal documents and structures in the world, but the trust is what holds it together. And so I think I was really careful. And because I had experience and because I felt like I understood where the line was in the sand, and I didn't flirt with that line. I didn't reach my hand over it. I didn't even get near the line. It was always about education. And the clients were loving the writing when it was just on the Plancorp blog before I launched my own. And I think over time, I've slowly and slowly gotten more freedom to try new things.
And I think the...I had a transformation of my blog at the beginning of 2019, where it was just a blog, but I turned it into a website. It really became the marketing of Peter Lazaroff as a brand under the Plancorp umbrella. And I think that part of my plan involved, we have a lot of really smart people, can we invest in people's brands as a retention model? So we have some senior wealth managers who we've hired ghostwriters for and getting them byline articles. Now, we haven't built them websites, but there can be different benchmarks as a retention tool to keep good people. And if I know from Google Analytics that 65% to 70% of my readers are male, well, Sara Gelsheimer, who's one of our senior wealth managers, I suspect that she appeals to a different audience than I do. And she's writing about different issues. And we all have the same message of trying to do what's best for the client and the same philosophy. And when you bring us all together, we're the Plancorp team.
And I think that sort of vision was attractive. And I maybe didn't have that much vision when I started out at my first firm. All I knew is what I wanted, what Peter wanted. And maybe it did come off selfish, but by the time I was talking to Plancorp and others, I think I had more of a vision for what it could look like. And it was really a matter of regularly checking in with my superiors. That's what I tell people all the time who reach out to me, "How do I start a blog at my firm? They won't let me." Well, let them approve every post you make. And here's some legal structures and set up. And make sure to talk to your compliance officer, even if it's not because you need something, just talk to them about something you saw and point to other examples.
My hope is that, there's so many bright advisors out there, and you know this all too well, Michael, that I feel like not everybody's voice is being heard yet. There's a lot more than there used to be, but people are still trying to figure out, "How can I do it my way?" And a blog can seem daunting. Podcasts are kind of like the new blog. Social media posting I feel like is underutilized by most advisors. You can just find an article or a post of someone else's that you like and write a little paragraph about it in social media. And that does a lot if you do it consistently.
And I think for how I approach it here and how they ultimately built the trust is it's just little bits at a time, it's not trying to do everything at once. It's not trying to ram it down anyone's throat, it's making it a collaborative process so that they felt involved with the launch and they knew what type of articles were going up. It definitely was a process. And I think it's one now that I think if I was a trailblazer here, whoever does it next will have to do it from scratch. There's somewhat of a...we roughly understand the path now and there shouldn't be as many frictions for those who want to do it after me.
Michael: Well, and I'm...there's a lot of things I think are really striking to me in that path as you crafted it, and particularly the ways the path seems to have been different at Plancorp versus where you were previously. Part of what strikes me just as you were describing the path and the story of what you did or kind of what you did the second time around to get them on board, so part of it like, very clear, just recognized trust-building process, right? Like, "I'm going to send them to you in advance. We'll start them on the company blog. I want to be clear, my long-term goal is to have it be on the Peter blog, but we'll start on the company blog. We'll show that people are interested. I'll send you all of it first. I will prove myself as a team player. I will prove myself this stuff contributes value to the firm. And then after I prove it's valuable, then can we talk about how I get to do it the way that I want to do it that I think will work even better."
And it gets pretty hard to argue with you if you've already done it the way that they want, showed it to them in advance. They've gotten comfortable that it works. It's actually producing results. And you say like, "Oh, by the way, you like all the results I'm producing? I have a way to do more. How would you like more? Is more good with you?" Because people usually say yes at that point.
The other thing that strikes me just about the way that you frame that is, getting to do the personal blog came hand-in-hand with being the shareholder.
Peter: Yes.
Michael: That there's sort of this like, how do you get really comfortable I'm not going to use this as a pathway to leave? Tie it to my pathway to stay, and then I'm not planning a pathway to leave. Like, I just became a shareholder, why would I leave now? I just showed I'm all in on the firm as is. That's an interesting point to tie together. It's sort of the ultimate commitment of how do I demonstrate that I'm really doing this for the sake of building the firm? I'm literally putting my dollars on the line, investing into the equity of the firm while I build the personal brand next to it.
Peter: And I think that this is really important if you're the one who's going first. Because I think that we'll have personal branded websites for people who are owners at some point. We have an intern coming in from Texas Tech that I'm really excited about. We have a couple from Texas Tech's Personal Financial Planning program, but he has a podcast and a blog. And I'm thrilled. And to attract that student, it really did help that I had a blog myself and that I'm launching a podcast next year and then I'm making YouTube videos and then I post on social media. That attracts other people. And Plancorp, we don't have these massive M&A plans, but we're talking to other advisors who have personal brand and maybe they're at this inflection point where they realize they want to focus more on the personal brand and less on the everyday management of their clients. And here I've now created a roadmap and a path and an example where you can say, "Yeah, see, we can do this."
So it's not just a client acquisition. I do think there's a talent acquisition angle to this all. Because I think that while the people who go out and fill up all those breakfasts, lunches and drinks or networking events, they're still going to generate a lot of business, but it is more scalable to network online, to network digitally. And I think that while I had to be an owner to make this first one happen, the fact that we have two non-owners that we have invested in in terms of making sure they get byline articles and that they get help with editing and ghostwriting, my hope is that even if those employees were to leave, well, you know what? That was the benefit of being at Plancorp. You get to take that with you. We don't have any books of business, so you're not leaving with that, but you get to take this thing. We've invested in you in something that's yours forever. And I think that's really powerful as a recruitment tool.
And our clients seem to really like it. I think everything I write ends up on the Plancorp blog anyways. The exception maybe being something that's so personal that it really doesn't have any place on a company blog. If they wanted to put it on, they'd be more than welcome to. But ultimately, I think there's just some stuff that doesn't belong there. But that was another piece is if I had my own blog, well, then I could experiment more, because I was writing really cookie-cutter stuff. I found a new way of telling stories that I didn't know I was capable of doing when the restraints of being under a corporate umbrella were taken off. I felt the ability to tell a story maybe that I wasn't able to tell before. And with hindsight, I could have told some of these stories before. I think I was afraid to. I felt like unless it's all cookie-cutter corporate, that it won't work in that platform.
How The Legal And Compliance Considerations Work Within The Firm's Structure [59:54]
Michael: So talk to us about kind of the legal and compliance issues. You've raised interesting questions like if I leave, who owns the content? I was employed for the firm but I wrote on my personal brand site but I was employed on the firm. So like, who owns the content? How does this work for compliance purposes? I guess technically, there's also the like, who owns the email list? Because email lists are actually a very valuable thing. So talk to us about how you're handling this from the legal and compliance perspective.
Peter: Let me start by, I'm not an attorney, not because I have to say that for any sort of compliance or regulatory purpose, but because your listeners need to know that what I've done may not hold up. I mentioned earlier, you have all the legal structures in the world, and a lot of it is built on trust. It all can come crumbling down. But when I came to Plancorp, like any RIA out there, there's some form of non-compete or privacy agreement, and I had a carve-out on the content I created. And the content I created was going to be owned by Lazaroff, LLC. And I was going to grant Plancorp a right to use that content even if I left.
Now, I know other people who have gotten more stringent carve-outs. And do I feel like I need a more stringent carve-out? I don't know. I want to work here the rest of my life. I'm an owner. I feel pretty happy with what I have. And I think particularly as we have talked to other personal brands, we've realized some people do want a more aggressive carve-out. Well, that's fine too because ultimately, I still don't think anyone's coming to Plancorp to read our blog. I think once they get there, because we've linked them there through digital marketing strategies, we want to keep them engaged. But I think that personal site, I would leave with that. And that's the most valuable thing. And you asked about the email list, I own my email list. It is segmented from Plancorp's.
And with our compliance officer, I try to talk to him about the things I want to do, the things I'm thinking about. I have shown examples of others, others who I feel like I admire and they're being governed or they're being regulated by the same SEC that I am. So, "Hey, here's some people who are very, very loud and doing this, and here's some smaller companies that are not very loud." I've always thought, and this is probably a misperception, and so please, do correct me if I'm wrong, but I've always thought that if you're a solo shop and you can only afford so much compliance advice, maybe you have a different leash. You can't do the wrong thing. But Plancorp has the resources that if we don't document our processes and don't follow how we did our best to follow the law, then I feel like we're more susceptible to problems. And so talking through, what are the risks of taking on a strategy. To me, if it's all about education, you really aren't...it's hard to have risk.
And so anyways, as I mentioned, I talked to the compliance officer recently. I talked to our CEO, not just for this stuff, for all sorts of reasons, due to the other part of my everyday job, but constantly keeping people informed of what it is I'm thinking and what it is I'm doing. And if I'm going to try something new, I don't do it without telling people, not because anyone requires me to, but it goes back to that trust. And if something really bad happened here at Plancorp, I would leave with my blog and my email list, and they could keep using my content on their blog. But that just doesn't personally bother me. I'm not sure that any company would want the content of someone who isn't there on their blog, but that will be up to them.
Michael: Yeah, it's sort of like you can let them keep it. And I guess that's helpful so they don't have to like go back to the archives and rip it all down. But yeah, it's hard to imagine a firm saying like, "Yeah, so-and-so is a brilliant investment luminary who doesn't work here, but we totally have their content on our site." Yeah, at some point, that kind of feels weird.
Peter: Yeah, I think it would be. And I hate talking in terms of that I would ever leave here, but when you are joining a place or you're doing something new, you do need those protections. Now, if you're already an employee at a firm and you're opting to do this, I don't know what the angle would be, but for me, it was terms of coming, and I felt like it... Part of having this LLC on one hand, it feels like it separates risk, but again, I'm not...there's really no case history on this. So I don't really know if that's actually true.
Michael: But the fundamental idea of this structure is Plancorp doesn't own the content. This is not like employee work product which scoops it up under them. There's an agreement in place, I guess as part of your employment agreement that says, "Content that Peter writes is not Plancorp content created as work product. It is Peter's independent content owned by Lazaroff, LLC." And Lazaroff, LLC has a licensing agreement with Plancorp that says you can use the content because that's how we make sure everybody plays well in the sandbox together.
Peter: Right. And I think I mentioned, I'm the co-chief investment officer and I have a lot of responsibilities. A lot of this writing stuff happens after my kids are in bed. A lot of people ask like, "How do you have time to do all this stuff?" Well, you just don't watch TV at night, or you don't screw around, you work really hard. And so I think even when I came to Plancorp, I think there was a little bit of novelty to the fact that I was creating content and doing all these other things, and when does it happen in the day. And when I decided to write a book, for employees, if you weren't communicating clearly, they might wonder, "Well, is Peter making money off this book or is Plancorp paying him to write this book? Who owns the book?" For me, a book is just a really fancy business card, and hopefully, it brings lots of business to Plancorp.
Michael: Which you will benefit from because you're a shareholder. That's how it works.
Peter: Right. And it's a lot of work. I do not recommend writing a book to anybody. It's really hard. But I'm glad I did it. That was pretty negative. I'm glad I did it. It just was a lot of work. And I think the LLC just creates some separation. And it's a lot of stuff that I'm doing on my own time anyways. And these days, when 8 to 5 workday isn't really so clear, I'm answering emails all day long, on weekends, on vacations, when am I working and not working? I don't really know. The line is very blurry.
But certainly, I think having these structures in place gives you some protection so that if you were to separate, that you get to keep your content. Because I have a lot of content that no longer exists. Again, I loved my first firm, I really did. They are just great people. And so I feel like it's coming off in a different way that I keep saying my prior firm didn't let me do this, but they deleted all my content that was on their blog, as I would expect any employer that I would be at writing to do. And so it's just a way to keep archives of that and keep every TV interview, every podcast, every video I do for YouTube, every article I've written for "The Wall Street Journal" or "Forbes" all ends up on my blog. And then it's very searchable. I have this permanence, this thing that this is me. This is what I bring to the table.
Michael: So help me understand a little more just on the compliance side of things. So notwithstanding the fact that the Peter Lazaroff personal brand site is technically outside of Plancorp, it's your own thing or your LLC's thing that's licensed back to them, all of this content still runs through Plancorp compliance? They still treat it as marketing, advertising, communications for Plancorp from a compliance perspective?
Peter: Yes. And a lot of that's because the content ends up on the Plancorp blog anyways. And a lot of the content, I repurpose for LinkedIn. And a lot of the content starts out at "The Wall Street Journal" or at "Forbes" these days. And I don't often write original articles just for my blog. It happens rarely these days, in part because I feel like I got time-strapped and I can't put out four or five, six pieces of content a month, although I'd love to get back there. I'm really hungry to get to that place again. But yeah, I put them through compliance, and it's just not that big of a deal. It really isn't. If you're not super organized, so again, I mentioned earlier, I'm not super organized, if there's some reason where I'm still working on a blog Sunday and I want to send out my blast email Monday morning... So I used to publish to my blog late Sunday night every week.
Michael: Yep. Which means you're writing late Sunday night every week. Yep.
Peter: That's right, up to the last minute. And I remember Bob Seawright telling me when I launched a blog, I had to post every single week. I had to be relentless. And so I did. And my blast email would go out at 5 a.m. Central on Monday morning. But that means if I was done on Sunday night, how am I going to get compliance to sign off before 5 a.m.? And so you had to plan a little bit more there. Now I'm not so religious on the launch times now, I just target an email, not every week, but every two weeks. And it's sometime between Tuesday and Thursday. And I just give myself more breathing room. I think if you could be that consistent to publish at the same time every week or every day, that is a huge benefit, but it doesn't work for me.
Michael: I was going to say like, do you think it was necessary early on and you find it less necessary now? Or do you look back and say like, "I was unnecessarily compulsive on this, and I probably didn't need to be that hyper-consistent?" How do you view it now reflecting back?
Peter: I think it was important to be consistent. I think it was important to post frequently. I think if you're going to blog and you can post every week and have something to say, that's going to make your platform grow faster. People will notice. They'll know when to look. And you send it out on social media at the same time every week, and you put it out in email same time every week. The consistency allows your audience to know where to go and what to expect from you. I'm not sure that my audience knows when I'm going to write next. And I don't think that's necessarily a good thing. I think it's just where I am at this very moment in my career where I have to prioritize different things. And the growth of my platform, while still there, maybe it would be better if I were publishing every week. And like I said, I do have plans to get back there, but yeah, I was probably...I probably didn't need to send an email at 5 a.m. on Monday morning. That was probably the mistake. I could have easily chosen Tuesday or Wednesday.
Michael: And then at least when you're writing at the last minute, you at least can get someone on a workday to try to do a quick turnaround compliance review?
Peter: Yes. I always feel like... So our chief legal and compliance officer is so friendly. And I'm glad he likes me still because I still feel like I ask for things on a time rush. And usually, it has more to do with media stuff or social media than an article itself. But it takes a lot of planning. And if you have a busy week, and we all have those busy weeks, maybe you haven't started writing it until Sunday morning. And if you're obsessive like me and you write the same sentence like 15 times before you decide which one you want to go with, well, that's a pretty stressful process. So I think by changing your thinking, it is important to be consistent. I have no idea why I got it in my head that it was important that everybody's week starts out knowing that I have a new blog post up Monday morning, but it was working for me and so I stuck with it. And I've since learned. And if I do get back to a weekly cadence, then I think I'll shoot for, again, that Tuesday to Thursday realm.
Michael: Yeah. And I have to admit, having done this from our platform for a long time as well, there is something that just is bizarrely effective in the trust-building of being consistent, of being relentlessly consistent. I think I had read this in some of Robert Cialdini's work, who's the guy that did all the research on like influence persuasion that found like this is actually like a known psychological phenomenon that we place an irrational amount of trust in people with really strong consistency. I think it's part of why we like brands as well. Like, you don't even have to be a great brand. Like I know I'm not going to get the best, most amazing burger when I go into McDonald's, but I do know I'm going to get the exact same burger no matter what McDonald's I go to because their brand is incredibly consistent. And that consistency just breeds trust.
So we found from our platform as well, we're pretty focused on consistency, not necessarily sending out at 5 a.m. on a Monday morning, but finding whatever your mark is and trying to hit that mark consistently so people can expect it. They find trust in the consistency of it. You may even get to the point where they rely on or they make it a habit. And at that point, you can really become ingrained into sort of building this virtual relationship with the people that follow the content.
Peter: Well, and writing blogs takes a lot of work. And I think what people underestimate in terms of building personal brand is how regular use of social media can speed this up. And it doesn't need to be anything all that special. Just go be social, don't be just putting out your own stuff, and don't be selling. You network online the same way you would network at a charitable event. It's not that different, but you've got to show up and do it every day. And the people who are really good at social media really do that and are consistent. And they have a similar tone. And they're not all over the place. And you know what to expect and the reason you follow them, whether it's on Twitter, LinkedIn or Facebook, Instagram, that you know what you expect, what you're going to see when you're looking at the post that's next to their name.
How Peter's Writing Ties Back To His Role At Plancorp [1:13:44]
Michael: So, how does this work when it comes to like the actual dynamics of doing this to grow the business and get clients? Because I know firms, I guess advisors who are kind of all over the board in how they literally handle this from a business development perspective. So there's the like, "Peter is developing business for the firm. So, anybody that follows his content and signs up to work with the firm, we're going to treat him like he's a business development person." Others that say like, "Look if you get clients, you get paid for your clients, because that's how it works around here. But you've got to get them as your client if you want to actually be compensated for this work." So how does it work from your end in terms of...I get that you're doing this and it tries to grow the business and create clients, but how literally do you benefit from this from a business perspective?
Peter: Me being Peter or?
Michael: Yeah, you being Peter. Was it just like, Hey, Plancorp gets bigger and your shares get bigger, or you get your clients and you get paid based on your clients or you get paid a bonus based on business development, or, "Hey, that stuff doesn't matter. I just get my platform and get to write things on the internet?"
Peter: That would be nice. It's not quite that. Yeah.
Michael: Yeah. It's fair to want to get compensated for your work. So how does this work sort of economically for you to make it work for you and make it work for the firm?
Peter: So, it's a good question. And I think what's important to point out is that my primary job is being the chief investment officer here. And the writing benefits me in that role in a number of ways. That role means educating clients. It means educating employees. It means educating prospective clients. It means being in client meetings and in prospective client meetings and making presentations. And a lot of what I'm doing ultimately serves all those purposes. And I think that's... We use Salesforce and we track everything. And so I know how many client meetings I'm in. And our clients are segmented, so I know what types of client meetings I've been or what types of prospect meetings I'm in or what sort of employee education. And I'm going to be honest, I don't know what...I don't think any of my compensation is tied to how many blog posts or how many opens or clicks. And I think everybody has an expectation here at Plancorp to help grow the business. There's no quotas, there's no...you're a client of the firm, so if I bring you in, you're not part of my book. I don't own you in any sort of way.
And so I think there's pieces of the new business development process where if this is the way I go about it instead of running around doing breakfasts, lunches and after-hour activities, this is just the way I do it. But there's also some brand building. So if I write for "The Wall Street Journal," how do you quantify that? I could go look at what it costs to run a half-page ad in "The Wall Street Journal," and I think it's a little over $100,000, but I write for "The Wall Street Journal" 6 to 12 times a year. So I know that's not how I'm getting paid. Look, that would not be rational. That wouldn't even make sense. But I think that there is a bit of a long play here on Plancorp's part. Plancorp has a history, in my opinion, of innovating. Again, big reason I came here. And as you build a brand and people become a raging fan of it, by the time they walk in the door, they know the story, they know the philosophy, they need less coaching, less teaching, they're ready to go. And I think there is value in that. And being here to mentor others.
There's so many facets of what I'm doing on a day-to-day basis that the writing that happens in my basement when I have a bourbon and the Cardinals game is on, I don't know exactly how it's compensated for, but it is what made me an attractive hire for them at the start. It's what makes some of these smaller firms, one, two, three-advisor shops that has a writer or a podcast, it's what makes them an attractive hire to us. It's not that we're on an M&A spree, we just want to find A-team players. And so I don't know that there's going to be a system that works to compensate people for content creation unless you can tie it to the business development somehow. I do think that's an important part.
Michael: Do you guys try to do that part of it? Like, "Hey, here are the people that Peter brought in. And we'll try to track that. If they contact us through the website, we'll ask them how they heard about us and see if they say Peter's Wall Street Journal article." Are you guys doing that kind of tracking, and is that ultimately part of the financial opportunity for you is just, "We're literally going to measure business development that came 'off Peter's stuff?'"
Peter: Yeah. And mind you, this is still newish. So I started the personal in 2017. So it has evolved a little where we have someone who schedules a 15-minute call. So we didn't even have a calendar on our website until a few months ago where you could directly schedule a call with somebody on the sales team to take you through that. So that makes a huge difference in conversion. And in that call, you say, "How did you find us?" And we weren't asking that question for a long time. And so we'd maybe get some leads through the website, but we wouldn't understand exactly where they came from because it wasn't always the person who was taking the call their highest interest of where it came from. Their highest interest was closing the client. Now, there are leads that come through peterlazaroff.com, it's pretty clear where those came from. We can see that and track it.
Michael: Right, right, I can Google-track that. I can go track that with the tools and technology.
Peter: Right. And so I would say that we are now set up much better than we ever have been before to find out if what I'm doing is helping or not. So maybe check back in a year or two. But I think that when I look at my job description, there's some sort of intangible benefit, but we are, this is the first year we are really attracting clients that very clearly came from me or came from my website. And it's good for me to know because it knows where to invest my time, and it's good for Plancorp to know so that they know where to invest dollars.
So I got some help from a marketing consultant this year because I felt like I was too busy to make sure that I hit "send" on my emails, or that I was staying organized, or to help me build email funnels. And so Plancorp had seen enough of a return on my writing to say, "Yeah, it's worth investing in this a little bit more." And not just the writing, but the whole personal brand so that we can amplify its effect. And I think we're really set up in a much more intentional, both from a budgeting at the Plancorp brand level and at the Peter brand level, and some of these other wealth managers I've mentioned who are just starting to invest in. And how do we track return on investment there in terms of clients and where do they come from. And this is the first year we have that data. And I think next year, we're in a much better...the data is cleaner and we're in a much better place to track it overall. And that was actually an effort I oversaw. So I've been...we've kind of had a reboot...
Michael: You kind of have some incentive to do so.
Peter: Well, I think there was a little bit of like...we had a...I think the learning curve was high on, "How do we set up a budget that can be tracked and focused on ROI? And how can we implement some of the strategies Peter is using at Plancorp site?" So I think yes, sure, I have an incentive, but I have an incentive as an owner. And I'm such a competitive person. I think it's really evident to those who work around me. And I am obsessed with growth. I just want to grow. And I watch what others do. I'm in study groups, I'm in masterminds. I watch other advisors. And for a firm our size to grow, I think you have to make sure you're hitting all angles.
And this year, on a temporary basis I kind of oversaw the reboot of some of our marketing strategies, and a big part of that was tracking and tracking well and understanding so that if we were to increase our spend on marketing, let's make sure we put it in the right place where those dollars are amplified. And this was also the first year we invested in a personal brand that was not me. And that wasn't an easy choice. You had to look at the different personalities and different skill sets of our employees and decide, well, who's going to have the fastest return on investment, maybe not the biggest long-term, and how can we position it to make sure that we understand that it came from them and that this is working? And I think what I've come to realize from study groups of firms big and small is that they don't have a great grasp of what the return on investment is of their marketing activities.
And I always cringe a little when I hear firms, and Plancorp used to do this too, we don't spend any money on advertising and marketing. We just grow through word of mouth. And they say it proudly, and that is great. But the firms that are spending strategically are growing really fast. And they know what they're getting out of every dollar invested on whatever venture it is. And so, we're now set up to do that. I'd say it's important to me, in part because I would love to prove my worth quantitatively more so that I've been able to in the past, but I also want us to be able to grow. And I want us to grow fast as an owner, I want to grow fast as I'm just...I like winning. I like climbing levels. If there is a level I can climb to, I'll climb there. And if I've climbed to the top level, I'll just build another level just so I can go climb to it. And it's not necessarily a great feature, but it's also helpful at times when you are trying to strategically grow when you're already at the size that we are.
Michael: And so part of the benefit now is because this is working, the firm now is willing to put dollars into "your" personal brand because it should generate enough of an ROI for them that this is a justified marketing spend for the firm?
Peter: Right. And I think this is the first year that there was money put into my brand. And we can see the ROI on it. And later in the year, we started dabbling in a couple others. And I'm really excited to see what it looks like when other people do it. For me, I think that when... A lot of the other competing firms that I see who don't have someone with a personal brand, they'll go out and get a PR firm. And they'll think, "If I get quoted a couple times in the paper or an online site, or if I get on TV a few times, it will all happen. Everything is going to happen." But in reality, you almost need the brand for any of that to work. Because a passing quote here or there isn't really going to do that much.
Michael: No one just makes a decision about what they're going to do with their entire life savings because once they saw your name mentioned in the newspaper. That might get them your website, maybe a chance to offer them something of value. So they give you an email address so you can start sending them a newsletter or a blog or dripping on them. And then after you do that for 6 or 12 months, you build enough trust. But it's usually not the one-hit PR event that actually drives client results and the conversion.
Peter: Well, and people buy people. We have a lot of clients here, but new clients usually come on board because they trust the person they're working with or the team they're working with. And for me, the personal brand building, I think I gave so many more presentations this year than I've ever given before. I probably should know the number, but it felt like a little over a dozen. And it was exhausting. But if you are giving a presentation at a large corporation and there's 100 people in the room and 5 of them show interest and 1 one of them becomes a client in the end, that is repeatable. And I couldn't be getting some of these presentations. The book, in particular, has helped with the corporate presentations a lot. But the book helped with other things. And so they're opening new doors for client acquisition that weren't previously open.
We've seen it in the data this year, and I think next year we'll see it more specifically, not just with personal brand building, but a more comprehensive event strategy and a more comprehensive Plancorp branded digital strategy, and a more comprehensive brand strategy for other people. Like I mentioned, Sara Gelsheimer earlier and Daniel Lee, they're two brilliant senior wealth managers here who have a unique perspective to deliver. And they'll appeal to a different audience than I will probably. There'll be some overlap, but that's kind of the whole point is you're trying to appeal to as many people. And if I believe that people buy people, well, and you've got to market your people. You can't just market the brand. And you can do both, but I don't think... We're a nice-sized firm. We're obviously not a small firm, but we're not such a behemoth that we're a household name. And that's maybe not a game we can win. But when you follow someone that you really, really become a fan of, that's something that's really hard to build just through a corporate brand alone.
The Marketing Efforts That Drive Results For Peter And Plancorp [1:26:20]
Michael: So, as you were doing this kind of marketing refinements you said that were getting ROI, what were you doing? Because I feel like you're like six steps further down the road than where most advisory firms are on marketing and digital marketing. So at least when you get a head start and you're now well down this road, what kinds of things do you look at as opportunities to put marketing resources that drive results, drive more or better results?
Peter: Well, I think the biggest shift, so there's a little background. So I did this on a temporary basis. I kind of raised my hand and said, "I think I can do some things here." I don't want to be in marketing forever. I enjoy it kind of like a hobby. And I know enough to be dangerous. But I don't have any formal background in marketing. And I do things on my own site, but with Plancorp, it felt like our website just told everybody about us. It didn't really seek to let the user tell anything about themselves. And there's really no way to capture any information. We weren't offering anything that was compelling to have them give up information.
And once they did give up information, we didn't really do anything with it. It came into our system as a website lead of some sort, and that was it. Maybe we'd reach out. Someone would schedule, whether it's email or a call, they'd reach out to schedule another call. And it just...the process wasn't really that refined. But in fairness, we also weren't getting a high volume. So if we were getting 100 website leads a year and we weren't closing any of them, well, then we'd be like, "We've got to fix this." But we weren't getting that many. But I was getting a bunch through my website, so I knew we could do it better.
And I think with the budgeting aspect, with marketing, there's a lot of overlapping spend. We need someone to manage our website, but do we need a traditional PR firm? I didn't feel like we did at this time. We took a different route by having a firm that helps Sara and Daniel have their articles placed for bylines in other publications. To me, that was a better use of money. Because I knew that when my articles were in bylines for other publications, I was able to drive traffic back. Those are things that I had experienced knowing were effective. And so I think the budget really is about categorizing appropriately, cleaning up the data internally. And so everything we do runs through Salesforce, Salesforce Financial Services Cloud. And we have put a lot of time into our internal processes here. And the marketing, this was kind of a first step for us, and so, even the first dashboards that we built for tracking got changed over time.
And I think the biggest difference is you have to ask. People don't remember how they found you. You can have them fill out a form and say, "Did you find us here, here or here?" And maybe they'll choose one because it's what they...they just don't remember. And when you ask more specifically, you say like, "Hey, just for our own feedback, because we really want to know how people are hearing about us, and we want to spend more time on places that our ideal clients find valuable, where did you first hear of us?" "Oh, I heard of you a year ago on this podcast," or, "I read one of your articles in 'The Wall Street Journal.'" And I go, "Okay, well, great. Now, what actually...why did you reach out today if you heard me so long ago?" And then there may be a different piece, and really trying to pinpoint that. And yeah.
And it's really easy to track the number of legitimate qualified prospects that come from different things. And then once they're a qualified prospect, did they become clients? And understanding what the lifetime value of a client is or understanding how many qualified prospects you need to close a piece of business. And what's the timeframe? I think we're measuring things like response time. And I think you have to be speedier with a digital lead than you do a traditional referred leads. And the people are more fickle. And the close rate is going to be lower.
And we definitely learned a lot this year. And I think like I said, I'm really excited for next year because I think we have so many better systems in place, not just to track, but now the strategy and the platform we've built to capture leads and give them something of value right out the gate and then nurture them and segment them, segment their journey. I feel like we have probably more segmentation to our prospective client journey than most people would expect. But that took a lot of work, took a lot of me writing a lot of emails and a lot of articles that never saw the light of day. That was surprisingly...when you publish for a blog frequently and then all you have to do is write emails but that nobody sees, that can be a little frustrating. However, it's now at a place where if it works, well, then we can put more dollars towards it. And if it doesn't work, well, then we'll stop spending dollars on that.
What Most Advisors Don't Understand About Brand-Building [1:31:00]
Michael: So having now been down this journey and you're starting to scale it up and drive actual results, driving clients and new business, what do most other advisors not understand about what it takes to actually build a personal brand?
Peter: The time that I committed outside of normal office hours to my personal brand is really hard to describe. And it can be lonely, which probably sounds like a weird word, but it's lonely at times because there's a lot of self-doubt. And you see all this great content and you're thinking, "How are they doing it?" And I'm so tired. And you have to really, really want it. And it takes an enormous amount of discipline. And I really feel like the more that you do it, the more addictive it comes. It's kind of like going to the gym. So I swim as my primary form of exercise. And I remember, before I'd ever swum, I googled "how to swim a mile." And there's this little zero to a mile website that taught you how to swim a mile without stopping. And it happened over a six-week period. But when you go to the gym, you start getting addicted to it and you want to go more and more.
And I think for me, I knew that I liked writing. It took me many years to hone the skill, but I was always proud of publishing something. It didn't feel like I had accomplished something in my week if there wasn't something visible for the world to see. But that means that there were times where I writing on my phone when I was with my kids, which maybe I shouldn't have been doing, or where I lost sleep over the little most nuanced part of an article because I'm worried about some subset of people reading it and disagreeing with it. It's a very vulnerable process when you put something out there and it feels very permanent. And ultimately, I think it looks easy. I know it isn't. And just the way that people ask me about it, they must think that it's easier than it is. And I see the other people who are good at it. And I know what their practices are and what their habits are.
And you have to really love doing it. If you don't love doing it, I don't know how you could stick with it. Because, particularly with writing, and, Michael, you have a podcast, I'm launching one next year, so maybe I'll know this a little bit better, but I feel like it's really hard, and you get discouraged. And there's this like impostor syndrome where you know you're not...you know, I say you know you're not good enough, but then you have people around you being like, "That's really great."
I remember reading one of my favorite writers, who is in the process of writing a book, and he had helped me out and I said, "Hey, I know how important it is to have someone review your book quickly and do a quick turnaround with edits. So if you ever need help, let me know." And he reached out to me on a chapter, and I was going through edits and I just felt so awful making edits or making comments on this person who is a brilliant writer. And I felt like I didn't belong doing what I was doing, and the self-doubt that comes with that. It kind of freaked me out. But ultimately, now I have an audience where I feel like they're expecting it and I keep doing it. And like I said, I like it, but there is a little bit of torture involved in the process.
Michael: I think that's...I kind of feel like that's true of almost anything in the creative endeavor. There seems to be a little of that tortured balance of what you do when you're creating something and making yourself vulnerable and putting yourself out there. But you just feel like you have something to say or share or want to show and it's just hard to not share it. Like, "I want to share this thing." So you bear the pain that goes with it. And then as you said, like if it goes well at all, then it gets really addicting. I find that it seems to be particularly true in the blogging and digital realm. Just Google collects kind of creepy amounts of data, which on the one hand is sort of creepy, but when you're writing and producing things, it's really addictive because you get feedback every day from Google if you want about like who's reading it and how many people are coming and what they're engaging with. And your email platforms give you data about who's opening it, who's clicking on it. Just if you're creating stuff that's resonating at all, it's a really powerful feedback loop to reinforce for you.
Peter: Well, and I think the visibility of it, and you start... I think one of the challenges I have is comparing myself to others and what they're doing. And that does occasionally make me lose sight of my objectives for creating the content and building the brand in the first place. And I felt like there was a period of time where I was writing to appeal to a group of financial advisors who were on Twitter because I loved what they wrote so much that I wanted them to also like what I wrote. And that kind of steered me in the wrong direction where I forgot, I'm not doing this for other advisors to love what I write, I'm doing it for other people to know more about my philosophy and become clients of our business. And I'm doing it to teach people. And honestly, the writing process for me, I felt like it was going all the way back to the beginning, taking the bullet points. It was a way for me to learn.
And my parents, my dad used to do hospital rounds when I was a little kid and he'd take me around. And in medical school, the process for learning is that you see one, then you do one, then you teach one. And a lot of this content creation has been my teach one. It's been the ultimate way for me to learn and better understand what it is that I think. And once you kind of get out of the shell of worrying how everybody will perceive, it...and that's not easy. And I'm not saying I've completely figured it out, but it does make it easier to continue to push on. And I definitely have a group of other advisors that I talk to regularly that we share challenges with. And I think that's an important part. And there's so many more conferences like FinCon, or I know for podcasts, there's like Podcast Movement. And there's all sorts of things where you can go and find others who are sharing those struggles. And it does seem to put it more in perspective that you're not alone in it.
Michael: So what surprised you the most about trying to build your personal brand?
Peter: Well, that's a good question. So when I was sending out this email early in my career, it just felt like business development. When it started feeling like personal brand is when I launched the blog, and even more so when I transformed the blog to be more of a website. And I think what surprised me as I started networking with people and watching what they're doing is realizing they're just like me. They're just being loud. There are a lot of advisors out there or a lot of people in the financial advice profession that are just as knowledgeable and incredibly gifted advisors, but they're not very loud about it online. And when you get to understand the people who are loud about it online or are frequent or are followed, you realize they're just normal people too. They seem like there's something special happening.
And don't get me wrong, there are lots of smart people doing it and they're wonderful writers or podcasters or content creators, but ultimately, they're just working hard too. And they might have little kids that keep them up all night and make it hard to think in the morning, or they have a bad day at work and you have to find a way to keep pushing through to be consistent. There's no special shortcut to take it. You just kind of have to put in the work. And I don't know, I feel like it looks like this must be my full-time job, to write, and it must be...others who are doing podcasts and writing, it's their full-time job. But for the vast majority of people, it's not. It's just people who are working hard and love it. And they're trying to build something that can't be done without that hard work.
Michael: So, what was the low point on the journey for you?
Peter: It was probably editing my book. That book was so hard. I always wanted to write a book. I took a stab at it, I don't know, let's say five or six years ago. It was at my first firm. And I remember being like, "Hey, I'm going to take a week or two off to write a book." Like that was going to work. And I didn't get anything out of that. And the writing of the book, the actual typing and sitting in front of the computer and creating words wasn't hard, but editing it was...there was just so much self-doubt. It felt so permanent, felt so vulnerable. A lot of concern that it wasn't good enough. A lot of concern that people at my company wouldn't think it was aimed at the right audience. I wrote to the audience that I felt most natural writing to. And that's an audience that's an old millennial or maybe a young Gen Xer, and they are coming into the wealth that makes them a good client for us, but it also could read like it's an intro for someone coming out of college. And I liked that. But I did worry about, what are people going to think that this is the book I chose to write? There is no doubt that writing a book gave me more mental stress that I have experienced doing any project in my entire life.
I remember thinking the CFA was really hard. And I'm always really cautious about telling people...actually, I don't think I've ever told somebody they should do it. I only tell them they should not do it. Or if I think maybe they could do it, I tell them what it's all about. With the book, it just felt so overwhelming. It was like this other relationship in my life that had to be maintained. And it was something that was hard for others to relate to in my everyday life. It was always on my mind. And a ton of self-doubt. Now, on the plus side, in the process of writing a book, I was able to publish to a blog every day because it was like, once you're writing that much, I could spit out 1,000 words without thinking. And that was really rewarding. So there was highs and lows.
Michael: I was going to say like, and why, again, did you inflict this on yourself?
Peter: Yeah, I don't know. I remember talking to some other bloggers who had finished the book. I was just at the finish line of publishing and I was very open about how hard it was for me, particularly the editing and production stage. And they were like, "Well, why did you go and do it?" And I always wanted it. I always felt like maybe it was a part of my legacy or maybe it was this thing where if something ever happened to me and my kids never really got to know all these things that I thought about the topic that are not that complicated but if you just learn them early in life you're going to be okay, then they have it in place. And as much as it was torturous in many ways, I can't believe I'm saying this, I haven't ruled out the idea of doing another one. I need a couple of years to recover. And I think there is an idea I had at the onset that was more rigorous than what I chose to do. And I am glad I chose the less rigorous one because I don't think I would have made it if I had taken on this other kind of concept right out the gate.
But as I've mentioned at one point, I look at so many people with books, and it's just like a fancy business card. And it opens up all sorts of doors, whether or not the book is good or not. And most people don't even read start to finish the books anyways. And so I felt like, okay, this is something I can hand to anybody who walks in the door. They'll know what's a philosophy of mine. It'll be a way to present to more people. And I'm really passionate about trying to grow my speaking audience. I was talking to a group of financial advisors on how to get more speaking engagements, and I said, "Raise your hand if you want to get paid to speak." And a bunch of hands go up. And I said, "Well, raise your hand if you want to speak to get new clients." And a whole bunch of hands go up. And I go, there's usually a conflict because us financial advisors don't have a lot to talk about where you could go speak to a group and be paid and have them all be prospective clients.
Those who are natural writers probably have more to tell advisors. And so for me, I was thinking that the book would be a good way to get in with audiences that were not advisors. And I wouldn't be paid to speak, but it would help us grow the business. And I've been really pleased with how that's gone in 2019. And already in 2020, I have more dates booked up at this stage than I've ever had in my career. And very excited about the process of now capturing information at those events and nurturing those people to learn more about Plancorp.
What He Knows Now That He Wishes He Knew Earlier And What Success Means To Him [1:42:47]
Michael: So anything you wish you'd done differently on the journey? Like what do you know now being well into this that you wish you could tell you from 5 or 10 years ago when you were getting started?
Peter: I think that I wish I would have pushed harder in 2010 on launching my own blog. And I think that, yeah, wouldn't have been a first-mover advantage back then. But I think I waited too long then. I didn't push hard enough. And even when I got a green light at Plancorp, I didn't launch right away. I kind of stalled and waited for the perfect blog name, which I never came up with, by the way.
Michael: I was going to say, your site, it's simply called Peter Lazaroff?
Peter: It's peterlazaroff.com. Yeah. But you know what? I actually love it. It has been a blessing in disguise. I actually think that's the way to go, personally. We could go into a long thing on that. But I think I waited too long to do that. And had I started earlier, I don't know that anything would be different, but there was just a lot of self-doubt and worrying what other people would think. But in reality, those first few posts I had, nobody was looking anyways. I had at least a little bit of a profile, so I wasn't launching with a blank slate.
The other thing, mistake I made, I feel like, is I feel like I should have gotten more assistance with the book. Whether it was in the writing or editing process or the end editing and production, I should have enlisted more help and support throughout that. I really put the whole thing on my back. And I don't really advise doing that. I had somebody as a project manager who was pinging me and telling me when chapters should be done and, "Hey, are you writing yet?" But ultimately, it was all on me. And I think that was probably overly ambitious.
Michael: So I'm curious, just going back to the blog piece for a moment, what do you feel like are worried you missed out on because you didn't launch it earlier?
Peter: Well, I think that there were only so many blogs 10 years ago. Now everybody has a blog. And the people I admire are, some of them are new blogs. If you launch a new blog today to get a lot of traction, you better be saying something good and you better be saying it consistently. Whereas I think there's some...a lot of us, a lot of the people in financial blogosphere are putting out a similar message, and the ones who do it really well are doing it in their own voice and doing it in a unique way. But I still feel like even if you had to be less unique back then, because if you had a blog back then, that alone was unique. And building that audience, it compounds over time.
The email list growth, the visitor growth, it's just a matter of I...I think my first blog post was in November of 2016. That's six, seven years of compounding audience that I missed out on. And look, I'll do fine and it'll keep compounding, but I've seen how the audience grows over time, and it makes me wish I had a few more years on there. But maybe I'm just...I mentioned I'm really competitive, I'm also a little bit impatient, so perhaps I'm just wanting to compounding to kick in now without having to do the work. I'm just wishing on a compound that didn't actually happen.
Michael: So any other advice you would give other advisors, maybe younger advisors in this same position, their 20s and 30s about starting a personal brand or trying to go this route?
Peter: I think if you love the firm you're at and you don't want to leave it and you want to start a personal brand within it, you have to be very strategic in how you ask and going about that. And you start small. And there's a lot of examples you can point to. I love to think that people can point to me in order to get to tell their story on their own platform. But I think the approach I took that was very patient and slow-moving where I'm going to publish to the company blog first and you can approve everything that goes out, and here's the long-term plan for why I want to do this and why it's important to me, those are all conversations that firm owners like to have. They like employees who think like owners.
I don't know that you need a blog. I would say people who are trying to start personal brand, you might find it's easier to podcast. You might find it's easier to shoot YouTube videos. I started shooting YouTube videos on my phone, and it's incredible. I get a question from a client, I turn off my monitor, I put my iPhone up and I hit "record" and I answer their question to the video. And that's the YouTube video. That's the new topic. It doesn't have to be something that's incredibly complicated.
And the real challenge, I think, is just building that trust with your leadership. And if it's really important to you and leadership doesn't see it, well, there's lots of people who are starting their personal brands at their own firms, or coming to a firm like ours. Like if you have a personal brand, we want to work with you. I think those are hard to find these days because it takes so much work. So the people who have an established brand have worked so hard, and their success compounded it. It doesn't just...it's not an overnight thing. So be patient, be honest, be open, look for role models and share what those role models are doing well. And maybe you share with your leadership what you think those role models are not doing well and what you wouldn't do, and just stick with it. It's a lot of hard work, but there is a place for everybody. I don't think there are too many blogs. I don't think there are too many podcasts or YouTube channels. I think there's a lot of space for everybody still and a lot of room for growth in the digital marketing space.
Michael: So as we wrap up, this is a podcast around success, and one of the themes that always comes up is just the word "success" means different things to different people. And so, you are on what to me is this incredible success track that I think you kindly downplay of just hitting $100-plus million book in your late 20s and early 30s that you did with networking and email newsletters. And now building this brand and working as a co-chief investment officer of a $4 billion firm and before you're 35 is just an incredible success trajectory sort of outwardly. But I'm wondering, how do you define success for yourself at this point?
Peter: Boy, well, I will say that I have come to learn, perhaps in a hard way, that a lot of these wins that I've had in my career haven't really satiated whatever it is I'm going for. And somebody pointed out to me that I'm a climber, but I never look back and enjoy the view. And at this stage, I think the thing that feels most successful to me is firm growth. I genuinely like the idea of growing. And growing means that your clients are happy, that you're doing the right thing for your clients. It means that your employees are happy and you're retaining talent. When you're growing, it means that you're doing a lot of the things right.
And so I think if I were to call a year successful, personal brand growth probably would not be enough for me. I definitely want the firm growing. Whereas if the firm were growing and my personal brand weren't, I would be disappointed, but I would still feel like we had a good year. I had a good year if I was part of a team that grew a business. And so I think that I find at the end of the week, if I haven't published something, I do feel like I was lazy or...just I like putting tangible stuff out there. But for the most part, I would like to continue to see our firm help more people and reach more markets and help train and develop other new young advisors in the space. That's, I think, what I'm really after at this point.
Michael: Well, very cool. I love the journey and the focus of it. I know hearing that, it's not hard for me to understand why you were able to ultimately get the firm on board with doing your personal brand sort of thing. Because as you've I think so well articulated, it still connects back to the firm. It's not a, "I'm doing a personal brand thing or I'm supporting my firm." There is such thing as doing both, because the personal brand just happens to be another doorway that people can get introduced to the firm. And that's not an alternative to the firm or a competitor to the firm, that's just another doorway, another pathway to the firm that happens to give you a way to do what you want to do and the kinds of content you want to create.
Peter: You got it.
Michael: Well, thank you so much, Peter, for joining us on the "Financial Advisor Success" podcast.
Peter: Michael, I was so excited to do this. Thank you so much for having me.
Michael: My pleasure. Thank you.