Executive Summary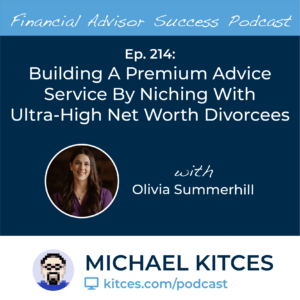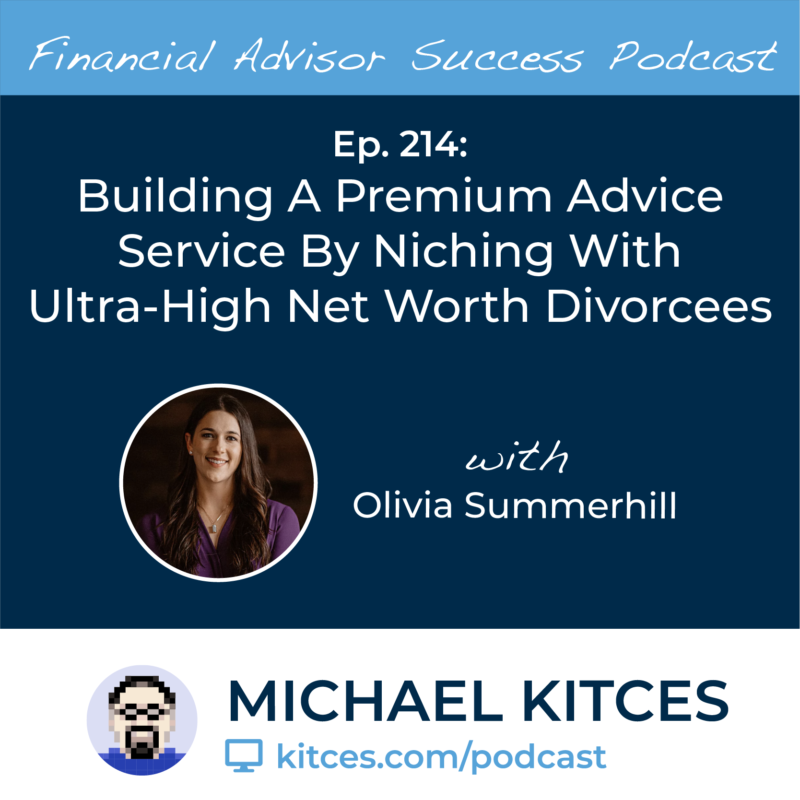 Welcome back to the 214th episode of the Financial Advisor Success Podcast!
My guest on today's podcast is Olivia Summerhill. Olivia is the founder of Summerhill Wealth, an independent RIA based near Seattle that exclusively works with women who want help adjusting to and maintaining their standard of living after a divorce. What's unique about Olivia, though, is the way she's focused her practice on a particular segment of ultra-high-net-worth divorcees allowing her to set her fees at $20,000 for an engagement, and then commit to working with no more than five active clients at any particular time.
In this episode, we talk in-depth about how Olivia crafted a niche of working with divorcees, how she leverages the expertise of her CDFA designation to work with divorce mediators and collaborative divorce attorneys, the way Olivia developed her unique pricing model and found the confidence to charge $20,000 for her services, and the depth of hand-holding services she provides to her clients after they complete the divorce process. From helping them set up credit cards in their own name to helping them buy a house on their own for the very first time.
We also talk about how Olivia has been able to find and attract ultra-high-net-worth clients with upwards of $100 million in net worth. From the way Olivia has built networks of affiliated professionals who themselves are sought out by ultra-high-net-worth clients as a way to first connect with them. The philanthropic and other organizations that Olivia joins and gets involved with in order to meet the professionals that work with that type of clientele. And why it's so crucial to understand that professionals serving the most affluent clients aren't necessarily looking for reciprocal referrals, but instead are focused on their own role as gatekeepers for their clients who are trying to identify truly trustworthy professionals to work with.
And be certain to listen to the end, where Olivia shares her own path to taking the leap of entrepreneurialism that she never thought she'd take. The career coach who helped Olivia better identify her own natural talents and find her own confidence. Olivia's unique 'informational interviews' approach that she takes to everything from networking for new clients to finding the firms and professionals she wants to work with herself. And why Olivia decided that the best path forward was to keep her firm focused on this niche from its day-one launch.
So whether you're interested in learning more about why Olivia decided to obtain her CDFA designation, how she builds her network of trusted professionals, or why she decided to provide a high-touch service at a premium fee for a limited number of clients, then we hope you enjoy this episode of the Financial Advisor Success podcast.
What You'll Learn In This Podcast Episode
Never miss a Financial Advisor Success podcast episode! Get notified of the latest episodes (and all our research as it's released!) directly via email:
Resources Featured In This Episode:
Full Transcript:
Michael: Welcome, Olivia Summerhill, to the "Financial Advisor Success" podcast.
Olivia: Hi, thanks for having me. It's a pleasure to be here.
Michael: I'm so glad to have you on the podcast today, and get to talk a bit about career journeys and how we pick the different ways that we navigate through the industry. Like large firms and small firms and corporate environments and entrepreneurial environments. And I know you've kind of gone from one end of this extreme to the other. From being in a very, very large national firm, all the way out to the other end of the extreme of launching your own firm as an entrepreneur and making the shift and deciding out of the gate that you're going to focus into a particular niche – a particular specialization – which is a...I was going to say a controversial thing unto itself. I don't know why we call it 'controversial' because we certainly advocate for it a lot from the practice management end, but it's often debated in the industry as to whether – or how soon – you should focus. And so, just having lived this journey from a large firm to entrepreneur and, "We do everything for everyone who comes in," into, "I'm going to have this super-focused niche". Just really excited to talk about the journeys that we go through in figuring out what is this right advisor career path for us, for ourselves, for me?
Olivia: Oh, gosh, there are so many differences in different worlds. So I'm excited to talk about it, too, today. There's a lot of conversation right now going out there.
Michael: Yeah. So I think to get started, like right out of the gate, I would love to hear you just talk about the advisory firm that you have, as you are building today, having taken the leap. And we'll talk a little bit later about some of the journeys, and I know that the transitions that you went through in deciding to get here. But to start, can just paint a little bit of a picture of the advisory business that you are building today?
The Specific Niche That Olivia's Business Serves And The Role Of The CDFA [04:42]
Olivia: Absolutely. So it is very specialized. I only work with ultra-high-net-worth affluent women, helping them maintain their lifestyle during and post-divorce. So that's all the financial decisions they need to make during divorce when it's an emotional time. And then post-divorce, helping them with the basic financial repercussions of the decisions during divorce they've made. So a lot of that has to do with just the very, very basics. And that's all I do. And I work with women during and post-divorce. So it's very simple.
Michael: Interesting. So I feel like there were sort of three or four different or ways that you get focused in who you work with that I heard there. So, only and specifically working with women. Only specifically working around this divorce transition, in divorce or immediately post-divorce. And working with very high net-worth, affluent women going through a divorce or post-divorce. There's an affluence piece, there's a gender piece, and there's a divorce transition piece. And it takes all three of those to qualify as a potential client who works with Olivia.
Olivia: Yes, yes, absolutely. That is my niche. And as you'll see, as the conversation goes on, I am sticking with that niche.
Michael: All right. So talk to us a little bit more about what this business means in practice. What do you do? You're talking about this as a particular niche focus, but what do you do for this very focused segment of ultra-high-net-worth women in divorce or immediately post-divorce?
Olivia: So, if I am working with them during the divorce, it starts with me being their CDFA. So this is more of a new topic of Certified Divorce Financial Analyst, and that's where they work with the divorce attorneys and mediators – with the client – and we help actually divvy out the short-term and long-term settlement options. What would be the best options for the house? Can you afford the house? To all those financial decisions that she may be going through during the divorce. I help, and I have my hat on as a CDFA. There are plenty of people out there that say they that have that behind their name, CDFA, but they do everything else under the sun as an advisor or a portfolio manager or a wealth advisor. I only do CDFA work when it's during a divorce. And then post-divorce, it is just working with that female, helping her with the day-to-day financial decisions that she's never dealt with before.
So typically – this is just the best-case scenario – is she's a stay-at-home mom, she's been raising the children, and she's been able to swipe the credit card for so long and not think about that of, what does that actually mean when you swipe it? Do you know what a budget is? Do you know what primary and secondary is on your credit card? Have you ever dealt with a mortgage before? Your divorce decree says all this stuff and what you need to do next. Do you know how to update a beneficiary? So, I'm in the world of helping her through those really big decisions as an emotional support, as well as that financial support.
Michael: So there's a lot of stuff even there that I want to delve into further. And let's start with what you're talking about in working in divorce and working as a CDFA. So can you talk a little bit more about what is the CDFA? And just literally like, what are you doing in a divorce? Because I think for most advisors, we probably most often see two kinds of divorce. Either they decide they're going to split and they make their decisions and part ways or "it gets messy," and then there are lawyers involved on both sides and we have divorce attorneys on both sides. And I know we're not necessarily talking about either of those. So can you help us understand what does it mean to be a CDFA? And just how does that actually fit into this world of, "People are divorcing and there are lawyers and other folks at the table"? Where does the CDFA fit at that table?
Olivia: Great question. So there are two different worlds within that. So there's the Collaborative Law. So that is, "Hey, we want to be as conflict-free as possible". So on that side of the table, you're working with the divorce mediator, and that person is really helping with the financial team, with the therapist, with the realtor. We're all trying to help as a collaborative team, help that couple get through that divorce in a more positive way, and giving them options, and they're making the decisions.
And I'm so new in this practice where I've been working with a lot of the collaborative, and understanding and getting to know the attorneys and mediators that work in that world, but I'm also on the other end. So for those who might want to pursue the CDFA, the other side of that is the conflict zone where they say only 5% go to trial, but I don't know if that stat is really true, because it feels like it's a lot more people when they're in that conflict zone where they have their attorney who's a bulldog. And I've been seeing that. I work in there helping them make those decisions financially and giving them options, but I'm only working with that female. And it does seem like that's a whole different world than the Collaborative Law.
So if you're about to get into this practice or you want to learn more about it – the CDFA – you're really analyzing their options – their settlement options – and understanding what they can and can't afford long-term and short-term, and you're helping them make these decisions. But in the collaborative, it's really the client who is making the decision; you're just giving options. You're just sitting there. You're not giving that advice; you're not saying what you should do and shouldn't do. And then with that divorce attorney, if you're paired up with them as a CDFA, you are in a bigger role of, this is going to be detrimental if they do this or that.
So you kind of, in a way, try to sway their opinion of, "Okay, you say you want the house, I'm giving you the options, I really don't know if that's the best thing for you." But they have to be the one to make that decision. And obviously, you're not a lawyer and you're not giving them that 'lawyer' advice. So you have to be careful in both situations on what you say and what you don't. It's completely different from a normal advisory world where, if a client comes to you and says they're getting divorced, okay, that's kind of the end of the relationship for most people. You want to not give impartial advice to the one person and not talk to the other. So it's just a different world when you're helping one client versus the other.
Michael: Okay. Okay. And so just help me understand a little bit more, like where the CDFA sits, relative to the attorney. I'm just trying to envision, for the typical client, who's getting involved? When am I hiring a CDFA versus when am I hiring a lawyer? Or do I hire a CDFA and a lawyer? And if so, what happens for all the people who are hiring a lawyer and not a CDFA? I'm just still trying to understand how that pieces together, even if I'm just talking as a non-CDFA – just talking to a client who's going through a divorce and I want to give them good guidance. When am I trying to help them bring a CDFA into the picture?
Olivia: So, in my experience, I, personally, still think that it's absolutely imperative, and the best idea, to go find either the mediator or your divorce attorney first. That's me, coming from a CDFA, where I should say, "Oh, my gosh, come to me first". No, I really think it's imperative to find the right person and the right fit as a divorce attorney, or if you're going to go the Collaborative Law, find a good mediator. That person, then, will be able to say, "Okay, you have these assets, you have these complicated things going on. Let's rope in my CDFA that I work with." So it's really just a partnership. It's a team. And that's when the CDFA comes in.
Now, there are CDFAs out there that their practice is to work with people pre-divorce. So they're trying to help divvy out, in a very collaborative setting, all of the financial outcomes, helping that couple get through the pre-divorce before they go to an attorney to save them money in a way that could potentially save money because they're doing things very cordially, and they're working through the asset allocations together as a team with a CDFA. So I'm not saying you can't do it pre. That's just not what I've done so far. I've done during and post.
Michael: Interesting. And so it sounds like what that means is often, as the CDFA advisor, your entry pathway to this situation may not actually be through the client per se, it may actually be through the attorney or the divorce mediator who comes in. So it's like, "Oh, okay, you or your situation has a bit of financial complexity and messiness. I've got a colleague, Olivia, who does work in this space, I'd like to bring her in to help work through this".
Olivia: Exactly. So, a little tip that I, so far, have found really helpful is, in your city, wherever you are, there is a collaborative law or a divorce attorney bar association. You as an advisor – if you're interested in this, it has to be that you genuinely want to help people in this realm – but you can get into those groups and just learn from the divorce attorneys or mediators and give your input financially. And if you go the CDFA route and you're in these rooms – which are now Zoom – they're going to ask you questions, they're going to see your value, and then they're going to want to work with you. Instead of you just pitching online saying you're an advisor who works with divorce, and you're trying to get a client, I absolutely think it's more valuable to pair up with an attorney or a mediator who sees the value in what you do and then they bring you into the room. Just like we do with all of our center of influences. This is another tactic that you're adding value to their practices, and then, obviously, helps you out too.
Michael: And so help me understand just what engagements look like. Just, how do you get paid? What do you get paid? What does the scope of these relationships or engagements look like? I think most of us are used to, you know, there are three ways to work with clients. Like, you implement with something with me, I get paid on a commission and transaction basis. I manage a portfolio for you, and I get paid in an assets-under-management basis. Or I'm going to do the financial plan for you, and I have a financial plan fee of $2,500, or 5 grand, or whatever your number is. So, what does engagement look like when you're doing this kind of financial advisor work specialized in the divorce realm with clients who are going through divorce?
The Fees Olivia Charges And The Software She Uses As A CDFA [16:67]
Olivia: Such a good question, because that's something I'm sure everyone's curious about, is during the divorce, when you're working with a mediator or a divorce attorney, you have a contract and agreement with them. And so that really protects everyone in the room. And then also, you're getting paid through either the divorce attorney's office – so you're getting paid hourly and you can set it up however you want. You can have a retainer, you can do the hourly and not have a retainer, it's up to your practice. I personally do have a retainer. And then it's hourly, because it's in the divorce world, it's messy, people do want to fight with pain. So I want to make sure I get paid upfront because I'm valuable. And that's just something I set out to do. Everyone's practice is different. But during the divorce, it's an agreement with the divorce attorney or mediator, and I get paid a retainer and then hourly. Everyone's practice is different. So I know some people have different kinds of ways of doing it. And then post-divorce is its own thing where I just work with the client, and then they pay me directly.
Michael: And so what kinds of hourly rates are reasonable to expect? Like, how do you structure your fees when you do this?
Olivia: So on the CDFA site, they say most CDFAs are from $150 an hour starting out to...I think it was $300 to $350. And that to me, if you're in a divorce where it's going to go pretty fast, then you're probably going to only do 5 hours of work as a CDFA. Using the software, helping them out through the process – maybe 5 to 10 hours. You can do whatever you want. I personally charge higher because I want to show that value. And I only want to work with the people who can afford that amount. So I charge $350. I'm going to up that once I have more experience with just divorce. So I'm just a few months in. Once I've been doing this for a while, I'll absolutely charge more. And I'm not afraid to do so.
Michael: And so I just got to ask you, as you're framing it like, "I'm a few months in and I'm charging $350 an hour." Do you get pushback on that? "Olivia, I would expect that from someone who's been doing this for 27 years. You are newer to the table. How do you charge $350 an hour?"
Olivia: So far, because I am networking... And we can talk all about networking in a moment. Because I'm networking with people who have good reputations, and my reputation is good too, and I hold myself to a different standard – I've been doing financial planning for a while. So it's not like I just came into the financial world today, and I'm trying to charge as much as I can. I know my value. I know what I've done in the past. So I haven't had any pushback. But I'm also not trying to work with people who ask for discounts. And I'm not working with divorce attorneys that have just started their practice yesterday, too, who want every type of client, and who want to charge as little as possible to get as many clients as they can. I'm not going that route. So I'm charging more. I want less clients. And that's the way I'm structuring it, so.
Michael: And it's worth recognizing, from a practical perspective, that when you work with more affluent clients, the scale of the numbers changes and what people do and don't push back on or they're concerned about changes, right? There's a segment of clients that $350 an hour is a big number for, and there's a segment of clients where $350 an hour is not actually that a big number for. That's not their blocking point. "Figure out how to help me do this well because there are millions and millions of dollars at stake in this divorce". The deal breaker isn't the last $50 or $100 an hour.
Olivia: Yes. And also, out of all the financial psychology, everyone who we could...take, for example, let's just take a watch. If someone's used to having a $25,000, $30,000, $500,000 watch, and you say, "I can give you a watch for a few thousand." Well, they're going to have a different basis and understanding of, "Okay, well, I don't know watches, but I know that I'm used to this certain level. Why would I want that discount? That's probably not as good." Even though I don't know. It could be the exact same watch. But that's just in my experience, it's worked. And that's my practice. Yeah.
Michael: Yeah, perceptions around pricing are kind of a fascinating thing to themselves. And just, when you work with more affluent clients, they anchor to different numbers. The $5,000 watch, that is a very expensive watch for a lot of people. For certain clients it'd be like, well, it just sounds like it couldn't be a good watch because it's so cheap. Because that's their frame of reference.
Olivia: Exactly. Yes.
Michael: So you mentioned as well that there are software tools that you're using to work through this. So what is the software of the CDFA planning world? Is this like our traditional planning software world of doing plan projections and MoneyGuidePro or eMoney or one of those? Or are we talking about a different kind of software tool?
Olivia: It's a different type. It's Family Law Software. And so it's very specific to divorce only. And it'll do everything and anything you need it to do. I do have to say, though, that eMoney, MoneyGuidePro – they're very pretty and very organized, and very easy to understand. And they look good when you draft it, and when you print out the packet for clients. Family Law is...I hope they're going to get there. Or else maybe I need to start another business. I've thought about that. Maybe I need to start my own software that needs to get up because it's a little archaic in my mind. I am in a younger generation, and I expect more out of my software tools. But it does not compare in my mind to what I've used in the past, like eMoney and MoneyGuidePro, it's a little different.
Michael: And so what is the family law software of choice?
Olivia: It's actually called Family Law Software.
Michael: Oh, that's literally what it's called. So it's not a software to help with family law, it is literally called "Family Law Software"?
Olivia: Yes, that's the only one that I found that I personally like. And everything is accurate. It's a great tool. It's just not as organized, or it's a little archaic. That's the only thing.
Michael: And just what are you doing in it? Just what do you do with the software?
Olivia: So the first thing that you can do, that's great, is you can send out a link to your client and ask them to fill out that link you sent of their budgets. That's a huge thing that no one ever does. Us as advisors, we all know that our clients, if you ask them, "What do you spend in a month?" How many of them actually know? So with me working with women who have never even thought about money, that's something that I personally don't use, but it's a huge tool for a lot of advisors that you can send a link to the client – your new client – and have them fill out a budget to the best of their abilities. It's going to be wrong. It's not going to be accurate. Like, for me, I go over it with my clients. I don't send the link because I'm hand-holding a lot more. But you can send that. It's really, really helpful. And then you can do all the projections. So it helps you with retirement plans and setting up the assets because fair is not always equal in divorce. So we're not trying to put the house and then split it in two and say you guys both get 5 million, say when the house sells for 10. Well, that's not equal, because of all the other implications.
So it takes into consideration – just like all the other software tools we've used as advisors for years – takes into consideration your state tax, federal tax, and what's going to happen with your tax basis when you put all that into the system. So obviously, for me, and for everyone else, your client doesn't know that information off the top of their head. So for me, so far, it's been a long process, but I love it because it gives them clarity. No one ever knows how much they spent at Costco. So just a conversation yesterday. It's like, "Oh my gosh, you think that that's what you spent?" It's just not accurate. So let's have that conversation and really dive deep, and let's have that mindful awareness this week on, "What are we actually spending?" "You say your daughter has allergies? Well, if you guys are going to split the household up, that needs to go into the budget."
So that's what I've been using this tool for a lot is the budget – splitting the assets, coming up with different options for the settlement. The tools are there. And also, advisors can use this and send it to the attorneys. So the attorneys can play around with it if they want. I personally haven't done that yet because I just trust myself more with the financial tools, but you can have the whole team use it.
Michael: And so you made an interesting point around just the way engagements work and the dynamic that, at least sometimes, an unfortunate reality of divorces and messy divorce proceedings is actually trying to inflict some cost pain on the other party, and that if you're working as part of this process you actually do want to be billing hourly because the last thing you want is a situation where the person is trying to inflict time and hassles on the other party, and you are dragged into an engagement on a flat-fee basis where you're not getting paid for all the additional time that's now dragging out because that's, unfortunately, how it's playing out.
The Services Olivia Offers Clients During And After A Divorce [26:13]
Olivia: Yes, and I, before getting into this, did plenty of informational interviews of those in the field from every perspective. So I went full force trying to make sure I'm getting into the right field and I don't make the same mistakes other people have made and I also continue successes that other people have done that have done a good job. And one of those things is absolutely – in the divorce world, it's just notorious that you're not going to get paid if you don't already have it set in stone, or you haven't already had that retainer, or you haven't already gotten paid somehow in the past. So you want to be careful of that. It's a messy world. And that's okay if you know what you're getting into.
Michael: Okay, and so when I think about these from an engagements perspective, like you're $350 an hour, fast divorces might get through in 5 to 10 hours, some get a little bit messier and longer. So I'm just doing my napkin math here. We're in sort of a $2,000, $3,000, $4,000 per engagement kind of scope when you get pulled into one of these? And the occasional one that I'm sure gets much larger when it's really messy and it drags out. But am I thinking about the scope of these right as you get into these sorts of engagements?
Olivia: Yes, and you can do your retainer, $3,000, $5,000. Some advisory firms, I'm sure, do a lot less. But in my world, $5K is absolutely okay for me, because for me, that's okay. So I have a retainer of $5K right off the bat just to cover my bases.
Michael: But I'm guessing you're not using a retainer, at least the way some advisors do, which is sort of, "You pay me on retainer and now my time is yours and you have access to me". Your retainer, I'm guessing, is more of the traditional lawyer's sort. Like, you've essentially just prepaid, whatever that is, 13 or 14 hours of my $350 an hour time, it's not like you get unlimited access to me for $5,000. It's just, you've got to pay $5,000 upfront for the initial chunk of hours you're going to use from me so that I don't do the hourly work and then you fail to pay my bill.
Olivia: Yes. Yes. Because then that could potentially turn into a messy situation with the attorney and or the clients. And I don't want to go down that route because I want to keep good relationships intact.
Michael: And then out of curiosity, what happens if the thing goes quickly, and they don't actually end up using like 14 or 15 hours at $350 an hour? Do you have to refund back whatever they didn't use? Or is it just like, basically my package is $5,000 for up to 14 hours and then I'm going to bill you overages above that.
Olivia: I give it back. I'm not in the business to try to take advantage. So far, that has not happened. But I have that in the agreement that I'll give it back, so I'm not worried about that at all.
Michael: But in practice, often the situations end out a little messier and taking more time anyways. So.
Olivia: Yes. I like efficiency. I like to go quickly if I can to help someone quick and fast. But in this world, I'm laughing because if you say you only are going to do two hours of work, that's just not realistic. Unless there is something that just the attorney needs really quickly. They just need some kind of option and you're not involved in the whole case. It's just that one question. That's fine. You can charge just one little two-hour session, but I haven't seen a whole case be that short.
Michael: So it sounds like that kind of covers the scope of when you work with women going through divorce. You get engaged as a CDFA, often coming in through the divorce mediator or divorce attorney. It's $350 an hour billed as an initial retainer of $5,000 upfront that they earn their hours against and get billed more if it moves up further. You do the CDFA work with them and helping them get through the divorce process and being the financial expert at the table, working with the clients and working with the attorneys. And that's the scope of working with women during divorce. Is that a fair characterization?
Olivia: It is. Yes.
Michael: Okay. Okay. So then, tell me about what comes next. Because it sounds like the second stage is you also work with women post-divorce.
Olivia: Yes. So post-divorce is the work that I thought, when I created the business, that that was going to be all I did. So I even looked into just doing divorce coaching, consulting, calling myself that. And that would have been it. I got into the analyst part because I realized that you need more help during the divorce in not making stupid errors versus just post-divorce, "Here's what I have to do. What do I do?" "Oh, I can't help you," really because it's just too devastating. So I love that I do both. But the post-divorce, in an ideal world, I've worked with them as a CDFA during the divorce, I know their situation, I've built the trust, and then working them post-divorce and actually implementing what they need to do from whatever their divorce attorney and whatever the decree sets.
So the ideal situation is, let's actually help you fix the problem that's really keeping you up at night right now, which is, so far what I've seen, is, "I do not know what I'm spending, how to actually maintain my lifestyle, and what I need to do next. I want to stay in the house. I don't want anyone coming over to actually try to appraise it and sell it. I want to still be stubborn in a lot of ways." So I'm listening first, I'm helping them through the little things that they need to get through which is, "Okay, you don't want to leave the school district. That's what I'm hearing, but you can still downsize and get to a really, really good house and be able to afford it while staying in that school district. Can we talk about that option?" So I'm really a sounding board in a lot of ways and then setting that right expectation with them of, "Okay, post-divorce, you're maintaining the lifestyle, but let's talk about actually what are your goals and values in life. You've never had that independent lifestyle before, you've never had your own identity."
So it's a lot of discovery work too. And that's why at the very beginning, I thought I would be calling myself just a divorce concierge, divorce coach, or divorce consultant because it's really just helping them with the tools. Yes, fixing the problem financially, and helping them with all the basic stuff, like getting them on the credit card, because they've never had one in their name before. And helping them with the budget and helping them with all those tools like getting on mint.com. Helping them understand this is a trustworthy realtor. They're going to really walk you through. I'm going to be there as well, walking through the house, too. Even in the COVID world, there are ways to do that. There are a lot of little things that I help them with for months and months at a time.
And I'm so new in this that I haven't seen the long term, "Okay, after a few months, when I'm completely done working with you, is that where I then send you to the advisor?" That's what I'm thinking, since I don't manage the assets anymore. And that's why I've been building at this time in my practice really good relationships with advisors who manage the assets, so when they're ready, and they've done the foundational behavioral work with me and they're actually understanding a little bit more about their finances, they can go to an advisor who can have that plan and actually implement it and manage the assets and help them with that risk tolerance portfolio stuff.
Michael: So help me understand more the way the business model works. When you get into this post-divorce realm and you're doing everything from helping them budget and helping them figure out their lifestyle, like housing conversations, intros to realtors, walking the house with them while they're shopping, and figuring out what comes next. What is the business model? How do you charge and get paid for that work?
The Unique Business Model That Olivia Uses With Her Post-Divorce Clients And The Fees That She Charges For That Service [34:31]
Olivia: So, I think that this was the best decision. And I'm completely open to anyone's feedback, because I've gotten a lot of it, is I charge a flat fee of $20,000. And so far, I'm sticking with that because if you look out there and you see there's a ton of people who right now in the coaching and the consulting world, they charge for programs and they do a three-month program for $3,500. That's the basis of what I've really seen. And I don't want to ever have to model myself after someone who is doing something and working themselves into the ground, and they're working for every type of client. And so I went with a higher amount. And so I charge $20,000. And so far I have, with every single conversation, not gotten pushback from either clients or attorneys. But I mean, I'm sure the people listening today as advisors think that that is just crazy. Like, why can you charge that much? So I'm focused on a certain different level of clientele.
Michael: So now, just to get back to, what do I get for $20,000? What's the scope? Both, how do you define and explain what you're doing to clients for $20,000? And just how do you even protect yourself? Because I can still easily imagine a client who so takes advantage and abuses this that to where $20,000 is a horrible return on your time because you end up spending like 1,000 hours buried with them on stuff and you're getting paid the equivalent $20 an hour. How do you describe the services? And how do you scope it so that this does still work out well for you?
Olivia: So my entire site is dedicated to just describing what I do to that ideal female client who is in such pain and devastation post-divorce that they have nowhere else to turn. Because if you're in a certain status level in your household and you've had that certain identity for so many years, you're not going to just go to your best friend and ask them what they did during their divorce, or you're not talking to their divorce attorney because you're already post-divorce. So you have nowhere to turn. And so at this point, I fix their big problem, whatever that may be. And at this point, I'm so new in this where it may be six months down the road where I say – because right now I am spending quite a bit of time with the two clients that I have.
And maybe I need to set more boundaries on that. But I, right now, I'm really enjoying it because it's exactly the clientele I want. And it's exactly what I want to do every day. So is there going to be a time where just like you said, you're actually making $20 an hour because you're giving them so many hours for that $20,000? That will be something I'll run into, I'm sure very soon where I'll maybe change the model. But for now, I talk to them about exactly what they're needing. And everyone, if you talk to them in just a 20-minute conversation and they have a huge pain, they're going to tell you what they need, and you're going to help them fix that problem. And then you can help them with the basics. And then you can send them to the right person to actually help them manage the assets.
But I might also in the future say, "Well, we have such a good relationship. Why don't I manage those assets?" So in the future, I might actually start managing assets again. I don't know. Maybe that's going to be a really good plan. That's what I thought my two-year plan, three-year plan would be. We'll see.
Michael: And so is there any limitation on the scope? What's to stop someone from hiring you for $20,000 and four years from now, you're still going with them on the original $20,000 engagement? Is there some hours or time horizon or like this covers everything we're going to do together for the next six months, but then it ends and we move on to the next thing or we do another agreement? Do you have any kind of scope around that or just...? Otherwise, how's it end? Or how do you know when it ends?
Olivia: Such a good question because I debated that with my career coach and my branding coach for very, very long discussions on, "Okay, this could be a six-month agreement, but I can't say how long it's going to take someone to get into a better mindset post-divorce and be financially capable to work with an advisor or work with someone else or be capable to be independent and not codependent on me." So I don't want it to be a long-term four-year relationship of them having to call me on everything because that's not me doing my job of helping them get to be empowered, without really telling them, "You're going to be empowered," because that's not what they're looking for. But I'm also trying to help them not just run into another relationship with a very, very wealthy billionaire. We don't want them just to always be codependent if we can help them manage those skills and help them with just the basics of the financial education.
So, so far, I debated a lot. Tried to figure out, maybe I should do a six-month agreement or a year agreement? At this point, I don't have that in the writing for the two that I have right now. And that's something that's still...it's out there in the open and, I'm not sure what the best option is. I think a year is probably what I will have. But that's then a really, really good price for 20K, doing everything and anything for them and really helping them. So I might raise my fee, or I might do six months, and have that be the agreement. That's what I've talked about a lot of so far. It's kind of throwing around the ball right now.
Michael: And just given all the stuff that you're doing, how many clients do you think you can handle at once doing this before you just get drowned out of how many different new home walks you can do in one day with various clients who are all shopping with various realtors?
Olivia: That is the epitome of why I'm doing this, and focusing on such a niche is I only want to work with a few clients at a time. So during divorce or post-divorce, few clients, that's my goal. I do not want to have that become, "I want as many clients as I can," or, "I want as many differences in clients, and I want to make as much as I can." No, I want to work with a few clients at a time. And then I'm going to have a waitlist. So right now, on my website, I actually do have it as a waitlist. Because I'm newer in this. I want to take my time. I want to enjoy it. I want to see what's working and what's not. And I don't want to overload it where I get into a pattern of working, working, working, working, working, and then never able to lessen that. I want to start off on a smart, very good, calm schedule, helping these people where I can, learning about what's working and what's not, and then I can raise up. But I never want to go more than a few at this point.
Michael: And what does a few mean, in practice? I mean, for some firms, a few clients is only having like 50 and not 150.
Olivia: Yes, so for me, it's five. That's just the extent of working with post-divorce is absolutely right now, my limit would be five. And that's, again, where I might have to set more boundaries of, "Okay, this is off-limits, my time here." In my personal life, I'm very balanced. And so I don't foresee it being where, if I'm working with only five at a time, even if they're wanting me at all these different points throughout the day, I just don't foresee it being a negative part of it taking over my life. So I'm just very cognizant though, of keeping it at a good limit to protect myself and making sure I'm giving 110% to each client. Because that's what I've seen is that a lot of advisory firms, they take on and they take on and they take on. And are they really giving, to each client, the attention that that client deserves? I don't know. That's something that each advisor will have to answer for themselves.
Michael: And so, how do you envision this adding up from an overall business model perspective? Like, 5 clients at any one time on $20,000 retainers, a few clients that are during divorce, but I guess those turnover much faster because it may only be 5 or 10 hours for any particular engagement. So you may – I don't even know what the cadence is. Like, you could have 10, 20, 30 plus of those over the span of a year because any particular one moves through relatively quickly. And so you've got a dozen or a few divorce clients that are a couple of $1,000 apiece and then 5 clients at $20,000 retainers a piece and that's the business model.
Olivia: Yes. And if you think about it, from another perspective, the overhead that I have is almost nothing. It's just nothing. So for me, it's a model that really, so far, I think is going to work, but we'll see in the next few years if I pivot to saying I really love the during-divorce or maybe I'll start working pre-divorce and work only as CDFA. We'll see.
Michael: Overhead, because you're not on the side even of managing assets and the rest. I mean overhead is like a website, whatever space you want to meet clients with, and the Family Law Software?
Olivia: Right? So I am very much the type that, I think because of what I've seen other people do in business and I've done my research; you have to spend money to make money. So I do not want to be the business owner or the entrepreneur that, "I'm going to do absolutely everything myself and never spend a dollar because then I can have that dollar for myself." Then you're never going to be growing successfully. So I think it's important to learn the basics. So for me, I thought it was very imperative; I needed to learn the basics of how to build a website. What is it doing when the SEO does this? What are the keywords? How to actually market myself. How to actually create my own publicity? And understand the basics, and then hire and outsource that, when I get to a point where I think that I can do that even if I had the money beforehand. So actually paying to grow the business in ways that maybe I'm not an expert in. But now I know how not to be taken advantage of when I actually outsource it.
So my overhead could be, yeah, it's okay, the family software, I do have CDFA insurance, but, gosh, it's just nothing. I work in my home. So I don't have clients visiting my home. It's just the easiest possible setup because I'm not giving advice and not managing assets. So that's another way.
Michael: I got to ask because I'm sure someone who's listening is just wondering, like $20,000 advice fees and you're working out of your home. We don't even need a separate office space.
Olivia: So I did get on Regus, there's plenty of online virtual business offices –addresses you can get online. I went with Regus because, in Seattle, every single area that I've lived in already, I've already been in this area of Kirkland. So I got a waterfront property for a business address so that I can put that on Google, and I can put it on my website to look professional and reputable because that's my face of the business. But I can go there if I want to. I don't need to. So I spent the most you possibly can. And it's $110 a month for the business address. And I can visit it. I think it costs maybe $20, $30 to visit the waterfront property and use it for an hour if I felt like it. I don't need to because I have a home office. So yes, my overhead is quite low.
Michael: And so the other thing I've got to ask just relative to some people who are listening. This piece at the end where you said, "And then at some point, they're getting to the point where they're good on their own, and I can refer them out to another advisor who wants to do the whole portfolio and AUM thing." Why not do that part well? If you're so deeply integrated to the client already, and you're working with some fairly affluent folks, I'm assuming there's actually a lot of dollars at stake, on the table, in play, as it were? Why not build in the AUM piece as a part of the model as well?
Why Olivia Does Not Manage Assets For Her Clients And How She Finds Advisors To Refer Those Clients To [47:45]
Olivia: So I looked into it, and then I decided, I really think, for me personally, with my moral standard, where I'm at right now, conflict of interest-free is...I just want to give the best tools and options without thinking, "I'm going to have this under my management if they get more dollars," versus actually keeping the house and not giving me more assets under management. So I wanted to avoid any conflict possible during the divorce process to make sure I'm being completely fair to the client and giving them the best options in a settlement and giving them the expectation that I'm really a trusted source for them. So that is something that I made the decision on before starting the business. And then yes, I might transition into that in the future if it makes sense. But right now, I've been building my relationships with advisors that I really find could do a really good job for certain clients, because I'm going to get different personality clients. And I need to have advisors that I can trust and refer to when the time comes to actually do that process that can fit with that personality of my client.
Michael: And do you envision like operating as a solicitor or getting referral fees or anything like that, or you just literally want to make sure that the clients that you're working with find a good home at the end of the process?
Olivia: I will not go that route. That's not ever been my – even during wealth management years of managing assets and referring clients to – even though I have my licenses for insurance, I would refer them to an expert because that's what they did every day. And they would ask me if I wanted a referral fee, they would obviously try to have that because then I would refer more, I'm sure. I just never wanted to go that route of getting a fee for giving someone... I just want to do what's in the best interest of the client, truly. So for me, I've not even thought about that, and I don't think I'll ever go that way. For now, it's not a thought, maybe things will change in the future. So I'll never say never. But I really, highly doubt that I'd ever want to go that route. It's for me, not a good fit.
Michael: And so, talk to us a little bit more about just the clients themselves. I mean, we've talked about working with affluent women that are going through a divorce. And I feel like, in the modern era, there's affluent, and there's affluent. And as you're talking about clients that are paying $20,000 fees for what, at the end of the day, is, and I don't mean this in a negative way, but not necessarily the most complex of advice. At the end of the day, you've said some of this is talking about how to set up a credit card in your own name, and figuring out how to how to buy a house or walk the open house, or figuring out where you want to live next. Which is, someone out there is like three master's degrees in tax and legal who is charging like $400 an hour going, "I can't believe Olivia is charging $350 an hour for budgeting." And I know some of that is just a function of who you work with and what value looks like relative to them, right? The $5,000 watch that's expensive to some and cheap to others. So, help us understand just who is this client? How much wealth are we talking about? And what is their financial context?
Olivia: So I think whenever you have a client in a room, and this is in my past former wealth management role, is when you ask someone, "What does wealth mean to you?" or, "What is a lot of money to you?" Every single person is going to give a different answer. So for me, I personally think that ultra-high-net-worth is over $100 million and above. I really don't even think, for me, 30 to 50, 50 to 80, that's high net-worth. But that's still not in the context of someone else's belief who thinks $100,000 you can retire on. I don't know. People have different viewpoints and what a lot of money is. And so the clientele that I'm working with, and what I see in my future, is really more of the family office, concierge-type of services, and those families that go through that kind of wealth, generational wealth. Second, third generations, obviously, are the ones that usually lose it, but that's the female that I'm working with trying to help her through the process.
So, for example, you have a very famous best-selling author who passes away, let's say. They have grandchildren who are going to go through a divorce, but they're waiting on that divorce until the settlement of the estate of the grandparent because that's a child who, in that divorce, that was not the maternal grandmother, let's say. So they're waiting to finalize and start a divorce, even, because they're waiting for the estate to finalize for someone in that family because there's so much wealth going through. That's the clientele that I'm working with.
Michael: Okay. And so just we should be anchoring to, we're talking about families where we're talking $100 million net worths and up. Is that fair for...?
Olivia: Yes. Yeah, 80, 100, 100... Yeah.
Michael: Which again, I think just helps when you start saying this context of like, what is $20,000 of advice?
Olivia: Yeah, nothing. It's nothing.
Michael: Yeah. It's a very small number when you're looking and staring down nine-figure-net-worths. So I think that helps to set context, including, I know, what are just very different dynamics around families of wealth at that level of wealth. I know we talk a lot in our industry these days around 'fiduciary' and conflicts of interest and what that entails. But when you're working with families at that level of wealth, because there's so much money and so many people are pretty much always coming at them, a lot of people at that level of wealth get a highly, highly attuned sensitivity to conflicts of interest, and when someone is trying to steer an outcome in a particular direction that, to me, that gives more context around, so, "Why do AUM?" or, "Why not do AUM?" as part of the model. Because you really are at a level of clientele that may very quickly figure out like, "Oh, this is your pathway to my money."
Olivia: Exactly. And there's such a different level of trust. And you can sniff out so quickly who's in the industry for the wrong reason, going after those with ultra-high-net-worth or high-net-worth or affluence. You really have to be doing it for the right reasons. So that goes into being even, let's just say a charitable advisor or a philanthropic advisor that's working with generational wealth and helping trust fund babies, or any other segment of where you could go and specialize within high-net-worth, you have to do it for the right reason. And you have to build that trust in such a different way. You just really can't walk into the room and say you work with this type of clientele if you don't know how they work. And they're not going to trust you if you're at it for the wrong reasons.
Michael: So the next natural question, at least to me, is like, so where do $100 million clients come from?
Where Olivia Finds Her Ultra-High-Net Worth Clients And Her Networking Process For Building Relationships With Other Professionals [55:43]
Olivia: That is a question that I love. So if you ever network, which I think you're very familiar with, is if you just build relationships with people – and I didn't even realize before I started. I thought I was going to start my practice and have it based out of New York. I really thought Manhattan was going to be the hub, the best part, really, start there. But I'm in the Pacific Northwest, and I didn't realize that all of my connections and networks, you already have them in your backyard. So building your connections in the right way.
And for me, it was – and this is something that many advisors, I'm sure, have been a part of is – I'm part of wine memberships. I'm part of charities. I'm part of boards. I'm part of a lot of extracurricular activities that have a lot of wealthy people that are also a part of it. So that might be your local Yacht Club. That's not something I'm a part of, but for a hobby, I love saltwater fishing. You apparently didn't really think about this, but you have to have money to get into that hobby. So, for me, it was a natural progression of being able to work with professionals.
And the ultra-high-net-worth is just me already networking with people I already, maybe, even second-hand know. But I also am not the type that's afraid to ask, "Hey, how are you successful? I'd like to get to know you. You have a family office?" And let's say you're in New York or Toronto or somewhere else in the world. "Do you have 10 minutes where I can ask you questions?" I've done that for years. And every single person is so willing to say yes. And you learn about why they're successful, and you do it for genuine curiosity and get to know these different professionals, and then they're in your network.
So even if you don't think you have it in your backyard, or you're not a part of any of these big clubs, you do have more resources than you know, if you just ask people and you're curious about what other people do in the industries that you want to work with. They're going to refer you if they trust you, and you've built that relationship good enough. And it just starts with asking, "Hey, how are you successful? I'd love to learn more." So that's a long-ended answer.
Michael: Interesting. And so I guess part of the key point of this is, you're not necessarily trying to network to the 100 million dollar client, you're networking to the professionals, the attorneys, the accountants, the family office folks that themselves are being hired by 100-plus million-dollar clients?
Olivia: Exactly. So in those circles, they're the ones who, when you actually show what you do and value you bring to the table, and just the relationship, and just friendship, and just mentorship, whatever it may be capacity-wise, they're going to be referring to you in the future. So it's a very long process. And so I'm not in the short game. I'm not at all. I never want to be. So I'm in the relationship-building business. We all are. But it is a long-term game. So it's not going to be something where they're going to refer at all because people who have that ultra-high-net-worth – they're gatekeepers, the professionals are absolutely looking out for their best interest and are not going to refer to someone that they do not see as a trustworthy figure to their clients.
So for me, that's exactly why right now it's been building months and months of working with advisors that I'm interviewing. They don't realize that, so when I'm actually reaching out on LinkedIn saying, "I'd like to see if you'd like to be part of my trusted network. I need therapists, accountants, and lawyers, realtors, mortgage bankers, all these different types of professionals." When I reach out that way, I'm the one who's the gatekeeper for the clients that I'm going to be having. So I'm not going to send my clients with ultra-high-net-worth to someone that doesn't understand money and having a lot of it. I'm not going to send them, so it is a delicate game, I guess you could say? Very delicate, as you want to build the right relationships. And you do that with the professionals, in my opinion.
Michael: So it's an interesting angle. Can you talk a little bit more about... I'm wondering who are the professionals that you're actually targeting? A little bit more about where you're finding them in practice? And then just, what does it actually mean to build relationships with them? I know, I get that; we say that. I have a lot of relationships with a lot of people as well; I have not gotten a lot of 100 million dollar referrals lately. So there's still some difference in how you seem to build relationships and how I build relationships. So help me understand a little more: who exactly are the kinds of professionals that you go after? How are you finding them? And what does relationship building with them really look like at the end of the day?
Olivia: So how I find them, how I build them. One example is years ago – so long-term game – I was at a philanthropic event, and it was just a luncheon, and across from me is a guy, probably in his 60's, and he mentioned something that just spurred my interest because I asked him what he does. And we're all advisors at the table. But obviously, we all have different things we can say that are interesting. And he shared that he only had 60 clients. And that was just so intriguing that, after that meeting, I asked him if he wouldn't mind, if we could grab a cup of coffee, I'd love to buy a cup of coffee and just hear more about how does he only have 60 clients? What does that look like? What does he do day-to-day? And how is he successful? Going back to that same question that I've also asked many people on LinkedIn.
So in person, we meet for coffee, and with the building relationships, I'm very, very genuine. But I'm also very good at asking and deflecting and really making sure that they feel welcome and they feel known. And when they tell me a success story about their clients, I follow it up with more questions. So I'm really intrigued and really curious. And me building that relationship is – then they're the ones who are like, "I would love to meet every quarter. It'd be great to actually keep this relationship going," because they felt so good meeting me in person the first time.
And that's worked because that person then, even, that I met at the philanthropic event who only has 60 clients. He and I still have a relationship. And after years, I actually was able to take my clients to his office – which is at a drivers' club, it's called – in Seattle, where the most expensive cars are all in this garage. It is a very exclusive membership where – my clients, they love cars. And so I was able to, with that relationship, bring my wealthy clients to where his office is, which is, he knows the connections of the people who own the drivers' club. And they got a tour of the most expensive cars in all of...I'm guessing it's the Pacific Northwest. So did that mean that I had a referral of a client? No. But am I able to build that relationship to now, where now I'm in my own entrepreneurial journey, and this is a person that I trust enough where I can send my clients to him? And in the future guess who at the drivers' club gets divorced a lot? Everyone, and they're very wealthy. So guess who he's going to send to me is those clients that he sees in that area and those memberships and everything that has to go on at the drivers' clubs.
So that's hopefully a good perspective of having a relationship randomly, building that relationship, you both can add value to each other. And it's a long-term game. But that's where ultra-high-net-worth clients are alluded to, and they're there.
Michael: And it sounds like a piece of this as well is you've got some kind of sniff test mechanism to figure out which professionals are ones that actually would be good for you to build more of a relationship to go deeper with and try to stay in touch with over time and like, "Okay, this was someone who's interesting, and actually seems to move in circles with 100-plus million-dollar clients"?
Olivia: Yes. And I hired a career coach. Now, it was probably a year ago, who at the very first session that we had, we did my strengths and weaknesses. And one of my top strengths, that I had no clue that I had, was I'm very good with social intelligence. So I think me being able to interact with many types of groups, many different types of people, and be able to understand who they are without sometimes them saying who they are. I think I'm naturally good at that. And it does help in the world I'm in now, because trust is such a big thing. I can tell those who are trustworthy faster than I think that they know I can.
Michael: I'm wondering as well as you're doing just these kinds of networking events around ultra-high-net-worth clients or professionals that work with ultra-high-net-worth clients. You're talking about, like charities and wine memberships and things of that nature. I guess I'm just wondering what kind of costs does that impose in just being able to get in the door and do that? I know for some boards, boards have giving requirements. And if you're on board with groups that write really large checks, that can be a very large check for someone who's trying to work with the ultra-high-net-worth, but doesn't necessarily come from the ultra-high-net-worth. I'm just wondering, are there challenges in writing the checks or handling the expenses that come with trying to run with that sort of crowd? Or is that not really the situation when you're working with the professionals who serve ultra-high-net-worth and not literally the ultra-high-net-worth directly?
Olivia: I can give two different answers. The first one is, you don't need to have money. The second one is, in a way you do. But it has to be in the right... You don't want to be part of charities and philanthropic work if you don't care about that. So I don't think it's all about having to write checks and give money because you can do philanthropic work and meet people who have money, but you have to do it with the right heart and mind first. So for me, all the boards that I'm on, I really do care about. And technically, some of them you'll know upfront if you're supposed to give. Some of them they're more lenient. So you can do these things without having money.
One example is wine memberships, Washington, California, Bordeaux. We all know that those are the regions that produce really good wine. So I'm very fortunate to be in that circle of just where I live. But there are other places across the country that have wine clubs, champagne clubs, all of that. And it's not that expensive to be a part of certain wine memberships. There are definitely the ones that I'm a part of that are more costly. But for example, one of them that I'm a part of, I just like the red wines. And I've, over time, gotten to become a member – not that expensive, because you can become a member at different levels. So maybe it's a few 100 bucks a quarter to get 3 bottles or 6 bottles of wine. So if you can afford that, and you like wine, and you're going to the wine membership event, and you're getting to know people there in a genuine way, the wine tasting and pourer and the winemaker, at least for my world, I've gotten to know and this one, and I've only spent a few hundred dollars a quarter. And I was invited by the winemaker to go to one of his charities he cares about because he knows that's a passion for me as well. Guess who's at that table of the best table possible at the charity event? Other people who have wealth.
So that's kind of a way you can get in. It's natural. If you like wine. For me, it was natural, because I liked charities. So do what you think you enjoy. And then get involved, start at a small level, and build your way up. If you have the money, give more to charity and get involved in higher and better charities that maybe you're going to be potentially around better and bigger professionals that are in that world that you want to be in.
Michael: Interesting. And so talk to us a little bit about the journey of how all this came about. Because I know you didn't start in the entrepreneurial realm. You've been doing this for a number of years already. So how did you get started in the financial services industry that has ultimately culminated in this hyper-focused ultra-high-net-worth women divorce niche? Where did this journey start?
The Journey That Led Olivia To Her Current Role [01:08:49]
Olivia: Yeah, so my journey of starting in finance was, I ended up working in college at a nonprofit for just an internship and love, love, love charities, love philanthropic work, but I saw the people that were directors, the top dogs, were making nothing and were just working way too many hours. So I decided at that point, I want to make money to give it away. That's how I want to do it. I thought I wanted to get into the nonprofit world to work. But I actually want to have that as just a fun passion and work really hard and give back in different ways. So I got into a bank. And I really enjoyed banking and helping people save. And I would refer to my financial advisor all the time. I was crushing it because I knew it was the best thing to do was, "You have so much money in your savings. I'm a banker. I can't help you with that. You need to talk to an expert." And so I would have them meet with advisors. And I would sit in the room. So I asked the advisors, "I would love to learn. I want to know what you're doing. How do you talk to clients?" I'm 21-years-old and I'm going to learn everything I can from everyone in the financial world.
Michael: So what was the entry-level bank job that you took that you were getting to queue these up?
Olivia: So I thought I was going to be a teller. I ended up starting as a personal banker at JPMorgan Chase. And I don't think it was normal for someone at that level to say, "Hey, I want to sit in on these calls," but I did. So I ended up really enjoying hearing what the advisor would say to their clients. It seemed really easy. And so I ended up just going along that path. For years, I was helping clients. And that turned into relationship banking, and really building the trust with clients even more, and being in the room even more with the advisor and learning.
Michael: So in the JP Morgan world, being framed around private client banker is still separate from being a financial advisor that's giving ongoing advice. This is more of just a dedicated contact point for more affluent clients who have banking inquiries as opposed to being a teller on the lines?
Olivia: Yes. And then I got into the private client banking, and I was doing almost what I'm doing now as the concierge of, I'm going to help this client with more than just the basic financial, "You need to do this, and you need this credit card." "Well, let's actually go to the car dealership, I'm going to help you with that as well." Or, "I'm going to help you with that retirement home decision by going and touring those retirement homes with you, holding your hand." So I took it to another level that I don't think anyone else did as a banker. But I've always wanted to give that white-glove approach. And I think I did a successful job at it in the banking world.
Michael: Interesting. So how did this go, from just a career progression end, of just like, you're 20-something, straight out of college, applying for an entry-level banking job at JP Morgan? And then what was the progression, just how you climbed or moved internally as you started down that path?
Olivia: So it went from the banking and moving up to the private client banking, because really, I had a very good relationship with every advisor I worked with, and I wanted to work with the best of the best. So I moved up that way. And my progression from banking to advising was, simply put, that in the JPMorgan world, the advisors were not at all fiduciaries. They're selling JPMorgan products. In my mind, that was not maybe the best thing to do long-term. And they've changed their ways now. But I didn't want to go the path of the advisor in JPMorgan. And so I ended up actually having a lot of people wanting me to work for them in different firms. And so I ended up finally deciding, you know, maybe I should be an advisor somewhere else where I don't have to sell a product to have it be the right thing for the clients instead?
And so, it was almost too good to be true. I got into the advising world with an RIA, a very small firm in Seattle. And it was the best decision because I was doing what's in the best interest of that client. I was just taking care of the firm's clients. I was not selling anything. So I got to go from, big world of banking, everything is very much black and white, you have to do it this way. And if I would have gone into the advising world that way, it would have been such a different path. But luckily, I got into the advising world with a good fit for me in the RIA world.
So for years, I was doing everything within the advisory world and I was able to have the most independence ever. They just trusted me to do whatever I thought was best for the firm and that...I excelled. So I really enjoyed being able to see the different parts of the world. So that's relationship building within the retirement plans, guardianships, business owners, working with couples young and old, high wealth – so making the rich get richer – helping with portfolio management. I did everything and then I realized, jack-of-all-trades, I don't want to do everything. You have to specialize to actually be anything. And I was so comfortable that I decided before I turned 30 I need to maybe make a change. That's when I hired the career coach.
Michael: Okay, I am wondering, I want to come back to the career coach at the moment, but as you made the transition from, large firm, JPMorgan world into the RIA, how did you find the RIA? How did you know that was the right firm, the right environment, the right role for you? In particular, you said you were having some opportunities coming from different directions. How did you know and figure out which one to take?
Olivia: That was when I was going through which ones I would interview with, because they were coming to me, I wasn't going out and trying to find a new job. And I would interview with other banks, let's just not name names, but they did the interview process with me of saying they want me. And then I went there, and it's just it was, you could tell right off the bat, if it was for the right ideas for the client, or if they just wanted someone who was really good at selling. So I don't know if it's the sniffing out of that's what I'm good at. But the trust with the firm I chose was because I was doing an interview process just like they wanted to do for me, when they reached out to me. They want a good fit; I want a good fit. I chose them because I could really tell they were doing what was in the best interest of the client. And they did not want me to come there and just sell and get new clients, they wanted me just to take care of the clients they already had.
So that's why I chose them. And yeah, I'm very meticulous in my research. And so I looked at them very closely when they offered me a position at all the other offers I had, and I went with them because they were smaller, they weren't trying to do anything that I didn't want. I didn't want to sell products, and it was a really good fit.
Michael: So what else were you looking for? Because I know a lot of advisors, frankly, try to do this kind of shift, and then find out after they get there that the firm is not what they thought it was going to be or doesn't have the intentions or focus or whatever it is. What was part of your due diligence, or what were you looking at that helped you figure out, okay, this one's actually legit? Because they all say they act in the clients' best interest and do good things. Because why would you not say that? So they all say it. And we all know that not all do it. How did you actually figure out which ones were really real in that?
Olivia: Oh, Michael, that's a good question. I mentor a lot of people in this realm of they're trying to decide what to do next. And the grass is not always greener on the other side of the advisory world because you're just being told and fed, "Oh, we're so great. You come over to us." Well, how I did my research is actually, I called their companies. So the people who were offering the positions to me, including the one I chose, I called to ask the employees what they thought and what they did day-to-day. Because once again, I'm not afraid of asking someone why they're successful, or asking someone what they love about their job is the same thing. Everyone's willing to tell you, and you can tell if they're trying to project something better or not. Because they're not in the interview process. So they did not realize they're being put on the spot. So I did that. I recommend it.
Michael: So what does that conversation look like? You look up their names on the website and then you call the main office line to say, Can I talk to Bob, please? And then when Bob comes on the phone it's like, Hi, I'm Olivia, I'm interviewing for the firm. And I just want to ask you some questions directly about your work experience.
Olivia: Oh, absolutely. Why wouldn't you? What's the harm? You're not doing anything...
Michael: Is it that direct? Just like is that the path? Is that the...
Olivia: Yeah, it's that direct. Yeah, it's just like me calling up... I ended up just recently calling a divorce attorney on the East Coast saying, "I really loved your article online that I saw about what you do with conflict and divorce with dogs and animals." And I was just on a podcast this morning for her because I've built that relationship now four months in and we are absolutely just working together because I asked a simple question, "Hey, you work with dogs and conflict and divorce? I'd love to hear how you did that. And what is your secret? What's your favorite part about it?" People are willing to talk. I promise you if you're an advisor, and I don't care what age, you can talk to people by just calling them. They'll give you answers.
Michael: Human beings like to talk about themselves, I'm sure.
Olivia: We do, yes.
Michael: It doesn't always take a lot to get them going if you just start asking some questions for whoever that firm is. And it sounds like though you had a particular angle around the kinds of questions you asked which was a lot of like, "Tell me about, not just like what it's like there, but, like, what do you do all day. What does your day look like?" Because where their time goes, I guess, is a good indicator of what's going on at the firm.
Olivia: Yes. And I also I even applied this to – you know how earlier I said I want to make sure I outsource after I know what I'm doing? And so I actually just hired a marketing firm after interviewing quite a few. And I even talked to the employees before I hired this specific firm asking them what they like, what they don't like, what is their biggest structure of the day that really they like to do. And you can tell right away.
And so going back to years ago of working and trying to find my next steps, people are willing to talk so you just ask the right questions. And it doesn't have to be scripted. But really, what I do want to point out is keep it succinct and short. I'm really the type that wants to respect people's time. And I think that's really important. So if you do ask someone to coffee to talk about their career or anything at all, make sure you're not wasting their time, that is not the goal.
Michael: So fully cognizant of the comment of trying not to keep it too scripted. But can you share a little bit more of what kinds of questions are you asking? You said, "What do you like about working there? What do you not like about working there?" What other questions have you found are good, impactful questions to just open up the right kinds of conversations?
Olivia: Well, for me, it was important to know about career progression, because I am not the type that wants to be stagnant. I don't want to be comfortable. I never want to just sit in a role for 30 years. That's just not me. So for me, my question was, "How has your career progressed since you started?" They're going to tell you. They can't lie. They can't say, "Well, I've done this or that." They have to, so I was able to then see, "Well, this person has been there three years, and they've already had a good title change. They love what they're doing." You can tell. Your voice inflection...you can tell, even over a phone call, if someone is liking what they do, or if they're trying to sugarcoat it. It's really just asking those questions, or even one I know that's now big, nowadays, that I used to ask is work-life balance. "What's your work-life balance?" That's a simple question. And they're going to take it and run with it. Whatever they say, you're going to learn in a good way or bad about the company.
Michael: So, as you said, you enjoyed it there. It was a good firm, or it was a good fit. You're ultimately not there. So what changed? Was something not working there? Was it just you had the entrepreneurial itch and wanted to launch your own thing? What changed from, "I found this RIA, and I was really happy and now I'm running my own firm doing something different?"
Why Olivia Decided To Start Her Own Business And How Her Career Coach Helped Her Build Confidence [01:22:20]
Olivia: So I think it was the comfort of, "Oh, I am so comfortable. I have other firms that I am their advisor on their plans or guardianships. And I actually have them calling me for answers because I know their business more than they know theirs." So I was so comfortable knowing so much in different realms. But I saw that as an issue. Because I always want to grow.
And so I hired a career coach to figure out, well, maybe I need to really improve in my job. Maybe I need to take on more. But I'm already taking on enough. So we had to work through those issues of, it's just me. The firm is phenomenal. I'm loving what I'm doing. But I'm helping everyone. And my firm, again, I was so independent. They said if you want to fire clients, fire them. If you want to get on new clients, do whatever you want. They let me run with the reins since day one. So I had everything I could have done in my business. I could have started that there. They would have never said no. So I could have.
But with the decision that I made with the career coach is, if you were to start the business on the side at your current firm, how many years would it take to actually get it up and running? And then also, how is that fair to the clients I had then? So if I'm giving 110% to all the clients that I already had at my firm, how am I going to start this fun adventure of helping women post-divorce while I'm helping all these other clients 110%? But I want to hand-hold these clients and give them the white-glove approach. How are you going to do that? You're not. You're going to be once again a jack-of-all-trades, Olivia. And you're going to be comfortable just doing everything.
So I almost had to quit. It was shocking to everyone because, yeah, it was very comfortable and happy. I'd had to get uncomfortable and start something new and really help women in the way I want to and create that niche that I know is going to be powerful for years to come. Is that helpful to hear? I don't know. That's the journey.
Michael: Yeah, I think it is. And I think you had an interesting framing that once you started figuring out who you wanted to work with. It sounds like it sort of started with the work you really liked doing was working with affluent women going through divorce. And then the next step was, "How do I create a practice that's focused on that?" And then the realization was, "Well, if I do it as an extension of what I'm currently doing, it's going to take forever and I'm never going to be able to give it the attention that I would want to give it because I still have to service all of my existing clients. And so if I want to serve them and do that thing, I probably have to make a clean break." Is that a fair characterization for how it progressed?
Olivia: Yes. And I could have even started firing clients in my practice to bring on the divorced clientele I wanted. And really, I could have done that for years. But what I learned through learning about myself last year is, I am absolutely the people pleaser, I could not let go of clients, even years ago with the clients that don't pay you anything, that take up all your time, it was very hard for me. And that's why I am setting all these boundaries now of, I'm only going to work with a few at a time. And I'm going to give them everything because I know that I'm such a people pleaser that that's going to work for me. But I'm not going to take on too many clients. So I just would not have foreseen it being successful me trying to do this that I'm doing now while working for the past company and doing them together, even though that could have been an option and just another segment of our business.
Michael: Interesting. And just what is it that...you've mentioned a number of times of not wanting to be a jack-of-all-trades and wanting to specialize more. What drove that? Because I think for a lot of advisors, that is still a debate. Is it really better to get focused in or are you giving up more by being specialized and focused? And what can you gain by being specialized and focused? I feel like, for you, it was already a conclusion that that was just what you have to do. And that seems like a leap in and of itself for many. Like, how do you think about that, that you just seem to be inclined to go to that conclusion so quickly?
Olivia: I think it's because I, being younger, I've gotten...I'm so grateful to be able to see what other practices have done. And for the last so many years, I've seen advisors on their website, everyone says they're different. And then you realize everyone's pretty much the same as the advisory practices go, when you look on the side, or when you talk to them and what they do. They don't differentiate themselves. So me being in the room for the last almost decade of seeing all these people who are very successful in their own ways, and they're building their practices. I know that you can do it better. And I know it's controversial. But I know that if you have a specialty and you stick with that specialty, that's where you really are successful, and you're not helping everyone and anyone giving up your time and all of your days.
Michael: And going down that path as well. I was fascinated by just as driven and focused as you seem to be around this, you made a decision to hire a career coach. So talk to us about how did you find a career coach? How did you select a career coach? Why did you decide to go the route of a career coach? Where did that come from?
Olivia: That's a good question too, because I am all about improving. And I do not have... I think we all have big egos. But I do not have a big enough ego to say, "I can do better. I know I can." And people can help me with that. So I'm very dedicated and very driven in my own self-motivation. But I know that someone else can see me from a different perspective and show me my weaknesses, such as people-pleasing, or not setting boundaries enough, or doing some things that I probably should be doing differently within my practice or within my personal life.
So I ended up interviewing I would say 10 to 15 different coaches. So I did career coaches, life coaches, success coaches. I did every type of coach. I researched them online. Just looking online. I didn't ask people about this because I think it's a topic that a lot of people don't do. So I didn't want to ask someone who might have a coach, because they're not the same person as me, they might not get along with the right coach that I might get along with. So I chose mine for personality fit. And I also chose it because I chose one that's just in finance. So she only works with wealth managers, advisors, portfolio managers – anyone in finance. And so I know she knew my world, in finance, and so she could help me not be comfortable and help me grow and whatever that looked like. I did not at all think I was going to leave and start my own firm. So she definitely guided me in building my confidence and getting my excuses and my fears out of the way. But really, I think it's a personal adventure; you have to interview and really get to know a good fit of who you can look for. Because everyone can grow. I don't think anyone knows everything. And if you've been in your own practice for 30 years, there's something you can do better. And someone else can help you with that if you hire them.
Michael: And so, out of curiosity, who did you end out working with that, at least was the turnaround for you?
Olivia: Suzanne Muusers. And that's M-U-U-S-E-R-S. Suzanne Muusers. Yeah, she's in the financial world. Anyone, reach out to her.
Michael: So we'll put a link out for that in the show notes as well. So for those who are listening, this is Episode 214. So if you go to kitces,com/214, we'll have links out for Suzanne and CDFA and some of the other resources and people that we've referenced in the episode here.
So Olivia, as you look through this kind of journey and the path that you've been on. What surprised you the most about the path of trying to build your own advisory business as you took the leap?
What Surprised Olivia The Most About Building Her Own Advisory Business And The Low Point On Her Journey [01:31:17]
Olivia: I think the thing that surprised me most, there are two things. One is that I trust my intuition and my gut way more than I ever knew I would. And I'm really, really proud that I am. So I think I surprised myself in knowing I could do it more than I thought I could. And then the other part. In the divorce world, I am shocked that every one that is in the divorce world is divorced. So I'm not. I'm married. So I was a little surprised that all the other professionals, oh gosh, almost all of them are divorced. That was a little surprising. I did not know that. Even in informational interviews, I never really asked, "Are you divorced?" So that's a surprise.
Michael: Interesting. So take me back, though, just this comment you made, "I trust my intuition and gut more than I thought I would." There's sort of a few interesting pieces there, both that you're trusting and that you thought you weren't going to, but then it turned out well that you did. What changed or what shifted that you found more confidence in trusting your intuition and gut than you had previously?
Olivia: Gosh, I don't want to be a platform just to say how great Suzanne is. But I really think the confidence boost, because I have a healthy dose of self-esteem and confidence. But I knew I was on a good path. But just working with her as a third party that's not emotionally attached to me, who is not going to just sit there and say "you're so great". That she's not in my relationships of my day-to-day, she was able to come in and show me my strengths and weaknesses in a way that I didn't even realize that I have way more talent and confidence, and I know I can be successful if I do something myself. If I fail, it's okay. It's just learning. So all of this stuff that maybe was in the back of my mind, she boosted that confidence level, as well as in my relationship with my spouse, because if you're about to go into business by yourself, you have to have that significant other, if you're in a relationship, obviously involved. And so her as a third party gave me the confidence to talk to my spouse about what we're having conversations about.
So I think it was just in that of... And then obviously, once I started the business and that intuition of, "Well, I think I should start hiring a marketing firm now instead of waiting another two years because this isn't this." Or another example is, "I think that that person who says they'll charge me $13,000 for me to be in that magazine, maybe I just call that magazine myself?" And so I called that magazine myself, and they're like, "Oh, we like your story. We'll put you in for free." It's like, well, that was my intuition and me trusting myself to make a better decision than someone else. I'm doing my research. So I think it's just the confidence boost I got from the career coach.
Michael: So what was the low point for you on the journey?
Olivia: I don't know if I've hit a low yet. I'm sure it's going to come. I would say the lowest point I've had so far is, I started a financial mastermind before quitting. And it's a group of wonderful people. But I think the lowest point I hit is when they doubted that I could be successful within this business. So I think the lowest point is just surrounding myself with positive, successful people who want the best for me, but then bring up when I might need to change something. So I think that's probably the lowest point so far is those conversations that might be tough that hit you are like, "Oh my gosh. Wow, I need to actually think about that." So I haven't hit a really low, though. So we'll see, though. I'm not expecting that it's not going to happen. It will happen.
Michael: That's an interesting point that you made there. It sounds like you were basically in a mastermind group where you said, "Hey, I'm thinking about going out and doing this and launching my firm." And they were saying, "Don't do it, Olivia, it's not going to work out," or something to that effect. So you were doubting?
Olivia: I think that they actually were saying, "That's a good idea, but you're charging too much." And what I asked after that is, "Have you ever had Botox for $800 and done that 6, 7 times a year?" That's the women that I'm helping. And so it was almost like, "Okay, I see that they're doubting the fee structure." And I understand that. And that's a low point of, "Oh, gosh, am I doing the right thing?" So it was a little thought process there of doubting, but then you ask that question to yourself, and it's just a different world that people should doubt because they've never experienced it, but it's a different world. So it's a doubt that went away quite fast.
Michael: One, I think there's, again, a powerful point there in, we often don't realize it, but you know, well, most advisors end out basically working with themselves plus or minus about 10 years. We work with people who are similar to us because they're in similar life circumstances. They're often similar socio-economic circumstances, that's part of what makes it easy to connect with them and build rapport. Like, I do well talking to clients who are successful professionals with young families because I'm going through it and my kitchen is an elementary school right now. So I can have a particular rapport with busy professionals who are dealing with kids at home. We tend to connect with people that are like us. And just one of the things that strikes me about it is when you get into these questions of things like fee models and business models is we don't tend to look at business models or other people's business models relative to, "Is that a reasonable fee for that client?" We tend to look at it as, "Is that a fee that I would pay?" It's like, "Well, no, maybe not if you're not 100-millionaire already".
And no judgment on anyone for not being 100-millionaire. But it's really hard sometimes to frame a business model or an offering or a fee from a target client's perspective that is very, very different than your own frame of reference. And I think just your discussion and what you've shown here, and what you're building and having $20,000 fees with clients to handhold them through the kind of financial education they need at the place that they're at, that works for them and their world. It may not work for a lot of us who are listening in our worlds, but you're not serving us, you're serving them that you're aiming to serve.
Olivia: Exactly.
Michael: So as you look back over the past year or two of making this transition. I know you're still working your way into it. But anything that you wish you'd done differently, or that you're already seeing a year or two in and wish you could go back and tell you from two years ago, as you were getting ready for this like, "Watch out for this"?
What Olivia Would Have Done Differently, The Advice That She Would Give Newer Advisors, And How She Defines "Success" For Herself [01:38:47]
Olivia: So I would say I started my website, and I wanted to build it myself, as I said, because I need to understand the basics. And I need to understand SEO, and I need to read about it and research and fiddle around with it and mess up on it and do that by myself. But I wish I would have started out with WordPress. I started with Wix. I researched as much as I possibly could. But I wish I would have started with WordPress because that's just...you're going to be recognized on Google sooner. And I think that's one of the things that you just learn, and it's okay. But I could have started that sooner. And also the business address – that was a predicament with Google. They didn't like that I'm in the financial world. They didn't like that it was an address that I changed because I had my personal residence on there first, and I changed it over very quickly to the business. They flagged that completely. So that was another whole thing I had to deal with...
Michael: Oh, because business in financial services with frequently changing address is either like new advisor getting started or active money launderer.
Olivia: I don't think they thought I was even close to being in the money world because it was a huge red flag to them that I'm changing the address. And I didn't know what I was doing. And that's okay. Because I didn't think it was going to be... It was just the back end. So it wasn't public online. But they did not like that I changed the address when I got the business one right away within a few days. So it was a red flag for them. So I learned very quickly don't mess with Google. And also, just don't start with Wix. If you're going to want to be long term, go with WordPress. But that was a decision that I took months to decide. And I don't know. I really needed to know the basics myself. And if I would have started with WordPress, I could have spent $10,000, $20,000 to have a person do it. And I wouldn't have known what he or she was doing. Now I know. So I don't know. That's still up for debate actually, if that was really a mistake that I wish I didn't do. I don't know.
Michael: So what advice would you give to younger or newer advisors looking to become a financial planner and start a firm?
Olivia: So what I tell everyone I mentor is absolutely talk to anyone and everyone you can. Just like we talked about this whole session, everyone's willing to talk to you. So reach out to people randomly. It doesn't matter if you guys are in the same club, clique, whether you know them on LinkedIn or not. People are willing to talk. So get to know different types of firms, because you may love being in the banking, JPMorgan, Key Bank world, Wells Fargo. You may do really good with an RIA. You may want to mid-sized firm. So do your informational interviews, get to know everyone you can, because then you'll be able to make a more informed decision about where you want to go into the planning world, advising world, wealth management world.
Michael: And again, how do you reach out and get those doors open to get someone to actually give you some time to have this conversation?
Olivia: It's not hard at all. So I even – two weeks ago, I saw someone on "Bloomberg Television" and I thought, "I would love to be on Bloomberg someday. I'm going to reach out to that individual. It looks like he has his own show." So I really don't find it hard to reach out on LinkedIn and just say, "Hey, I'd love to know why you're successful. I'd love to ask 10 minutes of your time and just see what you did to get on Bloomberg. I really appreciated your show and what you talked about." They'll either respond or not. I haven't really seen an issue because even he responded right away saying, "Yep, here's my email." Of course, that email went to his PR firm. And she said, "What do you want to talk about?" And I just said, "Hey, I'd love to spend 10 minutes again, getting to know him." Set up the date. It was not hard. We've already spoken. Took 10 minutes. I stuck to that 10 minutes. Asked him a few questions. And now I'm in this huge connection with him and all the other stuff he's doing because we had a good time. So I don't know, just ask a question on the phone or by LinkedIn and people are willing to talk.
Michael: And out of curiosity, do all these hit? Do you actually just have a low hit rate and only 1 in 10 respond, but the other 9 totally doesn't bother you? And if you ask enough, 1 in 10 still adds up to a whole bunch? I'm just wondering how many...? Is there also a high rejection rate and this as a part of it? Or you just seem to get these connections and people say yes to 10-minute interviews because you set it up as 10 minutes and you can get them to spare 10 minutes?
Olivia: I think it's both. I probably have a 65% success rate unless I mentioned something really positive about them. Like that divorce attorney on the East Coast with the conflict with animals and divorce. That was just absolutely because I was able to talk about her article and say something positive about it and then ask for that time. It wasn't a big deal. She absolutely said yes. So I think if you go into it with the right perspective, 65%, 70% is going to happen for most people. The other 30%, I don't even worry about because on LinkedIn, months ago, I was doing the, "Hey, I'd like to just take a few minutes to get to know your practice and see if we're a good fit with each other because I'm building my new brand and I need to have a trusted contact in this world. Here are the other professionals I've talked to." And on LinkedIn, if I do that and I don't get that response. Okay, that's not a big deal to me, because they're also losing out, I think, in my mind. So I have a pretty high return rate, but that's also because I play it right and I have fun with it and I'm genuine. So I really do want to know why they're successful, or I really do want to be able to send my clients to them. If they're a CPA and they work with high-net-worth. I want to see why they're doing what they're doing so well and understand them more. So if you're genuine. I don't think you're going to have a hard time. It might be higher than that, but I'll be conservative.
Michael: So as we wrap up, this is a podcast about success. And one of the themes that always comes up is just the word 'success' means different things to different people. And so as you're going down this successful path and already commanding $20,000 advice fees, how do you define success for yourself at this point?
Olivia: So, with the career coach, I worked on that because my old definition was, "Work as much as you can, give away as much as you can." And that's happiness and success. And also showing people how good you are is a huge definition of success. And okay, I'm very happy in my personal and professional life. But is that where I want to be in 10, 20 years? So I switched that with the career coach's help to success is what you're doing every day. If you're grateful and you're appreciating others, you're having fun with what you're doing, and you're not overloading yourself, and you're doing it for the right reasons. That to me is success. And that's going to carry forward for me, personal and business.
Michael: And so how do you come to that kind of shift?
Olivia: Months of working on yourself. So I do a daily gratitude journal. I do a daily success principles journal, and then I do a little dabble into just how I'm actually feeling because I never in the past wanted to deal with emotions. And I'm always okay. And, oh, I'm always going to work every second of the day, and I love it. So I had to really work on myself. So it was more of an exercise of daily awareness of who I am, how I'm feeling, and what does success mean to me? My workaholism is not my worth. So it was just me working on myself. And the career coach could have done absolutely nothing but sit there and just say, "Hey, you need to do this exercise." And I think it's really working on yourself is going to make you the most successful.
So, for me, I'm bringing my personal in my business. So I'm training for an Ironman right now. And I actually bring that day-to-day structure of working out into my business and to my philanthropic work because I'm actually raising money for a nonprofit while I'm training, but I'm also branding that with my business. So now I'm feeling successful because I'm giving back, I'm working, but I'm not just working for no cause. I'm having fun with it, and I'm helping my body. So I'm in a good spot. And that's my definition of success.
Michael: I love it. I love it, Olivia. Thank you so much for joining us on the "Financial Advisor Success" podcast.
Olivia: Thanks for having me.