Executive Summary
As the popularity of financial planning has grown, so too have financial plans grown. Literally. In one recent study, 90% of advisors spend at least 6 hours to produce a financial plan, 40% spend upwards of 15 hours, and the sheer length of the physical financial planning document has grown dramatically over the decades.
On the one hand, a longer financial plan implicitly suggests that the plan must include more extensive analysis, more recommendations, and therefore be a "better" plan. And to some extent, that may be true. However, the caveat is that physical financial plans may have grown so large that the associated list of recommendations is too daunting to actually implement. In other words, the thoroughness of being fully comprehensive may not be a dazzling display of value, but simply overwhelming.
As a result, perhaps the best way to demonstrate the value of financial planning is not to make the plan as comprehensive as possible up front, but instead to make it comprehensive by building one module at a time over a span a weeks, months, or years – whatever it takes to help the client to actually implement, one step at a time, until everything is done. Which means in the end, perhaps when it comes to modular financial planning, the parts are actually worth more than delivering the whole up front, at least when measured by the success of actually getting clients to implement?
The (Literal) Growth Of The (Physical) Financial Plan
As an intangible service, it's sometimes difficult to demonstrate the value of financial planning, especially during the initial stages of the process. In fact, when much of the value over time is about helping clients not cause financial harm to themselves (which helps them avoid the pain of making the mistake but also eliminates the perceived value of fixing it), and/or produces outcomes that are only evident in the very long run (e.g., we only know retirement was successful after several decades!), it's difficult to demonstrate much tangible value to financial planning at all. Except when it comes to the financial plan itself.
In practice, the physical financial plan document is the one "tangible" outcome to an otherwise entirely intangible process and value proposition. It carries the burden of validating the benefit of planning, demonstrating that the advisor really did the analysis and work on behalf of the client, and supports the perceived credibility and value of the planner (even if few clients ever actually read it).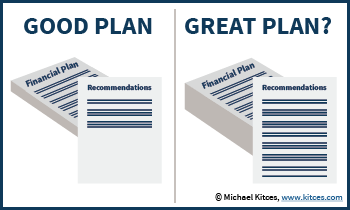 Unfortunately, though, as the financial plan document has become the physical manifestation of the "value" of planning, its size has grown – literally – in an attempt to demonstrate greater and greater value. The implicit concept – if a "good" plan is a big one with a lot of analysis and recommendations, then a "great" plan must be an even bigger one with even more analysis and even more recommendations!
Notably, while many (most?) financial planners collectively acknowledge that clients rarely read such a full "comprehensive" financial planning document, it remains an industry standard to produce, given its ongoing role in building trust and credibility for the advisor and manifesting "value" in the financial planning process.
The Problem With The Comprehensive Financial Plan Document
The burdens of producing a long financial planning document are not trivial. An estimate from FPA's 2011 Financial Plan Development & Fees study suggested that the average time to produce a financial plan varies wildly, but 90% of advisors spend at least 6 hours on a plan, and approximately 40% invest upwards of 15 hours of time to produce the financial plan. This is a significant "cost" in time for the advisor, which in turn results in a significant hard dollar cost to the consumer (with the median comprehensive plan fee at the time estimated to be $2,250, undoubtedly driven heavily by the professional time it takes to create it!). And of course, the longer and "more comprehensive" the plan, the higher the numbers will tend to skew as well, in terms of both time and cost.
Yet the challenge of such a "comprehensive" financial plan that grows larger and larger as the planner tries to demonstrate more value is that it's not merely a greater investment of time and cost … it's something that can become overwhelming and daunting for the client as well. And unfortunately, making clients feel overwhelmed can actually inhibit their ability to follow through on the recommendations and change their behavior! In other words, the more recommendations we present the clients at once, the less likely they are to implement any of them!
Just think of it in the context of your own life. What's realistically easier to take on – a "To Do" list that has 3-5 items (to which more may be added as the initial ones are checked off throughout the year), or a "To Do" list that has 35 items representing everything you hope to accomplish for the year. The short list feels achievable; the long one, just daunting. In fact, the feeling of having too much to tackle all at once is such a pervasive problem, we even had a common aphorism to address it: How do you eat an elephant? One bite at a time.
Modular Financial Planning To Stretch Out Comprehensive Financial Planning Over Time
So how can we help clients eat the comprehensive financial plan one bite at a time? By helping clients to break the plan down into smaller pieces that can be tackled one at a time, rather than trying to give them the whole elephant at once. In other words, if a "great" financial plan is the thickest one that gives the most thorough list of recommendations all at once, then an even greater financial plan (and an even greater financial planning process) is the one that helps clients get through the most financial planning recommendations one module at a time (recognizing that such things take time to do!).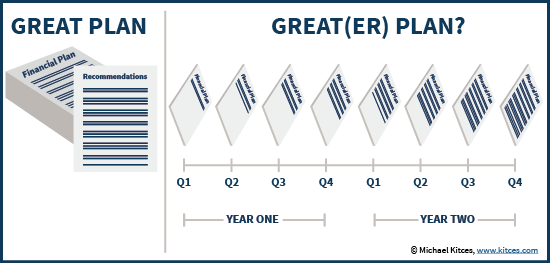 Of course, for many planners the thought of not covering all modules together and giving all the recommendations at once is frightening. What if "something happens" and the client hadn't completed a crucial recommendation yet? Won't they be "harmed" by failing to tell them to do everything up front? Can we even give recommendations if we haven't "done everything" in the first place?
The caveat here is that if giving them everything to do up front results in nothing actually being done, then trying to dump every possible recommendation on clients at once isn't actually helping them at all. Comprehensive financial planning may feel like a bigger demonstration of value, but it may actually be less valuable than modular planning over time, in terms of getting clients to actually take the necessary steps to improve their financial lives. That's the whole point. Comprehensive plans can actually risk overwhelming clients and lead to greater risk that key parts of the plan will remain un-implemented for a long period of time!
Notably, this doesn't literally mean that recommendations should be hidden or kept secret from clients, per se, but recognize that if there is going to be a long list of recommendations given, that helping clients to prioritize them and break the plan down into manageable pieces is crucial (along with setting milestone targets for when each goal will be completed, so clients can be held accountable to their own commitments). Or better yet, consider determining with clients what's most important to them during the data gathering and discovery phase of the process, and just prioritize doing those modules of financial planning first. If an insurance review is the highest priority, start there and then proceed on to the next segment. If it's fixing the portfolio first, then begin there instead. Faster clients will get through the modules faster, and slower clients will do it more slowly, but each can proceed at their own pace – with ongoing nudges from the financial planner – until the whole plan is completed, over time. The key word being "completed"!
In other words, effective financial planning is all about setting priorities about the different modules of financial planning (insurance, estate, education, retirement, cash flow, etc.) so clients can actually get through the implementation phase, recognizing that the changes in behavior that are necessary to do so can be difficult for most clients but that planners have a responsibility to do what is necessary to help make it happen. Sadly, in practice the problem seems to be masked by the fact that few of us actually measure within our firms the average time it takes for clients to implement recommendations, and/or the percentage of recommendations actually implemented at all (a tracking and measurement challenge we're still struggling to figure out how best to implement ourselves!). Nonetheless, there is clearly some opportunity to help more clients implement more recommendations more quickly (after all, if it was easy for them to do on their own, they likely wouldn't be seeking out an advisor in the first place!), and delivering it to them one module at a time may be a good way to give them reasonable bites they can chew.
The bottom line, though, is simply this: the process of financial planning isn't just about the process to assemble a comprehensive financial plan, but a process to get clients through a comprehensive list of recommendations. And recognizing the challenging realities of behavior change, our "industry standard" of analyzing everything up front, and giving clients everything to do all at once, may actually be doing more harm than good. So the next time you're considering the steps to take to improve your planning process with clients, consider whether the "best" plan may not be the thickest plan with the most recommendations, but the plan that does the best job guiding clients through an ongoing process, one financial planning module at a time, on the client's own schedule, for however long it takes for them to really get everything completed!
So what do you think? Should the quality of a plan be measured simply by its depth and thoroughness, or by the way that it is implemented over time? Is it really best to do financial planning "comprehensively" all at once, even if it risks being overwhelming to clients? Or is it acceptable (or even better) to do planning one module at a time, even if it "takes longer" if that's what is necessary to really help clients implement the recommendations?