Executive Summary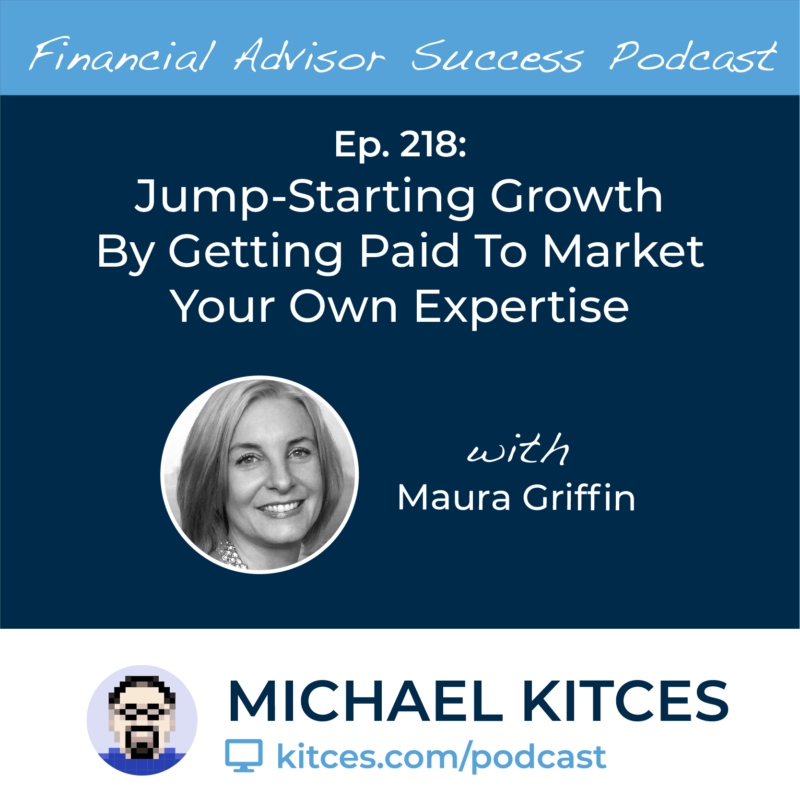 Welcome back to the 218th episode of the Financial Advisor Success Podcast!
My guest on today's podcast is Maura Griffin. Maura is the founder of Blue Spark Financial, an independent RIA with offices in New York and Massachusetts that oversees more than $150 million of assets from nearly 90 families, most of whom are either divorced or widowed women making financial decisions on their own for the first time.
What's unique about Maura, though, is how she built her practice from scratch, not by marketing her financial planning services, but instead by developing a focused expertise in college aid planning and charging high school parents a flat fee of $1,000 to help them with their financial aid planning needs. And in the process, getting paid for her college planning expertise as a pathway to establishing relationships that then could turn into comprehensive planning relationships in the future.
In this episode, we talk in-depth about how the demand for her college aid planning services helped Maura grow to $15 million in AUM by just the first year alone, the way she systematized her financial aid planning presentation deliverables to efficiently serve more than 100 clients in her first year alone. And how those initial financial planning aid engagements led to the realization that what she found most gratifying from a professional perspective was helping women who faced the same challenge as she did as a single woman who was responsible for making all the financial decisions for her family, leading Maura to pivot into working with recently widowed and divorced women as her niche for the past several years.
We also talk about the circumstances that set the stage for Maura's career-changing transition from journalism and real estate investing into financial planning, why having a financial reserve when she launched her firm was so crucial to give her not only peace of mind and confidence, but the flexibility to build her business with intention from the start without feeling an inordinate amount of pressure to take on any and every prospect she came across. The steps Maura took to manage her time and capacity by implementing account minimums in a waitlist as her practice grew, and how she had to learn to say no at times when the rapid growth of her practice left her feeling overworked and overwhelmed.
And be certain to listen to the end, where Maura shares the challenge of feeling frustrated by not being able to help everybody who was seeking out her help, how that served as a pathway to her understanding what she ultimately wanted and most enjoyed about being a business owner and gave her clarity around the concept of enough, and why Maura has now consciously made the decision to structure her firm as a so-called lifestyle practice.
So whether you're interested in how Maura started from scratch helping parents with financial aid planning, how she consciously made the decision to build a lifestyle practice after experiencing tremendous early growth, or how she serves single and divorced women who are the primary financial decision-makers for their families, then we hope you enjoy this episode of the Financial Advisor Success podcast.
What You'll Learn In This Podcast Episode
Never miss a Financial Advisor Success podcast episode! Get notified of the latest episodes (and all our research as it's released!) directly via email:
Resources Featured In This Episode:
Full Transcript:
Michael: Welcome, Maura Griffin to the "Financial Advisor Success Podcast."
Maura: Hey, Michael, thank you so much for inviting me on this. It's a privilege and an honor.
Michael: I appreciate you joining me. I know we had talked a couple of years ago, a conversation I still very much remember, that you had this incredible growth spurt early in the firm and all the good stuff that comes from that where the business is going well, the economics are going well, like, "I'm going to make it," you were way past the "I'm going to make it" question. But there is such a thing as growing too much and too fast, where you end up working 60, 70, 80-plus hours a week and you get buried in your practice and it does not always feel good and it's a hard roller coaster sometimes, to get off of.
And we ended out in kind of this discussion of what do you do to deal with all the growth, right? And that leads to all sorts of questions about hiring or outsourcing and TAMPS and partners and all the different ways that we can handle growth. But it also just fuels a discussion of like, "Why am I still growing in the first place? And is there some point where it's just going well enough that it's enough and then maybe we don't even need to grow anymore?" And so, I'm looking forward to the discussion there, I almost view it as a little bit of a recap in what's happened since. We didn't have you on for that original discussion a few years ago, so I'm trying to catch our listeners up with a little bit of the backstory in the preview.
But I was excited to talk to you and just understand, you had this great growth, you hit that challenging moment of what comes next, I know you've now been digesting that for a few years. And so, I'm excited and curious to hear what's going on with the practice? What does it look like today? And how do you deal with these challenges of what's growth and what's enough?
Why Having A Financial Reserve Was So Important For Maura Early On [05:01]
Maura: Yes, I think this is one of the things that I've been wrestling with since we talked, and that must have been about four years ago, three or four years ago. I think it was before you started these podcasts, which I have to...I have to thank you for being you, Michael, because I think my firm wouldn't be my firm and would not have the success I've had if it weren't for what you have brought to the industry, to the discussion. You're bringing people together, creating a collective wisdom because we learn from each other, and I religiously listen to your podcasts and have learned so much from each person, whether they're completely different from what I do but there is a nugget I take away from everyone.
My firm started in New York City in April of 2012, that's when I was given state permission. I'm now SEC-registered, so I started with zero assets. I had been in the industry but not an advisor. I went to business school late in my career, for different reasons if we could get into it later. But deciding to start in this field was partly due to... I feel like I was good at it, I was good at managing my own financial life as a single mom in New York City, to do the research, to figure out what are the best ways. I had gotten into some real estate in investment and renovations which gave me capital then to go to business school and then start my own firm without having to worry too much about how to... I had a reserve. Because I was lucky, I got into real estate in Brooklyn at a time when the market was really going up. So, it was partly guts, partly luck that I had this.
So when I started the business, I had a little bit of reserve. So, it gave me some confidence to not have to take every client who came and to be able to be a little bit picky and also have the confidence to be able to say, almost right from the beginning, that these are the people who I want to serve. And those people are people like myself, women mostly, and I tiptoed into it at the beginning saying... I created a website that I believe appeals to someone like me and those I think are the people who I could serve best: women who've been through a divorce or who've been widowed, women who were making money decisions on their own, possibly for the first time, and it resonated, it worked.
And so, when we talked, the marketing, what I put out there for the firm was resonating with people and it was almost too...it was too much business for me to handle, and what I was doing is taking everyone because they all spoke to me in some ways. If they reached out to me, then there was something that resonated and I wanted to help them, and that was tough because I was running myself ragged. And I was, I was literally working around the clock, I had no social life. My son was in high school by that time and, of course, he didn't really want to hang around with me very much anymore. So, it was a time when I completely dove in and I appreciated your help and your generosity in taking my call because I knew you were the person to talk to.
Michael: So, I'm fascinated by just this early stage of the journey and there were a couple of things in there that really jumped out at me. One is you had said because of some of what you've done in personal financial success in real estate, you had a bit of a reserve which, I think, as you said, it gave you the confidence to not have to take every single client as they come, which I think is a really powerful thing that we don't talk about enough in the industry. I mean, just the reality when you actually look out there at financial advisors, it is brutal getting started. As I've taken to saying these days, the first few years are really sucky for everyone, and much of that is just literally financial.
If you listen to some of the folks that we've had on the podcast from the start, even folks that have built some monstrously financially successful firms, they all still have stories of just horrible financial constraints and challenges in the early years. Ron Carson talks about how they were eating Hamburger Helper living off of his spouse's nurse's salary after five years in the business. Deb Weatherby now has a three-plus billion-dollar IRA in San Francisco but she ran tens of thousands of dollars of credit card debt when she started, and I think it was the 1980s, that's a really big amount of credit card debt in the 1980s.
Some people at least come to the business and do have the good opportunity or good fortune or good circumstances or prior background, or sometimes even just spousal relationships that give a little bit more of a reserve or a financial cushion to be able to build the business with a little bit more intention from the start. Because otherwise, we do put ourselves in a position of, "Well, I have so little in the tank and I need revenue, to pay my bills, to pay my family bills, to pay my mortgage," whatever it is, that we often put ourselves in a position of basically kind of mild state financial desperation out of the gate.
And then feel the pressure that we have to take every single client no matter what, and then often have challenges with that later because we end up with overly broad practices where we've done everything for everyone and it undermines efficiency and some other challenges. And it struck me, I realized not everybody who comes in or not everyone who's listening is going to have the opportunity to have that level of reserve or backstop when they come in and get started. But on the one hand, to me, what you're saying highlights that if you don't have the reserve, maybe you should wait a little bit longer before you actually get started to build that up, so that you can build your business with a little bit more intention.
And if you do have the good fortune or opportunity to have that kind of reserve, use it, use it to your advantage, which doesn't necessarily mean blow it and spend it down, but use it to be able to build the business with more focus and intention from day one instead of having that be something you get to later. That's one of the gifts and the opportunities that you get if you come in with a little bit more runway for yourself.
Maura: Right, what I would recommend is if you don't have it, pretend that you do. And I didn't have...and I don't want to make it seem like I had an enormous amount and I lived enormously frugally, but I did have a cushion of about $100,000 that I could live on that for two and a half or three years. I shopped in thrift stores, there's great thrift stores in New York City, nobody knew it. But I was tremendously frugal during that time because I didn't have a backstop of a husband with health insurance. That was it. So it's not like I went on living as if I had my salary job in the past, I had the same financial fears of whether this was going to work out.
But one thing it did do is that the whole idea of "Build it and they will come," that was my mantra at the time, that if I invest the time and instead of overindulging myself, that money was going to go toward having an office that people are going to be comfortable in, that's going to give them confidence in coming to me and becoming a client. And in the first days, I had a Regus office and at the very beginning, I did it one day a week and that's what I thought I could afford. So one of the things I always did was look at everything I was doing through the eyes of a potential client. And I looked at those offices and they were bare and soulless. So, what I would do is I would book the appointments on this one day and I would take a wheelie bag and I would have books and newspapers and pictures of my son and family and I would put the whole thing, and I made it my office for the day and then I'd pack it all back up.
Michael: So, you were personally designed and decked out your Regus office space for the day so it felt like your homey office for the day, and at the end of the day when last clients wrapped up like, "Okay, I'm going to pack all my stuff into my wheelie bag," and off we go again."
Maura: Yes, yes, because that's what I would have wanted to have seen where I had to go visit. And then as I brought on clients, then I did get...I had full-time office space and then more office space for my assistant, and I've got another advisor with the firm, so he met clients and still does. We still have an office in New York City even though we now have two locations.
Michael: And I like this just because, as you said, you were very attuned to client perceptions. I have heard some advisors be very sort of hesitant or skeptical around using those various shared office co-working space arrangements like Regus out of concern of, is there a client perception issue when you don't have your own office, you're in a shared Regus office space, does that say something about the size of the firm or the mass of the firm or the stability of the firm or something else because "you don't have your own office?" Was that a concern for you? Did that crop up for you? Was that an issue but you work through it anyway? Was it not an issue and we just do this to ourselves in our own heads?
Maura: We do a lot of things in our own heads to ourselves. And I also looked at office space where I would rent...at the very beginning before I did this, I would rent a suite and then I would do sub-tenants, and I loved that idea too. But what I kept telling myself is...I read a book by Danny Meyer, the Union Square guy who's brilliant, and the thing I took away from that is go to your center of expertise, that whole idea of moving the salt shaker back to the middle of the table. And so, I knew to do this, I had to be focused.
How Maura's Expertise In Student Financial Aid Planning Sparked Her Firm's Initial Growth [17:22]
Michael: Okay. And so, talk to us about just the growth of the firm through this phase and just what was going on as it grew, like how many clients were coming on board, how quick was the growth as it was coming in, just help us understand the context of this growth path.
Maura: So, it more than doubled every year. What I did at the beginning was I needed an expertise to hang my hat on and one thing that I've done a lot of research on, because my son at the time was a sophomore in high school, is financial aid, and here, I was starting a business and this financial aid was a possibility for me. So, I really studied the FAFSA and what it takes to do that and what colleges are looking for, and how to maximize aid and so I talked to his high school, I gave talks at a couple of high schools.
And at the time, I charged for doing those sort of mini-plans. I was also doing financial planning separately, which I don't do anymore, but as a way of getting out there, so sometimes people would come for the college plan, they would then engage for a full deep-dive financial plan, which is it's often college planning that drives a family to do the big long-term plan. I had like 300 different families that first year, and it was literally like one after another, and it was exhausting.
Michael: So, talk to me a little bit more about this because that's a huge number of clients and people coming in, which just tells me you must have really hit a nerve with the topic and how you are getting it out there. So, what exactly were you doing? You made like a presentation on financial aid and qualifying for aid and how it works and then you just literally went to the high school and said, "Hey, I've got some expertise on this, can I do a workshop for the parents on college financial aid?"
Maura: Yes.
Michael: And just how do you get the word out? Would the school literally market for you like, "Maura Griffin, one of our parents is also doing a workshop on qualifying for financial aid, if you want to do this, come to back to school night and she'll be in Room 207 from 8:00 a.m. to 9:00 p.m.," like that kind of setup?
Maura: Yes, I was on the PTA, I was the treasurer of the PTA for three or four years of my son's high school, it's a public high school in New York City, the Lab School for Collaborative Education. So, it started with that, and then I would do some other talks and then you get on the parent message boards, the Listserve, as they call them then. And I still get some calls now, eight or nine years later.
Michael: "I saw your message from 2013. Do you still do this? Because my kids are in sophomores and I'm getting anxious about this."
Maura: Right, and I have that expertise and so...I obviously still have to keep up with it, and it's changed a lot, but I do that for clients, and occasionally I will do a pro bono lecture about that or other topics either in the Berkshires or in New York City. During the pandemic, that's one thing I've done more of and now have sort of institutionalized on a quarterly basis. This pro bono, I called it "Pro Bono Pandemic Financial Literacy," and I did it once a week during the height of the pandemic. So, I do enjoy that very much and it gives me joy to be able to do that with both the college and other issues people were facing at that time.
Michael: And so how did it work, I guess, from the business end? So, literally, what were you selling? So, people go to the seminar and then at the end of this workshop, you're like, "If you're interested, I can do this analysis for you, go here to schedule a meeting and it's X dollars and I'll give you a college plan," that kind of setup?
Maura: Yes.
Michael: And what were you charging?
Maura: I believe it was $1,000 and that included an in-person meeting. I would gather the information...I think at the beginning, it was two meetings, they would come in, I would gather the information, and then I had a software program that I would input the data and do the EFC, the expected family contribution, explain it all to them, talk about the FAFSA. It was a fine line because, at the time, there were a lot of these groups that called themselves college financial planners and they were trying to get people to hide assets or put it into annuities or insurance or something and that wasn't something I did. It was more education, it was more, "Here's what you can expect." It was largely middle-class New York City parents, often artistic parents because this is a public school, but it was a competitive entry public school, so we were very much all of a like mind, nobody had a ton of money.
Michael: So, nobody had a ton of money, financial aid is relevant, highly motivated, focused, extremely engaged parents.
Maura: Education is paramount, so many of them had...there was one dad who cried in my office because he realized he couldn't pay for his daughter's education and that was...I think a lot of people...education has changed so much and it's so much more expensive and grown exponentially ahead of inflation that... My parents paid for my education and I'm eternally grateful, but I had to take out loans for my son's and he did get some financial aid. It's a different world now, so I think a lot of people maybe didn't think about it until their kids are headed to high school. I mean, I had started saving when my son was born because I'm a saver.
Michael: I would say we're planner types.
Maura: We're planners, we're planners.
Michael: And so, you're doing these kind of mini-plans, so I guess meeting number one, gather info, do some number crunching, meeting number two, present recommendations and charge $1,000. It sounds like you had just a huge volume. I mean, are we talking you literally had 100-plus of these, doing 100-plus $1,000 of mini college plan fees in the first year or two?
Maura: Yes.
Michael: Wow. This is the right topic with the right target niche audience that really has this specific need and pain point.
Maura: Exactly, exactly. And that pain point is...it's a great word, Michael, because I think that really is it, is finding that pain point where you can be of help and that's the point where it's both rewarding emotionally and give satisfaction and where they are willing to pay.
How Maura's College Financial Aid Plans Paved The Way To Full Financial Planning Relationships [25:45]
Michael: And so you would start with these $1,000 college plans, which works because you had a highly motivated audience that had the financial wherewithal to do it and the exact sort of demographic area of people who really cared about this need and pain point that you were addressing. And had a pathway to get in front of them, which is where you find parents who are at that middle-class level and need financial aid and are highly motivated for their children's educational future, you find it at selective entry public schools, right? That is the nexus point of where those folks will tend to show up.
So, it started there but then you said, for many of them, that would then take you to a full financial plan. So, it's just like how did that process work or that pitch work? You get to this and then at the second meeting, you say, "Hey, I've really enjoyed working with you on this, I love to work with you on an ongoing basis and dig more into your whole family financial situation and see if I can help, would that be of interest?" Just sort of upsell it right there?
Maura: I am not a good salesperson, so I guess one of the things I'm proud of is that I've never tried to sell anyone. I've never made a cold call. All of the business I've had is I put something out there, whether it's writing or a talk or a conversation or showing expertise or telling a story and people then say, "Do you think you could help me with that?" And maybe that's part of the secret sauce is that...I know when I feel like I'm being sold something, I push it away, I sort of rebuff it. And so, I'm very, very sensitive about that, I never...to my own detriment probably, but for the ones who it works with, that's what it is. It's "Here's what I can do for you," without saying, "Would you want me to do this for you?" I guess it's a subtle difference.
Michael: Well, I love the distinction of, "I don't go out there and make calls, I go out there and show expertise or tell a story," by whatever your means is, right? Give a talk, write an article, do a podcast, do a video, right? We have lots of different ways we can get out there right now. But instead of saying, "I go out and make calls," it's, "I go out and demonstrate expertise and I just try to do it in a place where people have that problem and there's a decent chance that some of them will say, "Can you help me with that?" Like, "I have this problem and you clearly have some expertise to solve this problem, how do we work together?" It's so different than how our industry typically does it, right? Because we tend to start with the cold calls, not start with the expertise.
Maura: Right, or start with the friends and family, right? Isn't that the old way of doing things? And I purposely never, I did not start with friends and family and, in fact, I felt that when my friends started to say, "Could we work with you?" That's when I made it. Because you don't want to go to friends and families, "Hey, I just started this business, I've got experience, but this is new, we're new," I think that's doing them a disservice. And so, to truly get...I realized I was doing this and not even trying, it wasn't a tactic, but I would talk to friends about planning issues, stuff that they were...and suddenly, they were asking me and I didn't ever have to ask them nor had I intended to.
Michael: And so even in the context of going from college plans to comprehensive financial plans...and it sounds like this was less of, "Now that you've completed the financial planning process with us, you can move on to a full financial plan for $3,000 and I would love to work with you," and instead it was more of like, "Hey, Maura, that was really helpful, do you do more than just the college stuff because I got some other financial problems too and you seemed really helpful, so could we do more of this stuff?"
Maura: Right, and it was, "I've gotten an inheritance since we last talked, how is that going to change things?" And it went from there.
Michael: So, how did it typically go from there? I mean, just what was the broader business model? I mean, was the goal literally just doing $1,000 college plans? Was the idea is still $1,000 college plans was an entryway to $3,000 comprehensive plans or assets under management with an X dollar minimum or something else? Was the idea that the $1,000 plans were the endpoint or the $1,000 plans were still the start point for something else that you were building towards?
Maura: That was certainly the start point and what I found in dealing with hundreds of families at the beginning is that I like working long-term. And so, that's what...so after a year or two of doing financial plans, the smaller college meetings and then financial plans and then the first year I had maybe $15 million under management and it was from those either volunteering at school, on the soccer field, I was just living my life.
Michael: But I mean that's a big number, in and of itself, $15 million of AUM after the first year is a big number for most advisors getting started from scratch and starting from zero. But I guess, again, to me, this is what happens when you just get an expertise and lead with an expertise out of the gate, you weren't leading with cold calls, you were leading with, "I'm literally getting hundreds of clients out of the gate because I just got super expertise focused on one thing that really matters to the people that I'm trying to try to work with." And once you're getting in front of a whole lot of people doing that and actually delivering them value because they're literally paying you for college plans, it's just inevitable that delivering value times many clients equals some of them are going to do more with you.
Maura: Precisely.
Michael: Which also just strikes me, in the grand scheme of things, again, I know advisors out there who would happily do 100 college plans for free for a chance at $15 million of AUM in their first year. Right? I mean, we give away all sorts of financial plans and advice for a chance to get clients moving. What fascinates me about the way you did it is you got paid to market to them, you made 100-plus $1,000 in college plans in the pathway to getting $15 million of AUM in the first year.
Maura: One thing I've learned because I was buying and selling things on Craigslist is that people don't put any value on something that's free. I think to have...you know, again, it's more sales if you say, "Come in, I'll give you something for free," and then there's this...I love what you do, you give so much wonderful information out for free. That's a very different thing. But I think free to a lot of people means worthless in terms of advice.
Michael: Well, to me, I would just say there's an effect in how you show up. It's one thing even for consumers, right? And I think it's certainly true, we do assign a different way to things we pay for than things we don't pay for. But I think the truth deep down is that as advisors, as firm owners, as business owners, we tend to do it as well. If at the end of the day, the next plan makes you no revenue and the next investment account does, guess where you usually end up putting your resources, right? Financial planning fees are...financial planning software is a cost to be managed, investment management software is a cost to invest into, it's what we build up. And to me, that's how we end up in a world where we say financial planning is the primary value, that I pay $2,000 a year for my financial planning software and $15,000 a year for my investment software because the resources go where the revenue is driving.
And I don't think that's a fait accompli, you can do it differently, but it takes a whole other level of business focus to say, "No, I am going to consciously put disproportionally high resources to a thing that is literally not driving revenue." And that's a hard thing as a business owner or advisor to do and to commit to, to say like, "So, will you commit to hiring paraplanners who make plans that generate no revenue because you're running an AUM-only model?" Will you invest more in financial planning software? Do you spend as much time crafting your financial plan deliverable as you do the investment report deliverable? I think we often succumb to the temptation or the subconscious shift as well of, "We put our resources where the revenue is," and clients just see the value based on where we're putting our focus.
Maura: Right, and I put as much focus into the financial planning as into the investment management, and educate clients that it's the marriage of those two that creates the life in the plan that will sustain them.
Michael: So, the one other question I do have in just this sort of early journey of built this expertise in financial aid planning and then found my focus market to do and put my message in front of them and sure enough, lots of them showed up. Where do you get the expertise? How do you get to the point of saying, "I am a financial aid expert who's giving seminars and workshops and selling $1,000 college aid plan?"
Maura: It's a good question. So, I've got a certificate, I did a college planning course which had modules that walked you through every single bit of it, sort of the whole process. And they were very insurance-focused, which I'm a fee-only planner, I don't do insurance.
However, the material and the education was fantastic and I had that plaque, which gave me confidence and I think gave the clients confidence as well.
Michael: And I'm assuming the plaque was one of the things in the wheelie bag that came into the Regus office and went up on the wall wherever we're going? All right.
Maura: It was. Yeah, my CFP certificate, my Georgetown diploma, my Columbia University MBA diploma, and this college planner.
Michael: Right?
Maura: It went up on the wall.
Michael: When we're getting started early, we need all those credibility markers so we can put it out there. And out of curiosity, do you recall just what the college aid planning course was? What did you actually go through that helped get you up to speed?
Maura: I think the initials are CCPS, I'm not sure if they're around anymore.
Michael: Okay. Okay, we'll look it up if folks are interested or want to help track it down. This is episode 218, so if you go to kitces.com/218, we'll have a link out to the designation program if it's still alive and out there and you're curious to try it out.
Maura, I am sort of just struck, though, by...one of the discussions I feel that we have still often in the industry is kind of this, "Do you start out as a generalist and pick your focus point later or is it better to start out more focus?" And I feel like the fear I hear so often is something to the effect of, "Well, if I start out more focused, if I start pursuing some kind of specialization or niche out of the gate, I'm going to lose all these prospects who don't fit my focus out of the gate."
And, to me, your story and what you did with this, I think kind of illustrates how it goes when you really just do it well and go all-in on it that... Yeah, I'm sure at some point, there was some friend or family you had who's a prospective retiree, whose kids are already out of college who just like, "I'm so glad that Maura is doing so well, but she's got a college financial aid thing, that's not what I need because I'm getting ready to retire with my million dollar portfolio and I need retirement income and I don't know if that's her expertise." I'm sure one of those slipped out at some point.
But when you're doing like six figures of planning fees, which is just how they're paying you to market to them so that you can also get $15 million of AUM and all of that happens in the first year, the businesses so crushingly growing fast by being focused, you don't really worry about the one or two friends and family who slip through when you get paid $100,000 for doing planning fees from 100 prospects who then often upsell into more bigger relationships as well. To me, the pathway you created sort of illustrates what that distinction is of are you afraid you're going to lose one or two and fail to be so amazingly relevant to 100 who would flock to you if you just got that crystal clear on your value and put it out there?
How Maura Gained Clarity Around Her Ideal Client Profile [40:03]
Maura: Right, and one thing that first year taught me is that these kind of engagements, they were brief and many did not have the potential to be ongoing. And again, I'm wanting to have...my ideal client was, again, a woman who'd been divorced like I had been who was making those decisions herself or widowed. Many of my clients actually are single women who have adopted babies and raised these...they're now women, many of them, through college. After that first year is when I decided to hone my focus on...and I called it women, men, and their families, and now after that first year, it's really women who are making financial decisions on their own.
I also have several of those women who happen to be married but they're the ones who are making the decisions and have been the savers in the relationship. So, that's what I really focused in on and that is...from the very beginning, even with those doubts about what do I...I still have a couple of very traditional couples but mostly, I'd say three-quarters of my business, it's single women, either divorced or widowed or never married with adopted kids.
Michael: And again, I think to me the striking thing...even as you noted, yes, there were many people you did college plans for who weren't necessarily good fits to go on and do more business with you, either they didn't have the financial wherewithal for a bigger AUM or otherwise relationship where they didn't necessarily fit your ideal client profile as you got more focused on it. And again, I just reflect back to, I think, the journey that a lot of us go through as advisors, we all have a lot of situations where we end up talking with prospects who end up not being a good fit for any number of reasons.
The difference is we do those meetings for free and you did those meetings for $1,000, which is not a trivial difference in general and especially not a trivial difference when you're in your first few years where you're trying to get revenue going and dollars are more tight. I know a lot of advisors who take the first three years to get to $100,000 of revenue, not having $100,000 be like the side hustle on their prospecting meetings on the way to $15 million of AUM in just the first year.
Maura: It certainly gave me a lot of traction.
Michael: Yeah, yeah. So, then talk to us more about how it changed and evolves. I'm gathering that you are not still actively doing seminars and a zillion $1,000 college plans. You had said even after the first year, you decided you wanted to hone in on the focus even further, which I think is striking in and of itself, because this specialized expertise you went to market with around financial aid and college plans to financial plans to AUM for families with students who are sophomores or juniors getting ready for college in public schools who are focused on education for their kids, that is actually already a really, really...you really focused on the narrow market in and of itself.
Although as noted, when you get clear on your market and you show up with expertise for them, a lot of good business happens, but you want to get even more focused from there. So, help us understand how it evolved over the next few years as it went from high volume $1,000 college plans with some people that move in a broader relationship into what came next. What changed and how did you get to what was next?
Maura: So, after the exhaustion of those first couple of years, I had an assistant who would knock on the door after an hour was up. And when I really sat and thought about who I liked to work with and who I felt I did my best work for, it was people who were going through the same challenges I had faced. I think it's the idea of both having that technical expertise and a high level of competence and I knew I could provide that. And then also just having that holding the space, being able to not be so frenzied that when someone who's in pain, a widow or a divorcee, whatever that pain point is...in the beginning it was college planning, but then the more I worked with these people, that's a personal joy to me is giving them the calmness and the space in that office without somebody else coming in in an hour and letting them work through some of those emotions and being a non-judgmental space.
And as an advice-giver...I'm the oldest of four girls, I'm an advice-giver. One of the books that I found recently that is really fantastic, it's called "The Advice Trap," and it's about remaining curious and creating...not to be the advice monster, right? To be working with them to come to their own conclusions and to give this sort of space to them without too much telling them what to do. Because there's a lot about money, obviously, it's about investing wisely, it's about planning, but there's a lot of it that...and this is the part that I found that I really enjoyed, so this is why I went away from just doing these mini-plans, then larger financial plans, and now I don't do any of that anymore. I just work with clients who have $1 million or more and work with them in a very deep level over time.
Michael: So, talk to us more about how you just literally go from here to there? Like from financial aid, which has some certain implication around the amount of resources and financial wherewithal, to $1 million minimums. And just what is that evolution look like? I mean, how do you step up and move up that ladder and do so in a way that doesn't alienate people along the way as you go from working with families...at one end of the spectrum of working with families to the other end of the spectrum?
Maura: You know, often those families were the same, and New York City is that kind of a place that there can be families who are worried about planning for college, but they do have an inheritance and they didn't understand how that factored in. And a lot of families who...they're in the arts, they're working for nonprofits, but they have a trust fund. So, they are kind of one and the same often, often not, but those are the types who need long-term planning, need the investment management, and then the hand-holding, that is one of my favorite parts of the job.
Michael: And so, I guess it sounds like part of the evolution was simply that you're doing these college aid plans and getting in front of a lot of people and then at some point, transitioning some of them into comprehensive plans and AUM relationships. And there came a point where the threshold of what it took to go from one to the other became a higher threshold that you had to clear.
Maura: Right, in order to keep...there's only so much time in a day and I think that was...I was working 100 hours a day trying to meet the needs of everyone and that's when we had our conversation. And that's a tough wall to hit where I just don't have enough time for everyone. So, what do you do? I certainly looked at people in terms of fit, like, "Are we going to be a good fit?" And it's on them as much as me and then raise that bar to $1 million under management.
Michael: And so, as you started moving that bar up, did you change how things had been for existing clients? Because as you said, you were hitting some capacity limitations, did you start rotating or shifting some folks out as others came in or you just said, "From this point forward, we're really only going to accept new clients who are at a certain threshold?"
Maura: Right, I certainly did not ditch a bunch of old clients who I had taken on and come to love. I did have to whittle and I think there are...as I developed more of an expertise in dealing with some of the issues of women in transition, which can be very specific, that sort of more conventional couples, I recommended to other people.
What Blue Spark Financial Looks Like Today And How Maura Manages Her Capacity [50:35]
Michael: So, help us understand, then, just what is the firm looked like today in terms of clients and assets and team structure? Just how is it situated now?
Maura: So, we have almost $157 million under management. I work with about 70 families. I have another advisor with the firm who has been with me since the beginning. He has about 20 families. We work separately...
Michael: Sorry, he has 20 of the 70 or you have 70 and he has 20 and there's 90 in total?
Maura: Yes.
Michael: Ninety in total.
Maura: Ninety in total.
Michael: Okay. Okay.
Maura: With $157 million.
Michael: Okay. So, straightforward math, $157 million, about 90 families in total, the average client size is almost $1.7 million, so you have a fairly, fairly affluent crowd who you've been able to target and work with, commensurate with the minimum on where you put them.
Maura: Exactly. And so, Matt has gotten some clients on his own and some of his clients have come to me initially and then Matt is better for them. He does more work with couples, and so he specializes in more conventional couples. I tend to have same-sex couples, couples where the woman is more of the breadwinner and earner and saver, and the single women.
Michael: So, is it literally just the two of you? Is there other staff and team support in place as well? Just how do you handle 90-odd client families?
Maura: So, we have about five people who were all virtual or part-time. We've got some back-office financial planning help, we've got a fantastic assistant who happens to be based in Colorado. Clients love her, she is a rock star. We have some people who are in the offices both in...who check in on the offices in New York and the Berkshires. We have our expertise from estate planning partners and CPA partners who we refer out and work very closely with for the clients.
Michael: And so, how do you look at just issues like volume and capacity at this point? I'm cognizant that part of this discussion, including how we were in touch originally, was really around this challenge of, "I've had all this growth and yes, growth is lovely, but I'm kind of drowning in the volume of all this stuff." And so, now more years have gone by, the business is even larger than it was then, and so how are you thinking and looking at capacity at this point, and how much you can handle and manage?
Maura: Well, I think I have hit capacity and I've said that at the last couple of years. And so, whereas I was taking on an enormous amount of new clients at the time we spoke, it's been very limited and very targeted. I take maybe one or two new clients a year and there are a few in the works for this year, so that's done already.
Michael: So, that one and two new clients per year, that's really just a maintenance mode in practice, I'm assuming, right? We lose one or two a year just because death and family circumstances and life happens and people move and various stuff. So, I'm assuming that means sort of net-net, you're really just holding steady, at least on head count. So, I guess I'm just wondering like why is this the capacity? Why here? Why not some other number or threshold? Did you could not take more than 20 or would you want to grow more than 20? How did this become the line? Was it 90 families or $150 million of AUM just gives the numbers that you wanted to get to or is it something else that dictates what capacity and that threshold looks like?
Maura: I think it's time and it's what I want to be able to give to the clients and that determines whether, when we do get an inquiry...and if it's a good fit for Matt, then I will refer them there. Or perhaps they were looking for...they just need a financial plan, and so I have a network of people who I refer out to, both locally in the Berkshires and in the city.
Michael: I was going to say how do you deal with situations when you are at capacity or so near capacity that you'll take one or two but that still means the majority of prospects are getting turned away? How do you handle those situations without making people upset, making clients who referred upset, making the centers of influence who referred you upset? How are you handling those situations to keep it comfortable when you have to say, "Thank you so much for the referral, but no?"
Maura: And that is the trickiest thing and so part of that is, in advance, talking to those people and saying...and this happened as I move from planning into just long-term clients, making it clear to people who may recommend you that there is a minimum and there is a waiting list. And so, I don't get the number of cold calls, for example. Another thing I did at the beginning is I was part of the Garrett Planning Network and that certainly helped get me launched as well and also gave me the courage to be able to...and the expertise and know-how to be able to do it on my own.
Because until that point, I had only seen it through the wirehouses and I had been with UBS in equity research but I could see the advisors...when I was in business school and the big firms would have these gatherings to try to court some of the newly minted MBAs and I would come away from these things and honestly, I felt like I needed to take a shower because that was not the kind of business I wanted to have. And it mattered how they talked, and this was also recognition of where women belong in this industry and men are talking about the book of business.
And I remember when I was at Capital Group, Paul Haaga, who was the head over there, brilliant, brilliant man, and he would tell the marketing group and people who were dealing with RIAs and he would say...his whole thing was words matter, everything matters, and I learned so much from him. And he took the time to come talk and speak to us about the importance of the messages that we were giving to the RIAs. And his point was, "It's not a book of business, these are clients, they're people, and that it matters and it matters how you talk about it to yourself, to potential employees, to everyone," and I've always taken that to heart as well.
Michael: So, how does the...I get how minimums work, right? That's sort of pretty straightforward. You mentioned both minimums and a waiting list, so how does the waiting list work?
Maura: The waiting list works is if there is an event where someone leaves or dies, and that doesn't happen very often. So, we keep the name and if that were to happen, we would reach back out to them.
Michael: But how do you communicate it from...for the client or for the prospect? How does this work? "Maura, I'd like to work with you," "No, there's a waiting list," and like, "Okay, how does the waiting list work? Because I got financial problems and I'm sure I can just figure out what the deal is here." Just how do you communicate a waiting list to prospects when you have to tell them, "You're going to be on the waiting list?"
Maura: And I think it's probably better than just saying no because, in reality, a waiting list could be...it could be a year, it could be two years. And when people reach out, they're looking for something, so we talk about the waiting list and then we also give referrals.
Michael: Okay. And so, if someone comes in and says, "I want help," the conversation would be like, "Hey, our minimums are $1 million and we're actually not looking at any additional clients right now, I can put you on the waiting list and let you know if a spot opens up where we might be able to work together on an ongoing basis. But in the meantime, I'm also going to refer you to another advisor I know because I realized you may have some stuff going on right now that can't wait until my waiting list opens up. So, hope this works for us in the future, but in the meantime, here's someone to talk to that can help."
Maura: Right.
Michael: Okay. And then how do you decide who to send these to?
Maura: So, I know a lot of women, mostly in the industry, but men too, because I think you try to see who's a good fit and I think people are comfortable with...there's a million different types of advisors out there and everybody does have different expertise and has different personalities. What may work with one person...like the clients who love me may hate somebody else, but people who aren't comfortable with my style may love the guy who talks about his book of business, I don't know. There's somebody for everybody and I think that's the important thing to remember as you're thinking about this industry, especially as a woman thinking about this industry, I think this is one of the best kinds of work you can do and so many women are afraid of it. It's the math or just that it's so...the history of it is men in suits and women may not feel comfortable in the room.
Maura's Professional Background And What Led Her To Decide To Launch Her Firm [1:01:38]
Michael: And so, I guess I'm wondering in that context as well, you have noted a history in the financial services industry, right? You were at UBS for a period of time, you were at Capital Group, which is American Funds for many years before you ultimately decided to go into, "I'm going to run my own financial advisory firm," and launch on your own, I guess, eight or nine years ago now. What led you to financial advisor and taking that leap after 10 to 15 years in the industry already? What actually led to that crossover or that switch or that change to say, "This is the part of the industry I want to be in?"
Maura: So, my background is journalism. I had been with local papers with the Associated Press. I wanted to live abroad, so instead of doing that through AP, I left there and I went and lived in Prague, I worked for one of the two English-language papers that had sprung up in Prague in the early '90s. And through that...and I think being a journalist and asking questions is one of my biggest skill sets, it's also one of the best jobs ever. Being in Prague, working for "The Prague Post" and talking to other Americans there...that was a time when there was an influx, there still is. With a couple of other reporter types, we started a bookstore and coffee house in Prague.
I married a wonderful Russian musician who I fell in love with there, we had a son there, and came back to New York and I knew to live the way I wanted to live in New York, we were going to have to do some things, he was a musician. So, I had read a story about investing in brownstones with a couple of different apartments. So, we got in sort of at the ground floor in the dicey part of Park Slope in Brooklyn and renovated and had tenants, and by the time the marriage broke up, the building had appreciated. We sold it, I bought another place in Fort Greene, which is even dicier than that area in Park Slope at the time, and then built that up, and again, with the market appreciation, invested in another brownstone condo project with this guy who owned a real estate firm in Brooklyn who was really my guru, I learned so much from him about life and about investing.
And then, it got to the point where I knew I needed more focus, so I sold those properties, moved into Manhattan with my son when he was then going into middle school, and I needed to take my expertise, what I had built, but I knew I needed to make more money. So, I did some freelancing when my son was younger at "Fortune" magazine, which led to an offer at JP Morgan to edit equity research, which led to a job at UBS in equity research. So, I read equity research every day for many years.
Michael: Interesting. So, I want to try to pull that leap, you were writing about stocks and investing at "Fortune" and the crossover to the financial...the private industry side was doing journalistic writing and editing of the equity research reports that the investment bank was putting out?
Maura: Yes.
Michael: Okay. It's just like that's an interesting crossover, sort of from external journalism editing to internal content editing as the crossover bridge, as the foot in the door.
Maura: And that was the foot in the door and I think had it not been for that, I wouldn't know what EBITDA or EPS or free cash flow, balance sheets, that was going from popular business journalism into real writing and editing about companies and the stories companies have and how you look at management and how you look at balance sheets. Then UBS and PaineWebber had a merger, my team was laid off eventually a couple of years later. So, then I found work at Capital Group in their New York office and I can't say enough good things about Capital Group, it's an ethical wonderful money management outfit.
And there, I was marketing, writing and marketing to RIAs, which is how I learned about that industry. They also had me speaking to the press, so when the press called, I was the contact. And it was there that I went to business school at Columbia, they have a program where it's full time while you are working full time, and I also had a son in middle school. And that taught me a lot about my perfectionism and with a lack of time, I could not...
Michael: I was going to say, that'll teach you a lot about perfectionism and time management.
Maura: And trial by fire, I mean, certainly, I had to make conscious choices about where I was present and sometimes it was my son who needed my full attention, sometimes it was the work in the office that I was doing, and sometimes it had to be those exams and classes. And that is when all of this congealed from the journalism background, the entrepreneurial bent, to here's what I like to do, both that research...I'm wonky but yet...I'm an introvert but I still like people in a controlled setting and that's...
Michael: It's not that we don't like people as an introvert, we just don't like a lot of them at once.
Maura: At once, at once. Exactly, exactly, and breaks in between. So, it all congealed into this thing that I'm really, really good at, for the right people.
Michael: Yeah. Well, I love that story and that evolution. I mean, that was the better part of a decade, just going through all of those different steps and starting with a foot in the door of, "I went from the journalism of getting the information and finding the story for media publications to getting the information and finding the story for an equity research article for an investment bank," and having that a 10-year journey that ends in creating an advisory firm, I just think it's literally a cool journey. But, to me, it also is, I think, just a really powerful sort of statement and point about how these things evolve over time that you don't necessarily have the master plan of how you're going to get there, even if you do, it may not follow the master plan that you were expecting in the first place because you find the things that you like to do and want to do and are good at. It started with just, "I got my foot in the door by going from writing stories about companies at "Fortune" and writing stories about companies at UBS."
Maura: Right.
Michael: And yadda-yadda-yadda, "I have $15 million under management."
Maura: And realizing what I am good at what and I'm not good at and accepting that, and being at peace with the wonkiness, with the awkwardness. I'm not a great talker, I'm not a great salesperson, I'm a far better writer than talker. But I have to say, I've meditated for years and I think that allows me to both quiet that internal critic to the point where I can be present with others and also be sort of open and welcoming and understanding of people.
What Surprised Her Most About Building Her Advisory Business And The Low Point Of Her Journey [1:10:28]
Michael: So, as you look back, what surprised you the most about building an advisory business over the past eight or nine years?
Maura: How much I enjoyed the work and how much work it is and how I would never work this hard for anyone else with me and the clients. I've found out a lot of things about myself that...and have grown. I think at the beginning, I was very much a micromanager, I wanted everything to be so perfect for the client that...I hate to admit this, but there was a time when I was having my assistant run emails to clients by me first, just because I didn't want anything that was said to turn them off in a certain way. So, I've worked through a lot of that and I think I have shed most of that.
Michael: What was the low point for you on the journey?
Maura: You know, I think that was when I reached out to you and just being overwhelmed by the sheer number and by the inability to help everybody and that I hadn't really honed what to say and I didn't want to hurt people by picking one over another or...it was a level of anxiety of wanting to help everybody, particularly since so many people who were coming were that ideal client, but I just didn't have the capacity. And I did think about creating a bigger business, I looked at what Stacy Francis has done a wonderful job at building this terrific firm that exists even without her, she's phenomenal.
And then making that decision kind of after talking to you, reading what you've written about, "Here's the path to solo or small advisory firm that continues forever and here's one that turns into an ensemble and gets to a bigger place and it is something that is then saleable." And I've thought about this for years and that was the point where I realized I don't want to manage other people, that the true joy in this for me is working with the clients and doing my own research and putting it to...I like to do a little bit of everything and I think that's what keeps me engaged and interested is I love doing the marketing.
I figured out how to SEO my website at the beginning, so I didn't have to hire anyone and there's like little joys in learning those things and that's the wonky part. And those are the things that I decided I'd like to keep going, I don't want to hand those things off to other people and create a bigger firm just because there's clients. So, what I want to do is encourage more women to go into this because I think there's a huge world out there for women who want women, for men who want women advisors so they can help their wives when they're gone. There's a lot of different types. There are men who like to deal with women advisors, there's a comforting confidence maybe in not having to draw swords.
How Maura Decided To Pivot Away From Her High-Growth Track And Become Comfortable With 'Enough' [1:13:52]
Michael: So I'm wondering, though, the challenge I see for so many advisory firms that hit this point, it's one thing to sort of talk about the capacity or being overcapacity and the stress to it like, "Do I really want to manage people or do I not want to manage people?" But the industry, I think, in the aggregate is just so focused on growth and more and more and more, right? We put the growth of these firms on the pedestal. Nobody has an award and nobody has a list of the advisors who do the best job of taking a vacation while awesomely serving their clients, only the award for the firms that added a bajillion new clients on top of all the ones that they had.
That's what we put up on the pedestal, I think that's how we've tended to define success in the industry. And so, you had as much of a rapid growth path as almost anyone out there. I mean, I think by the time we were talking even in 2017, you were coming up on $80 to $100 million after five years of starting from scratch, which is just a monster number for anyone starting from scratch. I mean, anyone at all, but anyone starting from scratch as a solo in five years. So, I feel like you perhaps lived that growth train more so even than most advisors. And so, what happened or what changed or how did you get comfortable to go from that level of growth to being able to say like, "Yeah, maybe we'll take one or two clients this year?"
Maura: Really thinking hard about what I want my life to be. When I started the business, I was, as I mentioned, a divorced single mom raising her son in New York, so my life was the business and being a soccer mom. And when we spoke, I had opened a second office in the Berkshires, I had met the man who was now my husband, who is a Ph.D. in philosophy and owns his own small business, so we had that in common. A design-build firm, very different than philosophy, although we talk a lot about that. And some of these things, it's just "what is happiness?" And I work a lot with that with my clients and the intersection of money and happiness and success and what is that. A story that I heard when I was in business school about the Mexican fishermen. Do you know the story of the Mexican fishermen?
Michael: No, what is the story of the Mexican fishermen?
Maura: Great. So, the investment banker goes down to Mexico and he's on a well-deserved vacation. He sees this fisherman who's really good every day, and he goes out and he gets the best...it looks like the best yellowtail fish and he's in and out, he's a really good fisherman.
So, the investment banker says, "Hey, so it looks like you're one of the best fishermen here," and he said, "Thank you, thank you." He said, "But you're in and out, you don't fish all day." Then he said, "No, I do this, I get enough for the family, a little bit extra," and the investment banker said, "What do you do the rest of the day?" He said, "You know, I take a siesta with my wife, I hang around with my kids, I take a stroll in the evening after dinner and play guitar with my friends."
And the investment banker says, "So, man, if you fished all day, then you could make enough money to buy another boat and then you could have a fleet, you can have people working for you that you could come and you could sell your fish, you could cut out the middleman and you could make your own cannery. And then you could create this business and then you can IPO it and then you'd be a wealthy man." And the fisherman says, "Wow, so how long will this take?" He says, "You know, 20 or 25 years." And he said, "So then, what would I do after I sold this big business?" He said, "Well, then you could take a siesta with your wife, play with your kids, take a stroll in the Mexican fishing village, and hang out with your friends."
And I just thought here I was in Business School, where they talked about...these private equity classes where they talked with derision about the word "lifestyle firm," right? You know? And so, I had that mindset, and hearing this story, it brought me back to thinking about Voltaire's Candide where Candide, after years of trying to get somewhere and there's travails and trauma and he finally meets this man who's truly content and he's got his farm, he's generous, he's got a modicum of wealth, and a happy family. And that's where famously, he says, "We need to cultivate our own gardens."
And John Bogle's book, "Enough," is also something that influenced this decision and, "When is enough?" And getting back to this real estate guru I had, I remember him talking about this and, "What is enough? When is it enough?" And particularly business like that and businesses like ours where we could just keep growing and keep working, are you...the whole idea of what is success and what is happiness and it's not a number, it's not getting to a certain point. And I think part of what Bogle talks about...he was one who founded Vanguard and famously talked about enough and he really worked for the clients.
His idea of enough...and I guess this is...there is no point where I could stop and not work or there is no point where I would stop and coast, I need to be constantly challenged and I think doing that with digging into the tax laws and the estate planning laws and how that impacts families and more and more about the psychology of money and being able to help those clients and the joy of having that long-term relationship with clients. Someone was writing to me last week and saying something and then they ended it saying, "Thank you so much, my dear friend." And that was just like...my heart exploded. It's a client but that's how they see me and that's how I want to be able to have the time and maintain those kinds of relationships.
Michael: Well, I love the way that you frame that, that yes, you've reached that point where it's built to be a lifestyle practice, you're at the size that is 'enough', so we're in maintenance mode on the number of new clients and such. But that doesn't mean you're in coasting mode or that you don't need to be constantly challenged, it's just that you're finding the challenges in different ways, which is not "How do I add the next 1, 2, 3, 5, 10, 20, 50 clients and the next $100 million and grow to the next level?" and all of that.
It's, "How do I get even deeper on this new client challenge? How do I research this new thing? How do I figure out something new?" You're challenging yourself within the practice and the work that you're doing for clients as opposed to trying to run the particular challenge of "How do I grow it more?" because that creates challenges you didn't necessarily want, like how do you manage more people and hire and train and develop them and things that weren't necessarily the passion for you.
Maura: Right. And I listened to people who've done it and done it well on your podcasts and other places and I have to say that spark is like, "Oh, maybe I should have done that, maybe I could still do that." And then I go back to some of these bigger issues like...I don't know if you know Dan Harris who famously fell apart very publicly on TV, and found his healing journey, meditation, and he does the "10% Happier" book and he does a podcast and his meditation guru is Jeff Warren who is fantastic. And one of his big things is comparison is the thief of joy and when I find myself going to that point of comparing my business, my firm, my clients, what I'm doing with anybody else, that's when it puts the salt shaker back to the middle of the table and I say, "I don't need to be there, I don't need to go there."
Marua's Advice For Advisors Just Getting Started In the Industry And What Success Means To Her [1:23:33]
Michael: So, what advice would you give for younger and newer advisors getting started today to build an advisory firm?
Maura: I would say study as much as you can the technical details to bring that as table stakes, I think, to really be diligent about the technical aspects. And then on top of that, not be afraid to figure out who you resonate with and make that your specialty. It saves a lot of time because if it's not...you don't have to learn about stock options if that's not your people. It allows you just a greater focus, and I know that many, many people have a fear of creating that focus, but when you've got it, it benefits your business in so many different ways. And I guess the third thing really is persistence and I think that beyond anything else, beyond genius or talent, it's grit and staying with it even after you hit lows and fears and comparisons, that you just keep going, you pick yourself up and keep going.
Michael: So, as we wrap up, this is a podcast around success and one of the themes that always comes up and I think very much throughout this discussion is just the word success means very different things to different people. And so, you build, I think, what anybody would objectively call a very successful practice, $150 million after eight years and all the opportunity that affords, but how do you define success for yourself at this point?
Maura: Success for me is freedom from boredom, freedom from need or want, and autonomy. I think those are things that had been missing perhaps in past jobs. I don't like committees, I don't like meetings, the autonomous nature of having a small firm suits me. So, I feel like that is a success, not to have tried to fit a square peg in a round hole. And the continuous challenge of changing regulations and laws combined with the continuous quest for knowledge in terms of the human condition and how we create our lives and how money is a tool to help us create those lives and how I can help clients, I think that's a success. I think the clients I've helped so far and may help in the future, that that's a success. I think at any point along my life, I might have said, "I'm a success right now," but I think it's...I do feel like there's a lot to learn but I'm there.
Michael: I love it. I love it. And really, to me, just that dichotomy of there is such a thing as saying you have enough in your practice but that doesn't mean you have enough in life and that you can't still keep challenging, keep fresh, and keep engaged and have things to do and work on and feel like you can achieve and accomplish. You don't have to make bigger practice the mountain that you're always trying to climb higher on, there are other mountains to climb.
Maura: Exactly, we tend our own gardens and every year, there's different challenges, different flowers, different crops.
Michael: I love it. I love it. Well, thank you so much, Maura, for joining us on the "Financial Advisor Success Podcast."