Executive Summary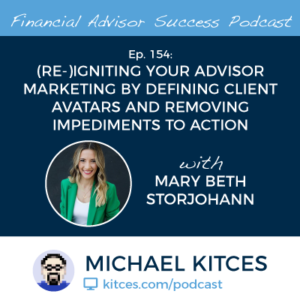 Welcome back to the 154th episode of Financial Advisor Success Podcast!
My guest on today's podcast is Mary Beth Storjohann. Mary Beth is the chief marketing officer for Abacus Wealth Partners, an independent RIA based in Santa Monica, California that oversees nearly $2.6 billion of assets under management for almost 1,700 clients.
What's unique about Mary Beth, though, is that up until very recently, she was the founder of her own independent advisory firm, Workable Wealth, and despite (in fact, because of) the successful growth of her solo practice, Mary Beth decided the best way to continue advancing her own personal mission of expanding her financial planning impact was to sell her firm and to take on a marketing leadership role in an even larger firm instead.
In this episode, we talk in-depth about what it means to be a chief marketing officer of a large independent advisory firm. How Mary Beth allocates a marketing budget of just 2.5% of revenue that still adds up to nearly half a million dollars to allocate for marketing purposes, the relative split of marketing dollars towards staff to help implement marketing strategies versus direct spending on sponsorships and advertising, and how Abacus's marketing team funnels all of its activity to a lead intake team, whose job is to screen all the firm's prospects to determine who is qualified and who should be referred out instead.
We also talk in-depth about how Mary Beth developed avatars for the firm's marketing, formerly defined marketing personas like builders, protectors, and changemakers that the firm uses to more clearly determine where they should be and not be targeting their marketing dollars, how the firm developed a brand style guide so all the advisors of the firm can communicate in a consistent manner when marketing, and why Mary Beth decided to remove the contact form from the Abacus website altogether and instead, just install an embedded scheduling app to let prospects instantly and immediately set up a time for an initial call with the firm.
And be certain to listen to the end, where Mary Beth shares her ideas about what any advisory firm regardless of size can do to better improve its marketing, given her own experience in both a very large advisory firm, and having previously worked as a solo practitioner. Why often the biggest improvement that advisory firms can make is simply removing the impediments they're unwittingly creating that may reduce their marketing effectiveness, and Mary Beth's philosophy that the long-term key to marketing is all about brand consistency, which means it's better to spend a small amount of marketing dollars in a very consistent manner for a long period of time than to spend a large amount of money in a very short period of time.
What You'll Learn In This Podcast Episode
Why Mary Beth Decided To Go In A Different Direction In The Industry [5:45]
How Mary Beth Made The Transition Into Her New Role [22:40]
What Her Role Is Now At Abacus [28:59]
How Mary Beth Allocates Marketing Dollars And How She Measures Their Success [32:43]
How Mary Beth Thinks About Brand Awareness And The Importance Of Client Avatars [43:13]
How Mary Beth Created And Implemented A Brand Style Guide [56:11]
How Abacus Has Formalized The Sales Process [1:09:00]
Mary Beth's Marketing Tips For Every Advisor [1:26:51]
Mary Beth's Advice For Newer Advisors [1:32:52]
How Mary Beth Defines Success For Herself [1:41:28]
Resources Featured In This Episode:
Never miss a Financial Advisor Success podcast episode! Get notified of the latest episodes (and all our research as it's released!) directly via email:
Full Transcript:
Michael: Welcome, Mary Beth Storjohann, to the "Financial Advisor Success" podcast.
Mary Beth: Thanks for having me, Michael.
Michael: So I'm excited about this episode because you are our first financial advisor to return as a guest, having gone in a somewhat interestingly different direction than when you joined us originally. So for people who maybe after this want to go back and listen further for context, you had joined us for episode 61, so that was early 2018, almost 2 years ago, having launched a firm on your own, had very rapid growth and you were over $200,000 of revenue in financial planning fees in your first 4 years doing this sort of monthly subscription recurring revenue model, on a great growth track while, I feel compelled to point out, while also having two children, that you did while you were getting the business going.
And so you were on this great trajectory and had a lot of positive momentum, and then had, I guess touched base or maybe I saw my own LinkedIn update for you earlier this year that said Mary Beth Storjohann has a new job, chief marketing officer at this large multi-advisor advisory firm. And I was kind of wondering like, "Huh, that's a really interesting sort of hard left turn from the trajectory you were on." Not going backwards, it's not a bad thing, but just that is a very different direction than you were on this track of building your solo advisory firm in a very significant personal brand around yourself and your Workable Wealth platform.
And so I was just excited to have you on the podcast because I think it's sort of an interesting reflection on just, I don't know, the uncertainties of life and the paths that sometimes we go down that we don't even expect to go down. That you'd spent several years building this solo advisory firm, and then suddenly, at least from the outside, seemingly suddenly, decided to go in a very different direction within the industry and now in and of itself have a rather unique role of a chief marketing officer at a large RIA, when not a lot of advisory firms have chief marketing officers or even dedicated staff to marketing. So I guess as a starting point just, so what happened? What changed? How did you decide that you were going to make this significant shift?
Why Mary Beth Decided To Go In A Different Direction In The Industry [5:45]
Mary Beth: Yeah. So we spoke early 2018, I think it was right after I had had Luca, right? So I think I was just coming back from maternity leave possibly.
Michael: Yep.
Mary Beth: Yeah, our episode went live. I think I had three podcast episodes in the industry go live that week that yours went live. And after that, what happened in 2018, really, my business took off. I think in 2018 I...I had brought on an associate planner. I had an assistant, client service associate. I had brought on another associate financial planner. She had actually been in the midst of launching her own firm. I found her through XY Planning Network. And I was just looking for some part-time work at first. And then once I met her, basically, we decided our skills were very complementary, and I asked her, convinced her to close down her own firm that had just started and to join Workable Wealth.
And we were in a growth period. So, 2018, we took on 30-something clients. I went from, what was I at, $200k when we talked, I think I closed the year around $325,000, $330,000 of revenue. So I brought on about $130,000 of revenue in 2018. And also, mind you, I had a newborn that was growing. And I began to really come face-to-face with, okay...the question that we all talk about, "What's my enough? What am I passionate about? What skills do I have? What am I looking to do and what kind of impact am I looking to make?" And it came down to, for me and a lot of work and a lot of reflection, and I can talk more about why Abacus and how Abacus actually happened, but it came down to the question of, "Okay, am I going to continue to build this thing? Hire." I could keep hiring, right, and training advisors, or I could stop growing and start to increase my minimums. Because I had built this whole funnel up, right? All of the marketing that I was doing was working, and I had the lead funnel, and I had the demand for it. And so then it was a matter of, "Okay, do I keep my rates the same and start hiring and build this big firm or do I start upping my rates and then not able to service as many people?"
And after I did a lot of work and reflection, I realized my vision and my passion in life are to impact thousands of lives around their finances, thousands of thousands. I have a personal goal that I set this year, not for this year, but just over the past few months of impacting 50,000 people around their finances. And that's like a lifetime goal. But doing some rough back-of-the-napkin calculations based on my book and my podcast, I've done 10,000. So looking at all that, knowing the impact that I wanted to make and what building Workable Wealth would do in terms of the operations and the complexity of compliance and the investment focus, all of those things that I would then need to...the systems and structures that I would need to start building, it would take me out of the work that I love and brings me joy in terms of teaching and educating and creating, I decided...that was ultimately what it came down to was, "Am I trying to build an RIA firm that does personal financial planning or am I trying to impact and educate and reach more people?" And this role that came up basically gave me the best of both worlds.
Michael: Well, and I think it's an interesting sort of point in crossroads that you had hit. So how many clients did you have in total by the end of 2018, as you were dealing with this and trying to decide where to go next?
Mary Beth: It was about, let's see, about 80. Yeah, about 80 clients. Eighty households, $325,000, somewhere around $350,000 in that range of income. And it was...it really came down to...the role, the chief marketing officer role is what made me change. It wasn't like, "Hey, I need to go be a part of a bigger firm to do this." That wasn't really necessarily...that wasn't the point. It wasn't me looking to just latch onto another firm that possibly had investments or operations and could take care of that, it was that the role that was being presented to me and the unique opportunity was giving me both. I could maintain the platform that I have, but also teach and inspire and educate 30 other advisors that could use some of the expertise that I have in this marketing world and inspire and drive a firm and those numbers. And that impact is much larger than what I can actually probably do on my own.
Michael: Well, and it strikes me like this, that point that you had hit I think is the one that, well, frankly, all of us in the advisor world go through if you have any level of success in attracting clients into some version of recurring revenue model, whether it's assets under management or monthly subscription fees, as you were doing it. That you hit a certain number of recurring revenue clients where you have to service them, and it takes up more and more of your time as you get more and more clients. And most advisors, I find, will start hitting a capacity crossroads as they kind of go from about 50 to 75 active clients, where at least you've got to hire some admin staff to help. And if your admin staff makes you a little more efficient, maybe you can get up close to 100 clients.
And then you just start hitting a wall where there's just no more time left to do all the servicing work for all the clients that you've got. And you have to make this crossroads decision of either, we're going to keep growing by adding more clients, and I have to hire, hire, hire. And once you get on the hiring train, you really can't get off that train. Because once you've hired people on, they want upside career opportunities and they want a future career track, which means you have to keep growing because you have to grow enough to create the opportunities for them, not even just for yourself, or you decide, "I don't want to get on the hiring treadmill and instead, I'm going to keep it this client size, which means if I want to grow my personal income and business, I have to work with more affluent folks." So, every time you take on a new client, you remove one of the smaller ones, and you just keep moving up the minimums and up the line. And you can make a really good income that way and build a practice around yourself.
But you hit this crossroads where you have to make the decision, "Am I going to keep this business built around me as sort of a solopreneur or do I want to build something larger and go through the hiring and the rest of what comes with it?" And part of the dynamic when you hit that crossroads is it, I think at least in the ideal world, it forces you to really take a pause and think about, "Well, what exactly am I building and what purpose does it have? What itch am I scratching?" And so, I guess as your path illustrates, and sometimes when you sit down and think about that, you actually decide the answer is, "None of the above. I want to go and choose door number three off in this other direction."
Mary Beth: Right. Which was a complete surprise door, I will say. It was a completely...it was not a door that I was necessarily seeking. And it was...Abacus, I had known. Also, I wanted to make one pause, monthly subscription, I say annual retainer paid monthly. That is a big misconception in the industry is the monthly subscription, but I like to call it, it's an annual retainer that happens to be paid monthly, because that switches the perspective around of everything.
But going back to the Abacus, I had had a relationship with Abacus Wealth Partners for, gosh, 18 months prior to this opportunity arising. J.D. Bruce, the president of Abacus had been mentoring a couple of groups of us and had really challenged us during that time. And that also happens to be when my business was taking off. I was having my second child. And we kept in contact. And I think he had had his eye on me for marketing, and I was really intrigued by what they were doing at Abacus. And there was just a point when we talked about like, "Okay..." When I was reaching this complexity conversation, it was initially just a conversation of, "What am I building here? Which path am I taking? Increased fees or hiring?"
And I had reached out to J.D. and I kind of said, "Okay, well, if I came on, what would that look like?" Because I am passionate about always knowing what you have in your back pocket. And I would treat this the same way to any of my clients. You negotiate and you know what your options are. And I had reached out initially to find out what that would look like. And when it was just me coming in straight merger, I had opted out. I had said no at the time. It didn't seem like it was a great fit, based on knowing what I was doing and working on. And I also happened to say, "I think there needs to be a little bit of marketing work that needs to be done at Abacus." And that was what it came out, that they were looking for a chief marketing officer.
So when these conversations started, I was not out there looking for a different career path, I was looking to make that decision of, "What was I building here?" And then when this one came up, it took months of kind of back-and-forth and, "Work for me." And this position was so unique and such a left turn that I couldn't help but...I felt that I would be wondering "what if," if I didn't pursue it. Knowing kind of what my two doors were with increasing fees or continuing to hire, there was this...I don't know, I just had this intrigue about, "What could this look like?" And obviously, there was a lot of values alignment and life alignment there as well. But I just felt like I would always wonder if I had not jumped on the opportunity and saw this through. And it's an interesting challenge. And it's definitely kept me on my toes. And it's not one that I regret making, it's one that I'm very excited about. But yeah, that's kind of how it happened. It popped up after I actually said no. That's how it happened.
Michael: So how did you arrive at this conclusion that it was time to go a different direction?
Mary Beth: So taking on 30 clients in 1 year can also tap a person out, and having a newborn. I will tell you those are two things. And I started to think about what I was building and the impact I wanted to make. And there was a lot of back-and-forth with... There's a point when you get over the hustle, right? I had been in this hustle stage for a few years of building this thing and it's working and you're driving it. And it worked. It worked, right? I had decent income. Everything was going, and then I had hit that point where what...I needed some life planning, to be completely honest, the life I needed. George Kinder's life planning. I had a friend who...Scott Frank is another financial planner, he walked me through the initial stages of life planning. And when it came down to it, when it came down to what would I do if I had all of the money in the world, I would still be teaching and educating women about financial planning, managing their finances, empowering women around their money. Even if I had all of the money in the world, that's where I'd be spending my time and the passion I would pursue.
And it didn't come down to me needing to have my name or my face on it. I didn't need to have my face all over everything. I didn't need to have it be only my name. The excitement behind inspiring other advisors and being able to lift them up as well and impact more lives that way was more of a thrill to me. And I think that's what's pivoted over time is when we build these firms and this generation of XY advisors, it's a lot of...we're marketing ourselves. And I happen to be really good at marketing the heck out of myself. I have a book, I have a podcast. I'm great at that and being that voice, but I don't want it to always just be me. I also want to inspire other advisors to be able to use their voice and to have more confidence. And I realized that through a lot of reflection and self-work that I want to build something and I want to have an impact and I want to have that impact not just through me doing all the work, but by me lifting others up as well. And I'll be able to do that better at a firm like Abacus versus trying to do it on my own.
Michael: Interesting. And so you literally went through George Kinder's three questions? That was part of the...
Mary Beth: Yes. Yeah, right before I signed my contract. Because it's a big deal, right? It is a huge left turn, never talking again. So up until...I went through negotiations, I negotiated, all of these things just in terms of like work-life balance too. And J.D. even put things in my contract about if I wanted to work from Italy for three months a year. There was a lot of like back-and-forth of things that I needed to make this turn for what I was building for my family.
And I think it was two weeks before I was signing, I was chatting with my study group and just kind of like bouncing stuff around, and Scott Frank finally was like, "You need to do some life planning. Answer these three questions. We're talking next week." And he sent me over the document. I typed it all out, and we had a one-hour session where he just did like a deep dive just initially and kind of reflected some answers back to me, held that space to flush things out. And that was actually the thing that I needed, I think, was just to be able to hold that space. It wasn't about money. And that was the thing. This was not an income move for me. It wasn't like more money one way or the other. It was, what was my life vision and impact?
Michael: Well, and that's the interesting thing about the three questions. And I guess I should say for folks that are listening that maybe aren't as familiar with George Kinder's work, just what the three questions are. So the three questions that George asks are all kind of tied to just what you do and where you spend your time and energy in life. So the first question is, imagine you were financially secure, you have enough money to take care of your needs now and the future, how would you live your life, and would you change anything? Then the second question is, now imagine that you visit the doctor who tells you you only have 5 to 10 years to live. You won't feel sick, but you won't know when you're about to die. What do you want to do with the time you have remaining? Like, what would you change in your life and how will you do it? Assuming unlimited funds. And then the third question is, imagine the doctor shocks you with the news, you only have 24 hours to live. And as you're kind of confronted with mortality, what do you feel like you missed? What did you not get to do or who did you not get to be with?
And so they're really powerful questions, right? One is kind of the, if money were no object, what would you do in the long run? If money were no object and time was finite, what would you do with your time? And then, in essence, do you have any regrets when faced with your own mortality? And as you noted, they're really powerful questions in part because they get at that moment of, we spend so much time working just trying to get dollars up, income up, financial security, ability to retire, send our kids to college, all those different pieces, but when you get to the point where it's no longer just about the money, not necessarily because you're financially independent, but maybe just hey, I'm making enough, and any of the roles I could take, I'll make enough. So when you've got enough, like, okay, if we take money off the table because it's just going to be there and flows sufficiently, what do you actually want to do with your time? And is running an advisory firm still the thing you want to do? Which per your conclusion was, "Maybe not after all," despite five years of building successfully to several hundred thousand dollars of revenue.
Mary Beth: Yeah. Never mind. But no, yeah, it was where I wanted to spend my time, and knowing what my skills are and the things that I excel in, and recognizing, yes, I could have hired that out and done some other things. But as the owner of an advisory firm, also, I'm the breadwinner in our family. My husband works, but our income is a big component of the household income, and that responsibility. And the time that also me running the advisory firm took away from our kids, right? So there was things that I was missing out. And doing the day-to-day management...running an advisory firm is not super sexy. People choose to run advisory firms because we're passionate about the work that we do, and we want some independence and control over those. But there's a lot of stuff that is not very exciting.
And so there was no...I wasn't looking to necessarily say no to it, but when this opportunity came out to have a bigger impact, that's when I realized, "Well, shoot, this is the best of both worlds. I get to take all of the things that I'm good at, skills, hone in there, still educate and empower people, and I'm going to have more time with my kids, hopefully, at the other side of this because that's what I'm negotiating for." So that's really...it was attractive enough for me to say, not that I don't want to run my own advisory firm, but that this is better than running my own advisory firm for me right at this point.
How Mary Beth Made The Transition Into Her New Role [22:40]
Michael: And so what did that transition look once you said like, "Okay, I think I'm actually going to go this new, different direction, holy cow?" What actually happened next when you said, "Okay, let's get down to reality. I'm running this firm, it has several hundred thousand dollars of revenue and almost 100 clients, and apparently, at some point in the near future, I'm not going to own it anymore. And I'm not even going to be working with those clients anymore because I'm going to go do chief marketing officer things instead." So what did that deal structure and transition look like?
Mary Beth: Well, there was probably some tears on my part. There's a little bit of a mourning here of things that you thought were going to be. And there's a...I'll be completely honest, there's some...it's scary too. This is a huge life change, so that will tell you there were tears. But there's negotiation back-and-forth. And originally with the details of the merger, the plan had been that I would do marketing half the time and still be able to serve as half the clients. And that Ariel, the other financial planner that I have on staff and who's merged with me into Abacus, that she would become more lead, the plan was for her to become more lead for some of the clients.
Anyway. So that was the original plan going into it, which is great, but there wasn't necessarily a formed marketing department at the time. It was a loosely held marketing department. So me coming in, we realized that there's much more that needs to be done. So that's kind of what's transitioned now. So right now it's kind of decided that I won't be taking on any new clients. The focus will be Ariel is taking a larger role with the ones that we have existing, and any leads that come in through the Workable Wealth website are going straight to our lead intake team at Abacus and other advisors.
That said, however, there was back-and-forth negotiations, there was valuations. And what happened was, I'm actually in a unique situation. I have a study group of four other clients that are entrepreneurs online. They're female business owners as well, and we're in a study group together. And so I actually floated the idea with them. They were kind of my clients' almost advisory board while I was going through this transition. So I had my existing study group of peers who are financial advisors, but I also have other business owners who I meet with every other week. And so as I was going through these questions, they really held my feet to the fire and gave me some interesting and constructive feedback and how to navigate it in terms of messaging, gave me the pep talk if I needed pep talk.
Michael: Yeah. What kinds of revelations did you have in terms of the messaging? I think this is hard for anyone, the kind of...telling your clients, "I've decided to sell my firm," it's even harder when the message is, "I've decided to sell my firm and I won't be working with you anymore." And I would imagine it's even harder when it's not like you're doing this because you're 70 years old and retiring and everyone kind of knew this was going to be coming at some point. Like, you're a young advisor with young kids, and lo and behold, you're transitioning out of the advisory business. So how did you message this, or what were the realizations that you had about it?
Mary Beth: So, first they challenged me a lot in understanding who Abacus Wealth Partners is, what are their values, what they stand for. And really working and talking with them through it, there was the component of brain dumping, but then there was the component of, "Okay, I have to..." Being able to clearly communicate what made Abacus so attractive to me. Why it's a good fit for my clients, why it's a good fit for me. That was the great part about having this group too, because they're a great group of women and they're not afraid to push back. So that was helpful in thinking through the ideas.
And then, to be honest, the most interesting part, and I think you...I don't remember which episode it was with, I think it was with you and Carl Richards, though, a lot of it is just ego, right? We think that our clients need us. And some of them think they need us too because we've cultivated those relationships, but they've all told me probably at least a dozen times, because they're not fully transferred yet, the goal is by June of next year, clients will be transferred. All of them will be. So there's some in process. But they basically have said like, "If you need to transfer me now, you can. If you need to transfer me, you can. You can. Just go ahead and transfer me."
Michael: Like, "Jeez, clients you don't have to be so eager."
Mary Beth: But that's what it is, right? And they know because I've...the message has been like 100 times over is that Ariel is...I mean, I brought Ariel on for a reason. I completely trust her. She's phenomenal in other ways. And we wouldn't pass off our clients to people that we wouldn't trust, right? That we've vetted out. If we've sold our business, if you're transitioning to other advisors, we have vetted those people out and we know that they are very likely better than us and more suitable to serve in these certain clients in ways that we can no longer do because we've either grown out of it or whatever. But it's ego, right? It's very much ego of, "Oh my gosh, what will people think of me? And will I hurt her feelings? Will they be upset?" And that's all in my own mind. Some people have been disappointed. I will say there have been a handful that have been disappointed and have chosen not to come or stay on if I've transitioned, but for the most part, it's fine. They're still getting the same great service. They're happy. They've been integrated with Ariel already. And that messaging, in general, has been staged.
I will say that the intention has been, it was not, "Hey, I'm moving to Abacus Wealth Partners and Ariel is your new advisor, bye," it was, "Hey, our team is moving to Abacus Wealth Partners. I'm evolving into this role. You already know Ariel, she'll be taking a larger role, or you'll be hearing from her more frequently." And then now that we have merged into Abacus Wealth Partners, the paperwork is done, Ariel is, in fact, taking on the larger role. She's running more of the meetings. She's handling all the follow-up. I'm still showing up to some of the meetings as well, though, obviously for the reviews to do that final...to do that handoff. And then we're doing the formal handoff as well, like for the phone call or emails, to make those transitions. But in general, it's been staggered. And that was kind of the story that we told them is our team is moving and the expectation had been that I would keep some clients, so there was no intention of, "Hey, you're going to have a new advisor." But now that we're in there and we're seeing that that's the need, now we're communicating it. It's been 10 months this month that I've been in there.
What Her Role Is Now At Abacus [28:59]
Michael: Interesting. And so, what does your role look like at this point? Not a lot of advisory firms out there have chief marketing officers. I know Abacus is a sizeable firm. So can you, I guess paint a little bit of a picture for us both of just Abacus Wealth, what does the firm look like, and then what does it mean to be a chief marketing officer in a firm like that?
Mary Beth: Sure, yeah. So Abacus Wealth Partners, we are headquartered out of Santa Monica, California. We manage about $2.6 billion, and there's about...last I looked, 1,678 households, give or take. Skewing. I don't know how many of those are maybe kids of clients, etc. We have 6 locations, and there's 30 advisors, and then we also...we have 30 advisors, and I think last I checked, it was about 11 associate advisors. And that's our AA training program. So we have a two-year training program for advisors as well, where they're...each team has an associate advisor where they're training. So we operate in diamond teams. So that's the firm right now.
And just this year, the chief structure has been rolled out. So we have a chief of advisors, we have chief marketing officer, chief operating officer, CEO, chief CFO and CIO and president, CEO kind of share a slot on that board. So as the chief marketing officer, we have a five-person team. I run a five-person marketing department. We follow the kind of industry standard of about 2% to 2.5% of revenues for marketing. And day-to-day, I will say this department that I...I inherited the department. So it's really been building it from the ground up in terms of how I want things to go in terms of weekly meetings, things that we're working on, projects, etc.
Right now for Abacus, since I got in there, what I did before I even merged was sit down with Brent Kessel, our CEO, and J.D. Bruce, our president, and we did a brand audit. So really understanding, what are our strengths? What are our weaknesses? What's our messaging? Who are our target clients? Our avatar. Understanding what has been in place there, messaging and framework have they been operating off of. And then I took that and then built out a marketing plan, and since then have developed into brand guidelines. We're doing a website revamp, a brand refresh, I would say, and a variety of other things.
Michael: All right, there's a lot there.
Mary Beth: There's a lot. Yeah.
Michael: Let me kind of process this. So the first thing actually just that jumped out at me, you mentioned like you guys aim for an industry-standard, spending about 2% to 2.5% of revenue on marketing, which is, I know pretty typical for a lot of firms just if you look at the industry benchmarking studies. But as you mentioned, you're a $2.6 billion firm. So I'm going to assume that's $20-ish million of revenue, give or take a little. So 2% to 2.5% of revenue is like half a million dollars on marketing.
Mary Beth: And that includes team comp.
Michael: I was going to say, so my first question, like...
Mary Beth: Not mine. Not mine.
Michael: Sorry, that was going to be my first question. So when you talk about spending 2% to 2.5% of revenue on marketing, is that both the marketing team and the external stuff that you do?
Mary Beth: Yes.
Michael: Okay. So that's an allocation for both staff and then advertising.
Mary Beth: Yeah, staff excluding my comp. Yes.
Michael: Okay. Excluding your comp because your comp is treated, I guess part of the bucket of executive compensation for what it takes to run the firm.
Mary Beth: Exactly.
How Mary Beth Allocates Marketing Dollars And How She Measures Their Success [32:43]
Michael: Okay. And so, aside from obviously hiring some marketing people to do marketing things, we'll come back to in a moment, what do you do with these dollars? What are you doing to "spend" on marketing?
Mary Beth: So we have content creation, we have graphic design. And graphic design can include anything from your social media images, your PDFs, your flyers, your freemium opt-ins, your presentation design, brochures. Our creative lead is constantly working on projects. So there's a lot of stuff that we're spending that's part of what some of the comp goes to. We are doing some sponsorships. There's a lot of event hosting. There is a little bit of advertising in there. There's some professional organization memberships that we have in there as well to optimize for marketing. The focus this past year has been on spending time and money on content. So SEO optimization, content creation in terms of blogs, but also in terms of freemium type documents, downloadables, opt-ins, those sort of things. Website type stuff. The website update is happening as well, so we're paying for that. Photos for the team. There's lots of different ways that you can spend money for marketing and stationary, business card updates. There's lots of business cards... not a huge thing. I'm looking at the budget right now. That's why I'm kind of going through this. We have in here right now for next year: podcast equipment, podcast editing, those are all things that would fall under marketing.
Michael: So when you're doing this kind of marketing spend on things like event hosting, what does that mean exactly? I know in traditional advisor world, event hosting is like, we do a client appreciation event. We hope you bring a friend, ideally, a really affluent friend. And it's sort of running networking groups for clients and friends of clients to generate referrals. Is that the kind of event hosting stuff that you guys are doing as well?
Mary Beth: Yes, but on a smaller scale. So one of the big focuses for our offices and for Abacus in general is we have what's called the Sisterhood. It's really focused on women and money. And so we do a lot of circles, women's circles that we've gotten training for through DFA, Dimensional Fund Advisors. And so we host a lot of circles throughout our offices throughout the country. And so there's budget there to host, have wine, cheese, have prospects come in. There's invitation design. It's pretty low overhead for those things. But those are the kinds of events.
We have a unique office space in Sebastopol, which is in Northern California, because it's a small community, so there's a lot of really fun things they can do in that space. They've done clothing swaps, they've hosted movie screenings. There's some unique stuff because it's such a small, tight-knit community. There's event spend that happens there as well, but, again, is pretty low overhead and different than having something in our Santa Monica or maybe our Philadelphia offices where parking is a pain. Getting there is maybe a little bit trafficky. And so there's different...we try to maximize the opportunities that we have in different offices in terms of events and what could be most preferential for clients across that.
Michael: But it's still kind of ultimately built around, "Hey, we're running some events of things that we think are relevant for the kinds of clients that we want to work with. And then you get introduced to us in the firm, and we'd love to have an opportunity to work with you if this would be helpful."
Mary Beth: Yep, exactly.
Michael: And then you said sponsorships as well. So is that like other people's events? You're like, "This 5K brought to you by Abacus Wealth?"
Mary Beth: Yeah, some of those things, exactly. But that's a low amount of the budget goes to sponsorships. And some of those are just for community goodwill. Things that we've done that are long-standing, that are helpful for just brand awareness. There's not necessarily a, "Hey, we'll get a client from this," but it's just community partnership and understanding that that is part of the budget for those things. That's another one.
Michael: I was going to say, and then you mentioned advertising as well, which very few firms do I find any kind of outbound advertisingy stuff. So what does your firm do there?
Mary Beth: So there is a magazine that's called "Lion's Roar" that's very big in the Buddhist community. And so we have advertised. And I can't remember the name of the...that was originally called right now top of my head. But we've advertised there for years. And we have the back cover of the issue. And we've had a decent amount of clients, prospects and lead intake calls coming from being present there on a consistent basis.
Michael: In a magazine for the Buddhist community?
Mary Beth: Yes, exactly. That goes back to niche.
Michael: Okay. Because that is...
Mary Beth: The founder, that is the niche. Yeah.
Michael: ...one of the niches of one of the founders is working with people who are Buddhists?
Mary Beth: Correct. So, there's been a presence there. And I will say this is...some of this has been...going into 2020 and having stepped into the role, one of the goals going forward, we have budget in these areas and we do have money to spend in these areas, but one of the things going forward that I am impressing upon the firm and I would impress upon anybody listening is understanding what are the goals and metrics around these things. If we're advertising in a magazine on an annual basis, what is our hope there? What makes it a success? What makes it not a success? And at what point do we evaluate redeploying funds to another area? Same thing with if we're hosting events, for example. A lot of people host events just to host the events and hope that something will come of it.
The goal that I'm pushing going forward with our events is, okay, what is our invite strategy? What is our goal for attendance? How many clients are we hoping to have? How many prospects are we hoping to have? Also, what is our follow-up strategy? A lot of people have events and do things and then there's zero follow-up, and they're just hoping to maybe see the person at the next event that they host. I'm trying to get a really detailed process in place here where if we're hosting events and we're doing these activities, what are the follow-up templates? What are the actions we're taking? How are we evaluating and measuring these events and ensuring that they're a success, or coming back together to pivot?
I think a lot of people, no matter what the business is, spend money in these areas and don't necessarily set clear-cut goals around them. So that's the plan going forward, is to really be strategic here and have a lens of, "Okay, what are we looking to do? What's the accountability? And what's the follow-up?" And that's what maybe has been missing a little bit is that next step piece, what do you do after events? We're spending money in these advertising or on the sponsorships, what is our hope for the areas that we're spending money on? That's the framework that we're putting in place.
Michael: So it makes sense to me, and certainly, I think the challenge for a lot of firms is either we don't measure this, we don't know how to measure this. We can't figure out the results. I did a sponsorship but I'm not really sure if I got anything from it. Or even like, I did an ad and I don't know if I got anything from it. It strikes me that just for most of the industry, we're so not good at even figuring out how to measure our marketing, that...I know why most advisory firms don't want to spend on marketing. It's like because it feels like it doesn't get a good return on investment because it's hard to track and figure out the results. Do you worry about that for these? I guess things like hosting the events is a little more straightforward. At some point, you just look back at your new clients and see, did any of them to your events, and you can connect the dots pretty easily. I'm a little more fascinated that you can track results from things like magazine advertising. How do you know at the end of the day that they came from the magazine? Or do you just literally ask when they reach out? Like, "Hey, did you read about us from the magazine?
Mary Beth: There's an ask when they reach out. They're coded in Salesforce, and our lead intake team checks in with them as well. So where they initially saw us or were tipped off to who Abacus Wealth Partners is. That's where that comes from.
For the events and for the spend, though, in terms of...and knowing this from marketing... I just had an advisor reach out to me, another friend, she asked about, "How do you set goals for your marketing and you're spending money in the area?" The biggest thing that you have to understand is brand consistency and brand awareness. A lot of people get defeated with marketing after a few months. And it's not...you're not looking for a quick result. So anything that we're investing in, any of those areas that I had just mentioned to you are for brand awareness. So it's not a one-time thing. If we're doing an event sponsorship, it's because we've done it annually and we have presence in the community. If we're doing an advertisement, we've been doing it for a while, it's paid off, and we have some leeway there because that audience is familiar with us already.
The event that we're hosting in terms of those circles, part of our brand and part of who we want to be known for is having these circles for women in this safe space for them. So in spending money there, I recognize that it takes time, and so some of this is an investment. And there's a point, yeah, maybe in a year or 18 months, we have the agreed-upon budget, and we do want some return, but in terms of the actual payoff, there is definitely a drive up to this. So it's over months of period of time that I planned to have these things take shape as well in terms of having that bigger impact of the brand component. So there's this shift, I think, that I am planning to take Abacus through, which is going from this company to this brand. What do we want to be known for? How do we want to be known? How do we want people to talk about us when we're not in the room? That's what the driver behind all of this marketing and messaging is. And that drives down to the events that we're hosting, how they're hosted, what that follow-up is.
So I do think it is hard to say, "I hope to get three clients from this event" and, "This was a success or failure." But you can usually track that. But I think there's the long-term component of things as well. And for your audience, especially, and having been one, it's this investment in content creation, for example, or social media or newsletters. A lot of people want to know like what's the payoff there? A lot of that is brand consistency and awareness, and just being available to people. There's some component of your budget that just needs to go there.
Michael: So how do you allocate that? Because I think for most of us, that's the part that just feels like the money sink where you throw money down the drain without any results. How much of my money am I supposed to just throw at brand awareness and hope that this awareness thing turns into business at some point?
How Mary Beth Thinks About Branding And The Importance Of Client Avatars [43:13]
Mary Beth: Okay, well, so before you spend money on brand awareness, you go back to do that brand audit I talked about in the beginning, though. You have to be very clear. This budget has been created off of our marketing strategy and our brand guidelines. So I think that's the biggest thing. In terms of a percentage, it's really strategic knowing that we have this dollar amount to spend. What's your dollar amount that you're willing to spend in the area? And then you back into the things that are...what are the baseline level of things that you need? If somebody comes to our website, what do they need to see? What's important to our client's avatar? Do they care if we write blogs frequently? Do they need a newsletter? How do we stay relevant to this audience?
We are in the relationship of personal advice, so depending on who your client avatar is, no, you don't need to spend money on Facebook advertising, you probably should be out there hosting just high-level events, because that is what your client avatar wants. I think that's the thing that advisors are missing are that initial marketing, branding document of, "Who are my clients? What is my avatar?" And it's the stuff that you talk about all of the time, but a lot of people are not doing that work. Even different levels of advisors are just not going back to...it cannot tell you clearly who is your exact client avatar? What are their values? What are they doing?
Michael: So can you talk about that more? That labeling of who is your target avatar I think is a little bit different than at least how we traditionally talk about it in advisor world, which is usually more along the lines of like, who's your target ideal client? So I work with delegators who value my services and have at least a half a million dollars of investable assets. Is that what you're talking about when you say "target avatar?"
Mary Beth: No. Well, a component. That's like, "Who do you work with?" But the avatar is really thinking in terms of the psychology of your client. So are your clients...what age are they? What demographic are they? Where do they spend their time? What are the professions? What's their family look like? What are the things that keep them up at night? What magazines or books do they read or do they do for fun? When you're thinking about your client avatar, that's what you need to understand. So for Abacus, in doing the brand audit, it came out that they had just recently kind of talked about dividing their clients into these three different titles. And they're called...we call them builders, protectors, and changemakers.
And through doing that, through just finding those titles, I was like, "Oh my gosh, this is amazing. Let's run with this," and being able to round them out. So we have builders, which are people...we have like Gen Y, Gen X and up. So people who are still basically in their accumulation years. What are their likes? What are the things that they value? So we have, their likes might be Whole Foods. They listen to podcasts. They love summer reading lists. What are their values? They very likely value family or community, making a difference, wellness. And what questions or decisions are they...what questions are they asking or decisions are they making? And so we're able to just going through that like, what questions are these clients asking? Well, should they buy a home or rent? Should they change jobs? Should they max out their 401(k)? Digging into that then drives us into where we need to spend our marketing dollars. That's just for builders. We also have protectors and changemakers, too. Protectors are...go ahead.
Michael: So I was just going to ask, so what are...just to sort of round this out, builders are basically accumulators. So what are protectors and what are changemakers?
Mary Beth: Protectors are those who are just on the cusp of retirement, transitioning into retirement or retired. So they've built their wealth and they just need to protect it. Now they're moving into that place. They're retiring. And changemakers are the ones that we would say they have more than enough. So it's like the $5 million-plus, and they are looking at making that...they have been using their wealth to make that direct impact. And so they vary by it. So the best thing about...like changemakers, for example, is they could be any age, right? So it could be...so we're talking about...and we're targeting these people based on their avatar. They like donating to charity, global travel, higher education, exclusive access. They value things like innovation or environmental causes. So we have these things kind of flushed out for each avatar, and same thing with protectors as well. And we're able to target where we're spending for events, where we're spending for our content creation. I have that done first, and then I'm going into, "Okay, where do we want to spend our money, and who are we targeting those events for?"
Michael: So help me understand just how you figure out or pick this stuff. I feel like if you just said, "What are protectors like? What do people who are getting ready to retire like?" Like, well, I don't know, there's like 80 million of them. So I guess pretty much anything under the sun when you divide by 80 million people. Or what do the entire generations of X and Y like? Because they're all accumulators and builders. I feel like you very quickly just come down to a couple of generational stereotypes here that may hold for a lot of people, because stereotypes usually generalize okay for a reason, but then there's 9 million exceptions. And as you said, your firm has got almost 1,700 different clients. So I'm sure your clients completely run the spectrum. So how do you figure out these things when you've got a wide client base and some people like some of everything?
Mary Beth: So the biggest thing and the thing that I walk other advisors through as well is it's not about picking out of a hat, it's about picking who...you determine, what are the traits of the right client for you? So what are the traits of the right client for Abacus Wealth Partners? What are the traits of our right clients? The clients that we love working with, that we're passionate about, those are the right clients for us. And what questions are they asking? What are the ones that we love? The people that we love working with, what are they doing? What are they spending their time on? Yeah, we likely have a variety of different clients.
Michael: But does this really come down to like, "Well, if you don't shop at Whole Foods, you're probably not for us?"
Mary Beth: No, not at all, but there's a variety, but it helps to paint the picture. It helps to paint the picture of, okay, our clients, for the most part, are about wellness and healthy eating and healthy lifestyles. And whether it's Whole Foods or REI or whatever, we kind of have...we have an idea.
Michael: Because that's part of just the philosophy and style of your firm. You've got a founder in the Buddhist world, and just like, you've got a firm that's focused around those kinds of wellness themes?
Mary Beth: Yes. And we're focused on impact. We have a big impact focus. So understanding environmental causes, they're an underlying theme. A lot of clients want to align their money with their values. And so being able to have socially screened investments, those sort of things are valuable to our clients in different ways. Whether it's through our portfolios, separately managed accounts, the things that we can do for them, knowing that that's important to some of them is important for us to know when we're creating our content or spending our money on activities.
So we won't just necessarily write about Whole Foods, for example, but knowing the areas that our clients are interested in helps us to make strategic decisions in terms of allocating our dollars. For example, our protectors make up the bulk of our income, where our money comes from, and so if I came in and saw that, okay, most of our clients' money...most of our money is coming from retirees or pre-retirees, but all of our content on our website is being written by millennial advisors and it's targeting Gen Y or Gen X. That's probably a misalignment of what's happening. And so we need to shift and retarget that messaging. And that's where understanding those things and digging in to do some of that work is helpful because then you can make decisions. So if again, I know protectors are a big part of our income and we're hosting women's circles events, we're targeting the wrong group. So it just helps us to have that strategic lens on who are we going after? What are some topics that we can address that would make them feel more comfortable or connect to them? And then we spend our dollars there.
Michael: And you don't worry about like, does some of this alienates some of your clients who don't fit this kind of avatar stereotype that you're creating?
Mary Beth: No, because a lot of this stuff is internal, right? We're not saying, "Hey, we only work with clients who shop at Whole Foods," especially when you have a larger firm like this, but we are talking about, hey, a lot of our clients have questions of "enough," right? What's the sufficiency? What is my "enough?" Do I have enough to retire? Do I have enough to send my grandchildren to college? Do I have enough to make this grant to this foundation? Whatever those things are, that's a tying thing across our clients. So pulling these things together, looking at the questions, when you pull it all together and you have it all in front of you, you start to draw on points of similarities as well that can be very wide-reaching when you position it that way.
Michael: And so what do you end out doing with this aside from, "Hey, we're going after both builders and protectors, accumulators and retirees, so maybe all of our website articles shouldn't be about retirement. We might want to have a few for the builder types. They're still in the accumulation stage." What happens with all this stuff that's different from any and all the rest of us that are still at the end of the day trying to figure out like, "Where am I going to market and get my next new clients?"
Mary Beth: So what we do with that, so basically, what we've compiled is what's called a brand style document. What I've built for Abacus in general is we have who our avatars are, with the builders, the protectors, the changemakers. Those are our three audiences who we're going after. So with that, we've created an editorial calendar for the year. So this is the basic stuff of social media, newsletter content, blog content. So whereas we have resources and in-house staff for that, likely somebody would have spent in that area if you're talking to a solo advisor. If you're not doing it yourself, you're going to need to invest in those areas, and you need to determine what's enough for you, or a once-a-month newsletter or something of those things. So that's one way.
And then with those avatars, we have 30 different advisors, as I mentioned, and some of them are passionate about all of the areas, and some of them are passionate about one of the areas. So with that driving, with this document and this knowledge, we're able to help to coach other advisors as well. Like, "Hey, you're passionate about changemakers, here are some events that you should be attending, or where do you plan on spending your time? What actions or activities are you going to be taking from marketing, whether it's joining organizations, going to try to sit on panels for events?" Same thing with pre-retirees. So those avatars are guiding the actions of the individual advisors, and we're empowering them.
Our big message at Abacus is working with the right client for you. So if they can afford a pair of fees, they're able to save into an investment account, those are...we have pretty low standards, and so you're inspired and encouraged to work with the clients that you want to work with. And that's what this avatar document kind of does is say, "Hey, which one of these do you feel aligned with? Who are you passionate about working with?" For me, it's women, and it's women that happen to be in the builder and protector kind of age range. So I'm able to work in that space and know that those are the people that I personally would be going after, for example, if I was taking on clients, and other advisors might be different. But that's really helpful for driving the strategy with the firm.
Michael: Okay. But if you want to go and work with women business owners, because I know you did a lot of that at Workable Wealth, does that mean now we have to create a fourth avatar? And by the time you get 30 advisors, are you just going to end out with 30 of these again?
Mary Beth: No. They fall under women...online business owners fall under builders and protectors. There fall under there already because we're talking about business stuff. They have the same likes. They're into eating out, coffee, social media. They're online. They like podcasts. They value family or delegation time. There's things in both areas. And we're looking at likes, values, and questions and decisions. A lot of those sub-things fall under there, but we're able to make that emotional connection to them, right? By understanding their likes and their values and the questions and decisions they're basing, the emotional connection is what's ultimately going to get the people in the door and the butts in the seats, right?
We can talk about or I can talk about a Roth conversion any day, right? I can push out information. But if I'm talking to some woman business owner about how to figure out their "enough" so they can work less and spend more time with their family, well, that's going to hit more of a hotspot, right? And I'm going to determine if that's their need from understanding their values. I'm going to talk to that from that...I'm going to put content out about your "enough" because that's what's going to allow them to live a life that's aligned with their values. And being able to filter that information through that lens is what's going to build that emotional connection. And that's what it's ultimately about for that trust component, for any brand, you need to connect with them emotionally.
How Mary Beth Created And Implemented A Brand Style Guide [56:11]
Michael: And so then you said this is culminating in, I think you said brand guidelines, a brand style guide. So what is a brand style guide for those of us who don't have chief marketing officers?
Mary Beth: So brand style guide, and I had something similar to this for Workable Wealth as well on a smaller scale, but a brand style guide is really an internal document. I don't intend for any clients necessarily see this. But it really encompasses our story. And so it talks about our branding, basic stuff like your logo, your colors, what your mission or your vision is, so what's your purpose? Why you do what you do. What's your firm values? And I would encourage you as a firm, no matter what your size, you should know what your values are. So for Abacus, for example, it's serve others, bring genius, listen deeply and speak with care, and we enjoy. Those are filters and lenses that we have on everything and that we look for...that we look to do our work through.
And then we have a vision. So we have our vision statement, and colors. What else do we have? And then we have things like a brand portrait. And knowing the avatars and, going back to the likes, the dislikes, the things that are interesting to them. We have a look and feel for all of the imagery that goes on our website. So in terms of social media images or quotes or inspiring pieces, even the things that go on our PDFs and reports, there is a certain type of photo or feel that we want things to have that are going to resonate. That we think are going to resonate better with our target client avatar. So how do we make sure that those things are pushed out? And so we have samples of that in our brand portrait for imagery.
And then we have a brand voice. So, one of the things that I always talked about before I actually formally joined Abacus was that there's this secret Abacus. There were some really great things that they were doing internally and nobody was out there yelling about it. There's nobody talking about it or sharing. And so one of the things that I've done is taken it and kind of talked about our brand voice. And so what does that mean? When we push out content or when we're speaking publicly or when we're doing things, we speak with care. We communicate in a friendly, straightforward way. We want to be approachable. We're inclusive. So we and our clients come from diverse backgrounds and differing financial means. And so we want to make sure that everybody feels included and that we talk to them in a way that feels familiar and calming.
That we're plainspoken mentors. We want to make sure to eliminate confusion or shame around finances, and demystifying the complex. And also, the other one is our way is dry. We have a dry sense of humor. There's dry sense of humor and we have dad jokes. There's so many dad jokes at Abacus, dad and mom jokes. And we do snaps instead of claps, I learned. I didn't know that was a thing, but we snap at Abacus. We don't clap. But that's like, yeah, unique stuff that makes us unique and quirky. And so we want to make sure that is communicated through the content and messaging that we put out.
And those things take work. We putting all of this, compiling all of this into a document and being able to reflect this back to advisors and to our firm, it takes work. But even the one on the solo advisors that I do this work with, right? I have lots of peers and I'm in a study group with other advisors, this is the stuff that allows you to make an impact, right? You feel connected. You're able to better communicate what makes you unique. It definitely stands out versus just another picture of a lighthouse on a website or a happy, retired couple on a beach. We want to be able to be unique, and each of us is unique. And so I think this is the hard work because advisors are not necessarily comfortable talking about themselves and what makes them different or what makes their clients different. But doing this work is what is the driving factor behind how you actually create the plan to spend those dollars, because it will be unique to your company and your client avatar.
Michael: And it strikes me as well that just once you get a company that has multiple people working on marketing, as you said, you're chief marketing officer with a five-person team, just lots of people now are creating like marketingy things that are going out there. And unless you want to be stuck trying to design every single thing and approve every single word and every single tweet and such that goes out, part of the appeal for this kind of style guideline is like, "Here's a way we can get everyone on the same page." So we're all marketing in a similar manner without actually needing to review every single word yourself.
Mary Beth: Yeah. And the biggest thing, going back to where you spend your dollars, is consistency, right? It's little things too. Coming into Abacus, for example, I realized everybody had a different signature. That was just something that was somehow just...somehow along the way maybe it was uniform, and then, I don't know, I was getting emails from people and nobody's signature looked the same. And that's a great space in your email, right? That you can use or to link back or do different things with, that everybody had a different one. And so just that was like a basic thing that I did from day one. I'm like, "Okay, here's the new company-wide signature." So consistency in what you do. So if you start a newsletter, for example, you need to send the newsletter. Don't ask people for their email addresses and then have it get stale and don't do it for three months.
I had clients at Workable Wealth who inherited millions of dollars that came on three years after they joined my newsletter list, when they had no money. And it's the consistency of the activity. I see a lot of people concerned about the marketing spend. I would rather you spend a small amount for a long period of time than spend a large amount for a short period of time, because the payoff is in the consistency, in the brand awareness. And there's going to be...it's a long-term build there. And I think that's the biggest thing. And understanding there's things like...the audience says as much, but Facebook ads and social media advertising, those are things that you need to be very strategic on and spend a lot of money on in order to be profitable. So I would stay away from those areas and think of things that you can build and they're low-hanging fruit that's consistent. And that's a lot of what we're doing and that I'm spending money on actually at Abacus is...that we're spending it on is, what are the low-hanging fruits and easy things for us to optimize right now?
Michael: Well, and I think you make a powerful point there that it's fair to spend a small amount really consistently for a long period of time than it is to spend a large amount but only be able to do it for a short period of time. That just the nature of, I think, particularly a business like ours, where just everything we do is built around trust, and trust just doesn't get formed in an instant. It takes a while, that that consistency effect is really powerful. I know, I certainly see it even for the online client leads that we generate, it's almost eerie. It's like a form template that prospects send us because they're almost all the same. It's like, "I signed up for your mailing list several years ago, heard about you from such-and-such other website or media. Been following you for a couple of years, really like your stuff. This thing just happened in my life and now I need some financial advisor help. And I'd like to know if you can help people like me and if we can work together."
And just it's always this like, came to you randomly, followed you for a long time, never raised my hand or made a peep until this thing happens in my life. And suddenly, I have a need for a financial advisor. And now lo and behold, who do I contact? The person who's been sending me these regular emails for however many weeks or months or years, because I've been following the content and I like it. It just takes a while to get to the point where I feel a need to take action.
Mary Beth: Yeah, exactly. And the biggest thing that I've said since taking on this role is, say what you're going to do and then do that. Do what you say. The biggest thing is we want...brand awareness is also thinking about this as, it's also about your process, your financial planning process, your onboarding process. A lot of those things, that messaging, that consistency is tied together throughout. There's the marketing, what's happening out there in the world piece, but there's also understanding, what is the onboarding process like? How are your clients being welcomed in? What's your follow-up process? Do they consistently get the same thing from you every time? Because that's the best way to build referrals also, marketing, is to have a deliberate, consistent process. Because the easier you make it for a client to explain what you do, the more referrals you're going to get as well. But if you have zero process documented, you're sending them a different follow-up each time, you're pinging them haphazardly, yes, you've helped, but they're not going to necessarily be able to easily explain that to other people they want to send your way. So the best thing you can do, like onboarding, follow-ups, any templated things you can do, that's going to help you as well in terms of growth.
Michael: And so how do you decide just where or how you're allocating marketing resources when there's so much stuff and so many choices out there, and so much of it, as you're saying, is like, "Hey, we're going to spend a whole bunch of money. It's going to take a really long time to have any idea if it's working." How do you make a decision around that?
Mary Beth: So there was some low-hanging fruit. So coming into Abacus, for example, they had some stuff in place, and there were some changes that needed to be made. So we did some really easy things like, "Let's make it easier for clients to schedule or prospects to schedule meetings online." So that was one of the things that I see with a lot of larger firms as well, it's, "Send us a contact form, we'll have somebody get back in touch with you to schedule the initial call." Whereas a lot of these solo planners I see it's just booked straight through Calendly. So they had that kind of happening, but that was an easy fix, right? We just put a page up, it's our one redirect or it's our call to action now. "Go to this page, book the call, 15 minutes with our lead intake team, and they'll point you in the right direction." We have the uniform...the signature thing. We have a call to action. We had a download or an opt-in quiz on our website that didn't necessarily require people to opt in and give us their email addresses before they got results. That was an easy fix. Our newsletter is up 10% since I've joined, or since I made that...
Michael: Because now you give them a neat, little questionnaire and actually ask them to give you your email address so you can send them the results, and now you have their email address.
Mary Beth: Exactly. And we've redesigned the newsletter. So just in terms of like stuff that was already happening that are easy to adjust. So, some of the resources are going there. Like, what are some of the low-hanging fruit that we can do because we want to start to make some progress. And then we also have...since I started, we've been working on the website and our brand refresh. So the brand refresh is not a full rebrand, but we're updating colors and switching the logo around a little bit. So that's been behind the scenes. We're doing that all along with the website revamp. So the website's been in the works for the past...the launch in February next year. So I don't know how many months it's been in the works.
But those are bigger projects. And so understanding, what are the big things that are going to take time, and what are the little things, and then dividing and conquering. So whether it's you or you have a team, we've started to divvy up resources. So having a content creator has been helpful. We have a project manager. We have an admin. We have a designer. So these are all things that they come together and we strategize and kind of I drive that vision of what we're going to work on first. But I've tried to have a healthy balance of bigger, long-term projects, and what can we knock off on the in-between when we have this time? What else can we do that will help and make an impact or just build some consistency across the platform?
Michael: And ultimately, do you have a target in terms of what is "working" when it comes to marketing? Is there a target of like, "At the end of the day, we want to spend this much money to get a client or to get a certain amount of revenue?" How at the end of the day do you actually decide if you're getting a good return on your marketing spend?
Mary Beth: So I will say the KPIs are the biggest thing that we're working on, key performance...those are the things that we're trying to flush out. Like, what makes something a success and what doesn't? I think there's the, what's getting clients in the door? Is our income up? What's our growth rate? That's a big one. But it's also, I'm tracking things like Google Analytics, our newsletter, growth rate, social media presence, other things, and trying to target it. I don't necessarily...obviously, dollars is income out spend, how basic the spend is one of them. But I have not figured that out yet, to be completely honest, in terms of like what the actual goal is from the marketing efforts, because there's also sales efforts as well. And we're divvying up and trying to get clear in...marketing versus sales are two different things. And so understanding, what are the spend, and the time spent in different areas. So to answer your question, no, I don't have a complete call there yet.
How Abacus Has Formalized The Sales Process [1:09:00]
Michael: And how do you split out the marketing from the sales end? When does your stuff end and someone else's begin?
Mary Beth: So sales has recently kind of come under my umbrella as well. But I will say marketing versus sales. So marketing is what gets the public to the door, in the door, and then sales is from the door to a client, right? So the marketing is what we're doing out there general like worldly-facing things, consumer-facing, and then once they're in the door becomes sale. Once they're through lead intake, then it's on the sales department kind of side of things. The marketing stuff is going to be a lot of that content, that bigger picture stuff, and the sales is then we're getting into talking about education, referral conversations, scripting the prospect calls. Those are other things that happen there. But that's where the divide basically happens. And we're planning right now. That's more accountability focus for the advisors versus...
Michael: And I was going to say, is sales for you still at the end of the day like, whatever advisor gets to lead us to close there or whatever advisor brought the referral in or did the event or whatever it is just, "Okay, marketing supported you to get this lead but now you've got to turn into a client?"
Mary Beth: No, sales is getting more formalized and streamlined as well. So in terms of accountability, and the big thing that we're kind of shifting focus for this year at Abacus is taking the focus off of...yeah, obviously, we want the revenue growth as well, but in terms of communicating it out to the team, employees is focusing on actions and activities. So again, the unique thing about Abacus is being very values impact-focused, understanding the right kind of client and really enjoying the work that we do. So what are the actions? And knowing that our purpose, our mission is we expand what's possible with money, what actions are you doing from a sales perspective to expand what's possible? Are you out there networking? Are you really nurturing that client who's about to fall off? Are you overservicing one of our top clients so they're bringing in more of their share of wallet? Because those are different components there. So we're really shifting that focus from trying to push dollars to really pushing activities and actions that advisors can take because they're going to have a spectrum of people who excel in different areas.
Michael: And so sort of back to that...we've got the...like, what I remember from my early and somewhat painful sales training days of, you can't always measure results because sometimes it takes a while for them to average out in the first place. But you can measure your activity, you can control your activity, you can look and say...well, back then it was like, are you doing the phone calls and dialing the cold calls? But now we have some slightly kinder things to do to develop business. But that kind of stuff like, did you go to at least one networking meeting every month? Did you meet with two centers of influence every month? Did you take three prospect meetings? Those kinds of activities, and just figuring out, "Okay, as long as people are doing these activities, we're pretty sure results will come. So let's focus on these activities and go from there?"
Mary Beth: Yes, it's doing those things. And also, I think the benefit of me coming in from doing Workable Wealth is, okay, did we also...did you pitch that webinar series? Did you do the online coffee chat with somebody? Did you hold yourself out for a speaking engagement? I think that's the unique thing as well. It's not like there's a standard...the traditional stuff in our industry, the COI, the "ask for the referral," there's this element, though, that we can bring into it that a lot of advisors like myself do. All of my networking is online. One of my top referrals, I'm in San Diego, is a CPA in a completely different state that we happen to be online peers. So understanding that way of expanding how you do business as well is something that we're going to be incorporating to what we're doing also. There's ways of taking it even for a bigger firm of doing webinars and those things.
Michael: And so the other thing I was wondering about that you had just mentioned earlier, you mentioned you have a lead intake team. What is a lead intake team?
Mary Beth: Well, lead intake team is one of the...I was thinking of how to explain this to you earlier, somebody that J.D. recently explained to me. They're like...imagine like the nicest bouncer ever for a club who's like, "You know what? We would love for you to come in here. This club is probably not the best fit for you, but you know which one is the best club for you, the one down the street and around the corner. That's going to be the best club for you."
So it's kind of the lead intake team is a team of advisors, either associate advisors or lead advisors, and they do the 15-minute kind of screening call with clients. Somebody books the call. We look to learn more about them and their situation. Share a bit about Abacus and what they can...almost like, they shouldn't necessarily share our fees, but they can get an idea of what our fee structure is like. And if it's a fit for Abacus, then that lead intake person will pair them, will ping a relationship manager for one of the diamond teams they think is the best fit, and will pass, will hand off the lead then. And if the lead intake team decides that they're not a fit for Abacus, they'll point them in the right direction, give them kind of follow-up email or give them the resources they need.
Michael: So this is essentially a subset of advisors in the firm whose primary role is doing those initial screening calls with prospects and just trying to qualify the prospect, is this someone who's actually qualified to do business with us? If they are, great, we're going to move them forward in the sales process to whatever advisor sounds like they're going to be the right fit. And if they're not, we're going to kindly help refer them out to someplace that would be a better fit.
Mary Beth: Yeah. That's not their primary role, but yeah, so that's their role. There's like a team, and it's that small percentage of their job goes to that. And we have a...it's a Calendly calendar that goes to...that rotates through advisors. So depending on when somebody is booking or what time spot, they might get any one of the advisors. But the advisors also service clients. That's the primary job.
Michael: And is this something like, do you have a subset of advisors that really like doing these kinds of screening calls or is this more of a, "Who's going to do lead intake team duty this month?" And you have to rotate it around and pull people in to do these calls.
Mary Beth: Some advisors enjoy doing it and others are...it's part of our training program for associate advisors going in to lead advisors, kind of their initial year or two, they are on the lead intake team. It's part of their job description is to do lead intake calls.
Michael: Oh, and so as part of their training process, you will learn how to have conversations with prospects to qualify them to do business because you will literally have conversations with prospects and qualify them to do business. And I guess presumably with someone that helps to coach them or nudge them or give them feedback on how they did on that call.
Mary Beth: Yes. Abacus does a whole lot of role-playing, like a whole, whole lot of role-playing internally. And then you do these...you do the lead intake calls, you're in meetings. And there's a lot of back-and-forth and practice in terms of listening, speaking with care, all of that. It's very big, which is interesting. It's not like that, "Here's how you pick up the phone and make the phone call and do a cold call." It's very much of, how do you breathe in deeply? Prepare yourself to listen. It's, how do you have difficult conversations? It's very interesting. And that's one of the things that attracted me to Abacus.
Michael: Interesting. But at its core, then you really make sure that you're not spending a whole lot of time with prospects who aren't necessarily a good fit. You're just having brief calls with them, qualifying them. If they are, you'll spend more time, and if you're not, you'll graciously try to move them on somewhere else.
Mary Beth: Exactly. Yeah. And part of my coming in was rewriting a lot of those scripts for the phone call for the follow-up. So a lot of that's templated now. And it was before, but we just kind of have refined it to...more structured for the team to have a system to go off of.
Michael: And anyone who just hits the website and is interested in poking around has an opportunity to at least schedule one of these initial screening calls if they want to?
Mary Beth: Oh, yes. Yep. And that was one of the things I will say that since we've put up that Get Started page, it's been way easier to track and manage. And you can see that...I mean, the barrier is down. When you have the online scheduler, the barrier is down for people. Instead of having to do contact form, the back-and-forth, email with somebody, they can just pick a time that works for them and get on the calendar.
Michael: It's an interesting point that for all those folks that still have, even as they're contacting you about potentially doing business, a little bit of that reluctance of, "I don't necessarily want to call someone and go back and forth just trying to schedule something, and who knows if they're going to call me back quickly and all the rest." Just put it on your website and let them schedule with you. When they're ready, they'll be ready.
Mary Beth: Yeah. And it's stuff like that that... It's interesting that, again, it seems easy for...coming in from my own firm, a lot of the people who are probably listening here, it seems easy enough. But in looking at some of our competitors' websites as well, you still see a lot of the larger firms just have a contact form. There's not necessarily a really easy way to book a call.
Michael: And do you ever have issues of just like really not good fit prospects filling up your time or like bogus appointments that people don't show up for? I feel like for a lot of us, the thought of just literally putting my calendar on the internet for any human being who hit my websites to schedule with me feels a little, I don't know, awkward or nerve-wracking.
Mary Beth: No. So, being a larger firm, we have more capacity there. So there's...keeping that in mind. And then as a solo person, though, I did that as well, and I blocked off only certain days I was available for the call, and then I was very clear in the intake in terms of, okay, the data that I needed ahead a time. They could request the meeting. I needed them to fill in some data in terms of what are their assets, income level, main concern. And before I meet with them, if I didn't think they would be a fit, I wanted to let them know. I would send them an email, "Hey, thanks so much for reaching out. Here's the minimum fees. I want you to know that before we spend time together. If that's not a fit for you right now in your budget, here are some other planners to reach out to or some resources." So when you do that, you don't necessarily lose all of your time. There's ways to have a system or structure in place to where you're still only meeting and talking with the great people and providing them value and sending them along graciously if you're not a fit.
Michael: Right. Well, I think it's interesting from how you frame it as well, that just the point here is we're trying to set it up to make it easy for these folks to make a connection if they're interested. Like, don't make this harder than it needs to be for someone who actually wants to contact you about potentially doing business.
Mary Beth: Yes, the barriers. It can get very complex, especially the bigger and the larger a firm gets. So asking yourself, what barriers do you have in place? What can you easily remove? What are things that you can streamline? That's the biggest thing that I've done coming into Abacus. Or, "What are of the things that we can streamline here?"
Michael: I'm just interested in that. Like, other ways of things you streamlined or freed up? What else do even large, well-intentioned firms accidentally do do as impediments to themselves in trying to have an efficient process?
Mary Beth: So a couple of things that we've done. So we have the...okay, we have the online scheduler. We have the signatures that now link to everybody's Calendlys or the online scheduler. That didn't happen before as well. So instead of having to copy and paste your Calendly link in each time, everybody's signatures do that. We have the opt-in form that's now longer on the website and actually captures the email addresses so that we can build our newsletter list. We have updated our newsletter platform so that we can more easily manage and send out emails and track click-throughs and those things.
Michael: And out of curiosity, what were you using and what did you go to for...?
Mary Beth: I went, and so this is going to be like a <dramatic gasp> from all of the larger firms, I went from Pardot, I went to...we are using Campaign Monitor right now. So we're spending a bunch of money on Pardot. And mostly, a lot of the resources and tools we were not using at this point in time. So I went to Campaign Monitor, saved us, gosh, $5,000, $6,000 a year in making that switch. And so we're using Campaign Monitor right now. Super easy to use for our team. And until we're and as we're maximizing and building out that strategy, we may switch to a bigger one, but that's what we're using for right now.
Michael: And what led you to Campaign Monitor? I know there's MailChimp, ActiveCampaign, Constant Contact, there's all sorts of solutions out there. Why Campaign Monitor?
Mary Beth: Salesforce integration. Same cost, and Salesforce integration. So those were the two big ones without using Zapier. So there was no...it was just easy kind of streamline there. That was the move.
There was another one I was going to mention. Oh, just basic stuff like social media scheduling. There was stuff that would go out, a blog post would go out, and then a Facebook post would go out about the blog post. And now we use...the scheduler we use is called SmarterQueue. I think it's like $200 a year. And we have a content person who is...there's a system in place there. So content is done once a month, and it's scheduled out. It's done the month ahead of time. And it's batching work, and it's teaching them how to batch. Teaching my team how to batch and leading that. So that's another thing that's...stuff that we kind of know, that I know that I was doing. And same thing, blog editorial calendar, we're in the middle of planning all of our content out for 2020. We've had advisors sign up. So it's batching a lot of that work. Those are things that have streamlined. Instead of somebody writing a blog post, submitting it the week that it's due and they're having to edit it, it's all batched and done ahead of time and really much more efficient.
Michael: So what ultimately do you queue up in SmarterQueue?
Mary Beth: Those are Facebook, LinkedIn, and Twitter posts.
Michael: Okay. So just like, just sending tweets and messages out, sharing your articles.
Mary Beth: Yeah. And so what you can do in there is you actually have categories. So we can do, for example, under Facebook or LinkedIn or any other, you can do like a call to actions category. So we can batch 10 calls to action of "sign up for our newsletter," "book a call," "come to this event," "read this article." Those are things that we want people to do, actions to take, or sign up for a thing. That's call to actions. We can do inspirational posts that make you feel good, where it's just kind of like warm, fuzzy, inspiring thing. That's another category. So it allows us to be strategic, whether it's sharing blogs or podcasts. We have different things and categories that we can create content under, bash it, and then in SmarterQueue, it actually cycles through. So if you don't get in next month and reschedule a thing, it'll just keep pushing it forward. It'll recycle through the content again. So as long as it's evergreen, you're good to go.
Michael: Okay. So now out of curiosity, you're living this in a large firm environment that has all these resources and a half a million-dollar budget. You lived in solo world for many years. So which parts of this actually translate to what the average advisor can do and which parts of these are like, "These are cool things that large firms get to do that others don't because you're large and have economies of scale?"
Mary Beth: You want my honest opinion?
Michael: Yeah.
Mary Beth: I think a lot of it...a lot of it you can do. I'm taking everything that I did at Workable Wealth and I'm transferring it. The skills that I learned and taught myself through like marketing and building a business, I did that kind of avatar work for myself. I knew what my clients were asking. I know where she shops, what she liked, the things that keep her up at night. I did that work, which led me to be able to create content and a book and a podcast that's geared towards those people. I think it's very easily...that stuff is low-hanging. The content thing, for the first two or three years of business, I did my own content. And then after I got clients, I then began to invest in having somebody write.
And content, it's not always going to be great, but I recognize the consistency and being able to put yourself out there. That's the part that people are uncomfortable with, and honestly, it costs nothing. So networking, a lot of that, being present and consistent and putting yourself out there, that's free, for the most part. You don't need to spend money in those areas. And that's the part people get hung up on. Like, it's easy to like, I opened a business, and let me sit behind my desk and wait for people to show up. It's not necessarily that easy. So I do think a lot of this, especially in your first few years is transferable. And if you have like $1,000 to $2,000 a month, depending on how big you are, and I don't know what that is based on people's budget, but that's pretty low. And you can do a whole content strategy around those things, consistency. You can outsource that: blogs, social media, newsletters. That's it. And then you still have money to spend probably in like events, or you can pay for Zoom and...go ahead.
Michael: So where exactly do I spend $1,000 a month to get ongoing content consistency?
Mary Beth: So Perfectly Planned Content is great. She's a great one, the resource to use. I hope she doesn't blow up after this, but no, just kidding. She's fantastic.
Michael: So Perfectly Planned Content is a website, or I guess a person that does content?
Mary Beth: Content mark, yeah, Perfectly Planned Content. I think LMHinz Marketing is another one. I think there's a few more probably in the XY Planning community. But those are people that create content marketing strategies. They do everything. You won't get it all for $1,000, but I know that you can get 2 blogs. They have their own a la carte things. But you can outsource this stuff. But again, before you outsource, do not call these people and ask them what your goals should be, they're going to tell you the same thing I'm telling you. It's consistency. It's brand awareness. And you need to know who your avatar is. I don't know if either of them do that work with you, but you need to be clear on who your avatar is, and then you can spend the money in these areas. Don't go to them without being clear on the avatar.
Michael: And so for folks who are listening, this is episode 154. So if you go to kitces.com/154, we'll have links out to Perfectly Planned Content and some of the other tools, SmarterQueue and Campaign Monitor and such that Mary Beth has mentioned.
Mary Beth's Marketing Tips For Every Advisor [1:26:51]
Mary Beth: Yeah. And I think I do think a lot of this stuff is easy. It takes time, though. I see the resistance in a lot of people, even my study group and other peers as well. I know this is an area that excites me, and that's why I'm passionate about it. And I'm like, "You can do it." The stuff that I think is easy, it's hard for other people. I do recognize that part. But I do think there is doing that work and really hunkering down. It's the end of the year, going into 2020 and being clear on who your avatar is. And just setting activity goals, whether it's a blog, a newsletter, that's low-hanging, low-cost stuff that you can do, and committing to being consistent. Also, committing to sharing. Don't launch a podcast, not tell anybody about it and think it's going to do something. I've had that happen as well with people. So you have to be able to kind of...when you're building this thing, you have to be willing to promote it out there and to reach new audiences and get creative in those areas.
Michael: And do you have any other resources to suggest for folks that are trying to figure out this avatar thing? Because I feel like for most of us, that's probably the biggest challenge point, that just we're not used to. This is not really a...I know this is a thing in marketing world, this is rarely a thing in advisor world. How are you supposed to figure this out?
Mary Beth: I can actually probably send you a list of questions that you can very easily link to, or you just Google "How to determine client avatar" and it'll pop up there. But I can send you a list of questions that you can link to in this episode that really just help you to walk through some of those things and are questions to consider about your audience.
Michael: All right, fantastic. Yeah. So we'll have a link out for that as well. So again, this is episode 154. So if you go to kitces.com/154, we'll have a link out for how to figure out your avatar...
Mary Beth: Avatar worksheet.
Michael: And the questions to ask. So any other low-hanging fruit for what you see of advisory firms typically from a marketing perspective? What else are the things that would be pretty straightforward for us to do if we just got around to doing it?
Mary Beth: One of the books I actually had my whole team read before we dug into our website rebrand, our website refresh and brand refresh is called "StoryBrand" by Donald Miller. And it was really helpful in helping to think of ourselves as the guide and our clients as the heroes of their own stories. I think that was one of the interesting things about kind of pivoting from Workable Wealth and understanding, in this era of building personal brands, it's a lot of like, "Look at all of the things that we have done. Look at me. Look at this book. Look at this thing." Kind of like we're trying to position ourselves as the guide, but it ends up being...the story ends up being more about us versus on the client. So that's the avatar work.
And the "StoryBrand" really helps you reframing and thinking about, okay, the clients are the heroes of their own story. They're encountering problems. They're facing down this world that's complex and confusing and overwhelming. And they're feeling uncertain. And our job is to come in as the guide to really help them and to help them have spine success and a happy ending and find that peace of mind and living a life they value. And that book I think would be a great...it was a great $15, $20 investment that's been helpful. And we walked the whole team through it. The team went through it together, we read it together, and we flushed out the story. I had Brent, our CEO, read it as well, and I think it was helpful. Those are easy kind of things that you can do to start to reframe and shape things and thinking about...just marketing is really storytelling. What are some really easy stories that you can tell your clients or ways that you can make things more relatable to them? Those are some activities that I would encourage advisors to work on.
Michael: And so is there anything that you find these days that still, I don't know, the most misunderstood thing about marketing an advisory business? You've lived this now, you've lived in small firms, you're living in a large firm. What's the biggest just gap or thing that we still don't seem to understand about it?
Mary Beth: I think it just goes back to the question, and I see this across all businesses, though, marketing is a hard thing to get the ROI on, right? Like, what's the return? How do I know it's working? How do I know this thing is working and what should I spend in this area? I work with a lot of small business owners, like, "What should I spend on marketing? What should I spend on Facebook ads or whatever?" And the answer is, it's really unique to your situation and your business. And only you know if you should be...if Facebook ads are a waste of time, if you know that you should be going out to networking events, for example. So I think the misperception or misconception is that one event will create something. And it's just consistency. Nobody wants to just hear that it's just a long road, and that just it is just consistency. If you're in it for the long haul and you're building this business over years, it's okay. It's when people are in this like wanting this immediate return. And you won't get that, for the most part.
Michael: But I think the powerful point that you made is, if you're going to play this as the long game and for consistency, you don't have to try to do big, lavish marketing spends, just find a smaller spend that you can do consistently. And I guess, and take the other money that you saved and just use it to support yourself longer because this road is probably going to take longer than you'd expected.
Mary Beth: Yeah. And it goes back to like understanding your "enough," but like I said, a lot of this stuff that I'm applying here, it's being able to own and hold that space for yourself, to be disciplined enough to say, "Okay, this is like, I need to do this work, and here's the strategy I'm going to have. Here's editorial calendar." Those are all structured documents I have in place with calendars and Google Sheets and all of those things. And being able to hold yourself accountable the same way that you hold the client accountable to those things, right? That's really it. It's the discipline. Because I do believe that a lot of advisors can do these things. And I've coached a lot through it, and I've seen people that are resistant to it. But a lot of it can be taken on on your own.
Mary Beth's Advice For Newer Advisors [1:32:52]
Michael: So what advice would you give for newer advisors in particular? Like, if you were getting to start from scratch today, how would you be building it?
Mary Beth: Personally, I'm so passionate about going the online route, but I think a lot of people...one of the biggest things is just because I went the online route does not mean that that's a fit for everybody. Because I've seen advisors at Abacus who are younger than me that are closing $1 million clients. I will say that's been a really interesting reminder for me to be back in there as well. Just because something worked for me and I was passionate about it does not mean that's a fit for everybody. If you're a younger advisor, I would say make sure that you have a website that reflects who you are, but also, who your ideal client, your client avatar is that speaks to them and their issues that they're encountering. If you're talking about retirement but you're working with Gen Y, for example, might not be the best fit. You reframe that question, or vice versa too. Talking about buying a house and you're working with protectors, also not the best fit.
So I think having a great website, and also having an opt-in. You need to be able to capture emails from day one. That's the biggest thing that I see across all businesses, whether it's financial services or not, having that email opt-in a way for you to stay in front of people. Social media followers doesn't matter. You don't own those. So being able to have your own email opt-in, your ownership of those emails and a way for you to consistently communicate with the people that are interested in following your brand or your company is vital.
Michael: Yeah, I will admit, that was one of the things that struck me just as we built our own platform over the years was, I got started in like 2008, 2009, 2010, which was sort of just as social media was really showing up and gaining momentum and everyone was saying like, "This is going to change the world. This is the future. The email's going to die. We're all going to tweet at each other to communicate." And I really kind of bought into the hype at the time. And so did a lot of stuff on social media, but wasn't doing anything to build an email list, and didn't really even start adding that in until probably two or three years later, and didn't really focus on until about four years later, around like 2012. And just when I look at like our numbers and our metrics today, like, just an email outperforms engagement of like social media, Twitter tweets by like 5 to 1 on a bad day and 20 to 1 on a good day. Email still works so order of magnitude better than anything on social media.
It's kind of fascinating to me that as much as we've talked about the death of email, and we all live the challenge of email overwhelm and the sheer amount of stuff that comes in, like, you think your email's bad, it's so bad on Facebook. Facebook filters most of it for you. So it's worse there. You may not see it because they filter it, but you don't even see most of what comes through the Facebook fire hose. And Twitter, if you follow any number of people blows by so quickly. If you're not literally in front of the computer in about a ten-second window, you may miss a tweet that blows by. And just I think a lot of people don't appreciate or realize like, yes, email is overwhelming, but it's still so much less overwhelming than all of the other channels, that it actually still works unbelievably amazingly well in the modern world across all generations.
Mary Beth: Yeah. And I think, I don't know if it was in "StoryBrand," one of Donald Miller's videos, but I read somewhere, I think somebody giving you their email address is the equivalent of them giving you I think $15, or maybe it was $40, but it was basically, there's a dollar value on somebody. That's what it feels like when somebody actually trusts you enough to give you that email address. So understanding like there's still value there, and they're trusting you when they hand over their email address. And so then it's your duty to deliver consistent value to them. And that's part of like the brand awareness component.
And that's, so going back to social media, part of it, the strategy, a lot of people are like, "Oh, what's your social media strategy?" Once you understand your avatar and you create some tweets, some of it is just to be present, just to be seen there to know that you are active because people are there. There's some strategies and things you can deploy in terms of spending money on ads and boosting posts, but a lot of that, again, is building trust and credibility the same way that you would with an ad seen and feature on your website. A lot of that stuff, people just want to see...they don't want to go to your Facebook page and see you haven't posted for your business since 2016. That doesn't look good.
Michael: Well, at some point, it just kind of comes across as unprofessional.
Mary Beth: Exactly.
Michael: Like, if you went through the trouble to make a social media page and you haven't done it for a couple of years and you're willing to let that public-facing thing go to neglect, it just makes people start wondering like, "Well, if you're that prone to neglecting things, what's it like being your client?"
Mary Beth: Exactly. Same thing with your blog on your website, if you stopped blogging but they can clearly see dates on it, either go in and remove your dates from the blogs or you need to start posting, because that looks bad as well, if they can see that you haven't posted since 2017. Those are easy things to fix. I think you can easily go in and turn off your date on the post. But those are things to keep in mind is what is that perception that people are getting when they're coming to your website or coming to your public-facing profiles? And some of the goals behind it is really just maintain presence, though, there so people know you're active, and others is, for Abacus, for example, we're doing blog consolidations and SEO optimization. And I repurposing old content and wanting to freshen stuff up. There's more of a strategy behind us doing that in content creation for blogs and necessarily for us to be active on Facebook. So knowing the why behind each platform.
Michael: So that's for kind of newer advisors. So what about existing advisors? Folks that are already running their firms and they're 5, 10, 15 years in, which means we may have hit our own capacity, crossroads, got a little busy, growth is slow, we virtually all hit those points where just the business gets busy and your marketing kind of gets neglected a little bit and probably should get back around doing something. What would your primary advice be for more experienced advisors where growth is flatline? They're just trying to figure out, "How do I get this going again?"
Mary Beth: I think those are easy things. For me, I would go client advisory board, client events, COI. I would go straight. If your things are flatlined, yeah, I'd throw up a Facebook page and do some blog, but I wouldn't necessarily expect a return. That, again, would just be from staying current and showing that you're current. But if you're existing and you need to get a jumpstart on your marketing, I would be reaching out...I would be forming a client advisory board, I would be taking up COI.
Michael: So client advisory board is just, put together a group of clients and just start literally asking them like, "What else do you want from me, and how else can I reach more people like you?"
Mary Beth: Yeah. That was one of the things that...the very first firm I was at in the industry, I helped put together a client advisory board. And we would do quarterly dinners with them. We'd send out surveys. But it was very helpful in understanding what type of events should we have? What content is important to you? What are the things that you don't like? I think opening up yourself to feedback like that, as opposed to just doing like a...you can send out a Google Form, but doing that person-to-person and nurturing those relationships is super helpful. So I would go definitely some sort of small intimate event and relationship building if I was trying to jumpstart things again.
Michael: Because again, the context here is, you've already got some clients and relationships, you've already got people to build with. So you can A, ask them more about what they want from you, B, do events with them to meet more people like them, and C, get to know the centers of influence that they already have relationships with so that you can generate more referrals from them. Like, just kind of very literally, you already have a market with some clients and connections, just expand on it.
Mary Beth: Yeah, exactly. Take them out to lunch and start to deepen those relationships. And those are easy kind of referral conversations or just feedback. And listen, just listening.
Michael: So as we wrap up, this is a podcast about success, and as you may recall going through this the first time with the podcast, the definition of success changes for us sometimes ourselves over two-year time windows. So you had this run of starting a firm, sold it and merged into a larger firm. You're now wearing this new CMO hat in a large firm, so you're following these successful tracks. But just do you want to come back to that question? How do you define success for yourself at this point?
How Mary Beth Defines Success For Herself [1:41:28]
Mary Beth: Success for me, honestly, I'm at the point of...oh, so success for me, personally, I want to be present with my children. So there's being able to be around to attend events while they're growing up and spend time with them and make memories and travel. But also, I think I mentioned in the beginning, I recently set that goal of impacting 50,000 people around their finances and helping to effect change in their lives. And whether it's me personally through like the "Workable Wealth" podcast, writing another book, for me, that's success, is just being able to teach and educate and empower people around their finances, and also, being able to hang out with my family while I'm doing it.
Michael: Very cool. And so from that perspective, I guess, and I suppose that's part of the point, like, you didn't really change the success definition, you just shifted another path to get there that let you do more of the things that you want to do.
Mary Beth: Exactly. Yeah. I will say the work that I'm doing now is so creatively inspiring. I haven't been able to work on...Workable Wealth is pretty streamlined in terms of content and the things we're doing there because there's a ramp-up for Abacus, but I'm loving all of the work. I love the client work I do as well, but being able to not be bogged down by compliance and investment and operational-type stuff and to focus fully on helping to coach these advisors and the firm around marketing, it's so fun. I'm having a really fun time. And that was the whole point of this, was being able to still pursue the same goal that have more fun.
Michael: Well, very cool. Well, I'm glad it's a positive continuing path for you. I feel like we may have to check in again in two or three years and see if it's shifted again for you or...
Mary Beth: Maybe the left turn somewhere.
Michael: You never quite know how life's going to unfold, but that's...again, to me that's part of what makes it fascinating, including just how we tend to build and evolve our businesses and careers in this industry is, you never quite know sometimes where it might shift, but like, to me, part of what fascinated me to hear the news from you, Mary Beth, is just that I think a lot of us don't even allow ourselves the opportunity for it to shift and go a different direction. And I think it's really cool that you did, that you were willing to open that door for yourself and walk through it.
Mary Beth: Yeah. No, that was one of the things even being on the show again to share is I have gotten a lot of emails and feedback over the years from other advisors, younger advisors, female advisors admiring the work that I've done, and knowing that some people, that people have followed my work in the industry and being able to share and communicate that it's okay to change. It's okay to pivot your path. There's no giving up. You can make changes. It's a build...choose your own adventure, right? And so I think that's the biggest thing for me is being able to showcase that I didn't give up on a dream. I expanded my strategy for how to pursue my passion. And being able to share that openly, because I think it's important for other people to see like, okay, I left a firm, I built a firm, I went back into a firm, and I'm still standing, still okay and still happy. So it's not that earth-shattering.
Michael: I like that. Life is like a "Choose Your Own Adventure" book, because you actually do get to choose.
Mary Beth: Exactly.
Michael: Well, awesome. Thank you so much for joining us, Mary Beth on the "Financial Advisor Success" podcast.
Mary Beth: Thanks for having me, Michael. Appreciate it.