Executive Summary
If there's one thing that has remained certain in this decade of difficulty, it's the gold standard advice for retirement planning: save a healthy amount of your income, start young, invest steadily, and you'll be able to retire when you want to and enjoy the standard of living you hoped and dreamed for.
Yet the reality is that this model of retirement planning advice excellence is actually far more speculative than we have ever acknowledged, and might be better summed up as: "Save for decades, build a base, and then in the last few years, quickly double up your wealth with investment growth and retire happily." We'd never say that to our clients... yet in truth, that's exactly what we have been recommending all along!
It's one of the easiest and most basic questions in financial planning. A 20-something year old client comes in and says that she'd like to retire in 40 years with a million dollars, and wants to know how to save and invest. The advice is simple; we pull out the financial calculator, enter a "modest" growth rate of 8% for a balanced portfolio, an assumption of 40 years, a future value of $1,000,000, and press the "payment" button to solve for the amount of annual savings. The screen tells us the solution is to save about $3,600 per year, or $300 per month. Armed with this guidance, the young client goes on her merry way to a safe and successful path to retirement, comfortable in the knowledge that 40 years of diligent saving and investing will get her to her goal.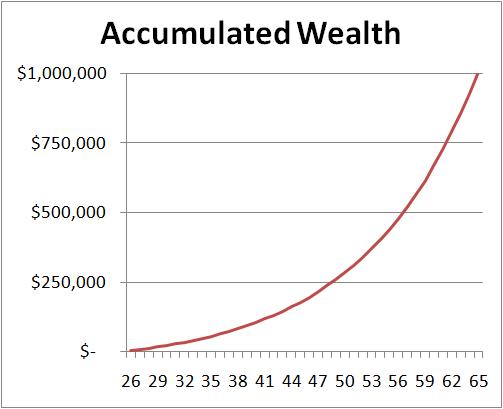 Yet in reality, what we've actually done is guide the client towards a slow steady accumulation path for the first few decades of her working career, that she must quickly double-up in the last few years to have any hope of achieving her $1,000,000 retirement savings goal on time. To understand why this is the case, here is a simple chart showing the client's accumulation over the 40 year time horizon using the basic assumptions mentioned earlier.
Compounding growth is a pretty amazing thing, and as financial planners we often extol the power of compounding over long periods of time. Yet we also forget just how powerful compounding is over short periods of time as well!
As the chart reveals, while it is true that the client has accumulated $1,000,000 by the end of the 40-year time horizon, it's notable that after 30 years, the client still has less than $450,000! And of course, at that point the impact of a marginal $300/month of savings is fairly negligible; the client will succeed because of the investment returns. With an assumption of "just" 8% in growth, the classic rule of 72 means the client will double her wealth in 9 years.
Accordingly, by this savings approach, the best way to have $1,000,000 in 40 years, is to have $500,000 in 31 years, and then quickly double your money in the last decade and retire!
No wonder many retirees are looking at their portfolios today and wondering how they'll ever be able to retire! Our advice to a client who planned to retire sometime this year was to accumulate $400,000 - $500,000 over the first 30 years of their lives, and then spend the 2000-2010 decade quickly doubling that wealth to their $1,000,000 retirement goal. Yet what happened instead? The markets delivered virtually flat returns over the decade, and dutiful ongoing savings in the final decade... of $300/month... did little to make up that half million dollar shortfall!
Where does this leave us? It means that we are probably far too reliant on compounding to work not just the way that it does, and we rely on the biggest part of the compounding curve to hit exactly when we need it - if we don't actually get that last doubling of 8% for the final 9 years, the retirement plan can be dramatically off track. In response, that means some clients might wish to save more, while others more realistically at least need to acknowledge how remarkably uncertain the actual retirement date will be when committing to a saving/accumulation plan of this nature.
So what do you think? Should we be communicating accumulation planning differently to clients, given how much our projections actually rely on tremendous accumulations from compounding in a very limited number of years at the end of a projection? Have you been unintentionally communicating "the best way to your retirement is to spend a few decades getting halfway there, then double up your money right at the end" to your clients?