Executive Summary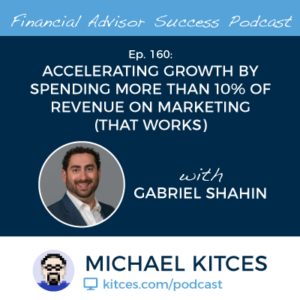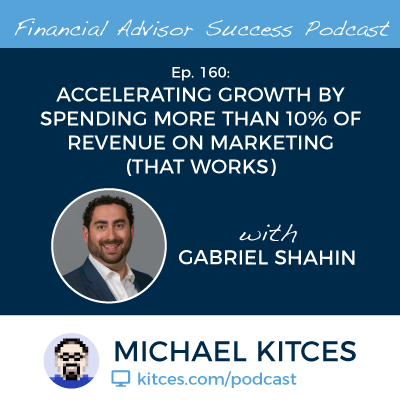 Welcome back to the 160th episode of Financial Advisor Success Podcast!
My guest on today's podcast is Gabriel Shahin. Gabriel is the founder of Falcon Wealth, an independent RIA based in the Greater Los Angeles area that oversees nearly $200 million of assets under management for 370 clients.
What's unique about Gabriel, though, is the way he's built his firm to $200 million of AUM from scratch in barely 5 years by spending proactively on marketing as much as 10% to 20% of his annual revenue, amounting to almost $30,000 per month in marketing spending this year, on which he's typically able to make back nearly double the revenue of his marketing spend in the first 12 months alone, and of course, may have a client for life for all the years thereafter.
In this episode, we talk in-depth about how Gabriel allocates his proactive marketing dollars. From spending on outsourced SEO experts and Google AdWords to various paid web listings like NAPFA, the CFP Board and SmartAsset, paying for a weekly radio show and spending as much as $8,000 per mailing for an outside firm to help him market educational classes that he uses to teach personal finance and establish a relationship with the students, some of whom eventually decide to become clients as well.
We also talk about how Gabriel handles the sales process given the number of leads he's able to generate with his proactive marketing. Why he ultimately decided to hire a standalone business development associate to respond to all the inquiries and screen them within 10 minutes of contacting the firm, how Gabriel conducts his 2-meeting sales process to deliver initial value to clients and then encourage them to work with him on an ongoing basis to implement, and how Gabriel gracefully handles the leads his marketing generates that may not have the financial wherewithal to be a good fit for his firm.
And be certain to listen to the end, where Gabriel talks about struggles of going out on his own. How we ended out racking up nearly $50,000 in credit card debt doing his initial marketing to get his first clients in the door, the way he was able to attract some clients from his prior firm without violating his non-solicit agreement, and the challenge that even as the firm scales up the revenue much faster than the take-home profits, it becomes increasingly necessary to reinvest into the infrastructure of a growing advisory firm along the way, especially when he's growing quickly.
What You'll Learn In This Podcast Episode
What Gabriel's Firm Looks Like Today And His Firm's Sales Process [07:33]
The Strategy Gabriel Uses In His Second Meeting To Sign On A New Client [31:54]
How His Lead Intake Person Screens Prospective Clients [39:03]
How Gabriel Is Making 150 Leads Appear Every Month [47:44]
What He Is Doing With The Various Marketing Channels He Employs [54:58]
Of His Various Marketing Efforts, What's Actually Bringing In New Clients? [1:06:28]
How Gabriel Determines If His Marketing Dollars Have Been Well Spent [1:32:38]
What Surprised Him The Most About Figuring Out How To Market His Advisory Business [1:40:49]
What He Knows Now That He Wishes He Had Known When He Launched His Advisory Business [1:54:36]
Resources Featured In This Episode:
Never miss a Financial Advisor Success podcast episode! Get notified of the latest episodes (and all our research as it's released!) directly via email:
Full Transcript:
Michael: Welcome, Gabriel Shahin, to the "Financial Advisor Success" podcast.
Gabriel: Thank you, Michael. Excited to be here.
Michael: I'm really excited about today's podcast episode and a chance to talk a bit about marketing. We just actually put out on the Kitces platform a big research study around advisor marketing. Surveyed almost 1,000 advisors and asked, "What do you actually do? Where do you spend your time and where do you spend your dollars on marketing and what works and what doesn't work?" We had done it in part because I've always had this frustration in our advisor world that on the one hand, almost every study says the number one way that advisors grow is through client referrals. And that most advisors spend no more than 1% to 2% of their revenue on marketing.
And I had always looked at that and said, well, so is that because client referrals are such an amazing marketing strategy and they're so cost-effective that you don't have to spend money on everything else? Or is it because, as advisors, we can't figure out what to do for marketing purposes that we just don't spend any money, and so, of course, all of our clients come from referrals, because that's all you would have if you didn't spend any money on marketing? That's kind of the only passive flow that's left.
So we've been trying to delve deeper and understand what do advisors actually do that works when they want to spend some money on marketing if they've got some dollars to put towards it? I know you have spent a lot of time and effort and outright dollars just in the marketing world of trying to grow and market your firm. So I'm excited to talk today about lessons learned in advisor marketing. Like, when you're actually ready to spend some money, what the heck do you do with it to make some clients show up?
Gabriel: It's a great question, and it's different per advisor. What works for one advisor may not work for another, depending on what their personal skill sets are or what their firm skill sets are. And for us being fee-only, we do highlight heavily the fee-only, non-commission, fiduciary kind of focus, those buzzwords. But also, where it goes kind of per advisor, per person is we do a lot through classes. And we teach, where we self-market the classes, where we hire external firms like FMT. So we're spending a very healthy amount right now on marketing. I kind of always envisioned us spending about 10% to 20% of our firm's gross revenue on marketing. That was kind of... in a perfect world to be 25%. But as you grow, that becomes harder, because whether we double in size, certain expenses are going to be fixed. So we're in this purgatory-like state where this is kind of the toughest at Falcon Wealth Planning, just by our mere size. And that can be difficult for a marketing budget.
Michael: So that was quite a number just that you threw out there in kicking off. Most advisory firms, if we look at the industry benchmarking studies, spend 1% to 2% of their revenue on marketing-related activities. So if you've got a half a million-dollar practice, you're spending $5,000 to $10,000 a year. If you've got a $2 million practice, maybe you're spending $20,000 to $40,000 a year, which at that point is like one really nice client appreciation event and probably a bunch of lunches with clients and maybe some attorneys and accountants. That level of dollars goes pretty quickly. And you're talking about literally an order of magnitude higher - take that 1% to 2% of revenue on marketing and add a zero.
Gabriel: It's funny, there was a point in time we would get a client or revenue or something would kick in and be like, "Okay, great, let's double our Google budget." They would just kind of look at me like, "What are you talking about? Just calm down. Let's enjoy part of this money. Let's have some...be more in the green than before." But in my brain, I look at it as we would have never received this client if it wasn't for this marketing budget. So technically, those dollars, we've already built our forecast without that revenue coming in from that marketing source. And so for me, it's like, just give it all back to marketing. And so obviously, things have changed since then. We have to be a little bit more mindful and thoughtful on when revenue comes into the firm. But at the same time, we are very committed to marketing.
Michael: Paint us a little bit of a picture, I think first just of the firm and kind of the size and what it looks like today, and then I want to understand sort of how that translates into marketing, marketing dollars, marketing strategies. So tell us about the advisory firm as it exists today.
What Gabriel's Firm Looks Like Today And His Firm's Sales Process [07:33]
Gabriel: Yeah. We are a fee-only financial planning firm with a heavy focus on tax planning. We have a staff of about 11 people. We have $200 million in management. We hit that earlier this month. We started on March 5th of 2015. So we are about four years, almost five years this upcoming March. And we have...advisory-wise, we have, I guess we can say two and a half advisors, including myself. The half is not a CFP, sits for the CFP in March. So right now he does kind of the prescreening, information gathering for all of our firsts that we do. And then the CFPs will give all the recommendations.
Then we have planning and the same gentleman is part of that planning. There are three people there, two people for operations, not including our chief compliance officer. We have our CPA who helps with the planning but also now does client taxes through a separate entity that we have. Then we have help for him along with ongoing market-...oh, yeah, with ongoing operations and marketing. And then we just recently hired somebody about maybe a month ago now. All he does is outbound calls to all our marketing channels. Because we are getting about 150 leads a month, and the problem with that is if they don't pick it up. We do a lot of front-end calls, and we'll reach out to them the next month. And that could be the aggressive compounding effect when you just have a six-month trickle on them. And eventually, they'll get moved over to an email drip.
Michael: So I just want to make sure I captured this because this is interesting from an organizational structure end. So 11 people, there's you and another lead advisor, and then a half-person that's doing some support, non-CFP, moving that direction. So those three in planning...those are the three in planning and you have three more that do planning support staff behind the scenes.
Gabriel: Yeah, we have three more that work really heavily in eMoney, building our eMoney platform, helping clients. So we use a lot of eMoney. It's not just, "Hey, you have enough for retirement." We use it heavily for tax planning and just kind of showing our recommendations of what's good, what's not good. And then we...what else do we do? We deliver the plans. They help go over the plans. There's a lot of intricacies that goes in.
Michael: Interesting. So I'm going to presume then with sort of two to two and a half advisors in this lead client-facing position and three people in planning support, the advisor's role is kind of really just like, you are in the client-facing meeting staff and not much else because you've got three other people who are handling everything else that happens outside of that client meeting?
Gabriel: Yes. Kind of from my background, a lot of the stress was put on the advisor to build everything, to prepare for the meetings. With us, we literally go from one meeting to another. We just walk up, grab their file, go grab the client and go sit down. So we're doing probably, a light day would probably be four to five meetings a day. And there are times where it's seven to eight meetings; that's not what we want. That's way too many meetings. But at the same time, we're just grabbing that file and we're walking into a meeting. So it's really nice.
Michael: And so then two people in operations get the paperwork done, keep the wheels on the bus, a chief compliance officer, your CPA that's doing tax work for clients, and then a person I guess just to do like all the bird-dogging and follow up on. If you're going to do a whole bunch of marketing and you're going to make the phone ring with a whole bunch of leads, like, someone has to respond to them. And it's not necessarily the most cost-effective thing for the most senior lead advisor to spend all of their time screening prospects.
Gabriel: Right. Before that, we had somebody else doing it, the person that was doing the first just information gathering, and then we realized that he just doesn't have enough time. And there were a lot of leads... every day he would come in not only having 3 to 4 phone calls to do, not every day, there were days he had 5, there were days he had none, but he would also have maybe 100 tasks to do in addition to that. And that's just not possible. It just came to a point of, "We need to hire someone." And thank God we did, because the guy we got is an absolute stud.
Michael: So help me understand how this marketing and sales process works. And we'll get more in a few minutes into what you're doing for marketing to make the phone ring and make these leads appear. But I just want to talk about the leads end for a moment. Because I think for most of us in traditional advisor world, if we get a lead, client referred me, accountant called and said, "Hey, you should check this person out," or maybe like, God bless, someone actually used that contact form on the website and said, "I heard about your firm and I would like to talk to someone."
I think that the natural style for almost all of us in the advisor world is like, "Oh, my God, I got a prospect." The lead advisor takes that. The founder often takes that. Like, this is a sales opportunity, you put your best person who powers the growth of the firm and business development on that call from moment one to try to get them going because the client wanted to reach you and speak to you.
So it sounds like you don't do that. There's another person involved who's talking to them and gathering information and doing other things before it even gets to you. So help me understand, what does this person do and once someone shows up as a lead, what is the process about how they move through a sales experience with you?
Gabriel: Yeah, that's a good question, and that's ever-evolving as well because some of them will demand me. But the way we structured the firm, we tried to be very smart about it. It's not Gabriel Wealth Management, it's Falcon Wealth Management. And everybody knows Falcon. I remember from Churchill, the market-timing firm, Fred Fern, I remember hearing him one day, he said...he got interviewed, "Why did you name it Churchill?" He's like, "Well, nobody knows Fred Fern." And that just made sense to me. Yeah, nobody knows Gabriel. Let's make it Falcon. Everybody knows what that is. It's like the bird. But in regards to the process... So we're trying to separate that. My kind of companies, I'm a principal. I'm not the president, CEO, founder, owner. I'm a principal of the firm.
And so the process is, is right when we get a lead, our business development person will pick up the phone and call. And setting the proper expectation is huge. And so everybody here works as equals. Gabriel is the owner of the company. We have other people that act just like him. It's one voice. It's not like you go to a Merrill Lynch or Morgan Stanley and you have five advisors, and they could arguably give you five different pieces of advice. Here it's the same process with every advisor, the same form of advice.
My goal is to review every single thing that comes through here. So I know each situation of the client and will give recommendations as needed. So they do say I get involved. And on the larger pieces, I will come in on what we call the second meeting, which is the meeting where we have them sign up for planning. And then from there, I might come in for another meeting. And I do give them my information, depending on the size of the client, if they need me to reach out at any time. So I'm involved, but I cannot service them. And that's been made very clear from the beginning.
Michael: So help me understand how this follow-up works. Like, I go to the Falcon Wealth website and I use the "contact us" or "do your free assessment." I show up as a lead. I've sent you my information. So what happens next from the prospect's end? Who's going to call me? When are they going to call me? I guess, are they even going to call me or email me? What happens next once I have given my information to Falcon and unleash the dogs on me?
Gabriel: Yeah. Great. So let's just say we get a lead between 10 a.m. to 1 p.m. What we'll do is we'll call them instantly.
Michael: All right, first of all, I just want to point out the fact that you have precision down to the time of when the lead comes in has already distinguished what we're talking about here from just about everybody else, which is like, "If a lead comes in this week, here's what we do." You are down to, "If the lead comes in between 10 and 1". So, okay, keep going. We're down to time-specific windows.
Gabriel: Right. Because if a lead comes in at 5 p.m., you can't do a second follow-up call the same day. So there are there...everything has a process here. A process-oriented firm was very important to scale. So if they do not pick up, we do not leave a voicemail. And then on the second go-around...
Michael: Right. So, I submit my information. Oh, I guess we're presuming I gave you a phone number in addition to an email address. So, the first thing that happens is someone does a follow-up call basically immediately because you actually have a person who's there all the time and this is their only job. So they can do it immediately. So the moment a digital lead or I guess any lead comes in, someone's on the phone on the same day, maybe even in the same hour to say, "Hey, saw you submitted your information. I'm Joe from Falcon Wealth and I'm following up on your inquiry."
Gabriel: And I'll go as far as saying within 10 minutes. I would actually be annoyed if it's after 10 minutes. So there's a lot of...
Michael: Why? That's a hell of a high bar. I think a lot of us are like, I'm proud...like, our goal for good service is we always return client phone calls within 24 hours. And I think for a lot of firms, that is good service. So a lot of us live in an "I'm going to respond in the next day" world. You are bothered if it takes 11 minutes. So help me understand what's going on here.
Gabriel: I just feel from, number one, experience, because, strike the iron while it's hot. And obviously, it was on their mind to go out of their way to make a request. And number two, I think it's Harvard Business has this fancy chart that talks about if you contact them within, I think it is 10 minutes or within an hour, within a day, just the time percentage of not only contact but I guess close, if that's a better word, really significantly reduces. Then it goes out two days, three days, a week, a month. So really just striking the iron while it's hot is very, very important. And it just shows that we're proactive. And it's not the advisor calling; I think it's different if it's an advisor calling. It's like, "Wow, this guy has nothing to do? What is he? He's just that hungry? I don't want to work with someone who's just starving and needs me as a client more than anything." No, we have someone that's their full-time job.
Michael: That's an interesting point, right? Like, if I submit an inquiry to a firm and the founder calls me back in eight minutes, I'm kind of wondering like, "Hey, appreciate the quick turnaround, but like, really, you didn't have any other clients to be talking to? You were just kind of hanging out by the internet waiting to see what comes in?" Whereas, "Thank you for your inquiry to Falcon Wealth. I'm Joe from Falcon. I'm just following up on your inquiry." And now it's like, "Oh, this is a normal thing for them. They have a process. There's a person who does this. They apparently are serious about proactive and timely communications, since they're getting back to me right away." It's an interesting point. It has a very different connotation when there's a team member that follows up promptly as opposed to the advisor following up immediately.
Gabriel: I agree. It's all about perspective. If somebody does call me, we make it very clear as a firm just as a process if somebody else can help them. And even...I don't want to say even if I'm free I won't, because obviously, each situation is different, but there are times I will...
Michael: Especially like, "I have $20 million because I just sold my business and I really want to talk to Gabriel." Like, "All right, I might do that call."
Gabriel: Yeah, "Hold please." And literally, that's probably not too far off from that. So there are people where they do want to talk to me. Because in the beginning, it was just me. I was the only advisor for two years and all people know is me, and whether it's from the radio, whether it's from teaching the class. So that was hard. It still is kind of hard. But I think as we moved into our new building, as they see our name on the building, as they just see staff walking through the halls left and right, they're realizing very quickly, even with some of the clients to this day that I meet with when I'm kind of handing them off, they're realizing we are growing on a larger scale.
Michael: So when this person calls, who do they say they are and what is the purpose and focus of that call? Like, "I'm calling to follow up on your inquiry and see what you really wanted? I'm actually following up to..." Probably you're not actually going to say this, "I'm following up because I'm actually here to sell you and close you?" "I'm following up because I'm just trying to screen you and see if you're actually a good prospect for us?" What's the context of this follow-up call and how is this person explaining themselves to the prospect?
Gabriel: Yeah, I think it's nice because it's not really a cold call. They're reaching out to us. And so why did you reach out? Tell me, what motivated you to call from the radio? What motivated you to click through our website? What motivated you to go through this SEO? However it is. We have many different ways. Click on that Facebook lead. What motivated you? And just starting that dialogue. And then from there, the person who's calling, that's literally their job, is to set the expectation, "It's my job to see if we can help you by sitting with the financial advisor, a Certified Financial Planner."
Michael: So it's interesting. "So it's my job to help figure out if you would be well-served by sitting down with one of our financial advisors." That's kind of the way it's scripted for them?
Gabriel: Without question. Yeah. It's all about, "Does it make sense for us to help you?" It's a joint interview. They have to make sure they like us, we have to make sure we like them.
Michael: So that's interesting. I'm just thinking of it from sort of the positioning perspective, right? It's very clear now like, "The person who's calling you is not the one you're going to work with, right? I'm calling to figure out if it would benefit you to sit with one of our CFPs, one of our financial advisors, right? Parentheses, clearly not me. That's not my role in this process." And so it's just getting set up with them that, "I'm here to facilitate your journey," which, politely stated is, "I'm not calling you because you're going to work with me, I'm calling you to try to figure out if this is a good fit for you and for our firm."
Gabriel: Yeah. And I say that also when I close every class that I teach. One of our colleagues will call to set an appointment. And I'm very forward with it. If you want it, say yes. If you don't, please put no. Say no. I don't want anybody calling you to set an appointment. So it's always about expectation setting.
Michael: And so how does the person who's following up introduce and explain themselves? "I'm Joe and I'm the business development associate here at Falcon Wealth"? Do they actually say they're a salesperson? How does that work?
Gabriel: They don't. They don't. So, "Hi, I'm Michael from Falcon Wealth Planning, just calling to follow up on your inquiry that you had." Done. And so associate at Falcon Wealth is the key.
Michael: Okay, I'm an associate with Falcon Wealth and I'm following up. It's interesting to me that for so many of us in advisor world, it is just so natural and automatic, of course, that the advisor follow up on the inquiry when the inquiry comes in to you and your firm, and you don't. It's clearly not slowing you down, or at least if it is, you're more than making up for it. So, help me think through, are we just all stuck in our heads thinking that we have to be the ones that do the follow-up when the reality is like, no, no you really don't?
Gabriel: I would say just from my experience, the answer is yes. And here's why. I think one of the best pieces of advice that I received when I was starting the firm when I was going through my custodian; they said there were four major parts where people get stuck as a firm. They said at $50 million because, at that point, it's a 1-man shop, $100 million because, at that point, you need other people to help you grow. So you're going to have to start relying on other people. Then they said something around $250 million to $500 million, because, at that point, you have to create infrastructure. And then they said the final one is $1 billion to $2 billion, around there. Because at that point, you need mid-level management, you need other people involved to really help steer this shift.
And it hit me, that's really where I think people get stuck, at $100 million, because you can't...if you market properly, if your goal is to spend money in marketing and to get an aggressive amount of leads, you can't make every phone call. And you don't want to make every phone call, because you can't be the advisor that services them. You're going to have to have another advisor involved in that. You're going to have other people to process and help with the paperwork. It's just extremely difficult to do. So I believe the process that we have today is very similar to a process that people have north of $1 billion. And that's my assumption. And I bet you, if we asked a bunch of people, that'd be pretty accurate.
Michael: And I guess this dynamic of like, if you want the client to work with you, or me; if I want the client to work with me, I have to do the call with the client because I have to start establishing the relationship with the client so that they'll like me and trust me and want to work with me and hire me. That's just not true? I don't actually need to be on that call for the client to trust me enough to decide to work with me after all?
Gabriel: Everything is situational, but if they're demanding me, I will be in the second meeting. But I'll make it very clear from the beginning, you can call me - depending on the situation, of course - you can call me for anything. I'll be as involved as you want. If you want me in a meeting, it's easily done. But everybody here has the same level of training, our same process, and will deliver the same message. So I can be involved, but it's not really necessary. If they absolutely demand it, this part might sound funny, I'll literally tell them I will charge them a higher fee. And I will double the fee. If they want to work with me, I will double it. And there's just no reason you're taking up a more vital person's time.
Michael: And then at that point, they just...they make the call? Either they say like, "Oh, okay, I get it. I'll just take the usual person for the usual fee." Or if they're that obsessed with you, then at least it's going to be a profitable client for your time, because you double the fee for your time and limited bandwidth.
Gabriel: And I'm honest with them in a sense where they're reading indirectly, I don't want to work with them on a daily basis.
Michael: Yeah, you would hope so. At that point, you kind of say it two or three times and then tell them if they still want you it's double, you would hope most people kind of get the message.
Gabriel: Well, we haven't had it happen yet. So nobody has ever accepted the double. And I make it very clear, "This advisor is going to offer the same message." I really beat them over the head. And then at the very end, if I feel even they're still wanting to work with me, I say, "Listen, I'm just trying to save you money and get the same experience. My additional concern is that there's going to be times I'm going to have to reschedule this appointment." And I actually do that for a lot of clients, where I just have to reschedule. And that's then, number one, an easy way to transition them to a new advisor, and number two, still setting the expectation where you know what? A new advisor will get brought into the picture still.
Michael: So to me, the other thing about the sales process is just literally like, so from the advisors end, I think there's this feeling of, if I'm going to get the client to trust me and want to work with me, I have to be in that sales meeting in order to do it. And we, I think just by default, put ourselves in that meeting.
I feel like there's also sort of a similar but reverse argument of how anybody else can sell me as effectively as me? How does a salesperson associate at Falcon Wealth following up on your inquiry, how do they sell financial advisors of the firm when it's not them? That feels like a hard sales process. But again, maybe that's just us advisors stuck in our head about how we're used to doing things.
How does that pitch work when the person is saying like, "All of our advisors are great, but you can't actually talk to any of them, you're talking to me?" Obviously, you don't put it that way, right? But if the prospect has called any other firm, they're probably getting the advisor who would work with them. So there is kind of a standout distinction here. How does this person sort of sell and close financial planning, the value of the great financial advisors at Falcon Wealth when they're not one?
Gabriel: Yeah. So the initial phone call is just to set the appointment. We make sure to set the appointment. I think the toughest thing for us to get over was, once we set that first meeting, the non-CFP is still the one calling them. And we set that expectation for information gathering. All that person is going to do is gather information. So there's going to be no discussion of advice. There's going to be no discussion of anything outside of getting to know you. And that was really just to leverage the advisors just because of how busy we are. Yeah.
Michael: So let me just make sure I understand. So the goal of the call is just, "I'm following up on your inquiry. I want to understand why you reached out to us. Just in the first place, what brought you to us, and I'd like to schedule a time to sit down and get more information about your situation." The goal of the call is just to close for a follow-up appointment.
Gabriel: Bingo. That's what the first one is. Yeah.
Michael: And then the follow-up appointment, is this now another phone call thing or would this typically be in person, someone's coming in the office at this point?
Gabriel: Great question. The answer depends on where the lead is coming from. So if it's from our online or certain radio leads, it will be a phone-first meeting, which is a phone information-gathering meeting. If it's from certain SEO searches that really target 500 and up or anybody who comes to my classes, there will be a first meeting in person.
Michael: Okay. And so this first meeting, the focus is gathering information. So who's in this meeting now? Is this still a business development associate person or is an advisor in the meeting or is it both, a business development associate and an advisor in the meeting?
Gabriel: Yeah, great question. The business development person is done after that phone closes, after it hangs up. So they're no longer involved.
Michael: If they have closed for an appointment, they're done. Okay.
Gabriel: Correct. Yeah. And then from there, the phone call is set up either for the other financial advisor that would call and do the information gathering, or if it's from the other channels, whether it's referrals, classes, whatnot, that will be in person. And our goal of the first meeting, always the first meeting, not the first call from the business development person, but from the first meeting is to get a second meeting. And that's just always the goal. It always has been, always will be, to get the second meeting.
Then from there, that's where we will take our personal questionnaire. I like to review all of them. I want to see every single one of them that comes through because I'm going to talk to the advisor. I can tell by looking at it in 15 seconds what we would recommend, and I just want to see me and the advisors are on the same page. And luckily, we are most of the time. But if it's complicated, whether it's a business owner or just a heavy tax analysis or real estate, then I actually invite myself in on the second meeting.
Michael: Okay. And the idea is the second meeting will ultimately be where we're going to ask for their business.
The Strategy Gabriel Uses In His Second Meeting To Sign On A New Client [31:54]
Gabriel: Exactly. That's where we're going to present them everything. We'll give them everything. It's kind of funny, we don't withhold anything. We tell them everything they need to do. And the psychology behind it is, "This is what you need to do, Michael. This is your account, you have to do this. Then you have to do that." Everything is you, you, you. And you can kind of see by how they react, their body language. The way they say, "Why do you keep saying you, you mean us?" Kind of ask questions, the answers too. But we give them everything they need to do. And I think kind of the mantra of the firm is planning made simple. I think the irony behind that is there's...it's not as simple as people may think it is.
Michael: Interesting. And so the framing is like, "I'm just going to tell you all the stuff that you need to do." At some point, you'll get either two people, the do-it-yourselfers who will say, "Awesome" and take it and do it, which is fine because they probably weren't going to hire you anyway, or the people who at the end of the day, really do want to delegate and want help. And when you tell them all the stuff they need to do, the conversation pretty quickly comes back to, "Well, can you help me do all this?"
Gabriel: That's exactly right. It's funny because the majority of our...not a majority, but our niche client is actually engineers, which are historically DIYers. And it's funny when you go so intricate and you're just so honest and you give them absolutely everything for them to implement on their own, it's just funny how well that works. And when you have a simple conversation on Social Security and you go over maybe 2 to 4 strategies that they can maybe take into consideration, they start realizing something as simple as Social Security or retiring before 62 with no Social Security or medical insurance. There's a lot more than just managing money.
Michael: So help me understand what this looks like from a planning process perspective. Because the point you're making, that, "We're going to tell them all the stuff to do" - does that mean I've basically done a full financial plan between the personal questionnaire and meeting one and essentially presenting recommendations in meeting two while they're still a prospect, anticipating and hoping that when they realize how much stuff there is to do, they're going to say, "Hey, can you help me?" And you're going to say yes and you get them as a client to help them with the implementation? Like, are you doing a whole upfront financial planning process between meeting one and meeting two to get to these recommendations or are these more high-level recommendations and you say, "We're going to drill down further after you come on board?" How much planning advice stuff is going on across these first two meetings?
Gabriel: Yeah, great question. So we do not deliver an eMoney plan to them at this second meeting. Everything is through just an assessment process that shows them where they are today, which is taking a look at their assets, how retirement looks like. So it tells them how much they're currently spending and which type of income sources are coming in. And then we see the deficit, and then we talk about how to bridge the deficit. And so we'll try to take a stab at it of kind of a high-level. I say originally, 30,000-foot view, we're going to try to fly down to 10,000-foot throughout the assessment process. And if you hire us, that's where we dig in the weeds.
And then we talk about taxes. So with every client, we have the tax conversation. It helps having a tax focus. I feel that's where we get them. So we could be making recommendations like Roth conversions. We could be making recommendations like switching the entity type of your business, talking about salary, especially with the QBI, the new deductions. So there are a lot of things that we could be discussing. And we'll tell them right then and there. Real estate strategies.
So we'll tell them everything right then and there. And it's really a notepad. Our magic sauce, our fancy brochure, our glossy brochure is a notepad and a pen. And we just explain through writing and drawing and telling them, "This is how it works." And it's worked for us. It's very personal. It's very intimate. And they can take the..."Here, you want to take these notes?" They'll understand it. It's a lot of scribble at the end of it if you looked at it not understanding the context. But they appreciate just the upfront honesty of everything. So we have kind of an assessment. And we do a Morningstar analysis of their holdings in addition to that with investments and estate planning insurance. And then from there, they make the decision.
Michael: Interesting. And I get it on the tax side in particular that tax is certainly an area where if the people don't necessarily already have a lot of depth and knowledge in it, and most consumers don't by default, "Hey, we see a great opportunity here for you to do ongoing partial Roth conversions and fill up your low tax brackets every year, which will vary depending on how much you had in mutual fund distributions, other retirement account distributions, whatever you need to spend and the timing of your Social Security." And like, I just told you literally what we're going to do, and nobody can figure out how to do that on their own.
Gabriel: Well said. That's the truth of it. And I think just explaining it to them. We actually will not take on a client unless they show us their tax returns. And we feel, hey, we're a financial advisor, financial planner, we're not...a lot of people say they're financial professionals, like, have you even looked at their tax returns? How do you call yourself a financial anything if you don't even know the most important piece of their financial situation, which is their tax return? You could purposely sell something and not pay any capital gains. Come on. So for us, it's a very key part. And then we just walk them through their tax return. We actually do spend about five minutes to walk them and explain to them how their tax return works.
Michael: So take me back a moment, now that I understand a little bit more of kind of what the sales process is like. As the advisors, you are in there to ultimately do, we'll call it like the sale, like close the client and get them on board. The business development person just sits a little bit earlier in the process in trying to convert leads that sometimes need proactive and frequent and certainly timely follow-up that may be hard to do when you're an advisor with a lot of other duties and get them from a stranger who made an inquiry to person who shows up for a meeting. And then once they've shown up for a meeting, now this is sort of the handoff to the full-on advisor, takes it to the close process.
So going back for a moment to that first call, you had said, as you frame it, they sort of have two jobs, help figure out if this person is a good fit for an advisor or the firm? i.e., are they a good client for you? And then move them forward in the process. So get them to set the first appointment. So how much screening activity happens? What kinds of questions or conversations is this business development person supposed to have in trying to vet, "Is this person a good client for us," and how deep do they go in trying to figure that out and make that call?
How His Lead Intake Person Screens Prospective Clients [39:03]
Gabriel: Yeah, for clients and prospects, you'd be surprised when you ask them a simple question, "What motivated you to inquire, to work with a financial advisor?" You'd be surprised how much they'll divulge. And I think one or two follow-up questions on top of that. People like talking about themselves. At the end of the day, people like talking about themselves, business owners, people in general. Because we end up leaving that first meeting knowing more about them arguably than anybody else in the world.
That's how in-depth our questionnaire process is. So there are some good screening questions, some good open-ended questions to kind of just get an idea of...we try to categorize it. People are calling for a reason. We want to know what the reason is. There is a life-triggering event. Whatever the reason is, whether it's a death, a divorce, an inheritance, retirement, something has happened, why they're calling. And once we figure out what that is and we just uncover a little bit more about what stage in life they are in. Okay, well, if they're in their 30s, they're not retiring anytime soon, versus somebody who's in their 60s. We can uncover a lot by just grouping them in certain, I guess situations.
Michael: And so then is there just a series of scripted questions? This person has 20 interesting probing questions you might ask. And if the prospect says this, says they're approaching retirement in their late 50s, you're going to ask this group of questions next. And if the person says they're a 30-something who just had a kid and is freaking out about starting a new job while they've got a new child, like we have a whole other set of questions that we ask and probe on that end because those are different kinds of financial issues?
Gabriel: Yeah, similar to that. I would say it's more, hey, these are...kind of bullet points. These are the things that might come up, such as a 30-year-old saving for a house, 529 plans. There'll be something that's on their mind. So we might ask, "Oh, you have any kids?" Yay or nay. If it's a no, "Okay, do you plan on having any kids? Okay, is that any part of the planning that you wanted help with?" So it's more just a list of bullet points and leaving that up to the business development person. It's a little less descriptive. This person is very skilled, that we have. He's been probably making calls for 30 years. So probably if it wasn't him. We did have kind of scripts before. But really, it was three to five questions before and set the appointment. That's kind of what it was.
Michael: And to what extent are they just kind of trying to queue up to get the prospect talking so you understand their situation better and the prospect will come out feeling good because we like talking about ourselves versus actual screening? Does the business development person have the authority to hear someone's situation and be like, "Ah, this is really not going to be a good fit? I'm not even going to try to close for the appointment at this point. We're just going to move them on or refer them out to someone else." Do they make that call or do you make that call later? How much actual screening and vetting happens at this stage?
Gabriel: Yeah, that's a good question. There are probably a handful of situations where he asks for a callback, "Hey, you know what? Can I call you back?" We had a recent situation where somebody was a veteran that really just had a question about his VA benefits. And he was...unfortunately, he was just not in a good situation. So we kind of just did a little five-minute powwow, hey...we went to our other advisor to have him give him a call. And he just did maybe a 15 to 20-minute call. We call it our good deed of the day. That's kind of what we coined it at our firm. And let's just help them. It's no benefit to Falcon Wealth at all, it's all about them. We never want to lose that. We honestly feel we could just help everyone. And I feel good guys. One way, I think if you selflessly help everybody in a weird way, it could selfishly benefit you later. So we do try to help. So we might not bring them in. We might not go through the whole process. We could probably just fix that on the phone right then and there.
Michael: Well, and you make an interesting point that I think for a lot of us, we get into financial advising because we're helper types. Like, I want to help people and give them advice. That's why you get an advice job. And it's often really hard, I think, for a lot of us to say no to people who clearly need help but just don't have the money, the dollars, the financial wherewithal to meet our minimums or pay us as usual. So we make exceptions and give discounts and try to come up with other workarounds because it hurts or it's hard to say no.
I think just it's an interesting way that you've reframed it to recognize like, yes, we're absolutely still going to help this person. No, we're not going to do multi-hours of meetings and the full process. If we know some things to do to help them, we will do some things to help them in a call, give them everything you got over 15 to 20 minutes, and then call it your good deed of the day, and then move on. You don't have to gum up the rest of the capacity of the business taking clients who aren't a good fit, but you don't have to feel bad about saying no. Like, do everything you can to help them right there on the spot in that call, in the limited amount of time, but then call it your good deed of the day and move on.
Gabriel: Yeah. And it does something to your confidence too, where you can look people in the eye and say you help everybody. And you mean it. You can't fake sincerity. There's something with your confidence level that will happen just over time as an individual and as a professional when you truly know, when people are just, "Thank you so much. You don't know how much this means. This changed my life." These are impactful things here that you can't teach. That's what the experience bucket, where it goes.
Michael: Well, I think there is an interesting effect that comes from that that I know for some advisors, particularly at firms that do have substantial minimums, there's a real challenge of trying to figure out how to market when you are not necessarily in a business development setting, you're at a social cocktail hour but someone starts talking business and you're trying to figure out if they meet your minimums and qualify and it's not really appropriate at this cocktail meeting to say like, "By the way, what are your current net investable assets outside of your 401(k) plan and your primary residence?" And so you have to navigate that awkward dynamic.
Whereas if you have a structure like this in place where you can genuinely say, "Well, we help everyone. Just call the office and schedule a time and we'll see what we can do to help." And you just know that might be a 15-minute conversation or a 30-year relationship with the client, depending on what problems they come with and their financial ability to pay you and then your ability to add value. But you don't have to be stuck in the "I've got to screen this person in this initial call" to figure it out. It's a different dynamic. And you can say, "Well, we help everyone, and we'd love to know if there's something we can do for you," and we'll just figure out later whether this is going to be a longer, more complex relationship or a little bit of a shorter and more direct one.
Gabriel: There are so many things that could happen in that process. We just had one where we just literally pushed them on their way. It was just, "You need to save this much percent a year, save it into a Roth. You're in such a low tax bracket. And then you'll be fine." Or, "Hey, save up this much for a down payment. It's going to take you two years to do that." And we would push them on their way. We also call those the "one-and-dones". So we had a one-and-done with them. Then two weeks later, we see something on the calendar just like a first meeting, and sure enough, they referred somebody with $2 million. I think we're casting such a big net out there with the number of people that we're meeting with, just prospects on a monthly basis, something good is going to happen.
With that said, with our advisors, we also say, if you're going to have people with $200,000, you're also going to have people with $2 million. We don't want them passing those off. And let's say they do, right, at the end of the day, we have to make a business decision. If their book is full, if you will, well, I want to give them to a top advisor. If they blatantly on the phone said they've got $5 million, I want them going with a very experienced advisor. We have this thing where you can only pass off a client one time. You can only do a one-time handoff. Because we don't want them to feel like they're just getting passed around.
How Gabriel Is Making 150 Leads Appear Every Month [47:44]
Michael: So now that I understand kind of the sales process and the business development associate's role. And I get it, with a volume of, I think you said 150 leads a month, you're talking dozens every week, it literally can average out to half a dozen a day on a busy day. I get the sales process with that flow. So now take us back to the marketing side of how on earth are you making 150 leads appear every month? That is a big number. That's a big number of leads. Well, actually, let me ask one other question first. Of 150-something leads that may be coming in, how many are actually turning into clients?
Gabriel: Yeah. Now, that's a question. And actually, how many of those are turning into first meetings? How many of those we actually get a hold of. So it's about 30% of the 150 we actually set a meeting for. There's probably about...gosh, they're setting... there are times they set five or six meetings a day. Look, I said we do have another advisor starting next month in January, but...
Michael: So I find this interesting, that you've got a person who lives this all day long. If they don't get back in 11 minutes, you're not happy with their performance, but still, only maybe 50 of 150 even get from an inquiry to a first appointment. So do you feel good about that? Do you feel bad about that?
Gabriel: I feel great about it. I feel absolutely great.
Michael: How do I process that number?
Gabriel: Yeah, I feel great, because a lot of these are coming through SEO. You don't know how many of these sites they've clicked on. Most of these people probably clicked on like a Fisher-type retargeting ad. So a lot of these are just...some of them are just names of like Captain Ron or something like that. So some of these are not even relevant. Some of them are other advisors trying to see what we're doing.
Michael: Sure. Sure. Yeah. We've seen that as well. Like, the firm launched a new marketing strategy. It's an interesting effect in the marketing world that a lot of us use strategies that target more affluent folks, more affluent places to advertise. If you're doing direct mail, you tend to hit more affluent zip codes. Funny thing, affluent prospects live there, so do other advisors a lot of the time, because it tends to be an above-average income job. Every now and then we'll see advisors that end out in our marketing funnels as well. We hit them with the message, they responded, can't fault them for it.
Gabriel: I would probably say that with referrals and classes, I'm the most, I guess, I don't want to say aggressive with, but I'd be the most disappointed if it wasn't maybe an 80% to 90% conversion to an actual appointment. And of those, probably 75% of those become clients. So we do have a very high conversion with the class because they do end up seeing six hours of a class, it's an actual class. They even get CE credit for CPAs.
Michael: So if 150-plus are leads, only 50 of them turn into appointments. In the aggregate, how many of the 50 that are appointments are likely to actually go all the way through to become a client?
Gabriel: So let's separate the internet from everything else. So let's just say the internet is 100 to 120. I would say on the non-internet, it's about 50% to 70% that will become clients, the non-internet. Of the internet, maybe 5% will become clients. So not a lot come through the internet. So it's a lot of volume. But we do track our leads heavily and where they came from. We have seen more and more that are referring to us. We will still put that. not in the referral category, but in the internet category, because without that internet, we never would have received that referral.
Michael: Interesting. I guess this sort of gets back to why you've got this structure. Look, at the end of the day, if internet lead flow is 100-plus but only 5% of them become clients, on the one hand, that's very time-consuming to work through 95-plus people who don't end out becoming clients. On the flip side, that's like five new clients a month off the internet. Like, that's a lot of clients coming in. That's a lot of people. I don't want to turn away five clients who just show up, because God bless the internet and SEO, but it does speak, I think, back to the fact that if you've got to screen that many along the way, you probably need someone separate that just helps handle the business development.
Because certainly, the other note I know, particularly in the internet context is, if they came to your website and submitted an inquiry, there's a very good chance it's because today is the day they are Googling around for financial advisors, which means you are probably not going to be the only advisory firm website that they contact. And if you are not the first to respond almost immediately, they're going to get pulled into someone else's funnel before yours, which I guess is part of why you want to get back to them in 10 minutes or less. Like, you've still got to work even to get to 5%, but if it's 100-plus leads, it's 5 clients a month, like, this adds up really quickly. Now I see like, this is why you went from 0 to $200 million in less than 5 years.
Gabriel: Right. We committed very early on to teaching these classes. I think just that in itself, my wife being a professor, getting me in kind of helped. I was teaching part of this like community education kind of deal. And it was originally just tax and Social Security, then it moved to the six-hour class. And then I just started going through FMT. I don't know how many classes, probably 70 to 100 classes a year I'm teaching.
So I'll tell you, Michael, without a supportive spouse, if anybody wants to go on this journey, I think the first question, forget asking yourself if you can do it, your spouse is going to know better than you if you can do it, and then you're going to need their support. Because even to this day, as my kids are continuing to grow, we do have some people lined up to start teaching classes. I still want to teach the classes though, because I love teaching the classes. I absolutely love it. I enjoy it. It's the best part of what I do. But the ones with like 20, we'll call them buying units, 20...so it could be 40 people in the class if they bring somebody, 20 different households, I still want to teach those classes. Probably not 70 to 100 a year, but I would probably still want to do at least 25 to maybe 40.
What He Is Doing With The Various Marketing Channels He Employs [54:58]
Michael: So let's talk a little bit more about these various marketing channels. You've mentioned just sort of internet leads and SEO. You've mentioned classes a few times. I know you're also involved in radio. So talk to us about the different primary marketing channels or strategies that you focus on? And then I want to understand a little more of what you're doing with each.
Gabriel: Yeah. So teaching the classes where we either do our own mailers to market these classes or we use some of these companies that do it for us. Classes are huge. We set up our own through these people that I guess you can call SEO, or we just go directly to somebody that will market these classes through, whether it's Eventbrite or Google or Facebook or whatever. So classes are a big part of the marketing budget. It's probably 40% of the marketing budget.
Michael: All right, keep going through them. I have some more questions about quite how that class is working. So classes, like doing mailers, setting them up, getting people in the room and then doing the class itself is about 40% of the marketing budget. So then what else is on the list?
Gabriel: Google is huge. So probably...
Michael: That mean Google AdWords or just trying the SEO route?
Gabriel: Yeah, Google AdWords. We do our own Google AdWords with some retargeting as well. So that's a very big piece of it. It's very similar to kind of the Fisher way of doing it. So that's a big part. Then we will have subscription-based. We don't get a lot from this, but we'll just get the normal NAFPA, CFPs FPAs, those type, that will come through. The radio. The radio, it's weird. I can go a month and a half and not get one phone call, and I can leave recording a show saying, "Man, I nailed it, man, that was a great show," and then get zero hits. We'll even rerun it just on another time and get no hits. And then there's a show that I'm like, "Man, I did so terrible. Wow, can we just run a rerun?" They're like, "No, no, no, let's put it on." And then, sure enough, we'll get five phone calls that weekend. And so it's so hit or miss with the radio. That's an okay one. It's paying for itself. So that will continue. And I enjoy doing it.
Michael: And so, what does this look like from a budgeting perspective? You said like 40% of the marketing budget goes to classes. So what goes towards Google AdWords?
Gabriel: Google AdWords is probably close to 10%. Now, this isn't of revenue. This is of the...
Michael: Yeah, of the marketing allocation.
Gabriel: Right. And we probably spend in total, I'm going to say probably about, I don't know, probably like $350 grand maybe a year in marketing. That probably sounds like a very normal number for us. That's not including classes.
Michael: Three hundred and fifty thousand dollars a year, so like, we're talking about $30,000 a month.
Gabriel: Yeah, yeah, that's exactly right, actually. Yep. And sometimes there'll be hot seasons. There are times where spending may be $50,000 just on the classes, and there are times like December we spend nothing. And so there are certain times where we'll really hit hard the classes just...for a tax-heavy firm, we want to market heavily in tax time.
Michael: I've got a whole bunch of questions about that, but I want to make sure I understand the channels here. So then these subscription-based paid web listings, NAPFA, CFP Board, FPA I guess is kind of nominal. When you're spending $30,000 a month, the NAPFA membership dues or FPA membership dues are kind of trivial rounding error on the budget?
Gabriel: Right. But SEO is where these people that are out there getting us leads. One is like SmartAsset, which I guess is okay, kind of, sort of. So we try almost everything. So we still have SmartAsset going. We have a billboard that has one of those electronic billboards. We have that going. We have quarterly...
Michael: Wait, wait, where's the billboard and what does it say?
Gabriel: It's on the 10 freeway, the Interstate 10 heading eastbound from LA.
Michael: And so, how does this work? Like, you point your phone at the billboard and there's a QR code that you get while you're driving by it 70 miles an hour? Well, it's LA freeway where you're driving more like 20 miles an hour.
Gabriel: It's LA. You're going like 5 miles an hour.
Michael: Well, I guess it's a freeway, you could actually just have your business development associate under the billboard and they could do the whole conversation, and then the person just jogs and gets back in their car.
Gabriel: That's probably a good idea. We probably have to get a permit for that, knowing California.
Michael: Right. Well, what's the goal with the billboard? Do you ever see any results? Does billboard marketing work?
Gabriel: No, we've never heard. Actually, I've heard one person. Somebody at my church came up to me and said, "Hey, I saw your billboard. That's pretty cool." And that was the only person. So he joked saying, "Hey, if you ever question if it's actually airing, it's actually airing." That's what he said.
So quarterly mailers are the same way. We do those coupon mailers that you'll see that come out quarterly with maybe 30 to 50 pages. So we're in there. One of them we have the back cover. We've gotten some through there. We do some kind of postcard mailers. We used to get, at a point in time, I felt like, about one per mailer, one client per mailer. And each one would probably have 10,000 to 20,000 homes it would go to. So we would get a good amount.
We've kind of calmed on the postcard mailers because we did like maybe six or seven of them and got nothing. But then at the same time, this is where the billboard came in, we've had people who are clients now that would say, "I just kept seeing your name pop up. I just kept seeing it pop up."
Michael: Because that's what happens when you come to my website once and I pay for retargeting ads.
Gabriel: Right. Well said. But it was more than that. It was the quarterly mailers. He actually came through a class. He's like, "I kept getting directed to go to this class." So it's the world's longest sales cycle. Because they come to a class, which you don't even market yourself, you just show how smart you are by teaching them all these cool things of retirement planning or taxes, and then they go through the process. But those are the type of things where I think I know where...you're familiar with it, but they don't have a triggering event. They have zero motivation to reach out. And once that triggering event happens and they go and type in "financial planner" or whatever, then they're, "Oh, yeah, I remember Falcon." Which is why I didn't want to do anything with my name or my face or anything like that, because Falcon is easy to remember. So I've had that.
Because we really drill deep, not in an obnoxious way, "How did you hear about us?" That's very important to us. Like, "Where did you get our information from?" And not only will our business development person ask, but we'll ask ourselves when they came on, like, "Okay, are you an active listener to the show?" Or, "Okay, so it was a quarterly mailer or the internet, what did you type in?" We'll ask that much, like, "What did you Google?"
Michael: Because you just want to know literally what's working. And I'm presuming that gets recorded somewhere as well?
Gabriel: Yeah, we have a very good process of all the leads. So we could just click of a button, we can see through our own Excel. And we use Redtail as well. So we can see pretty well.
Michael: So you've got the budget of all these different areas. And how many...just bring them first like, 40%-plus goes to teaching, 10% is going to Google AdWords, kind of trivial amounts going to the subscription paid web listing services, because they're just not that expensive. What else is consuming this pie of the marketing budget?
Gabriel: The SEO is expensive. It's probably $80 grand a year, maybe.
Michael: And what does that mean as distinct from doing Google AdWords? What are you paying $80 grand a year for?
Gabriel: For people who this is their full-time job. That's what they do is they grab leads for people like us, versus us doing it in-house, where we just go onto...I don't do it. I don't know it. Our chief compliance officer does it. So she goes into Google, and we have maybe three or five different, I'm going to call them campaigns, hoping they're called campaigns. And so we can create.
Michael: So just you're hiring outsourced SEO marketing firms that run a bunch of SEO strategies and just do the work and try to make the phone ring.
Gabriel: Right, right. And then what I also put in that bucket is like the Dave Ramsey SmartVestor Pro, which that might be more of a...that's a unique one just because you get a lot of different people that come through there. But anyway, it all goes in our bucket of SEO.
Michael: Okay. And so, I guess relative to the budget, that can be a solid 20%-plus of the budget?
Gabriel: I would say so. Yeah. And then we have just weird things that we do. I can't tell you, Michael. For example, football games. You know those banners in a football game, sometimes in the out-...not outfield, end zone, they'll have our banner there, maybe five local high schools. Those are maybe about $500 to $1,000 a pop. So we do a lot, where we just...whatever...we'll try everything almost once.
Michael: And then radio, I'm presuming, I know most of the radio world now is not like, "Hey, you have neat expertise, will you come do a radio show?" It's usually more of like, "Hey, we're selling slots for radio shows. Would you like to pay to be on a radio show?" Like, is this a, you've got to pay for airtime structure as most of them are now?
Gabriel: Yeah, that's exactly what it is. Correct. So, yeah, it's a 30-minute show.
Michael: And so what does it cost when is the radio show on? What do you do? What does it cost to do a radio?
Gabriel: Yeah, good question. We also do marketing time slots as well. And so I'm going to say a month, it's like $2 grand a month for a 30-minute show. And that's with time-slot marketing. So 10 30-second ads, in addition to that, that will go through randomly throughout the day.
Michael: Ten of your 30-sec ads? Like, you or for your show?
Gabriel: It's for our show, but then that's maybe...of the 30-second ad, that's maybe 10 seconds. The other 20 seconds says, "Hey, by the way, if you want a free financial assessment, please give us a call. We'd be happy to help." So it's marketing on that end. And I'm actually shocked how many people have come through that versus the show itself.
Michael: Slightly depressing. Like, I guess I have to do the show to validate the ad leading up to the show, even though I actually get it off the ad and not the show sometimes.
Gabriel: We come right after the Rams games, so we're the first show after the LA Rams play, and so many people just stumble on it that way as well, which in...
Michael: Well, and you get everybody who just, Rams are losing but you've got to listen to the game. So you listen in the car on the way home, then you're not home yet by the time the game end, so you get the show that comes on right afterwards.
Gabriel: The joke I have is, when people ask if I'm nervous about the show, I go, "What's there to be nervous about? Not even my mom watches the show. Nobody watches. They listen to the show." So it's not a big deal.
Of His Various Marketing Efforts, What's Actually Bringing In New Clients? [1:06:28]
Michael: So you do all this different stuff. So I understand now where the budget is going. So, what actually I guess either A, makes the phone ring or B, turns into clients and business? So I got a sense of the pie of where the marketing dollars go. So now, what is the pie of where clients actually end out coming from or where new revenue ends out coming from?
Gabriel: So once all these leads come in and business development sets them up and either we as the CFPs do the first meeting or the other advisor does the phone first meeting and it leads in. So we have our prospects. When I say meeting number two, that's where we're delivering the, I guess recommendations from our assessment. That's where we're charging for that. We're charging for implementation of the recommendations that we gave. So we are charging a flat fee for our clients. Typically $3,500 is our normal fee.
And so with that, if they were like, "Well, what about investment management?" I said, "No, no, no, that's too much to talk about today. We're talking about financial planning, and if financial planning makes sense." And if they say yes then they just told us they want to work with us. We ask them also, "Hey, are you going to do this on your own?" So it could make sense. But if they're going to do it on their own, then technically, there's still a DIYer. And if they say no, well, okay, so you know working with us is beneficial, you know you're not going to do it on your own, at that point I look at it, it's up to us to lose them as a prospect to a client. Like, how do you not onboard them at that point?
Michael: So of all these different channels, where does new business actually come from? If 40% of your marketing budget is on classes, is that where actually 40% of new clients come from? If 20% is going to SEO, is 20% of new business actually from web leads? What does the pie of new business look like?
Gabriel: It's still I would say...it's actually funny how that worked out. Yeah, 40% is still from classes, and then probably have 30%, maybe a third from referrals, and the rest come from all these other channels. So our goal is to get two new clients a week. That's our goal. Get 100 clients a year. And we've been doing that.
Michael: So talk to us a little bit more about what exactly you're doing with classes. It sounds like that's kind of become the primary anchor of the marketing. You've got a whole bunch of other stuff that you're doing around it, but it's your biggest spend, and it's your biggest business source. So talk to us more about just what is this classes thing exactly?
Gabriel: Yeah. We use these outside companies to help facilitate it, which sometimes even gets us a venue, but we have our own venues that we do it on colleges and universities. And then we have...
Michael: So let me pause you there. You're using outside organizations to facilitate classes. So what does that mean? Do they give you a class and a curriculum and a script? Are they like a marketing organization that just tries to get people to show up, the proverbial backsides and seats? What exactly are outside organizations doing to facilitate the classes?
Gabriel: So they will do a hard mailer to homes, specific homes. We used to do EDD, which is Every Door Direct. So whoever lives in that tranche or in that route of the mail carrier, they're getting our stuff. They pick and choose. So where we would have sent 10,000, they might send 1,500. So they have better parameters than us to send to people's homes. They're doing a mailer of what the curriculum is. Now, for me, after teaching classes for six years, I have my own way of teaching. I'll still cover everything they want to go over, but it's just in my own way. I have my own jokes. I have my own drawings. I have my own way I present. So I've never had anybody complain about it, because we do cover everything, but I kind of mess with the slides they give me. I have my own slides. I add a bunch of things into it. It's more entertainment, the way I look at it.
Michael: So this started out as kind of like a service that sells financial education class in a box. They give you the slides and they do the mailers, and they put the people in there. You just have to deliver it and then hopefully convert it to business. But over time you've taken their presentation, adapted it to be more of your own and your own style. But otherwise, just running the same system of, they do the mailers and they're marketing the class, because it's the "standard" class and they're trying to get people to show up.
Gabriel: That's exactly right. So they'll do most of the mailers. We used to do all the mailers in-house for a long time. And we did everything ourselves, which was kind of crazy looking back. I don't know why we did that. We even got the like medallion permit at the post office. And we would like lug in the back of my truck all the 20,000 mailers. But those days are over.
Michael: You're stamping and putting together and printing yourself?
Gabriel: No, we had a printing company that would do it for us. So we did have that. But what we would do is we would have to then print off maybe 70 pages and put it for each like route, and then take it to a post office, and then they would distribute it to the carriers. It was time-consuming. And I just can't believe I did that. That was a big waste. I can't imagine.
Michael: So now that you outsource it, can I ask like, who do you outsource it to? Who are the players that do this if an advisor wants to try doing classes with mailers?
Gabriel: Yeah, that's the FMT. So FMT is one. There was one called Emerald that I used, but I think now it's like Broadridge or Broadcom. I don't know. Mostly now it's...
Michael: Oh, yeah, yeah, I think Emerald. Yeah, it was like Emerald Marketing Solutions or something, and it got sold to Broadridge.
Gabriel: Yeah. So they were really good at it as well. But right now I use FMT. And I do a little on my own. We have another SEO person that will just digitally market it.
Michael: Are you using advisor-specific SEO people or just generic SEO solutions platform and they figure out how to do this for you?
Gabriel: Yeah, so good question. I would probably say 75% of the people that we use are advisor-specific. But about 50% of those are individual people that just worked or was a marketing person at a firm, a financial advisor firm and left and now is doing it for like 5 to 20 of them. So they're operating independently. We have one gal that does that, and she does a terrific job.
Michael: So help me understand the way this works from an economics perspective. If you wanted to do a class with FMT, what would you pay and how does this work exactly?
Gabriel: So you have to pay a licensing fee. It's like $5 grand. And there's many different classes. So you have to pay the $5 grand per class you want to teach. So you have to pay that upfront. It's good for I think four years maybe. And then from there, it's very territorial. So if you're in LA, you can't just say, "I'm going to teach this class here." They're going to say, "We already have an advisor there." And so luckily in our area, which is kind of the Inland Empire is where I'm teaching, that's about 40 miles east of LA, there's no real competition there for us. So each mailer, which has 2 classes on there, I want to say is like $7 grand, maybe $8 grand per mailer. And each class is two different days. There's an opening and a closing. So there is a, we'll say Tuesday from 6:30 to 9:30, then they come back the next week, that next Tuesday 6:30 to 9:30 to close the class. So each mailer is two classes, but in essence, it's four days of teaching.
Michael: Okay. And it's always two of your classes. Like, Gabriel's going to be teaching next Tuesday and then a week from Thursday. So people have two different options just in case the first one doesn't hit.
Gabriel: Oh, right, yeah, the two classes, right. But if they come to a first, they pretty much have to come to a second or they can catch the other classes, yes.
Michael: Is that kind of just all in that's the cost? Like, $5k every couple of years for the class presentation itself, a couple of those if I want to do more than one different type of class. And then each time I want to do a mailer drop, I give them $7 grand or $8 grand, they're going to make how many people show up in the room typically? You'd mentioned earlier an example of like 20 units. I don't know if that's typical or good or bad.
Gabriel: That's high. That's the ones that I want to teach, are the high, the one with a lot. There are times we had to cancel because there was nobody. So that was a big waste of money. And that does happen probably 20% of the time, where there's less than 3 people, 3 buying units in a class. The irony is, the smaller the class, the better you'll get turnout, you'll get more clients. When I first started off, I couldn't afford to not show up to a class. That was a lot of money. So I remember having two buying units and a class of three people. And I taught that. It was like the most...it was like a private tutorial. It was all like awkward, and they turned out to be a really good client, north of $1 million.
So it's funny, the classes, I'm like, "Oh, I don't want to teach in front of like four people today. Like, that's awkward. I'm embarrassed. What if one doesn't even show up, now it's three people." And so those turn out to be the best ones. But it's a high-energy course. A lot of people...I keep them laughing the whole time. I have a lot of fun little skits and stories in there. I think of it more as entertainment. And I enjoy teaching it. And I can tell they really like coming to the class.
Michael: And so, can you give me an example of just what one of these classes are? Like, just literally, what do you teach?
Gabriel: So there are different variations of the course. There's one that's for retirees only. There's one that's for people maybe five years away from retirement. But I kind of teach them all the same, kind of. I focus less on saving into retirement funds and preparing for retirement when you're already retired. But nonetheless, it goes over kind of our assessment process. That's kind of how I built it. So I talk about, what's your magic number. How every person has a magic number. And I told them how to find that. And still the variables of why that perfect number is not the same. For example, your mortgage might not be forever. Your Social Security might kick in later. There are things that will happen that will make it a moving target. And then we talk heavily about investments, about passive investments. We talk about avoiding kind of commission-based advisors. We give them the stick of the annuity free dinner seminar presentation, what the dessert is.
So it's really, I say it's designed to do two things, the class. Number one is to protect them of what's out there, because, unfortunately, this industry, not everybody has their best interests intact. And then number two, to just give them options in retirement. And that is just like, people are aggressively trying to pay off their mortgage versus maybe sticking with a 30-year. Even if it's a higher interest rate, you give yourself more control going with a 30 year.
Michael: And so, how does this get marketed to the people? When I get the mailer, what's the mailer going to say? Like, "Ever wonder what your magic number is? Come at Tuesday at 6:30 p.m. and find out." How does this get marketed? I guess it's FMTs job to figure out how to pitch this in an interesting manner, which is why they do a standardized course, so they can optimize themselves. But what do they send on your behalf to try to get you in the door?
Gabriel: Yeah. So it's like this eight-page brochure. The front page, as they mail this or as they fold it and tape it, it has these buzzwords like "retirement course." They pay money to go to these courses, by the way. It's not a free course. So they're paying like $39 to $69 to go to these courses. And FMT I think keeps that. I'm not even sure what that is. You also have to pay for the books, by the way. Each book is like 25 bucks or something that you end up giving to each participant.
So they have these buzzwords, like, "Learn things like optimizing Social Security, tax reduction, estate planning, insurance." It just has all these things. "How much to have for retirement," all these buzzwords. And then it gives a full curriculum breakdown inside where it goes over estate planning, all the things, insurance. We'll talk about Medicare. We'll talk about everything in there, life insurance, long-term care, all the things that they kind of want to talk about. So it's this big, long list of maybe 30 bullet points of what I'll go in each category: investments, retirement planning, financial basics. So we'll go over every single one of them. So yeah, I can show you what that kind of mailer looks like if you like.
Michael: Yeah, I guess if you wouldn't mind, if you can send it over, we'll put it in the show notes if people just want to get more of a sense of what a program like this looks like. So this is episode 160 of the podcast. If you go to kitces.com/160 for episode 160, happy to share so you can see a glimpse of what one of these mailers looks like.
So Gabriel, from your end, how much of this is really on you versus on FMT? From your end, is it basically just down to like, I got my presentation, I cut FMT a check for $7,000 or $8,000 and then I show up for my 4 classes next month and we see what happens and nothing else for you?
Gabriel: There are two other things. First one is I have to bring a staffed body there to check people in to answer the questions. People get lost. So I've got one of my guys that will go there. And sometimes they'll stay the whole time. Sometimes they'll just check people in. Like if it's the first day and everybody is there, I'll just say, "Hey, you don't need to stay. You can go back to work." Or, "Hey, see you tomorrow" if it's one of those late classes. Some of them are in the middle of the day.
Then number two is that they have to find the venue. They say they'll find the venue. We had venues, and then we tried to see if they can find our new venues. Because they can get you accredited through the college or university, part of their like community education. So you get those enrollment papers from your local college or university, and your name would be in there, which is in addition to the mailer that FMT would do. But in short, it didn't seem like that happened. You have to find the place you're going to teach.
Michael: Okay. And so you find a venue that will work, you procure the venue, you tell FMT, like, "Here's the location we've set," and then that's what they put on the mailer?
Gabriel: Yeah, exactly.
Michael: And so is that a separate additional cost for you then, because you've got to rent the venue and space in addition to the paying FMT for the mailer?
Gabriel: Exactly. So yeah, some of them you have to pay. Oh, actually, all of them you have to pay. Yeah. And then for the body that's there with you.
Michael: But I'm going to presume like these are not necessarily expensive venues? Where do you teach? Because it doesn't sound like this is a, go to the nice steakhouse and teach the class while they all get served their steak in a sort of classic seminar approach.
Gabriel: Right. They're colleges. They're community colleges, they're universities like Azusa Pacific. That's where my wife teaches. Not like a Cal Poly or something like that.
Michael: So not expensive rooms then I'm assuming?
Gabriel: The most it will probably be is...because it's 2 nights, maybe $700, 800 bucks. So that's the most. Realistically, they're about like $150 a class, so $300 total per 2-day course.
Michael: Which if you're dropping $8,000 on the mailer is just kind of a rounding error at that point, as long as we get some clients out of it. So help me understand the math of this. If I'm going to drop $7,000 or $8,000 in total, mailer plus incidental costs for room and such. I might get a half a dozen to a dozen buying units. There are 2 classes, so maybe I've got 10 or 20 buying units across my 2 classes, 30-plus if it happened to be a good mailer. So how many of these am I hoping or expecting are actually going to be qualified clients? Because I'm going to assume there's a bunch that don't have the financial wherewithal to hire an advisor. Some won't necessarily want to work with you. So how many of those would you expect to turn into qualified leads, and then how many of those leads actually turn into clients?
Gabriel: Yeah. So let's just say it's a class of 10 buying units, 8 or 9 of them will ask to meet with us. So a majority of the class will want a free assessment. Then from there, we'll say about 80% to 90% will actually come. So maybe one just it's hard for us to get a hold of them. Wasn't priority to them or anything like that. Our goal is one person a class, okay? That's our goal per class that we teach. But on a class with 10 people, we'll probably get 2 to 3 or as much as...yeah, maybe as much as four per class that I teach.
Michael: And at what client size or income or dollars? Is this, we're going to get 2 to 4 that might have a half a million dollars or $1 million or we're going to get 2 to 4 that might be anywhere from, they'll pay my minimum fee all the way up to an affluent client? What's a typical one? What's a realistic expectation? Because I think there's a perception that if you're doing $39 classes at community college, you're not going to get very affluent clients who show up.
Gabriel: Yeah. I would say, let's say you get three clients, one of them is probably just going to pay the planning fee and no AUM opportunity. The other two... the average client of ours is about half a million. So they will have... Our largest client with $13 million came from my class. And he's in love with us. How are you going to meet with somebody for six hours, give two hours of a free assessment, you spend eight hours with them and say, "Okay, see you later?" Like, they know you at that point. And nonetheless, it's about...even if you take the top 10% and take out the bottom 10%, our average client size is half a million. And I would say the classes are the same.
Michael: So just doing the math, and you just say it, every client pays a $3,500 planning fee and then some of them also move on from there to do assets under management as well in sort of subsequent ongoing basis?
Gabriel: Yeah. It used to be the first like 3 years, 80% to 90% would retain us, where we manage the money. I don't know if it's just the markets up 30% or whatever it is, but I would say this year we're probably more like 60% to 70% will retain us for AUM.
Michael: Okay. But I'm just thinking through the math. So if in a typical class there are 10 units, the goal is 1 person a class, you usually get 2 or 3. And is that like per class? So if a mailer is for two classes, off the mailer your goal is two clients and you may get more like four to six?
Gabriel: I would say yes. Just note that there are some classes we have to cancel. We have to call them and move them because there are just so few attendees. But yeah, it does well. Your math is right.
Michael: Yeah. So I'm just kind of thinking through the math here. So at the end of the day, we get four to six clients. Let's even just say we average only four, because every now and then we get a six, and then every now and then we get a class we've got to cancel with a no-show. So like 4 clients, that's 4 people who pay a $3,500 planning fee. So that's $14,000 in planning fees, and then 2 or 3 of those are going to be ongoing AUM clients as well. So for a half-million-dollar account size, I don't know, what's your average fee rate for a half-million-dollar client?
Gabriel: Maybe 1.5%. Yeah, I would say maybe 1.5%.
Michael: Okay. So $7,500 per client, so 2 of those is $15,000 in the first year. It's like $14,000 of planning fees, $15,000 of AUM fees, $29,000 in revenue over the next year for an $8,000 spend.
Gabriel: Listen, your math is right. It doesn't always work that way. Sometimes it's much, much more than that. I will say this because I did give advice to a colleague of mine in another region of kind of what we're doing. And I did warn them, I didn't know how the nicest way to say this to them was, but your personality may not work well for this class. I can't express the amount of high energy. The hardest thing is I go to sleep after I teach a 6:30 to 9:30 class, and I get home at maybe 10:15 and I'm wound up. This is a high energy class. So that's all I will say is you have to be high energy.
Michael: Yeah. It's not automatic in that you can pay the dollars to at least get the butts in seats on average, but whether they convert, whether you are a good teacher and a compelling teacher and engaging enough that they learn and say, "I actually want to spend more time with this person based on sitting in a classroom with them for 6 to 8 hours," I guess that's the double-edged sword. If you're good at teaching and presenting, they're going to get to the end of a six-hour class and say, "It would be awesome to spend more time with this person." And if you're not a terribly good teacher, they're going to get to the end of their six hours of classes and say, "All right, that was a life experience I'm not going to repeat." And they're certainly not going to call you to say like, "Hey, that class was long and torturous and uninteresting, but I'd love to spend more time with you." That's not really a conversation that happens.
Gabriel: It's funny, I say a joke in the class, and let's say it's 8:30, and knowing it goes till 9:30, I'll say something like, "What have we got? We've got till like 10:30, 11 today?" And then I'll get like a nice laugh out of the class. And then there's always somebody that says, "Yep, I'll stay as long as you want to keep us." And it's just, it's a good feeling because you know...if you've presented, you know if you've engaged the audience. And you have to get them engaged. It's just too dry of content, hence why I have my own material.
Michael: But I'm still just wrapping my head around the math. Like, at the end of the day, $8,000 spent, $29,000 in new revenue is sort of average metrics, with the obvious asterisks like some may go better, some may go worse. Like, everything marketing and sales become some version of Nick Murray's Game of Numbers at the end of the day. But spending $8,000 to get $29,000, you can wash, rinse, repeat that for a long time.
Gabriel: And I would cut it in half. Because I would say our average is like six buying units per class. I think the example I gave was 10. I don't want to mislead anybody. So I would say about six. And that's not including canceling some classes and moving people around. So if you actually look per mailer, we could do simple math and just say 5, which would cut the 28 down to 14. So in my brain, everything is numbers, right? I think we're just trained to be numbers-oriented people with our profession. In my brain, I feel like I've done the math where I'm like, "Okay, we can get to $1 billion. I just need to spend $1.4 million and have the body, the manpower to do it." And so that's kind of... So now I just need to find $1.4 million and the body to do it and we can get to $1 billion. But realistically, it is a numbers game.
Michael: And I guess that's part of why like, this is why you spend a bunch of money on marketing. When you're spending $30k a month, $300,000-plus a year just off of the cash flow of the business as it grows, how do you get $1.4 million of money to spend on marketing? Just keep doing what you're doing for another four or five years of letting the math compound.
Gabriel: Yeah, I would say there is...like, I don't count the radio in that. I don't count. So it's not just, because we spend $300,000 a year, in 4 years, we'll be at almost $1 billion.
Michael: Because some of those are marketing experiments. And not everything has the same marketing ROI as the classes.
Gabriel: Bingo. Hence why it's 40% and why I spend a lot of time talking about it.
Michael: Do you worry about the flip side? Is there a point where just everybody in the freaking Inland Empire has gotten your mailers 17 times over and that well just taps dry and it won't work anymore or do you feel like there's ample space to just keep going?
Gabriel: It's Southern California, so we have 3 mailers over here, and we've actually identified like another 15. So we really can still continue. It's just that we would have to go outside of our comfort levels. I've selfishly chosen places close to my house because if I'm done at 9:30, people ask questions 10, I don't want to get home at 11.
How Gabriel Determines If His Marketing Dollars Have Been Well Spent [1:32:38]
Michael: So help me understand how you just think about marketing ROI for this spend. Like, you're spending $8k on a mailer, you're getting $14,000 of revenue, to be conservative. You can double that in a good class. You've got these other channels. They have their own things. Some work, some don't. Some you experiment with. So like, how do you think about marketing ROI? At what point do you spend $5 grand to try a marketing thing and decide, "That was a good spend, I'm going to do more of that?"
Gabriel: Yeah. I think there's a human element to this, is, and we joked about the billboard earlier, I know there's not going to be any clients from that, but what I do know, it might be a trigger that may motivate us for an additional mailer that we may send or an SEO. So just the fact they know what Falcon Wealth is. They see our little feather logo and they've seen it over and over and over again, it's hard to quantify that.
But when I see something like a radio or a banner in a football field, part of me is, "Okay, well, that's free money." So if we get a client that generates $7,500 of revenue, I only spent 5,000 a year for it. Well, in my brain, I'm like, "Okay, well, I'll just do more. Let's double it. Let's do more football fields," because that's free money at that point. So I look at that revenue stream when it comes in as an ROI, as that was free money. Like our chief compliance officer is like, "Just calm down. Just I know you want to spend, just chill out. It's not free money." And I'm good with money. It's not that we have an issue, it's, in my brain, we would never have got it if it wasn't for the experiment.
Michael: I hear you, but then how do you ultimately figure out what to keep doing? Because otherwise, in the extreme, like, look, you can spend $300,000 just on football field banners if you find enough high schools, because LA is pretty dense, and at some point, if you're not getting enough results, this isn't going to work anymore. So is there some threshold of like how much revenue ultimately has to show up to say, "I'm going to keep doing this," or better yet, like, "This is working, let's double our spend on this?"
Gabriel: Yeah. So like the postcard mailers was a good example. The first three were good, the next seven were not. And so now we'll just sporadically say, "Okay, we'll do two mailers a year." So that's kind of a good example. Or, "These are our target markets. Most of our clients are within this 10-mile radius, let's just keep the banners there. Let's eliminate the others." So there is some thought that goes behind it, depending on location, depending on cost, and depending on just what have we got. And if it was 1 client and never again versus we've gotten 10 and now it's gone dry, like the mailers for the classes, okay, like, did we really just beat up this area? Okay, let's take a year break and let's go to this area, and then we'll come back. A new set of retirees, a new set of situations has happened.
Michael: As long as anyone shows up, it's a thing you will keep doing? Is there some...like, if I spend $5 grand and I get 1 planning-only client for $3,500, is that still a good spend or you'll put more, it's like, "No, I've got to get at least a client that pays an ongoing fee?" Do I have to get two of them? Is there some relationship of revenue you get in marketing you spend to decide, "This is worth spending more on?"
Gabriel: Yeah, so originally, when we spent $100,000, we would get back $100,000 in planning fees. We would pretty much...the planning fee they pay goes towards our marketing. Now it's not really...it's the same...so pretty much a third. For example, I still want $100,000 in marketing fees. And then there is another variable of AUM. Like some clients are like, "Listen, I don't care about this planning, just manage my money. I heard you guys do a good job. Just do this, okay? And I just want you for taxes, tax help with my business. I don't need this whole...I spend $120,000 a year and I got $5 million with 3 paid off commercial buildings, I'm going to be fine. Help me pay less in tax. Don't show me all this fancy stuff." So there's situations like that that will pop up. And it's like, "Okay, let's just...they're very direct. He doesn't want to pay this. He wants us to manage, go straight to retainer." So it really has deviated a little bit just as we grow. Certain people are like, "No, no, no, I only want this."
Michael: Does that mean you just still end out with an aggregate goal like, "As long as I get $100,000 in first-year fees I'm covered?" Although I guess, as you're saying here, if the $100k of planning fees cover the $100k in marketing, then all of the subsequent AUM business was "gravy" and an additional return on dollars growing the business. So I guess that's part of the challenge is, now that you get some people that say, "I don't want the planning stuff, I just want to hire you for assets under management," I might not cover $100k marketing spend and $100,000 of planning fees, but clearly, actually getting the ongoing AUM business is very, very good business. So we're not losing, but the math doesn't work in the same way anymore.
Gabriel: Right. At the end of the day, we are very conservatively run, which is maybe crazy to some people to think about spending $350,000 in marketing. We're still very conservative. So we don't look at the AUM. The reality is, if we spend $300,000, we might increase by half a million dollars of revenue year-over-year, just because of the AUM that we received. So we're definitely in the green. This is our livelihood. We've got a lot of people here. Failure is not an option. So we have to be smart about this, which is why it's more like at 15% now versus historically 25%, just we're trying to build cash reserves even more. Just eventually, a market drop will happen. And that's when I really want to really go crazy in marketing, is when that happens.
Michael: Well, and I guess there's a piece as well that I'm sure some folks listening to the podcast here are going to say like, "Wait, Gabriel, you're charging 1.5% on clients." The proverbial benchmark fee for advisors is more like 1%. Although to be fair, it's really 1% on $1 million clients. Most people have graduated fee schedules that are a little bit higher under $1 million. But do you look at pricing as a part of this? Do you worry about fee pressure in the advisor world as you're doing $3,500 planning fees plus a fee schedule at 1.5%?
Gabriel: It's all about value. We've upped our fees a handful of times. And it was almost the Disneyland approach. We're just so, so busy. And people are not balking at our fees, let's keep upping up. And right now, we're still very busy, but yeah, you can only charge so much to be competitive. But we're...we say we will not quote you a fee unless we're saving you a ridiculous amount over what we're quoting. And when I say ridiculous, we say a whole bunch, we say different buzzwords, but we have to save a much, much, much, much more. It could be 5 to 20 times than what they're paying. So for them, it's a no-brainer.
And we found, when we were charging $2,000 for a plan, it almost didn't move forward. It was like, "What's the catch? Like, you're charging too little. You're going to save me $50,000 in 12 months and you want $2 grand? Then at after that, $30,000 a year ongoing and your one-on-one time, $2,000 fee?" It just didn't register like, "Why are you charging so little?" And you need like a dozen people saying, "This is the best money I've ever spent in my life," to add that confidence, go up, where... These people aren't going anywhere, yet again, we almost become a family member, because we know more about their health, their finances, their taxes, their goals, their life, their family more than anybody else in the world. So to answer your question is, if you do not provide any type of value or a niche, I would be worried. But because it's so deep, we're not too worried.
What Surprised Him The Most About Figuring Out How To Market His Advisory Business [1:40:49]
Michael: So what surprised you the most about just this journey of figuring out how to market your own advisory business and putting dollars in?
Gabriel: Yeah, that's a good question. Kind of surprised me the most was how hard it is to find good talent was difficult as we were growing. That was very tough.
Michael: For doing the marketing stuff or just for like serving all the clients you're getting because you're doing all the marketing stuff?
Gabriel: I would say just the staffing was...it was very difficult. I heard a saying maybe about 20 years ago saying, you think it's expensive to hire a professional, try hiring an amateur. And that really hurt us more than one time. And so finding just...everybody, especially when someone's trying to sell you also like...these partners that you have, they're trying to sell you SEO. And I can't tell you how much we've wasted, just blown money away for just not working. So on the marketing channel, when you're just going to try everything, somebody promising the world, it doesn't always work. There was a time somebody fired themselves. They were embarrassed at themselves. Somebody I met at a TD Ameritrade conference. I met one of their business consultants. They're like, "Sorry, this just isn't a good fit. I don't know what's happening, why we can't get you any leads."
Michael: Out of curiosity, what was the worst marketing mistake or bad spend you've had?
Gabriel: We tried to...well, this was...and it wasn't marketing, it was a portfolio management software that also I met at a conference. As we were scaling and not just doing iRebal and TD, we had more at Schwab, we needed our own. And add the complexity of our investment, we do a lot of asset location-type. So yeah, we spent probably...just wasted $20 grand, just a complete waste. What I thought was going to be one to two-month onboarding process was over a year onboarding process. And it was very bad. That one just kind of sticks out because we really needed it at that point.
Michael: And was that an aborted project or you are on the system now, it just took way longer to develop and get…?
Gabriel: Oh no, we aborted it, because he wanted more payment. He's like, "Hey, listen, I've been losing money. These people are working on the backend. So that's not my problem." Unfortunately, it was a, "Hey, you lost and I lost. I lost $20,000, you lost...I know you're..." He showed me his spreadsheet of how much he's spent. We both are losers here.
Michael: Was this just a bad migration?
Gabriel: It was. I honestly don't know why it was so bad. This person works with TD and Schwab. He goes to their conferences. I don't know why it was so bad. I really don't know. I really don't know what it was, but we had to abort it. We're with Morningstar right now, that's working out really well. tRx or Workstation. I don't know what they fully call it, but we're there.
Hires, we thought we would hire people out of college. And maybe it was too much. Maybe too arrogant thinking you can..."I could train anybody to do this. This stuff is easy." In my brain, it's easy.
Michael: Because you've been doing it for your whole career. Yeah.
Gabriel: So that was rough. Yeah. So yet again, the hires were tough. Hiring people just because they have a CFP doesn't mean they can do the role. That also was a tough learning lesson.
Michael: What about on the pure marketing side of worse spend you were really excited about that didn't work out?
Gabriel: I would probably say we tried a new area, a new location, and we probably spent $20,000 in mailers to that new area. This is when we were doing it in-house. And it was an absolute flop. It was an absolute disaster. We got one person that was an attendee that really didn't work. That one was rough. And then we had our printer, something happened in the printer where the printer printed like last week's class on the mailer that was already complete. And that was a whole...he kind of apologized and kind of comped it, but that wasn't cheap. That's like a $5 grand mistake. So we had to implement a new process. It was kind of his fault, kind of our fault. But at the end of the day, it's our fault. We have to have better processes in place to dot the i's, cross the t's. So yeah, that was that yet again. The majority of our growth came from when we did it in-house, then we kind of went more towards FMT later.
Michael: So what was the low point for you on this journey of building the firm over the past five years?
Gabriel: Making the decision to go on the own was tough. I wanted to leave my firm that I was at, deciding if I should work for someone or do it on my own. Really just being so unhappy with where I was at just and looking at my finances, looking at my situation. My wife was five months pregnant with our first child. That was tough because everybody was saying I should do it. "Just do it." My in-laws are kind of entrepreneurs, and my side of the family, a bunch of engineers and conservative people, "Don't do it." And the patriarch of the family is just like, "Don't do it. You can get a good job. You can do well. Just go somewhere else, do something secure." That part was tough.
My mother-in-law said something that I will remember forever. And this was what actually was probably the, what do they call it, the hair that broke the camel's back? So she was pushing for me to go independent, with granted, I had virtually nothing. I had no AUM, nothing. I had like maybe 8 clients with $5 million and I'm like, "You know what? We're becoming friends at this point. They will start it with." So nothing. And my wife was...she was getting her Ph.D. She had a stipend of $32,000 a year, like, nothing we had outside of some savings. And she goes, "I believe in your success." She's very religious. She goes, "I believe in your success, just like how I believe in God."
Michael: Oh God, how can you not?
Gabriel: And it was like this silence.
Michael: I guess the upside at least is, it's a lot better than going to your in-laws and needing to explain why you're going to leave their five-months pregnant wife at home a lot because you're going to build a business from scratch that's going to chew up a whole bunch of your time. Like, they're on board. So like, "If you all will give extra babysitting time, I'll go do this business."
Gabriel: Yeah, that part was tough, because I was scared. It was weird. I didn't doubt the success, I just was scared to death of how much headache and heartache it's going to give. How much work I'm going to have to give. I'm like, "Man, I'm not really going to see my daughter." That was more what was going through my head. Like, "Do I want to sacrifice this?" And having that conversation with my wife, "Hey, listen, hon, this is...we're going to do well, very, very well, but there's going to be so much. You can't say, 'Hey, oh, you're picking up this phone again. Oh, you're on your phone all the time. Oh, you're not home. Oh, you didn't help with the kids?' Like that can't be...I can never hear that, or it's going to mess with me." That's the part for me when I said low point. I knew I should go on my own, I just really didn't want to. And in hindsight, in hindsight, I don't know, I probably...in hindsight, I probably just wish I just found a TAMP and stopped at $100 million. But now we're just kind of building something really great now. And just we're going to keep going.
Michael: And how did you get started on just the marketing engine? I get now like, spend $8k, get $14,000 to $29,000, take some profits, reinvest, the math starts compounding pretty straightforward. But you don't get that when you're starting from zero. So did you just have savings and plow savings into these kinds of marketing campaigns from the start? Did you do other things to begin and then moved into this once you had some revenue going?
Gabriel: Yeah. So I worked at TD Ameritrade for about four or five years and was a high producer over there. And I was just a high-volume advisor. I was on the phone, anybody who knows me that...when I was there, I was making 100 calls a day. And so I cast a large net when I was there. So what I did was I had some savings, and I just rolled the dice. I said, "I know the areas where a lot of my clients were." I spent $50,000 for 200,000 postcard mailers pretty much announcing, "Gabriel, principal Falcon Wealth." It's kind of like an announcement, but it went to a bunch of strangers and zip codes that I knew I had clients. And that was a roll of the dice that worked out really, really, really well. We got like 30 clients from that.
Michael: And you got people...you got strangers or are you essentially like, this was a way to actually get some of the people you worked with at TDA because you're not allowed to solicit them directly, because that's a violation. But hey, if you send mailers to 200,000 strangers and it just so happens a few of those former clients happened to get them, like, that was just open marketing.
Gabriel: Right. And really those original eight that I had, I actually had a stepping stone in between TD Ameritrade and Falcon Wealth Planning. I worked for an RIA firm. So I was already over a year. So these people haven't heard from me in a while. And it really is those eight that reached out to me. So really, there was no solicitation. But it was, of the around 30, 1 of them was a complete stranger. "Hey, you must be somebody big if you're sending this out." So that was one stranger. The other, we'll call it 29 was, "Hey, Gabriel, what happened to you? Hey, we miss you. Hey, can we reconnect? Hey, I heard you left." And it just worked out perfectly. Every single one who reached me ended up being...I shouldn't say that, but I would say about 80% that reached me became clients, the other 20 just wanted to see how I was doing.
Michael: Well, and it's an interesting way just to work around the dynamics of non-solicit. So like, no, I didn't go back and solicit them, I sent a mailer to 200,000 strangers. Like, not my fault it turned out a few dozen of them happened to actually be people that I knew in my old job.
Gabriel: It's funny because TD Ameritrade then reached out with one of these letters, and I had an attorney help with the business. I'm like, "Hey, can you just explain this to them, the situation?" And he said when they were on the phone, or maybe it was a mail correspondence, he said there was a point in time where they were just kind of laughing at the situation. Just, "Wow, can't believe you did that. Wow, okay. Well." He's like, "Hey, I've got proof. I attached it. Look at exhibit B." And then they were like just laughing at the situation.
Michael: And like, "All right, well, that's not a solicitation." I talked to an advisor once that did a version of that in a small town. He bought a billboard of like the one highway into town that everybody takes in and out of town. He bought the billboard for three months announcing the new firm and that he had launched. And he had the same thing where he had a non-solicit he had to work around. But the billboard in his town was the equivalent I guess of 200,000 mailers in yours, and a whole bunch of his former clients found him. He said like, "Didn't get a single other client off of it, but my former clients who liked me and I wasn't allowed to contact were like, 'Oh, that's what you're doing now,' and they called."
Gabriel: That's such a great idea.
Michael: And it wasn't a solicitation because it was literally an open billboard. He was like, "I published a billboard. It's not my fault that some former clients saw it."
Gabriel: Oh, man. Yeah. So there are different ways to do it. I chose certain cities that were more affluent and I knew I had a lot of clients. But no, it's whatever works. That one was tough. And that actually reminded me as you asked that question. Another probably...one of...a low point as we're starting and kind of struggling two months after doing a class is spending like last of our savings, okay, on a class that only had between a mailer, which, remember, is two classes, we only had four registries for those two.
And that was a low point. And I actually ended up going about $50,000 in credit card debt after that, which ironically wasn't a low point because our sales process was so long, and then we had people paying planning fees. Pretty much the company was financed from our savings and zero-interest credit cards. We didn't pay one penny of interest, it was all zero interest. I just kind of played that game. But I remember when the savings virtually went to zero, that was like, "Oh, God, I know it's going to work, but man, just turn the corner. Come on, you can do it."
Michael: And did you ever have doubts as you're racking up credit card debt when all we do is tell clients like, "Whatever you do, don't borrow on your credit card to start a business?"
Gabriel: Yeah. I would say no because at that point, I already kind of went through my savings. I already was onboarding clients. I was waiting for... For us, at least the way we do our firm, it's like, "Okay, come on, July 1st, just make it till July 1st, we're going to get that big billing and we're set. Just July 1st." And then everything was like, "Okay, by October 1st." And so it was always like just that waiting on that quarter to hit. But I carried those credit card balances that were zero interest. I played that game for a while. So it took me two years before I was completely out of debt.
What He Knows Now That He Wishes He Had Known When He Launched His Advisory Business [1:54:36]
Michael: As you look back, anything that you do wish you'd done differently? What do you know now you wish you could tell you from five years ago as you were launching?
Gabriel: I wish somebody would have told me, you're making the same amount of money at $100 million than you are at $200 million. And I'm scared it's going to be the same thing at like...I was already doing the numbers. I'm like, "Okay, at $350 million, man, I'm not going to make that much more because now this person has to get an up in pay, that that much in marketing, that much more ops and planning. We're probably going to need this person." I'm like, "Man, it's not that much more money." And if I wasn't...
Michael: There is an interesting effect that like, the second 100 clients, the second $100 million is nowhere near as profitable as the first, sometimes not profitable at all, because you just have to start hiring people and building infrastructure. And you only get a really small profit margin off that maybe at the end of the day in the building phase. And so it doesn't turn out to be as profitable sometimes as it grows as people expect.
Gabriel: Yeah, building infrastructure is I think huge. From moving CRMs, creating a network to doing managed IP or tech solutions to phone systems to the portfolio management, it's like, man. But the good part is we did... And we really got stuck for a very long time, I feel like, between $150 million to $170 million. We were just like, nothing would move. We were focusing so much. It was always on the phone trying to get a new program or software. It's like building a company versus, "Listen, I'm just good with clients, just I need to get clients. I'm wasting all my time with this." But I think if I were to change anything, I kind of...I probably could have relieved a lot of headache by just going with the TAMP and really just...obviously hindsight, but I probably would have gone with a TAMP and stopped at like $100 million and just lived a good life.
And that's probably what...I don't say I would do it differently. I was motivated by just like, "Okay, we've got to be the biggest and the best." I was motivated. I left my other firm just kind of wanting to show them like, "Hey, this is...if we did it my way, this is how we could have done it," or not quite that, but similar. So I was kind of motivated a lot by that. I probably would have just kind of took... That motivation really helped me with those late nights teaching classes. But now I probably...now that's fading, probably. Now it's all about just getting to $1 billion and helping as many people as possible and bringing on just really good people. We call it the Falcon family. Now it's just more about, "Hey, we've got something really good here." And a part of me feels that in 10 years from now, instead of having like 10,000 RIAs, there might be like less than 1,000, less than maybe even 500. Part of me is like, okay, let's see if we could be 1 of those 500.
Michael: So as we wrap up, this is a podcast about success, and one of the themes that always comes up is just the word "success" means different things to different people. And so you're on this incredible success path of $200 million from scratch in 5 years and still aggressively marketing and powering forward from here. So you're certainly on a successful business trajectory, as you pointed out, maybe already double the size of what you actually needed just to have a good-sized practice and live a good life. So as you go forward from here, how do you define success for yourself?
Gabriel: Yeah, I think it's twofold. I come from a very large family. And I was always raised being compared to somebody else. Just, "Hey, you've got to go to school so you could be a doctor or an engineer like this cousin or uncle" from immigrant parents. And it was always just, we call them legends in the family. And I think one of my two parts is that I've always wanted to be a legend in the family. I've always wanted somebody to raise their kids or just a family member saying, "Hey, do this and you can be like Gabriel. You can be like Gabe." And so that was kind of always my internal like success level is, I just want to be forever... And my dad had 12 brothers and sisters, my mom had like seven, and they all have...and my uncle. Yeah.
Michael: Well, that's a really big family.
Gabriel: Massive. We have well over 170 cousins. And so it's like a little town almost. And then my dad's uncles each had 10 kids. So it's just like...the Shahins are just from LA to New York, Chicago. They're all over the country. And so just to be that I think is huge.
And then kind of the second part, just kind of more defining it is when I can retire at any given moment and not have to worry about any financial needs. I think where it's...it's already not about money. If it is, we would stop and I can just pocket the marketing dollars and work off referrals, which is still almost a third. That's still a good thing. I think once I realize personally that I've saved enough. I was smart with my money, invested enough. We don't live a lavish lifestyle, where we can just...I could retire at any given moment and we'll be fine, that to me will be a great feeling. Because I love what I do. If I win the $100 million Lotto today, I will show up to work the next day. Probably lose the tie, but I'll show up to work the next day. Not change anything.
Michael: Well, amen. Well, sounds like an amazing journey. Curious to see. Is there a benchmark of how large the firm has to grow to check off "legend in the family" status? I don't know, was there another advisor that did a smaller number in the family so you've just got to beat them or is this like an open-ended goal?
Gabriel: I know it's maybe $1 billion under management. I know we'll need this large of a staff. And I think it's more just, "Hey, he's built a real company" versus something else. I think that's what it is. One billion dollars to me has always been kind of that mark. Kind of for me, I was at a TD Ameritrade conference and somebody was talking to me about kind of the vision of the company, and I said, "I really can't envision past $1 billion to $2 billion." I just can't.
I know how many staff we can have. I know what we'd do after that. I could see why people would get stumped at $1 billion to $2 billion. I think I would be one of them. And the advice the guy told me is, "You'll be surprised, once you get there, you'll know what to do," which was really good advice. So we'll see. God willing, that happens.
Michael: Well, I hope so. I appreciate you joining us to share the story and the journey on the "Financial Advisor Success" podcast.
Gabriel: I really appreciate it, Michael. This has been a pleasure. Thank you for all you do as well. You're great and an ambassador for the industry, so I really appreciate it.