Executive Summary
For financial advisors in the early phases of starting their own practice, especially in the fee-only part of the industry, being successful often comes down to the resources and advice available to the advisor. A call with a mentor or peer to ask something as simple as, "Was this hard for you, too?" or "Is this a good choice?", or even just to ask for references and resources can provide not only monumental comfort but also affirm an entrepreneur's choices, thus allowing them to take the next step forward – and hopefully to become a successful advicer in the meantime! However, the advisors on the other end of the call, who are eager to give back to the community that originally gave them support and mentorship, often face their own challenges as they look to provide support to up-and-coming advisors without overwhelming their own calendars and potentially stalling the growth of their own firms.
In this article, Meg Bartelt, founder of Flow Financial Planning, explains how (and why) she developed her own "Office Hours/Ask Me Anything" system, how she prevents time creep, and how advisors can develop their own systems of mentorship and trust.
From an overarching perspective, Meg's Office Hours structure – 45 minutes, every Friday, with up to three people – starts from a time management perspective. Many advisors looking to give back begin with a very open structure. For example, Meg started by setting aside 30 minutes each Friday to have one-on-one discussions with whoever wanted to talk to her. However, more advisors began to reach out, and more slots were added – plus, conversations occasionally went over 30 minutes and ate into even more time! Designating a set block of time for Office Hours for multiple people at the same time helps manage both expectations and time for advisors on the call. And, of course, advisors are not obligated to hold weekly Office Hours. Biweekly or even just monthly meetings can be more than sufficient.
Once an advisor has decided how frequently to hold Office Hours, all that's left is to get started. Initial set-up doesn't have to be complex: a sign-up system, such as ScheduleOnce (which Meg uses) or Calendly, and a social media post or email broadcasting the service may be sufficient depending on how much of a following the advisor already has. Preparation can also be minimal; Meg asks participants for their contact information only, and often enters Office Hours without having done any research or advance preparation for the session.
Ultimately, the key point is that giving back to the advisor community doesn't have to be hard, complicated, or time-consuming. Sometimes, it's as simple as lending expertise, empathy, and community when an advisor needs it most. One connection, insight, or aid can be all it takes to help transform a young advisor's career – but first, one has to start by opening the door!
My Own Professional Journey And The Kindness Of Strangers
I am a career changer. I worked in the tech industry straight out of college and into my early 30s, when I decided to explore financial planning as a new profession. I was living in San Francisco at the time, which was a stroke of luck because I couldn't imagine a more robust community of financial planning professionals.
To learn more about the profession, I attended meetings of the local FPA and NAPFA chapters. I asked for and got informational interviews with several practicing financial advisors, from lead planners to firm owners, who gave me 30 minutes or an hour in their offices.
You know how it's really hard to get your first job in the fee-only part of this industry? And how many financial advisors' origin stories feature a big dose of luck and "it's who you know"? That's my story, too. My first job offer was from my mother's financial planner, who was a retiring solo practitioner looking for a successor. (Spoiler alert: I didn't succeed her.) That's how I spent my first two years in the profession.
Not being particularly well suited for this successor role, but also not knowing how else to progress in the profession, I reached out to Michael Kitces for his advice. I clearly remember that call, as he was whizzing along the Jersey Turnpike and I was rocking idly on my front porch. I was still early in my career, not particularly satisfied with the job opportunities available to me, and wondering about starting my own firm. Michael spent a long time on the phone, giving me a broad perspective of the many pathways to consider for someone interested in starting their own firm.
While I still felt utterly ill-equipped to start my own firm after gaining some of the insights from that call, I did eventually decide to start my own firm. Initially, I was a basket case. What did I know about running a business? Fortunately, I joined XY Planning Network and was willing (eager, even!) to spend money to get the support I needed. In addition to hiring a business coach, Elizabeth Jetton, and taking advantage of XYPN's paid resources, I continued to reach out frequently to other advisors with more experience as solo advisory firm owners, asking for their perspective on their own journeys and looking for insight into what to expect on my own journey in the year ahead.
A couple of years into owning my own firm, financial advisors Will Kaplan and Scott Frank, who are friends and colleagues of mine, invited me to join a call with them. During that call, they encouraged me to raise my minimum annual fee for ongoing planning relationships to $5,000. "No, really, Meg, the prospect funnel will not dry up. In fact, I guarantee that you'll have even more interested prospective clients." And darned if they weren't right. But I needed that shove from someone else, someone else who'd already done it, to get me over the hump.
My firm is now 5 ½ years old and in a secure place. And even though I have now grown enough – as a financial planner and firm owner – to be in a position to offer support to other aspiring solo advisors, I still regularly seek out advice and perspectives from other advisors. I know it'll make me a better and happier planner, boss, firm owner, and all-around person.
What Are Office Hours?
Any advisor who may be well-known in the profession probably has a lot of people reaching out to 'pick their brain'. Yet, while many financial advisors are often eager to help other aspiring advisors, taking the time out to speak to every person who reaches out to them for professional advice and career insights can be an unrealistic time commitment. Holding Office Hours to speak about career insights and industry concerns is one way that allows advisors to help more people in a more time-efficient and organized manner.
Office Hours are simply time slots that are regularly – but not necessarily frequently – set aside on an advisor's calendar to answer questions from a group of other advisors. This group can include any advisors who are interested in participating; advisors don't need to control who signs up. In fact, Office Hours are often more productive and insightful if the sessions are offered for free, and open to any interested advisor to join! Sometimes the group participants even get opportunities to learn from and connect with each other in the course of the Office Hours conversation, not just me! (While I do ask Office Hours attendees to give a donation to the BLX Internship if they find the Office Hours valuable, that's an atypical request relative to how Office Hours are generally held.)
Advisors are entirely in charge of how large a commitment they want to make to Office Hours. Many advisors I know, including myself, do not prepare any talking points, do minimal to no follow-up, and dedicate no more than 45 minutes to the Office Hours session itself. It's simply an opportunity to talk, and answer on the spot any questions that are asked of you. For me, the entire commitment is typically just the 45 minutes scheduled, and at most 1 hour per week.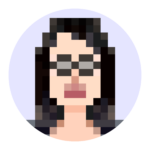 Nerd Note:
I happen to refer to my own Office Hours as AMA (Ask Me Anything) Sessions. Christine Benz of Morningstar mused that the term "Office Hours" could be off-putting (in that "professor vs. student" way). While I don't think the semantics are particularly important, it's also incredibly easy to use the term AMA instead of "Office Hours", so that's what I've chosen to do.
How My Office Hours Take Inspiration From Other Financial Advisors
My Office Hours were inspired initially by Sonya Dreizler, who was the first financial services professional I knew of who offered Office Hours. She wrote an article for Morningstar about the how and why of offering Office Hours, which I consulted as guidance for holding my own.
Since then, I have kept a growing list of advisors who offer Office Hours. We all do it in slightly different ways. Check out these advisors who have all set up their own unique Office Hours experience!
Although I am focused on providing Office Hours to fellow planners, current or aspiring, other advisors could presumably also use the same structure to more effectively reach prospective or current clients as well. It's all built around the same concept: how to effectively leverage your time when lots of people want to 'pick your brain' with questions that can be answered more efficiently in a one-to-many Office Hours format.
Of course, advisors interested in doing Office Hours with clients or prospects should check with their compliance consultant about potential compliance requirements or constraints.
What Are The Benefits Of Office Hours?
When the hosting advisor and several strangers show up together for Office Hours, each guest may know the advisor well enough to only want to talk with them, but it can be tempting to wonder if they will feel comfortable talking, and even sharing insecurities or weaknesses, in front of the others who join the Office Hours group.
To which I say, "maybe". I cannot say what insecurities lurk in the minds of the attendees during my Office Hours. But I can say that we have never lacked questions, and that everyone – including me as the host, and the other advisors who sign up and attend office hours – has been kind to and supportive of the other attendees.
Most importantly, people, not to mention our profession as a whole, get value from participating in (and hosting!) Office Hours, even though they might leave some questions unasked. I also like to think that my repeated and public acknowledgments of my own challenges and insecurities create a more welcoming environment. I don't state it explicitly, but my intended vibe is very much "No jerks allowed".
Benefits To Financial Advisors Hosting Office Hours
Before I instituted Office Hours, I would set aside 30 minutes each Friday to talk with whoever wanted to talk with me on a one-on-one basis. As more advisors began to reach out, though, that grew to the point where I was adding slots outside of that one time, and talking for over 30 minutes (I like talking!). As a result, I sometimes spent way more than 30 minutes each week talking to other advisors. It left me feeling a bit out of my control and sometimes ate into the time I needed to focus on my own business and myself.
Office Hours provided an easy and effective structure to help me simultaneously get more control over my time (by setting a concrete time for any and all advisors who wanted to connect, so I didn't have to keep scheduling additional time slots) while "paying it forward" to more advisors (as the Office Hours format allows me to interact with a group, rather than being limited to the number of 1:1 calls I could fit onto my calendar). With Office Hours, I now know I will spend 12:15–1 pm, maybe going as late as 1:15 pm Pacific Time, on Fridays doing my Office Hours... and nothing else.
Office Hours also give me a simple, repeatable way to continually broaden my professional community, which has been both personally gratifying and helpful for my own practice and professional development. Which is mainly because of the way I run Office Hours – when an attendee asks a question, I try my best to answer it and then invite other attendees to contribute. Oftentimes, they have ideas or perspectives that I didn't, and I am enriched by their contribution.
For example, one attendee who is very early in her career asked for advice about getting better at client communication and managing client behavior. My frequent recommendation for established advisors is the Kinder Registered Life Planner training, but it's a bit much to encourage an inexperienced advisor to spend thousands of dollars on it. Another attendee recommended a much smaller, cheaper training program that I'd never heard of before: the Behavioral Financial Advice program. (This is not an endorsement. I haven't explored this designation.) Now I have one more piece of information I can pass along to other advisors.
Additionally, I might have a prospective client who would be a perfect referral for another advisor who attended Office Hours. Or maybe that advisor may have the expertise that I need in my own practice. Or, when I need to hire an Associate Advisor, I will have more and better aspiring advisors apply for the role.
And then there's the fun.
Did I mention that I really enjoy talking with new people? Or even old people? I do.
And come on, having a bunch of people sign up, week after week, to talk to me specifically? The ol' ego ain't gonna cry about that. (My business coach, Elizabeth Jetton, assures me that, at some point in my personal development, I will put less weight on ego satisfaction. I'm still waiting.)
Benefits To Financial Advisors Attending Office Hours
It can be hard to reach out to a stranger and ask for help. I am – and have always been – more comfortable than most doing that, but I shouldn't assume or require that everyone else be like me in that regard.
Office Hours give me the opportunity to invite other people to ask me for help. I advertise it. I set aside time on my calendar that can be seen in my scheduling tool. I hope this minimizes the discomfort of other advisors reaching out. Nobody has to be gutsy anymore. They simply have to take what I'm offering.
I have been in this profession for over 10 years. As I mentioned before, I am a career changer. I started my own firm and have been growing it for 5 ½ years. I have two employees. I've had to figure a lot out during this time. And some of it was very painful. What if another advisor could bypass some of that pain by simply seeing what I did poorly and doing something else? That would be wonderful. And if another advisor could see what I've done well and mimic that from Day 1? That, too, would be wonderful.
Because it's not always the technical knowledge that new advisors need the most help with as they navigate through their career choices; sometimes, it's more about figuring out how to deal with and process the difficult emotions that come with making hard decisions. And I like to think that I can help there, too. I've been very open about how challenging it has been to start (and grow!) my own firm, and about my struggles in becoming a better financial advisor for my clients.
Regardless of whether other advisors have the same struggles as me or not, they will undoubtedly struggle. So, if I can help them get through their challenges a bit more gracefully simply by empathizing and sharing my story? And by showing them the giant underbelly of my personal Iceberg of Success? I want to be there for that.
Lastly, I see attendees broadening their own professional community not just by meeting with me, but also by meeting with the other attendees who join Office Hours. Occasionally, attendees make an effort after the call to exchange emails so they can stay in touch. All because of a single 45-minute call on a Friday. It's great to see people taking every opportunity to broaden their professional network!
Benefits To The Profession
For all the enjoyment I get out of my Office Hours, and for all I hope it benefits the individual attendees, what really excites me about the potential of Office Hours is the benefit to the financial planning profession.
We talk a lot in this profession about how we can make it more diverse, more inclusive, and more welcoming. One of the many hindrances to this is that our profession, at least historically, has been largely populated by white, heterosexual men. And because people generally feel more comfortable with people who look like them (literally and figuratively), our profession will likely continue to attract white, heterosexual men.
But we all need professional connections to succeed in this profession. I don't want to discourage any set of financial advisors from making those connections; I want to better encourage all advisors to do so!
If a lot of us advisors, who look different in one way or another, publicly proclaim, "Please, come talk with me! I have set aside time for anyone to claim a spot!" then I hope that a larger variety of advisors will reach out to forge those professional connections.
And if we can succeed in giving information and access to a more diverse community, helping a broader range of individuals connect with each other? Now we have more people who can be better financial advisors for more clients, and more financial advisors who can run better firms for their clients and their employees. This might be a bit hyperbolic given the seemingly small nature of Office Hours. But I think the point is pretty clear. If a lot of advisors did this, the effect could be quite large.
Another way that I support enriching our industry through diversification, as mentioned earlier, is by encouraging attendees at my Office Hours to make a donation, if they can afford it, to the BLX Internship, "[t]he internship program for aspiring Black and Latinx financial planners." This is both because I think it's a worthy organization to support, and because I want to encourage a virtuous cycle of "paying it forward" within the profession. Many attendees of my Office Hours have been delighted to donate, report that they have donated (even though I don't require them to do so), and thank me for bringing to their attention an organization they didn't know existed. Advisors can encourage support for many worthwhile professional organizations that will help our industry flourish in their own Office Hours.
Office Hours is an individualistic approach to improving the profession. Professional organizations like NAPFA and FPA have had that same goal for a long time, and to great effect (even considering FPA's own difficulties in the last few years). I don't think the individual and, frankly, the scattershot approach of holding Office Hours can – or should! – supplant organized efforts to improve the profession. Instead, they can be very impactful by simply playing a small part in supplementing a larger ecosystem.
How To Set Up And Conduct Office Hours
Conducting Office Hours doesn't have to be a difficult process – in reality, it can be very easy and as small (or big!) of a commitment as advisors want it to be. The initial setup is probably the most complicated part, and even that is relatively simple.
Setting Up An Office Hours Program
Advisors will need to have access to a videoconferencing tool (I use Zoom) and a scheduling tool (I use ScheduleOnce). Here is the description I've included for my own Office Hours scheduling page that attendees use to sign up:
Friday AMA (Ask Me Anything) is for financial planners, current or aspiring. Equity comp, starting and growing a firm, blogging, life planning, curling into a fetal position... I gotchu.

Up to 3 attendees (plus me) at a time. Depending on who RSVPs, we may cover a range of topics. It may be 1:1 if you are the only person who RSVPs.

These sessions are free. If you find your session helpful, I ask that you give money, if you can afford it, to the BLX Internship Program https://blxinternship.org/, an organization whose goal is to "provide an opportunity for aspiring Black and Latinx financial planners to obtain an internship at a fee-only financial planning firm."
Before advisors set up their software, they need to make a few fundamental decisions:
How often do you want to offer your Office Hours? Once a week, as I do? Once a month, as other advisors do? Twice a month? If you're intimidated by this eating into your time, offer once a month! It's infinitely better than what you – and most advisors – are doing now.
How long do you want your Office Hours to run? Most advisors I know offer 45-minute sessions, with the possibility of using another 15 minutes to send out resources afterward.
What is the maximum number of attendees (in addition to you) you want in each session? I chose 3, somewhat arbitrarily. 15 minutes per person seems to be enough time to meaningfully dig into one question or address a few questions more superficially.
Do you want to ask for any information ahead of time? I ask attendees for nothing but their names, email addresses, and phone numbers (and that last only because that's the default Booking Form in ScheduleOnce; I can't imagine actually needing to do anything with the phone number). ScheduleOnce is set up to allow people to sign up 3 months in advance, which should be plenty of time for people to submit any requested information.
Once I decided how I wanted to structure my initial Office Hours, I set up a reminder system for participants, where I send two emails and one follow-up email to everyone who signs up (all automated from ScheduleOnce). In addition to serving as event reminders, the emails also focus on asking the attendees to donate to the BLX Internship and explaining my "pay it forward" motivation.
Hopefully, advisors are familiar enough with their scheduling and video conferencing software to navigate their way through the technical setup of a virtual meeting. I just thrashed about until it worked. (I'm the first to admit that ScheduleOnce has a steep learning curve. I had to avail myself of the ScheduleOnce helpdesk to figure this out. I have always found them helpful.)
Getting People To Sign Up
There's no point in offering Office Hours if no one comes, right? So, how do advisors get people to come?
It helps to start off with an existing public reputation. I have been active in professional communities – and especially on social media platforms (primarily Twitter and industry Facebook groups) – for 5 ½ years now. I've built a reasonably large following. Building my reputation only by posting on social media has sufficed for me. Even if an advisor's existing community is small, word gets around! Especially when you have an Office Hours offering that makes it inviting for those with questions or seeking advice to be able to reach out.
Social Media
Once a scheduling tool is set up, advisors can start posting in their social media accounts – mine are Twitter, LinkedIn, and Facebook – with a link to the scheduling tool to announce their Office Hours availability.
While mentioning a few areas of expertise can help potential attendees get an idea of what the advisor may have to offer during Office Hours and encourage them to sign up, My initial post on Twitter did not name any topics right out of the gate ... And yet, it still worked fine!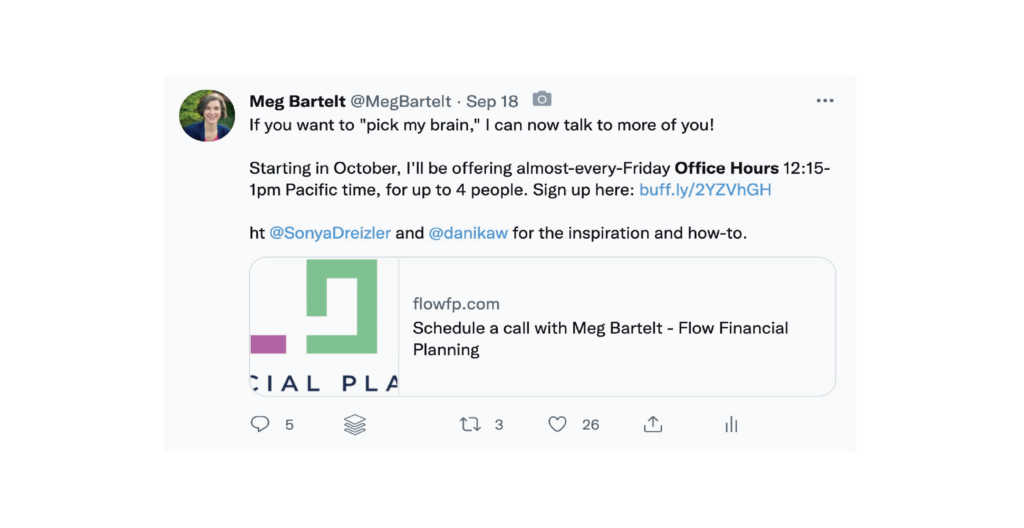 I occasionally post reminders about the Office Hours to ensure that people don't forget they are available. And each reminder is met with a flurry of people scheduling time.
Here's one such reminder that I sent when I decided to change the number of participants from 4 to 3, all within a week of posting the initial announcement.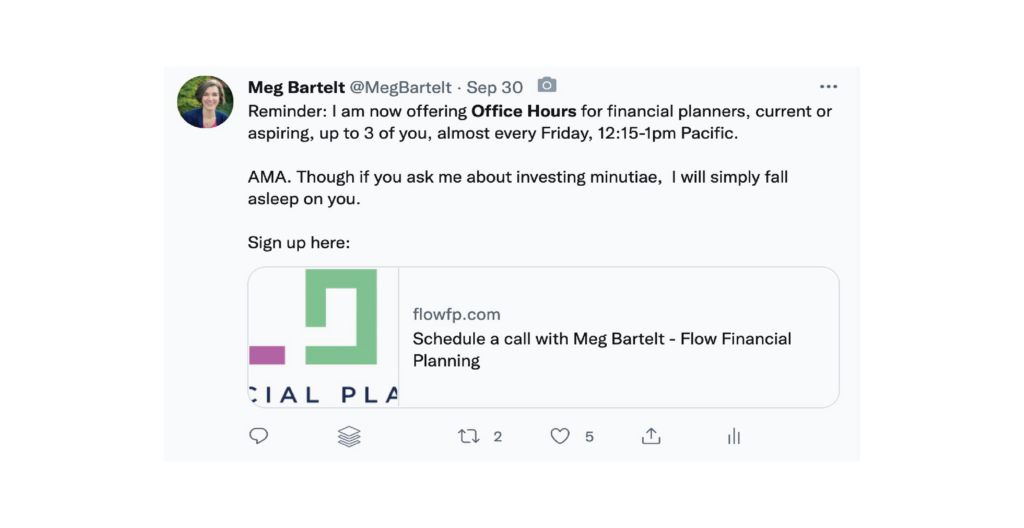 In another reminder sent less than three weeks later, I went from calling the session "Office Hours" to "AMA".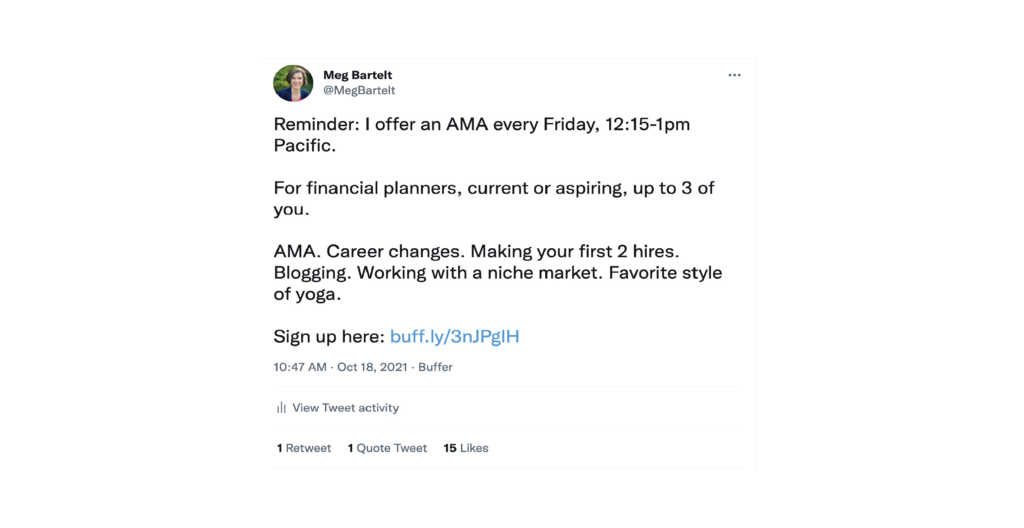 Why do I call out these picayune things? To emphasize how low the bar is to set this up from the start. Office Hours are set up however advisors want to set them up! And they're doing so out of the goodness of their hearts... which means that a lot of the details can be figured out as they go along!
My tweets show that I obviously have an idiosyncratic way of writing. And so does each individual advisor! Write messages whichever way feels best. It'll be fine. Liberating, even.
Professional Communities
I am active in the XY Planning Network Facebook group, so I also posted Office Hours notices there. Advisors who don't participate in social media professional communities can also offer announcements in the forums of whatever professional communities they do participate in.
Advisory Firm Website
Some advisors, such as Michael Reynolds, have a dedicated page on their website for Office Hours: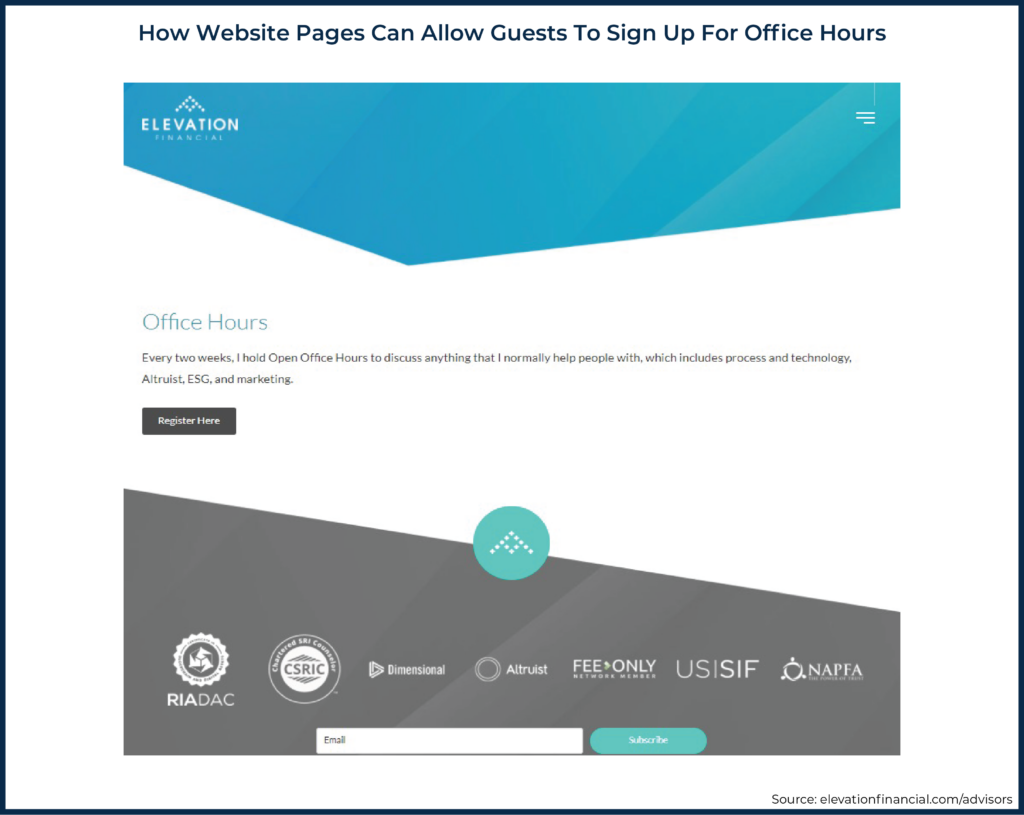 Of course, simply adding a sign-up link on a website is insufficient. No one will know to look there unless it's advertised elsewhere. Kind of like how websites work for attracting clients! My own website includes a sign-up link, but it isn't very easy to find. Clicking the link in social posts is by far the easiest way for people to sign up.
Importantly, adding a link to a website isn't critical. I don't. And my Office Hours are still fully booked, just from the occasional social media announcement that they're available. I encourage advisors to put as little effort as possible into setting these up. Simply using a scheduling tool will prevent having to worry about reconfiguring websites. The more 'stuff' there is to do to get Office Hours started – and to keep them going – the less likely it is that those things will be done. And yet, it can be… So. Easy.
Conducting The Time In Office Hours, Before, And After
Here is how I run my Office Hours. (And perhaps by now, you can anticipate that my next line is: Advisors can run theirs however they want!)
State The Rules At The Beginning
At the beginning of the Office Hours (I give stragglers maybe a minute-long grace period), I explain how it's going to work. Sometimes while eating a sandwich. When I welcome my guests, I start with a brief introduction that goes something like this:
Hi, everyone. Thanks for coming today. Here's how this Office Hours works. Each person has 15 minutes. At the beginning of your 15 minutes, please introduce yourself. That way, the other attendees and I have a sense of who you are.

I'll do my best to answer your questions, and I'll ask the other people if they want to share any of their thoughts, too.

And I think I'll start with…. you, Kelly, because you're at the top of my screen.
And then we (more or less) adhere to that timeline until the 45 minutes are up. Sometimes it devolves into a looser conversation.
No Commitment Outside Of Office Hours
Before the Office Hours occur, I don't ask for anything from the attendees aside from their contact information via the scheduling tool. I do no preparation, because again I'm trying to manage the time I spend by keeping it focused to the Office Hours time slot itself and simply being in the moment with those who join to ask questions.
After Office Hours, I sometimes spend a few minutes emailing participants the names and links to resources that I mentioned during Office Hours. Sometimes they're resources that I mention specifically during the session, or simply to follow-up on moments when I forget what something is called during Office Hours (e.g., when I say, "Ooooh, I can't quite remember what it's called, but there's this thing that could be helpful…"), that I can look up afterward.
That's it.
I've only been holding AMA Office Hours for a few months now, but I've not had a single attendee follow-up with time-consuming questions that were disruptive to my practice. The only follow-ups I've gotten are in the form of "Thank you!" and "I donated to the BLX Internship."
---
The bottom line is:
This is easy.
This is fun.
This helps you, fellow advisors, and the profession!
Go do it.