Executive Summary
As huge swaths of the financial planning industry have shifted from focusing on commission-based sales to providing client-centric comprehensive planning as true financial 'advicers', proving one's chops to break into the financial planning industry has only become more difficult. CFP certification, which was once considered the industry 'gold standard', is increasingly becoming a base-level minimum requirement as firms strive to hire better and more capable new advisors. While this shift has served to create a legitimate 'barrier to entry' with higher minimum standards for competency, and has arguably elevated the overall service provided to clients, the fact that many employers now require having one's CFP certification as a prerequisite for employment means that many new and aspiring financial planners now face costly intensive requirements just to enter the profession.
In other words, the struggle to attain CFP certification, along with completing the robust education requirements, is not just a matter of mastering the academic challenges of the subject material; it also involves managing large expenses that cover tuition (not just for the 6 specific financial planning classes required by the CFP Board, but also for coursework to obtain an undergraduate degree as well, which are often taken by students as two separate curricula), registration for CFP exam fees, and costs associated with CFP exam preparation programs (not to mention the 'soft' costs of taking time off from work and sacrificing personal and family time to study and prepare for the CFP exam!).
For those already in the financial planning profession, there is a chance their firm will agree to cover some (or perhaps all) of the costs required for gaining CFP certification. Yet because the CFP marks are increasingly required in order to apply for paraplanner and associate advisor jobs in the first place, employer assistance is less and less feasible as a means to support pursuit of the CFP marks. Accordingly, for those who have not yet entered the industry (or whose firms will not finance the cost), CFP scholarship programs are becoming a key resource to help the individual manage expenses. Scholarship funding for those pursuing the CFP marks generally focus on three areas: 1) Tuition or expenses related to the CFP Board's 6-course education requirement (which is what the majority of current scholarships provide funding for); 2) CFP exam preparation courses; and 3) Registration fees for the CFP exam itself.
Ironically, though, while scholarships are offered by a wide range of organizations - from the membership associations, to corporate scholarship programs, to educational institutions themselves - there is a paradoxical challenge that more and more aspiring CFP certificants struggle to find dollars to cover the costs of CFP education and certification, even as a large number of CFP scholarship programs struggle to find enough applicants for their available scholarships!
Enter the Kitces.com CFP Certification Scholarship Database, which has collected all the available information on 186 CFP scholarship awards across 39 CFP scholarship programs available for aspiring CFP professionals trying to break into the industry (as well as seasoned financial advisors looking to earn their CFP marks). The database is structured to help prospective planners filter by background and location to find the scholarship that fits their needs, from merit-based programs to needs-based scholarships and those designed to support under-represented populations.
For scholarship applicants, winning an award can make a measured difference not only in their capacity to take the CFP exam, but also in future networking and career opportunities. This is because many scholarship applications are reviewed by a committee of practitioners who are actively looking for future employees. And since the application can impact both immediate and long-term opportunities, creating a strong, memorable submission is essential. Depending on the scholarship, many aspects may be considered, but good academic performance, solid references, and basic professionalism can go a long way.
Ultimately, as the financial planning industry grows, it will not only become more competitive for prospective financial advisors, but also for hiring employers looking to find the best of the best. While there are still many gaps in the scholarships available to aspiring financial planners, firms have the opportunity to create their own scholarships to help fill these gaps. Which can be beneficial not only for the firms creating scholarships (as they provide good branding opportunities to increase a firm's visibility and can also help firms attract high-achieving and motivated employees), but for aspiring CFP professionals and students of financial planning as well. And with the introduction of the Kitces.com CFP certification scholarship list, we also aim to help bridge the gap by guiding those who are looking to join the profession to the support they need to realize their educational and professional goals!
Over the years, the financial planning landscape has become increasingly competitive and focused on providing comprehensive advice in the client's best interest. As a result, firms want their advisors to be knowledgeable, ethical, and competent, often encouraging (and sometimes even requiring) their advisors to obtain CFP certification.
While this focus on the CFP marks may serve to create favorable barriers to entry with respect to an advisor's educational foundation and ethical practices (as raising the bar on minimum standards helps to move financial planning within the ranks of other professions that similarly have higher-quality standards), it also creates a less favorable barrier to entry with respect to financial constraints on the advisors themselves, as CFP certification is an expensive process and candidates pursuing their CFP mark may face a potentially cost-prohibitive journey.
As such, it is important to provide financial support for competent individuals who may need assistance to cover their educational costs so that they can hone their skills as qualified 'financial advicers' who will serve to benefit clients, companies, and the industry itself. A broader base of financial support for CFP certification is especially relevant as the financial planning industry works towards increasing diversity and making the profession more inclusive (as otherwise, the unequal distribution of income and wealth can result in an unequal distribution of advisor diversity).
Fortunately, the growing availability of scholarships is widening the door for those who are dedicated to pursuing CFP certification and who aspire to become better financial planners. A range of organizations provide scholarships, including the CFP Board, membership associations (e.g., FPA, NAPFA), financial services companies, and the educational institutions that offer the financial planning curricula themselves. However, because each entity tends to have unique requirements or limitations for how the scholarship funds can be used by recipients (not to mention different requirements and application due dates), it can be difficult for students and aspiring CFP professionals who need financial support to apply for and keep track of relevant scholarships.
Accordingly, to facilitate getting scholarship dollars to deserving future planners, we are launching the Kitces.com CFP Certification Scholarship List to serve as a central database for financial planning students and the industry itself. The database already lists dozens of scholarships for aspiring CFP professionals, though ultimately, it is intended as an ongoing work-in-progress that we will keep timely and updated (along with our Readers who may wish to share new scholarships they've discovered or even helped to create!). Our aim is to help deserving candidates and future CFP professionals find and apply for appropriate CFP certification scholarship opportunities.
Editor's Note: To suggest any scholarships that should be added to the database, please email [email protected].
Scholarships Help Manage The High Cost of CFP Certification
In addition to the tremendous commitment of time and perseverance involved in the CFP certification process (from the core educational classes and Capstone course to as many as 250 hours studying for the CFP exam), there is also a significant financial burden involved in getting one's CFP mark that can create a significant barrier to entry for many.
As not only is there a significant cost required to obtain a candidate's bachelor's (or higher) degree, but the process of obtaining CFP certification itself, from coursework to exam preparation and the exam itself can add up quickly:
Financial Planning Coursework in a CFP Board Registered Program (which may be satisfied by coursework included in a degree or minor program) ($3,000 to $10,000)
Exam Preparation Course ($395 to $2,095)
Exam Fees ($825 early-bird rate; $925)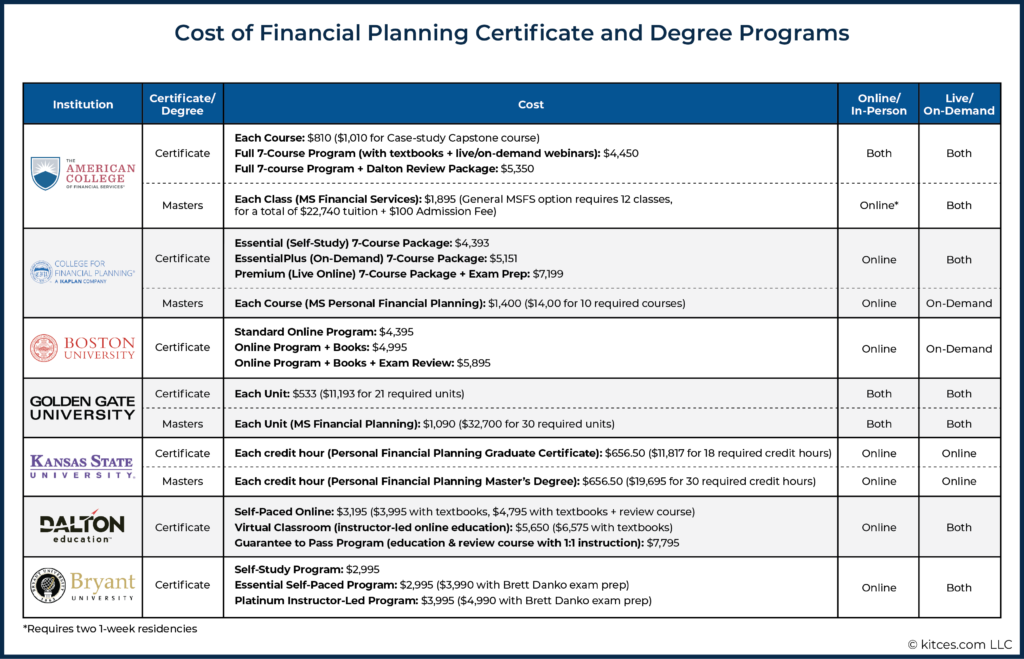 For a growing number of companies, it is becoming common for employers to reimburse employees for at least a portion of (and sometimes all of) the required CFP course costs, exam prep expenses, and test fees, easing the financial burden for those already with a firm.
However, with the growing popularity of CFP certification and undergraduate programs in financial planning, there is an increasing tendency to require financial advisors to meet at least the educational requirements for CFP certification, or even to obtain the CFP marks themselves, before applying for entry-level planning jobs. Which would mean the educational reimbursement programs for advisory firms to pursue CFP certification are helpful for those climbing the career ladder at the firm, but not for those looking to pursue a pathway into the advisory business who aren't already employed as such!
Accordingly, financial assistance outside of what employers provide to their employees – in the form of various scholarships – becomes especially important as a pathway for those looking to join the financial planning profession.
CFP Scholarship Support For Aspiring CFP Candidates
When it comes to scholarships available for those seeking CFP certification, there are generally three main types of expenses that these scholarships will cover:
Tuition for the 6 required classes to meet the Financial Planning coursework requirement (either as a Certificate program or part of an undergraduate or graduate degree program);
CFP exam preparation program costs; and
CFP exam fees
The majority of scholarship funding offers support in covering tuition or expenses related to the CFP Board's 6-course education requirement. These scholarships can be quite competitive, and typically range from $1,000 to $10,000. They can provide funds for a large portion of the fees for the required CFP coursework.
The second type of scholarship provides funds to cover the cost to participate in a CFP exam preparation course. Most CFP practitioners, and the CFP Board itself, encourage those who have not yet taken the test to enroll in a preparatory review course to increase the chances of success on the exam. These awards typically range from $1,000 to $2,000 (the cost of an exam review program itself).
The last type of scholarship support offers funds to pay for CFP exam fees, which amounts to a scholarship of $925 (the current Standard CFP exam registration fee). These scholarships can be less competitive since many employers cover or reimburse this fee for their employees already (making it especially valuable for aspiring CFP candidates not already employed in the industry). Organizations that offer these types of CFP exam fee scholarships often mention that they do not receive any(!) applicants for these funds, which highlights the potential lack of visibility of these scholarships.
Notably, in some cases, scholarships that cover CFP exam fees are awarded to individuals who successfully pass the exam, effectively making them more of a 'reimbursement' program (which does little to solve challenges for those struggling to pay for the exam in the first place). Fortunately, though, the majority of CFP scholarship support, in general, is provided upfront in the form of a scholarship, avoiding the pressure to cover one's own costs until they can be reimbursed.
State of CFP Scholarships
Fortunately, the financial services industry – in recognizing the financial constraints of pursuing CFP scholarships – has been increasingly establishing a wide range of CFP scholarships, with 39 scholarship programs granting 186 awards (as of the publication date of this article), with over $875,000 awarded annually.
Notably, many CFP scholarships aim not only to generally provide financial support to individuals working to meet the requirements for CFP certification but also specifically to increase diversity within the financial planning profession. Out of the 39 scholarship programs, 17 offer support for underrepresented groups (including those targeted for women and advisors of color).
Other scholarships are intended for particular communities or the constituents of various industry organizations. For instance, 11 have a geographic requirement for applicants to qualify (typically associated with a local FPA chapter), and 3 are intended for those in the military or for members of specific organizations or networks (American College Veterans Affairs Scholarship, XY Planning Network, and NAPFA).
Notably, many educational institutions also offer scholarships to their undergraduate and graduate degree programs – often not specific to CFP certification or the financial planning department in particular – but available nonetheless as a way to defray the cost of CFP coursework.
Ultimately, financial planning still doesn't have the breadth of scholarships of some other professions, but the Kitces.com CFP Certification Scholarship List includes 186 scholarship awards granted by 39 scholarship programs, in comparison to the AICPA's CPA scholarship list, which includes 190 scholarships for CPA candidates – which suggests that even as a relatively new and growing profession, financial planning is off to a good start with the scholarship dollars available to support aspiring CFP practitioners!
Navigating Scholarships Supporting CFP Certification – Announcing The Kitces.com CFP Scholarship List
Given that financial advisors (and aspiring financial advisors!) are now choosing to pursue CFP certification more than ever as a path to honing their expertise and better serving their clients, we are pleased to share the recent release of the Kitces.com CFP Certification Scholarship List.
The scholarship list was designed so that candidates seeking CFP certification (or financial planning students who aren't yet sure they intend to sit for the CFP exam) can filter the scholarship across three variables. By starting with the most relevant type of scholarship (e.g., university tuition for coursework in financial planning, tuition fees for required CFP education coursework, CFP exam registration fees, CFP exam prep, etc.), candidates can then narrow down their search by applicant criteria (e.g., geographic location and minority standing), and make the results even more specific by searching for desired application method (e.g., essay, interview, online, paper, etc.) to make finding the most relevant opportunities even easier!
Tips For Submitting Successful Scholarship Applications
Once relevant scholarship opportunities are identified, candidates must pay meticulous attention to their writing and communication when submitting their application materials, as these skills will be on full display. Nearly all scholarship applications have a separate essay requirement, and applicants who spend time crafting a compelling and well-written story (such as your own money story) will have a considerable advantage when competing for scholarship funds.
It's also important to note that many scholarships look for well-rounded individuals with high potential. This can be reflected in a variety of ways, not just by work history but also by volunteerism and educational achievements. Consider the group to which you are speaking. For example, can you talk about how you earned money in college to pay off debt, save, or invest money because of your desire to become a CFP? Or did you volunteer with a Volunteer Income Tax Assistant (VITA) site or a charity that provides financial literacy? Can you share how your minor in psychology will allow you to help individuals make better financial decisions?
Scholarship committees will typically assess the following areas as metrics to assess a candidate's probability of success in the profession:
Prior academic performance. Scholarship providers, especially when covering costs upfront, want to be reasonably certain they're not investing in someone who won't be able to pass the CFP coursework or exam and may just end out leaving the field. Accordingly, demonstrating educational success in any field can be considered a positive factor (or a strong reason that previous educational issues will no longer be a problem).
References. Past or present employers, professors, mentors, or peers who have spent quality time with the candidate can convey to the committee that the individual is worth investing in. Specific stories which a reference can share paint a picture of the candidate and the qualities which one possesses.
Professionalism. No grammatical errors or typos. Show professionalism with an easy-to-read format. Share professional achievements such as promotions, reaching operational or sales goals, high customer service reviews, and feedback from customers.
Given that many scholarship applications are reviewed by a committee of practitioners, many of whom are themselves looking for candidates with outstanding communication skills and attention to detail, candidates can view the application process as not only a chance to be awarded scholarship funds but also an opportunity to get on the radar of a firm looking for a new hire. (Consequently, whenever possible, applicants who are seeking employment after CFP certification should consider getting the contact information for committee members or individuals involved in the application process so that they can properly thank them and stay in touch during the subsequent job search.)
For students who are part of an underrepresented group and who are looking for scholarships in pursuit of CFP certification, there are many diversity scholarship opportunities available. One of the best is the College of Financial Planning's Diversity Scholarships for CFP Certification. This program offers up to 60 CFP scholarships annually to underrepresented individuals, covers the cost of the six required classes, and includes three months of exam prep. Overall, these scholarships have an estimated worth of approximately $7,600, based on the cost of these educational programs from the College of Financial Planning.
Notably, because the bulk of CFP educational requirements have historically been satisfied by Certificate programs outside of an undergraduate or graduate degree program, there are a significant number of scholarships tied to such (non-undergraduate) programs. Which means some aspiring CFP professionals may find it more cost-effective to complete one's undergraduate degree, not take the CFP minor/certification at their current institution (or not even worry if it's offered there), and then separately seek out a program (and scholarship) for their subsequent CFP coursework.
Needs and Gaps In Financial Planning Scholarships For CFP Candidates
While the scholarship list is a good place to start, there certainly remains a need for more scholarship opportunities. Firms in search of support staff and service-level advisors know that finding a well-qualified individual with the educational requirements completed can be a challenge.
Where Scholarship Dollars Can Make The Most Impact
While it is a complex issue, reducing the financial barrier to entry to our field is one quantifiable way to bring new talent into our industry. According to our most recent data, there is currently at least $875,000 in annual scholarships available (with over 50% of those funds provided by the College for Financial Planning). Further research is still needed, though, on how scholarship dollars can be most impactful.
Would awards be better utilized if they offered financial support to recipients finishing their undergraduate degrees (which comprise the most expensive cost of CFP certification)? Or should educational programs perhaps include exam preparation costs within the overall pricing for the 6 core classes required by the CFP Board? This could allow scholarship providers to focus on providing funds to help students with their educational requirements and potentially allow students to borrow, via student loans, to finance other costs (including test registration) to help support themselves through the successful completion of the exam.
As it currently stands, there appears to be more funding for exam registration fees, when in fact, the highest (and certainly most substantial and potentially prohibitive) expenses faced by CFP certification candidates are tuition fees for fulfilling the CFP education requirements.
In addition, it is clear that the CFP scholarship ecosystem does not offer much for graduate or Ph.D. students, yet these students play an important role in the industry as they are doing the research that helps refine and grow our field, and they also devote energy to teaching the next generation of planners. Supporting fellow CFP professionals in academia would be a worthwhile investment in supporting the industry's growth and development.
The remaining issue identified is focusing the dollars on actual need. A best practice for colleges and universities is to make scholarship decisions based on financial information provided via the FASFA (or similar applications through their state). Currently, it appears that actual need is self-identified by those applying (and not by any standardized documents, such as the FASFA), which potentially leaves an opportunity for bad actors to abuse scholarship opportunities (though it isn't known whether those who could easily afford the CFP costs on their own are actually applying for need-based scholarships).
How Firms Can Design Their Own CFP Scholarships To Attract Top Talent
For firms trying to attract new talent, sponsoring an annual scholarship not only has the potential for a good branding opportunity to increase a firm's visibility, but it also can be a simple method to attract high-achieving employees.
Some key factors to consider when designing a scholarship program include identifying a goal for the scholarship, determining an appropriate budget, choosing selection criteria, developing an evaluation process, and branding (and marketing) the opportunity.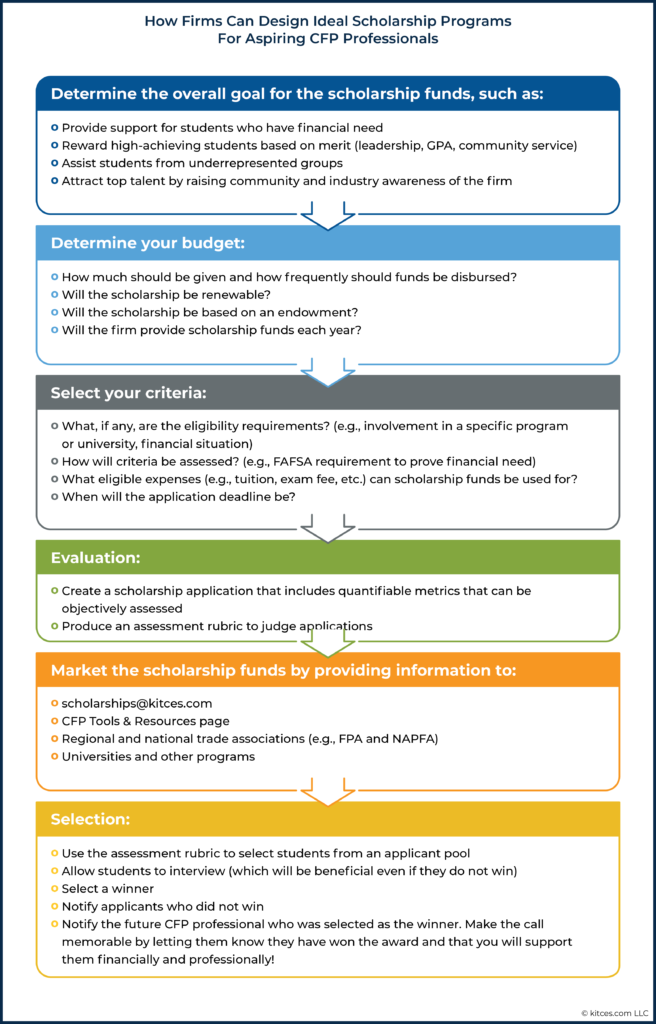 Currently, there are only 39 scholarships on the Kitces.com CFP Certification Scholarship List. Hopefully, that number will expand exponentially, but the branding ROI for an advisory firm offering a CFP scholarship can be an added benefit above and beyond supporting new entrants to the profession simply by providing an additional touchpoint for potential new employees to become aware of the firm offering the scholarship and show the firm's dedication to improving the profession through support of CFP certification. It is becoming increasingly competitive for firms to attract top talent, which suggests that CFP scholarship programs for aspiring financial planners may offer a Blue Ocean Strategy for finding new talent for the industry!
Notably, firms that are active at a regional and national level appear to attract more top talent than those that are not active. A great way for smaller, local firms to make their presence known would be to create scholarships that match the firm's vision and that show their commitment to new planners entering the field.
Firms could have the scholarship application appear as an enticing element on the homepage of their website, giving candidates a front porch view of the firm. The same website strategies for attracting prospects and clients can also be applied to finding top talent through scholarship opportunities!
---
Financial planning has been extremely rewarding for many of our readers, yet the costs involved to join the profession as a competent and knowledgeable financial advisor can be daunting to new professionals. Accordingly, by providing a comprehensive resource for students, academics, and practitioners with a full view of scholarship opportunities, we hope to encourage more aspiring CFP professionals and students of financial planning to join the profession by helping them find the support they need to realize their educational and professional goals!