Executive Summary
Last week, the CFP Board launched its new Career Center, an initiative announced last fall as part of the organization's ongoing efforts to support a pipeline of talent coming into financial planning. And while the effort itself to support the growth of financial planning is admirable, though, the $350-per-job price point of the CFP Board's new initiative makes it clear the initiative is about financial expansion and growth of the organization as well, continuing its ongoing trek of competing more and more overtly with membership associations like the FPA and NAPFA.
In fact, the CFP Board's new Career Center raises significant concerns about its ever-growing footprint beyond its scope as a non-profit organization established primary to grant the CFP marks and uphold them as a recognized standard of excellent. After all, while any other organization that offers or launches a financial planning Jobs Board must struggle just to obtain a list of potential CFP certificants just to reach them – which the CFP Board has long refused to share or make available except on a limited or costly basis – the CFP Board will engage in this potentially-highly-profitable endeavor by using its own list of 71,000 CFP certificants (plus not-yet-CFP candidates!) for marketing purposes!
Why has the CFP Board launched a premium Job Board that could generate unrelated business income tax for the organization, and is competing against its supporting membership organizations like FPA and NAPFA, instead of simply supporting them in return?
The New CFP Board Career Center For Financial Planning Jobs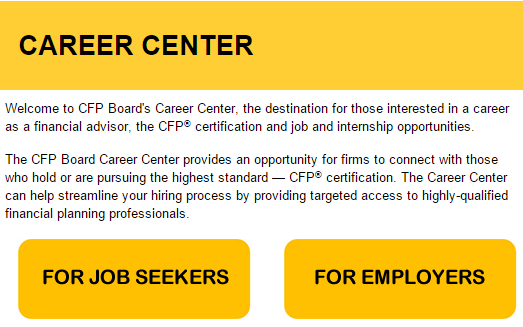 As is common for most "job boards", the CFP Board's Career Center includes the usual suite of solutions for both job seekers and firms that may be hiring, built on the hub of Boxwood job board technology.
Firms that wish to post jobs can do so at price of $350 for a 30-day listing (large firms are discounted to $290/job when listing 5 at once or $280/job for 10 at a time), with an additional $95 to make the position a "Featured Job" with greater visibility. Once firms post a position, it also gains access to view the full details of any resumes that have been posted (and set up alerts for resumes of interest), and manage any inquiries that have come for the jobs that are posted.

Those looking for a job can search the list of available positions, "Save" jobs from the list that may be of interest, request to be notified of similar jobs when appear, and post a resume to allow firms to seek them out. Thus far, the CFP Board has a 'healthy' list of 78 jobs from 53 employers, including a range of both "smaller" independent firms, and large national firms like Fidelity (who is the exclusive founding sponsor of the initiative).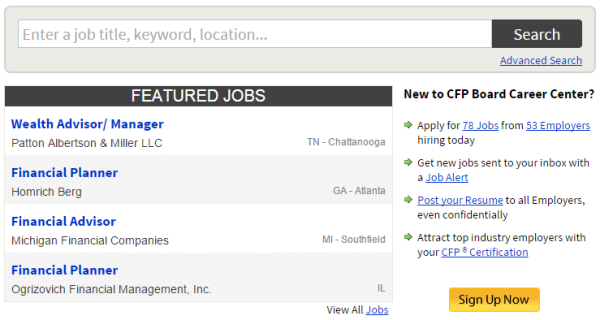 Notably, the CFP Board's pricing is significantly higher than most industry competitors. The FPA allows members to post a basic job posting in its Career Center for just $100 and a (higher visibility) premium posting is $225 (non-member rates are significantly higher though). NAPFA makes its Career Corner job postings free for NAPFA members, and only $100 for non-members (albeit restricted to fee-only firms/opportunities). Similarly, independent industry-niche providers like our own JobsFP makes basic listings available for $99, and RIAMatch has a broader offering for only $50.
CFP Board's Non-Profit Assets Supporting A For-Profit Job Board?
So why does the CFP Board anticipate that it can charge significantly more than competitors in its new Job Board endeavor? Because it can leverage the success of its new financial endeavor by having exclusive access to an incredible valuable asset it has created as a part of its non-profit mission: its own mailing list of 71,000 CFP certificants (not to mention thousands more who are still CFP Candidates and prime prospective job seekers).
In other words, every other membership association and private entity offering a job board has to spend resources (i.e., marketing dollars) to reach potential job seekers and hiring firms, but the CFP Board is able to compete by simply using the captive list that it already has from its "primary" endeavor as the organization that provides the CFP marks.
To be fair, businesses leveraging their existing assets is hardly new to the CFP Board, and to some extent it's hard to fault the organization for trying to do so. And the door for a better financial planning jobs board has been left wide open by the poor execution of most of the alternatives (e.g., the overwhelming majority of job postings in the FPA's career center actually have nothing to do with financial planning, while at least so far the CFP Board's Career Center job listing are mostly on target). Except the reality is that the CFP Board is not chartered as a growing for-profit enterprise; the CFP Board's mission is to benefit the public by granting the CFP certification and upholding it as the recognized standard of excellence for competent and ethical personal financial planning.
In fact, charitable entities using their charitable assets – not to mention their status as a tax-free entity, which allows the CFP Board to retain more "profits" from its Job Board activity than some of its competitors – to compete against other for-profit enterprises has a special nomenclature in the Internal Revenue Code: Unrelated Business Income, on which even a 501(c)(3) charity must pay unrelated business income tax.
Which means in the end, the CFP Board's push into the jobs realm raises many troubling questions of conflict. Will the CFP Board be reporting its Job Board profits as unrelated business income, subject to taxation? And why is the CFP Board, with a mission to benefit the public by granting and maintaining the CFP marks, entering into an unrelated business as a premium job board provider, instead of focusing on its core mission? Why has the CFP Board insisted for years that its lists of CFP certificants cannot be shared at all (or only in very limited ways), but feels it is acceptable to use its list as marketing for its own for-profit endeavor? Why is the CFP Board competing with the offerings of its supporting membership organizations like FPA and NAPFA, instead of supporting them in return? Is the CFP Board continuing its trek towards someday launching its own competing membership association, for which the Career Center could be used to seed revenue for the organization?
So what do you think? Is the CFP Board's new jobs board a positive for the industry? Should the CFP Board have launched it alone, or supported other industry jobs boards (e.g., from FPA and NAPFA) instead? Is the CFP Board's initiative supporting its mission, or a distraction from what its core focus should be?
Disclosure: Michael Kitces is a part owner of JobsFP, a financial planning jobs board made available through New Planner Recruiting.