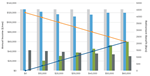 For many financial advisors, Social Security retirement benefits are often an integral part of their clients' retirement strategies to provide income. However, married couples not only have their own retirement benefits that are calculated based on each person's individual's work history (assuming they have the requisite 40 quarter-credits of earnings) available to them, but can also take advantage of spousal benefits when an individual's spouse has a work history that leads to a benefit greater than their own retirement benefit. While the spousal benefit is often advantageous to the extent that the work history of an individual's spouse leads to a greater benefit than the individual's own retirement benefit, it does lend to potential strategies for married couples to maximize total Social Security benefits that are not available to single individuals.
The amount of an individual's Social Security retirement benefit that would be received at Full Retirement Age (FRA; 66 for individuals born in 1954 and thus reaching that age in 2020) is the Primary Insurance Amount (PIA) and is calculated based on a formula that takes a certain percentage of the wage-inflation-adjusted average of the worker's highest 35 years of FICA- or SECA-taxed earnings (i.e., the Average Indexed Monthly Earnings, or AIME). While the retirement benefit is equal to the PIA when a worker claims their benefit at FRA, benefits are reduced if they begin prior to the worker reaching FRA and increased if taken later (up to age 70). By contrast, an individual's spousal benefit is equal to 50% of their spouse's PIA. The spousal benefit is not adjusted if the working spouse claims the benefit early (e.g., if the working spouse begins taking retirement benefits before reaching FRA), but the spousal benefit is adjusted lower if the non-/lower-earning spouse claiming the benefit does so before their own FRA.
A business owner who is married may have the flexibility to hire their spouse and 'transfer' a portion of their salary between themselves and their spouses (assuming that the spouse actually provides services to the company to earn a salary in the first place). While this can serve to increase the couple's combined retirement benefits, it often results in lower combined overall Social Security benefits for the couple! Notably, without shifting any salary, the non-/lower-earning spouse is already entitled to a spousal benefit. Accordingly, shifting salary away from the higher-earning spouse will often reduce their PIA right away (unless they already have 35 years of higher wage-inflation-adjusted earnings or, after the split, they continue to have earnings in excess of the maximum amount subject to FICA taxes for the year), while the benefit that the non-/lower-earning spouse would be entitled to won't increase until their own retirement benefits exceed the spousal benefit that they would have received absent any changes.
In situations where a married worker receives compensation higher than the maximum amount subject to FICA taxes, cumulative Social Security benefits to the couple can potentially be increased by splitting the business owner's salary between spouses. The caveat, though, is that by shifting the higher-than-FICA-maximum compensation to a lower-earning spouse, there can be a significant increase in annual FICA tax liability. In many – and perhaps, most – cases, the downside of the increase in FICA taxes will more than offset any cumulative increase in potential Social Security benefits. Thus, such an approach typically does not benefit a couple.
There are, however, situations where splitting the business owner spouse's salary can make sense. One such situation is when a worker's annual compensation will not be included in one of their top-35 years in calculating their Social Security AIME. If such is the case, and the worker's compensation to be split is below the maximum amount subject to FICA, it may be possible to increase the spouse's retirement benefit such that it exceeds their spousal benefit, thus netting a higher overall Social Security benefit for the couple (and without impacting the total FICA tax due)! Additionally, shifting compensation from a higher-earning spouse to their lower-earning partner will result in increasing the lower earner's PIA. And with a higher PIA, calculated from the AIME based on the lower earner's own work history, the individual's retirement benefit will be commensurately higher, with the flexibility to claim those benefits as retirement benefits whenever they desire (versus being required to wait until the higher-earning spouse decides to claim their own benefit, which would only then allow them to claim their spousal benefit). And while the net retirement benefit amount may not be higher, it may be the couple's particular situation where flexibility to claim the benefits is more important.
Another situation where salary splitting may make sense for a married couple is if one spouse earns less than the other, but their own retirement benefit is already close to, equal to, or greater than their spousal benefit. In such circumstances, less (or potentially none) of the additional compensation received by the spouse will be 'wasted' by only increasing their own retirement benefit to equal their already-existing spousal benefit. Thus, salary shifting in this instance would potentially result in increasing the lower-earning spouse's own retirement benefit such that the couple's net Social Security benefits would be greater.
Ultimately, the key point is that to the extent a spouse can be legitimately hired for providing services to a working spouse's company, salary-splitting strategies can be considered (or avoided) as a way to help the couple optimize their Social Security benefits, and offer some timing flexibility for spouses who may feel constrained by the rules of claiming spousal benefits. However, financial advisors should be aware of the potential limitations that these strategies have, especially because of the role that spousal benefits play in a couple's total Social Security benefit.