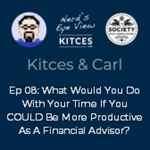 Last fall, Kitces Research published its first study measuring how financial advisors actually spend their time. The analysis revealed that advisors in the aggregate work an average of about 43 hours per week… yet when we asked about the time they spend on all the various task that they have to accomplish during the week, the total came out to a whopping 52 hours, suggesting that perhaps we're far more buried in our work than we realize. Yet that shouldn't be terribly surprising, since humans tend to be notoriously bad about making aggregate estimates, like the amount of time we spend looking at our phones or the number of calories we take in on any given day.
In our eighth episode of "Kitces & Carl", Michael Kitces and financial advisor communication guru Carl Richards sit down to discuss how financial advisors are spending their time, strategies that can help advisors focus more on what they're best at… and what might be accomplished by increasing your business (and personal) efficiency in the first place.
For instance, despite being a business that's all about serving clients, a deep dive into the data reveals that advisors actually only spend about 20% of the time meeting with clients. Which could mean that, despite all the great technology that's come online in recent years, it hasn't accomplished its most important task: to actually reduce the time we spend on all the other things that we do when we aren't sitting across the desk from our clients. As in practice, beyond the 20%-time in client meetings, advisors still spend significant time on such activities as meeting prep and follow-up (30%), business development (20%), and investment management (11%)… with the remaining time being spent on operations, professional development, and various administrative duties.
Of course, there are some challenges around spending more than 20% of your time with clients (since we tend to reach our mental capacity once we're serving somewhere between 100-150 clients in the first place, and clients will only meet "so many" times per year), there's still an opportunity to get better at spending more time at the things that only we can do, and handing off the remaining responsibilities for those tasks that don't need our unique expertise, to begin with. Because the reality is that the chances that we're really good at all those "other" things that take up the majority of our time as advisors are about zero anyway! In fact, the data shows that when advisors have someone they can delegate tasks to (e.g., a paraplanner or associate advisor), they have (on average) 64% more clients and have 80% more take-home pay than advisors that don't… simply due to the fact that they end out using the extra time to spend with more clients!
Ultimately, though, we do still need to ask ourselves, "to what end?" Do we really want to become so efficient and have so many clients that we can't even remember who they are when we meet with them? Or instead, is perhaps the point of greater efficiency less about doing more stuff, and more about spending time on things that are important to us instead? In other words, we spend so much energy and time helping our clients find their "why" and focus on what matters most to them… so maybe we should do the same for ourselves, too.
And so, the question becomes: if you're spending 20% of your time as an advisor serving your clients, what would you do if you could free up more of the other 80%?