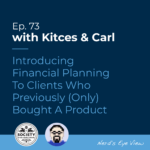 Financial advisors who offer comprehensive planning services often attract prospective clients in a variety of ways – through their websites, with content creation, and by referral, to name a few. In these cases, prospects are generally aware of the types of services the advisor offers. However, for an advisor who buys a book of business from a life insurance agency, clients who have had policies sold to them may not be looking to work with an advisor on an ongoing basis, let alone be aware of comprehensive financial planning services at all.
In our 73rd episode of Kitces & Carl, Michael Kitces and client communication expert Carl Richards discuss how financial advisors who take over a book of business from a life insurance firm (or other product-sales-based business) can work with clients who may only be familiar with advisors working on commission, primarily focused on product sales.
Advisors who are concerned that such clients may consider a pitch for comprehensive planning as too 'salesy' can approach the situation by not pitching planning services right away. Instead, they can help shift their new clients' mindset by simply helping the client assess whether the product they were originally sold is still appropriate for their situation. And by asking good questions and listening to the client, refraining from doing most of the talking themselves, advisors can engage in conversations that not only generate client trust but also provide valuable information about the client's personal situation. Which helps advisors gradually introduce the concept of service (that will truly benefit the client) beyond sales, without coming across as too 'salesy'.
Additionally, taking the time to discover a client's potential pain points in their financial lives (e.g., worrying about running out of money in retirement or supporting a child's education), can help the advisor demonstrate how they can add value by showing clients how to resolve those pain points, either in meetings with the client or through other resources provided by the advisor (e.g., emails, blog posts, or other marketing channels). While advisors might not get an immediate return from these efforts, they still ensure that clients are aware of how a comprehensive planning relationship can be helpful when they become ready to engage in one.
Ultimately, the key point is that when working with new clients who are only familiar with previous advisors focused on product-based sales, financial advisors can help shift clients' mindsets about their role by generating trust and demonstrating to the client that they have their best interests at heart. Advisors can accomplish this by asking the right questions, listening closely, and identifying how their services can help solve the client's unique and specific pain points. Importantly, because such clients may not be seeking a comprehensive relationship at first (at least initially), advisors should be prepared to play the 'long game' of consistently demonstrating their value!