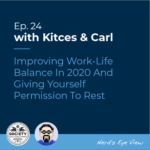 With the beginning of 2020 upon us, we find ourselves not only ringing in a new year, but also welcoming a whole new decade! And with these new beginnings comes the perfect opportunity to review our most important personal and professional goals, set new intentions, readjust (or even abandon) old ones, and explore strategies that might help us reach those goals more effectively.
In our 24th episode of Kitces & Carl, Michael Kitces and financial advisor communication expert Carl Richards talk about their own big goals for 2020 and the strategies they'll to use to achieve them. And two of their key components to doing so (which can apply as effective practices for all knowledge workers like financial advisors) are 1) getting sufficient rest and 2) clarifying intentions.
As while rest allows the brain to recharge and maintain optimal cognitive function, taking structured breaks from work shouldn't be seen simply as a reward for doing good work, but also as a vital prerequisite for supporting the mental acuity and creative capacity needed to do good work in the first place! Accordingly, tackling goals with a non-stop "hustle" mindset may not necessarily be the best strategy to use; rather, it may be more effective to prioritize rest and relaxation, scheduling enough of each into one's recurring routines.
However, the challenge for many busy, ambitious individuals is that they often have so much on their plate that they simply don't have enough time to get everything done, making it difficult for them to schedule much-needed rest and relaxation into their schedules. One strategy that can help them to organize priorities is to implement the idea of "Big Rocks", proposed by late author and productivity consultant Stephen Covey, in which the most important tasks are prioritized first (like "big rocks" being placed in a jar representative of one's available time), and less important smaller tasks prioritized later (like pouring "pebbles" and "sand" over the big rocks, filling the empty spaces in between).  This ensures that the real prioritities (including rest!) are tackled first, leaving room for the smaller tasks to come later (which, if they don't get accomplished because there's no time after the other work and finding time to rest, are by definition of little consequence relative to the larger goals and thus not as problematic to miss out on).
Ultimately, the key point is that having clarity on which goals are most important is crucial in identifying and prioritizing the "big rocks" that should be tackled first. And whether your goals are to grow your business and expand your team, or to make time to enjoy a daily hike, sufficient rest is paramount to achieving those goals with optimal mental clarity and creative capacity.