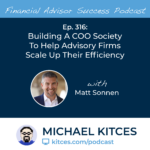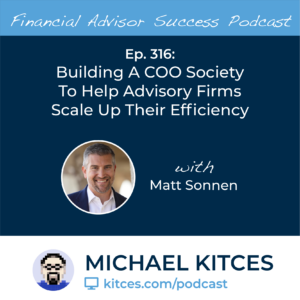 Welcome back to the 316th episode of the Financial Advisor Success Podcast!
My guest on today's podcast is Matt Sonnen. Matt is the founder & CEO of PFI Advisors, a consulting firm based out of Redondo Beach, California, that assists wirehouse advisors with the operational transition support they need to break away, and trains and consults with the COOs – the Chief Operating Officers – of independent RIAs to better build their own infrastructures, processes, and culture to scale up their advisory businesses.
What's unique about Matt, though, is how he and his wife have translated the years of hands-on support they've provided to independent advisory firms to improve their operations, tech stack, and overall scalability, into creating an entire community for the industry's Chief Operating Officers – aptly dubbed as PFI's "COO Society".
In this episode, we talk in-depth about how Matt and his team first learned what it really takes to stand up an established independent advisory firm 'from scratch' when it breaks away from a wirehouse and has to quickly implement an entire operational infrastructure from office space and phone systems to CRM, investment, and custodial technology, how Matt and his team adapted their stand-up-from-scratch breakaway experience to help RIA owners by implementing their own 10-page "Operational Diagnostic" questionnaire to fully understand each advisory firm's operational strengths and gaps across a wide range of domains from better onboarding with the firm's custodian to refining its systems to deliver financial planning to clients, and how Matt ultimately built his COO Society, an online coaching program and community for those Operations professionals within independent RIAs who are focused on those key technology, human resources, and business administration issues, to help them to navigate growth at their own RIAs… and become better more well-rounded COOs themselves.
We also talk about how Matt stumbled into his own advisory career in the late 1990s as a 22-year-old recent college graduate after a recruiter found him a job as an operations point person for an ultra-high-net-worth top-producing team of four brokers at the Beverly Hills branch of Merrill Lynch, how after admittedly making the mistake of leaving Merrill to sell insurance on his own, Matt was recruited back by his former Merrill team in 2008 to help them found and launch Luminous Capital, one of the very first breakaway independent RIAs which began with $1.7 billion of client assets, and how, after years of working closely with RIAs affiliated with Focus Financial to consult on their operational efficiencies, Matt was inspired (and with a little nudging from his very entrepreneurial wife) to launch PFI Advisors so that he could offer his wealth of operations knowledge to consult with a wider range of breakaway brokers and RIA owners… and gain the flexibility and control that independence provides to run his consulting business however he wished as he started his own family.
And be certain to listen to the end, where Matt shares how the unexpected illness (and subsequent tragic death) of his daughter Layla impacted Matt and his wife while they were still in the early stages of launching PFI Advisors, how Matt has learned through trial and error that as a consultant and business owner, gaining new business is more than just stating what your firm does for those it serves, and instead is about explaining how those service offerings can solve for the specific pain points they're looking to solve, and how Matt stays motivated through the words of the successful basketball coach from his alma mater that success can't be sustained by simply looking at whether you're winning, and instead is ultimately about finding self-satisfaction in knowing that you're pushing your own limits by truly doing the best that you're personally capable of.
So, whether you're interested in learning about how Matt and his team help advisors break away from wirehouses to stand up their own RIAs, and RIA owners develop more efficient, scalable processes, why Matt and his wife decided to launch their own consulting firm and subsequently, the COO Society, or how the COO Society has developed a community to foster grow and knowledge to make better COOs in the advisory industry, then we hope you enjoy this episode of the Financial Advisor Success podcast, with Matt Sonnen.