W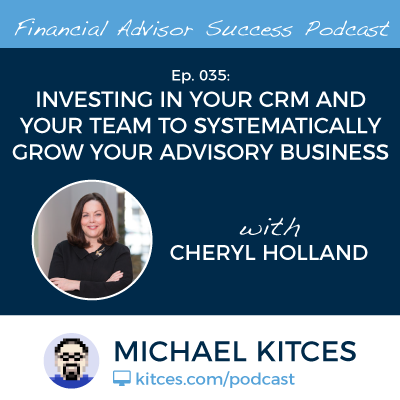 elcome back to the thirty-fifth episode of the Financial Advisor Success podcast!
My guest on today's podcast is Cheryl Holland. Cheryl is the founder of Abacus Planning Group, a private wealth management firm located in Columbia, South Carolina, that manages more than $1B of assets under management for just over 200 affluent clients.
What's fascinating about Cheryl's firm, though, is the way that she has systematized the processes of the firm – in a way that actually helps them be even more high touch and customized for their clients. From automating workflows, tasks, and reminders of client needs, to building a templated meeting agenda for every client meeting that covers check-ins, celebrations, investment, financial planning, and administrative tasks, to refining an investment process around model portfolios with DFA funds, Cheryl's firm has invested heavily in systematizing the business… and invested heavily into customizing Salesforce as their CRM to facilitate the process.
In this episode, Cheryl shares how her firm structures its blended AUM-plus-planning fee structure, why Abacus sets a minimum fee – rather than an asset minimum – in deciding which new clients to work with, why the firm decided to make a shift towards focusing on a niche of closely-held family businesses after already growing successfully for nearly 20 years, and how the firm markets with a combination of COI referrals, national board volunteerism, and client referrals, to drive its growth.
In addition, we talk about Abacus' approach to reinvesting into its team – because as Cheryl puts it, "you can't grow your firm if your people aren't growing" – with everything from sending employees out to conferences, bringing in psychologists to teach active listening and empathy skills, management training classes for emerging leaders (including Cheryl herself!), and how every the Operations and Administrative team members at Abacus have a chance to take the Registered Paraplanner course and advance themselves in the firm.
And be certain to listen to the end, where Cheryl shares the two key advisory business books that she re-reads every year to advance the firm, how she decides when it's time to make a change and evolve the firm and her role, and her advice to young women who are trying to grow their own advisory careers and manage the competing demands of work, home, and family.
So whether you're curious about how to balance the dynamic between systematizing your firm's processes and procedures without losing the sense of high-touch customization, or simply want some ideas of what, exactly, you might standardize, or are looking for ideas on how to deepen the training and education of the advisors (and emerging leaders) in your firm, I hope you enjoy this episode of the Financial Advisor Success podcast!