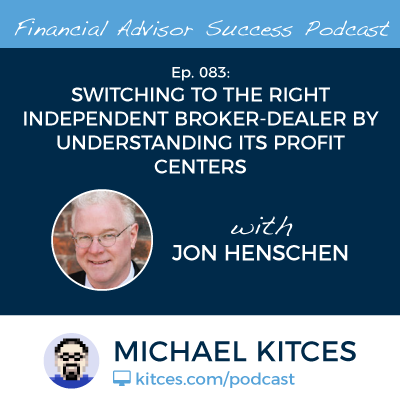 Welcome back to the 83rd episode of the Financial Advisor Success podcast.
This week's guest is Jon Henschen. Jon is the president of Henschen & Associates, a recruiting firm that specializes in helping advisors find and match themselves to the right independent broker-dealer when making a switch to a new platform. What's unique about Jon, though, is his willingness to be transparent in how broker-dealer recruiting really works in a segment of the industry that historically has thrived by keeping much of its compensation hidden with back-end commissions and markups.
In this episode, we talk in depth about the key factors to consider when evaluating a prospective independent broker-dealer. Why the ownership structure and whether the BD is publicly-owned or privately-owned and whether the private owner is an individual or a bank or an insurance company or a private equity firm is so important, the ways that certain broker-dealers specialize in certain types of reps, how forgivable loans work when advisors are recruited to a new independent broker-dealer, and the ways that broker-dealers have created profit centers above and beyond the payout grid, which is crucial for advisors to know so they don't unwittingly switch to a broker-dealer that may drive higher pass-through costs to their clients.
We also talk about how the independent broker-dealer recruiting model itself works. How recruiters are paid by broker-dealers to find new advisors to switch to them, what broker-dealers really spend upfront in order to attract advisors to make the switch, and how the dynamics differ when being recruited to a larger versus smaller independent broker-dealer.
And be certain to listen to the end, where Jon talks about the trends in independent broker-dealers that advisors should know when considering where to build their businesses in the long run. How the growth of the RIA channel and the fee-based business is impacting the broker-dealer model, and how different broker-dealers are taking very different positions on whether or how to support hybrid RIAs.
So whether you are interested in hearing about the various ways in which broker-dealers make money, how their recruiting process works, the most important things to consider when evaluating a prospective broker-dealer, or what changes may be coming down the pike for the industry in the coming years, then I hope you enjoy this episode of the Financial Advisor Success podcast!