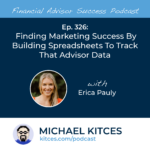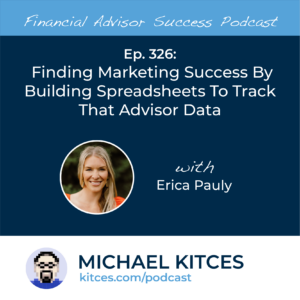 Welcome back to the 326th episode of the Financial Advisor Success Podcast!
My guest on today's podcast is Erica Pauly. Erica is the Founder and Owner of Track That Advisor, a consulting and coaching firm based in Gilbert, Arizona, that helps advisory firms track, and then improve upon, their marketing results.
What's unique about Erica, though, is how she built a series of spreadsheet tools to measure the details of each step of her advisory firm's marketing funnel, from lead generation to each meeting in the sales process to client onboarding and getting initial revenue for the firm… and then turned it into a series of tools that any advisory firm can use to evaluate how their marketing is performing, where it needs to improve, and how they compare to the average advisory firm as a benchmark.
In this episode, we talk in-depth about how, through a series of Google Sheets, Erica helps advisory firms begin to track each of the steps in their marketing funnel, analyze how successful those steps are in turning a lead into client, and develop strategies to help improve those metrics, why Erica focuses on 5 key marketing metrics of stick rate, close rate, average client size, pending days, and cost per client, to quickly gain an overall picture of an advisory firm or individual advisor's marketing process (and compare those numbers to her benchmarking data to identify where improvements should be made first), and why Erica ultimately built an additional tool on top of her spreadsheets that she calls the 'Tracker Genie' that helps advisory firms quickly spot gaps in their data and fix them (because in the end, it's not just about tracking marketing data, but helping advisory firms to actually do what it takes to input and maintain their data in the first place!).
We also talk about how, while working in a marketing role at an advisory practice, Erica began to track data on their individual advisors' marketing efforts because she realized that she didn't have the data to support her suggestions for the firm's strategic planning and decided to start measuring how the firm was performing at each step along the way so that she could prove that her recommendations were based on actual evidence, how, after moving to another state because of a job opportunity for her husband, Erica was contacted by the firm that she tracked data for asking her to continue her work for them, helping her realize there is a demand for her specific type of work and gave her inspiration to found Track That Advisor, and why Erica still deliberately chooses to use Google Sheets to track data (instead of a standalone software application), as it allows her to customize layouts for individual advisory firms and make it easier for support staff to navigate (instead of asking them to learn a whole new software platform).
And be certain to listen to the end, where Erica shares how, as a self-proclaimed introvert and people pleaser, she has learned to become more comfortable with having difficult conversations with advisors about their strategies and how they are performing, why Erica hasn't taken the role of CEO in her own firm and has instead given that role to one of her trusted employees (because she recognizes that her strengths lie in analyzing data and coaching others, but she still needed someone in the role that has the drive and ability to help the firm continue to grow), and how Erica learned the hard way the importance of not only finding employees that are the right fit, but having detailed processes and workflows so that as the firm grows, she can ensure that she is maintaining firm culture and business execution and ensure that the firm can continue to grow into her long-term vision and beyond.
So, whether you're interested in learning about how Erica and her team track advisor data and keep advisory firms accountable, how using Google Sheets allows Erica more flexibility in creating customizable data sheets for the advisory firms she helps, or how Erica has evolved Track That Advisor and her plans for the future of the business, then we hope you enjoy this episode of the Financial Advisor Success podcast, with Erica Pauly.