Executive Summary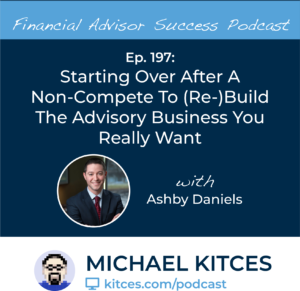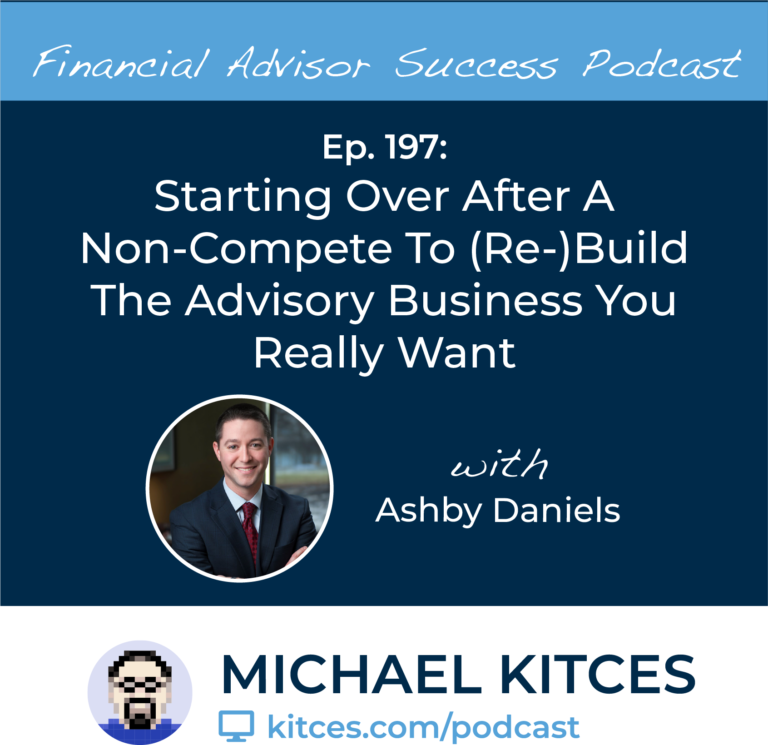 Welcome back to the 197th episode of the Financial Advisor Success Podcast!
My guest on today's podcast is Ashby Daniels. Ashby is a financial advisor with Shorebridge Wealth Management, a hybrid advisory firm based in Pittsburgh, where he personally oversees 38 million in assets under management for 43 retired clients.
What's unique about Ashby though is the way he launched his current practice, breaking away from a major broker-dealer after nearly 10 years in the business in the face of a non-compete and non-solicit agreement, and the path that he built for himself at Shorebridge to give himself enough runway to make the transition without putting his family's financial situation at risk.
In this episode, we talk in-depth about how Ashby negotiated and structured his unique compensation agreement with Shorebridge to handle the first two years of relaunching from scratch. How he navigated the non-compete and non-solicit agreement to eventually win back at least a subset of his prior clients, how the transition and leaving most of his clients behind allowed Ashby to begin to focus on bringing in the right clients, and the way his business has evolved deeper and deeper into a niche with retirees in the years since.
We also talk about how Ashby has built his current marketing funnel through blogging or what he calls "the introvert's dream to marketing", the way he initially started his blog anonymously just to see if he could do it and build a readership, how Ashby's blog eventually helped his former clients find their way back to him, why blogging can theoretically attract clients from anywhere in the country, but Ashby is using it specifically to grow his local clientele online. And the reason Ashby has now started launching a series of short paperback books for his retiree niche leveraging his blog articles.
And be sure to listen to the end, where Ashby shares how he manages his own time as an independent advisor. The way he splits his time for mornings to work in the business, conduct meetings with clients, and handle internal business tasks, and the afternoons to work on the business, including blogging and his other marketing efforts. How the book "Essentialism" changed Ashby's own personal time management process, the daily productivity sheet that he now uses for himself to ensure he always spends at least some time on tasks that will "move the needle" for the business, and how Ashby implemented a meeting surge approach to further focus his time and create more flexibility for the rest of the year to grow the business.
So whether you're interested in learning about how Ashby transitioned from a broker-dealer despite a non-compete and non-solicit, how he finds inspiration for his blog, or why his ideal client changed from government employees to retirees, then we hope you enjoy this episode of the Financial Advisor Success podcast.
What You'll Learn In This Podcast Episode
Resources Featured In This Episode:
Never miss a Financial Advisor Success podcast episode! Get notified of the latest episodes (and all our research as it's released!) directly via email:
Full Transcript:
Michael: Welcome, Ashby Daniels to the Financial Advisors Success podcast.
Ashby: Thanks for having me on Michael. I'm excited to be here.
Michael: I'm really looking forward to today's discussion and this path I think that you've navigated for your own career, having hit what I think is a crossroads that a lot of advisors hit, and some, I think, really never managed to work through and get over the way that you did, which is this challenge of what happens when you start in the industry and you go out there and you get some clients, and God bless, it actually works. You get enough clients, you survive, you build a practice, you get your income up there to a decent level, and you realize like the firm I'm at may not be the firm I want to be up for the rest of my career.
And now you're like 7 to 10 years into building your career and building your client base, which, depending on the firm, you may not be able to take with you –non-competes or firms that aren't in protocol or a lot of other restrictions. And you get to this like, okay, I've got a lot of career left in front of me, but I've worked so hard to get here, I don't know if I want to necessarily start over again. And you have to figure out like, what do you do? Do you stay at the firm you're maybe not thrilled to be at for the rest of your career because you don't want to start over again? Or can you actually take this giant leap and say, if I have to, I'm going to start over from scratch and just build it bigger and better and faster the second time?
And I know, ultimately, you made that leap and made that transition. So I'm really excited and fascinated to talk about, like, how you decided to make that leap. Like, what gets you there? And so many people I see just aren't comfortable making that jump that you made. What is it that gets to the point of saying, even if I have to start over, I'm just going to build it better and faster the second time, let's go?
Ashby: Well, so it's funny that you start there because it always starts with a question, I think, for a lot of people. And for me, at least, I can't remember exactly when this was. It wasn't a monumental moment. But I was driving down the road, and I heard Morgan Housel on a podcast. And this is about the time he left Motley Fool. And I'm sure I'll butcher what he said and his exact verbiage, but it went something to the effect of if this was the only company I ever worked for, is it possible that I'll regret that decision?
And, frankly, for me, that's what I think kicked off the idea of, do I stay where I am forever and build just a great business, but never really own a business? Or do I try to start over? And that was a really difficult decision but ultimately, one I'm really glad I ended up making.
Michael: And so, the way you framed it, was that the driver for you between working in a large firm environment and making this transition to start over and go out on your own? This kind of, I can build a great practice where I work with clients and make some good income but I won't get to build a business I own and control the way I do if I go out. Was that the transition point or the key factor that made the shift for you? Like, I want to build something I feel like I can own
Ashby: I think the control and ownership were actually less of it. That guided me to where I ended up going. But that was less of an incentive, if you will, to get out. What ended up causing me to consider alternatives is I really wanted control over creativity and be able to, like as an example, write a blog, write a book, do other things that I knew would not be possible where I was.
And for me, this is a story we could dive into, but I even started an anonymous blog at one point to see, could I even create some semblance of a following without my name attached to it? So that was part of my exploratory process. So it was more the creativity than it was the ownership, even though the ownership I have found I'm really glad I did what I did and how I did it, but it was certainly more being able to do the things I wanted to do.
Michael: So, can you tell us a little bit about like, where the firm was that you started? Where did you begin? What were you building there that ultimately then came to this shift later? Just so people have the context of when we talked about this transition, yeah, we'll talk a lot about where you're transitioning to, but where were you transitioning from?
Where Ashby's Journey Began [07:42]
Ashby: Absolutely. I started with a nationwide firm. This was in 2008, seemingly, when every advisor on your podcast started, in the D.C. metro area. The primary focus of the firm was military and federal employees, which I loved. There was a lot of military in my family. So it was a great place to be. And I say all this with the caveat that I loved where I was. It was a great place to start. I have nothing but good things to say about them.
But in any case, going back to the beginning, being in the D.C. area, federal employees, given that that was a firm focus, it just seemed like a really great place to start.
So, one thing I did was I immediately started educating myself. And I read the entirety of the "Federal Employees Handbook." Doesn't that sound fun? As I read that I started to think of ways I could kind of market my expertise around federal benefits. And I knew that there were a few websites that cater to federal employees in terms of providing information. So I started writing for those publications. And almost immediately started getting calls from both individual potential clients, as well as HR professionals from various agencies, to start doing federal benefits presentations. So I was like, I've really hit something here.
And in addition to that, I also warm-called various HR professionals in those agencies by sending the articles I was writing. So I was following exactly what I ended up doing, but almost 10 years later.
Then in 2011, my wife and I moved to Pittsburgh to take over an office. And it was an office that had, let's say, north of 500 clients. I can't remember exactly, but it was a lot of clients. And it was a sole office. And the reason I ended up taking over it is because the gentleman that was running the office passed away unexpectedly, so they needed somebody to backfill. My wife and I were willing to move. And so we did so.
Michael: Oh man. So, I'm just sort of envisioning like, the long-term legacy folks in our business, one of those types that just meets everyone and knows everyone, does business with everyone, accumulates literally hundreds and hundreds of clients, and then suddenly passes away and there're just hundreds of clients that suddenly need to be serviced and need to be called upon because the original person isn't there anymore, but there's a lot of goodwill.
Ashby: Well, there's certainly some truth to that, but it's also the company that I was with. Nobody owns the client. So when a client would move, they would move into the local office. So, if somebody moved to Western Pennsylvania, even if they had no relationship with the advisor in western Pennsylvania, they became a client of that Western Pennsylvania office. So that office ended up with 500-plus clients. And I was drowning in appointments, phone calls, trying to keep up in general. I remember that first year; I drove almost 40,000 miles. And I was working ridiculous hours. It was crazy. But it ended up being a great move. So I'm really glad I did it. But boy, it was a struggle for a while.
Michael: All right. So this was just like you had to call on – you just get up to speed with all – whatever it is, like 500-ish clients? So it was just like, appointment, appointment, appointment, call, call, call or drive out to them, whatever you can do, you've got to confirm all these people and see what they need and retain them and keep them on board? So you were all-hands to do that.
Ashby: Almost exactly. And it was me and one single assistant. And we made it happen, though. The office wasn't abundantly profitable. But it was a really good opportunity for those orphan-style accounts that so many people are familiar with. And I really did what I could to make the absolute most of that opportunity. And it was a really good opportunity also in the sense that it allowed me – I am the type of person who likes to learn by jumping in the deep end of the pool. And...
Michael: That was certainly a good opportunity for it.
Ashby: Yeah, I learned. I had to figure out how to put processes in place. I had to figure out how to manage that many accounts. I tried to find who the real players were in terms of good clients out of those 500 client families. So it was a lot. For a couple of years, I probably worked from 7:00 in the morning until 8:00, 9:00, 10:00 at night every day for a long time. But it was, like I said, a really great opportunity and it ended up working out wonderfully. So I'm really thankful, frankly, that they took the risk on me to give me a shot.
Michael: And so, just the appeal for you and your wife, at the end of the day was like, Hey, you've got to relocate and deal with this. But just there're hundreds of clients you get to call on and work with. You don't necessarily have to go the distance to develop them and find new folks; we've just got a big base of clients. You just have to be willing to decide to uproot yourselves and move there, even if that wasn't necessarily where you'd been planning to be.
Ashby: Absolutely. And that was just a tremendous opportunity because the guy that, unfortunately, passed away, hadn't really done a ton of planning. So, I am the type of advisor who leads with planning. And so, for a lot of these clients, they hadn't had any real planning in a lot of years. So, just the fact that I was coming in building financial plans, they may not have experienced that for quite some time. So, all of a sudden, I become, in a lot of cases, the best advisor they've had in years – if not ever – because I was willing to put in the work and effort to do, obviously, that's a testimonial to myself, but that's what I was hearing because they hadn't had that experience in quite some time.
Michael: Because, like the clients are – as you said – not the clients but the clients of the firm, just they're sort of serviced by the advisor who is there locally, I guess that means you didn't necessarily have to buy into this practice or book of clients the way that some advisors might have to if they're taking over or successoring for an advisor who passed away if you get the nod from the firm to say, "Ashby is now the guy in Pittsburgh," you're the guy.
Ashby: That's exactly right. So that was the benefit of working for a company like that. So working for a company like that doesn't come without its benefits. And that benefit was that I didn't have to buy into that business. I just went up, started servicing it, and then tried to see what I could make of it. And like I said, it was a really great opportunity. So, it ended up working out great for me, even if it took a lot of hours to do it.
Michael: So, I am wondering, just like, how do you tame and get control when you go into an environment like that? I get stage one triage, you've just got to try to outreach to everyone and just talk to them and find out what's going on. Is there anything I can do for you or solve for you? Like there's sort of an initial pass. Then what? Were you envisioning, I'm going to serve all these 500 clients or I've got to go get more advisors so we can serve these 500 clients? I'm just going to find the top 250 of them and focus on them going forward, or 100 of them? Did you have a plan for what you were going to do to shape and manage that going forward beyond just the initial dive of, "I've got to drive 40,000 miles and work 12 hours a day just to make the initial outreach to all of them because I've been dropped into this book?"
Ashby: There was no real plan. In fact that...
Michael: There was an opportunity, we just went for it.
Ashby: Pretty much, but what ended up happening was, and the reason I'm so thankful that it all happened is – so that first year, when I drove about 40,000 miles, I was like, I can't do this another year. This is just not going to work. It's just not sustainable. My wife and I were talking about having kids. And I was just like, it's not going to work for me in the long run.
So, one of the things I did – which still is with me today – is in lieu of getting the appointment and driving to every person who I hadn't met before, I started doing initial phone conversations – which, that's how my prospecting system works today – which is you get a lead from my blog and then they schedule an initial phone call. That is the exact same process that I followed, except for working with an existing book. So there was no plan.
And then I just tried to figure out how to manage the chaos. And then once I figured out who, let's just say who the best 100 client families were in terms of either the quality of the relationship, their feeling towards the company, their potential for financial opportunities – those were the people I tended to focus in on, and then I transitioned those clients into an ongoing service model that I created, which was not all that different from anybody else. Which is just that I meet with them twice a year and anything they needed in the interim. And so, I just tried to manage the best relationships in that way. And then, I just tried to keep my head above water with anything else that came down the pipe.
Michael: So, interesting. So you did ultimately, it sounds like, get to this point of saying, "I can't do everything for all 500. I'm going to try to find my top-100 that I can do stuff with on an ongoing basis that, economically, I can charge what I need to charge to get there. We're going to do an ongoing service model for them and that's where I'm going to focus that, roughly, top-100 out of the 500 to build a business around."
Ashby: Absolutely. And then I hired another advisor. And I was able to offload some of that client work from the other orphaned accounts, if you will, that I hadn't developed a relationship with. I said, "Look, you're an advisor starting out, here's a way in which you can kind of get a head start. At least get some experience under your belt, call in some people." And so, I was able to transition a lot of that out and then kept serving the clients who I was really excited to serve.
Michael: Because I was going to say, I know the challenge, and lots of national firms with the kind of structure that you're describing – the good news is, it's the client of the firm. If they say you're the local advisor, you get that client. As you said, you didn't have to buy in; just service the client and do the business and you can get compensated for it and the firm assigned it to. The bad news is if the firm assigns you a client, they expect you to do something for them. Like, for a lot of firms like that, you don't really get the option of saying things like, "Yeah, I decided I just really don't want to work with that person." The firm is like, "No, no. They're a client of the firm. You need to work with them and do something."
And so I guess then, the plan that emerged from it was I'm going to focus myself into the top-100 or so and then I'm going to try to hire another advisor, and that person can deal with the bulk of the other 400 that aren't really a good fit for me anyways but we have to serve as an office.
Ashby: So I did do that. But I didn't transfer out quite the 400. I ended up retaining a number of those because they wanted me to get the office to three advisors. I had to hang on to some of those accounts so that when I hired a third advisor, they would also have a runway. And that's pretty much what happened. So I ended up hiring two advisors in my time there, and I was able to give them some runway.
Michael: And so you started shaping in that direction. It sounds like you had a pretty good opportunity all around and just got a big base of clients, did the move, figured out how to prioritize them. Got some onboard with you, transitioned some to the second advisor, and then the third advisor, which I imagine just kind of made your life feel a little better and then a little better as you got excess clients offloaded and were able to focus in on the ones that you wanted to serve that could pay you well to do the work that you wanted to be doing and planning for them.
Ashby: Absolutely.
Michael: Okay. So then, what changed because you're not still there?
What Prompted Ashby To Start Over On His Own [19:34]
Ashby: So coming back to that question I started with – about Morgan – that was about the same time that I really started thinking about my future at that point. It was around that time I discovered the likes of Josh Brown and a variety of other bloggers who caused me to really start thinking outside the box. And my firm – as I think a lot of these kind of big-box financial services firms are – we're pretty insulated or ignorant of what happened outside of the company and in the broader industry in general, but reading – say Josh's blog, and your blog, and a variety of others – my eyes were opened to what happened outside of the firm.
So, that, coupled with remembering back to my time writing for federal employees, I really wanted to try my hand at blogging and tried every which way I could to try to encourage my company to let me do it. And there was just no way they were going to allow it. So, the first thing I did was I tried to prove to myself that I could do it and to see if I would even enjoy it, actually. So I started an anonymous financial blog where my name was nowhere on it. But I wanted to write financial stuff just to see if I could get some level of following. And I did, and it worked. And so I was like, all right.
So, I know, I can do this. But that also accelerated my desire to leave, but I still wasn't sure when or how I would go about it. Because at this point, our second kid is here. This was in 2016. So we had two boys. And I was like, all right, well, how do I make this exit? And I really wasn't sure. But I just started looking around. So, my initial thought was, very well, after educating myself – and I'm kind of condensing a couple of years span into a short story – but my initial thought was, I wanted to go to a fee-only firm, but I never could find one that was right. So I kept exploring. And I was really on no timetable, I was making great money. I had great clients.
So, outside of being frustrated, I really wasn't in a rush to do anything, at least not to that point. And then, I even considered starting my own firm. And I looked into XY Planning Network, had some calls with your team there – which was an amazing organization, by the way – but it was going to be a risk that I wasn't willing to take at the time. I was my family's sole income. Although I am, and always will be, and always have been, an advisor who followed my own advice. We had saved up enough money to give it a shot to start my own firm. But I thought, "If I could get creative there might be a win-win scenario for myself and another good firm."
And what ended up happening was, I was thrown a bit of a curveball when I found out that my old company was going to be making some changes at the firm that I vehemently disagreed with. And I was going to be the one left holding the ball, telling clients about what this change was. And I was just like, I just disagree. So my options were not good. So...
Michael: Was this around the products they were going to be using or structures they were going to be..?
Ashby: It was a fee increase on investment accounts, which I had been arguing – I don't want to say I was on a feedback committee. There was no formal committee, but I was close to a lot of the people in the investment management team. And I had been advocating for lowering fees. And then I get a note that says, "Oh, we're increasing fees." And I was like, "I just can't be here to explain this to clients. It's the principle." And...
Michael: And just because you felt like they were raising it above a reasonable going rate was or does it mean just... There are businesses that find they need to raise fees from time to time. What was it that felt so off to you? You just didn't feel like it was a market rate, or that there was some other issue with the fee structure?
Ashby: So the combination of fees between... The firm I was at advocated for a lot of active management – which, to each their own. I don't really care. I'm sure we'll discuss it at some point; that's not a huge deal. But costs are a huge deal. So, between the active management fees of the funds that we held within our managed account program, plus the fee that was in the managed account program fee was somewhere between 1.6% and 2%, depending on which style account it was and the funds that it held, and so forth. And I thought that was too high, cumulatively.
So when I got the notice that the fees were going to be increasing, because I had a lot of clients who were grandfathered in under a lower fee system that were, "no longer going to be grandfathered into that lower fee system," it was going to affect about 80% of my clients. And I was like, "I just don't want to be the one holding the ball here trying to explain something that I disagree with." Like I said, it was a principle move.
And so, that all came out in December of 2017. And so, by that point, luckily, I had done a lot of research and I was able to be gone by February of '18. So, I went from, "I'm not sure I'm going to leave; I'm exploring ideas," to, "I have to get out," and I was gone.
Michael: So, I want to come back to that transition story. But I do have a few questions about just this anonymous blog thing you've filled on the side. And as you said, "I wanted to see if I could get some following in it," and it worked.
So, can you talk a little bit more about just what you did to get going with a blog at a firm that said you weren't supposed to officially have a blog so you didn't officially have a blog?
How Ashby Started His Anonymous Blog [25:13]
Ashby: Well, I was very cognizant of not sharing it with anybody who was connected to anything that might even string back to me. Because I certainly didn't want it to be apparent that it was me, even if I said it wasn't me. So, I just really wanted to see A, did I enjoy writing a general financial blog rather than say the old Federal Employees stuff I used to do? So I started this thing and started just sharing it with people who I knew would read it. And I ended up getting email subscribers. I tried to write posts based on SEO. And that was really my first exploration into that. I found that I was getting a little bit of Google traffic. Not a lot. Not Kitces-like. But I didn't really need a lot. I mean, it was probably going to be something that even if I had an ounce of success, I said all right, this is going to work. Probably because I was just so eager to do it anyway.
Michael: And just, what did you do? Did you search "how to stand up a WordPress blog?" Did you go get some out of the box platform thing? Just how did you get it stood up?
Ashby: I didn't know anything about WordPress. Now I know a bit about WordPress. But I think I started on Weebly if my memory serves me correctly. So it was one of those sites where you just sign up. And if you keep Weebly on the site, they won't even charge you anything. So, I could stand it up for free without a credit card, without anything, and they would allow me to at least test the theory.
Michael: Okay. And then, how did you start sharing it? Because like, you're trying to do this and anonymously. Were there still people you were willing to email from yourself and just like, "Hey, don't tell anyone this is me," or do you make an anonymous Twitter handle and then start anonymously tweeting it at people? How did you get it out?
Ashby: I created multiple anonymous approaches. I did send it to a few people who knew it was me, but I knew would not disclose that it was me. And then they shared it around. And then I also created a couple of anonymous email addresses and then would send it to people who I thought it would be relevant to, who are, say, bigger names in our industry. And then, next thing you know, they would share a couple. And then I would get some email subscribers. And then it just kind of took off on its own. So, in this day and age, there are still a lot of really good anonymous bloggers. And so, I think that people did not find that to be weird because there are some really, really quality anonymous bloggers. And I was like, Well, I think I can do that. And so I did.
Michael: And I guess from an actual legal compliance perspective, you're not soliciting clients because they don't know who you are, and they couldn't work with you if they wanted to because they don't know who you are. It's technically not regulated advertising at that point because you're not actually advertising yourself or soliciting business because your name is not there and your firm name is not there and you're not soliciting clients through it.
Ashby: No, exactly. It had no connection to me, my business, whatsoever. I didn't have to worry about that because I wasn't trying to market myself. It was just a test to see if I could do it.
Michael: And so, as you were building an email list, like that was just to be able to send out more blog posts and see if more people show up?
Ashby: That's exactly right.
Michael: And what did you use to build the email list? Does Weebly have that function feature built-in?
Ashby: They had their own tools. One of the critical points for me was not having to put in any personally identifiable information in order to do it. And so, most of those sites – whether it's Weebly or you know, a variety of others – I think will allow you to just start these things, as long as you don't take their branding off that they'll give you the stuff because they want more people to get there. They want more people to use their stuff. So, I didn't have to use any of that. It was all free, and that was that.
Michael: And what kind of stuff did you write?
Ashby: I wrote a lot of the same stuff I write now. I've never reposted any of the stuff I wrote before. And that blog is long since gone. But I wrote about principles, I wrote about investments, I wrote about transparency, I wrote about the things that I was feeling at the time regarding financial services. And it's a lot like what I write now, except that I would invariably cringe at how I wrote and what I wrote then.
Michael: And so it sounds like people started showing up and you were feeling emboldened. Like, well, Doggone it. I guess this works. What kind of numbers were you getting? Because I think there's always some question of just what are realistic expectations as you get started of who might show up and what you can do. What sort of traction were you getting at the time that felt good to you at the time, enough to say, "I think I can do this"?
Ashby: I honestly don't really recall, but it probably wasn't anything more than a couple hundred, say, on a monthly basis. I really didn't need a lot of confidence to say... I felt like, even if in six months I could get to – all right, I have a couple of hundred people who come monthly – then I would have used that as a tremendous success. Because it was just testing a theory. I wasn't really trying to create an anonymous blog that was then going to stay on forever. The ultimate goal was to, I think, at the time, leave and just see, all right, if I started a blog, could I do it with my real name? Could I do it with... Like I said, it was just to test the theory. So I wasn't necessarily concerned about did it get 10,000 hits? I just wanted to know, could it be done? And could I do it? And would I enjoy it?
Michael: And I guess in a very practical sense, you just got to start practicing writing blog posts and seeing like, can I write things people read? And do I actually get to the point where I enjoy the writing process enough to want to keep doing this?
Ashby: Exactly. 100%.
Michael: Okay. So you're now coming up to this point where you're going to leave, right? They do the fee change, and you don't want to have to break the news to 80%-plus of clients who no longer get grandfathered under a lower fee structure. So you're deciding where to go. You had said you initially wanted to go to a fee-only firm, but then you couldn't find one that was the right fit. So I'm wondering, both, what was leading you in the direction of a fee-only firm having been at one that wasn't? And then, what was it you were looking for that made all these firms you were talking to the wrong fit?
What Ashby Was Looking For In A Firm To Join, His Non-Compete And Non-Solicit Agreements, And His Exit Plan [31:59]
Ashby: The main feeling I got was that I was just going to be a cog in the wheel. And I really didn't want to be a cog in the wheel. I wanted to have a voice. And so, working with a firm, and I don't want to say I want to be the big brand name. I don't care about being the firm's principal. I don't care about really any of that. I just wanted to be able to have a voice. And I felt like at these other firms, that wasn't going to be what happened. And so it was more...
Michael: Because they were bigger, more established firms. Like good news, we have infrastructure. Bad news, you will be an employee here and you will do the things that the firm does. And that sort of feeling like, nice if you want a firm that's already got some of that stuff figured out. It's not so nice if you're trying to be a little more creative.
Ashby: And I also didn't want to work with somebody else's clients. I wanted to work with my own clients; I wanted to have my own business. At this point, I had figured out that I really wanted to have my own business. Of course, I didn't want to go Old Firm 2.0. I wanted to have a clean slate and work with my own clients, and my clients only, and build a practice – build a business that I would be really pleased with in the long run. I didn't want to have to start somewhere, realize, okay, this isn't the right fit either, and then go somewhere else. That was really important to me.
Michael: So, like what were the things on your list? So, you've sort of said you didn't want to go out and build from scratch again, talk to XYPN, didn't want to build a firm from scratch, but didn't want to be in a larger firm where you're "just a cog in the wheel." What were you looking for? Like, what were the things that you were trying to check the boxes for, "if I'm going to join the right firm, it needs to be able to do these things"?
Ashby: So I actually did want to start my own firm. But I didn't want to accept the risk associated with starting a new firm. Being the sole income and having two young children – one of the things that was super important to me was finding a way to kind of de-risk my exit because I had a non-compete and a non-solicit that I was not willing to compromise. And I wanted to create a kind of low-risk proposition for myself and also a low-risk proposition for whatever firm I decided to join. So, that's the only reason I didn't want to start my own is not because I didn't want to start my own just because I didn't want the risk associated with it having that non-compete and non-solicit. And I didn't know how it would go. Honestly, it was going to be a mystery of does this work out, or doesn't it?
Michael: Because you knew going into this like, if I leave I will have to start over?
Ashby: Correct. And so, like I said, when I left, having a non-compete and non-solicit, I knew there were other advisors who even I was close with who had left. And I knew that they had maybe not followed the agreement quite to the letter. Well, for me, the agreement that I had signed with my old firm was, it was a moral obligation. That's how I grew up. I sign the agreement; I follow the agreement. It's as simple as that.
So, what I was trying to do, really, in terms of finding a firm, instead of starting over totally on my own, say, with XY, or somebody else was, I didn't – James Clear talks about removing incentives when the need arises. So, one thing I was adamant about doing was not violating my non-compete and non-solicit. So if I could be a little bit more creative and create a scenario where I wouldn't even be tempted to violate my non-solicit, then I knew that everything would be okay. If I had, say, a couple of years of runway where I could I get my business up and going, then I felt like I could be successful if I did it that way.
Michael: And just to clarify, the non-compete and non-solicit, it sounds like it wasn't completely banning you from doing anything in the industry as a non-compete, because then you couldn't switch and go anywhere, the scope of it was just like you cannot try to compete directly for and solicit the clients that you had at the old firm.
Ashby: So the non-compete was I couldn't have an office within a mile of their office. The non-solicit was that I could not reach out to any of my existing clients, period. It didn't mean I couldn't work with them, I couldn't reach out. So if they reached out to me and opened up the conversation, I was even very serious and transparent about that, when I did get calls and said, "Look, I cannot basically solicit your business." And so, I was very clear about that throughout because I had an obligation to fulfill that non-solicit, and that's what it said. So, it wasn't that I couldn't work with people, it's that I could not actively solicit them. I couldn't go after them. They had to come to me if they came.
Michael: Okay. So the good news, at least like the non-compete end of 'just don't be within a mile of their office' was probably pretty manageable. Like, metropolitan areas are pretty big and you can work virtually, anyway. So, it sounds like, in practice, the non-compete was just you don't screw up the office address and check a map before you go wherever you're going to go and stand up whatever you're going to stand up. The real driver was just, there's a non-solicit that says you cannot solicit any of your former clients. And so, you've got to be prepared that if you change, you're going to be starting over from zero because you can't go back and solicit any of them. And you didn't want to be in a financial position that would make you desperate and feel tempted to go back and solicit them, which is what happens if you take the leap and don't have enough runway for yourself.
How Ashby Created A Runway To Starting His Own Firm [38:00]
Ashby: One hundred percent. And I really was adamant about trying to figure out a way that I could eliminate that incentive for myself so that I wouldn't even be tempted to violate that agreement. And so, the creative solution was to organize for me a temporary salary arrangement for two years that covered most but not all of my household living expenses. This way, we – me, being the advisor, and the firm, which is Shorebridge Wealth Management in Pittsburgh – basically would both have some skin in the game. So, if my portion of billings exceeded my salary, then I would roll right over to my billings. If they didn't, then the way I looked at it is I had a two-year income floor.
So I felt confident that if I could build my business back over that time to a point of sustainability, I really felt that I could do it. And if I had just two years. And if I didn't, I figured by that point, I'd have whatever I have at that point, and then I still have a floor. So it was really just a way to creatively create an exit plan where it didn't require me either even in temptation to violate the agreements that I had signed, but allowed me to get out and start over in a less risk way than if I just started my own firm.
Michael: So, essentially, is you went to the firm and said I want X dollars as a salary for two years. And hey, can I ask what number did you ask for that you got someone to bite off on and say yes to?
Ashby: So I asked for $100,000 a year for a span of two years. And I even offered – the firm principal was generous in that, it wouldn't matter at this point anyway – but I even said, "Look, even if I only get to, you know X number, my agreement to you is, even personally, is that I will stay at your firm until you recoup your investment in me."
And so it was a way to kind of put my feet to the fire as well. But, $100,000 salary was enough to get me off the ground. And I said, "Look, you're limited to two years. You cannot invest in me any more than that." And beyond that, I roll over to my billings. Or if I cross that threshold before the two years are up, then I transfer over to that, anyway. So, well, I had some skin in the game. And I felt obligated to the firm that if I didn't make my gate, in terms of I didn't... I wouldn't leave at two years, even if I wasn't where I wanted to be. So it was a formalized agreement.
And one of the other conditions – to come back to your previous question is – what were my conditions? One was that I would own my clients. So, if I decided to ever leave here that I own my clients. But I was really lucky to find a firm that could see the potential in me. They could see that hey, I'm a straight shooter, and was willing to take that risk. So, it ended up being a really good idea and a really good partnership.
Michael: So the essence of it is like, you're going to pay me $100,000 a year as a minimum guarantee to the extent I start getting clients and generating any revenue. I don't get that because you're already paying me $100,000. You get all that. Presumably, if I can get to $100,000 a client revenue pretty quickly, you're now covering my salary. Once I'm bringing in revenue that's higher than 100, then I want to participate in it because I've now outgrown my base. But until I get to that point, in essence, you give me $100,000 salary, but you keep 100% of the revenue that I'm generating until I've made it back for you.
Ashby: So they keep 100% of the revenue up until I was at 50% of that because that's what our operating agreement is with advisors in our firm at current is that you get 50% of your billings.
Michael: So in essence, you had to get to 200,000 of revenue before you went back to a normal 50% of payout structure in the first place?
Ashby: That's correct.
Michael: And presumably, then it's good for them on an ongoing basis, because as long as you're still there, they're continuing out of this business relationship with you where they get 50% of the revenue, and you're going out and doing your thing. And so, if you stay long enough and grow large enough, they make back whatever the initial years of losses were for them when they were paying you $100,000 salary, but they were taking 50% of 0 or 5 grand or 10 grand when you hardly had any clients so far?
Ashby: Exactly. So it ended up working out that I almost made all that up in the first three, four months. But I didn't know that would happen. That was the key was, I was really looking for a way to de-risk. My wife was already willing to take the risk with me because we were doing really well. And so the fact that she was willing to let me go out and try to give this another go and create something from scratch – I credit her immensely for her confidence that I could do it. So I really felt an obligation to make sure that we were going to be okay financially, but at the same time, giving us plenty of upsides. And so, like I said, I think it's worked out really, really well.
Michael: And so, just curious, were there any other conditions attached to this? You said I will own my clients was one of them. So hey, if this doesn't work out, and we part ways, I'm not starting over again, again. Like, clients are coming with me this time if we ever have to leave. Were there any other big conditions attached to this, or did it just really come down to like, I need an income floor to make this transition and participate in your payout, and I need to own my own clients?
Ashby: Well, the only other condition was that I could write, and I could do other marketing activities that were more outside the box. Shorebridge didn't really do anything outside of the box too much before I showed up. But I think what's happened is, as a result of my own efforts, the firm is rethinking how they're marketing themselves. So that was the only other condition was that I could write and do other marketing things that were maybe a little bit outside the box. We worked through Raymond James. So, I even had calls directly with Raymond James to make sure I could do everything I wanted to do before I would agree that this was the right place. And it turned out, they've been great. And I've had really very little issue. It's been a good partnership.
Michael: And so, how did you find the firm? How did you find Shorebridge to know this is who I want to build with, and these folks will actually cut the deal with me that I want to cut?
How Ashby Found Shorebridge Wealth Management [44:55]
Ashby: So, I had two friends who worked here. We weren't overly close at the time. I would say friends, but probably closer to acquaintances. And I had had coffee with one of them one day, and this was right after I found out about the fee changes and I was like, I got to find a place to go quickly. Ordinarily, fast decisions are poor decisions. But it ended up being that I ended up meeting with the firm's principal, and I said, "Look, this is what I want to do. This is how I want to do it. This is kind of my solution to get out of here." They didn't present me with the salary arrangement, I came up with that myself, and was just super transparent with them and said, "This doesn't cover all my costs because I want to have some skin in the game too." I was just really, really transparent with what I was trying to accomplish by joining here.
And I did talk with a few other firms. But Shorebridge was by far the most agreeable to everything I wanted to do and what their expectations were of me. And so, it ended up just being a really great fit. So I figured that out around the middle of January and agreed to come over at that point.
Michael: And so, talk to us as well about this structure of 50% payout and revenue share. As I'm sure you know there are a lot of direct broker-dealer relationships that have much higher payouts than that. You also have to do more, are responsible for more, and you get a salary with it. So, your trade-offs are up and down the spectrum. But how do you think about something like 50%? What do they do for you for that? How do you compare that to going direct with Ray J, or some other independent broker-dealer, or that some out there that have 80% or 90% payout, but then you've got to cover more of your own costs? What were the trade-offs? What did the firm bring? How do you evaluate that payout percentage versus the other options that are out there?
Ashby: Well, the part of that stems from, first of all, our firm is, I kind of call us married singles. We all run our own practice underneath the Shorebridge umbrella. And so, I use staff in the office. I have a marketing budget. So, I get 50% of my gross payout. But I have health insurance. I have a 401(k). I have other things that make the payout higher than 50% in total. But then beyond that, I remember going back to your episode with Matthew Jarvis, which is Kitces 7, I think.
Michael: Yes. kitces.com/7, that is a popular episode.
Ashby: I heard you say it so many times I know it. But he said that his firm's payout is 50%. So I was like, all right, well, he's a million-dollar producer and 50%. I said, all right, that sounds pretty fair. Then if that's what he's doing as a solo, then that doesn't sound like a bad place to be. That's the math I did on it was just, he's been a very productive and excellent advisor. So, I say, if that's what he's getting, then that's probably a pretty good starting place for me.
Michael: Because part of your vision was like, "I want to live in this sort of highly efficient solo advisor world. Like, I don't necessarily want to build and hire up all these staff. I want to stay focused on me and just have the support around me. So that sort of model. Like, they keep 50%, but they deal with all that other stuff. I just get my benefits and my resources and I go do my thing with my clients." That was appealing as part of the structure?
Ashby: Well, part of my philosophy in life, in general, is can I do the things that I want to do and only the things that I want to do.
Michael: I like that philosophy.
Ashby: I don't really want to do that other stuff, at least at this time. You know what I mean? Certainly, that could change. But right now, that seems to be a pretty fair deal. And for everything that they provide to me and where my business is at current, I really had no complaints.
Michael: So, talk to us about the transition itself. Like, when it when it's actually time to make the leap. How did you make the leap? How did you resign from the old firm? How did you get started in the new one? You mentioned the revenue came back pretty quickly. So I'm very curious about how the revenue came back. But I wanted to start with when you made the decision, how did you break the news? How did you make the transition and exit when it was time?
Ashby's Transition Process [49:27]
Ashby: I called my immediate supervisor at my old firm who... This was honestly the hardest part for me because the guy who was my, I guess, manager, if you will, at my old firm had become an extremely close friend. He would stay at my house when he came to Pittsburgh because he wasn't local to Pittsburgh, but we got so close. He would just stay at my house when he would come to town to see our office. And he was a mentor to me in a variety of ways, and I really appreciated him. So telling him that I was leaving was a really difficult part.
So our firm had a 30-day kind of blackout period. So I left on February 2, Groundhog Day, I think. Started up at my new firm on March the 5th. Well, during the month of February, I couldn't do anything, period. So what...
Michael: Was that part of the employment contract where you were this like garden leave provision, you can start again as long as it's at least a mile away and don't solicit your clients. Oh, but you just also have to take a complete pause for 30 days.
Ashby: And so I spent that time literally learning how to build a WordPress blog. That was the majority of what I did. And obviously, I was getting paperwork together here at the firm, getting my office set up, trying to get myself squared away so that when March 5th would happen that I could get going. Now, getting going is even an interesting scenario because, of course, I couldn't solicit anybody. So it was kind of...
Michael: I'll say like, on the one hand, having a 30-day blackout period when you're transitioning is like, Oh, my gosh, I'm going to lose all this momentum. And I guess the flip side is, well, if you're actually not allowed to bring any clients anyway, then you may as well just use that time to start brainstorming what your brand new future marketing plan is going to be. Because it's not like you've got anyone else you're allowed to call on yet anyway.
Ashby: And that is exactly what I did. It wasn't like Monday morning on March the 5th I started ringing the phones. I couldn't do it. It wasn't even allowed. So I spent a lot of time creating content for the blog to get it off the ground so that it had a starting point because I couldn't launch it until March 5 either, because then I would be quoting business. So I couldn't do that. So, I tried to get enough stuff written on the blog so that it had a starting point so that on March 5th I could just load that up and get going. And then, interestingly, so give or take, the first two or three weeks, I would get a call here and call there from an old client. And every single one, I was like thank the Lord.
Michael: So, what was happening? Like they were somehow looking you up and so trying to figure out where you were, and just would Google you and figure out where you were since, fortunately, you've got a little bit more of a unique name, there's probably not a lot of Ashby Daniels around Pittsburgh? Like you're findable.
Ashby: There was that. As an example, one of the significant ways was when I changed my LinkedIn profile, I didn't know this at the time, but apparently, when you change your LinkedIn profile – where you work – it gets sent out to everybody that you changed where you work. So, I was already connected to a bunch of clients, just naturally. This is the way it works. And I probably got 7 to 10 calls from that alone. So when I made the change on my LinkedIn profile, I got a call saying, "Wait, what happened?"
Michael: And I guess you're not soliciting business. You're not asking for business or anything. Right? This is a third-party platform that just happens to send out notifications of career changes to people you're connected to.
Ashby: Yeah, I didn't send anything. It just happened, and I was like, all right. Well, at least that way. Yeah. So through the use of social media, a couple of people would find the blog, either through my posting via social media, or through Google searching my name it had already started... Ashby, like you said, it's not a common name. So it started to show up on Google pretty quickly if you would Google my name directly. They would also find out when they would call my own firm to talk to me and found that I had left. Well...
Michael: Right. So natural thing. They're like, "Well, I don't know who this new person is. I liked Ashby. I'm going to find Ashby." Googled Ashby Daniels. Like, "Oh, there he is. Found him."
Ashby: Well, even that, because I drove all over western Pennsylvania for so long, every client had my cell phone. Because I would answer calls on the road all the time because I was always on the road. And so, so many clients had my cell phone number already. And so, when they found out, I left, I got a phone call on my cell phone and said, "Hey, what happened? Please tell me what's going on." So I got an initial flow just of great clients that followed me over here. Within three or four months I already felt really good about where I was at.
Michael: Can you quantify that for us a little? Just like how much business really ended out following you? How much business was there, where you were, and how much business managed to follow you in the first few months just because as you said, they called the office for the routine call, found out you weren't there, or tried to track you down and managed to track you down?
Ashby: Sure. So my personal practice, not the office because remember I offloaded a lot of stuff to other people, but my personal practice, I managed about $80 million total, $60 million in fee-based when I left. So, within the first four months, I had gotten about 22 of the fee-based assets over here. And then currently, I'm up to about $38 million and 43 client relationships. So.
Michael: And how long has it been now since you made the transition?
Ashby: I transitioned in March of '18. So we're two-and-a-half years, give or take.
Michael: Okay. Okay. Interesting. And so, obviously, this sort of napkin math thing, like 22 million, a proverbial 1% fee, you were actually clearing that $200,000 revenue threshold quickly with Shorebridge. I imagined they took a big sigh of relief very quickly. Like, oh well, how about that this worked out?
Ashby: Yeah. I was really close to the $200,000 rolling revenue pretty darn quickly. Yeah. And that speaks to just really serving your clients really well.
Michael: And were you expecting that much to come over? Was this just entirely a surprise? Was this I'll hope and we'll see what happens?
Ashby: Well, it was certainly a lot of hope, because I couldn't do anything to precipitate it. But what I had done before was I tried to create a list and said, all right, well, who do I hope will call? Who do I really, really think will call? Who am I sure will call? And I tried to create a list of what that might look like. And I was almost spot on at who would come initially. There were a couple who stayed that I didn't think would stay and there were a couple that ended up coming that I didn't think would come, but for the most part, my list was pretty accurate. And so...
Michael: And just that really just drove off of here are the people I think I've got a really good relationship with. So when they find out I'm not there, they're probably going to track me down and want to keep working with me.
Ashby: Precisely.
Michael: And at that point, you just had to be findable, which between, they had your cell phone number or they were connected to you on LinkedIn or you simply have a Googleable name. When they wanted to find you, you were very findable.
Ashby: Exactly. So I felt immediate stress relief once I hit... Within about four months I felt a lot better about life in general.
Michael: And so, now that you're sort of underway in this environment with more flexibility, like you'd said earlier, you had sort of a couple of these core conditions. Like, I need someone to help financially de-risk me, I need to be able to own my own clients, and I want to do this blogging thing. Did the anonymous experiment, it worked. Made a switch to a firm that was willing to let you do that. So, are you still doing the blogging stuff? Has that actually become a focus channel for you? What's going on with it at this point?
What Ashby's Blog Looks Like Today [57:51]
Ashby: It is almost all of my focus outside of serving clients. So my blog is the retirement Field Guide. I'm actually in the process of having it professionally built. My site currently looks like an amateur built it. And that's because an amateur did build it. I did. So, I'm having one professionally built now. And at first, it was just a place to get my planning thoughts out. And then, I kind of started writing posts that would hopefully work for SEO purposes. And then as my business has grown I've kind of transitioned away from writing articles for those other purposes. And now I write articles just for the sheer joy of writing them. And so, sometimes I kind of wonder if that's why blogging generally takes three years to get new clients to come because that's how long it takes you to find your voice. But maybe I'm wrong about that.
Michael: Interesting. So, talk to us a little bit more. Just like, how has the evolution of the content changed?
Ashby: So, I say on my site as an example, that the mission of my site is to help 10 million people make better retirement decisions. I only write with the idea of retirees and pre-retirees in mind, but I still write some informational posts, like on IRAs, and general stuff like that. But most of my posts now are what I would term as an optimistic view of what's happening at the moment, or how we might think about something that's being talked about in the news with a historical lens. And it's always, always, always written in a positive tone. I know I said this, but I say on my site that the mission is to help 10 million people make better retirement decisions.
So, in many cases, to me, I think that making better retirement decisions stems from how they react or don't react to what's going on in the market at any given moment. And I think that retirees, and investors in general, get so wrapped up in what funds are the best or something along those lines, but that likely isn't going to be what determines whether they make it or not, in my opinion. It's whether they stay the course through trying times or not.
So, the COVID market crash is a great example. People who stayed the course despite how scary it was have seen it through to the other side. And so, as I'm having my website totally redone, the tagline of my blog is becoming vitamin C for market weary souls, because I really just don't think there's enough of that out there. And so, that's kind of...
Michael: I love that. Vitamin C for market weary souls. Like, we'll give you a little infusion of the positive vitamins and energy in the midst of everything else out there feeling a little depressing.
Ashby: Exactly. And so, that's where my blog is currently going. And it's really where I'm finding a ton of joy in writing, as opposed to, I didn't really enjoy writing all those other things. I enjoyed writing about my principles and philosophies. But once those are done this, in theory, those don't change a whole lot. But paying attention to what's going on in the world and helping people take an objective look at what's going on, I think is, hopefully, super valuable. And if I can help people do that, then I feel like I will have fulfilled my mission in the world.
Michael: Interesting. Interesting. And so talk to us about this from the business perspective. I get the passion and desire for the writing. So, are you finding this translates into business? Or how are you translating this into business?
Ashby: Sure. So as a result of the blog, as it started out, it was kind of an ideal way for previous clients to find me. And so, just to see what I was thinking and what I was up to. So that was helpful in the beginning stages and even continues to be helpful as we speak. But most of the people who work with me now as a result of the blog were people who know me in some fashion from around Pittsburgh and have become subscribers to the blog and just say, "Hey, I just really like your perspective on things. And I'd like to kind of explore having a relationship with you."
The first year was probably all previous clients. The second-year was people who know me from around the area, but I don't have a formal relationship with them yet. And now, I'm starting to get initial calls with people who I have no connection with whatsoever, outside of them being a reader of the blog. So they're starting to get those initial calls, but I guess I'd like them to come a little faster. But given where my business has gotten to, I'm really less concerned about that at the moment, and I am really writing to hopefully just make a positive impact. Of course, I would love to have clients come from it. But I think that part of why I'm enjoying it so much now is because I'm writing stuff that I really enjoy writing.
Michael: I'm struck by that evolution that you said the first year was mostly prior clients reaching out. They Google for you; they find you, a few of them call right away, the rest are maybe like I'm going to see what Ashby is up to. Oh, he's got this blog thing. I'll sign up for that. They get the stuff for a while and like, oh, I like this. Like, all right, I'm going to follow up with Ashby. So they come back to you. I'm struck – you said it's people you knew around town who signed up for the blog. So I guess this is sort of like a drip marketing strategy, in essence. Like you meet them offline, but they're not necessarily ready to do business yet. So, they sign up for the blog, they start getting the regular emails, and that's how the connection gets built over time as they read these articles and decide, I like this guy, I think this is someone I want to work with.
Ashby: Well, it's really funny, because you know, I'll be playing golf, I'm an avid golfer, and I'll play golf with three guys at my local club. And one of them would be like, "Did you read Ashby's blog this week?" And they're like, "Oh, he has a blog?" And then they'll say, "Oh, his stuff is great, you should sign up for it." And literally, that happens, I don't want to say a lot, but it happens. And so, invariably, my local circles are starting to subscribe to it. And yeah, I don't see how that could be anything but a good thing in the long run.
Michael: All right. I think it's interesting because...
Ashby: And it's a whole lot less pressure than me saying, hey, we should work together. Instead, I'm filtering into their inbox every week. And oh, by the way, I'm probably bringing more to them and their relationship than their current advisor is. So, it ends up being a really great tool to... I am the worst salesman in the world. So, the idea of going and trying to prospect people is my personal version of hell. I don't want to do that. I want people to come work with me because they want to work with me, period. And so, the blog ends up being a really great way to kind of create that relationship.
Michael: Yeah. I heard someone say the other day that blogging is just networking for introverts.
Ashby: Bingo. A hundred percent.
Michael: Going out prospecting sounds horrible. Writing helpful blog posts and having people share it and come and talk to me, that feels better, at least for certain writing client introverted types, that feels better.
Ashby: Absolutely. And I look at it and I'm like, what happens in 10 years when I'm still doing this? Who knows? I just figure I'll just keep writing and let the pieces fall where they may.
Michael: So, as you look at this, are there things you try to do to turn this into business? I'm just wondering, how often are you writing? What are you putting out? How do you get them to actually reach out to you? Is there a thing you do in your marketing process? Or just you send them enough stuff and at some point, a few of them just start doing their own outreach thing? What are you finding is actually getting you some traction to build this into business?
How Ashby Uses His Blog To Reach Prospective Clients And His Retirement Action Plan [01:05:47]
Ashby: Well, the homepage of the site is all about what we do and how we work. And then I offer what's called a retirement action plan where it's a process that people go through, basically, where I kind of help them find where they may or may not be missing the boat in their retirement plan. And the goal is not to bring on every client that goes through that. The goal is just to provide as much value as I can and hope that they see that value and say, "Look, this is how I work. This is what I do. This is the value that I can bring to your life." And I find that once people go through that process, I don't want to say it's rare, but it's not very often that they don't say, hey, this is great. What's the next step?
So that's the process of which I follow. And that's all – just write on the site. I don't put in any of my blog posts that, hey, come work with me, ever. The only thing I put on there that is proactive in any way is that I do put my mission at the bottom of every post now that says my mission is to help 10 million people make better retirement decisions. And I say, look, if you find this to be valuable, I hope you'll consider sharing it. But that's not me selling my business, that's not me selling what I do. That part is 100% altruistic. I really feel that that's how I'm going to make a difference in people's lives. I can only serve 100 families. I can't serve 10 million, but I want to make a difference in as many as possible.
Michael: So talk to us more about what the retirement action plan is, though. Is it like, ultimately, you bring them in for a meeting with you and you talk to them about this? Is this like an automated thing on your website? Like, go through this 11-point questionnaire and our system will give you an action plan of some things to consider? What are you actually doing with this?
Ashby: Sure. So, it's just a process that I go through with where I... Well, first of all, the first call is just to get to know you. And that's what I call it, literally, a get-to-know-you call where it allows them to get to know me, me to get to know them to see if we're a good fit. And the second meeting is what are they trying to accomplish? This is not so different from what everybody does. They give me all their documents, I complete an analysis, and we have a "strategy discussion" where I go through the retirement action plan, and I literally create an analysis. So I do a financial plan for them on where they stand in regards to their retirement goal. I try to help them visualize what's going to happen with their cash flow, where money is going to be coming from, and when, through their retirement. And those are just printouts from, by the way, we use MoneyGuidePro, which is, so... And then I try to create ways that I can say, hey, here's how I will address how you might allocate your portfolio to prepare for that cash flow scenario. And then I also try to provide actionable ideas.
So, that can be on anything from estate planning to their Medicare to Social Security. And I just give them that printout. And I and I say, look, these are my observations as I see them, this is your projections as I see them. And then we discuss them, and at the end of the meeting, I say, what would you like to do? Would you like to talk about it? Would you like to work together? Would you like to think it over? The choice is yours. I don't ever want to pressure anybody. I think that it's hopefully obvious to them that I would be an added value to their lives. That's plain and simple what I'm trying to achieve.
Michael: So help me understand just the timing of this. So ultimately, it sounds like three meetings. Like a get-to-know-you call, a follow up of more of what are you trying to accomplish and get some data and documents, and the third meeting where you're presenting out this retirement action plan. So some output from MoneyGuidePro and some observations and action items of things they could do to improve their financial situation. Is that correct? Like that's a sort of three-meeting process?
Ashby: That's exactly right.
Michael: And so just to understand, like this is for clients, this is for prospects. Like this is all still in the prospect phase for them to decide whether they want to work with you to implement the action plan that got created?
Ashby: Correct. This is all in the prospect process. I do not charge for it. And I provide them a PDF printout that gets sent through my compliance and observations of what's going on in their life. And like I said, my goal is to provide as much value as possible. I'm full disclosure. If they take it and they want to go implement it on their own, go ahead. That's probably not going to be a client who wants to work with me, anyway. So I just don't worry too much about giving too much information away. I really don't. If they're going to want to work with me, they're going to want to work with me. If they're not, then they're not, it's okay. I don't run into too many people who end up going through the process who want to go take it and do it themselves. So I just don't worry about those people who do.
Michael: And these are all phone calls? Are these in-person meetings? Is it a combination?
Ashby: The get-to-know-you call is always a call. Beyond that, it's hopefully, in-person. Most of my clients are local, and most of my prospects who come to me are local. So, pre-COVID, they're all in-person. But now with COVID, I'm trying to transition over to Zoom. I did some Zoom meetings before, because I have some clients in various states, but not that many. So I was already comfortable with it. But now I've been forced to, just as we all have, to use more technology.
Michael: And so, how long are these various meetings and calls?
Ashby: Well, the first call is 30 minutes. The second meeting could be anywhere from an hour to an hour and a half. The third meeting, probably an hour.
Michael: And so, cumulatively, like you may be three, four, or five hours into just formulating this process with prospects to try to ultimately get them on board. Because you've got meeting time, you've got prep time, you have to actually make the retirement action plan and get their data into MoneyGuidePro and produce some printouts. Is that a fair characterization or estimate for just the time it takes for this marketing and sales process?
Ashby: Sure. It's probably five to six hours total. My assistant does all of the data entry into the MoneyGuidePro. She probably gets it to 80% and then I'll take the 20% to get it the rest of the way home. But that's tremendously helpful. And so, from there, it's just a matter of me getting it all on paper and sending it through the kind of approval process, but even that's not cumbersome. Raymond James is really good about that stuff.
Michael: Okay. Okay. Ultimately, this is queued up as a sales process for you. What do you ultimately get paid for them? Do you charge a follow on planning fee? Are you ultimately focusing on AUM model and managing retirement portfolios for the folks that want to work with you? Are you implementing insurance or other products as well? Like, how does this work from the business model perspective?
What Ashby's Business Model Looks Like And How He Charges For His Services [01:13:10]
Ashby: I am at a hybrid firm where we can do anything and everything. But, as I kind of indicated about how I wanted to go to a fee-only firm, I'll tell you that I'm actually 99.6% AUM fee-based That is 99.6% of my revenue comes from, and the only reason I have even 0.4% is because I might have a grandchild account that has, it's an A Share mutual fund because they don't qualify for the minimum of a discretion. So I'm basically 100% AUM, as close as I can get to that.
Michael: Okay. Okay. And so, from a business end, this works as an outcome if they have some minimum amount of dollars to then consolidate with you and say, Okay, if you want to do the retirement action plan and move forward, here's how we can work with you, we can manage your retirement portfolio and help you with all this stuff on an ongoing basis.
Ashby: Correct. My stated minimum on my website is a million. I have 38 million over 43 clients, so I'm just below the million. And my goal is to be at a million. I still have some accounts who obviously fall below that, but for the most part, that's my goal is to have million-plus families.
Michael: Interesting. And you're finding just this blogging leading to the retirement action plan leading to three meeting process works for getting them on board at that client level?
Ashby: Absolutely. I have plenty of people who want to think it over. And that's perfectly fine. That's one of the questions I ask. Which, I don't expect anybody to make a lifetime financial advisor decision on the spot. Some do, some don't. And that's all okay.
Michael: Okay. Do you ever think about charging planning fees and setting a fee for that portion? Just wondering. There's so much discussion out there of charging separate planning fees, not charging separate planning fees. You've obviously put some deliberate thought into this structure and how you built it. So do you think about planning fees? Do you just not worry about it because these are becoming good million-dollar clients anyway?
Ashby: If I found that a lot of my people who go through the process weren't coming on board, I would think that's a personal problem, not a product of not charging enough. So, to me, I think the numbers work out just fine. And like I said...
Michael: And if you're getting clients who pay you an average of almost $10,000 a year on an ongoing basis, as annually recurring clients, like a few thousand dollar planning fee, well, a good dollar amount for your time is probably not the make or break for the business at that point, it's the million-dollar clients.
Ashby: Exactly. My fees are enough to where I'm not worried about optimizing every dollar every hour. I'm just trying to get people who I think are going to be long term lifelong clients, and then really do as good of a job as I can do serving them. And hopefully, they stay on forever. In which case, the lifetime value is worth far more than I could ever charge doing a planning fee to get them on board.
And of the clients that are coming on board, is the primary sales and new client process for you now, like people literally come to the blog and website and click this button to get your retirement action plan and get going, or are you still driving from local networking or referrals or other activities as well? How much of these retirement action plan clients are actually coming from the blog activity, versus whatever else you may be doing for marketing?
Ashby: Some people who have come from the blog, but not a lot yet. Where they're coming from is basically my local market. And I recently wrote a book, and a lot of that has been that has gotten shared around locally a lot. I'm thankful for that. And so, if somebody finds out you do that, and for whatever reason, they tend to be more interested, and then they'll find the blog. So it's still mainly currently the local market where people who know me or have some level of relationship with me have said, "Hey I'm getting ready to retire. My advisor is either probably about my age, or I'm not sure he knows as much as you do about what you do, can we just have a discussion?" And so we'll do the get-to-know-you call basically and figure out what it is that they're trying to accomplish. And we just take it one step at a time.
Michael: Just I'm struck that you've talked a lot about how clients are sourcing for your local market, but then almost every conversation comes like, "and then eventually they go to my website, and then they sign up for my blog, and then they're getting it." So it strikes me that your blog seems to play a very central role in your marketing, but not as a lot of people talk about blogging in terms of "get your blog out there and the world will find you on Google." It's in the middle of your marketing process after they meet you locally. It's not at the start of your marketing process and how they find you.
Ashby: The blog is an introvert's dream. And that is how I approach it. I'm just trying to get people to start reading what I write. I probably promote myself way less than I ever should. But that just doesn't come naturally to me. But I don't mind talking about what I've written before. And people certainly don't mind sharing what I've written. So, to me, that tends to be where I try to get people. I would rather them start there, to be honest with you because it gives people a perspective of what it is that I do and what it is that I don't do. So it actually ends up shortening conversations because nobody's coming to me to try to pick the best mutual funds. Nobody is coming to me to try to time the market because if you read my blog, I don't do that. And I...
Michael: So it filters out people who are a bad fit because they're just not going to keep reading your stuff if they're not into you?
Ashby: Correct. So it ends up being a place they go anyway.
Michael: Interesting. And how often are you writing? Like, how often do you publish content and how long is it?
The Content That Ashby Creates For His Blog, Where He Finds Inspiration, And His Writing Process [01:19:32]
Ashby: It can be anywhere from… always once a week, a lot of times twice a week, but that's about it. I don't know how you maintain the level of volume that you do. But once or twice a week, I publish a post. They used to be very long. I adopted the Kitces' way of life for a while and wrote 2,000 to 4000-word pieces. And just through the sheer evolution of what I write about and as my practice has evolved, and what I think that... So the other piece that gets overlooked is how valuable the blog is to my existing clients. And keeping my thoughts on what's going on in front of existing clients, because almost all of my existing clients subscribe to the blog. So they're reading what I'm thinking on a regular basis, which is immensely helpful. I get a lot of calls that say, "I'm just so glad that you do this."
And so, they've gotten a lot shorter is where I'm going with it. So they now may be anywhere from probably 1000 words or less. And that's not by design, it's just as they say, "I wrote you a long letter because I didn't have time to write you a short one." So, I've really tried to condense what it is that I'm writing into the salient points. And that's the route that I've gone recently. And that's just because I'm writing about the things that hit me. But they always hit me every week, because I make sure that I get something out. I'm not waiting for something to hit me, per se. Just like you, I have a OneNote notebook of probably 300 ideas that I could just write about right now.
Michael: And where do ideas come from for you? It's a blocking point for a lot of advisors.
Ashby: Where don't they come from? If you're looking for ideas you can go to Bobbleheads and look at the questions being asked. I get them from talking to clients. I probably read 8 to 10 blogs, that's about it. I don't really read a lot more. But they tend to be blogs who have similar viewpoints on how I view the world from an investing standpoint. So I take ideas from that and turn it into my own thoughts and feelings and try to write it in a condensed format that makes sense for retirees.
Michael: And what are your blogs of choice that you read to get inspiration? Are there some in particular that have become go-to's for you?
Ashby: Well, by far my favorite resource is Nick Murray. I'm a subscriber to his newsletter, which I think is the best $275 I spend every year. He's just probably my favorite person to read about. So I read everything he writes. I read everything that he links to and says I should read. I read the First Trust blog with Brian Wesbury. I read, what is it? Hold on. Now, Ryan Krueger writes a lot of great stuff with Krueger & Catalano. Calafia Beach Pundit, which is Scott Grannis. Ed Yardeni. Bill Miller from Miller Value Partners. So, those are probably the primaries that I read. But I also read a lot of the Ritholtz guys. And those are probably the primaries.
Michael: And all just to find whatever inspiration you're going to find?
Ashby: Yeah, it's a matter of me finding... You've experienced this no doubt where you see just a turn of phrase is like, Oh, my gosh, that's so good. It sparks just the right thought you need, then you can just pound out 1000 words. That happens all the time. When you write a lot, it doesn't take much to be inspired to write more. And so, that's been my experience. I think that the people who always wonder what they're going to write about, sometimes you just need to start writing. I have more ideas than I could write about in two years right now. And invariably, I'll write 10% of those because I come up with others in the interim.
Michael: So, how long did it take you to do your writing process now for these one or two a week? Is this an hour or two? Is this a half a day? Is this like a day a week that that gets consumed with writing?
Ashby: I'm a terribly slow writer. It probably averages out to between six and eight hours total to get probably two articles out. Sometimes it's six to eight hours to get one out. My goal is to is always to write one crappy version first, and then I just try to edit it and make it sound better.
Michael: As opposed to trying to perfect it when you write it? Like, just get the words out once, it can be crappy, then take a second pass and tighten it up?
Ashby: Exactly. And that's how I write everything. I don't put too much pressure on myself to feel any other way.
Michael: And so, just in the aggregate, that's a big old chunk of time. You're talking about, essentially, 20% of a workweek. So, how do you manage that time? How do you find or set aside or manage the time to be able to do that much writing work?
How Ashby Manages His Time And His Productivity Techniques [01:24:42]
Ashby: It's a combination. One of the things that I do is... My journey to being as effective and efficient with my time has been, it was a real frustration point for me for a lot of years where I tried all the traditional time management techniques where you have a paper calendar and you write down what your day is going to look like. Well, within two hours of my day starting, I'm already off schedule because I'm notoriously poor at estimating how long something is going to take. So, that failed almost always.
So, over time, what I started to do was I read the book, "Essentialism," which, if nobody has read that book, I know that a lot of people have, but if you haven't read that book, I would say it was relatively life-changing for me. And what that kind of book concentrates on is, is what you're doing essential? And it does not say to do this in the book but that book is what inspired these thoughts, why not share the book?
But what I tried to do is, I started doing two things. I started to separate my day into just two sections. One for working in the business, and one for working on the business. And this is every day except for during client appointment months, which I follow the surge meetings as much as I can. So, probably 80% of my meetings happen in March and October. So during client months, I'm just trying to serve clients and make sure I get everything done there. I'm really not concerned about following this process. But for the rest of the year, I separate my day into two sections. The working on the business and working in the business.
So generally speaking, my morning is always working in the business. So I'm making sure all my emails are taken care of. I have a to-do list. I fill out a productivity sheet every day. And I write down my goals, I write down what my big block schedules are. So, the morning is always finish my to-do list, which is whatever needs to be done that day, whether you use your CRM to track that, or whatever. I'll make sure those all get done.
And then once my morning is done, I've done all the trades I need to do, I've talked to the clients I need to talk to, I've gotten all that stuff out of my way, the afternoon, generally after lunch, I work on the business. So I'm doing marketing, I'm writing blogs, I'm doing other things, working on projects that will hopefully move the needle in the long run. Whether that's writing a book, or whether that's writing a white paper. Like, I did a new lead-gen for my email list. So I wrote a white paper. So, anything that I think might move the needle for me, in the long run, I work on in the afternoon. And I try to really shut out what happened in the morning so that I can do the stuff in the afternoon.
And most people would tell you to do the reverse of that. But what it is, if I tried to work on the business in the morning, I would not be able to concentrate. Because if I haven't done the things I know need to happen for my clients, who by the way, are the people who are paying me, then I don't have any business doing the other stuff. So I could not clear my head if I tried to do the reverse. So I try to make sure my clients are first and foremost, that I take care of the stuff that needs to be taken care of, and then I can jump into doing the things that I think will move the needle for me in the long run in the afternoons.
Michael: And you mentioned a productivity sheet as well as goals. And I think you mentioned a big block schedule. So, can you talk a little bit more about just what this productivity sheet is that you're completing every day?
Ashby: Yes. So the worksheet encompasses – it has, I guess, five different sections as I sit here and look at it. It has the schedule for the day, which is just a regular-looking calendar. I write down my goals every morning. It is the first thing I do when I wake up. When I do my daily reading, journaling, and all that stuff. Then I write down what the items are for the day that are going to "move the needle." So what are the projects I'm going to work on that day? Whether it's writing a blog post or whatever that needs to get done. I'll write that section down. Then I have what I call a 'get-to-do list'. Because a to-do list is negative. A get-to-do list is positive. So I have my get-to-do list. And then I have...
Michael: Like, what do I get to do today that I've been wanting me to work on, now I get to do it? Okay.
Ashby: Exactly. So it just makes me think of it differently. That's maybe stupid, but it works for me. And then I have what's called – this is probably really important. I use something that's called 'This Month's Focus', where at the end of each month I look at the following month and I say, all right, what is my big project. And I have an ongoing project list for my practice. Whether that is creating the retirement action plan process, or whether that is updating – maybe I need to change my investment policy statements, or maybe I want to create a white paper for my email lead-generation, or whatever. Each month starts with a focus. And I cannot do any other projects that come across my radar until that project is done. Because what I would end up happening is I would work on one for a little bit, then I work on another, then I work on another, then I work on another, and none of them would ever get done.
So by kind of focusing on the project that in theory should move the needle the most, I end up accomplishing far more because I'm actually checking things off the list. And once that's done, I can move on to something else until the next month, and I can work on any others that I can knock out on my project list until the next month. And then the next month, I pick the one that's going to make the biggest impact. And that goes on This Month's Focus every time. So that's kind of the worksheet I... And I fill it out every day.
Michael: And where did this come from? Is this a thing you built for yourself over time? Is this something you found from some productivity system and ran with it?
Ashby: It's a combination. I had always done writing down my daily schedule. I tried to always do that in analog form. And I think it's important that it is in analog form. Because what would happen if this is all electronic, you get distracted and doing something else. Versus, if I just look at a sheet of paper, the sheet of paper is not going to force me to do anything else. I just write on it.
So, I always had a daily schedule, I always wrote down my goals. The other three come from a combination of people. One is Donald Miller has a productivity sheet that I ended up taking a little bit off of. Jack Butcher I know has one, which amazingly, the one that he has looks a lot like mine. And I did not copy his. I added the cell phone thing to my list, which I never fill out actually, as it turns out, but that came from him. So there's one aspect from my list that looks just like his, but his looks just like mine.
Michael: And what's the cell phone thing?
Ashby: So like, in reviewing my hours, how much time did I spend looking at my cell phone, basically distracted? So if I didn't look at my cell phone, that's a good thing. I checked the box. If I spent time looking at my phone then I 'X' it off because I screwed it up.
Michael: That's not a phone calls thing. That's like everything else we do on our cell phone that probably was not the most productive thing to do.
Ashby: That's exactly right. But I put it on there because it was on Jack Butcher's. And I thought that was a great idea. And I can tell you I never fill it out. But it's on there.
Michael: Intriguing. Out of curiosity, are you willing to share this for folks that want to check it out and see it?
Ashby: I'd be more than happy to share it. Absolutely.
Michael: Awesome. I appreciate that. So, for those who are listening, this is Episode 197. So if you just go to kitces.com/197, we'll have a link out for Ashby's productivity sheet.
So Ashby, as you have looked at this process and journey of building the firm, what surprised you the most about trying to build your own business, particularly as you transitioned and went out on your own?
What Surprised Ashby The Most About Building His Firm And What His Low Point Was [01:32:51]
Ashby: I think that sometimes freedom can be a nightmare. Having to kind of chart your own course can be very difficult sometimes. And I'm really glad that I started with the firm that I did because it gave me 10 years to figure this thing out so that, in a matter of speaking, by the time I decided to do this again, I had a really good feeling for what I wanted to do. But at the same time, had I had all of this freedom from day one, I probably would not have made it in the business. But it came to me at the right time. And so, that probably would have surprised me more than anything else.
Michael: So the sort of – this aspect of early on the structure of big firms in our industry can actually be really helpful for creating the structure you need. But then at some point, you may find like okay, now that I've lived in that structure for 3 or 5 or 7 or 10 years, I think I've actually figured out the stuff that I really want to do and focus on and so now I would like to shift and create that thing in my own vision and have a little more freedom now that I totally would not have been good with early on.
Ashby: Absolutely. I think a lot of these firms can get a bad rap from advisors. They clearly have a perfectly fine reputation with the general public, otherwise, you wouldn't have managed so many assets. But you know, from an advisor's perspective, they get a bad rap, but I'll tell you, I wouldn't have made it if I didn't start where I did. So, to me, it's not always bad to start at one of those places. And then you figure it out as you go along. Just keep your eyes and ears open, and you never know what may come your way.
Michael: So, what was the low point for you on this career journey?
Ashby: So I knew you were going to ask me that. But what's funny is, because I've obviously listened to all of your podcasts, but it is such an obvious answer to me. And that is the week I left my old firm. And not because I thought it was a bad decision, but because I left everything I had known, and I left a really great business, from a family income perspective, but I frankly freaked out a little bit when I left. So, somebody who's considering doing this just kind of be prepared for that because I am not somebody who freaks out at all. I am a very even-keeled person. But I was – I don't want to say – very worried, very concerned, very stressed. What if no clients called me? What if? What if this was a huge mistake? And that feeling was very evident in my life, only for a couple of weeks, but it was there and it was strong. But you know, once I got started and got my first client calls, I felt much better.
Michael: One, I would imagine it just gets amplified further when you've got this mandatory garden leave blackout period like hey, in case you wanted to distract yourself while you've left your job and are getting ready for what comes next, you pretty much can't do anything to distract yourself, you just got to sit there doing nothing, dwelling on it for 29, 28, 27 more days, while you count down the calendar just to get to the point where you can turn the lights back on as they were and find out whether anyone's going to start showing up. I have to imagine the mandatory pause there did not exactly help the anxiety of the situation.
Ashby: It absolutely didn't. But I'll tell you this to whoever's listening out there, that if this is hitting them square where they need to be hit, is that month, pardon the phrase, really sucked. And it was not a fun time in my life. But I will say this, and full disclosure, I am currently making less than I made before I left, but I am infinitely happier. I am excited on Monday morning to go to work. I was not excited on Monday morning to go to work for a while. And so, I just want to put that out there because I think that is something that I think is overlooked a lot is that they expect that you leave it's all roses. It may not be. But that doesn't make it bad. And you're going to have those feelings where you question your decision? Did you make the right decision? How's this going to work out? And if you do things the right way, I'm confident it'll work out for the better.
Michael: And so, I guess I'm just curious. What's the difference that's making you so much happier since it's not the lift in income and career growth, at least so far, although you said that you did want to build something that you can own. So you've got some of that. But, like, income is not even where it was two or three years ago, but as said, you're infinitely happier. So, what's the different thing that's making you so much happier?
Ashby: Well, for one, we lived well below our means even before. So everything's being met. From a financial perspective, I don't have any worries anymore. But at the same time, on Monday morning, when I come into the office, I'm working for Ashby and his family and the families that I serve. I work for Shorebridge. Shorebridge is a phenomenal firm and I love it here. But I'm coming in and I'm building something for myself. I'm not trying to build anything for anybody else. I get the experience of working with... One of the great things was, I went from, let's say, 200 clients, I have 43 whom I love to work with. So, every phone call I get, I'm excited to talk to this person. Like, that's a pretty great thing. And so, I'm being very selective on even people who come in still because I don't want to ruin that.
And so, my feeling towards being infinitely happier is just that I come in, I'm literally just trying to do the things that I want to do and enjoying trying to figure out how to make this thing a little bit better every day.
Michael: I think there's a real power in just what comes when, I think as anybody who's lived in a firm where you have to work with the clients of the firm because they are clients of the firm and you work with them and that's your gig, there is an amazing freedom that comes from, you know what? I actually don't need to work with the clients that I don't want to work with anymore. I get to make that call. It's a powerful thing if you've never got to make that decision and suddenly get to and had any number of clients you really didn't like working with, which most of us get at some point or another.
Ashby: Absolutely. It's hard to overstate that.
Michael: So, looking back, is there anything you wish you'd done differently in this journey? Either in building where you built originally or in making the transition to where you made the transition to? Anything you now wish you could go back and tell you from five years ago?
What Ashby Would Have Done Differently And What Advice He Would Give To New Advisors [01:40:23]
Ashby: The common answer would be that, no, I wouldn't change anything, because then I wouldn't be where I am today. But I wish I would have educated myself really early on, on what exists in the world of financial services. We work in the greatest business in the world; we get to impact clients' lives. And that's a pretty great thing. But a lot of these firms do insulate their people. And I don't think that's necessarily bad. That's an obvious thing. Like, why wouldn't they do that? But at the same time, I wish I would have educated myself a little bit more in terms of what exists out in the world and help get a better understanding of how the financial services works outside of where I was. I still am learning that. I'm still continually surprised that I'm in year 12. So, that's probably about it.
Michael: So maybe that dovetails into the next question as well about what advice would you give newer advisors coming into the industry today to get going on a good foot?
Ashby: Read the Michael Kitces blog.
Michael: Hopefully, they're doing that already since they're coming through the podcast as well.
Ashby: That's true. That was a bad idea.
Michael: No, I appreciate it.
Ashby: I think just read from people who aren't in your sphere. Part of the reason I read all the things that I read is because they don't have the same experiences that I have. They work and play in a different world than I play in. And so, the fact that it took me until 2016 to really experiment and look outside of what my firm had to offer, not in terms of leaving or not leaving, but in terms of looking for expertise outside of my own firm. That would be a game-changer for not only in terms of being more educated in what the industry has to offer but being more educated in client planning issues. Like, in every which way, I feel like people would be better served if they would read outside of what their firm publishes.
Michael: So, what comes next for you?
What Comes Next For Ashby And How He Defines Success [01:42:33]
Ashby: I'd love to serve 100 client families. I have a series of books I'm trying to write, which is a whole other topic, but I'm trying to write those.
Michael: Are these books creative fiction books outside of the industry, or books in the industry tied to the business?
Ashby: If only I was creative enough to write fiction. No, they're just little books for retirees that I'm trying to – I'm trying to write a series of 6 to 10 of them. Saying 6 to 10, that seems like a big number of possibilities, but I already wrote one. I just finished the first draft of number two, and I'm trying to get those out. And I would really like for those to become helpful to the retirement community.
Michael: And what's the purpose of them? Like, you're already writing a blog? So is this like another channel? Was this repurposing the blog posts? Is this like a money thing in of itself to do book sales? Is this like books to get clients? What's the angle? Or what's the path for you?
Ashby: Well, two things. One is it's a way I can make a difference in the lives of people who are probably do-it-yourselfers who would never work with me. The first book I wrote is "Medicare Simplified". It's just a book on Medicare. I don't sell Medicare. I don't do anything with Medicare outside of trying to help people make sense of it. But the goal is to kind of get people to 98% of what they need to know in less than two hours of reading. So the book is less than 100 pages. All my series will be less than 100-page books. Much like you wrote your "Annuity" book, Michael, I'm trying to write a very succinct series of books where it helps the DIYers, but I'm not saying it's totally altruistic, because part of the purpose of writing the books is to create an additional stream of income that I can hopefully turn into something. And that's kind of just the...
Michael: From just the revenue of book sales in and of itself? Can I ask just like, what are you selling the books for? Relative to having an advisory firm with tens of millions of dollars under management and just what we charge in the industry as advisors, what are you selling the books for? What are you envisioning you can charge for them to have this be an income contributor?
Ashby: So, the paperback sells for $11.99, the Kindle for 4.99. I think I make – depending on which type you buy – between $3 and 50 cents or $5 a book. And the first one has only been out for 2 or 3 months, and I think I've probably cleared $2,000 on the first book.
Michael: One thousand or $2,000 a month with some momentum ain't bad for writing it once and letting Amazon keep selling it for you.
Ashby: Well, what's funny is I started to write the 300-page retirement book and decided that that was not what I wanted because I didn't think that's what retirees would read. I really tried to create a useful guide for retirees. And why I started with Medicare was just because that's what I had already written the most on. Not because I was dying to write a book on Medicare. But the goal was literally to create a side income that I could use to just provide income, but also to really make a difference. If I have a client who is coming up on Medicare, I send a copy of my book to every existing client, and then some. But if I have somebody who comes in and says, "Hey, I need to know something about Medicare," I'm like, "Hey, I got you covered. I literally wrote the book on it." So, it's an easy way to do that.
Michael: And how did you bring this together? Like, did you just use the resources of the internet to figure out how to self-publish a book on Amazon? Or did you work with some service or a provider to help get this set up?
Ashby: Google is an amazing tool. I figured out how to do it all. Just for whoever is an aspiring writer out there, I have an entire $160 into my book. Everything else is profit at this point, outside of my time, unless you type 200-words-a-minute like you do, it is a very time-expensive thing to do. But it's very rewarding too in terms of getting that information out there. And I think it's the same way. But I learned how to self-publish on Amazon just by googling it, figuring it out. And I paid somebody on Fiverr to format the book, and I paid somebody on Fiverr to create a book cover. Those are the only two expenses I had as far as editing goes. I'm lucky. My mom is an English teacher and was willing to edit it free of charge. So thanks, Mom. But outside of that, there were no other costs outside of those two Fiverr expenses. And like I said, it's gone pretty well.
But to go back to your initial question. The goal is to write a series of those that I really do... Yes, there is a profit motive. I don't want to say there's not. But it really is as altruistic as you can be with also a profit motive to really just put out good information. Like I said, I can only serve 100 client families, but if I can make a difference in the lives of more people who are looking for good quality information, then the blog fits that, the books fit that. Who knows what's in the future? Whether it's YouTube or a podcast, or what have you. I just am trying to move that needle in terms of helping people make better decisions. And if I achieve that, however, I achieve that; I feel like it is a step in the right direction.
Michael: So on that theme, as we wrap up, this is a podcast about success. And one of the themes that always comes up is just the word success means different things to different people. And so you're on this incredible success trajectory with the business and having gone out on your own starting over and rebuilding so quickly and moving forward. How do you define success for yourself at this point?
Ashby: Yeah, if I've been very transparent, I feel pretty successful already in the sense that, from a life perspective is, do my kids look at me and say I'm a good dad? Does Beth, my wife, look at me and say, I'm a good husband? But outside of that, from a business perspective, which what probably far more people are interested in, I've mentioned this earlier in the podcast, can I do the things I want to do and only the things I want to do? And what kind of balance does my business offer me that allows me to fulfill those life goals? And if I'm not there already, I'm getting pretty close. But I think that as long as I can continue to do the things that I want to do when I want to do them, and allows me to be at home and fulfill those life goals, that's really what I'm striving for above all else. And hopefully, those two things can kind of dovetail together.
Michael: I love it. I love it. I love the framing of can I do the things I want to do and only the things I want to do? And adding the second part of that is, I think particularly powerful and thinking about just how much control and autonomy do you have over your business and your life? How much do you want? What do you want that to look like? So I think as you said early on, too much freedom early on actually can make it harder or be overwhelming. But at some point, I think just as people, as we grow and figure out what are the things we want to do that we're good at, and can we narrow it down to just focusing our time there? It's pretty powerful when you hit that moment.
Ashby: Absolutely. And I just want to put this out there to your audience, if you're an advisor who fits the mold of what I was describing, if you just want to have a discussion on what it's like, not on the other side, there's plenty of people willing to tell that story, but what it's like going through the transition and what you can expect, feel free to reach out. I'm certainly happy to contribute in that way.
Michael: Awesome. I appreciate that, Ashby. So we'll have links out for Ashby. As well if you're listening and you want to reach out to him through LinkedIn or through his firm's website, again, kitces.com/197 for Episode 197, and we'll have the links out there.
But thank you so much Ashby for joining us on the "Financial Advisor Success" podcast.
Ashby: It really is my pleasure. Thanks for having me, Michael. I love everything you do. Thank you so much for having me.