Executive Summary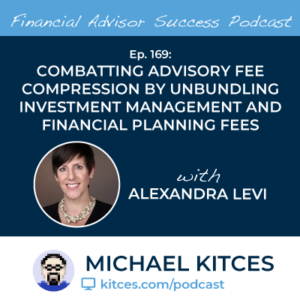 Welcome back to the 169th episode of Financial Advisor Success Podcast!
My guest on today's podcast is Alexandra Levi. Alex is the Founder and Managing Partner of Element Financial Group, a hybrid RIA with the Commonwealth platform that oversees nearly $430 million of assets under advisement for 170 clients. What's unique about Alex, though, is that, with a firm providing both investment management and financial planning services, she, in fact, has been able to grow her revenue to be almost fifty-fifty between the two with a $4,000 to $11,000 a year annual retainer fee for financial planning. And that she did so specifically as a strategy to combat the risk of fee compression by more clearly and separately articulating the value and the price of each service.
In this episode, we talk in-depth about Alex's approach to financial planning and how she prices it with her clients. The way she does a demo of the eMoney advisor's dashboard in her prospect meetings with potential clients to show them the way she'll keep their lives organized on an ongoing basis. The way Alex shortened the upfront financial planning process with clients to just two meetings but then conducts ongoing quarterly meetings with all clients in recognition that financial planning is much more about the ongoing planning process than the upfront plan itself.
And how, thanks to technology, Alex's quarterly meetings with her clients have increasingly become virtual while leveraging video conferencing software, but how the reduction in physical in-person meetings hasn't impeded her retention rate that remains in the high 90% range for her multi-thousand dollar a year annual retainer fee.
We also talk about Alex's journey through the advisory business itself. Why she chose to start out her career working for a major mutual life insurance firm instead of a wirehouse. The reason she ultimately decided to make a pivot to the independent broker-dealer channel for back-office compliance and other infrastructure that a broker-dealer can provide. Why she hired an independent recruiter to help her find the right BD to work with. About the partnership she almost entered into with another advisory firm for support but had to bail out of at the last minute. And the way she eventually found her ideal business partner, so she didn't have to be a lone wolf responsible for everything and not feel so alone in building her now jointly-owned advisory business.
And be certain to listen to the end, where Alex shares her perspective on why she thinks time in the business is such a major determinant of success. Why it's so crucial to be proactive about networking early – and always – in an advisory career. And why she views the entrepreneurial opportunity of owning and building your own advisory business to be especially appealing for women who want to control the direction and duration of their careers.
What You'll Learn In This Podcast Episode
How Alex Controlled The Direction Of Her Career To Start In The Financial Advisory Business [00:04:30]
How The Appeal Of Planning For The Future, Instead Of Accounting For The Past, Led Alex To The Financial Services Industry [00:11:29]
How She Used Her Network For Support As She Progressed Through Her Career [00:20:37]
The Benefits And Appeal Of Working With A Business Partner [00:31:19]
Why Alexandra Hired An Independent Recruiter [00:44:39]
What Her Firm Looks Like Today, And How She Combats The Risk Of Fee Compression [00:51:34]
How The Firm's Services Provides For Clients And Why Alexandra Continues To Do Quarterly Meetings [01:01:20]
Why She Keeps Most Of Her Meetings Virtual [01:11:18]
What Surprised Alexandra The Most About Building Her Business [01:19:15]
The Low Point Of The Journey [01:27:49]
What Success Means To Alexandra [01:33:59]
Resources Featured In This Episode:
Never miss a Financial Advisor Success podcast episode! Get notified of the latest episodes (and all our research as it's released!) directly via email:
Full Transcript:
Michael: Welcome, Alex Levi to "The Financial Advisor Success podcast."
Alexandra: Hi, Michael. It's a pleasure to be here.
Michael: I'm excited to have you on the podcast today to talk about the challenges and the journey through our advisor roles as we collectively face all these difficulties in figuring out how to defend our value proposition of pricing in a competitive world.
And just figuring out how to structure your advisory firm with all the different choices of types of platforms, and back-office support, whether to tuck in or rely on the resources of another firm, and to build your whole back office yourself, and whether to work on your own or with a partner.
And I know you have a strong partnership and an interesting firm that splits both services and revenue separately between financial planning, investment management, and I know that the journey of figuring it out I'm sure is not rarely ever is a straight line.
Alexandra: Yeah, well, it definitely didn't seem like a smooth, straight pathway while it was all happening.
Michael: And from what I've gathered, it wasn't necessarily a master plan – "I'm going to come into the industry and work at this firm for a while, then go out on my own, then find a partner and restructure my business model."
Alexandra: Yes, that genius plan was not hatched, even though I had actually completed the plan. And funnily enough, though, again, when I look back, I feel like it all was meant to be because it got me where I am, and it all feeds in the business that I am, and it's helped the success of our business today.
How Alex Controlled The Direction Of Her Career To Start In The Financial Advisory Business [00:04:30]
Michael: So start us out of just what was your original business world before you came into the world of financial advisors?
Alexandra: Well, I had a couple. When I got out of school...I'm a first-generation American. My parents came here when they were 19 and met each other in New York. They were supposed to stay for a year and go back to their respective countries, but they stayed.
So I came from a different kind of culture; I went to college and I was working... the expectation was to get to work right away and have a career. I was hoping to go to law school when I got out of school but thought I needed to work for a few years and make some money. So the plan was Wall Street and then law school.
Michael: Okay, it's a very good tradition you obviously have.
Alexandra: Exactly. It didn't happen. My mother had had a heart attack, and she was recovering and I just needed to get a job. I was just out of school, and so I started talking to friends, my network – my 21-year-old network – which was a lot of kids that really didn't know what they were doing either.
And somebody was working for somebody who was starting a brokerage firm. And I said, well, that's what I need to do, and I need to get a job right away so I can go and tell my mom I got a job and it'll make her happy. And it turns out, he was opening a mailing list brokerage, which I'm old enough many people today would not realize that mailing lists used to go out on big reels of sticky tape that they would put on envelopes.
And when I realized what he wanted me to do, I said, "I'm not interested at all." And he saw that I was a scrappy kid, I'd been working since I was a kid. I already had a resume at 21, and I was a finance and economics major. So he asked me if I would come in and help him. He was an entrepreneur himself.
He had several businesses that he owned; he would keep the tax and accounting function in-house and let the founders run the business. And then he also had a portfolio of commercial real estate that he owned. And he ran the finance operation himself for all these businesses and said, "Why don't you come in?" And I figured, well, let me do this for six months while I look for a job.
It turns out that I loved the work, and I loved working with clients, and I loved helping them bridge the reality of what they thought was happening in their business, and the reality of what I saw was happening vis-a-vis the numbers, which were very different.
And it also turns out I had an entrepreneurial streak, which started in that business. I started bringing in clients through word of mouth to do taxes, and bookkeeping, and corporate accounting. Within a year I was incorporated and six years later, I had built a fairly large tax practice.
But I realized six years in that, you know, 95% of tax is about yesterday, it's certainly a great knowledge to have but I am 10,000 times more interested in the future than in the past. And I realized I really didn't want to do that forever.
And a client of mine asked me to come in as the CFO, one of the top modeling agencies in the industry at the peak of the model heyday. So I came in and I had opened... as a tax plan I'd had helped him open New York and London and then I came in as a CFO, and we opened Cape Town and South Beach, and I ran all four out of our flagship here in the city.
I did that for six years, but the way the business was structured I didn't have equity in it, and I would never have equity in it. So I was running it like an owner with all the downside, but none of the up.
And I thought, well, this is also not a good permanent plan. I had helped him grow the business as much as I could help him, and I had been approached by somebody to help launch a media company with some project that ended up being a very interesting project partnering a large retailer and several networks and it was very interesting. That company backdoored itself public while we were in the process of doing the project, and I was sitting in an ad agency, ultimately.
So when I went inside those two businesses for those six years, my phone never stopped ringing from my tax practice; I literally could not kill my practice. People were calling me for tax advice, for business advice, for financial advice. And I realized I really needed to be back in practice.
I had helped these two business owners build and grow their businesses substantially, but I really liked working with a diverse palette of clients. So as I was trying to construct what that would look like, I thought about consulting. But a privately held business that brings in an outsourced CFO or a financial consultant is really somebody that needs an in-house CFO, and they just don't have the money to pay for it. It's a morass; there's just no measurable way to help them out of where they are from that perspective. And that's when along the way, I was sort of weighing those options.
Somebody had suggested financial services, which had always been something that was within the purview of all the things I had done. And I thought that it sounded like something that might be very interesting.
Two things happened at that time, September 11th is one of them. We live in New York, I lived not too far from the World Trade Center, and my husband was in it. Thankfully, he is okay. But my perspective on a lot of things changed as I was trying to figure out what I wanted to do.
And then I'm also very entrepreneurial. We are an all-women firm and I was willing to get started. Somebody found my resume and asked me to come in on the insurance side of the financial services world, and proposed that I come into the industry through the insurance side.
I knew I didn't want to go through the wirehouse side. I knew from the beginning that I wanted to have a qualitative business, that I had to learn it. And I didn't think a wirehouse would be the place for me to do that. So I knew I wouldn't come in on that side of the business, I had no knowledge of insurance whatsoever because I'm a first-generation American, that was just not a conversation that was ever had.
Michael: Not a lot of, "Let me call my stockbroker" conversations in your house growing up?
Alexandra: And their families and how they needed to get through. So I said, "You know what, let's try it – if this works, great, and if it doesn't work, no sweat, we'll move on and I'll figure out what this is going to look like." And that's actually how I got into the formal financial services world 20 years ago.
So that's been a long time since I told that story. I put my head down for six months and realized that I loved it. I could see a full service financial advisory practice from the very first day. I wasn't interested in selling product, I was interested in the capacity to build a practice where I could help people put together all the pieces of their financial life. And that's how that all started.
How The Appeal Of Planning For The Future, Instead Of Accounting For The Past, Led Alex To The Financial Services Industry [00:11:29]
Michael: So what was it that led you to the financial services industry? The coming into the insurance and investment side when you had been doing this kind of tax accounting work all along? And I get it, maybe you didn't want to go into one firm as an outsourced CFO because that gets a little bit tough.
And as you said, the people who hire a part-time outsourced CFO are usually the ones that have enough financial difficulty that they have to do that, which makes them tough people to work with. But you could have just continued in the tax and accounting business, giving entrepreneur, tax, business, and professional advice. What was the puller, the allure, the interest, to come over to the financial advisor side in particular?
Alexandra: It was the advisory, it was planning for the future. There is something quite compelling about being able to help somebody course correct and make changes that will dramatically affect their future. You don't have the same impact in tax. Somebody is very happy in a year not to have to pay a big tax bill but you're not making a huge seismic shift in their future.
Michael: So it's sort of that kind of literal effect, the nature of tax and particularly accounting almost by definition is you are accounting for stuff that already happened. That's what makes it accounting. It's entirely backward-looking by its nature, right.
Let's account for the stuff that happens and capture the numbers. And so that backwards-looking accounting versus forward-looking planning was the driving shift as opposed to like, I don't like doing tax work, I want to do insurance and investment work?
Alexandra: 100% I love the tax work, I love the analytic part of what that was, and being able to really get down deep in and see what's happening and that certainly influences the work we do here. But I'm a forward-thinking person, I'm interested in fixing what went wrong yesterday so that it can be better tomorrow, that's my whole being and that's what we deliver to the clients today.
Michael: You mentioned you were looking at how you wanted to come into the industry with sort of limited knowledge, and not from a household that had a lot of, "Let me call my stockbroker" when you were growing up. You seem to have had a pretty clear vision that you didn't want to go the wirehouse route, so you chose coming on the insurance side.
What was it that made you not want to come in on the wirehouse side, given the knowledge that you had and made you decide you did want to come in on the insurance side, given what you were learning or figuring out at the time?
Alexandra: A couple of things influenced it. One, when I first came in, I still didn't realize what I had already been doing. And the idea of sales seemed like something that was not...where the pure focus was on selling. Honestly, that did have some influence, not all of it, but it had some influence.
And it's funny, as I came through the business, I had a shift in my perspective that happened in that first year where I realized that I've always been selling myself. We all do. I had a tax practice, I had to sell my ability to help the clients when I was talking to them and trust in me. I didn't realize when I was building that business, that's what I was doing, but I was.
The formal training on the early part of the business and that anybody gets when they first come in, whether it's on the insurance side or the wirehouse side, that had a huge impact on me, it changed my perspective on what I was doing. I wasn't selling stuff; I was selling my desire to help people. And that was quite impactful. And that happened on this side of the business.
So initially, I think the shift to insurance was because I really hadn't gone through that transformation yet, and I was a little apprehensive. But I already knew I was a relationship-based person. I wasn't a kid; I'd already run three businesses, I had built a practice, I knew that I wanted a qualitative business, and I did not want a quantitative business. I wasn't interested in nameless, faceless people – that didn't interest me and appeal to me at all.
So thankfully, I think rightly, surmised for me, that this was a good way to launch a business that would be a relationship-based business. Where I would be able to really work with clients, and I wouldn't have the pressure of what I assumed I would get with regard to how you build a business in a wirehouse, which is strictly AUM. It doesn't matter what you're doing, and certainly, in those days, you wouldn't even consider planning, that was just not happening.
Michael: Right, but then I've got to ask, you didn't want to go into the wirehouse world because you were kind of concerned it was going to be a product-centric, sales-centric role; you weren't going to get to do as much planning.
But you came in on the insurance side of the industry, which, particularly 20 years ago, was not maybe all that different. Different products like you're selling life insurance or variable universal life if you're coming in at that point, rather than AUM per se. But I would imagine still kind of landed and went, oh, wait, I think I'm actually still in a sales role. I just stepped around a different kind of selling thing.
Alexandra: For some reason, I saw the freedom that came with it, you had to hit...First of all, I accepted and sort of fell into the idea that that's what I do sell. I am somebody that wants to help people and that's what my pitch is. And I knew just from looking at it that I could build...I had the freedom to build the business the way I wanted to where in a wirehouse, I would not have had that same freedom. Meaning I could take it in any direction they just care about.
Michael: So at least the more independent nature of being a quasi-independent insurance agent was still more flexible for you than the potentially fully captive wirehouse environment that you said, okay if I'm going to have to sell something, I want that version at least because I know I want to be more flexible and independent.
Alexandra: Yeah. And it's funny because it really...Yes, but the way it happened...I started planning, from the second I started doing it. But in those days, of course, I was doing the planning for free, but I was working out solutions for my clients. Even then I didn't feel like I was pitching product, but I was very good at it. And it was because I was helping people solve problems. I was a seasoned business person already, I did come in with a market and I came in with a network. And I came in with people who understood that I could solve sophisticated problems. And now I had a tool that would be better, in some instances useful for them to be able to solve those problems. And through that process, I started my planning practice.
And again, what drove me in through and into the business that we have now is the fact that the planning was always the thing. I couldn't care less about the products, they were very useful solving some very complicated problems, and my clients were very grateful because they were getting that planning and that thoughtfulness while I was doing it.
Michael: So, what kind of insurance company or role did you start out with? Was this a large firm, a small firm, were you in like a producer role out of the gate?
Alexandra: Yeah, producer role out of the gate. I was thrown to the wolves. I won't say it was a great training mechanism, it worked for me. My business partner and I, who is also...we're all women, think that there are better ways to bring women into the business than the way it used to be done. And so we've worked really hard to help people understand there are different ways than here's the phone, here's all the people you've ever known, good luck, and we hope you're here in six months. And that's what it was.
Michael: Which, unfortunately, is still what a number of firms do and practice.
Alexandra: Yeah, it's insane. But in the process of learning how to be regimented when you're building a business those days, and anybody that's been in this business for a long time and has a successful business, there is a skill set that comes from those early years which are painful. But it teaches you how to have a process, how to be thorough, how to...there's a skill set that's born from that. I don't think it has to be as painful as it was then.
And certainly, for women, it's not easy. You're facing a lot of other obstacles along the way. I was the only woman in the entire place. I was agent of the year, the first year that I was in the business, and it's the first year they gave it to two people, and my numbers were better than his. So it was really...you're dealing with some misogyny along the way too so you have to be tough as you sort of get through all that.
How She Used Her Network For Support As She Progressed Through Her Career [00:20:37]
Michael: Interesting. And so what ended up being the strategies or the ways that you were adapting to deal with that environment? Because I know for a lot of women that join they don't stay for a wide range of reasons, but part of it is certainly firms that have not so hospitable environments or outright misogyny still kind of baked into the culture sometimes.
Alexandra: A lot, more than sometimes I think sadly still. I realized I needed to have a network of people. I'm a networker and that's how everything has always happened. And when I realized that I didn't necessarily have the support mechanisms that I needed close by, I was running hard, really trying to build a business, thinking of nothing else.
But I needed support, my business was growing really fast and I needed to have a network of people. And so I reached out through every avenue that I had within my environments, and that often led through women's groups, some of the women's networks, and that's actually what led me to my business partner. The network was there while I was trying to get through things.
And many women have faced the same issues as they build their business and we're also dealing with challenges often that men are not. Not that...I think, men, they've been doing this a long time and sometimes the challenges aren't as deep. I think the modern-day life men are dealing with more than they used to. But in those days, it was you're working three jobs, you're running a house, you're having kids, and you're trying to build a business, and other women understand those challenges.
Michael: And so what did that balance look like for you in practice?
Alexandra: There was no balance. There was no balance in the beginning. It was just running hard. Again, it was...and it's still today, I tell people all the time. Someone will say, "How do you do all these things?" And I tell them, "It's not pretty, it gets done." At the end of the day, you just have to get everything done, and you have to try to be as efficient as you can and prioritize what you need to do. In the beginning, thankfully, I have a very supportive partner, my husband understood what was happening with regard to the business. I'd run a business before so he wasn't new to the program. It takes a lot of energy and effort, but he was certainly supportive.
Michael: So support systems for you was a combination of your spouse, of women's groups, and women's networks, you said, was there an organization or a group in particular that you ended up getting more involved with?
Alexandra: No, it was through...I was an agent of one of the big mutual agencies and they had a women's network that they were loosely trying to set up internally that was connecting women in the industry. I got connected through that, and I started making friends and connections that way.
Then we went to folks that were in the field people that were in the home office, it led to investment managers, and anybody related to the business. I mean, there are a lot of women who were very receptive to having a community and that ended up being really terrific for me. Again, I found my business partner that way, so it was tremendously beneficial for many reasons.
Michael: So, I guess it's worth noting or reflecting on large firms setting up an internal network for women in the organization so advisors, home office staff, and all the women in the organization can connect; that was genuinely a meaningful positive impact and support structure for you.
Alexandra: I think so. And for any other women I've known in the business, many of them have found the same thing. Again, when you're one of the few women in a room, it's nice to be able to have some people you can call who are facing the same challenges.
Michael: So you're building this practice, being, as you're putting it, very planning-focused around helping clients solve problems. Turns out when you're really good at helping people solve problems, they also actually end up buying some products that you need anyway. So sales and production ends out working along the way. You're obviously not still at the firm now, so what was the path to what came next?
Alexandra: The progression of my business. So my business was growing, and I needed more and more support for the business. And I was trying to figure out exactly how I would structure that support, what would it look like. Always with a planning focus, so, again, I was already doing plans, of course, for free, I wasn't getting paid for the plans in that business.
And so I started looking at some alternatives. I ended up talking to one firm – it was a firm that I think were attracted to the idea of bringing a female partner in; it was five guys. And we were dating for a year, we were about ready to get married, and they dropped a lifetime non-compete on me.
So they had sold their business to NFS and they had presented me with a similar structure. They weren't actually buying my business at that point, they just wanted me to join the firm. And I realized that that was not what I was envisioning. And I talked to one of my friends from one of the networks that I had built these women networks, and she said, you should talk to my business partner, JoanAnn, who was not my business partner at the time, but a friend I had known.
And she said, "You should talk to her, she's potentially going through some changes where she was situated." So I did, I called JoanAnn and in about two phone calls, we decided we were going to build Element. I told her plan B is off the table I'm back to plan A, I want to build a business, this is my vision. And she was in from like the second sentence. And we were off to the races.
Michael: So I want to go back just for a moment of this sort of brief aside. Found a firm I was potentially going to merge in with, dated for a year getting to know them, and then it blew up on the finish line. Can we go back to that just for a moment because one of the things that I've long been fascinated by, particularly in our industry, are people that come together for partnerships, or mergers, or something of that nature and the ones that don't work out. In some cases, because people go through with them, they end up going horribly wrong.
And I find invariably, without fail, when a partnership goes bad and you say, "What went wrong? Was there anything that you could have figured out in advance to see this coming?" The answer is always, "Yeah, in retrospect, there were some warning signs, but I didn't give them enough credence at the time. I didn't realize they were significant at the time."
And then there are situations like this where, yep, we went through, we dated for a year, thought it was going to go through, and then on the finish line veered off to the side and didn't proceed. So can you talk a little bit more about just what you were doing, what you were building up to, and how you got to the point of, "Hey, even though I've invested all this time and energy into this relationship, I just cannot pull this trigger"?
Alexandra: It's funny to think back on it because I can remember all the coarse fine details and when it blew up. I was desperately in need, I needed support for the business. I was at a juncture and I really had to take the next step, I didn't want to stop my momentum. And I didn't really have the structure to build anything.
So this firm approached me and they had a planning function, they were more deeply embedded. Shortly after the formation of our firm, we went independent and left insurance world and we became an independent firm. They were embedded still within the insurance world but they did have a platform for planning. And I felt that I could potentially use that platform to help the clients and build the business and they certainly lacked diversity.
So I had a vision that I would, and which is why they came to me, be able to make some change internally. And for a year I was building a business, I was bringing in business through them. And then we got down to the final negotiation of structuring how the relationship would look, and we had very different perspectives on what that would look like. I don't know that they really expected that I would walk away from the table the way I did, which was that I did. I wasn't going to have a lifetime non-compete for a business that I didn't have a majority stakehold in, there's just no way that I would do that. And I wouldn't do it to my clients either.
So, yeah, it was painful, but a lot of the things that seemed to be the worst thing that could ever happen, ended up being the best things ever again, in hindsight, because it did make me go back to what my original vision was. Which was starting a firm that was advisory focused and doing it in a partnership that made more sense than potentially that one did.
Michael: So what was the pain point for the business that you were trying to solve at the end of the day? What was the size of the advisory firm at that point, and what were you trying to solve for or figure out?
Alexandra: I was a lone wolf basically, I was doing it all. It was in the early stages of how any of us run our business, and you're sort of juggling everything, you're wearing many hats and the business is starting to come in faster and more sophisticated.
In those days, I could tell you, I was good with paperwork, but that's not what I should have been doing and I realized that. I needed to really do where my best talents were, which was working with the clients and continuing to build my business. So it was the first time I had passed the pivot point where I knew that I needed to build structure. And so I was either going to build it or I was going to merge in someplace where I could get the structure I needed.
It's funny, I look back now at that business and it was a baby business compared to what we are now. But you have these moments where you realize you either have to keep it growing and find structure or make some other change.
The Benefits And Appeal Of Working With A Business Partner [00:31:19]
Michael: And you didn't have interest in just saying, okay, I'm going to hire a paraplanner or an admin associate or whatever it is, and just start hiring the folks myself. Was that not appealing or just not quite economically feasible because the business wasn't that large yet? Where was your head on just starting to hire and trying to build it yourself?
Alexandra: I did want a partnership so I had already run several businesses. I had my own tax practice where I was the sole owner. I'd run two businesses for two other folks who owned the business independently. I was at a point in my life where I had basically just started dating my then-boyfriend who was going to be my husband and I was building a life, a personal life at the same time. And I realized two things.
One, a lot of people who I have seen in the past who are solo-owners, from my experience they basically...it's a good thing to have another voice in the room. It's a good thing to have another perspective. I don't want to ever be in a position where I think I have all the answers because I can't always have all the answers. And the best way to solve that problem is in a partnership, either one or multiple partners. There's a collegiality that comes with it.
I knew how hard it was to build a business, I'd done it before and I didn't want to do it all by myself. I really wanted to have somebody that was in it with me. So really I hadn't found the right partner. I have the temperament to build a business, I just didn't have the rights situation at the time.
Michael: And so was there a particular skill set, or style, or inclination, or ability that you were trying to solve for in finding a partner or just like I just don't want to build this alone, I want to have a companion that I'm building with. And just kind of having a second person for the sake of just having a second person to be able to build with as you put it to have more heads in the room solving problems than just anyone?
Alexandra: Yeah, certainly, finding the right partner is a very important thing, right. A bad marriage is not a good thing. So somebody that could complement the work that I was doing and who had the same sensibility. And thankfully, I met my business partner, she came from a different part of the business, she does retirement, and corporate and executive planning. We were a good fit, we weren't great friends when we started the business. We knew each other from a lot of events, we would go to business things together and we always ended up hanging out and talking. And I realized that she had a lot of knowledge about different parts of the business that I did not and I thought that would be a great compliment. And we got along and that was an important part of it. Again, I kind of had visions of the bigger business from the beginning and I realized that I need a better structure and more support to do it.
Michael: And so how did you figure out that JoanAnn was the right partner?
Alexandra: We would meet each other at conferences and we would start talking. The conference is over and we would all be in a hotel somewhere and we would be talking until the vacuum cleaners came out about different parts of the business and what we were looking to build.
At the time she had developed a program to help women get into the distribution side on the insurance-related...she worked inside the insurance company. She had developed a program to help women get into the sales force and sort of transition from the home office out into the field. And she was in the midst of that when we first started talking.
As the program evolved, she had to make some decisions and that moment happened right when my previous opportunity blew up, and I was on the phone with somebody who said, "You should call JoanAnn, she's making some changes and this might be a great time." And so I called her and the stars aligned, it was just the perfect time for her to make the change.
Michael: So it wasn't necessarily a function of I've met this person, the partnership just seems perfect, so let's just blow everything up and go and make this thing. It was a combination of, here's someone I've gotten to know and had a really good connection with for years. And oh, now it turns out, you're making a change and it turns out, I'm making a change. And since all this stuff has been flux for all of us at the same time, maybe we should get together and try doing something together?
Alexandra: Absolutely.
Michael: I'm chuckling as I even say that out loud. It's sort of the same path to dating someone, right? Like oh yeah, me and that person we're friends for years but I was on a different path and she was on a different path and then through serendipity, we were both single at the same time and in the same place and decided to get together and we've been happily married ever since. Yeah, just funny to me, sort of the parallel and the style of the stories.
But I think it does actually, aptly accentuate sort of the marriage nature of what it really means when you form a real business partnership, which is very much like a marriage with a spouse itself. There will be hard things and problems that come up so either you find someone where you are ready to invest enough into the relationship to work through the problems that inevitably arise, or this isn't going to work in the long run.
Alexandra: Absolutely. 100%. You need to have somebody that you trust. That person can't be manufactured often, really I don't think...I had to wait to find the person that would be the right partner. And I was networking and talking to a lot of people so it's not like it was sort of a passive endeavor.
Michael: Had you been networking for a long time like looking for this or in anticipation of this or was it more you were networking in the women's groups within the organization for just general finding social support in peers and some support for yourself through all the ups and downs in the business. And then later, it was like, oh, wait, I'm looking for a partner and I actually met some cool people while I was doing the networking, let's think back about some of them.
Alexandra: It's a little bit of all of that, I am a networker. I think anybody that's successful building a book of business and a client base, has that capacity. I like meeting people, I like putting people together when I think two people have something they should talk about. I like making networks in the industry, networks out of the industry. So I was also learning about what's happening, I was fresh in the business, this was probably my...I was probably less than five years in the business, maybe four years in. I needed to figure out...I was also exploring how was I going to build a business? What direction was I going to take it in?
My heart is an entrepreneur and building something is always the first inclination but I also wanted to be thoughtful about it. I had accidentally started my first business when I was 21 and so I wanted to be very purposeful in how that was going to happen this go-round. So it was a little bit of all of it.
Michael: And so in the midst of all this, as you were changing or had just changed to move out of the insurance firm itself, so what triggered that change for you and how did you make that transition?
Alexandra: Well, more and more, I was driven by the planning. So I was driven by the momentum that was happening with the business that I was building and my desire to really directionally take the business into a planning practice. Which again, I had already been doing, I was doing the planning for free the entire time. And I realized that I really felt there was much more value in the planning than anything else, I believe there always was and is and will be. And I think the future of the business is in that direction, the planning is the key. And so really looking to see how I could build the business on the planning side.
So we incubated under the umbrella of an insurance-related environment, and then within the first three...quite honestly, I thought we would be incubating longer. Because it was a little easier to do it than to go out 100% on your own as we were building. We were one of the top financial planning shops in a very large mutual insurance company. Planning is not their thing, they don't want to do planning and it's fair enough and it's an insurance company, that's what they do.
Michael: So was the blocking point just at the end of the day, you didn't like this world where you had to give away the plan for free and then get paid on the implementation because you wanted to get paid on the plan, or were they just limiting you from being able to do the planning you want? Like, what was the breaking point?
Alexandra: Well, I had started charging for fees already. The first year that we started Element, we were charging for fees from the very beginning, that was part of the vision of the firm, and it was fee-based financial planning. So we were doing it, but the support system for financial planning units was not there. That's not what they are, they are an insurance company. So we had some advanced planning teams, but really the compliance function in a large entity, the lowest common denominator is what they're managing the compliance to. So if you have a sophisticated planning practice in a place where there are thousands of advisors, the compliance function is not necessarily going to be looking at your business in the same way, right. All they see is risk and they're not interested in the more sophisticated aspects of the planning practice.
So we realized it wasn't a fit, it really wasn't a fit. We knew from the beginning that it wouldn't be. We thought we would incubate a little longer but within the first three and a half years, we realized we needed to be out. And so that's when we left.
Michael: It is to me, an interesting phenomenon and just the fundamental challenges that a lot of the large firms still seem to face is even as they become more planning oriented and try to give more advice. And a lot of those large firms are even more so in that direction now than they were 10 years ago when you were making this transition. There is still this mentality that seems to permeate in a lot of large insurance and brokerage firms from the compliance department which is still at the end of the day they view any advisor under the system giving advice as a liability risk.
It's not an asset. It's like oh my gosh, look at how much you know and learn and the level and depth of advice you can give your clients. It's oh my God if you give them advice, we might get sued for it. It's the more you know about advice, it's not the greater your assets, it's the more your liability risk. And that mentality, I find, still makes it very challenging for a lot of advisors in those firms once you get past a certain point in depth and planning that they need a culture, attitude shift around people giving great advice should be celebrated as an asset not treated like a business liability to be managed and minimized or mitigated?
Alexandra: Absolutely. I do believe it is a function of the volume of folks that they are trying to oversee. And so if you're running a business that's doing sophisticated planning, in a culture where there are, some people who are part-timing or they're not doing planning, they're selling product and their capacity is very different. I think that is just not a good fit, it's a round peg in a square hole. The benefit of it is that it makes you...Again, for us, it made us progress faster. So discomfort has always been a motivator for change, it drives the change. So, we realized we needed to be independent, we knew we were going to be. And thankfully we did it way sooner than we had expected and also thankfully, ended up with a great partner.
Michael: So what platform did you ultimately choose to break out to?
Alexandra: We knew we had to leave and we had to leave fast because our business, it was growing and had so much, again, momentum that we didn't want to make the process last so long that it would be a complete distraction.
So we hired somebody who got us a shortlist, a recruiter who got us a shortlist of six BDs, independent BDs. And we got on a plane and we toured the country. And thankfully the first place we stopped was in Waltham, Massachusetts at Commonwealth, and that's where we ended up.
Why Alexandra Hired An Independent Recruiter [00:44:39]
Michael: So, out of curiosity, who did you work with as a recruiter?
Alexandra: Mindy Diamond.
Michael: How does that work exactly when you're an advisor looking to make a change and have to go through that?
Alexandra: Well, this is networking again, in it's very best. So JoanAnn had been at a conference and Mindy had been a speaker and what happens for a lot of us women, because there's not a lot of women at these conferences, we end up all coming together. And so she spoke with her and got her card. And when we were ready to make the change, she said, "I just met this woman who was amazing, and we should call her." And that's how that happened, it was all through networking.
Michael: And so, do you have to pay someone like Mindy to do an analysis in vetting, do the firms pay to get you on board and she gets paid on the other end? How does the actual deal work of working with a recruiter when you're trying to shop around into your practice?
Alexandra: It works a few different ways. In this instance, it was the latter. So it was the firms are compensating her, but I think there's lots of different versions of that. So I certainly wouldn't be versed enough to give all the potential iterations.
Michael: But from your end, it wasn't a cost out of your pocket the recruiter gets paid for where you land, but ostensibly kind of like buying and selling a house. Like as long as the agent gets paid something similar no matter where you land their only real interest is making sure you land at a good place and pick the place that you actually want to go and will go to because that's what gets the transaction done and ultimately gets everybody the outcome they're going for?
Alexandra: Yeah, that said I would absolutely have paid for that as well. And I may end up being corrected by my business partner, we might have paid something. I'll find out later. But certainly, I think it's an investment well worth making. If your business is growing to the point that you're making a decision like this, I think it's super important get it right the first time as best you can.
It doesn't mean it always happens that way. But if there's somebody that knows the landscape better, I think that's a great investment. My business is a financial advisory business, it is not a knowledge of every independent BD in the country. And I'd rather pay somebody for their expertise and then piggyback on that knowledge to make the choice that's right for me.
Michael: It strikes me the realm of recruiting for platforms I find is, at least to me, surprisingly, not used very often within the industry. It happens a lot, I think when advisors are at wirehouses and breaking out because the wirehouse environment is often very insulated from the rest of the independent broker-dealer world. So you may just literally not know what's out there if you've never been at conferences outside of the parent company just literally don't know what the choices are.
But recruiters exist in the independent broker-dealer realm as well for folks that are switching broker-dealers or from the insurance channel to the broker-dealer channel that I find are not used very often despite as you noted there's a whole lot of broker-dealers out there and most of us are not in the business of screening and vetting and evaluating broker-dealers, we're in the business of serving our clients to being advisors.
Alexandra: It's what we pitch to our clients, is you want to delegate the research and analysis so that you can get the knowledge you need and that's what we do for our clients. So I certainly feel like I should walk the walk.
Michael: So what was it that made Commonwealth the desired choice as opposed to the other half dozen that you were looking at? What was the deciding factor as you're trying to figure out what broker-dealer to join?
Alexandra: Culturally it was the right fit that was very evident. They were and are very receptive to a more sophisticated business with regard to the planning piece and all different aspects of the business. The depth of research and the service that they extended, even from the very beginning, really was part of the process. We just felt comfortable, we knew from the beginning that it was going to be a good home for us.
Michael: And out of curiosity, were you looking at the RIA channel as well, at that point, if you were trying to do more work and charging fees for planning?
Alexandra: I think that it's fantastic. We have one notable obstacle as we build our business, especially a business that is being built from the ground up. And that's that we sit in the middle of Manhattan. So when you build a business in the middle of Manhattan, your overhead constraints are different than they are in a lot of other places. I think both coasts and a couple of other cities may have the same issues. So those considerations are some things that were very important as we were working through what this would look like.
Michael: And so were broker-dealers providing things like office space and rent support, was that part of the equation then for you?
Alexandra: No, we still have compliance function. So if we actually did become an independent RIA, that brings in another host of issues that we have to deal with, and we have to do all that on New York-based salaries.
So we eventually got big enough, we have RIAs, we need attorneys in here and we were still building out our core staff. And so for us, it made sense to partner with Commonwealth at some point, we may end up going down that route in some sort of hybrid form. I think we will always continue to have our relationship with Commonwealth, this has been a great partnership.
We're very happy with the setup the way we have it now. But, of course, I don't have a crystal ball, things might change. I think we'll always continue to be affiliated with Commonwealth because of the resources they avail to us.
Michael: Well and I know Commonwealth is a firm that's actually rolled out not only hybrid options but an actual RIA platform for advisors that want to sit on the RIA side as well and just don't want to deal with the rest of the overhead structure.
Alexandra: Right. And that's a consideration potentially for the future. That's all-new, again, we've been with Commonwealth since, I think we rolled out in 2011. So these developments are all happening fast and furious with regard to the flexibility in the RIA space.
When we started it there was a different consideration and most of it would be human capital. Like just the cost of being able to do that, and the overhead costs, which Manhattan rents are not inconsequential, staff costs in New York are not inconsequential. So, you know, there were a lot of boxes we needed to check to get the business going.
What Her Firm Looks Like Today, And How She Combats The Risk Of Fee Compression [00:51:34]
Michael: So what does the advisory business look like today? What's the size of the firm and what's the structure of it?
Alexandra: So the size of the firm we have about $250 million in traditional assets under management. That's the assets under management, fees come in separately. We have some non-traditional programs that JoanAnn has on the corporate and executive benefits side that are about 180 million. About 45% of our compensation is coming from flat fees for advisory for financial planning.
We charge a flat fee for financial planning. It's not a prerequisite that we manage the assets of the clients that we plan for. We tell them if you have somebody that you trust and you want to stay with or yourself director and you want another set of eyes, we will accommodate, we'll figure out how to help you whether it's oversight or whether it's just giving you some guidance.
A lot of folks do ask us to manage the money that they have accumulated and if they do we charge a fee for that separately. So I'm a very big believer in separating the fees from the asset management fees. The planning fees are a value in and of themselves. And I think it's very important that the clients understand that.
In addition, again, where our fee compression is alive and well. We are in a very competitive market and this helps me deliver the value of the planning to the client without having to cannibalize what I'm doing on the investment management side at the same time.
Michael: Meaning I can charge a full-valued fee for the investment management for what I do on the investment management side, and separately be able to charge planning for the work that I do for planning and be compensated for both because I'm pricing both separately and charging for both separately?
Alexandra: Correct.
Michael: And so what does that planning fee structure look like? Like what kinds of fees do you charge, what's the level that you set on them?
Alexandra: Our fees start at $4,000, they can go up for the individuals to 10,000 or 11,000 per year. It's an annual renewable fee. They get us on deck for 12 months on the fee. We have a very high retention ratio, it's in the high 90s for our financial planning clients so they stay with us. We see our clients a minimum of four times a year. And I say that word zealously.
In the early days, we actually sat with all of our clients four times a year. As we've grown, and we're trying to build out scale, and also accommodate sort of a new reality, we're touching our clients four times a year on a regular schedule. It could be meetings, it could be phone calls, and it could be video conference which tells you how old I am because I don't think anybody actually says the word video conference anymore. There you go.
Michael: It works. We all get a sense of it. Got it. So there's a camera thing, you both talk to it?
Alexandra: Yes.
Michael: Got it. And so, $4,000 to $11,000 fees, seeing or touching clients four times a year. So I got a couple of questions about this. I guess first, like what determines where someone is in the range between $4,000 and $11,000 because it's a healthy sized range?
Alexandra: It really is about where they are in the continuum. So we have some specialties and industries here. We are known for working in entertainment, film, fashion, fine arts. We have another bucket of clients' descriptors, they're equity participants and law firms and accounting firms, consulting firms, we refer a lot of business out. They see the work that we do and that our clients are great and amazing. So we will only work with nice clients. And they want to be clients too, that's where they come in.
We have privately held business owners. I've run or owned privately held business my entire career paired with a tax background, that's pretty powerful combination. And then we have a reputation in the tech world, we're advisors of choice with some of the big technology firms Google, Facebook, Snapchat, to name a few. And they sort of operate like the creatives and the analytics, they are sort of operating on both sides of the lobe.
Michael: So part of the fee range is just clients in different industries have both different financial wherewithal and different economic realities, clients in film and fashion might be $4,000 and $5,000 clients, privately held business owners might be $10,000 to $11,000 clients, is it that kind of split?
Alexandra: Not really, it's more about where they are in their life. We don't have a minimum net worth and income as a barometer, it has to make sense for them to pay a fee. So we work with people across these industries, and what we're looking to do is say, okay, will there be...or is there value today for the fee? Where are you in the sort of spectrum of your life? And how much work is that going to take for us to accommodate what I anticipate the needs are going to be?
So it allows us to have a multi-generational client base. Our clients can be young couples, who are working in tech, who are starting out life in New York and have an expectation that their life is going to get more complicated and sophisticated over time. They're trying to figure out how to do stock options, how to buy their first home, what they're going to do for school. In a city where private school can be very expensive if that's your choice. To people that are in the middle part of their life, kids are going to college, they're in a transition workwise to folks that are trying to give it away.
And so the fee range is based on where they are in the continuum of their life and how sophisticated I think things are going to be. Largely you can use income and net worth as a barometer of where the fee might be. So the more income you have, or the more net worth you have, your fee will probably be on the higher end of the scale.
Michael: And is there a target, at least that you said or a percentage of their income or a percentage their net worth? Like, I'm just trying to understand, like, how do you figure out or any other advisor in the firm figure out whether they're sitting across from a $5,000 client or a $9,000 client?
Alexandra: I have a whole process for how somebody onboards. So typically, many of the clients come through either direct referrals from clients or referral networks. And they will either call for a short phone call, but all clients have a first meeting with me. And in that meeting...or somebody in the firm, we sit down with them, I'm generally doing the first meeting, most of the time. I'm explaining who we are, what we do, showing them our process, we use some technology. We use eMoney so I'll walk them through a demo. And we'll talk about what's happening with them where they are and what they're looking for.
In the process of that I'm doing a broad analysis of income and net worth. So I prepare them on the way in that we're going to have a conversation and if they're comfortable, I'm going to ask them their income and their net worth, some of the things they're thinking about, why they picked the phone up, why they came to see me. And by the end of that meeting, I have a very good sense. The meeting is generally an hour of where they are and what they need, and the fee is set then.
Michael: Then it's ultimately just some combination of what do I think will be affordable to them based on their income and net worth and how much work and complexity do I think this client's going to end up being for me at the end of the day?
Alexandra: Yeah. I've read some of your work on setting fees.
Michael: I'm just always fascinated how other people do it, everyone has their own process. So I'm curious.
Alexandra: A lot of what you said is true, it's like in the beginning... I recently did a speaking gig and I was talking about this to a group of advisors in confidence. In the beginning, you are under-charging yourself. And you have to bring yourself up to where you feel comfortable and what you feel is market rate, or where you feel the fee might be set correctly.
For me, I'm also looking for something that will give continuity, I'm not interested in having clients come for a year, pay a fee, and then go. And I'm not just an asset aggregator, so it's not like I want to do the plan so I can get the money, and then they can go.
The planning is something that's very important to who we are. I think there's something quite noble about planning and all of us here love that work and it's the work we want to be in. So I want to find the fee that's going to be sustainable for a client to pay year in and year out. Again, our retention ratios are in the high 90s. So for me, it's that tension point of where I'm getting enough compensation that will make sense for the business but will also be sustainable and the client will continue to pay for 5, 10, 15 years.
Michael: Interesting. I like the way you frame that you're trying to find that "tension point" between what am I going to charge that's economical for the business, and what am I going to charge that is sustainable for the client.
In the simple sense like hey, I can charge my clients $100 a year and do a ton of work and they'll all stay because I'm grossly under-charging myself. I can charge the highest fee that I can think of that feels great for my own worth except I don't end up with any clients because they can't afford it or they only do it once, but then they don't sustain these clients because they couldn't afford it on an ongoing basis. And as you put it, finding that tension point of enough compensation for the business, but manageable and sustainable for the client is kind of a balancing point.
Alexandra: Very much so.
How The Firm's Services Provides For Clients And Why Alexandra Continues To Do Quarterly Meetings [01:01:20]
Michael: And so for clients that are paying these $4,000 to $11,000 fees, with the investment management stuff charged separately, what do they get? What do you do for an $11,000 planning fee?
Alexandra: So we have a process when somebody onboards, we have a first meeting where we go deep dive into where they are and how they got there. The easy stuff is their financial profile, that's easy, I can get that through asset aggregation and through statements. The emotional part is a big factor and what we're looking at. My job is to get in their head to instill trust so that they will tell me what it is they want in the future so that we can help build that future for them and has a financial tail to it. So we spend a lot of time...that's probably the most important meeting we have with our clients.
We take that information, again, we use eMoney, so we're getting aggregation, we're getting details on their financial life. And we write a hardbound financial plan, which we deliver in a meeting. And we address the things they were worried about, the things we identified as some issues that they might need to take care of. And we make some decisions by the end of that meeting about what needs to happen, a plan of action moving forward, based on the priorities of the client paths.
At the end of that meeting, I tell everybody we have this terrific, beautiful financial plan, but by the end of the meeting, the plan is outdated and irrelevant, because we're making change and we're living in the real world. 99% of the plans any person has ever had in their life have not turned out the way they expected them to, it's not a straight line. So our job...
Michael: Nor is it when building our own businesses as advisors.
Alexandra: Exactly. So from that point forward, we're living in the real world, we're addressing the issues that were identified on the onset, and some of the big concerns that our clients have. And then every three months, we're knocking on the door of their lives and asking them to shut everything out, all the noise and sit down and look at where they are, and what's happening, what changes need to be made based on what's happening in their life. And we're addressing those issues.
So I think there's, again, three reasons that the clients stay with us. One, that we're good, damn good at what we do. Two, that we're nice people, and we only work with nice people and it creates a terrific environment. Our clients come to the office and leave feeling positive and empowered. It's a terrific thing they're doing for themselves and their families by addressing their financial needs. And even if the news is bad, again, we're in the business of looking forward. And if you can get in front of something, you can make change and change the outcome. So, even if things are complicated, you can have a terrific outcome.
And the third reason they say is, most of the clients come, and they've worried a little bit about something 365 days a year and not addressed it at all. So they wake up, they think about the things they want to do, or the things they're worried about. Their feet hit the floor, and they can't get to any of it until they come back to bed and they repeat and repeat and repeat. And with us, they know that we're not only going to address the issues on the onset, but nothing is ever going to go unaddressed again more than three months.
So they can call us whenever anything happens, a new job, a benefit package, their stock window opens, a purchase is happening for real estate, whatever, but we're going to push in every three months and touch base with them. So it's a high touch practice, our challenge is to find ways to deliver that service and that touch in a way that's efficient and can give us scale. So that's something that we're always working on.
Michael: It's an interesting effect, just the fact that you set this expectation, that we're going to touch base every three months on an ongoing basis actually; it helps to prompt them to come up with things that they need to work on or talk about or want your help with. Which then gives you an opportunity in the meeting to deal with that and help them with that, which then makes them feel good about working with you, which then perpetuates the cycle and the process.
Alexandra: Our clients are busy, successful people who are good at what they do. Personal finance may not be in their bailiwick, but they don't have time to take care of themselves. And the fact that they've delegated that responsibility for these check-ins to us, I think is something that gives most of our clients great comfort.
Michael: So, as you do this on an ongoing basis, does the fee change, do you do like a higher fee in year one because you've got the additional planning work and then a reduced fee ongoing because you quote just in the ongoing quarterly meetings? Or is it just like the fee is the fee in year one and ongoing because we're just trying to smooth it out and make it sustainable?
Alexandra: The latter. So again we're doing the same meetings and the work... Yes, there's more diligence on the front end, but I've seen practices that charge a bigger front end and then a reduced back end. And I just feel like it's easier for the client to smooth it out to get it right the first time and then get them prepared. We're very open about the fee so I explain what the fee is and we have this conversation. And I've had many people try to pitch me on meeting either in my own business or various industry folks on doing subscriptions. And I don't want that... I think the fee is very powerful.
This is a collaborative process, I'm not delivering a service to them, they're working with us so that they can have a better financial life, their participation is very important. And the fee is the thing that triggers that for them. So they pay the fee upfront for the year because I don't want them thinking about the fee throughout the year. It'll be paraded if they ever decided to fire us. Nobody has, but if they want to, they can and we will send it back. But I don't want them thinking about the fee throughout the year.
And then when the renewal comes in, even though we're paperless, and many of us are in these industries, there's still lots of paper, and some of these fees still have to be paid by cheque. I like the fact that a client has to find their checkbook. And if you think of some of our technology clients, some of those folks don't even have checkbook handy, they don't know how to write checks.
But I want that process to be a process for them and I tell them this in the meeting, In the first get-to-know-us meeting, I want you to have to pull your checkbook out or figure out how you're going to pay us on the renewal and look at each other and say, has this been valuable? Has this been important for our family? Do we feel better? Do we feel more in control? Do we feel like we've addressed things that we hadn't addressed? I want them to have that conversation, I want them to buy-in when they're coming back to see us because they need to be part of the process. So we're very, very...we talk about the fee a lot.
Michael: And what kinds of things are you doing on an ongoing basis? I'm just wondering do you get clients where hey, we worked with you for a year or two or three, Alex, really appreciate your advice, we're in a better place now. We just don't really need you anymore; I don't know what we're going to talk about over the next 3, and 6, and 9, 12 months, and we feel like you already got us on a good track and solved our problems.
Alexandra: It has happened far less than you would think, I have heard people say that. But again, I want this to be a place where people have direct and open conversation. I say all the time, I can't say to somebody, "Hey, I want you to be able to feel free to talk about your hopes, dreams, and aspirations for the future, your fears, your concerns, your anxiety about money, but let's not talk about our money, let's not talk about the fees." I tell people all the time, this has to be a free place to have an open conversation. And sometimes I say to them, you shouldn't pay the fee now, like take a break, things are going to get more complicated, and we're here when you want to come in.
And we have had some folks that have said they want to take a break. And even sometimes I'm shocked but of those folks, I would say at least 60% of them come back. So it's an open door, we're here, we understand if somebody has to make a decision, or they feel like, if you're not getting value, I don't want a client to feel like they're not getting value here. That's not good for anybody, it's not good for the business, it's not good for them, it's not good for the brand that we're building.
Michael: And how many clients do you have that are in this ongoing planning relationship?
Alexandra: We probably have about...I would say about 170.
Michael: Okay, that's a very sizable number that just a lot of people and 170 clients times four meetings a year, I've got a whole lot of meetings that start adding up very quickly. That's 680 meetings for the year or touches since not everybody comes in and wants to go through Manhattan traffic.
Alexandra: And working through that scale it's something that we are looking at ongoing to make sure that we're finding the best and most efficient ways to do it. I will say that phone calls and video conferences have been great. Most of the people that do what we do, we're chatty Cathys, we like having conversations, we like people, we want to be with them, and we want to talk about everything and meetings can go really long.
This shift to phone calls and video conferences at least for a percentage of the meetings is a lot more efficient. Because you don't...even a phone call that's got a lot of conversation in it can happen in 45 minutes, where an in-person meeting can often go way longer, especially if I'm sitting in the meeting.
Why She Keeps Most Of Her Meetings Virtual [01:11:18]
Michael: There's an interesting effect. I had noticed this in our firm a number of years ago when we started doing more video conference calls with clients, video meetings with clients that like the average meeting time just went down. Not out of any intentional strategy, like hey, let's do video meetings I think I can cut these shorter than the in-person meetings. It just happens.
I feel like it's some combination of, as you said, we too still tend to chit chat but maybe not quite as much in a video meeting as when someone comes in. It's got a little bit more of okay, we're all sitting in front of a camera for a reason, so, we can do some chit chat, then let's get to the reason why we're sitting in front of the camera and then we can get our stuff and move on.
And I think sometimes there's just this...at least I feel sometimes there's this time pressure effect that... We're in the DC area, traffic is pretty horrific here as well. And I can't have a client come across the bridge and out to the suburbs to our office for a 25-minute meeting. It can take them an hour, an hour and a half round trip, just to get from their home to our office and back again, and that's if they live eight miles away. So if they're going to invest that much in the time to come back and forth to the office, it's got to be a longer meeting and so I don't have any trouble filling the time and making it a longer meeting.
But it then ends up being a longer meeting than it probably needed to be because I just felt subconsciously we had to fill at least an hour because I feel bad if I sent him home after 25 minutes when it took him an hour and a half driving back and forth in the traffic. And all of that weight goes away when it's a video conference.
I don't know anybody who's ever come out of a video conference meeting was like, "Darn it, that meeting ended too fast, it was a short meeting, I thought I was going to get more time." No one complains, the meeting runs its natural course and takes less time than they expected, everybody just goes back about their day. If your in-person meeting takes less time than expected, at some point, someone's thinking like, why did I drive to the office for this meeting? It was so short.
Alexandra: We have shorter commutes, thank God, in New York, but it really has happened naturally and it's been beneficial. I have started to incorporate a formula for if it's a $4,000 fee, we're going to do a couple of those meetings, either video conference or phone. And that's really helped us as far as being able to be as efficient as we can.
Michael: And then it sounds like eMoney and using eMoney is account aggregation for plan updates and such is also a big part of trying to do this stuff efficiently for you?
Alexandra: You can't do this. The heart of everything for all clients is cash flow. And quite honestly, the more someone makes and the more net worth they have, the less connected, the less in touch with their cash flow they are, they just don't understand their burn rate. And that feeds everything that's really the engine for all of the different variations of what you're planning for. And there's absolutely no way to do this without technology.
Michael: Yeah, you can't get people to track their cash flow without technology or at least well a few people are really, really good at tracking the cash flow, they don't actually need our help to stay on top of it. Everybody else who actually needs the help, like, if we say let's look at where your cash flow is going, like "Well, I don't know." They don't know, so when the account aggregation technology just captures it and reports it's like, oh, are there's where the money went. And they don't have to do any work aside from linking up accounts or re-linking if the links break.
Alexandra: Well, the links always break so we set that expectation upfront, there's maintenance, but we can't do the work we do without technology. And I think the evolution of technology will be one of the main factors with regard to scale. eMoney is now...there's a component where they can actually enter a lot of the data into their own site themselves.
So when we onboard a client, we're sending them that link. So in the old days, we had to key everything in and now they're keying...We have a lot of younger technology clients, not everybody does this. But if we can get 40% of the population to do that, that's just going to help us as far as scale goes.
Michael: So setting out the data gathering module within eMoney so clients can just key in their own data?
Alexandra: Yeah, very efficient.
Michael: I'm struck that you went so far as to say like we demo this in our prospect meetings. I know a lot of firms that like, literally have tech demos in their prospect meetings with clients. What does that look like or how are you positioning that to prospects?
Alexandra: It's a good way for them...For a lot of folks who haven't done planning before or don't necessarily have that same perspective, it's a very good way to use a demo of any technology that you're using to be able to show them how you look at things. To say, I'm going to set the perspective, this is technology, you get it and it's shiny, the clients like the idea of many of them that they will have access to it. But it's really...and as I position in the meeting, so that they understand what it looks like and feels like to be a client of ours, and they understand what our perspective is.
So the 30,000-foot view is evident, you're taking them through a balance sheet, you're showing them the cash flow. So this is what we're looking at when we're doing our cash flow analysis we're projecting forward to your age 100. There's a lot of trust in having those conversations. We're getting in your head right at the conversation about your career arc, how long do you want to work? And where are you in your career? Is there a second act? What's going to happen? What are the expenses that we can reasonably predict will happen?
And then what are the what-if scenarios? What if I have the second act? What if there's a liquidity event? What if I want to buy real estate? How big? How much? What's my threshold? So I can take them through the technology where they can see it visually and they understand very quickly what our process looks like and what we're going to be discussing in the planning process.
Michael: And so, where do clients come from for you? Or I guess where do they come from originally because I'm sure now there's a good amount of...after the first 100+ clients, referrals start coming in. But as you were getting going, where do clients come into this $4,000 to $10,000 planning fee world before you could rely on referrals to make it happen?
Alexandra: Back to my favorite word of this is conversation, networking, networking, networking. So it's really being out there. In the beginning, it was like hardcore, you were building a business from scratch, so you really just had to get out there and make a community. And then I like meeting people, and I like helping people. I'm very involved in my community, and I've been involved in some professional organizations. And as my network grows I get connected to people and so that's how that happened.
I got into Google because my son went to the public elementary school in Chelsea in New York, where I live, which is five blocks from Google, we have a lot of Googlers there. And I was the PTA president and met some women who...a lot of Googlers and somebody asked me to do a speaking gig when she realized what I was doing and how I was working. She was seeing me in action and asked me to do a panel at Google. And so those opportunities present themselves when you're sort of out in the real world doing things. And that is really how a lot of the business was born and still today.
What Surprised Alexandra The Most About Building Her Business [01:19:15]
Michael: What surprised you the most about trying to build your own advisory business?
Alexandra: Oh, god, there's always a surprise, Michael. I think the best advice I'd give anybody who's early in their career is you just have to hang in. I didn't realize that time is a factor for the success of a business in this industry and it is that growth capacity. And your growth personally in the profession and then also the growth of your business, time is an important component of it. It doesn't happen quickly and overnight.
And then you sort of reach pivotal moments where the business sort of kicks into another gear. I think that was a surprise. We're dealing with all the challenges anybody deals with as the business grows, we've reached inflection points we're at one now, staffing is always an issue. We're hiring so if anybody's out there.
Michael: What's the inflection now that you're hitting?
Alexandra: We are at another growth inflection point. So we've had terrific growth over the course of the business. Last year, we sort of looked at the business and did some restructuring, because we realized we'd gotten to a point where we needed to work on scale and efficiency for the business as we ready for the next leg of growth on the business.
And so that's sort of what we're laying the foundation for. So we're bringing in more staff, preparing me to again, get more to the business of building the business and being out in the universe. So, I would say that's it. We just reached another growth point for the business that we have to address.
Michael: And so what's the pain point that you're trying to solve for? It's the pressure on your time?
Alexandra: Yes, it is. I will come back to staffing, staffing is complicated, it's finding good people. And as you build a business, especially in a market where human capital is expensive, like in New York, finding people that you can build in the business and help grow. I'm very proud of the fact that in the 12 years we've had this business, we've been almost all women almost all the time. And every woman that's come through our doors is still in the business. And that's something...the love of the industry and of planning has taken root.
But when you're starting a business, where human capital is expensive, you often have to get people in the early stages of their career, which will undoubtedly mean that you are a stopping point along their career arc. And so as the business has grown, now we're at a point where we are looking at our staffing needs in a different way than we did even five, six years ago and so that is very exciting.
Michael: And what's the shifts like you don't want to hire as young with the risk that they're going to move on once they get to a different point in their career, and you want to hire more experienced instead or go in the other direction?
Alexandra: I'm very happy to bring people into this business, especially women because I think there's so much...I mean, obviously, there's room for many, many more women in this business that percentages shouldn't be very different. I think that being able to see the landscape of opportunities in this business is something that is really terrific and something that we love making people aware of. If you are somebody that doesn't want to build clients, you can be an in-house planner, and you can work with clients that way. You can be the analytic person who never has to deal with people. You could be somebody that wants to build a book of business. You can be in a big place, you can be in your own place, there's just so many different avenues. And I think women are fine-tuned to be in this business.
So we're happy to bring people at the early stages of their career in. But the nature of the business is as you grow, you have the capacity to be able to pay for more experienced talent. And so that's just the nature of the growth of the business so that's something that you're always looking at. And we'd love to grow people internally, as well and so you're looking at the full landscape.
Michael: And what's the role you're actually hiring for at this point?
Alexandra: We're hiring planners and paraplanners. All these client meetings, we need to cover them.
Michael: So not necessarily...as you were sort of saying a moment ago, not necessarily roles that have to do business development because you're trying to free up your time to do that. These are like, we have 170 clients that need 680 meetings a year, we need someone to do those.
Alexandra: Yeah, and more.
Michael: Service the heck out of these clients.
Alexandra: Yeah. And as we grow, obviously, even more. And we're also very receptive to give somebody a home who wants to build their business and build a client base and have a structure and infrastructure that gives them that foundation. Especially if planning is something that's important to them because that's really what we are.
Michael: So for folks that are listening, this is Episode 169, so if you go to kitces.com/69, we will have links in the show notes to Alex's firm. So if you actually are in the Manhattan area, looking for opportunities, hopefully, serendipity will strike. Alex, so what does a typical week look like for you at this point? Is there a standard structure or flow to what you do?
Alexandra: I'm seeing clients...One of the benefits of being in New York, we have clients come to us. So every client comes to the office or is on a phone call or video conference. But we can see a lot of people because really the commute is so different than yours Michael. And I'm so sorry for your commute.
Michael: Yeah, it's pretty ugly. DC area is consistently top three worst traffic city in the country usually right there with LA and Atlanta. But we have nice city amenities as long as you don't mind spending a lot of time getting to them.
Alexandra: One of the things about New York is you get immediate satisfaction. JoanAnn used to laugh because I would jokingly say, "If it takes me 45 minutes to get someplace should I really be there in the first place?" I can get anywhere I need to in New York in faster time than that.
Michael: DC is like if it only takes me 45 minutes awesome, it was only 10 miles away.
Alexandra: So we're in the office the clients are coming here so I'm in the office seeing clients. Every morning is when you recap the day, what's the business look like, and what am I doing, some of the management related pieces of the business. So the first thing I start my day off with and then...
Michael: So you do that like literally a daily meeting every morning, what are we working on today?
Alexandra: I do that. One of the first things I do in the morning before I even get out of the house is I sort of surveil what's happening, what's the calendar look like, what are some of the things that I have to deal with from a business perspective, what are some of the issues that we have to deal with administratively.
We have an office, and an executive assistant and an office manager here who takes care of the day to day stuff, but it's really more of the management pieces. We do have at least one weekly meeting where it's a team meeting, everybody comes in for about an hour to an hour and a half, sometimes it's longer, where we go through everybody.
We go through all the clients, what are some of the...and we don't hit every single client, but every person in the office gets to talk about their hitlist. What are some of the things that are happening? Are there any issues with any clients that we need to know about. We have a terrific CRM system so we do and can track everything if a client need comes up, but this is a good way for us to hit the hot topics.
Michael: And what's the CRM system for tracking office?
Alexandra: Actually that's one of the benefits of working with Commonwealth.
Michael: They have their own CRM system that they built?
Alexandra: Yeah.
Michael: Okay. So there's a weekly team meeting, here's all the stuff we're doing with either client meetings or just client servicing stuff we're working on and dealing with?
Alexandra: Yeah. And then anything that's happening internally. We work as a team, so making sure that everybody is communicating and getting everything they need, clearly and that happens in that meeting. So it sets the stage. We try to have that meeting every Monday afternoon, it does move around sometimes if there are client emergencies, but we really do try to keep it on Monday afternoons.
The Low Point Of The Journey [01:27:49]
Michael: And what was the low point for you on the journey?
Alexandra: It would sound crazy if I said there weren't many. Listen, I'm an entrepreneurial cheerleader and I say that's what we do for our clients. But I walk the walk because I've owned or run businesses my entire life, privately held business, you have to have great faith and a cast-iron constitution because there are days that are terrifying.
We have a very big overhead in New York, we have staff salaries and rent that needs to be paid and people depend on you. And so there are days where you're thinking, why did I do this? But the entrepreneurial drive gets you through those moments. And that's part of the package of having your own business that's part of the ride. Not everyone's meant for it. Those terrifying moments can be absolutely terrifying but they come with the terrain. It's the way it is, in any business.
It's not just this business, there are other businesses, but starting and running your own thing the buck stops with you, you've got to make sure everything happens. So I would say it's just the normal wear and tear of transitioning and growing a business.
Michael: Anything you wish you'd done differently as you look back or what do you know now that you wish you could tell you from 10 years ago as you're getting ready to make the transition to Commonwealth and an independent firm to be on a good track?
Alexandra: It's so funny, again, I'm not a backward-looking person. I often think it does work out, that the journey was part of the success. I think that the discomfort of being the only woman brought me into a network of people where I found a terrific business partner. We have a terrific business relationship that's going to build this business to great success and it has already.
The discomfort of being in a product-centric environment drove us the pain of that and the knowledge that we wanted to be planning brought us to a planning practice very early. We've been planning for 11, 12 years. So at time where...some people have been doing it even longer, but it wasn't that common.
And that drove us to get it out there and get it done. So I don't know that I would do much differently, honestly.
Michael: I just like that framing that the journey is part of the success and the discomfort and pain points that we get into from time to time in the business are actually the things that ultimately tend to shape the positive ways that the business ends up going in the future.
With the caveat that for some people, they get discomforted and stuck. The difference for you is you got discomforted and then lifted up to do something about it. And the thing you did about the discomfort ended out leading to the next stage of the business or the cycle.
Alexandra: Absolutely. I think that's how progress happens. And I think again, for me tomorrow is very exciting. So you've got to get to tomorrow sometimes you just got to get through today. And what happened yesterday it either got you to a place you want to be at or it's part of getting you to that place. Sounds kind of hokey, but it's worked so far.
Michael: So any other advice you would give to younger advisors or just newer advisors career-changing who are trying to start a firm today besides, don't forget how much time is a factor so make sure you can stay in the game?
Alexandra: Yes, get some great resources, find out what you don't know so there's lots of ways that you can be more efficient. Again, to my point, there are lots of different ways to be in this business. So there is not one way or one path. And there are so many different variations of practices that people focus on a variety of different things.
I think the knowledge that the universe is much bigger than the singular experiences one may have, is super important. So if you go into a place and they're not doing the kind of business that gets you excited, before you decide that that's it for you, I would look around and sort of understand that there are different ways that you can be in this business.
And network. I think the key to so many things is really building a good network of people and people that will help you understand what's happening in your industry and keep you current, people that will help you grow your business, people that will help support you on those days where you're thinking, why am I doing this? I think that that is super important and understanding that you have to give more than you get. So you have to be a connector, you have to be able to help other people too. And if you do, then they will...the returns will be multiples of that.
Michael: So for someone who's newer and coming in where would you start on the networking end, like where do I go, what do I join or do?
Alexandra: When I started, I did have a market, but I knew I needed to meet more professionals, more people so I did like all the networking things one could do. I joined a variety of different networking groups to build my core foundation I think that's what you do.
You really start to realize that you need to build a network, and you need to have the people that can help support your business. The professionals that will help you and then people that will help round out sort of what you're doing. And it's old school, you have to just be out there talking to people, letting them know what you're doing, finding out what they're doing and seeing how you can all help each other.
What Success Means To Alexandra [01:33:59]
Michael: So, as we wrap up, this is a podcast about success and one of the themes that always comes up is just the word success means different things to different people. So you're building on this fantastic trajectory for the firm and are already a quarter of a billion dollars under management. And I think anyone would objectively call it a very successful business. But how do you define success for yourself at this point?
Alexandra: Success for me is being able to have the freedom to keep doing this. I say all the time. I love this work, I think it's noble. And I think what we do is so honorable. I want to be in an afternoon client meeting of my evening funeral. I can't imagine ever not doing this.
And the older you get, the better you get, your wisdom is growing multiples over time. Which is another tidbit for anybody that's out there, especially women, having your own entity in a business where you can age well, there's lots of things that are good about that. So you can be a woman and work as long as you want to, and you can work as long as you want to, so that holds for both men and women.
So it's doing this and growing it and there is some great success in being able to see the business grow, and not just for the sake of the numbers. But also the understanding that people have found value in the work, and that's why it's growing. That I think makes us feel successful here. And being able to launch so many women in the industry has been a really important thing for us. We're very happy with our record and we want to keep doing that.
Michael: Well, very cool. Hopefully, the next person or the next opportunity is listening and will give you a call after this episode and we can continue to pay it forward and propagate it forward.
Alexandra: Thank you so much.
Michael: Well, absolutely. Thank you, Alex, for joining me on "The Financial Advisor Success podcast."
Alexandra: It's been a pleasure.