Executive Summary
LinkedIn is a powerful online resource for financial advisors. With over 225 million members who are active, engaged, and affluent, creating an influential presence on LinkedIn can help you take your business to the next level.
To tap into the business benefits of LinkedIn, you first need to make an investment in your presence that will position you as an influencer. In this guest post, Stephanie Sammons of Wired Advisor is going to explain how to do just that. Building influence on LinkedIn is a critical factor for expanding your visibility, developing new relationships, and creating business opportunities.
If you're building influence, you won't need to sell! Although building influence on LinkedIn takes time, it's not only good business, but it's the right approach to social media. As you demonstrate your online influence, you will drive more traffic, leads, and new client relationships into your business from your online presence.
The 3-Step LinkedIn Strategy For Financial Advisors
Your LinkedIn profile (foundation), network of connections, and ongoing activities on LinkedIn are the integral pieces of building a strategy that can lead to an influential and profitable presence.
#1) Optimize your LinkedIn Profile
Although creating a powerful LinkedIn Profile seems like a no brainer, many financial advisors neglect to take advantage of all of the features available to them to make sure their profile is effective.
Your LinkedIn profile is an important digital "reputation" asset. Not only will it rank well in Google search results for your name, many times it will be the 1st stop for someone to learn more about you, even before they find your website or blog!
Your LinkedIn profile is becoming the default for your professional online presence. It makes sense to fully optimize this reputation asset.
Your LinkedIn profile is not a "set it and forget it" digital asset
Your LinkedIn profile is a dynamic and evolving digital asset. You will want to be updating and upgrading it regularly. LinkedIn has been adding new profile features and functionality frequently. Make sure you are keeping up and refreshing your profile.
Upload a professional headshot to your profile. Don't crop your image from a snapshot. This is completely unprofessional and will affect your credibility. Your profile image is one of the most important components of your LinkedIn presence.
Of equal importance is your professional profile headline. LinkedIn gives you 160 characters to showcase what you do and whom you serve in your business. Be clear with your headline and stay away from industry jargon or fancy terminology.
Here is an example of an effective LinkedIn professional headline:

Your headshot and your professional headline are going to follow you throughout LinkedIn as you engage with other members, update your status, and participate in groups. These will become the most visible and memorable components of your LinkedIn identity.
Complete your profile as close to 100% as possible.

LinkedIn tells us that a complete profile gets more views than an incomplete profile. LinkedIn profile views lead to website and blog traffic as well as business opportunities. Why not work to increase your profile views by completing your profile?
Another important component of your profile is the summary section. Although it's okay to write about your accomplishments and designations in this area, use this space to expand upon whom you work with and how you help those members of your target market. What specific financial issues do they have and how do you help them solve those problems?
Write your profile summary in the 1st person as it will come across as being much more personable!
Your profile determines how you show up in LinkedIn search results.
Did you know that there were nearly 6 billion people searches on LinkedIn in 2012? If you don't have a robust profile, you don't have any chance to show up in search results. LinkedIn's search algorithm is extremely powerful and relevant. You can show up for searches based on your location, work experience, education, skills and expertise, and your network connections.
Sprinkling keyword phrases throughout your profile about what you do and whom you work with can also be a determining factor in the searches you show up for in LinkedIn. Be strategic with your keyword phrases and focus on whom you want to be discovered by.
To build a complete and robust profile, add your designations, skills and expertise (be careful about accepting public endorsements for these for compliance purposes), link to your website and blog, add projects, volunteer work, publications, presentations, and videos to your profile (LinkedIn now allows you to add rich media to your profile such as presentations and videos).
#2) Build an Intelligent and Robust LinkedIn Network
One of the keys to becoming an influencer on LinkedIn is expanding your network of connections. Not only should you focus on the quality of your network (depth), but you should also strive to expand your quantity of connections (breadth).

As you become an influencer on LinkedIn, you will find eventually you no longer have to proactively send invitations to grow your network…they will come to you. LinkedIn will help you identify potential new connections with its "people you may know tool". Make sure to check this tool frequently, which can be accessed from your LinkedIn home page.
Expand your network beyond the obvious

Replicating your existing offline network is a given on LinkedIn, but to grow your influence, you need to expand your network beyond the obvious.
Ask the following questions when evaluating new connection opportunities: Do you live in the same community as this person? Do you share common hobbies, passions, or interests? Do you share business philosophies? Do your share common connections or groups? Can you help this person achieve his or her goals? Can they help you achieve yours?
Strive to connect with influencers, movers, and shakers in your market. These people can help you grow your network and your online influence more quickly!
When you decide to invite someone to connect with you, send a personalized invitation that gives a reason for why you want to connect. This small step can make a big difference in how people perceive you and it's amazing how many people don't take the time to do it. Also, always have a reason to connect in order to make your invitation more meaningful. For example, mention a common connection, give a compliment, or say thank you within your invitation!

Every new connection is an opportunity to expand your influence.

When you make a new connection, you can also gather valuable insights about that person and find creative ways to go deeper with the relationship. The best time to ask for a meeting, a phone call, or simply point a new connection to your blog as an online resource is right after you've accepted the connection. Make it a point to respond personally to the people you connect with on LinkedIn.
If you limit your connections to a small number, you will limit your visibility. This limits the opportunities to expand your influence. Growing your connections on LinkedIn will lay the groundwork for spreading your insights and ideas more widely.

Your LinkedIn network will become a powerful force for spreading your influence.
Visualize your LinkedIn Network with LinkedIn InMaps

To visualize what your network looks like today and to keep track of how it evolves as you continue to grow your connections, visit LinkedIn InMaps. This is an experimental LinkedIn tool that creates a visual map of your network and the growth of your network over time!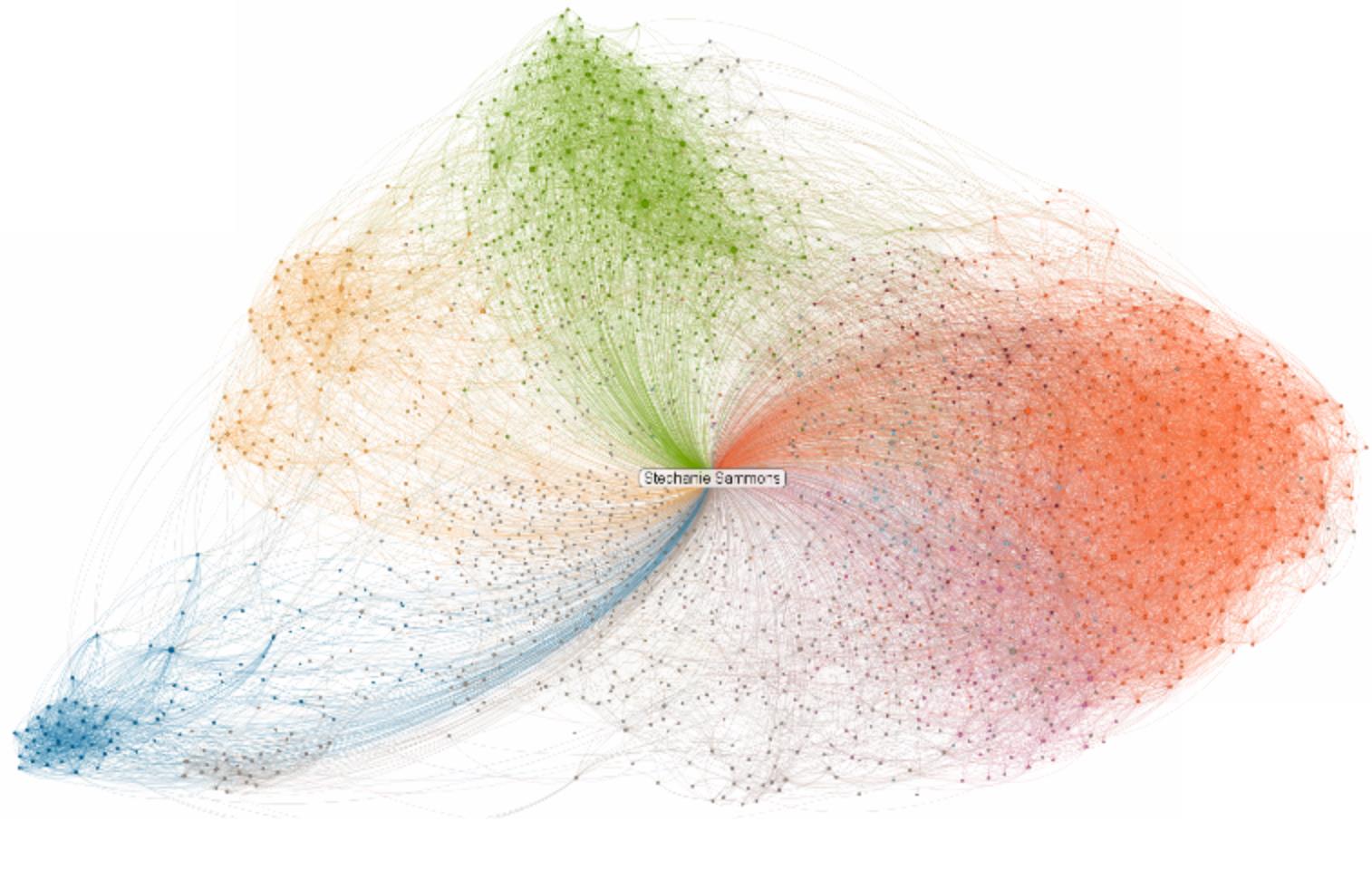 Your LinkedIn InMap will utilize colors to represent connection clusters that are typically industry-based.

#3) Become an Influential LinkedIn Networker
Once you have a powerful LinkedIn foundation in place, and you've made strides in growing your network, it's time to position yourself as an influencer.
To become an influential networker on LinkedIn, YOU must spend time on the network. Authentic engagement is one of the best-kept secrets of successful social networking! As simple as it sounds, many financial advisors don't spend the time or outsource the activity altogether.
Actively sharing and networking on LinkedIn is what drives more profile views, engagement opportunities, and traffic to your website or blog. If you're not active, you probably won't be creating business opportunities.
To be an influential LinkedIn networker means that you need to go above and beyond what others are doing by focusing on high influence networking activities.
Share content on LinkedIn that can help your connections solve a problem, get smarter, or achieve more.

With every piece of content that you share on LinkedIn as a status update or within a group, for example, you will want to help others. Position yourself as the credible, go-to resource with your network by sharing content that can help them achieve what they want!
If you struggle with what to share on LinkedIn, this social media sharing guide can help you. Ultimately, understanding the top needs, concerns, problems, and goals of your ideal clients will guide you in your sharing strategy.
Don't sell on LinkedIn

Don't ever pitch your services on LinkedIn, or any social network. You don't need to do this. Positioning yourself as a reputable source of insights and information will create value for your connections and keep them engaged with you. When you build influence, you don't have to sell. Build your network, give them value, and drive them to your blog or website in order to further develop business relationship opportunities.
On the other hand, it is perfectly acceptable to thoughtfully promote your own content on LinkedIn. In fact, most successful bloggers do this very well because they are listening to the questions and problems of their target audience, and they are providing value.
Be consistently visible and valuable

Believe it or not, consistency is a big part of a successful strategy because it builds trust with your network over time. Even if you can only share one piece of valuable content per day with your network, being consistent with this activity will help you stand out from your competitors.
LinkedIn Groups offer another unique opportunity to be consistently visible and valuable. Focus on 3-5 well-managed, relevant groups where you can spend a few minutes engaging in discussions, asking questions, and sharing your insights.
An influential networker is a smart networker

If you truly want to build influence on LinkedIn, you will need to become a smarter networker.
Here are some smart LinkedIn networking activities that will position you as an influencer:

-Promote updates from your connections by sharing with your network
-Introduce and connect others within your network
-Leave thoughtful comments on what your connections share
-Be personable in all of your messages on LinkedIn
-Thank someone for sharing your updates
-Congratulate someone on a recent success
-"Mention" one of your connections in one of your updates
Comments on LinkedIn trump "likes" and "shares" because they start conversations. Investing in dialogue is the most valuable form of social networking. Conversations have the potential to get more people who are inside AND outside of your network engaged with you.
With the new LinkedIn "mentions" feature, you actually have the ability to "tag" your 1st degree connections in your status updates. Make sure to use mentions wisely, as they can be a great source for thanking, congratulating, and promoting others. The person you "mention" will also be notified via email. By mentioning a connection on LinkedIn, you are helping them gain exposure to your network. (Mentions also flow through to Twitter!)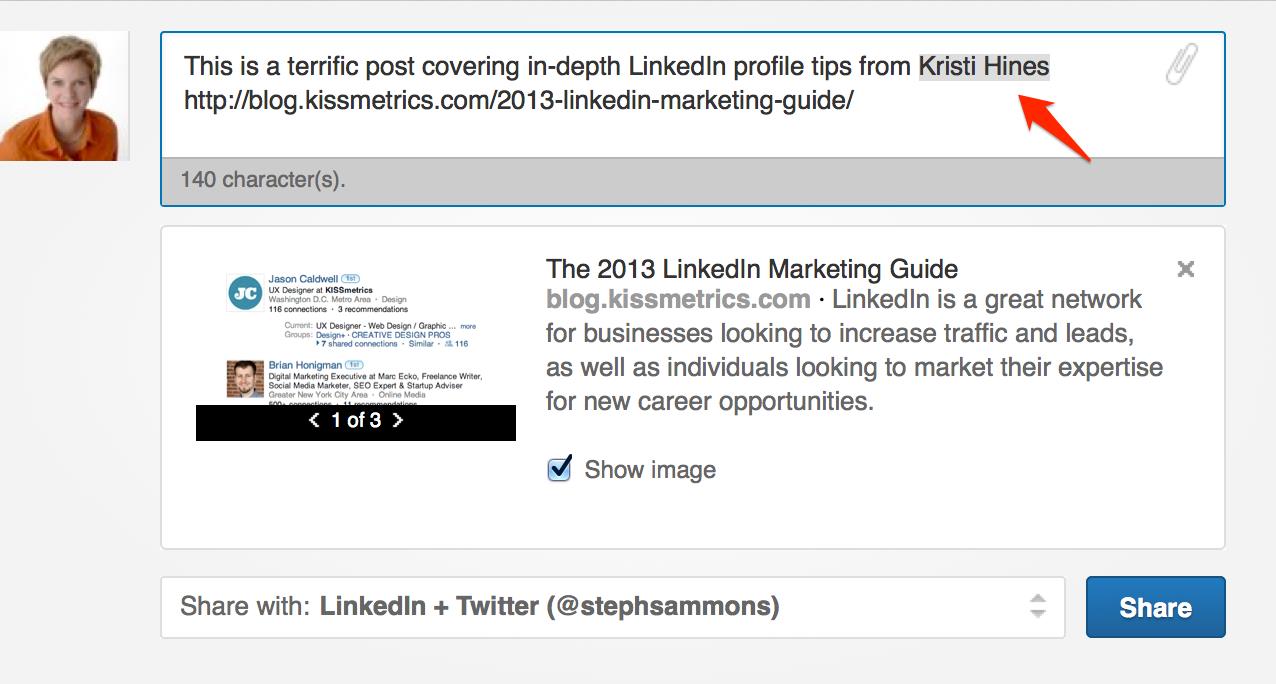 Mention your connections in your LinkedIn updates as a way to promote them to your network

With social networking in general, people publicly showcase their needs, likes, and wants! There is no exception to this on LinkedIn. Observe what your connections are posting, and provide them with solid answers, ideas, insights, resources, and opportunities. This will position you as the influencer.
How Can These 3 Steps Grow Your Business?
Implementing and investing in these 3 steps on LinkedIn will help you create a more linear path to new clients. The results won't happen overnight, and it does require a significant commitment. However, as you grow your network and position yourself as an influencer with your target markets, you can gently lead prospective clients through the process of taking that next step with you to start a business relationship.
Building a powerful LinkedIn presence is a commitment. Are you willing to make the commitment to building influence first in order to reap the business benefits later?