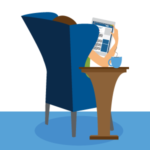 Enjoy the current installment of "Weekend Reading For Financial Planners" - this week's edition kicks off with the news that the passage of "SECURE Act 2.0" has brought a wide range of changes to the world of retirement planning. And given the variety of planning opportunities created by the legislation – from the raising of the beginning age for RMDs to the ability to transfer funds from 529 plans to Roth IRAs – advisors have a significant opportunity to demonstrate value for their clients!
Also in industry news this week:
Why many clients of robo-advisors are seeking out human advisors in the current market climate
A new study shows that there is a wide gap between firms leveraging technology to enhance the client experience and those that do not treat their tech stack as a priority
From there, we have several articles on advisor technology:
A recent survey shows that many advisors at large firms are unhappy with their firm's current tech stack and that client growth has suffered because of it
Why it is important for advisory firms to conduct an audit of their tech stack and the steps they can take to conduct the exercise
Why advisors might consider looking past some of the big names in advisor technology to find tools that can provide a better experience for themselves and their clients
We also have a number of articles on investments:
Fixed-income ETFs saw inflows this year, while their mutual fund counterparts experienced significant outflows, suggesting that the dominance of bond mutual funds could be eroding
How advisors are increasingly purchasing individual bonds rather than bond funds in client accounts
Why a higher interest rate environment could represent a 'sea change' for investors in the years ahead
We wrap up with three final articles, all about self-improvement:
Why working to change their mindsets might be the activity that provides the greatest return-on-investment for advisors
How to set better health goals for 2023 and actually follow through on them
Why the ability to achieve big goals starts with seemingly small habits
Enjoy the 'light' reading!