Executive Summary
Life insurance policies - permanent ones in particular - have long been difficult to accurately evaluate, due to the relative opacity of actual pricing representations comingled with performance assumptions in policy projections.
To address this challenge, a company called Veralytic has developed a tool to "x-ray" through a life insurance policy illustration, evaluating and benchmarking the underlying policy expenses and their viability.
In the near term, Veralytic's analytical tools may provide a way for financial planners to finally conduct effective due diligence on client proposed and existing life insurance policies.
In the longer run, though, the transparency and benchmarking that Veralytic is bringing to the life insurance industry has a chance to truly reform the industry, making it clear which products and companies are truly competitive and which are not. But Veralytic cannot reach a tipping point without getting more users on board; accordingly, they've offered readers of this blog a special deal to take a test drive!
The inspiration for today's blog post are recent conversations I've been having with Barry Flagg, founder of Veralytic, a company that crafts analytics tools and reports on life insurance policies. In a world of opacity where it's often hard to tell what's really going on "under the cover" and what's buried in the details of a policy illustration, Veralytic is crafting the equivalent analytical tools for life insurance that Morningstar created for investments.
Veralytic Life Insurance Analytics
For instance, below is a snapshot of Veralytic's summary page for a sample VUL (variable universal life) policy. It contains some "familiar" metrics to those accustomized to Morningstar, including a lattice of policy pricing "style boxes" (from retail to experienced-rated on one axis, and maximum accumulation to minimum premium on the other). It offers a star rating system, where policies are ranked with 0, 1/2, or 1 stars in each of 5 categories: financial strength & claims-paying ability; cost competitiveness; pricing stability; relative policy value; and historical performance (adding up a 0-1 star rating in each category yields a cumulative policy rating between 0 and 5 stars). Expenses in the policy, from cost-of-insurance charges (COIs), to fixed administration fees (FAEs), to premium loads are benchmarked against industry averages for institutional and retail pricing, along with the premium amounts, and the fund offerings and expenses (for a variable policy, and the historical performance of invested assets underlying policy cash values for fixed-type universal life and whole life policies).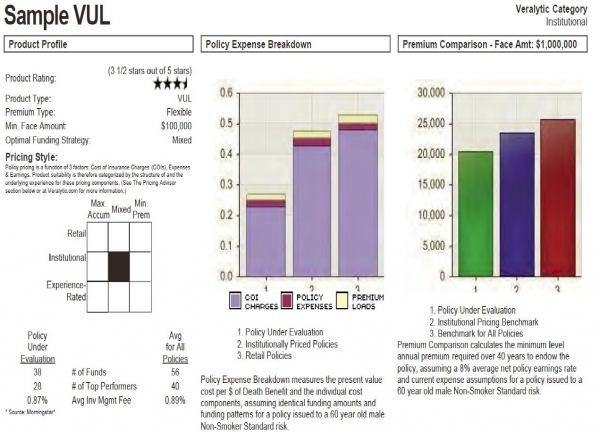 You can see a full Veralytic sample report here; the first few pages provide an executive summary of the policy, the report analysis, and an illustration of hypothetical policy values that generally includes what the insurer is representing they will charge, while the remaining 2/3rds of the report provides detailed explanation of the tools and analytics.
Unfortunately, though, given the inconsistencies of how policies are illustrated by various insurance companies, and the fact that pricing for policies changes over time (so an old policy may have different pricing than the ones currently being offered), the Veralytic analytical tools must be done on a policy-by-policy basis, using the actual illustrations and/or in-force ledgers provided by the insurance company. As a result, unlike researching mutual funds in Morningstar - where a particular fund can simply be looked up and evaluated for its metrics - you can only get a report on a policy from Veralytic by submitting the policy illustration to them and letting them put it through their system to "x-ray" what's going on inside (which is also how they've built up their database of industry information over time).
The New Baseline For Life Insurance Due Diligence?
Historically, planners reviewing a client's life insurance policy had few options to rely upon. The insurer's financial ratings could be assessed to determine whether the company itself was at risk for not being able to pay on its obligations. The health of the policy could be assessed by requesting an illustration of the proposed policy or an in-force ledger for an existing one, but it was almost impossible for the planner to tell from the projection alone whether the policy's projections were competitive against a peer-group, or even realistic at all. Was the company projecting using current cost-of-insurance charges that were likely to be sustained, or ones that were almost certain to rise in the future and cause the policy to underperform the projection? Were the policy's underlying costs even competitive in the first place? With permanent policies in particular, where there are so many moving parts, it is so difficult to make an apples-to-apples comparison between to policies to assess which was cheaper in the first place, that FINRA actually has rules that "strictly prohibit" such comparisons involving variable universal life policies (under FINRA Rule 2210) and the Society of Actuaries - the chief actuarial body of the life insurance industry - has similarly published guidance (1991-92 SOA Final Report of the Task Force for Research on Life Insurance Sales Illustrations) indicating somewhat shockingly that illustrations "used to compare one policy to another are an improper use of the policy illustration!"
On the other hand, Veralytic's tools x-ray straight through the opacity of the standard illustration, and provide a deeper look at what's really going on with the cost competitiveness of the policy and the feasibility of its projections, benchmarked against Veralytic's own increasingly comprehensive database of policies from various companies and the industry at large. For the first time, the planner actually has a tool to analyze a client's existing policy and determine "yes, this policy really is healthy and competitively priced" or alternatively to find "no, this policy has a lot of high costs embedded in the projections and its cash valued are unlikely to be sustained; it's time to look at alternatives." Arguably, the tool is even more powerful to assess a proposed new policy the client may be considering, to determine whether better alternatives exist from the start. Veralytic reports have also been reviewed by FINRA and can thus be used with all types of permanent life insurance products.
Simply put, Veralytic seems to have crafted the first truly effective tool for performing proper due diligence on proposed and existing life insurance policies. In today's world, a planner faces a genuine risk of liability for failing to analyze the costs and performance of a recommended investment using the available tools like Morningstar and recommending a 1-star fund. One wonders how long it will be until a planner could be held similarly accountable for failing to evaluate the costs and performance of a recommended insurance policy using the available tools like Veralytic and recommending a 0-star life insurance policy?
Long-Term Implications of Veralytic's Growth
Realistically, it may be a decade or more before Veralytic is a standard so institutionalized into the industry that planners could be held accountable for failing to use it or some future competitor's tool as a part of their life insurance due diligence process when crafting a financial plan recommendation. Nonetheless, in a financial planning world that increasingly takes its advice and fiduciary obligations seriously, it seems only a matter of time before proper life insurance due diligence entails something more than just a glance at a life insurance illustration of hypothetical policy values to make sure it isn't running out of cash value early based on the company's own current non-guaranteed "just trust us" projection.
However, the most significant implications of Veralytic as it grows are not just how it alters the financial planner due diligence process for life insurance, but its potential to revolutionize the life insurance industry itself. As Veralytic's tools shine a clear light of transparency on previously opaque illustrations, insurance companies that offered non-competitive and high-cost products obfuscated by projections using favorable, unrealistic, and unsustainable "current" rates, will find reduced sales for their products. On the other hand, companies that have tried to price fairly and in their policyowners' interests - that previously struggled to compete against other companies using unrealistic and unsustainable projections - will find their market share rise as Veralytic's transparency reveals what are truly the most favorably priced and realistically sustainable policies.
The challenge in the near term, though, is that Veralytic can only become an industry standard if it gets used enough to become an industry standard. Sadly, but perhaps not surprisingly, insurance companies are not yet electronically feeding pricing and performance data into the Veralytic database, forcing Veralytic to load the insurers' pricing and performance representations from the client illustration or in-force ledger one at a time. Which means the only way they accumulate data and grow is to have more people submitting illustrations and using the Veralytic analytical tools. In the long run, as Veralytic's process and tools grow, and insurance companies should eventually feel the pressure to work with Veralytic more directly, which will likely bring Veralytic's costs down and make their tools even more accessible to planners and clients.
Using Veralytic In Your Practice
If you're interested in using Veralytic as a tool in your practice to supplement the analysis and due diligence you do on life insurance policies for clients, there are a few options.
A standalone report can be purchased from Veralytic for $500. Firms that expect they might use the software for multiple reports (potentially across the clients of multiple planners in the office) can purchase a subscription for $199/month, which provides access to an unlimited number of reports; if you're not happy with the reports and results after getting up to 3 reports in the first 90 days, Veralytic will fully refund your purchase.
Once subscribed, you can obtain a report for a particular policy by submitting an illustration, including the detailed expense pages and the dividend interest crediting rate information (which can be requested from the insurance company). Although the process and results are not instantaneous, because illustrations need to be loaded into the Veralytic database one at a time, Veralytic generally provides a turnaround in just a few hours (and has a published service standard of no longer than two business days), allowing ample time for results to be incorporated into a financial plan or to adjust a client's life insurance implementation plans.
So what do you think? Have you ever tried out a Veralytic report? Do you think there is a need for greater due diligence tools and solutions for life insurance policies? Would you find a tool like Veralytic relevant in your practice?