Executive Summary
A few months ago, many of you were kind enough to complete a series of two reader surveys - one for the Nerd's Eye View blog, and another for The Kitces Report newsletter. In the coming months, I'm excited to announce that you'll be seeing the fruits of those survey results, in the form of a number of upgrades and improvements to this platform. The visual look of the blog will be modernized (yes, including an increase in the default font size!), the comment system will be replaced, and several enhancements will be made to the members section for newsletter subscribers. In addition, we will begin to offer periodic webinars for continuing education credit, and later this year the written content of the blog will be complemented by a new podcast.
You'll see these changes roll out incrementally in the coming months. For the time being, this is just an announcement of changes to come, with an important note that if you're using an RSS reader to follow the content of this blog, there's now an updated RSS feed link to use (as the details of this post explain, you just need to complete a simple update to your blog reader software to ensure you continue to receive new content in the future).
In the meantime, thank you to all of you who voted Nerd's Eye View as #1 in the recent Zywave survey of the top news sites and blogs for financial advisors!
Survey Results & Blog Re-Design
Many of you will recall that two months ago, both the Nerd's Eye View blog (and also The Kitces Report newsletter) conducted a series of reader surveys for your input about how happy you are with the current content, and some potential changes being considered.
After evaluating the results of the surveys, and in light of the growing popularity of the blog itself, I've decided to invest heavily into re-designing and upgrading the blog platform and services I use behind-the-scenes to support it. The new developers have been hired, and we're anticipating a roll out in the third quarter with a number of changes, including:
- Full refresh and update to the visual design of the blog

- A larger default font for the blog that is easier on the eyes (yes, your feedback has been heard!)

- Replacement of the blog comment system so you don't keep having hassles with comments not posting properly (sorry to a few of you who have had problems with this!)

- An archive system for newsletter subscribers to access prior issues online

- Technical improvements to the CE quiz system for newsletter subscribers that should allow CE quizzes to be posted more quickly after each new issue is released

- Periodic 1-hour webinars on advanced financial planning topics available for purchase and eligible for 1 hour of CFP, CIMA, and CPWA continuing education credit
In addition, later this year we will be aiming to roll out a regular financial planning podcast for advisors, covering industry trends and developments, product and service providers that offer solutions for financial advisors, and practice management guidance from industry consultants and experts.
RSS Feed Updates
As a part of the upcoming technical changes, we will also be changing how the Nerd's Eye View RSS feed is electronically distributed. As a result, if you consume this content using an RSS reader - either Google Reader, or one of the alternatives that are being adopted as Reader shuts down - at some point in the coming months you will need to update your software for the new feed address.
If you wish, you can take a moment to do this now, so you won't have to worry about it later; simply go to http://feeds.kitces.com/KitcesNerdsEyeView and sign up for the blog again using whatever software you use, or simply copy and paste the preceding web address into your RSS reader. For the time being, Nerd's Eye View will distribute its content simultaneously to both the "old" RSS feed and the "new" one, so there won't be any apparent changes for the time being, but at some point later this year the old one will be terminated.
Nerd's Eye View A Favorite In Zywave Survey
In the meantime, I'm thrilled and flattered to see that earlier this month, financial planning software company Zywave conducted a survey of the most popular news and blog sites for financial advisors, and Nerd's Eye View was voted the leading favorite by a huge margin! The highlights of Zywave's survey results for top advisor blogs are shown below (further details on the full results here):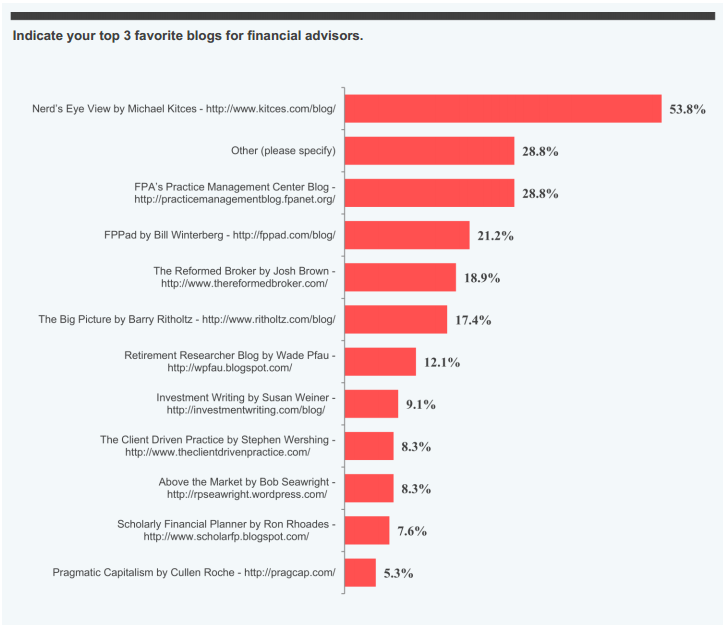 Thank you to all of you who continue to read this blog and share the content with your colleagues! I look forward to the ongoing growth of this site in the coming years, and hope you'll continue to let me know what can be done to make the site more valuable to you!