Executive Summary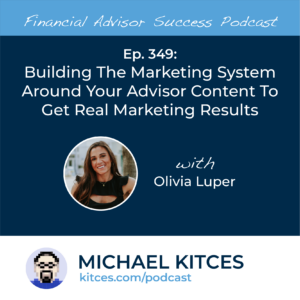 Welcome back to the 349th episode of the Financial Advisor Success Podcast!
My guest on today's podcast is Olivia Luper. Olivia is the Founder of Lexicon Advisor Marketing, a virtual outsourced digital marketing company that specializes in working with financial advisors to generate a steady flow of prospects.
What's unique about Olivia, though, is how she started out as a ghostwriter creating content for financial advisors and their blogs, but saw first-hand that great content alone doesn't generate prospects if there isn't more of a marketing system around it… so she expanded her firm to begin offering a full suite of outsourced marketing services to make the content actually generate results, from building lead magnets and mailing lists, to running social media ads to grow the list further, to writing the emails that get readers to actually schedule a first meeting.
In this episode, we talk in-depth about how Olivia has developed a 3-step process to building a marketing strategy for her advisor clients by focusing first and foremost on clarifying the advisor's message and vision for the firm, crafting an execution plan for top to bottom marketing funnel, and then if advisors don't want to do it themselves, providing ongoing implementation of the strategy, how Olivia has found success for her advisor clients using social media – even paid social media ads – not by trying to get clients directly but simply getting them to the advisor's website to collect an email address that will be used to turn them into a warmer lead over time, and how Olivia warms up those new email contacts with a welcome email sequence of 7 emails over the span of their first month that is structured to not only engage with prospects, but to help build trust and nurture the relationship with the advisor to increase the likelihood of the prospect becoming a client in the future.
We also talk about how, after having her son and just finishing her Master's degree in English, Olivia found herself between careers and was recommended by her mother-in-law (who also works in the financial advisor space) to try specializing in financial advisors because she saw the need for Olivia's content marketing expertise in the financial services industry, how Olivia experienced some frustration early in her advisor work because she was good at creating content for advisors and getting it out there but realized that advisors didn't know how to draw prospects to it to sustainably scale their growth, and why Olivia believes that most advisors are too timid about communicating the value of what they can provide to their prospects and that the key to better marketing success is about being more willing to simply share stories about how the advisor has helped other clients in similar situations.
And be certain to listen to the end, where Olivia shares how, while she was growing her business, she had a moment of reckoning for herself when she realized that she was employing marketing scripts that were too 'salesy' and focused on maximizing revenue and revamped her own marketing process to better align with how advisors aim to help their own clients in the first place, why Olivia believes that younger, newer advisors can find build more successful careers by being self-aware to find the types of clients they want to work with most and becoming increasingly well versed on the financial issues those specific people face, and why Olivia now feels fulfilled in her career as she can dive deep into her passion of helping advisors get unstuck and find the marketing messages that feel truly authentic to them so that they can continue to find more of their ideal clients and grow their firms, too.
So, whether you're interested in learning about why Olivia takes the time to learn about her advisor clients' vision and goals for their companies to make sure their marketing strategy is in alignment and can really help them grow, how Olivia structures each of the 7 emails in her welcome email sequence, or how Olivia develops marketing funnels to connect with warmer leads, then we hope you enjoy this episode of the Financial Advisor Success podcast, with Olivia Luper.
Never miss a Financial Advisor Success podcast episode! Get notified of the latest episodes (and all our research as it's released!) directly via email:
Resources Featured In This Episode:
Looking for sample client service calendars, marketing plans, and more? Check out our FAS resource page!
Are you a successful financial advisor, or do you know of one that would be a great fit for the Financial Advisor Success podcast? Fill out this form to be considered!
Full Transcript:
Michael: Welcome, Olivia Luper, to the "Financial Advisor Success" Podcast.
Olivia: Thank you, Michael. I am so excited to be here.
Michael: I'm really excited to have you on the episode today, and to get to talk...to get to nerd out a little bit on one of my favorite topics, which is marketing, and marketing with a content focus. Obviously, I'm a little bit biased since we do this podcast, and blog, and a lot of content marketing is an anchor to our system. But it's been transformative for us, but I find for a lot of advisory firms, they struggle with a lot of the marketing end. I guess in general, and particularly when it's built around content, because I see some advisors, they put some content out there, and it gets some attention, but they can't figure out how to actually turn readers or listeners into clients.
Others, they make some pretty good content, but it just...it sits out there on a page on their website that no one really seems to see, and it doesn't really get noticed at all, which means it doesn't generate any opportunities in the first place. And the integration of how do we do something that shows our expertise, and then get it out there so people see it, and then make it so that the people who see it actually do business with us is multiple steps of a marketing process that is much harder for most advisors to implement in practice. And I know you've lived a version of this journey from the marketing, consulting, and outsourcing end of starting out, creating content, and then evolving, and helping advisors with more of that proverbial marketing funnel.
And so, I'm looking forward to kind of nerding out, and digging in a little on how do you actually turn content that shows off some of your expertise, and the actual results, outcomes, new clients, business, revenue growth.
How Olivia Develops Marketing Funnels For Advisors [05:50]
Olivia: Yeah, absolutely. I mean, I think that so much has changed in the past 5 or 6 years since I got into the industry. When I first started in this space, I was really just helping out in the capacity of a writer. So, that's what... I had my master's degree in English. I've been a poet my whole life. Writing is really my first passion. And so, I said, "Okay, well, I'm going to do some..." My son had just been born, I was sort of in between careers, I just finished my master's degree. And I said, "Okay, well, I think I'll get back into writing. Maybe I'll just do some freelance work." And my mother-in-law said...she's in the financial advisor space, she said, "Well, not for nothing, Liv, but there aren't very many writers who specialize in financial services. You might give it a try."
And I was terrified because as a creative-minded person, I'm not super great with numbers, I'm not technical at all. The graphs and charts scare me. I was like, "I don't know that this is going to be a good fit." But it ended up being really great because, it turns out, in your marketing you don't really talk about any of that technical stuff anyways. It's more about the...
Michael: It turns out most clients don't...aren't great with numbers, and don't do the charts and graphs things all that well either.
Olivia: Yeah. So, I mean, from that perspective, I always felt like I was a really nice bridge between the advisor, especially the one who wanted to be super...lead with performance results. I mean, not in marketing, but would want to talk about all this technical stuff, and jargon, and all of that. And the consumer who didn't know anything. So, I had taught myself a good deal about retirement planning, and Social Security, and all of these topics that we talk about, estate planning. And so, I always felt like I was a nice bridge between the advisor and the consumer, and that I could make the content relatable in that way because I didn't have a financial service background.
So, I started out just blogging. And this is 2018. And then it sort of evolved in the clients that I was working with, needed help with their social media. And then they would get their blog, and just throw it on their website, and I'm like, "Wait, hold on. There's so much more that can be done here." Like you said, just throwing it up on the website, if you're not getting a lot of website traffic or you're not driving people to view this new article, what was the point of the investment in the first place? And they were like, "Well, we don't have time to learn that. And can you just do it for us?" And I was like, "Well, yeah, sure. Okay."
So, I sort of added those services in as well for the advisors who didn't just want to get their content and do their own thing with it, for the advisor who needed that next step. So, it's funny that you said, there are sort of 3 parts, creating the content, getting it out there, and then drawing awareness to it, and leading people to it. Because my old website used to say, "What do we do? We create the content, and we get it out there." So, we were sort of those 2 pieces. But then that would work really well, that model, as a plug-in piece for a larger marketing plan.
But a lot of the advisors I was working with were...they didn't have a larger marketing plan. I was really it. They were relying on me and I was like, "Oh, okay, well, we've got to do more than this. We can't just put up a website, and be posting on social, and just pray that the business is going to grow. There are steps to take to...we need to set up a customer journey, and there need to be touchpoints, and there need to be re-engagement techniques." And all of these technical steps that make the content do what it's supposed to do.
So, the business has really evolved from just helping advisors with the content creation, and the dissemination to putting that content to work to actually help them grow their business.
Michael: So, can you take us further down the rabbit hole, as it were, about what else advisors really do need to be doing? Because you had made this comment, it's not enough to just create this content, and then show up and start putting it out there on social media. Because I feel like there are a lot of advisors who are listening that are like, "That's exactly what I do, Olivia. I make the content, and I'm posting it to my social accounts. What do you mean that's not enough?" So, what's missing? What else is supposed to go with it beyond, I figure out how to make some great content, maybe it's myself, or maybe it's working with an outsource provider or content writer. I'm making something and showing my expertise. I'm posting it on social media. I'm not exactly getting an avalanche of new clients. What's missing? What else is supposed to go around that that most advisors aren't actually doing and executing on?
Olivia: Well, what I find for... And this is not to say that you should stop doing those things if you're currently doing them. If you're doing those things, I very much commend you. And I think that the fact that you're out there trying with the tools that you have and the knowledge that you have is remarkable. But I would encourage you to ask yourself, "How are we going to get the person who is following me on social media to ultimately..." the goal for advisors is to book a call. "How are we going to get them from point A to point B?"
And a lot of times that will be sort of a funnel set up from the social space to bring them into the advisor's ecosystem and email marketing. So, we have a lot more control over what we're saying to the person in our email list. We can see what kind of activity that they're taking with our content. But the goal from social media should be to collect lead information, and bring them into your world, right? Your world meaning email. Email has a remarkably high return on investment, and conversion is going to just blow social media conversion out of the water.
Now, can you get clients from social media? Sure you can. Sure you can. You can spend 3 to 4 hours a day on LinkedIn talking to people, and having coffee chats, and sending cold emails if you want, and you will have some success. I'm not going to say that it doesn't work, but it's not scalable, which is something that...I've talked about this extensively over the months of June and July in my weekly newsletter actually about your 2022...oh, man, it was on my desk for like 3 weeks.
Michael: Our advisor marketing research?
Olivia: Your advisor marketing research, right. So, in the beginning as an advisor you are bootstrapping it, you are going to be doing all of the things on your own, and that's fine. You likely don't have a budget to spend on a marketing professional or a consultant. Maybe you can scrape together some extra money to have a nice lead magnet made or something like that. But for the most part, you're going to be doing it yourself. But then as your firm grows, your time becomes more valuable, right? And you're going to have to put systems in place that are scalable, and don't rely on your time as much, because as you said in your research, when your time is more expensive, and you're spending your time doing it, the client acquisition cost gets very out of hand, and almost to the point where, "What are we doing here? We really need to reevaluate."
So, yes, you can spend a lot of time on social media networking and try that way. And you will probably have some success. But the real place that you want them to be is in your world, and we would get them there through email. So, that's just a matter of building something from the social media into the email. And it can be something as simple as making sure that you have very clear and direct CTAs in your social posts, whether it's, "Hey, link to subscribe in the comments," or "DM me to get in the newsletter list." These work really well to get folks into your world. And then ideally, once they're subscribed, then they'll receive your welcome sequence, which I would say if there's 2 things that any and every financial advisor in the whole world needs, it's 1 lead conversion mechanism, collection and conversion mechanism. And a welcome email sequence to nurture that person once they've opted in to your lead magnet, or to your email list.
So, once you've gotten the person into your email list, they'll hopefully receive your welcome sequence, and any other prospect-facing correspondence that you create. I like to get my advisors on, for prospects, a once-a-week email sequence at least. So, after that initial 6 or 7 email welcome sequence, they'll at least receive some sort of correspondence once a week. So, a lot of my advisors will do a newsletter. So, that kind of...that's 1 week. And then we'll fill in with long form sales emails to continue to nurture those prospects and ask for the call in the email. Now, there's another way to do it too, because...
How Olivia Utilizes Social Media And Lead Magnets To Generate Warm Leads [16:01]
Michael: I got some questions on this sequence, though. I got to back you up a little bit to social media first. So, first of all, I'm struck by the comment, the goal from social media should be to collect lead information, and bring them into your world, which basically means into email. I feel like the general perception, at least in advisor world, and this may be a reflection of ourselves and what we deal with, is people are frickin inundated with email these days. So, I feel like some subset of people are going to be listening and saying like, "Really, Olivia, email?"
Olivia: Yes, email. Email is a much more intimate place. Yeah. I mean, you're going to get your person...there's plenty of people who just subscribe to anything and everything, and never check their emails. But if it's someone who is genuinely interested, then they will open your email. I mean, this is another thing that I also recommend every once in a while is scrubbing your email list, and keeping it clean. Now, what does that mean? It means going through and sort of taking those people who haven't engaged with any of your content for a long time, and quite literally removing them. If there's somebody who's been on your list for 4 years and never opened an email, it's probably safe to say that you can take them out.
Michael: So, there's a part of me that's like, "But if I take them out, my list is smaller, and I like numbers to go up and to the right, not down."
Olivia: Right. But I like small ponds that are ripe for fishing rather than large ponds where we don't get any bites. And I think that when we control what's in our email list, the best that we can, we get better analytics, right? So, if we have a smaller pond, we can really see, "Okay, well, of this group of people, here is the group that is engaging the most." And then we can take the next steps with them. Maybe that's personal email, or a re-engagement campaign for folks who haven't opened in a while but used to. There are different steps that we can take, but we don't have access to that analytical data in the social media space. We have that in email, so that we can move the relationship, urge the relationship where we need it to go.
Michael: So, if the goal is getting people from social media to my email list, talk to us a little bit more just how exactly do I do that. I mean, what I hear from a lot of advisors is essentially, "I'm not even sure either what works, or even what's appropriate." Is it social media appropriate in the modern era to say, "Hey, if you follow me on social, you should also sign up for my email list." Or is that a social media faux pas? Am I supposed to give them something? And if I do, what do I give them and where do I give it to them? How do I do it? How do I actually get social people onto my email list?
Olivia: Right. So, let's back it up just a tad. Let's say we're still in social media space, right? We're working on building awareness at the top of the funnel so that we have a group of people that we can say, "Hey, if you like what you're seeing, I send out a weekly newsletter. This is what's included. If you'd like to be on it, DM me the word 'newsletter,' or link is in my featured section on LinkedIn," or whatever path that you want to give them to take, because there are multiple paths you could take. But first before that, let's first talk about the fact that organic reach on social media is very low. That's because advisors got the memo that they needed to be showing up in the digital space.
When I started my business in 2018, it was you were ahead of the game if you were posting twice a week, if you had a company post up or something. And it didn't even really matter if there was a CTA, it didn't even really matter if it was personal in nature. It was just like, "Hey, guys, here's what we need to do. We need to show up." And so, that was the first hurdle. So, everybody got the memo, which is great. I love this because I love free things and social media is free.
Michael: Amen.
Olivia: It's a great place where you can build this awareness about your business. But if you don't have a lot of people following you or a lot of people seeing you, even the pulls to your email list might not be that great. Now, don't get me wrong, it's not that it's not worthwhile, but of course, you're going to have better success when you have a greater reach. So, this takes consistency, right? So, you'll see even these LinkedIn influencers, and all of these people who are selling these products and things online for creators, and course offerings, "Oh, I posted...it took me...I posted every day for 6 months, or I posted every day for 3 months, or I posted every day for a year, and finally my reach got to," whatever.
So, first you got to you get really consistent in posting. And then I would say once you've gotten that down, I would take a look at which of your posts is really resonating with people. So, this is going in and looking at your analytics and seeing which you have the most engagement with, and really doing an audit of, "Okay, my audience that I have now that I've curated now based on my activity is really interested in..." I don't know, Roth conversions or something. I don't know. So, what you would do is you would take that, and you would double down on those top 3 areas or something that people are really responding to. And you would sort of up the ante in those areas in your content.
So, look at what people are responding to you well. You can even go on your Google Analytics if you write blogs and see which blogs are the most visited pages on your site. There are different ways to kind of audit your social content, and your marketing content in general to see where you should kind of take things. So, be consistent, find what's working and double down on it, and always try to then work on the lead collection part.
So, there's a couple of different ways to do it. You can, in the CTA of your post, ask for the subscribe to the email list. You can offer a lead magnet, guides, checklists, actionable things are highly recommended. I really don't see consumers downloading white papers. I always recommend going with lead magnet that is something that is going to give the user a quick win, because what this does is create a positive feedback loop for your brand. So, they say, "Oh, hey, this guy says he has this guide that's going to solve this problem." They download it, they see this larger job, "Oh, man, this is going to be hard to do on my own. I can see why I would need a financial professional on this. But I can do this 1st step on my own right away and solve this problem. Oh, wow. I am..."
Now they have these positive feelings about themselves because they've accomplished something, and then they have positive feelings about you because you helped them accomplish something. And you could be sleeping or on the golf course, you don't know because this is what's so great about digital advertising and promotion. So, actionable items. So, for the lead magnet, so you can just ask them to subscribe to your email list. You can offer a lead magnet.
Michael: So, just for those who aren't familiar, define lead magnet if I don't come from marketing world.
Olivia: Yeah, no problem. So, lead magnet is like a freebie. You know that you are all familiar with them whether you know what they're called or not. But you know when you go see...you're scrolling through your phone, and you see, "Your guide to lowering your business taxes," that's a lead magnet. It's a gated piece of content that you have to give your email address in exchange for that piece of content. Now, there's a lot of talk back and forth about whether gated content is dead or not. I will say it is not. People still download things if they think that it's going to solve their problem.
But because we've lived with lead magnets for a long time, and we know that 90% of the time we're actually not going to get what is promised, people are more skeptical, which means that your messaging around the landing page, or around the social post that you're sharing the lead magnet in needs to be spot on. It's really got to speak to the pain point. It's got to clearly speak to the impact that this guide will have on that pain point and the end result or the value that they will get out of having downloaded it, because they need to know, "What am I getting in exchange for my information?" Because they are giving you access to their personal inbox, so they want to know that they're going to get something meaningful in return.
So, these are a couple of the ways that we can pull people from social media into our email world. We can also do it with advertisements. Because organic reach is so low, especially for advisors who haven't been consistently posting for 3, 6, 12 months to build up an audience that engages with their content, we can use social media advertising. And from this we would create an ad. So, there will be a photo or a video. A lot of times we will use a lead magnet, or some sort of other conversion mechanism to… a book, for example.
I have an advisor client that just signed up with me. He's written 5 books, but he's not doing anything with them. So, what we're doing is we're building a funnel from his social media ad to a page that speaks to the pain points associated with each of these books. On that page, the user will click into which of the pain points that is most pressing for them, and they correspond with the books he wrote. So, they'll click on whatever it is. Maybe it's receiving an inheritance, maybe the next one is retirement, and maybe the 3rd one is building wealth.
So, they would click through, and it would take them along the designated path for that pain point to lead them to that book. They can download the book, or buy the book, whichever way you set up the funnel. And then they'll start receiving a set of emails from you that either...depends on the action that they've taken. So, if they purchase the book, they'll get a certain set of emails. If they have not purchased the book, they'll get it a different set of emails, because obviously the language is going to be different for the person that purchased versus the person that did not.
And all of this encouraging them to then schedule a call with the advisor. The reason that these types of funnels work well, especially ones where they have to buy something from you, at first is that it conditions them to spend money with you. And for all intents and purposes, you may be, "Well, what if somebody clicks through but they don't want to buy the book?" Well, if they don't want to buy a $10 book, do you really think that they're going to want to hand over 1% of their wealth to financial services help?
Michael: It's like a screening mechanism unto itself.
Olivia: It definitely is. And there's different ways to do it. That was just 1 example. But the point I was trying to make is that if you don't have great organic reach, there are still options with paid social media ads. I will say, though, that if you haven't...if you are not posting organically to your page, your social media ads still will not be prioritized. So, in order to get a lower investment price, so when we do social media ads, we sort of measure our...1 of our metrics that we use is what is the cost per click. So, what is it costing us to get 1 person to click on this page and go through, to start into the funnel? And we like that number to be as low as possible, obviously.
Michael: And what's a good number in that regard for an advisor?
Olivia: For an advisor, I would say $6 to $7 is sort of a good spot. It's not a cheap avenue per se, but I think that's a good goal to shoot for.
Michael: So, I'm spending $6 or $7 for every person just that clicks on my ad, or that actually signed up for my list?
Olivia: Oh, yeah. That's a conversion. So well, that signs up.
Michael: Okay, so in essence, I mean, I can think of it as I'm spending $6 or $7 per email address that gets on to my list.
Olivia: Yes.
Michael: So, in the sort of simple scenario, if 1 out of 100 of those people actually does business with me, it costs me $600 to get a prospect, which ain't bad given how much money most of us make per client. That's good math.
Olivia: Right. Okay, so if you're running the social media ads, you still want to have some organic activity just so that your ads get prioritized, and you pay less for your ad to run. So, just keep that in mind if you are interested in running ads. I still recommend that you have organic activity. It just helps your expenses basically.
Michael: And are there particular platforms of choice for where advisors do this kind of social media advertising?
Olivia: Yes. It really depends on the target audience. And we can tell a lot from past activity where the advisor...if the advisor has been posting to social media. Let's say they come to me as a new prospect or a client, we would look at sort of what their engagement has been in different areas. And we have a lot of luck in LinkedIn and Facebook/Instagram, it's that same company, so we just cross run them if they have both platforms. If they only have Facebook, we just do Facebook. But we pick the platform based on the target audience and where they've had the most success in the past with their social media.
So, sometimes we'll split it between LinkedIn and Facebook, and see which does better, and then allocate more towards where we're having the most success. We honestly have the most success in Facebook across the board, but there are some advisors who do better in LinkedIn. LinkedIn is a little bit more expensive. But the benefit there is you can get a little bit more targeted. There's a little bit more capability for hyper targeting in LinkedIn. But I mean, if I had to say pick 1 to try first, I would try Facebook first if you were doing it on your own.
Michael: So, I'm struck as you're...just as you're describing this, that relative to at least what I feel like most advisors tend to think about and focus on, this is not like, "We're going to run a social media ad to convince you how we give great comprehensive personal financial planning advice."
Olivia: No, no, no.
Michael: "And you should consider hiring us for your life savings." This is like, "Check out our e-book on how to pick a good advisor and not make a bad decision. And I'm just hoping you'll give me an email address." That's as far as we're trying to get at this stage of the process.
Olivia: Yes. Okay, so we're not selling overnight face cream. We're not selling...I don't know why I always go back to that one. But it's not something with low stakes at all. So, I do not recommend trying to run scheduled call ads on Facebook or LinkedIn, or anywhere, to be honest with you. It is very, very, very low probability of success. People need to have an entry point that is less threatening than scheduling a call, somewhere where they can get a feel for who you are and what you stand for. And like I said, the email is the place where we have the most control.
Okay, let's say, "Well, I've heard that you can run awareness ads to your business page." Yeah, you definitely can. They serve a purpose. If you have a lower budget and you were trying to grow your page, then you might throw a few dollars a day toward an ad in awareness ad that gets people to look at your page. But here's the thing about business pages is that even if people go to them, they very rarely will just like them for no reason at all, unless you just have just out of this world content that they just cannot live without.
So, what we do is we run the ad to a lead collection mechanism that is less commitment. So, joining the email list, downloading a lead magnet, downloading an e-book, buying an e-book. One of these ways that we can collect their email address, give them something of value, and then start nurturing them through our email sequences.
Why Creating A Landing Page Is Important To Connect With Prospects [34:21]
Michael: Okay. And how do I... So, last question, just for those who haven't lived this world at all. How do I...it's basically how do I set this up? I mean, I get you do the ad stuff on LinkedIn or Facebook, or wherever it is, but where do I send them? Do I need a separate email system that's going to send them the thing, and then send them the emails that's distinct from LinkedIn or Facebook?
Olivia: Yeah. Okay, so you will need a landing page first. This is the URL that they're going to click through from social media, whether it's organic, meaning you posted it yourself and it is not a paid post, it's just a regular post, or whether it's an advertisement that you have money behind paid media. So, either way, you want to run these folks to a landing page. Landing pages can be made in a couple of different ways. For example, if you have a Twenty Over Ten site, you can make a hidden page, and with an opt-in form, you put at the top of it...I like to put a picture of what the guide is, or a cover, what the cover looks like, the title, what is included in very short, maybe a sentence with 3 bullet points, and the opt-in form.
You do not want to give people a lot of options on the landing page. The point is that...this is going to sound bad, but you get them to a spot where the only choice that they have to make is to opt in or leave. You don't want to send them to your web page because there's too many options. They are going to forget what they came there for, they're going to start looking around and clicking around, which is great. But remember that the goal here is to click the lead information so that you can get their email so you can help them because this is another goal. We're just trying to help them, but we have to get them to know and trust interest us first. So, we have these other steps along the way.
So, we got to build a landing page. You can do that on a hidden page on your website, or you can get a brand new WordPress landing page made for yourself if you want. Or you can make it in your email marketing platform. So you can make one in ConvertKit, or you can make one in MailChimp, or you can make one in Constant Contact, or whatever you use. Most of them have a landing page capability. But I will say, the thing that I don't like about those is that you're not going to get to use your own domain. You'll get a link that's like mailchimp.blah, blah, blah, with some code behind it. And when it shows up in your ad, or it shows up as the link, it's not matching to your domain, which is kind of a trust thing.
So, I recommend if you are going to go build a landing page, that you make every effort you can to point it to your domain so you can use the same domain, or do it as a hidden page on your own website. And again, if you do it as a hidden page, please just look up landing page best practices and follow that. You don't want a main navigation on your website. Sure, you can have a footer with...I don't know. It's just the least options, the better. You want them to either opt in or leave. So, social media to the landing page. The landing pages where they'll find their opt-in form and put their information in.
And then there you have a choice when you set up your landing page. You can either direct someone to pop up the lead magnet, will pop up automatically, or a thank you page will pop up automatically. I don't like it when the lead magnet pops up automatically. Here's why. Because I want them to get in the habit of looking for you in their email. So, I like landing page, user opts in, they get a thank you page that says, "You'll receive your email soon." Because your opt-in form...now this is going to be a little loop-de-doo, right? Just follow me along. Because your opt-in form comes from email marketing platform, it will put the user into the list that that form is created for.
So, let's say you have your retirement handbook, and so you create your form in your email marketing platform for the retirement handbook, and you set it up so that when anyone opts into this form with this code, they're going to be tagged as retirement e-book subscriber or whatever. That way you know in the future what it is that they're interested in so you can send personalized content to them, because personalized content converts much, much, much much higher than generic stuff. I mean, for example, if you are serving multiple niches, you don't want to be sending, "Hey, you just had a baby. Here's how to start saving for your child's vacation," to an elderly widow who she's got way different problems. So, the same content is not going to work for the same groups of people. So, you'll have them segmented in your email marketing campaign.
So, back to the landing page. Landing page, user opts in. They get a thank you page. They go to their email where they have an email from you with their download that they were promised, and also a nice little note, "Congratulations, you're on your way to solving this problem with this guide that I've provided for you. Inside you will find these details. At the end, you will be able to do these things. And by the way, I'm here to help you. Here is my link to schedule a call. If you're not ready yet, don't worry, because we're going to be sending you our most popular resources over the next 3 weeks," or whatever it is your sequence is set up for. "We cannot wait to kick off this relationship with you. Please don't hesitate to reach out with us if you have any questions or you need help with any of this."
So, that's their experience. They've gone, they've seen your ad, they said, "Hey, I need that." And they go, they click on it, they opt in, they get their thank you page, they go to their email, they find their email from you, they get their download. And also what that does is it kind of for them bookmarks where it is in case, let's say, they're sitting in the doctor's office and they download it, but they get called back and they can't read it right now. They know where to go find it. When you do the pop-up thing, they're going to lose it or... You know what I'm saying?
Michael: Yeah.
Olivia: They're not going to go through the effort to go back and find it when they're ready to read it. But if they know, "Oh, yeah, it's in my email, I'm going to check that out when I come back to this problem." So, that's sort of the way we set that up. And then your welcome sequence, it starts with that 1st email that we just talked about where they receive their download. And then maybe in the next 5 to 6 emails, you share some information about...
Michael: Wait. You're already 5 to 6 emails ahead of what most advisors I know do at all. It's like if we're lucky, there is an email list and I bought some service that gives me emails that get sent to my clients once a week, or once a month, or whatever frequency I bought from the third party service.
Olivia: Yeah. But there's so much opportunity.
Using A Welcome Email Sequence To Build Prospective Client Relationships [41:50]
Michael: What are these 6 emails that I am probably not writing so far?
Olivia: Yeah. So, hold on. There is a science and art to writing a welcome email sequence. And I like to base a lot of what goes in those based on assets that the advisor has existing, or ones that we can create to share. Because I don't want this 1 asset that they got to just be the only thing that we're going to give them over the period. So, let's say this nurture email sequence is 7 emails long. The 1st one is the one we just talked about, the welcome, deliver the asset email. "Thank you for downloading. You will learn this. Here is what to expect next. Here's how to get in contact with me," etc.
Then the 2nd email maybe...I like to structure as problem and solution. So, based on what kind of asset they downloaded through you, whether it was retirement or inheritance, whatever the pain point is, we're going to present a story in this email about this main problem, and some possible solutions, and maybe even a short little case study with it. So, they are like, "Oh, yeah. Okay, that's a problem that I have. And I see that there are these solutions. That's pretty cool. Okay, next." So, next email I like to...now, I know some advisors are still weird about testimonials, but they are allowed, so I like to do a testimonial email, share some feedback from clients that you've worked with.
And then maybe the 4th email's going to be your 2nd free resource. So, maybe it's... I'm trying to think of a good one. I can only think of my own because I was just working on it. But for example, in my welcome email sequence, you get a welcome email template, how to write your own welcome email template, and other free resources like a blog check list, what to do with your blog after you write it, ways to squeeze the most juice out of this blog investment that you've made. And just other little things like that that can be helpful, that highlight the different services that you have.
Maybe the 5th email is about the team, or your origin story of your firm. Folks always love a good origin story. The 6th one we might do like a paradigm shift email where we take some popular beliefs or ways of thinking about wealth management, and sort of flip it on its head. It's sort of a surprise. I saw a good headline this morning that sort of reminded me of a good paradigm shift. And his headline in LinkedIn was like, "If you die with $5 million, I've failed at my job," or something like that. And I was like, "Well, isn't that a different shift?" I really like that. So, just something like that, something unexpected.
And then always the last email in the sequence is going to be very short, to the point, and it's basically asking for the call. Not, "Hey, please book a call with me. I'm desperate for a new client." But in a nice, "Hey, we hope that you've enjoyed all of these resources that we've sent over. It was my hope in creating these that you would get a sense of who you are, and be able to see some of the value that we offer our clients, and be able to determine for yourself if you think you'd be a good fit. If you do feel like these services would be right for your situation, we'd love to meet. Please schedule call," blah, blah, blah.
So, will they do it? Maybe. Will they? Will they not? Maybe. So, what happens after that? Are they just going to disappear?
Michael: Wait, wait, wait. I've got some following questions on this. So, how rapidly am I sending these 7 emails?
Olivia: Honestly, I put the 1st ones pretty close together. So, the 1st one is going to be immediate. You want that one to get there quick, especially if the person is looking to read your resource right away. We don't want them to have to wait 24 to 48 hours to get it. This way, this must be automated in your email marketing platform for immediate delivery. Then in your email marketing platform, you'll set up your customer journey. And in between each email it'll ask you how long you want to wait before the next one sends. So, you'll put the trigger for the download welcome email as immediate.
I like to send the next email within 24 hours. And then maybe the 3rd email will go out 48 to 72 hours after that. And then another 72 hours for the next one. And then maybe I'll push it out a little bit longer, like 4 days, 5 days, 6 days. But I like to have a cluster in the beginning. It's that old, "Strike while the iron is hot," type deal, keep them engaged, keep them moving through it. You can also, I think, set up 2 options where if somebody is opening all of them, they can continue to receive them at a faster pace, or if they don't, then they can go at a slower pace. So, you can branch your funnel out into...or branch your sequence out into different quadrants, or whatever, based on the user behavior. But overall, I would say they should get the whole sequence within a month.
Michael: Yeah, I was going to say, 3 or 4 weeks in total, it sounds like, to get through the whole thing. And so, the idea is just if I'm pouring emails into the top of this list, as it were, I've got a good lead magnet, I put a thing out there that people actually want to turn their email address over for. I'm mentioning it on social, or I'm outright paying for social media ads to get it out there. I'm getting a flow of emails into my list. I'm sending them a seven-email sequence. If it's hopefully reasonably relevant and resonating, some subset of people should actually schedule a call with me by the time they get to email number 7 that asks them to schedule a call.
How Using Email Strategies Can Nurture Prospective Client Relationships [48:09]
Olivia: Yes. Now, there are...just for what it's worth, I feel like it's worth mentioning, there are texting capabilities too. So, you can actually...I wouldn't recommend trying to set this up on your own, but you can also set up funnels from the social media advertisements that text people too, alongside the emails. So, that's also a possibility.
Now, so what happens after they get the last email? You don't want to just...you shoot your shot in the 7 emails, and then that's it, right? Because some people just aren't ready. Some people might be on the verge of one of those moving money moments, life transitions, they're just not quite there yet. Or they are interested in working with an advisor. Maybe it's a different advisor than the 1 they currently have, but they're not quite ready to make the jump. They're in that sort of research phase.
So, you want to keep dripping on them is the word everybody uses, even though I hate that word. You want to keep the relationship open and alive. So, that's why I like to put my advisors on a schedule where each month they have new sales emails going out to their prospect lists. Just to keep things fresh, you can talk about timely things within there that are happening. For example, the debt ceiling crisis was something we talked about a lot.
Now, don't get me wrong, don't go out sending a 2,000-word email talking about the history of the debt ceiling, and the 500 possible outcomes, and all of these things. But it's a good starting point for that long-form sales email. But to keep relevant on top of mind with these folks.
Michael: And so, for folks that are getting started, you mentioned earlier the welcome email templates that you've created. So, would you be willing to share with folks that are listening, the welcome email template, if they want to see what one of these sequences looks like in practice?
Olivia: Yeah, definitely. What I can do is provide you with the link for that, and then anybody who wants access to it can grab it from the show, if that's what you mean.
Michael: Yeah, that would be wonderful. So, for folks who are listening, this is episode 351. So, just if you go to kitces.com/351, we'll have a link out for Olivia's welcome email template, if you want a little bit more of a feel of what this looks like in practice.
Olivia: Yeah, definitely. And then if you need some guidance for the rest of the sequence, Donald Miller does a really good job of talking about building your first sort of sales funnel type deal. So, if you are DIY-ing it, I would go to his resource is.
Michael: So, "Building a Story Brand" I know is his book.
Olivia: Yeah. Or "Marketing Made Simple" is his other one. And I think that's the one that can give you some ideas for your first sales funnel. And he even has some worksheets, I think, that you can fill in with your team if you're just doing this on your own to get started. It's a really, really great place to start. And it does sort of force you to look at some of those things that we talked about your ideal client profile, and your target audience.
Michael: So, you said each month you're sending out a new sales email. So, at least when I hear that, sales emails like, "Hey, ready to give me your life savings yet?" Obviously, maybe you are not that blatant. But I'm just in their face asking for their business, which some advisors are fine with. I know a lot of advisors, they feel uncomfortable with that. It's too pushy, it's too awkward, it's not appropriate. But what you're describing in email about the debt ceiling, that's not a, "Hey, are you ready to give me your life savings yet?" That's more educational. So, what does sales email mean? Or how does a debt ceiling crisis email become a sales email? What am I doing that's going to make that business?
Olivia: So, I really like to... Okay, well, I'll just say, what is the anatomy of a long-form sales email, right? A long-form sales email is sort of what it sounds like. It's text only. Typically, you will receive these types of emails, and they won't be big chunky blocked paragraphs. It'll be a few lines with some white space and few lines. They're easily scannable. They typically tell a story of some sort that is going to be related to something personal that has something to do with your life, something that's going on in the world. And then we find a way to strategically bring it back to the business that we run, the services that we offer, the value that we provide in light of the things that are going on.
So, let's say we wanted to talk about the debt ceiling, or let's say something like changes to the Secure Act, or whatever. But what's the point of talking about it? You have to think why might this person be interested in hearing about it? And the answer is always going to be because they want to know what's in it for them. "How is this going to affect me? How is this going to affect my finances?" And you are going to tell them your opinion on it, of course. But then you can...that's going to be 60% to 70%, 80%, maybe even 90% of your email.
That last chunk of the email is going to be tying it back into what it is that you do. So, "Many of our clients have been worried about this situation for fear of maybe this event is going to push us into a recession. And here's why you shouldn't worry. We are always making sure that our clients are abreast of the most pressing financial news, and how it's going to affect them in their portfolio. If you have any questions, please be in touch. As always, we're here to help. Conversely, if you think that this type of advisor relationship would be helpful for you, please schedule a call with our team. We'd love the chance to discuss it with you," and blah, blah, blah.
So, it's not a whole sales email about you. Please, no, don't do that. That will look bad. But it's going to be a very conversational in nature. We can talk about something that's happening. We could talk about yourself. For example, one of my most popular emails that I ever sent was about Mother's Day, and what I did over Mother's Day weekend. And then I took that email and that story, and the story of myself at the top. Then I explained why I shared that story, and showed how the different parts of that story could relate to different people who were reading it. And then I tied it into the value that I have, which is writing these types of emails for you to get engagement in your emails, and to get people to book your call.
I mean, there's a couple of different ways to approach the long-form sales email. But when I say sales email, it really just means we're sending some correspondence to the people who are not yet clients, and we're adding a CTA for them to book a call. Maybe we're providing in the footer area different ways they can work with you if you have different service structures. I know some advisors will do one-time plans, or there's one-time and ongoing, and then there's one-time, ongoing with assets under management. You can kind of...you use your model to build the sales emails. They're definitely something that takes some practice. And not that you can't do them yourself, but just try something else.
Michael: And what am I asking to do? Become a client, schedule a meeting, schedule a call, what am I trying to set them up for?
Olivia: Well, since they're already in your email list, we are at this point asking them to schedule the call. Yes.
Michael: Okay. And so, you said each month you're doing new sales emails. So, is the idea I'm sending clients 1 email a month, and everyone has 1 of these, like something going on in the news that brings it back to the value of my business in light of what's going on. That prompts them at the end of the day to schedule a call to meet with me, and that's my email that I send every month? Or is there other stuff I'm supposed to be doing as well with this nurturing email drip?
Olivia: Oh, well, I like to send 1 sales email a week actually. Well, not 1 sales email a week, but I like the prospects to get at least 1 email a week. So, a lot of my advisor clients do a newsletter. So, 1 of the weeks out of the 4... Standard month is 4, yeah, I know. Sometimes we have 5, but...
Michael: I hate 5. Those 5th week months just really mess with... Everything is so much easier to schedule when it's just on four-week cycles. So yeah, we'll only talk about four-week months.
Olivia: Okay, we'll just pretend in an ideal world we live in the four-week months. I mean, that's the majority of them anyway. So, one of the weeks everybody will receive the newsletter. That's prospects, COIs, clients. Anybody who's in your email list, you can share your newsletter with. Do we still have a CTA at the bottom for people who aren't clients? Yes, we absolutely do. But it is not only prospect facing. It is intended to share whatever you're doing around the firm, share the recent things that you've been doing. Stay top of mind. You can provide updates.
There are a million things you can do with the newsletter, which is why I think if you hear the word newsletter and you immediately go, "Oh, that's not for me," then clearly you are not subscribed to any good newsletters, because newsletters can be anything that you want them to be. And when they reflect who you are and what you stand for, they can actually be a lot of fun, and people really enjoy them. So, if you are on that camp of, "Newsletters are dead and a waste of my time," I really encourage you to reconsider. They have a really high open rates for my folks, and their clients just absolutely love them. So, that's just my soapbox on that.
But 1 of the weeks they'll get the newsletter. And maybe in the 2 other weeks they're going to get that e-blast with the most recent podcast episode you did, or the the blog that you put out. And then in that case, we really only have 1 other week to fill. And maybe we fill it with a sales email. But let's say you aren't blogging regularly, or you don't have a podcast that you want to send out. Then I would recommend doing, like I say, your newsletter, and 3 long-form sales emails. Here's the thing, right? And I feel like this is worth saying here as any...at this juncture as any time, right? There are a million different things that you can do in marketing, and there's not 1 cadence, an email cadence, or social media cadence, that you can say, "Advisors, this is the way. I have the silver bullet in my hand. And only if you sign up with my firm will you have the answers." This is just ridiculous.
And I liken this also to training in the gym, right? Because you know, I'm a bodybuilder, so I like to make these analogies. This is what my whole podcast was supposed to be built on. I'm not that great at following through on that, but if somebody comes to a personal trainer and they're like, "Oh, I want to get started in fitness," his plan is going to be a lot different from the guy who's been training for 15 years, and so too will be his goals different because if you're just starting out, there's so much room for improvement. You're probably going to make some...hit some strides pretty quick if you're going from 0 to whatever. And then the guy who's already been lifting for 20 years, he's going to be happy with 1% to 3% incremental gains.
So, it's really hard to just...I really try to stay away from being prescriptive, and just give examples like, "Here's an example cadence, here's an example package, here's an example," whatever. But the reality is that until someone gets deep into your marketing, and they can see what you've been doing, and identify areas of opportunity, I just don't want anybody to take this advice as, "This is the way," because there are lots of ways, and not every way is going to work for every advisor. So, in that way, it's good. I mean, we can all kind of pick the things that are going to work best for us, and pivot if it doesn't work.
Michael: I think I'm just struck that you have a process that has a lot more, just as you frame them, sales emails in a world where I feel like most advisors have...I mean, truly, often none. Just regular stream of contents, like, "Look at the cool stuff we do. Look at how smart we are," is usually some version of that at the end of the day. "I'm going to demonstrate my expertise for you on an ongoing basis. And if you want more of this, reach out and do business with me." I'm struck by both how many sales emails you're talking about, and just the overall cadence of emails that I feel like a lot of advisors are probably listening to this saying, "That sounds too sales-y. Aren't people going to be bothered that it's so many emails, and we're being so sales-y?"
Olivia: 1 email a week? Well, okay.
Michael: Is that in our heads? I'm channeling what I hear. I'm not trying to pass judgment on it.
Olivia: No, no, it's okay.
Michael: We send ginormous emails every day on the Kitces platform. So, everybody does different models. But for most advisors, I feel like sending a sales email every month feels like a lot, sending an email every week feels like a lot. So, is that in our heads, or...
Olivia: Well, I feel like it's a very outdated view, right? The world is moving so much faster these days. Content is getting digested at an alarming rate. And not just your content, everybody's content. If you actually want someone to remember you, once a week is a minimum. I mean, yes, they are... I mean, here's an example, right? I had a prospect come to me this week, and we... Let's see. I guess he started following me in May or June. And he reached out at some point to get on my email list. And so, I added him to the email list. This was because 1 of my social posts, it said, "DM me to get on the newsletter." So, he did, and I put him on. And of course, he got my welcome email sequence, and he started following me on LinkedIn.
So, he saw my LinkedIn every day. And he said since...he was very impressed. He said, "Since we connected in early June, I've received 14 emails from you and I love them all. I put them in a folder on my desk so that I can reference them when I need to." Why? Because your sales email is not just a sales email. Your sales email should be adding value. So, you are sharing information with them about something that's going on in the world that they need some expert opinion on. Or you're giving them a tip that they can use. Or you're showing them a different way of looking at things with that paradigm shift email.
And so, they look forward to reading what you have to write because the sales part is just at the end. And when they're ready, they'll know what the next steps are to take. Now, you cannot expect people to know what to do next. You have to tell them. Or ask them, "If you're ready, this is what to do next." People need to be given the option of what are the next steps, understanding what your process is, how to get in touch. These are things that we can't just assume that people know. And even if they could figure it out, you have to remember that we all have so much going on in our day-to-day lives. I think of Times Square in fast mode, right? Everything is just moving so quick where our phones, our emails, everything, we're just getting inundated all the time.
So, sometimes it takes less energy for our brain to just say, "Oh, click here. Okay, I want to schedule a call, click here. Okay." I don't have to use a lot of energy to do it. There's less friction, so I'm more likely to do it. So yes, the sales emails, maybe they come once a week, maybe you send twice a week.
If you write nice emails that people look forward to reading, even if they don't buy, they will continue to open it, and look forward to reading it. If you don't have a high open rate, maybe it's time to sort of re-evaluate what you're putting in those emails. Maybe it's time for a refresh or something.
Michael: And what's a good open rate for advisors that have no basis for comparison?
Olivia: So, 30% is pretty good. We get some that are higher, 40%, 50% those are usually on more client-facing correspondence because they're already sort of invested, engaged in what's going on. But in a general email, I would say high 20s, low 30s is a good number to shoot for.
Michael: And so, then in that vein, just if I've got a mailing list of 100 people or 1000 people, whatever the number is, how many...what's a realistic expectation of how many are going to respond to these sales emails? How many people should schedule a call with me at the end of the 7th email of my seven-email welcome sequence? How many of the people on my list should be scheduling a call with me after my once-a-month sales email? What's a normal expectation in the first place?
Olivia: That's a good question. Honestly, I don't have an exact number to give you, mostly because...here's the thing about your list. This is important. It kind of depends how you got the people in the email list. So, I guess in a perfect world, in a control experimental situation where we got everybody in our email list ourself from these organic or paid methods. We didn't have anybody else in there from the get go. And it was only our messaging that we were sending, and it was super clear and all of this stuff. We might be able to say, "Okay, here is a good number to aim for." But for example, remember I was talking about cleaning...
Michael: If I do live that world, what's a good number to aim for? If that is my...I got my list, I built it organically with awesome lead magnets, doing awesome things, sending awesome sales emails, what should I expect? Just most advisors, we have no context. I have no idea of if I get 1% of my list, you are God's gift to marketing. Or if you have a 1% of your list, you are a catastrophic failure. Most advisors have no idea.
Olivia: No, that's okay. I mean, it's not going to be remarkably high. I would say it's about 10% to 12% range from that 1st welcome email sequence you should see some activity. But that's just a period of 1 month, and those are the people that are going to be ready right now. Do you know what I'm saying? So, there might be people who are ready in a year, but it's going to take just a repetitive consistency.
Michael: That's helpful. If I'm adding high quality names to my list, and I'm taking through my email sequence, having 10 of them schedule at the end of their sequence...
Olivia: Would be good. Really good.
Michael: ...is a reasonable goal?
Olivia: Yeah, it's a reasonable goal. I mean, in a perfect world where you have the messaging is all aligned, and all this stuff, and we can say...we can for sure attribute it to that. So, that's another argument for keeping your list clean, is for example, you can pay people to go build you lists of cold emails, right? You're not going to get that kind of conversion on a cold list. You might be lucky to get 1%. Or I think the average in cold outreach is 2%. So, it's a big difference. And also keep in mind, there's nothing wrong with doing that, going and getting a list built for your ICP and sending cold emails. But those cold emails are going to be very, very different than inbound warm lead emails.
So, they're written differently, psychologically. Just as an example, cold outreach, you are going to do better with leading people away from pain, whereas with warm inbound tactics, your writing is going to be more, "Hey, do this for this outcome." But I mean, it kind of makes sense, right? Because people who don't know you don't want to be told what to do. But we all have an aversion to pain and loss. So, just keep that in mind. I wouldn't add a bunch of...I wouldn't go buy a list, and then start sending them your warm email welcome sequence. I mean, if you have nothing else, yeah, sure, you can try it. But there are different psychology behind that message. So, just approach it a little bit differently.
How Olivia Structures Her Marketing Strategy For Advisors [1:10:56]
Michael: So, now help us understand your business, what... Kick us all the way back. What do you do now in the context of this whole funneling system that we've been talking about here?
Olivia: Well, for me, it starts before we get to building out these processes. The 1st step is getting really, really clear on what it is. What is your business vision? What is it that you want out of...you could even say what is your life purpose, right? What is it that is important to you about financial planning? What are the types of people that you want to help? And interestingly, I saw an article yesterday in "Wall Street Journal" about advisors who are aligning more with their values and their purpose in their wealth management practices and will only work with clients who are philanthropically inclined, and want to do good with their money, and things like that.
And so, I think the 1st step is getting really clear on what your business vision is, and what you stand for so that we can share that adequately in your message to attract the kind of people that are going to be drawn to that type of service. So, that's always going to be the 1st step is building your purpose fueled vision, so you can feel good about selling your service. Your messaging should be so clear about what it is that you do, and you offer, that your ideal clients go, "That's it. He/she gets me. Get out of my head. I feel seen."
Then we take that message, and we work it into your strategy. So, 1 of the problems that I had when I was just creating content for advisors was that they were buying my content, and then I was helping them get it out there, like I said. But we really were not operating on any type of strategy based on where their target audience was, what their goals were, and things like that. We were kind of just plugging in. Like I said, it was really better used, better suited as a plug in for a larger marketing plan.
So, the 2nd step after getting the message clear is to take that message and work it into your marketing strategy. So, like I said, there's a million things you can do, but they aren't all going to be right for you and your goals. So, we have to identify the top 3 or 4 areas that we're going to pour our energy into. You're not going to go out there and try everything under the sun because you're just...putting a few drops in each bucket does not a full bucket make. So, we have to really look at what's going to work for that advisor based on the resources and infrastructure that they have when they come to us. And then put a strategy in place that's going to accomplish what we hope it will accomplish.
And then, of course, there's ongoing implementation. So, we typically start this area by updating the website to reflect the new message, fixing any SEO errors, building out any pages on the website that need to be built out for SEO, for Google's crawlers to see what it is that you do, and what you stand for, and who you help, and the services that you have, and all those great things that you want to show up for, rank for in the search. We got to build out your new email templates in your email marketing platform. And then, of course, we got to set up...this is where we finally get to the sales funnels and optimizing the social media profiles to be ready to facilitate those funnels.
And then we keep the marketing machine running each month to keep people coming in. And of course, monitor and adjust over time to deliver the most efficient results. So, it's sort of 3 steps. The vision, the strategy, and then the implementation.
Michael: And so, how long does this take for an advisor, go through this process to get all of this created and set up?
Olivia: So, the 1st step, that vision step, we're going to be interviewing you and any major stakeholders in your firm. Possibly talking to some of your top clients if you're comfortable with that, so we can get some real marketing gold from why they chose you. What value that your service brings to them? Things like how they felt before working with you, how they have felt after working with you, problems, particular problems that you've helped them solve, so that we can build that ironclad message that's going to basically be the backbone of everything that we do. And that period is 8 weeks.
So, at the end of that 8 weeks, you will have your brand-new messaging guideline, but you'll also have the marketing audit that we perform on SEO, social, and email. And our complete drawn out, mapped out for you strategy that you can either hire us to implement, we can help you train your in-house team to implement it, or you can take it and hire somebody else if you want to. It's yours to keep after the 8 weeks, or we can get started with implementation. And at that point, there's usually a few upfront investments that need to be made, like setting up the sales funnel, like writing and setting up the email nurture sequence, getting that infrastructure in place so that our ongoing monthly implementation plan is working. So, we have to build the machine and then we have to keep it running. Does that make sense?
Michael: Yeah, yeah. And so, these kind of 3 stages, essentially, like the vision step of figuring out what you want to be and how you want to position. The implementation step, we've got to build out the sales funnel, help you write your welcome sequence, get those infrastructure pieces in place. And then just the ongoing monitoring and support. So, I guess you're helping them write the sales email every month if they're not so inclined to write their own sales email, and helping them populate the other pieces of the ongoing drip?
Olivia: Well, we don't help...well, we help in the way that we do it. So, we're writing all of the emails, we're writing the new website, we're writing the ads, we're writing the social media content. So, then what ongoing implementation looks like for the point of the advisor because our solution is very much meant to be like an outsourced partner that comprises a marketing team that is cheaper than having to do it in-house, and also gives you access to experts in every area without having to hire an expert in every area you're in, and manage each 1 of them on your own.
So, each month, you will receive your new batch of content. So, it'll be the social post that we've made for you for that month. The emails that we've written for that month, the blogs that we've written for that month, or maybe if you do a podcast, you'll also receive your podcast notes. So, it's August. You've just received all your September content to review, submit to compliance. Once we get it back and it's all approved, we set it up for publication in September. And then the same thing will happen in September for October. So, it's just keeping everything alive. And of course...
Michael: You're used to dealing with IBD compliance departments that have a layer of review in this process.
Olivia: Oh, yeah, definitely. So, we don't perform the compliance on our end just because there are different situations. Some of our advisors do their own ADV, and they have an internal person who just reviews it. Others have to actually send it, like LPL advisors have to send it to someone to get it approved, and then it'll come back. Typically, we don't have issues with compliance. If there's anything, it's like, oh, if we forgot a source here, add a source, or change this word. But we very rarely...because we are all finance writers, we know how to write for financial advisors. So, we very rarely run into problems. And by problem, I mean edits. They're just minor edits.
What Olivia Charges And Her Typical Engagement Process [1:19:34]
Michael: So, then help us understand the cost for going through this. You said you're trying to be cheaper than advisors that hire to do it in-house. So, how does the pricing work for this?
Olivia: Right. So, this is... Well, I'm just going to be fully transparent here, especially for people who have worked with me before. This is a new model that we have put together based on the problems that I saw with, A, our old model and also problems in the industry at large. So, before, I used to do what, I don't know, the people in business tell you you should do that. You should have these productized service offerings, and 3 offers, a high, medium, and low, and there should be incentive for the medium and the high offer that they get more out of it, something. So, they feel like they're getting a better value or whatever.
And I always really, really struggled with that because of what I said earlier, which is everybody kind of does something different. So, even though I had built these packages, they were all...they kind of all had their own plans. I mean, we still use the same kind of tools like SEO, email marketing, social media marketing, but there were different layers, and different nuances from advisor client to advisor client because they had different businesses. And so, I always really struggled with that.
And I think that part of the reason that we moved to this model was to make it so that what we're offering is what the advisor needs and nothing else. So, we are not just going to just sell you some package of goods because they work for John Doe advisor client, because it might not be what works for you. So, the first part, the messaging part, the 8-week part, that runs between $12,000 and $15,000 for that 8-week period, which includes the interviews, the full marketing audit, the strategy, and a brand-new brand messaging guideline. And then...
Michael: And so, you charge for that on a standalone basis because the whole point is, "This is not our free gimme to get you into the next thing. You're getting the full value, you really can implement it yourself or somewhere else. So, we need to get paid for our value for going through this process with you."
Olivia: Yeah. And it's just super time intensive. If you imagine, our lead, who runs the interviews for the messaging, she's meeting with you once, twice, depending how many partners there are in the firm. It could be more than that. She's doing her own research. She's doing her own writing. She's putting together your guideline for you. Then we have the CEO lead doing his SEO audit of your website. And then we have the email marketing review, which I do, and the social media marketing review, which I do. And then I write the strategy that I would put into place if they decided to go ahead with implementation with our team.
So, I would say, "This is what we looked at. Here are your areas of opportunity, and this is what we would do if you hired us. And these are the outcomes that we can expect for you, or that we hope over the next 12 months." But even so, at that point when we present the strategy with those certain tools that we've identified would be beneficial for the growth of that advisory firm, then we would present our price at that time for the ongoing.
So, like I said, most of the time there are initial investments that have to be made to get the infrastructure in place. So, we say, "Okay, here are the things that we need to build upfront. This is what that will cost. And then ongoing on a monthly basis, if we use these tools and go with this strategy, this is what monthly implementation will cost. And also, there are different opportunities in the future. We can start here and build up to this." So, we kind of present different options to the advisor at that time so that they can make a decision that's right for them.
Michael: And just help me set some expectations, what's typical as an amount or a range for monthly implementation if I do need that ongoing support?
Olivia: Yeah. So, I think right now, I would say the low end is $3,000 per month. And then the high end, if you're doing everything the lead gen, the SEO, all of the pieces that we offer, that can get closer to $10,000 or $12,000. So, it really just depends, A, what your budget is, how fast you're looking to grow, and how much we have to do to get to that point in the period of time that you're looking to grow. And of course, there are going to be, warning, gut punches ahead because I will be the 1st to tell you...if I want to 10X my business in 12 months, I'm going to say, "Okay, we're not going to be the right provider for you because it's..."
Michael: I don't know that anybody's producing that level of accelerated growth. But yeah, expectations have to be reasonable.
Olivia: I'm just saying, I will just be very honest with you if I feel like your goals are unreasonable. And of course, part of that is kind of looking at how long you've been in business, how much you've grown in those years, at what rate, and what you were doing to get to that growth model. And then making some projections from there.
Michael: So, what can or should I expect from growth if I'm implementing this? What's reasonable in the first place? I should be able to get to another 3 clients this year, another client a month? Is it like a percent, "Look, whatever growth rate you're growing, we should be able to get you 5% higher growth than you've been, math is appropriate to whatever the size of your firm is." Just how do advisory firms think about what kind of growth to expect if they go down the process of building and investing in a marketing like this?
Olivia: Yeah. So, I would say on average, last year, our medium engagement client, so those who are sort of on middle of the road packages, not the highest end, but not the lowest either, were signing 18 to 25 new clients a year.
Michael: Okay, it's a big number for most firms.
Olivia: And most of them had minimum investable assets of $1 million to $2 million. So, that kind of gives you an idea for that.
Michael: Yes. I was saying, even for the average "mass afluent advisor" gets a...a half a million dollar client is a solid client, like 18 to 25 new clients is $10-ish million of new assets, give or take a little, if you're on an AUM model. And for what most of us charge on AUM, that's a pretty good ROI given that these are annually recurring clients who tend to be with us for 20 to 30 years. That's very long. That's very, very long-term profitable for the business.
Olivia: Yeah. And I mean, from my perspective, I want...I don't think that marketing is anything that you can just stop at any point in your business. And even if you're not marketing proper, say, to prospects to build and grow, you still need that client communication and outreach. So, it's my goal that I help you find clients that are going to stay with you for 15 or 20 years, and then I will also be with you for those 15 or 20 years. You know what I'm saying?
The Surprises And Low Points Olivia Experienced On Her Journey [1:27:17]
Michael: So, what surprised you the most about this path of now building your own marketing business serving advisors?
Olivia: I guess how much advisors struggle with marketing. And I don't blame them. I'm going to be very honest with you. It's not an easy business to sell. It's not a commodity, it's not a product. It's basically a lifetime, knock on wood, relationship. So, the marketing is just different. I mean, traditional methods don't work. And I think that's why... And I feel bad for advisors who try all of these crazy advertisement methods out there. Because here's the problem, right? A lot of these marketing methods and channels were not built for financial advisors.
What advisors I think don't understand is that a lot of these marketing companies out there are not built to serve financial advisors. They're built to serve online course creators, or people like that who have digital products they're selling, or things like that. They're not trying to sell a relationship-based service. And so, I have advisors coming to me say, "I've spent $30,000 this year already, and I have nothing to show for it." And say things like, "I guess when you go cheap, you get what you pay for. And I've just wasted all of this money." And from a marketing perspective, it's not the same as just mainstream marketing.
And even, for example, I got pulled in on an annuity product, to consult on annuity product sale because I was from the finance industry. And I was like even this, even financial products, selling financial products is different than selling financial services. I see so many advisors struggle, and I don't blame them because which option do you choose? If you don't know anything about marketing, what's the best for me? I don't know. And I think that's a terrible place to be in.
Michael: Yeah. Well, we saw it in the...all the way back to the 1st version of the advisor marketing research that we do on the Kitces platform. And we did the 1st one of these 4 years ago, and just looked at where advisors spend money on various marketing tactics, and what ROI they get. How much new business growth do they get for the marketing spend they have, whether it's, "We spend it on SEO, or we spend it on seminar marketing, or blogging, or social media," or all the different place that people spend? And the number 1 overwhelmingly dominatingly worst are marketing ROI in the study was marketing consultants, which I felt really, really bad about because I have a number of friends in the industry who I know are quite successful and effective at what they do.
But then I looked at it like, "Wow, if the successful ones are that good, and they're bringing the average more favorable, then the rest of the advisors spending on not well targeted or not effective marketing are really, really losing a lot of money in bad marketing spends." The story you were highlighting earlier, advisors who say, "I spent $30,000 on this marketing consultant strategy, and got nothing out of it." It's like a big goose egg. I've heard that many times over the years.
Olivia: Yeah, it's terrible.
Michael: It's very painful.
Olivia: Well, because here's the thing. And I went through this in my own business which I think is why I'm so passionate about it now, is that when you are in a position where you want to grow, or you need to grow your business, and you cannot find the answer, or you've thrown money into something that didn't give you a result, you can become very, very frustrated, and very not look forward to doing your actual job because all you can think about is this need, or this want to grow and expand. And it becomes consuming, and then it becomes a confidence issue, "Well, what's wrong with me? What am I doing wrong? Why am I so bad at this? Or am I too gullible?"
And then we have to reprogram our own thinking about ourselves. And it becomes really something that can be detrimental just to our mental health, and something like just growing our business. I knew that I hated the way that that felt. And I knew that I hated thinking about other people feeling that way, too. Because here's the thing. When you get in business to help people, and you don't have opportunities to help people, that's a big problem. You're missing the whole piece. And then if it comes to financial struggles or anything like that, too, that just compounds the sense of overwhelming dread.
And I was like, "How can I break out of this feeling and this cycle?" And I got kind of desperate in one point, and I was like, "Well, I'm just going to do what all the other marketing companies do." And I started... This is very fully transparent. I really cannot believe I'm sharing this, but I'm just an open book, so I can't help it.
So, my marketing started to go in a very strange place. I started to sound like all of these cringy ads that you see in your social media feeds that were like, "We can..." all of the stupid promise like, "We can 10X your business, here is our ROI." And it was all about numbers. And I was no longer even talking about helping anybody, or what the value was to advisors beyond just... And I was like, "No, I have to take a step back." And I had to really look at what I was doing and think about what I was doing. And what I did was think, "What are the types of people that I want to help, and why do I want to help them?"
And that made all the difference in everything, which is why I insist now that advisors we work with, A, have a bigger vision for their business than just generating more money, that there's a purpose behind them wanting to grow. And then sharing that purpose and that vision in their messaging to speak to the people that need that kind of help because it makes the sales process so much easier when the client shows up already...or the prospect shows up already a fan, already interested in buying. You know what I'm saying?
Michael: Yeah. So, what was the low point for you on this business-building journey?
Olivia: Well, okay, so it's been...I have technically been in business for 5 years, but I spent the 1st...the 1st year was easy. I don't know, I had this hubris, I guess, and I was like, "Wow, these people are just coming out of nowhere." I was getting a lot of referrals. I'm a good writer, and that's mainly what I was doing then was writing. So, people who are using me were very happy and shared me with their friends. So, I was like, "Wow, this is great. This is so fantastic." And I kind of just cruised for a few years because I was really into my bodybuilding thing, and I was trying to turn pro, and I did last year finally. So, that was July of 2022.
Michael: Congratulations.
Olivia: So, it's been about a year. Thank you. And so, then I was like, "All right, I'm putting my focus back on the business." I have managed to retain all of my clients. They're all happy. That's a win. Now I really want to work on this thing, and grow it, and see what it can be. I'm in business to help people. I want to help more people. So, I want to take it from this great lifestyle business to...because we went from just blogging to now my husband and I, we run the business together. So, it's our livelihood. It takes care of our whole family. And so now we're in a place where we were looking to scale, help more people, and see what kind of impact we could have, things like that.
So, when I first started working on it again, posting on social media, getting my emails out regularly, paying attention to my business, doing the things that we do for other people, I had so great success at the beginning, and then things sort of trailed off. And I started reading a lot. I was reading a lot of marketing books. And these marketing books, I think, got in my head. And I would just...the message that I was sending out was just so sterile, and it didn't feel like me. It was all numbers based. It wasn't about the people I was trying to help at all. And it just went against everything that felt right to me.
And so, that was really the low point when I looked at my own marketing and said, "This is cringeworthy." And I knew that what I was saying was not the right thing because the types of people that were getting on my calendar, because I was booking prospect calls, I know how to market, were not the right types of clients for me. They were not the kind of people that I wanted to work with. So, I knew that my messaging had gone to a place that was no longer reflective of me, and who I am, and what I stand for. And I really had to take a step back and say, "How can I best help? What does that look like for my clients?" And then go and make my messaging again from there, from scratch, basically.
The Advice That Olivia Would Give Her Former Self And Younger, Newer Advisors [1:37:16]
Michael: So, what else do you know now about just the building and the offering to advisors that you wish you knew 5 plus years ago when you were getting started in this direction?
Olivia: I wish I knew how important it was for me to look at their messaging because I would just jump in with what they already had and some were more developed than others. So, they had a clear idea of who their ideal clients were and stuff, but they still didn't have enough information. We have the demo information, we knew a lot of our clients are in this age range, and they're male or they're female, and they make this much money, and maybe this is the kind of job they have, and maybe they shop at Target. But we weren't talking about how they feel. What are the problems keeping them up at night? What are the things that are running into other areas of their life and making them miserable that have to do with their financial life, and how can we help them with that?
So, that was really when I was able to tap into that. And it wasn't that I didn't think it was important. It's just that I didn't know how important it was. So, then when I started working with new clients, and we did their messaging first, or rewrote their website first, it was just everything was just clicking. Things were moving the way that they should. And I was like, "Wow, this is really it." And it makes a lot of sense when I look at it in retrospect, because let's say for example, it's like going to the doctor, right? You don't just show up to the doctor and say, "Hey, this other guy over here diagnosed me with cancer. Can you treat it for me?" Or, "This guy over here told me I have kidney stones. Can you fix it?" The doctor is going to have to do his own checkup before he can give you a prescription or give you a protocol.
And that's very much, I think, true of marketing as well. You've really got to look at what you've got going on and refine your message before you go pouring money into it, because you could throw all the money in the world at it, but without a good message, the needle's not going to move, and you're just going to feel really frustrated. Whereas if you do have a good message, you're positioned for success, and everything is going to feel a lot easier. And you didn't work this hard to become an advisor, and do all this stuff to keep working this hard, to try to find people to help. Let someone help you with your messaging, let someone help you get that backbone in place.
And I promise the rest will be much, much easier from there. Even if you take it and you DIY it for a while, because it's not in your budget to have ongoing implementation from a provider. I mean, or if you're going to go work with a coach or something, whatever you do, all I recommend is that you put...you make sure that you have a great solid message first. And that is a very focused on your target audiences feelings, what they are feeling, what keeps them up at night, the things that they cannot stop thinking about, and are making their life miserable.
I mean, that's the easiest way to describe it really. But I really wish that I had done that sooner. But live and learn, here we are. I'm just glad that we got it figured out.
Michael: So, what advice would you give to younger, newer advisors maybe that are getting their businesses going today, and just want to get off on a good marketing foot out of the gate?
Olivia: Well, it's the same. You got to figure out who it is that you want to work with, and you got to learn everything that you possibly can about them. So, I presumably should know way more about financial advisors than anybody else unless they are actually a financial advisor, because that's my target audience. And in order to speak to them, I've got to understand all of those things about them.
So, I would say I'm very much...I'm going to champion niching down probably till the day I die. So, I would recommend picking a group of people that you want to serve, that you're uniquely qualified to help, and then getting really clear on what it is that drives them, all of those things that we just talked about. And then having someone help you with a message that can guide what you're going to do. Because with that message, you can go to someone to help you write social media post, or you can go to someone to help you write emails, or you can give it a stab on your own. But it's really hard to see the inside of your business from the inside of your business.
So, I really recommend working with someone, even if it's a business coach for a few hours, to talk through some of this stuff. It can really make a huge difference in anything that you're going to do on your own while you're getting started.
What Success Means To Olivia [1:42:20]
Michael: So, as we come to the end here, this is a podcast about success. And just one of the themes that comes up is the word success means very different things to different people. And so the business now is on this wonderful success path for you as you lean in and grow, and advisors getting 18 to 25 new clients from marketing system is phenomenal for most advisors who struggle with this. So, the businesses in the good place. How do you define success for yourself at this point?
Olivia: That's a good question. I think that I would feel successful if I could help other advisors also feel successful in growing their business to help more people like they set out to do in the beginning. That would make me feel really good. Now, you might ask yourself, "Olivia, but you just said that your clients are signing 18 to 25 new clients a year." Yeah, they are. I guess my passion, my sweet spot is in helping people get unstuck, and so that they can feel happier about growing their advisory business, and not feel icky about the marketing they're doing. That they feel that their marketing really reflects, "Who I am, what I stand for. This is me." And that they are able to use that piece of themselves to connect with those ideal clients that they would clone over and over again.
So, if my advisor client feels fulfilled in their work and I'm just a piece of that that is making that happen, that is success to me. And I will be happy to do that. I mean, I will work overtime every day to make that happen because I know just how terrible it feels when you're in that position to be stuck.
Michael: Amen. Amen. Well, thank you so much, Olivia, for joining us on the "Financial Advisor Success" Podcast.
Olivia: Thank you so much, Michael, for having me. This has been tremendous.
Michael: Absolutely. Absolutely. Thank you.