Executive Summary
For most clients and planners, the data gathering process is simply viewed as a necessary evil to obtain the information required to produce a financial plan. The planner proceeds through a long list of questions, covering everything from financial details to client goals and aspirations, recording it on a data form or notepad to be used later. A new approach is emerging, though - to complete the data gathering process using mind mapping, which organizes information visually, in a manner that both the planner and client can build upon. The end result is a data gathering meeting that is more collaborative and interactive, as clients become part of the process of building a mind map that takes shape before their eyes - and also becomes an actual takeaway from the meeting, as the mind map document itself is provided in print or electronically to the client as well. Which means in the end, mind mapping may be a way to improve the financial planning experience itself.
The inspiration for today's blog post is a recent conversation I had with financial planner Rob O'Dell of Wheaton Wealth Partners. Rob is a proponent of using Mind Mapping software to facilitate the data gathering process. Except as Rob noted, it has been so successful from the client's perspective, he has actually received referrals for people who also want to go through the process - a stark contrast from the experience of most financial planners!
What Is Mind Mapping?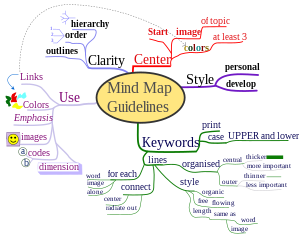 Created by British psychologist Tony Buzan, mind mapping is a graphic method of taking notes and capturing information, where a central idea expands outward into branches, and then further detail is added from there.
Contrasted with the traditional, "linear" approach to note taking, using a mind map relies more on associative thinking and the connections our brains naturally make in jumping from one concept to another. As a result, mind mapping is often considered an effective tool for brainstorming. The image to the right (from the "Mind Map" entry of Wikipedia) represents an example of a mind map - showing the guidelines of mind mapping.
The video below, by Gary Klaben (a financial planner who trains other planners how to use and apply mind maps in their practice), shows a basic example of how a grocery list exists as a traditional list of things to purchase, and how it would be organized as a mind map - where items to buy are associated with the aisles where they would be found, and grouped accordingly. Notably, often our brains are already converting lists into a more associative framework (read through a grocery list at the store, and you're probably already visualizing what's found in which aisle) - arguably, the mind map simply crystallizes the process.
Mind Maps In Financial Planning
So how might mind mapping work in the financial planning context? Instead of mind mapping the aisles of a grocery store and what you plan to purchase, imagine instead that the major branches of the mind map tie to the data gathering process. One branch might be labeled Family, another Assets and Liabilities, another Goals, and another Other Professionals. Instead of filling out the blanks on a data sheet in a linear fashion, the branches of the mind map are filled out with client information.
A key distinction, though, is that mind mapping a client data gathering meeting isn't just about a different way to organize the information for the planner; it's about organizing the data for the client as well. Accordingly, the mind map isn't just something for the planner to use to take notes; O'Dell puts the mind map up on a big television screen in his conference room, and he and the clients work through it together.
The Benefits Of Mind Mapping
What's significant to me about mind mapping in the financial planning context is that, as a result, the data gathering meeting shifts from a one-sided interview process, into a more interactive and collaborative financial planning experience. Clients aren't just answering the planner's questions. Instead, they're working together to build something that takes shape before their eyes. Thus, while I know some financial planners already use mind mapping to organize their own thoughts, the key distinction to me is having it up on the television screen for the client to see, participate, and engage as well.
From the client's perspective, the experience is also rewarding because they're building something that ultimately is for the planner and themselves - as O'Dell makes sure that the completed mind map is emailed out to the client at the end of the meeting so it's waiting in the inbox when they get home or back to their own office. Thus, the mind map becomes a useful reference sheet for the client, too - quite literally, making their understanding of their financial life more organized. It's the difference between saying we make our client's finances more organized, and actually making them more organized.
If you're looking to try it out yourself, O'Dell recommends MindGenius (30-day free trial available). You might also check out Gary Klaben's workshops, webinars, and other training services at Protinus on how to integrate mind mapping into your practice.
So what do you think? Have you ever used mind mapping yourself? Have you ever gone through a mind mapping process with a client? Do you think it would make the financial planning experience more collaborative and engaging for the client?