Executive Summary
When you first get started as a financial advisor, the reality is that there is a lot of time, and not a lot of clients. Which is good, because you're the only one available to get anything and everything done!
As the business grows, though, and especially once other staff members are added to the picture, the situation gets more complicated. Suddenly the things that need to get done involve multiple people, who have to coordinate. And there's a greater risk that tasks start to slip through the cracks, because there's a lot to do for existing clients, and prospective new clients, and running the business itself. It's time to begin introducing some process and structure to the business.
In this guest post, Teresa Riccobuono of Simply Organized (a professional organizer who consults with financial advisors about how to get more organized by creating systems and process!) shares some of her own tips and best practices about why creating processes and workflows are important, and how to go about actually getting started at it. Whether it's creating processes in the business itself, or processes for yourself to better manage your time, or processes that can turn into habits that make you more productive... the reality is that as any advisory firm grows, it becomes more and more necessary to systematize what you do, to ensure that your clients get the consistent high-quality service they expect!
So whether you're an advisor who has just hired your first staff member or two (or already have them and are struggling with the coordination to ensure that everything gets done by the right people at the right time), or you're looking for ways to improve your own time management and personal productivity by introducing a little more structure to your daily routine, I hope that you find this guest post from Teresa to be helpful!
---
I hear it all the time.
"Running a practice by the seat of my pants is exciting."

"Sometimes I follow a process and sometimes I don't feel like it, or I don't have the time to do so."

"I prefer to tailor my process to each client, personalizing it, making them feel special."
These are some of the myriad reasons why many advisors shy away from developing systematized processes for the routine actions they and their team perform in order to run an advisory firm business.
This strategy may be acceptable when you are just starting out, but poor processes expose themselves as the firm grows and more people become involved.
Processes help when a team member leaves and you need to reallocate tasks to other members of your team, when you need to add a replacement team member, or when you grow your total team and need to adjust the flow of who does what. Processes act like an operations manual.
And if that's not a good enough reason to change your thought process, consider the fact that consistency garners trust, and trust equates to how referable your clients think you are. You may think you are fooling your clients with your seat-of-the-pants way of doing business, but you are not. They may love you and accept you the way you are, but their uncertainty about what you'll actually do (or not do) for the next client makes them hesitant to refer others to you.
Not to mention, your team is possibly experiencing a high level of frustration.
I'm not saying that you have to develop a process and then follow it blindly, to the letter, each and every time. I am saying that processes help you and your team deliver consistent, quality service that your clients can count on.
Accordingly, in this article I will share some of my tips and best practices on how to create consistent processes – including sample workflows – along with tips about how to systematize other parts of what you do as a business owner to improve your personal productivity.
How To Create A Workflow Process
Most financial advisor CRM systems allow for the setting up of events, processes, and workflows. Having a formal process means that the single "task" to be accomplished is automatically broken into sub-tasks, each of which are established in a clear timeline, including what must be done and who will do it. A workflow means automating that business process (or at least the oversight and management of the process) within your CRM.
Creating A New Client Onboarding Process
For example, conducting a meeting with a prospect can be set up in your CRM as a workflow – an event and/or series of processes – which will automatically schedule the requisite tasks, assigned to the person on the team who is responsible for one or more of the nine steps.
Thus, once the appointment is scheduled, with one click of a button, a series of next action steps begins, with alerts to the relevant team members. An example of a new client workflow process might look something like this:
An introductory packet (including any data gathering "homework" assignment) is sent out via mail or email within 24 hours of the prospect's meeting request.
If a homework assignment is required for the initial meeting, contact the prospect(s) one week prior to their appointment to see how they are doing in gathering the necessary information.
Also one week prior to the meeting, conduct a search of Google, Linkedin and YouGotTheNews, looking for commonalities or topics of conversation.
Three days prior to the appointment, the advisor calls the prospect(s) to tell them how much he/she is looking forward to meeting them.
The day before the meeting, the client service team member contacts the prospect(s) to confirm the meeting, and to be sure they are clear on directions to your office.
The day after the meeting, whether the prospect(s) became a client or not, the advisor contacts the prospect(s) or client(s) to thank them for their time and to see if there are any questions they thought of after the meeting. Also, let them know how much you enjoyed meeting them, and if appropriate, how much you are looking forward to working with them.
The day after the meeting, a follow-up letter (or email) is sent to the prospect(s)/client(s) recapping what was discussed during the meeting.
If they became a client, follow the new client onboarding process. If they remain a prospect, add them to the prospect tracking and drip marketing
If the prospect(s) were referred to you, reach out to the referral source to let them know you connected with the prospect(s) and thank them for the referral.
Below is an example of what steps you might track as part of your new client onboarding process. A quick review will illustrate which items have not been completed.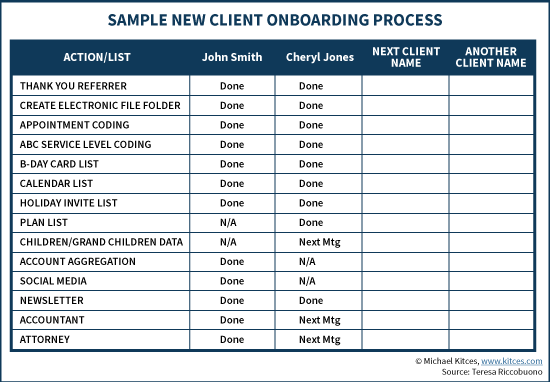 This process is head and shoulders above what many advisors are doing today, which looks more like this:
Take a call from a prospect. Chat for a few minutes.
Schedule an initial meeting.
Hopefully, remember to confirm the meeting.
Scramble a few minutes prior to the meeting to prepare for it, hoping the prospect shows up and has whatever is needed.
Schedule the next meeting if the prospect agrees to become a client.
If he remains a prospect, add him to the newsletter distribution list and hope he contacts you again someday.
Sample Client Appreciation Event Process
Creating formal business processes isn't just for the work that you do directly with clients and prospects. It's relevant for anything that might be repeated over time within your business.
For instance, another business process you might formalize is how to conduct a client appreciation event.
Here's what the first few steps for a client appreciation event might look like:
Ten weeks before the event, determine objective, target audience, quantity of guests and budget for the event. Determine topic and/or presentation.
Nine weeks before the event, contact wholesalers for interest and availability. Determine audio/visual (AV) requirements. Select date. Before selecting the date, check the Chamber of Commerce site for local schedule of events, check the football/baseball schedule. Basically, look for conflicting events. Once the date is set, block off time on the advisor's schedule for the day after the event to make calls to guests and write thank you notes to attendees, wholesalers and others who helped with the event. Block off the afternoon of the day of the event if it is an evening event. Block off time on the calendar for weekly meetings to discuss event preparation, include time for a recap meeting after the event.
Eight weeks out, select venue. Discuss capacity, menu options, AV availability, private room, cost, payment options. Pay attention to parking, lighting, entrance location, valet parking
Seven weeks out, complete and submit any paperwork to corporate office, create a save-the-date card and submit for approval, unless you are using a pre-approved card/invitation
I'm not going to go into all of the possible steps. You get the idea.
Here again, once the process is developed, it can be created as an electronic process or partially automated workflow in your CRM system, such that with the click of a button all of the tasks can be scheduled out and assigned to the appropriate person. In other words, once you build it the first time, each instance in the future that you're going to do a client appreciation event, it just takes one click to assign all the steps and roles to the right people to get it done!
How To Get Started Building Your First Formal Business Process
Before trying to structure business processes into an automated workflow in your CRM, start out the old fashioned way: on a white board, or with a simple piece of paper. If you prefer technology, a Word document or mind mapping software will work too.
The point is, create the process and corresponding steps outside of the CRM, then test it out a few times to see if you have the correct order and timeline for each step. Once you are satisfied with the outcome, then create the workflow in your CRM. It is much easier to make changes on paper or in a document, than to rearrange steps in the CRM workflow after it's been created. (Though it can be adjusted if necessary, as your workflow processes will change over time as your business grows and evolves.)
If you are not currently using a CRM system that allows for workflows and processes you may want to find one, but you can certainly start out by using Excel instead. It will take a bit more diligence on the part of the team, since you will not have automatic alerts and tracking that a proper CRM can provide, but a weekly team meeting that includes a review of steps tracked in Excel will insure the implementation of a smooth process.
Using Processes To Improve Personal Productivity
Another process I employ is regarding activity management. I don't use the term time management, since we cannot truly manage time. The clock keeps ticking and we can't hit a reset button if we want to start the clock over. What we do have control over is our activity, and what we do with our time.
For those of you who know me well, you know I am a big proponent of adopting a "model week" approach, sometimes referred to as a static calendar. In conjunction with the model week, I help advisors and teams develop a master calendar for action items that occur less frequently than daily or weekly. Once the master calendar is developed, there is a process that goes along with managing these activities, which looks like this:
At the end of each month, the team sits down together to go over the next month's master calendar activities.
Each activity is delegated to someone on the team.
Each activity is scheduled for one of the four weeks of the month.
Work on your assigned task during the master calendar block of time on your model week.
I have had advisors tell me that this simple process has changed their practice from reactive to proactive. This follows Stephen Covey's Time Management Matrix approach of Importance and Urgency, where the goal is to spend your time focused on activities that are Important without being distracted by those that are Urgent (which allows you to focus on the Working "On" the Business activities, as well as everything that must happen in the business).
In the context of financial advisors, the way to manage this approach and focus your time is to develop a master calendar for activities that you deem important for the successful running of your business, and then dedicate time to accomplish those activities. A sample Master Calendar is shown to the right.
A Process To Keep Track Of Good Ideas
Another process that financial advisors often overlook is the process of handling all of the good ideas that may come to mind, whether reading through articles or from attending industry events. Unfortunately, these ideas often end up in a pile in the corner of the desk, or stuffed into a desk drawer. And all of the good ideas garnered at these events are worthless if they aren't implemented... which then makes it feel like a waste to have spent all of the time and money to attend when no positive outcome is gained.
To keep track of good ideas, I have several Word documents that I call "living, breathing" documents, since I add thoughts and ideas to them regularly.
My favorite and most utilized document is called "One-Liners". I have segregated a variety of short statements or questions by category, so I can quickly find what I am looking for. Some of the items are reminders or suggestions for the advisors I work with; others are questions to ask or statements that advisors can make directly to their own clients.
Here are a few tidbits I have under the "long term/financial planning section" of my One-Liners document:
You may have been on track one or two years ago, but now you may be behind.

Annual planning catches problems while they are still small.

Let's just get started now because it's never going to be "just the right time".

What do you want to accomplish? What's standing in your way?

Rather than wonder where your money went, tell it where to go.

If I were to help you stay accountable, would your chance of success increase?

Retire to something, not away from something.

I enjoy working with clients like you who are nearing retirement. It's an exciting but confusing time and I am thrilled to be working with you to help you plan for your retirement goals.

The financial planning fee pays for my intellectual capital. My years of knowledge help me create a strategy that best suits your needs and situation. The planning fee does not pay for the book, binder, or document. That is just how the information gets distributed to you.

Do you know exactly how much money it is going to take for you to retire comfortably and remain comfortably retired for your entire life? Would you like me to sit with you and help you figure it out?

Most financial planning starts with an assessment of goals. As important as these are, they don't provide you with the big picture, the "why" behind the rest of the plan, your values. Goals are the tangible results you seek, while values are the intangibles that make the pursuit of those goals genuinely meaningful to you. Conducting a values exercise will help us develop the big picture.

I would encourage you to try planning for one or two years. If you are not satisfied, don't continue.

I design a financial plan built around your life goals, then help you implement your plan to get all of your resources aligned with those goals. We track the progress over time and help you make changes to your plan so you stay focused on your dreams.

Do you think the planning process is more or less likely to increase your rate of success?

There are four things that you have control over; how long you work, how much you earn, how much you save, and how much you spend. Together, we can develop a plan incorporating these things.
Other sections of the One-Liners document, with a couple of examples of what falls under a particular section:
What I do

For a select group of investors (clients), I'm a personal CFO. I help them navigate all critical financial events and help them plan for the things that we hope never happen.
I help people improve the number of good decisions they make regarding their finances.

How I help people

I care more about you and your money than anyone who doesn't share your last name.
I tell you the things you need to hear and then help you deal with them.

Investments

It is important to me that you understand the difference between index returns and your family index. When you understand how important your family index is compared to what the media and newspapers are discussing, you will be able to disregard the "noise" you hear from outside sources and have comfort in knowing that your family index is really all you have to be concerned with.

Risk
Fees
Insurance
Data gathering
Referrals

If you were sitting in my chair, who is the first person you would like to have sitting in your chair?

Triggering events
Setting the appointment
Turning a client away
The initial meeting with a prospect
How I get paid
Procrastination
As I mentioned, I add items to the appropriate section regularly. What started out nineteen years ago as one page, is now twelve pages. And at least once per year I review the document in its entirety to refresh my memory.
Other living, breathing documents I have are related to marketing. I have one document that has fact, figures, and miscellaneous notes regarding marketing. I have another document listing local venues. And a third document listing event ideas. As with the One-Liners document, these documents get added to regularly. This is the simplest way I have found to keep track of good ideas in an easy to locate manner.
Similarly, whenever I read an article, listen to a webinar, or attend an industry event, I review my notes once back in my office. I then break the ideas into three categories:
Ideas I want to implement within the year
Ideas I want to keep track of in case I want to implement in the future
Ideas that are good, but not something I will implement
For ideas I plan to implement in the near future, I develop a plan for implementation. For ideas that I may want to implement in the future, I add them to the appropriate document, such as the event ideas document. I review this particular document when I am developing next year's business and marketing plan. This is when I decide which events I will conduct in the coming year. For those ideas I don't plan on implementing, I let those go. An idea may be a great idea, but a great idea for someone else. Don't hang on to ideas that you will not implement.
This process eliminates the creation of piles of good ideas sitting around my office.
Where To Begin In Systematizing Your Advisory Firm
For most advisory firms, there will be about 15-20 processes that form the core of how the firm delivers its financial planning process and services to clients.
You don't have to create all the processes at once. I encourage you to start with just a few. Consider starting with your client service model, including the meeting prep and follow-up, and new client onboarding, and move on from there.
If you are already a process driven firm, take time to evaluate each process from time to time. This can be done as part of business planning or you can focus on one process each month during a team meeting.
For those who want to create their own One-Liners kind of document to capture ideas, you can use a Word document, a personal journal, or a third-party application like Evernote (which automatically syncs across all your computers and mobile devices).
Benefits Of Formal Business Processes
In addition to keeping you organized, processes come with some terrific positive outcomes, 1) increasing trust and referrals from clients, 2) running a practice proactively instead of reactively, 3) improving team engagement with the firm and its clients.
Whether you tackle a four step process like the master calendar, or a forty step client on-boarding process, I encourage you to take action. The effort is definitely worth it in the long run, whether to be efficient with the future growth of your firm, or simply to improve your own work/life balance!
(Michael's Note: Teresa has offered to share her full "One-Liners" document as a template for advisors to use. If you're interested, contact her directly at [email protected].)