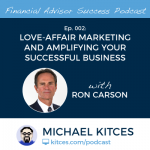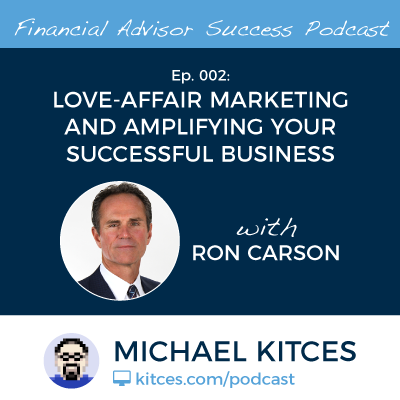 Welcome to the second episode of the Financial Advisor Success Podcast!
In this episode, I spoke to Ron Carson, a veritable legend in the world of financial planning. Not only has he been the top-ranked advisor at LPL for 25 years running(!), and is regularly recognized at the top of lists like Barron's for the size of his advisory business Carson Wealth, but Ron is also the founder of the Peak Advisor Alliance, and Carson Institutional… in addition to founding his own charitable endeavor, the Dreamweaver Foundation.
It's taken Ron considerable energy and determination to get where he is today, and this interview sheds light on all the hard work he's done to build such an impressive career. While it may seem like successful people simply spring into existence, I hope these interviews show you that all financial advisors, even those who have been incredible successful, still struggle at times.
And Ron Carson is no exception. In this episode, Ron talks candidly about his humble beginnings and the moment of physical, emotional, and professional burnout - when he was about to give up after failing to break $30,000 of GDC after six years - and how the actions he took in his moment of desperation actually turned into his career-making opportunity. He also shares the mistakes he's made along the way, including his slow adoption of technology, and struggles to delegate and invite other (über-talented) people into his business's inner circle. We also discuss Ron's thoughts on making your employees into stakeholders, how he juggles the advising, mentoring, and charitable businesses he's founded over the years, and more!
I hope you enjoy this second episode of the Financial Advisor Success Podcast! Please share your comments here on the blog of what you think, and I hope you'll leave us a review on iTunes as well (which is important as iTunes looks to reviews to decide which podcasts to make most visible for other financial advisors who are searching!).