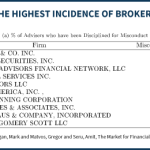 Given the intangible nature of financial advice, the reality is that financial advisors and their advisory firms rely heavily on perceived trust and their reputation in order to get clients. As a result, both advisors and their firms have a strong incentive to distance themselves from the "bad apples" of the industry.
Yet a newly released study entitled "The Market For Financial Adviser Misconduct" finds that market forces and the industry's self-regulatory mechanisms are failing to cleanse the bad apples. As a result, 73% of "financial advisors" (though the study actually analyzed FINRA-registered brokers, not fiduciary financial advisors!) who disclose a material misconduct event on FINRA BrokerCheck are still employed a year later, despite the fact that such brokers are a whopping 5x more likely to engage in misconduct again in the future.
On the one hand, the results of the research emphasize the importance of consumers doing effective due diligence using tools like FINRA BrokerCheck or seeking out services that "vet" advisors on their behalf (i.e., find advisors and brokers with clean regulatory records), and cast a positive light on FINRA's recent efforts (including overhauling the FINRA BrokerCheck interface, and soon requiring all brokers to include a hyperlink back to their BrokerCheck record on their professional pages/profiles).
At the same time, though, the fact that bad brokers have been able to persist so long, and find safe haven in a subset of brokerage firms that appear to have cultures that are 'unusually' permissive of broker misconduct - combined with the fact that the SEC improperly allows those brokers to hold out as "financial advisors" in the first place - raises the question of whether the industry's self-regulatory mechanisms are failing altogether. To the point that, similar to another "advisor sting" study from NBER several years ago, even researchers studying financial advisors and brokers can't tell them apart. As a result, is it any surprise that the President and the Department of Labor are pushing for fiduciary regulatory change?