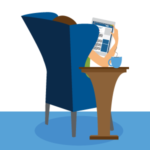 Enjoy the current installment of "weekend reading for financial planners" – this week's edition kicks off with the mega-news that Envestnet is buying PIETech, the maker of MoneyGuidePro, for a whopping $500 million as Envestnet seeks to further expand itself into a holistic "financial wellness" technology platform.
Also in the news this week was the news that the SEC's "Share Class Selection Disclosure" initiative has culminated in 79 investment firms agreeing to return $125 million in inappropriately collected or improperly disclosed 12b-1 fees in their hybrid broker-dealer relationship with the client, another study reinforcing that while consumers still don't trust the financial services industry they overwhelmingly (97%) trust their own individual financial advisor, the revelation that this week's College Admissions scandal actually emerged as a tip-off to Federal investigators from someone seeking leniency in a securities fraud case, the news that Ameriprise is getting ready to launch a retail bank (so their advisors will be able to offer banking products to their clients), and a new advisory firm loan platform from SkyView Partners that will allow firms looking to merge, acquire, or complete a succession plan to bid out their loan needs to more than a dozen different banks at once.
From there, we have several insurance-related articles this week, including the news that Genworth (the largest long-term care insurer) is indefinitely suspending sales of traditional long-term care insurance through advisors and instead will rely solely on direct-to-consumer telesales instead (a potentially chilling trend for the availability of long-term care insurance to advisors from other carriers in the future), a good primer on the rise of "structured annuities" with various Buffer and Guard strategies to partially protect against downside, and an interesting look at how a decade of "unexpectedly low" interest rates have caused life, annuity, and long-term care insurers to make changes to their policies and premiums that have adversely affected both advisors and their clients.
We wrap up with three interesting articles, all around the theme of the brain and how it works: the first takes an interesting look at the connection between our brains and exercise, particularly running, and the ways that running appears to stimulate our brain functions (for which we may have had an evolutionary bias in the first place); the second explores the emerging research on why the brain is so "noisy," and how the difficulty in being able to silence our brains may not necessarily be a result of "faulty wiring" but instead part of the brain's learning mechanisms and how it is able to take in so much information in a wide range of contexts; and the last looks at how, because human beings must take in information to survive, but also exist as "herd animals," that sometimes our need to be right can conflict with our need to feel socially connected... thus helping to explain why sometimes we'll ignore factual information that might otherwise change our beliefs (because it would also disrupt our social connections), and how the key to really changing someone's mind is to start by being more connected to them socially so the "leap" to new information doesn't require such a socially disruptive leap of faith as well.
Enjoy the "light" reading!