Executive Summary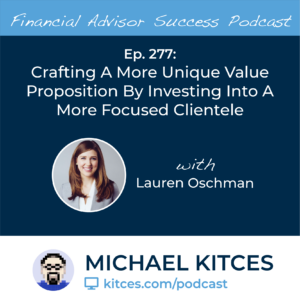 Welcome back to the 277th episode of the Financial Advisor Success Podcast!
My guest on today's podcast is Lauren Oschman. Lauren is the CEO of Vestia Personal Wealth Advisors, an independent RIA based in Nashville, Tennessee, that oversees $600 million in assets for nearly 500 client households.
What's unique about Lauren, though, is how she and her firm not only serve a unique niche of physicians, but have also built practice groups within the firm that serve niches within the niche, including female physicians and orthopedic surgeons, and have developed hyper-specialized services for their unique clientele that allow them to truly differentiate.
In this episode, we talk in-depth about how Lauren and her partners built a firm dedicated to providing a high-touch, customizable client experience that still fits into the busy lifestyles of physicians, how Lauren's firm developed services that help their physician clients with the unique challenges they face when it comes salary contract negotiations, and mortgages and disability insurance for doctors with highly variability income, and the way Lauren's firm has further specialized in student loans and helping physicians understand when they may qualify for potentially six-figure Public Student Loan Forgiveness for their non-profit hospital work.
We also talk about how starting her career at a male-dominated advisory firm gave Lauren a better understanding of the importance of inclusivity and diversity for women advisors, how Lauren, immediately after having her first daughter, took a risk to leave the firm she outgrew and launch her own in order to pursue better leadership and ownership opportunities where she could have a much greater impact on change, and why Lauren believes learning to communicate and working on human connection as a financial advisor are equally as important as learning the technical skills in how to build a financial plan.
And be certain to listen to the end, where Lauren shares how she views the adversity she experienced in her career as learning opportunities and uses those moments as inspiration for her own future and for future generations in her firm, how building a team within her firm has helped Lauren feel more fulfilled by having more people around her that she can uplift and impact the lives of, and how, while Lauren is still striving to further improve the workplace that she has created, it's looking back on how far you've come and how much you've achieved that really reflects the impact you've had on the world.
So whether you're interested in learning about how Lauren integrates her "made for you" philosophy into her branding and marketing, how she simplified her fee structure to create scalability in problem-solving, and how Lauren fosters community and work/life balance with high demands on both sides, then we hope you enjoy this episode of the Financial Advisor Success podcast, with Lauren Oschman.
Never miss a Financial Advisor Success podcast episode! Get notified of the latest episodes (and all our research as it's released!) directly via email:
Resources Featured In This Episode:
Looking for sample client service calendars, marketing plans, and more? Check out our FAS resource page!
Full Transcript:
Michael: Welcome, Lauren Oschman to the "Financial Advisor Success Podcast."
Lauren: Thanks, Michael. I have to admit, this is a little bit of a pinch-me moment for me. I have been listening since Episode 1. I was actually pregnant with my first daughter, when you launched the podcast, and I was going on 20-minute light jogs around the neighborhood to try to keep myself moving. And the length of your podcast, I could do 20-minute increments.
Michael: So, it's like we cover a week's worth of jogs?
Lauren: Exactly. I could look forward to the next day because I didn't look forward to the running part, but I did look forward to everything that I was learning. And, honestly, you've had industry titans. You've had solo advisors. I've picked up so many tips. And listening to your podcast, our firm actually launched a year after you started the podcast, I think. And that's where I credit, really, me starting to dream about what I wanted my practice and client experience and firm to look like. So I'm just very grateful to you for everything that you have given to us through this community. And it's an honor to be here.
Michael: Awesome. I appreciate that, Lauren. I'm looking forward to actually talking to you about just that journey, as you said, that you've been through, of getting started with your career, making a decision to take a leap, and start your own firm. And I know you have a very focused firm in working with physicians and not even just working with physicians, but particular subgroups of physicians. We were joking earlier. It's not even a niche firm. It's a niche within a niche firm and the opportunities that you get when you get really focused.
Because to me, part of what's really cool about what you're building at the firm, and we'll get to talk more about it soon, is when you get that specific in who you serve, you get to start offering some slightly different services than what advisors "traditionally offer." Because you can get super specific to the needs of your clients. And it's actually cost effective to do it because all your clients need that when you've got a consistent focus clientele.
And so that, to me, is part of this broader shift in, as advisors, we tend to talk a lot about what's our value proposition? How do we explain the value of our services for the fees that we charge? And how do we differentiate from the other advisors that are doing it? And I feel your firm is going down a pretty unique path with that because you've gotten so specific in who you're serving that you actually get to start building a bit of a different looking business model with a different looking service structure and client experience because you've gotten so specific on who those people are and what they need.
Lauren: Yes, absolutely. When you know exactly who you're talking to and exactly who you're trying to serve, it becomes much easier to craft the client experience that that particular client wants to have.
Where Vestia Personal Wealth Advisors Stands Today [05:25]
Michael: So, why don't we just kind of start and dig in right there. Can you just talk to us a little bit about your advisory firm and who you serve and who you're talking to?
Lauren: Yes. So our firm is Vestia Personal Wealth Advisors. I am in Nashville, although we have a few different offices scattered just based on where our talent is. We have a number of team members that work from their home. We have a few advisors in Indiana. We have an advisor in Los Angeles.
So we're pretty spread out. 85% to 90% of our clients are physicians. The decision to focus there, actually, I'm sure we'll get into this, but comes from the firm that we came out of. So I can't take credit for that focus. Although we did decide to maintain it because we felt there were so many advantages to having that niche and being able to craft to that niche.
January 2018 was when we started. And we're currently a team of 19, that's all levels, advisors, planners, client service administrators, all of that. We serve about 500 families, 600 million of assets under management.
Michael: And so who is the clientele? Physicians of all types, particular physician types? Tell us a little bit more about how you target and for who you serve.
Lauren: Yes, physicians, specifically. We are looking for, usually, and most physicians do fit this, but we are looking for incomes, usually 350 or higher. Physicians have a lot of student loans. There's cash flow consideration. So we found that we really can have an impact when we have incomes north of that 350.
We have partners that have 20 years of experience working with physicians. And so what we realized, the further we got in with physicians, is that even within physicians, there are lots of different types of doctors who live different daily lives, who have different concerns, right? There are certain subspecialties of physicians that are more apt to be in a private practice. There are some that are more likely to be hospital employed.
If they are in private practice, if they're surgeons, they probably have considerations for buying into a surgery center. So we realized that there was actually a niche within a niche, I'll call it, expertise that we could offer.
So in 2020, and this is probably based on my background, being a woman in finance, which is a traditionally male-dominated and designed more for men-type field, at least historically, I always had a dream of this women in medicine practice group and this women in medicine offering. And so we launched that.
Another advisor on my team, Jacque Denson, and I launched that in 2020 based on the success that we saw with that and how that was really resonating with our existing clients who already fit that niche. And then also the opportunities that we were getting to talk on podcasts, to do educational workshops for groups of female physicians.
In 2021, we launched an orthopedic surgeon practice group and have had similar, if not better, success with that one. Because there's just a lot of particular needs of that group and a lot of personality as well. Surgeons tend to be wired very similarly. I think that's what calls them into surgery, and specifically, orthopedic surgery.
And so, we have advisors that know all of that. They know exactly what to say to an orthopedic surgeon. They know how long they have their attention. They know what's going to resonate with them. And they've seen a lot of success with that.
Michael: Well, I love how this is reflected even on your website as well, that you've got this label right up in the main menu. You talked about our team, our processor, our mission, and values. And you've got this label, practice groups. And then within it, orthopedic surgeons and female physicians. It's a striking way to me to frame it up. The homepage says we work with physicians, literally there's a physician in scrubs looking back at you on the homepage, so super clear who you serve on the homepage.
But that even within that domain, you've got this listing of practice groups. It reminds me of law firms. Accounting firms have the same thing. I go to one of the big regional law firms in the DC area here and they have a whole bunch of lawyers in practice areas. You get the commercial law folks and the corporate law folks and the trust and the estates folks and all the different practice group divisions.
And so, I'm struck on the one hand, you've got the same thing here. But most firms I've seen that at least have been experimenting that, it's because they've got completely unrelated niches. They're trying to bring them together. We have a practice group for physicians and a practice group for entrepreneurs and a practice group for retirees. They're disconnected and they're trying to bring them together by saying practice groups.
Yours, again, as you said, is this niche within a niche dynamic that the whole firm speaks to physicians, right? The homepage is "in our collective years working with specialty physicians," so really clear on who we're working with. But you still gone a step deeper with it with kind of labeling and calling it practice groups.
Lauren: Yes. So you probably don't remember this, Michael, but you came and spoke at the FPA event years ago here in Nashville. And I somehow was part of a smaller group that you did a dinner discussion with the night before.
And I still remember, you used an example, when you're talking about this niche strategy, you used this example, and you said, "You put together a conference for retirees and you have four advisors that are there to speak on different topics. They're all being introduced.
And the first one says, 'Hey, I'm advisor, so and so. I work with retirees.' And the second one says the same thing. And the third one says the same thing. And the fourth one gets super specific, and says, 'I'm so and so. I work with retirees who have amassed a net worth of at least $2 million, and they are looking to travel the world and blah, blah, blah.'
And the conference is over. Everyone was equally competent. Everyone in that room was a retiree. That was the requirement to be there. And so the first three advisors who said they worked with retirees walked out with no interest for meetings from prospective clients. They cast their net to the whole room. The fourth advisor only cast her net to three people in the room. But all three people..."
Michael: Got all three.
Lauren: ...line up to talk with her."
And I have remembered that and I have seen that is absolutely true in practice. If I sit on a stage and I say that I work with female physicians and I help them with X,Y,Z, the female physicians who are in that room who face that challenge, even if they already have an advisor, are going to come talk to me, because how could they not?
Right, I still remember. I don't remember what credit card company it was, some credit card company sent me a pink credit card in the mail. And I am, in all of my desk accessories and wallets and putting of all that. I love girly. Someone sent me a pink credit card, and I almost signed up for it. I did not need a credit card. But because it looked like it was made for me, I was there. And so that's the way that we have tried to design our firm. And again, it works.
Michael: I totally understand. Just any merchandise in deep-Kitces blue just pretty much gets my natural buying action immediately as well. I would say, it's...
Lauren: Right?
Michael: Yes.
Lauren: Because it's made for you.
Michael: That's why our credit card is Chase Sapphire. It's not promotion for Chase, but they pick the right color. So I had to get the credit card.
Lauren: I love it.
Michael: So I am wondering though, because the challenge I find that most of us still have, where it's nice to say it in practice, but then you get to the moment and you're looking at an audience of physicians, and approximately 50% of them are male, and you're going to instantly alienate them the first moment you say, "Well, we specialize in female physicians." Does that worry you?
Lauren: Yes.
Michael: Are you not anxious when you look out, "Here's all the people, we're going to immediately turn off as soon as we say this"? Or getting even more specific, "We work with orthopedic surgeons," so take all the rest of you surgeons with the other 12 specialties, or I don't even know how many specialty surgeons have, it's probably more than that...
Lauren: Lots more than that, yes.
Michael: Yes, so, "Okay, we're going to take the other 27 specialties and cross all of them off the list," just orthopedic. Does that not bother you or worry you?
Lauren: Yes. It's a very valid concern, I will say that. Here's been my experience. I'll say two things. One, only about half of my practice is female physicians. So I still work with plenty of male physicians or female physicians who are married to male physicians, right, because I still take referrals for doing a great job. And I've had a lot of success building my practice through referrals.
So it doesn't mean I don't work with other types of physicians, right? It just means that to my external messaging, for my personal practice, that is often out there, what my external messaging is based on. I'll also zoom out and say, as a firm, remember, our firm serves physicians. So we've been very intentional about building... You go back to that example of the law practice, if you reach out to the law practice, you've worked with an attorney on business formation, right? And you need an estate planning attorney. You can reach out to that business formation attorney and say, "Hey, do you have anyone that you would recommend for estate planning?" And they probably do. They'll introduce you to one of their partners. Our firm works the same way. So if I...
Michael: It's, in effect, the practice areas. It's like, "Hey, I'm focusing on female physicians, but we have a lot of other awesome advisors on our physician focus team. Can I introduce you to one of them who'd be a great fit for you being a brain surgeon?"
Lauren: Yes. And again, this resonates with physicians because actually...
Michael: Because they love specialties.
Lauren: Yes, my father is an interventional cardiologist. In his group, they have cardiologists that do four distinct different things within the heart. So he's not trying to do all types of heart procedures, right? He's going to say, "Oh, hey, let me introduce you to my partner, so and so, who I would trust with my own family member if they needed this type of procedure." That's exactly what we do.
Michael: That's an interesting point that within physicians in particular, there's probably no better segment to serve of people who would really understand the virtue of being hyper-specialized.
Lauren: Yes, and the value of it, why they would want that, because they understand that they wouldn't want a knee surgeon operating on their elbow. They know that.
Michael: And I guess, at a high level, the firm branding of physicians, but the practice groups having more specificity is what leaves the door open for you. Granted, it's sort of niche within a niche, but it leaves the door open to say, "Yes, we're happy to work with any physicians because our firm is focused on physicians. But hey, if you are an orthopedic surgeon in particular, there's some particularly cool, unique stuff we do for folks just like you."
Lauren: Yes, exactly. And what I love too, is it's a really nice way to grow up advisors because a physician lifecycle, for those of you who don't know, they spend a lot of time in school. Then they go on to what's called residency. They get paid maybe $50,000 to $60,000 a year to work 100 hours a week. And then they finish that training. They may do more training to get more subspecialized, then they actually start their "real jobs" where they will sometimes 10x their income.
That transition point is, they are very new. They've never had a financial advisor before. They never had a need for one. But all of a sudden, they have all of this money, that they need to be...
Michael: They go from making very limited money and having very few choices to making a lot of money and suddenly having a lot of choices.
Lauren: Exactly. And so we have advisors on our team who are fresher. They've been on our team, they've been working with one of our lead advisors or partners for a while, but they're just getting out into starting to plan solo or be the lead on with certain clients. And that is a great spot for them to get their experience because that's very scalable. The needs of a physician who are in that transition to practice phase are very similar no matter what their specialty is, for the most part.
And so that's been a really great way to provide a really great training experience for our advisors who are just making that transition from planner to lead advisor, where they can work with a partner, they can lead that conversation. And then as those clients age, as they get more established in their practice, then again, the referrals that they're sending in are higher caliber. It's been a really great way for our advisors to work on building their practices as well.
The Services Vestia Personal Wealth Advisors Provides Physicians [18:06]
Michael: So, talk to us a little bit more about the value proposition and what you actually do for your clients. Because my understanding is it looks a little bit different than calling it just the "traditional," like, "We'll provide you a comprehensive financial plan to manage your portfolio."
Lauren: Yes. So physicians are very busy people. I'm not taking away from the very busy business owners of which I am one, but physicians are very busy people. And they will work before the sun comes up, and they are still working when the sun goes down. Or they'll work overnight shifts. They just don't have a great ability to manage their own financial life, not because they're not very competent and capable. They just do not have the time. The value of their time is much higher at the hospital or in the OR, or wherever.
So, surgeons in the OR will have someone who's called a first assist. And that person is assisting their surgery, handing them their tools, oftentimes will know what the surgeon needs before the surgeon asks for it. Because that's how in-tuned they are with the surgeon and what it is they're trying to accomplish.
That's what we tried to do at Vestia. Because when we were launching, we surveyed our clients, and we said, "Basically, what do you want us to do for you?" Because you'll hear varying opinions. You know this. Out in the industry of like, "Should we do insurance? Should we avoid insurance like the plague?"
And so we just ask our clients, we said, "What would you like us to do for you?" And they basically said, "Anything you can do with excellence because we already trust you." And so we took that. And if a doctor is looking to buy a house, we are shopping out the physician mortgages that are available to them and finding them the most competitive one.
If there's headlines about tax law proposals, were looking at who that's going to impact, looking at actions they need to take, probably putting together that strategy before they even schedule a meeting or a phone call. We're taking that to them. They get a job offer. We are running that against benchmarks of their value to try to see whether or not they're going to be paid fairly for the work that the hospital or the group is going to have them do. And if they are not, then we actually have a negotiator who can help them optimize that contract. Then obviously, we do the student loan repayment...
Michael: Wait, wait, wait. I want to hear more about that. Wait.
Lauren: Stop. Stop.
Michael: So a physician client gets a job offer. You finished a residency. It's time for the big job. You're getting hired by the hospital for lots of dollars, for lots of hours, doing lots of stuff. So you're going in and saying, "Bring us the job offer the hospital gives you and we're actually going to vet it against benchmarks."?
Lauren: Yes. So there are available, you have to subscribe to them and pay for them. But again, that's an expense that makes sense for our firm because this is all we do. So we subscribe to databases that will show you for...
Let's use the example of a cardiologist, how much cardiologists work. So doctors have a unit called an RVU. That's a measure of their productivity. So it's how many RVUs would they be expected to generate if they're in the 25th percentile, the 50th, the 75th, and 90th? And then how much are they going to be compensated or would they expect to be compensated in the 25th, the 50th, the 75th, and the 90th?
And so we will take the metrics in their contract, stack them up against the benchmarks, and let's say that their pay, their starting offer, is at the 50th percentile. But the expectation for productivity, that our view is in the 75th percentile, they're not going to be getting paid for all of their work. They wouldn't know that because they're going to see that six figures on that piece of paper, and they're just going to sign it.
So we can point out to them, "Hey, there may be the ability to optimize this." And then we can either help them with their negotiation strategy or, like I said, we actually went as far as to contract a negotiator. Someone, his brother's an orthopedic surgeon, so he had experience doing this. He can go do the negotiation for them. And then he gets paid a percentage of...he's basically their agent. He gets paid a percentage of the added amount of money that he gets for them. One of my clients, he has gotten $250,000 more in the offer that that guy is about to sign.
Michael: Oh, that's a monster number.
Lauren: It's insane. Yeah.
Michael: Does your firm get paid as the negotiator? Is the negotiator ultimately an outside person that you're sublicensing, you're bringing in, you're simply referring them out, and you have a tight partnership? I'm just trying understand? And is this literally part of the business model that you're getting negotiator payments as a service offering? Or more of this is a hyper-targeted value proposition because we make this happen? It's not literally our employee...
Lauren: Yes, so obviously, we're benefiting. In the example of my client, whose offer is now $250,000 higher than what they initially put in front of him, I'm going to get to help him save and manage a lot more of that money. So that obviously...
Michael: We spent a lot of time trying to figure how do we get an extra 1% of investment return like that, a $250,000...
Lauren: Right? You could always help them make more money.
Michael: ...per year swing in income, which for most people, what you make also becomes the base at which you negotiate for future gigs as well. So that one moment could literally be millions of dollars of income over life.
Lauren: Yes. So we're still a little bit in the proof-of-concept phase on this. Obviously, it's not like financial planning firms all over the place are doing this, that we have a solid model to follow. Right now, he's a contractor for us. So he gets paid a percentage that does get paid to his business. But then, we provide him with an email address. We provide him with the benchmark database. We provide some things to him that he pays us for. My dream would be that we can ramp up that line of business enough that we could bring him in as a partner someday.
Michael: I guess, this is just a value-add thing, right?
Lauren: Exactly.
Michael: You need enough clients coming in with enough negotiations that there's enough things to do that it makes sense to have a full-time person doing it.
Lauren: Exactly. Yes.
Michael: And just, out of curiosity for my own for just sheer edification, what kind of comp does a negotiator get for that? How much of the higher offer do you get? Because that could add up pretty quickly in high-income fields.
Lauren: Yes. So he has it set up so that he gets a percentage. It's just like a sports agent, right? He's representing them. He's negotiating for them. And so he is getting 10% of the added value that he gets them in their compensation.
Michael: And just as a onetime pay? It's not like he gets a trail where you're paying him 10% of your income for life?
Lauren: There's a limit to it. Yeah, I don't remember all of the specifics of how we worked it out. But, yes, it's not in perpetuity. It might be a three-year contract. And so maybe he gets that for that period of time. But I don't remember all of the specifics.
Michael: But yes, and right and just everybody's winning. That's actually 10% of 250,000 is a big number.
Lauren: Including the client.
Michael: But negotiating up 250,000 is a huge thing for, as you noted, a, just when the numbers get that big, a lot of people aren't really sure whether to negotiate or how to negotiate, how it... Is it ungrateful to negotiate your $400,000 salary up to 750? Well, yes, if you're that underpaid, negotiate up.
Lauren: Well, and if you're going to deliver that value. And that's why we use those benchmarks, we're not coming up with these numbers out of thin air. And in this case, I don't want to say that that's the result that we get every time.
But they were bringing this doctor into a build a program at their hospital. So if he does his job well, he's going to be delivering massive value to the hospital that they're going to collect on in perpetuity. And it's going to help give them a competitive advantage in their market.
And so part of that negotiation strategy is really helping a doctor understand, what is that value that you're bringing? And then let's go get you paid for that. The worst that can happen is they say no. And then, you know you got the best offer you could.
Michael: Right. But every now and then, you negotiate a six-figure raise for a client who has a lot more income and savings. And well, you're probably lifetime gratitude to the buyer. That's a lot of years of advisory fees, to put it mildly.
Lauren: Yes. That's a really, really satisfied client. And that's obviously what we're trying to accomplish here.
Michael: So are there other things in here? I kind of paused you on that one. But are there other services either in the sort of the value proposition overall or the things-for-physicians-in-particular dynamic?
Lauren: Yes, there are. I mentioned shopping the physician mortgages. So we have those contacts all over the country and obviously know a lot of the most popular products inside and out from that perspective.
Michael: And it's different for physicians, I guess, for folks in private practice because of all the weird mortgage underwriting dynamics for business owners, in general.
Lauren: Yes. So we can help them figure out when is the right time to buy. And just like any other advisor, "Do we start with a starter home? Then upgrade? Or do we go for the forever home right off the right off the bat?"
And then disability insurance is another big thing that we do help with. We have our own insurance agency, and then a partner that we work with to do that. And I think that's an area where doctors get blown up, figuratively, in their inboxes. Everyone is trying to get a doctor a disability insurance policy. And honestly, this is a place where the insurance industry has done a disservice to physicians.
Because when I go give educational presentations, Vanderbilt is right across the street from me, I go give an educational presentation over there, I ask them what they know about disability insurance. Like, "What's our baseline? Where are you starting?" And they're like, "All I know is I get 17 emails about it a day. I don't know what I need, I don't know who to trust. And so I'm just ignoring it."
And that, to me, is like, "Holy cow. We are failing this subset of the population, who could lose their entire future income, in some cases, just from the loss of a finger, right, or a slight tremor, they need disability insurance. And yet, because they're getting hounded for it, just to make a buck, it's actually producing the opposite of our intended results."
And so that's an area where, we definitely focus on that as a portion of the early planning and a lot of our education. Because that's something that's essential for physicians to have, and to be able to get and understand from someone who's independent, and who they can trust.
Michael: And did you say you actually have an insurance division or a brokerage relationship or general agency relationship that you're facilitating this?
Lauren: Yes. So we have an agency relationship that we use for that. We don't do it all in house. We'll help with the selection of what company we're going to use, how are we going to structure the policy, all of that sort of thing. But then the work, like the application, the underwriting, and all of that, is driven through the agency.
Michael: And can I ask, who do you work with that helps to facilitate that for a firm like yours?
Lauren: We use, they're called Secura Consultants.
Michael: Okay. And how does that work? I guess just from the business economics and do you...because there's a lot of dollars at stake when physician disability insurance gets written. So are you actually participating in that? Is that part of the overall business model? Or is that purely referred out, you have just like a consultant's hat?
Lauren: Yes. So we do participate in that. Again, it's a way that we add value for the clients. And so I have never had anything wrong with getting paid if we are delivering value and doing it with excellence, right? And so that's the approach that we've taken. What we do, though, we have a separate pot, if you will, for insurance revenue.
And we don't pay that directly to any one advisor. We split that pot. And so that curbs the concern about incentives, right, even though all of our advisors are fantastic people, and I would trust them to do my own financial plan or insurance policy or what have you in a heartbeat. That just gives us that extra layer of confidence that we're doing the right thing because no one's getting paid those individual commissions.
Michael: Oh, interesting. So it's an offering of the firm overall, revenue that's generated is revenue for the firm. But advisor-level compensation to the extent that they're compensated for clients, they've got a revenue they produce. That's not part of their revenue compensation pot.
Lauren: Correct. Yes.
Michael: And so is that just become function, part of the business' income and profitability overall? Do you put these into, I don't know, a generic bonus pool that everybody participates in? When it happens, just how do you account for that in your head? Because it's easy when it ties to advisor comps. You just give them their revenue-sharing percentage. So if you're not doing that, how do you think through just the mental accounting of where those dollars go?
Lauren: Yes. No, it's a fair question. We have a line item for insurance revenue in our income, expenses, profit. There's a little bit of expense for that business line, right? But then it essentially just goes into profit.
Michael: Okay. So, you're getting deeper into areas like physician mortgages, physician disability insurance, physician contract negotiations. Are there other areas as well? Or are those the core pieces that you're doing?
Lauren: Yes, that's the core of it. The other big one that we just have to address as part of our financial planning process is student loan repayment. And that's actually, that game has changed drastically in the last few months with some of the Biden administration's changes to their policies for Public Service Loan Forgiveness. Because most hospitals actually are 501(c)(3)s, and so there are a lot of physicians who, previously, because they didn't have the right type of loans or they had low interest loans, and it didn't make sense to have them making as high of payments weren't going to qualify for that program that now do.
So I would not have said six months ago that that was a huge value-add area for us. But it has become that very quickly.
Michael: You're digging in to help them understand the new guidance, does your loan qualify, does it not qualify? How close to the 10-year window are you? Because some of your time qualify, but some of your time didn't. You get to reconstruct that for them all now.
Lauren: One of my favorite client stories of late, I have this client. And doctors are, they make really good money, but they also have a lot of expenses. And I'm in Nashville. And a lot of doctors are sending their kids to private school, and then they have their own student loans to pay off. And they also have to start saving for their kids' college because they're not going to be able to get help with that. And so there's just a lot of demands on that cash flow, just like any other income level, I presume.
And so this was a client of mine, I've worked with for over a decade. Every meeting...she has student loans that are under 2%. Every meeting, she's like, "Lauren, can we make faster progress on the student loans." And I have to have that trade-offs conversation. We could, but something else would have to give, because we don't just have extra money to throw at it.
And so the approach that she had been taking was she would pick up some extra shifts, and then whatever she would get as "bonus" for those extra shifts would go toward the student loans. But they just weighed on her. They just weighed on her. She felt that was standing in the way of her really feeling like she owned her financial plan.
And these new guidelines came out. And I'm like, "Oh my gosh, she should qualify." And so it was Saturday morning. I sent her an email, "Hey, I don't know if you've seen the headlines. But here's this program. Here's how it works. I really think you'd qualify. Could we jump on a Zoom and I can look at your loan account and we can check it out?" And she immediately replies, "Absolutely. I saw those headlines. I just assumed that it didn't apply to me. Yes, please let's check."
So we checked. All of her loans are the right type. So we go through the process. She called me two weeks ago on a Friday morning and she's like, "Lauren, my loans are gone. I'm in my couch, I don't even know what to do right now. My loans are gone." She's crying with joy. And she's like, "I never would have known about this if not for you."
And I'm just like, "Oh, my god. Talk about transformational value." She said to me, "I feel like I have my life back." And I'm like, "Oh, my gosh. This is what we're here for," right? And so, again, I go back to that power of the niche.
If I had a handful of physician clients, because they had high incomes or portfolio values or whatever, but I did physicians and attorneys and business owners and "anyone with income," I would not have been able to send her that email and say, "Hey, I'm thinking about you. I think you qualify because I've just had this conversation ten other times," right? And so, to me, that's the real power of like, "This is all we do. And then we can deliver that much bigger value to clients because of it."
Structuring Fees Based On Comprehensive Planning Or A DIY Approach [35:09]
Michael: So how does the fee-model work for you guys? What do you charge at the end of the day for all the different stuff that you're doing under the umbrella for physicians?
Lauren: Yeah, so we do charge for new client coming in. We do charge a fee for that initial process of creating the financial plan. So we spend a lot of time with them upfront. We take them through an exercise to uncover their priorities and what's important to them.
Obviously, then we're doing the financial documents and crafting the work optional plan and the debt repayment, all of this stuff that you would do in creating a comprehensive financial plan. We charge for that as a standalone fee. And that range is on the low end...
For a physician just coming out of training, we charge $4,000 for that. And that can go all the way up to 12,000, depending on complexity, and how many investments they've gotten themselves into overtime. Because doctors get hit up for everything under the sun, kind of what work is going to go into creating that plan.
Then for ongoing service, for like, "Let's work together over the long term," we have two service models. We call, the one that the majority of doctors will choose to engage us is called collaborate. And that's a, "We are proactive to uncover all of these opportunities for them and drive them to make things happen."
Again, they're very busy people. They need a lot of touch points to move to action. And so that we charge a financial planning fee. It's the monthly subscription model between $500 and $1,000. Again, just based on how much they have going on and how much we're going to need to do.
Michael: That's about, so $500 to $1,000 per month?
Lauren: Correct, per month. And then for our on-call models, so this is like you got the financial plan. You're good on...you think you can drive it. You can check the boxes. You can maintain this. You might need our help every now and again. We have an hourly model that we use for that. And we have different price points, again go back to the law firm, for who on our team does the work.
So my client service administrator, her name is Annie. Her fee is not going to be what my fee is. And what I tell clients is, we will drive your requests to the lowest cost provider who can do it with excellence. So I'm not going to have Annie try to do something that she doesn't have the capability to do to save them a buck. But if it's a paperwork thing that she can do, they don't need to pay my rate for that. So that's the planning side.
And then we do manage investments as well on either model. That's a requirement for the ongoing service is that we manage their investments. And we actually just charge half a percent for that.
Michael: Interesting. All right. So a couple of questions for these. First, I'm struck for the hourly model. You noted that in the full range from a CSA supporting administrative help on some paperwork that needs to be done up to questions that come to you as a partner. So in your hourly model, are you literally billing all the way down to admin support staff work, as opposed to a lot of firms I know that bill the advisors time, but only bill the advisors' time?
Lauren: Yes. We do have a rate for our CSAs, for our planners, and for our lead advisor, and partner advisors. So there's a lot that comes in. Again, busy people, they need help with sometimes very simple things. And so, they can reach out. They can pay 100 bucks and get that taken care of. I don't have the percentage breakdown for who chooses what. But for the most part, our on-call clients are either asset management only for all intents and purposes. They really don't have other things that come up that they need help with. Or it's very, very limited.
So it sounds cumbersome, as I'm talking about, like, "Oh my gosh, how would you operationalize that and invoice and all that?" It's not really that big of a deal.
Michael: Because if they want a lot of it, they tend to go to the collaborative model in the first place.
Lauren: Exactly. And we help guide them. We create that financial plan. The whole point of that is so that we can get to know each other. And we've done this for long enough. We can pick up on, in the course of that process, how responsive are they? How many reminders they need? How with it are they when it comes to what we're talking about, and just their ability to execute?
And neither is good or bad, right? There are things like, "I'm a very capable, intelligent, competent person. And if it's something tech, I am useless. I need help."
And so, it's just like that where we can figure that out as we go. And I cannot think of a time where we got to the end of that plan creation, we start talking about ongoing service, and where I thought they were going to go, on call versus collaborate, was different where they thought they should go, because you can just tell. We lay that groundwork as we go through the process. And they know exactly what they need to get the value that they're looking for from us.
Michael: And where do those hourly rates range for you? You had mentioned $100. Is that actually your rate at where your CSA start?
Lauren: It is, yes. So for CSA's time... Again, we would like people to choose collaborate, because it's easier for us to just manage everything and have our hands on everything. I've always said that all great advisors have a measure of being a control freak. That's just how it works. And so we would rather have our hands on everything. But our client service administrators are $100 an hour. Then we have planners that are at 250, or 350, and then lead advisor partners that are at 500.
Michael: Okay. And so, on the collaborative model, so you'd set a monthly subscription fee of $500 to $1,000 a month. So what determines where they fall in that range? Is that an income size thing or a complexity thing or are there tiers of service within the 500 to 1000 range? How does a client land at a particular point in the 500 to 1000 range?
Lauren: Yes. It's complexity driven. We started out with this fancy Excel calculator. We thought we were amazing. We put all these different metrics in and you fill stuff in, and it spits out a price. And we quickly realized that was the opposite of scalable because, one, you actually had to do the calculator. You always had to do the calculator. And then it was spitting out prices like 4,372. So we just had all these different price points that people were at. It was a mess.
And so, we quickly realized that was not going to work. What we moved to was just tiers. So we have low, medium, and high complexity. It's actually as simple as that. We have a couple of price points within each tier, which is really what I call the hassle factor.
So where do they fit for low, medium, or high is based on their objective metrics. Income, do they have business income? Do they have kids that we're also doing college plans for? We have different criteria that go into that. And I know those in my head. All of our advisors know what those are, we know if people are going to be low, medium, or high because it's simple.
Then we do have a little bit of variation within each tier. There's a low and a high for medium, for example, for the price. And that is, we all know, we have some clients who objectively are medium complexity, but they call you all the time. They're going to need to pay that higher hassle factor fee versus someone who's medium and is not really going to be bugging you. They're going to be on the other price point.
Michael: And because you do a separate planning process for a separate fee before they get to the ongoing model, you've got a sense as to what it's going to be like to work with them already because you done initial engagement.
Lauren: Exactly. That's the dating period. And that's what I tell clients. I used to start with a new client and I wanted to, I was like, "This is going to be great. We're going to be together for life." And sometimes that just doesn't work out.
And it's not a bad thing. It's just sometimes our personalities don't match. Sometimes what we're delivering is not what they're looking for. Sometimes it just doesn't work out. And so that's our dating period. And then we are really, really sure that it's going to be very good long-term relationship before we go into that engagement.
Michael: And just, I got to ask, do you tell clients there's a hassle factor in the price?
Lauren: Not in those terms. I should say, not in those terms.
Michael: How do say it? How do you describe it? Because I'm imagining, you may very well say like, "Our fee varies from $500 to $1,000 a month. It depends on and the complexity of your situation." That's a straightforward thing to say to clients. How do you explain the other factor? Or do you just not talk about it?
Lauren: I think we get on our heads about this. I was just talking to a colleague about this, actually, recently, when it came to something he wanted to address with one of his employees.
And I'm like, "Here's the thing. We work this up to be this big thing. But people know themselves." Very rarely do you meet someone who's like, "Yeah, I call you all the time."
I have one client, I'm not going to say his name, but he comes to mind. He calls me all the time. He's a delightful guy. I love helping him. He knows he calls me all the time.
And so it's like, "Here's your complexity level, and then because we do stay in very close touch, and we talk so regularly, and you do reach out to me with things, whenever they're on their mind. I want to be able to provide that for you. I want to make sure that I'm being well compensated for the time that I'm spending with you so that I can always pick up the phone when you call. This is what that's going to cost." And he's happy to pay it.
Michael: And so then you said you've got an investment management component of this as well, charging 50-basis points. So is that just a flat 50 across the board? Are you graduated fee schedule, higher and smaller amounts lower on big dollar amounts? Or just it's one flat rate? That would be all.
Lauren: It's pretty much one flat rate across the board. We are working on, because we have had some clients that are just much larger portfolio relationships. And our clients span the spectrum of they have no money because they're actually just coming out of training as physicians. They've had no...
Michael: Might be high income, but no assets, mostly debt.
Lauren: Exactly. And then, we also have doctors who have been in practice for 20 years and have accumulated quite a bit of wealth. And so we are working on what that looks like on the higher end. So that we can make that standardized. But pretty much, right now, it's a flat 50, no matter where you are.
Michael: Okay. And I guess, no minimums, because, again, you've got people that are really running the spectrum, if you're actually working with doctors just getting started.
Lauren: Right. So that's where the financial planning fee comes into play. And that's why we intentionally split the two of those is because we didn't want to say, "You have to have a certain amount of money to work with us."
Because, again, that's counter to who our target client is and who the people are that we want to be able to help. So if you say, "You have to have $500,000 to work with us," you've just alienated arguably the group of doctors that most need your help.
Michael: Right. And so, I'm thinking about this traditional...right or wrong...the traditional industry rule of thumb is the proverbial 1% fee. But most advisors don't charge separately for planning. And we say, the planning is wrapped into the fee.
So I guess, what I'm saying is, is it a conscious decision to say like, "Since we charge more for, or at least charge separately for the planning work, so we're always getting paid for the planning work, therefore, we're going to have a lower than 1% AUM fee because we've compartmentalized this."? Is that a conscious part of the pricing strategy, or just how the math worked out for you?
Lauren: It's a conscious part of the pricing strategy. We primarily use dimensional funds, asset allocation. There's no real secret sauce to how our managing investments, so to speak. We do it because our clients want us to do it.
And so we said, "Look, we're going to do that at what we think is a fair price." And realizing that the value, if you go talk to our clients about what value does Vestia bring to you, most of what they say is not going to be investment, it's going to be everything else that we've talked about.
Michael: "You got me another $100,000 out of my hospital gig when I became surgeon. Yeah."
Lauren: Yes, or you helped me get all these student loans forgiven or whatever. And so they understand that. We are charging for that to be proactive and be on their team. And then we're not charging as much on the investment management because we're doing that really just as a convenience to them. And we're doing it well, don't get me wrong, but that's not, we're not trying to make that what we lead with in terms of the value we deliver.
Michael: I guess talk to us a little bit about just this monthly subscription fee at $500 to $1,000 a month, right? That's $6,000 to $12,000 a year. That in and of itself is a pretty sizable dollar amount for any advisory firm serving clients. Never mind, before AUM comes into picture as well, and potentially with people who don't even have assets yet.
I'm presuming, just at the end of the day, this works because relative to a doctor's income and relative to how a doctor values their time, because they make a lot of income on their time, the math just works. They're fine with it.
Lauren: Yes, that's exactly it. And also, we are... Again, go back to, they're very busy, we're doing a lot for them. They need to do their estate planning. We're packaging up all their information, sending it over. Some of them don't even know how to get it. We're shopping out their mortgages. We're shopping their refinances. We are trying to be that first assist. And that is providing the value for them.
I mean, a lot of them are paying, if you think about the houses that they live in, the house cleaner, the laundry service, the meal prep service. They are paying for people to save them time, so that the time they do have outside of the hospital, they can spend doing things that are meaningful to them. And so, we are, dare I say, just one of those services. We are one of those services that help them get return on their time. And they're very happy to pay us to be that.
Michael: And just when you work with folks that make hundreds of thousands of dollars, the math is manageable, right? Just think about it, $6,000 a year for a doctor making $350,000. So it gets, it's not even 2% of their income. I think that's...
Lauren: And I always tell...
Michael: Yes, it's not cheap, but less than 2% of their income is a pretty straightforward like, "Oh, I get a bunch of time back for this? Cool."
Lauren: Yes. And I always tell clients. I don't ever want them to feel like they're paying us for something that we're not delivering. Nor do I want us to feel like we're doing a bunch of work for them, that we're not getting paid adequately for. And so, as long as you feel you're getting the value you're paying for, and I feel like I'm being well compensated for what I deliver for you, then we're great.
Michael: And so, I've got to ask then, just relative to a lot of real industry trends and discussion around things like fiduciary and fee-only, so you've got this planning fee and assets under management fee, but you do have an insurance component that limits you on the fee-only side.
Is that a concern for you? Is that not an issue for you? Is that a business decision trade-off for you? How do you think about that relative to all the industry discussion around fees and commissions?
Lauren: It's a great question. I go back to we designed our service model and what we are directly involved in based on what our clients want us to do for them. So if they said, "No, we'll go to Joe whoever and get our disability insurance." That's not a problem. Then great, we could be fee only.
But that's not what they're saying. They're saying, "We know you. We trust you. You come highly recommended by my mentor. I want you to do this for me. And I'm totally fine with you getting paid in order to do that. We are independent.
So, oftentimes, when we're doing a disability insurance policy for a client, for example, I'm showing them more than one quote, and I'm showing them, what the features are of the policy and why I am recommending the policy that I am. And so I feel we would be doing them less of a service, if we were so wrapped up in the nomenclature that we weren't delivering what they want from us.
Michael: And I guess the flip side is, and you're not getting pushback in prospect meetings, of prospects saying, "Well, we were thinking about working with you, but you're not fee-only, so let's talk about that."
Lauren: No, not at all. We do get the question sometimes because you google, "Questions to ask a financial advisor" and you will see that question. And so we get it. But when we can explain it in those terms, they think it makes a lot of sense.
And again, doctors will get a referral fee, in some cases. Well, let's not call it a referral fee because that's not legal, but they will get incentives to do procedures at a certain surgery center, right, or their hospital has a contract with a certain material provider or whatever.
And so, that's not a foreign concept to them either. They know that you can do great work. And there may be some fees involved in that. And so when we can explain that and the reason behind it, I have not, to my knowledge, we have not lost a prospect, because we are not fee only.
How Lauren Tailors Financial Plans Specifically For Physicians [52:18]
Michael: So walk us through a little bit more of just the actual, I guess, like the planning process. I come to Vestia and I'm interested in planning and I've got my $4,000 to $12,000 planning fee, and I say, I'm a physician. You all specialize in physicians. That sounds great. Sign me up.
So what happens next? What's the actual planning process of what you do for clients in that initial planning phase?
Lauren: Yes. So, actually, before we even... So we start with just a phone call, just get to know each other phone call. Sometimes, now, that's a Zoom. But just get to know each other a little bit.
And then the first step in our process, so we actually have used FinLife. It's through Goldman Sachs, used to be United Capital. We've used the FinLife process in our client onboarding. Before we make the final decision that we are going to work together, we do what we call our values meeting. And that is based on the FinLife Honest Conversations exercise. You can look it up if you're not familiar with it.
But essentially, it takes these prospects through ranking their priorities, like rank, ordering their priorities, and deciding what different things mean to them, like the risk of losing a loved one or the risk of not having enough money to retire. What do these things mean to you, and which one weighs on you the most?
I have always loved the question, I don't always ask it in these words, but I want to know what keeps them up at night. And that is just because two prospective clients might come to me that look very similar on paper, right, they both are even sometimes the same time type of physician. They may be neighbors, similar financial pictures. What's important to them might be wildly different.
And so we start with that values meeting so that we can really understand them. We can speak very specifically to what we will do to solve their problems or to alleviate what weighs on them.
And then, we say, here's what the financial plan will entail. We'll give them a final, we give them a range of price in the beginning, but then we say this is how much it will cost to do that. They make the decision at that point to move forward.
And then it's the getting the financial document, then creating the actual financial plan from there. There's probably three meetings that we're doing active plan presentation, so that we can go through the full spectrum of work optional plan like all the way through estate planning.
Michael: So how do you actually separate out those meetings? What are the middle meetings?
Lauren: Yes. It depends on the client. And again, this is what I really like about the values meeting. If they tell you... I'll actually use a story about my own father, to illustrate this point. So he was looking for an advisor. This was years and years ago. But he was looking for an advisor. He had been medical malpractice. And medical malpractice lawsuits are, it's not an if for a lot of doctors, it's a when.
And so he had been through a lawsuit, and it terrified him. He did not care about his own retirement. All he cared about, at that point, was an asset protection strategy. That's what he cared about.
And so he went to an advisor. And they're asking about what's important to him. And whatever questions they're asking. This was before I was in the business. But they're asking these questions. And he is saying repeatedly, in different words, over and over and over, he wants asset protection. This is what's important. He wants to understand what assets are vulnerable, which ones are not. This is another thing that is value add that we do for physicians because we just know how these things work, right?
And that advisor was so focused on the delivery of the retirement plan and, more importantly, the taking over of the investments that he didn't focus on that asset protection plan. He lost my father as a client. He was a perspective client. And my father did not decide to work with him.
He found another guy who was like, "Great, we'll lead with the asset protection. This is how we're going to do this. I'm going to get you connected with this attorney." He fleshed the whole thing out. And that was how he got that client.
And so, I have always taken the approach... And again, this was before I even started. So since I started my practice, I have always taken the approach of, I need to figure out, and this is how we've taught our whole advisory team to approach this, we have to figure out what is most important to that client, and then we need to prioritize accordingly. Because that will help differentiate what we can deliver.
And we're going to do the whole thing, right? We're going to do the tax return review. We're going to do the risk management. We're going to do all of the things. We just might order them differently based on what is important to that client so that we are hitting what's most important to them first, and not glossing over that.
Michael: So does it actually end out, I guess, just modularized that way? We're going to do three meetings. Number one is the thing you're anxious about that just we're going to solve for. Number two is your retirement projections. Number three is your insurance and estate.
Is it broken apart that way, where you're mixing matching modules? Or is it even more just flexible? "We're going to have a couple of meetings, but we're totally taking the clients cue on how we're tackling this."
Lauren: Yes. It's very flexible. So in our process map that we show clients, there's one block for that design, that collaborative process. And it says two to three meetings. So it's like, "We will work two to three meetings to get all this straightened out." And that's how that part of it works. We haven't defined what goes into what meeting for that reason.
Michael: So then walk me through at a high level what the process map does say then. So intro meeting, FinLife's Honest Conversations.
Lauren: We call that our values meeting. Yes, then we have our plan presentation. It's a collaborative process, right? We're getting feedback from them. We're kind of optimizing. And then our last meeting is our action plan.
So that's where we will go through, "Here are all the decisions that we made over the course of the planning process. Here's who is going to take responsibility for those actions. How those are going to be accomplished." And then that's where we talk about, "Do you want us to drive this? Or do you want to drive this?"
Michael: Okay. And so, action plan meeting gets down to, "Here are your recommendations. If you would like to go forth and implement these, we're happy to be available on call. If you would like to work with us to implement these, we'd love to introduce you to our collaborative arrangement. Here's how it works."
Lauren: Yeah, and I would say it's even more intentional than that. Again, because we've gotten to know them over the course of that process. And so, as we're going through, sometimes, that list is incredibly daunting to a busy physician. And it's like, "We can do all of this for you. We can drive this process. And here's what that looks like. We also do have an hourly arrangement if you want to do it, but I don't get the sense that that's probably what you're looking for." And they're like, "No, no. We want the collaborate."
Michael: Well, and just in general, there is kind of a natural self-selection bias of people who will pay you thousands of dollars for your planning advice. Usually don't then say like, "Cool. I'm done. Peace out. Now, I just want to be DIY."
Lauren: You got it.
Michael: So, I'm presuming that just in practice, most clients who pay for an upfront plan end up going all the way through and signing on as the collaborative phase.
Lauren: Yes. That is by far the most popular service model. And again, we do have some that do, they do that hourly, but it's more an asset management only. They just don't have a lot of other stuff going on. There's a little more of an autopilot there. But that's a lot of our clients are in the accumulation phase. And so there's just a lot going on.
Michael: And do you ever consider a realm of, "Hey, if this many clients go through and become collaborative clients anyways, and collaborative clients are good long-term business for us, maybe we don't want to charge for the upfront plan, because we just want to get them in as ongoing clients?" Do you worry about that tension back and forth of, who didn't become an ongoing because they just didn't want to pay up front?
Lauren: Yes. It's funny that you say that because that's actually something that we are reevaluating right now, especially what we found is for more established doctors who are extremely busy, and they've got kids in all kinds of different sports, and their life is other level busy. That has sometimes been an impediment. And so we've gone "off book" and gone sometimes past that initial plan phase or charge that little bit differently or whatever.
And so we actually have a project that we have a small group right now, who is working on figuring out what we want to do there. If we always want to do the upfront planning fee, if that's something that we will do away with, if there's a certain subset of doctors who maybe we don't do that with and we have a different process. So a little bit of to be determined on that.
Michael: Okay. And then, what's the ongoing process or value proposition? I get the domains of expertise, but if I'm paying $500 to $1,000 a month, like what am I getting month to month or quarter to quarter throughout the year to give me value for this $500 to $1,000 a month payment?
Lauren: We have an annual service calendar. This probably sounds very familiar to you because we got the idea from a blog post of yours. But we do have an annual.
Michael: I'm glad they worked.
Lauren: Yes. We do have an annual service calendar that's crafted around different things that physicians do at different points during the year. When their contracts tend to come up for renewal, for example. When they're open enrollment is, when their disability insurance policies probably come up for a potential increase. And so we've kind of mapped all of that out.
And for the collaborate model, that's where we own that. They will hear from us if there's something that they need to be thinking about. They don't have to keep track of all of that stuff. That's what that is meant for.
And we do two intentional meetings per year, but we are available to them for phone calls, or emails, or whatever they need, or whatever comes up at any point during the year. We have texting phone numbers that they can all reach us via text message. And that's all archived. And that's huge. That has skyrocketed their ability to stay in great communication with us.
Because I think you're in the hospital, you're busy, you're in a... It's very easy to shoot up a text message. It wasn't always as easy for them to pick up the phone and call or have to foray into the barrage of emails or whatever in order to get to us.
Michael: Interesting. I feel that's a doctor-specific thing that probably comes from the legacy of having pagers, that they're really used to thumbing out text messages, but not sending emails.
Lauren: Yes.
Michael: So out of curiosity, what do you use just to handle and support all the text messaging? Because that's actually a challenge in and of itself for some firms.
Lauren: Yes. We use a program, and I am not in charge of our tech. I will say up front. So I may not speak super well on this. But we use a program called RingCentral. We all have business phone numbers that come in through RingCentral. So they come to our computers, there's also an app that comes to our phone, and then that's all archived through Smarsh.
Michael: Okay. Okay. Very cool. So ongoing service is this combination of two intentional meetings a year, and then you've got these touch points around a lot of physician specific issues, when does your compensation contract come up for renewal, when is your DI policy renew, when you have your annual employee benefits enrollment. Is that when you time the meetings or are those between meeting touch points?
Lauren: Those are usually between meeting touch points. We tried to set up our service so that we did not have to... Because, again, busy people, they have the best of intentions. And they don't always actually click on the link to schedule the meeting, right?
And then it's like, "Oh, my gosh, four months have gone by. Now it's time for the next meeting. And I never even scheduled the last one." And so we have set up that service calendar so that those reminders just automatically kick off to us. And the intended result there is that even if a client misses both of their annual meetings with us, we have still done all of those things that we needed to do for them. And that's the value, again, of them paying us for that collaborate model.
Michael: Okay. And as you queue that up, how are you tracking that internally? I'm assuming that CRM-based.
Lauren: Yes. We use Salesforce and so that's all in there.
Lauren's Journey Through The Financial Advisory Industry [1:04:16]
Michael: Okay. So share with us a little bit just the journey of how you came to the point that you're launching and now building Vestia? What was the path for you in the industry?
Lauren: Yes. So a little bit of a turn off of the firm and onto me. So I actually started, I did an econ and finance major at Vanderbilt. That's what brought me to Nashville, which is where I still am. And I had been studying abroad during my junior year and I totally missed the boat for summer internships. I just completely missed the boat, like I was in this, la di da da da.
I just came back from being abroad. Life's amazing. Everyone has internships. I'm like, "Oh, my gosh, I need an internship." And so, I mentioned earlier that my father's a cardiologist. And so he and my mom had actually gone to this workshop that was put on by a financial advisor that worked specifically with physicians. And they were just telling you about this was like, "Oh, that actually sounds kind of interesting."
So I called that firm. I asked if they needed a summer intern. They said, "Actually, funny you call, we just were talking about hiring a summer intern." So the stars kind of aligned. I interned for that firm for that summer. I loved it. I was doing so much. I was in the investment department. I was preparing reports. I was running daily stuff. I was preparing proposals for rebalancing.
Obviously, the advisors were reviewing all of this work. But I was doing a lot so much so that they actually hired a full-time person to replace me when my summer internship was over, which was awesome. So I remember there was...
Michael: Awkwardly flattering. Okay.
Lauren: Yes, it was great. There was a happy hour, the night before my last day, there was a happy hour. And it's great. And I made great friends there. And the next day, one of the advisors at that firm had me come into his office, and he said, "We've really appreciated all of your work, you've been well beyond what we would have imagined for an intern. When you are coming out of school looking for a job, we would love to have you back as a client service manager. So, keep my number, give me a call."
To me, young female, who's getting a degree from Vanderbilt. I'm doing a whole real job in the investment department. That felt a little bit deflating to me. It felt a little bit dejecting. And so I went back. I finished my senior year at Vanderbilt. I was looking for advisory jobs in Nashville. I did not call that firm, just because that was in my head. I didn't feel great about it.
So I had been talking to four or five different firms in Nashville. I was going through their interview process. Interestingly enough, it came up at some point further into the interview process, with every single one of these firms, they asked me some questions about, "If we hire you, you will be our only female advisor here. What do you think about that?"
And it seemed like I didn't belong. But this was what I really wanted to do. And I guess that prior firm got wind of the fact that I was looking for a job in the industry, and they actually called me, "Hey, we'd love to have you back. And why didn't you call us?"
And I said, "Well, you had mentioned that you would have a client service manager position for me. And I really want to be an advisor. So if you would like to interview me as an advisor, I'm very interested. If not, I'm just going to take my chances here."
So they actually did. They interviewed me. Put me through three interviews to be an advisor. Why they hired a 21-year-old fresh out of college, who was just wide-eyed and thought she could take on the world. I, to this day, don't know. But I am very, very grateful they did. Because I wouldn't be where I am without someone having given me a chance.
And so they brought me on. Actually, that firm had an expansive breadth strategy. So they had very small offices in a lot of different cities across the country. And then kind of some more senior advisors who would travel around and help the younger advisors in the different offices.
So I started in Nashville. I had the background of coming from my father being a physician, understanding, what my mom went through as a result of that, what stresses that put on our family. I didn't know a lot about financial planning. But I did understand that if people knew I could solve their problems, that they were endeared to want to work with me.
And if I could present a valuable solution to them, they kind of bridged the gap and made the assumption that I had access to a firm, and I could also figure out solutions to their other problems. So I did a lot of educational workshops. Initially, I got help from a more senior advisor there doing those, and then I took those over myself.
So, for a few years, I did a lot of those, and I would just fill those up, different topics that would be interesting to physicians. And then I quickly pivoted into a referral-heavy strategy because I enjoyed building relationships and figuring out how I could help the people that I really cared about that already really valued me. And so that was kind of how I was growing my practice.
Michael: So, you pivot into a more referral-heavy strategy, meaning you got to a critical mass and number of clients so that you could get referrals from them?
Lauren: Yes. I never did a lot of COIs. This was all client to new prospect. What I realized was that putting on workshops and presentations and events and all that takes a lot of energy and a lot of money. And what I realized was that if I could just continually remind clients of what I had done to help them, like, "Hey, when we started working together, you were here. And you remember, you had all these concerns. And it so exciting to me that now you are here. And this is how you're telling me you feel. I'm so proud that we did that together. If there are people, like friends of your, colleagues of yours who are the before, I would love to have a conversation with them."
Very non-pressure, very authentic, I played with that a lot. So that it sounded very natural for me. And I think planting those seeds over time. At one point, I was bringing on four new clients a month. That firm had a very quantity-heavy strategy, not quality. So keep that in mind, but I was bringing in four new clients a month that were all coming from referrals.
Michael: Meaning didn't necessarily have to be very affluent. Anybody who was able to fit would qualify.
Lauren: Yes. Still physicians, but it was like, they could be a physician that had no money and also still had five years to go in their medical training, and they were not going to have money for the foreseeable future.
Michael: They're not even paying much of any planning fee. Maybe you got to open an IRA for them. But, hey, they're clients.
Lauren: Exactly, yes. So I was with that firm for seven and a half years. And I don't know if you've ever seen the Pixar short, "Purl," P-U-R-L. Have you ever heard of that?
Michael: I have not. I have not.
Lauren: Look it up. I would encourage anyone who's listening, look it up. Because I saw that. It is about a ball of yarn named Purl, an animated ball of yarn, who gets a job at a financial company full of your stereotypical suits. And she feels like an outsider. She's kind of overlooked. Until she figures out that if she morphs herself into a suit, then she can hang like she gets attention, people laud her presence, like, "Oh, you're doing a great job," but she is not getting to be herself because she has conformed to become a suit.
And I saw that. It's fantastically done. And for the first time, I felt seen in terms of what my own journey had looked like, and why I ultimately decided to leave that firm. I think at their height, in terms of our advisors, when I was there were over 50 advisors there. And I was the only female who had been there for the duration.
And that it wasn't changing. And I just didn't love the culture that that resulted in when we had a lot of really great female employees. And I just didn't love the culture that was created through the lack of diversity. That could be a great place for certain people. But it wasn't a great place for me.
Michael: Because of limited advisor diversity overall, or the dynamics of like, "We have women at this firm, but the women are all admin and the advisors are all men."
Lauren: Both. Yes. And it was when I just, I had to be such an advocate for myself. And again, I'm in my early 20s. What do I know about taking on some of these things? There would be policies about whether men and women could do certain work together or discussions about them anyway. Just things that I was like, "This is not right, it's just not right, because it's not leading to inclusion."
And I found myself... I have three daughters now. I was expecting my first daughter, and I just had this aha moment, where I realized I wouldn't want my daughter to work here. And that hit me in the face. There are great people at that firm, and I am still friends with a lot of them. That was a me thing. But I wanted to be a part of something different. At that point, ownership was being talked about, bringing in more partners. There was a majority owner, they're talking about bringing more partners.
And I was like, "I wouldn't be proud to own a part of this, not because... There was fantastic things being done for doctors. That's where I learned the niche. I'm so grateful for so many things that I learned there and so much wisdom that people were willing to share with me, and so I don't want to downplay that at all.
But when it came right down to it, I wanted to be an owner in a place that I would be really proud for my daughter to work. And that's what ultimately led to me making the decision to leave that firm and has been the foundation of a lot of the decisions that we've made in terms of how we've built our firm as well.
Michael: So if you had been working at the firm for a number of years already and then we're making the decision to shift out, did you have to start over? Did you have employment, non-solicit, non-compete provisions in the contract there? Were you free to go? How did the transition work when you decided, "I'm not sure I want to build my career here."?
Lauren: Yes. It was a group of five of us that left together, realized we were all looking to leave. And that we had a lot of similar beliefs about what we wanted to continue from where we were and what we wanted to do differently or change.
And so, one of those advisors, who's one of my business partners at Vestia, was an owner at that firm. And so he did not have a non-compete in his contract. So he and a couple of other guys who were on his direct team were able to leave. I did have a non-compete and a non-solicit. Keep in mind, I started this job when I was 21 years old, fresh out of college.
Michael: Like, "They offered me a job. I, of course, signed immediately." That's what you do at that point, right?
Lauren: I remember being in my dorm room, they have you live on campus all four years at Vanderbilt. I was in my dorm room and signed that employment contract. I didn't know the first thing about what to look for in that or where I should be advocating for myself or anything like that. And so, I learned a lot of lessons through that. I have not signed my name to something since that I didn't read and also have an attorney read.
But we took a risk. We went to them. And I had taken on a leadership role at that firm because I really wanted to be part of the change. I wanted to make an impact, I wanted to have that. And so I'd taken on a leadership role at that firm. I was really trying to support a lot of the female employees and be a part of that change. And I had built up a lot of goodwill in that process.
And so we made the decision. I really wanted to be proud of how we left. And so we went to them, and we said, "Look, we would like to leave. We would love it if we could make this amicable and think about the clients first. And we are very open to buying them, and here's how we would propose we do that."
And that was a big risk. I still remember the emotions or the nerves going into that day. That we were going to send that letter. But actually, it was very amicable. It was client first. And we were able to buy out the portion that that firm owned, and we were able to leave with those clients.
Michael: So yes, I'm just wondering, how do you deliver that message? Is that an email? Is that a letter? Or is that like you call a meeting with the firm leadership and the five of you and say, "Here's what we're thinking about. Let's talk"? Just how did you get the conversation started?
Lauren: I've only done it once. I don't know if we did it right. We put together a letter that we all signed our names to and then we sent that. We're all in different locations. So we sent that via email and then asked that we have a meeting to follow up and talk about it.
Michael: Okay. And I guess, at least wondering, are you going to get a reply that just says, "Given your interest in leaving the firm, we've just decided to terminate you and move on."?
Lauren: Yes, and I had just... Sorry, I got emphatic there because I'm taken right back to those emotions. Man, also I had just had my first baby. And I was the breadwinner of our household. And so I knew I had to do this. But it was terrifying. It was terrifying. I had a one-month-old. And here I was making this potentially change the entire direction of our future decision.
Michael: So what did you propose? I'm just curious, how did you pitch this?
Lauren: We had kind of said, "We would value the client. We would let the clients ultimately make the decision." And so, again, putting the clients first and we would send a letter to our clients, notify them of our intention to leave, let them know that they could choose where they wanted to be served going forward. We'd be happy to connect them with an advisor at that other firm if they wanted to stay. And then we would value the clients that we were planning to take and we would pay for those. And that's ultimately what we did.
Michael: Can I ask, just how did you value them? Is there a multiple revenue?
Lauren: We had a valuation done.
Michael: Okay.
Lauren: Yes, we had FP Transitions do a valuation of the business. And then we went off of that.
Michael: And was the formula like a percentage? You don't know which clients are going to say yes to you, and which ones are going to stay with the old firms. Was it a percentage of the revenue kind of formula? Or you waited and actually sent the notice, and then after the clients chose, you came back and got evaluation of what that was worth?
Lauren: One of our values at Vestia is to give a surplus. We spent a lot of time crafting our core values. You can see them on our website. We really do live them and celebrate them and celebrate when employees live them. And one of our values is to give a surplus. And so, that started back then and that we said, "Look, we're going to take the risk here. If a client decides not to come with us, and we paid for them, so be it."
I mean, 99% or higher of our clients did decide to come with us. And we were very confident in those relationships that we had. But we didn't do the thing where we went back and re-looked at who stayed and who went. And we didn't do that.
Michael: Oh, so in essence, the presumption was, "This is essentially our book of clients that were responsible for. We're going to buy them as a book of clients. The expectation is we're taking all of these clients. We're going to send the letter and let them know like, "If you don't want to come, you are welcome to stay where you are. We'll help you and make that easy." But it was sort of a presumptive like, "We are assuming pretty much everyone's coming."
Lauren: Yes, that's exactly what we did.
Michael: And so that mean in the background of the growth of the firm, like you're still in the process of paying off a note that was financed as part of this transition? That's part of what the business carries in the space?
Lauren: Yes, that's exactly what that means.
The Surprises And The Low Points Lauren Encountered On Her Journey [1:20:28]
Michael: So what surprised you the most about building an advisory business as you made the transition to actually be the owner building it now?
Lauren: Yes. I mentioned our core values earlier. If I think about what has surprised me most about Vestia, I always believed that if you put... Our people are our product, right? Our people are the ones who are delivering the value to our clients. Our people are the ones who are interfacing with our clients. We think financial planning is our product, and it probably technically is. But the way I always thought about it, our people are our product. And so I always have this...
Michael: Your people meaning your team members?
Lauren: Correct. I always had this belief that if we invested in taking great care of our people, they would in turn, take great care of our clients and make our firm a great place to work.
We took a risk and that we don't have non-competes for our advisors, probably partially because of what we came out of, and where we are. But because I always thought it should be the responsibility of those of us who are building this firm to make it a place that people want to stay and make it a place that people want to build their practices.
And so, if I think about what has surprised me the most, I always believed that, but I didn't know if it was true. And we're only four years into this. So I can't say for certain. But we spent a lot of time on the front end, crafting our core values. We intentionally talk about those in our interview process. We have hired some of the most phenomenal team members I could ever imagine working with.
We have an internal messaging, Slack-esque channel on RingCentral. And people are always praising each other. They're always helping each other. Just the collaboration, the energy. They feel well cared for. They're taking great care of our clients. It's a fun place to work, even though we're doing the same financial planning anyone else's.
Maybe everyone feels like this at their firm. I hope everyone does feel this way at their firm. But I did not feel that way in the past. Right. Like I mentioned, I was fitting in with the suits. And that is no longer a thing.
We have a team. We have a structure where anyone can ultimately become an owner. And I have just been... I continue to pinch myself. I said this in the beginning, just by being here. But I continue to pinch myself that this is real. That investing in the people, investing in the values, and making them something that compels the right people and repels the wrong people has resulted in this environment that is just a fantastic place to work and a fantastic place for clients to be served.
Michael: So what was the low point on this journey for you?
Lauren: There have been plenty of moments of doubt. Like I said, if I knew then what I know now about just how hard it would be. I built a practice from nothing, right? I got a small stipend to go out and do some workshops. And I wouldn't change it because it got me where I am. But I don't know if I would go do it again because it was so hard.
So there have been plenty of moments of doubt. I think they've all been learning experiences. I think being able to shift from not thinking about like, "Oh, my gosh, can I do this?" Or, "Oh, my gosh, can I survive this?" or whatever. It's thinking, how could I do this? What could be possible?
And again, I credit the community that you have, and the platform that you give people to share has been a huge part of this, right? Because it's not very easy to find someone who has faced a similar challenge to what you're facing, and who has come through it, and to learn some of what they've learned without having to actually learn that yourself.
And so, I don't know that I, other than just kind of that epiphany moment of realizing that I needed to leave the firm I was at. But again, I wouldn't change it, because it's gotten me where I am, and I'm really, really proud of what we've done.
The Advice Lauren Would Give Her Former Self [1:24:17]
Michael: So what does fall into that category of things you know now that you wish you'd known then?
Lauren: I think part of it is just how hard of work it is to "pound the pavement." That's what I was doing and it's like I didn't know back then that I was going to be successful. I saw the statistics after the fact, how many people are not successful at that.
Michael: Which might have been helpful mental protection, retrospect.
Lauren: Yes. It worked out for me. So, again, I wouldn't change it. But I would have had that contract looked at, right? I would have probably sought more wisdom from inside of the industry before...? I've just always had this I-can-conquer-the-world mentality. I have an amazing work ethic. And I've always believed that could get me anywhere I wanted to go.
And I didn't realize that there would be all of these other challenges with contracts and with some of the things that I mentioned before, with just me not fitting in certain places. And I didn't realize that there were going to be those outside forces that, at times, threatened to stand in my way.
And so I think I've learned a lot through that. And I've learned a lot to share with other people, too, where I'm like, part of what I want to do. We have younger up-and-coming advisors, I don't want them to have to do what I did to build a practice. I have a really strong referral stream of great new clients for our firm.
And I would love to help someone else get to where I am, shorten their runway. I would love to make it easier for them. Just because I went through, it doesn't mean that someone else has to. I want to learn from it.
And one of my mantras is like, "I'm okay with making mistakes, but I don't want to make the same one twice." And so anytime something goes wrong, or something doesn't go the way that I want it to, I want that to turn into a lesson learned. Because I don't want to be solving the same issues over again, and I don't want to be making the same mistakes over again.
And so I think the more that I can make it easier on... I'm probably G2, so like G3. That's what I want to do.
The Advice Lauren Would Give Younger, Newer Advisors [1:26:16]
Michael: So what advice would you give younger, newer advisors coming into the industry today?
Lauren: So I alluded to this a little bit earlier. Planning is definitely, you have to be able to do financial planning. There are obvious ways to learn that, right. You can do the Certified Financial Planner. You can oftentimes learn from other people at your firm, or you've got planning departments or whatever. And so that is a big part of it.
If I think about all the places that I have really leveled up and where I have learned to unleash my real impact, my highest impact as an advisor, it's when I have spent time working on my emotional intelligence, when I've spent time working on my communication skills. How do I actually effectively communicate these things to clients as an expert, but not using the language of an expert? Right? Like using language that they can understand.
And so I think the human part and the communication part of advising is just as important as the quality financial plan. And I think the sooner you realize that, the sooner you can invest in your development along those lines, the more successful you will be. But more importantly, to me, the more impact you'll have, and the more value you'll be able to deliver to clients, which is just going to continue to result in more and more success for your firm and your practice.
Michael: So where do you go to learn that? Or what books or resources are you going to learn that?
Lauren: Yes. I've done different things over the years. I remember doing some public speaking trainings. I know there's organizations you can join and things like that. There's been various consultants over time that have done different workshops that I've gotten to be a part of.
We actually have, at our firm coming up in a couple of weeks... So I guess by the time this episode comes out, it will have already happened. But we have a two-day communication workshop that is being put on by Decker Communication. That's all about how to just have more effective conversations. So that's something that we're doing. In the past, there's a...
Michael: That's essentially an internal advisor training program for the advisors with your firm. It's a full-on, two-day communication training.
Lauren: Yes. And we have a budget. We have a line item in our budget every year that is for the development of our professionals. And we often choose something that is communication-focused or better understand...
We did a deep dive on Insights, that's kind of the personality profile or whatever that we use in our hiring process. And then we also use that internally, just to understand how we're all wired. So we did a training that was a deep dive on that.
That was really helpful. Because I start to think about my clients in those terms, too. I'm like, "Oh, so and so is..." Actually, I don't know if you're familiar with Insights, Michael, but I promise you would be a blue, which is funny, because blue is your thing.
Michael: Oh, yeah. No, I'm very familiar with Insights. And yes, I'm very much a blue. It is a running joke that the blue ended up being a blue in Insights.
Lauren: The blue is a blue.
Michael: Yes.
Lauren: Yes. So I can recognize those things. And our team can recognize those things in our clients as well. And so the way that I present, say an investment strategy, to a client who's blue, that's someone who's very data driven, wants to be in the details, wants to see everything under the hood, is going to be different than how I'm going to present that same proposal to a red, who is someone who's, "Get to the point, hop to it, I only have 20 seconds."
And so, I think learning those things has been really key. There's a man by the name of Jess Todtfeld. He doesn't do work, specifically in our industry, but I did a public speaking training with him years ago that was phenomenal. He actually had us all video record ourselves, and our why story that we use with clients. And then we sat in a room and we all critiqued one another. And it was one of the most uncomfortable things I've ever been through, and also one of the most effective things I've ever been through.
So for new advisors, I would invest in that. I would not downplay how important that is, if you really want to connect with people, and you really want to have a lasting impact.
Lauren's Plans For The Future [1:30:33]
Michael: So what comes next for you?
Lauren: That's a great question. I think for me this is always a moving target. I've had three daughters in the last four years. So my brains has been little distracted.
Michael: Okay, that's a whole challenge unto itself. How does that work in the middle of launching a firm?
Lauren: It's been a ride. My husband was bought in on this from the start. He really wanted me to do this. And that made a huge difference. He actually stayed home with our first for a period of time so that I could do these things that I needed to do to get the firm off the ground.
And so, I will say, the value of, I have made over the last few years some amazing advisor mom friends, who have been some of the most important people and voices of reason and sanity and all of that in my life over these past few years. People are also running practices who also have children.
So I've noticed that women in medicine, again, also traditionally male-dominated field are a little bit ahead, face similar issues to women in finance and in our industry, but are a little bit ahead in terms of mobilizing themselves. And there's this massive group on Facebook called the Physician Moms Group. That's just this incredible community of support.
So if anyone out there is listening and wants to help me with the Advisor Moms Group, email me. I'm not kidding, LinkedIn message me. Because the more advisor moms out there that I can connect with and just have that sense of solidarity, that has just been incredible for me.
Michael: We will. We can certainly help make that happen. So for folks that are listening, this is Episode 277. So if you go to kitces.com/277, we'll get some contact information out for Lauren through LinkedIn or her websites that you can reach out if you want to, to create the Advisor Moms Facebook Group, or whatever platform, you don't have to do it on Facebook.
Lauren: I love it. Yes, that was an aside, but I would love if that became a thing, because I've seen the power of the Physician Moms Group. It's just I've never been a dad. So I can't speak to that experience. But there's just a lot of demands being a mom, and just everything that comes along with that, and the biology of all of it. And then also, trying to do everything at the firm.
What I have come to. my life is a constant exercise in prioritization. And I have determined... I've got my glass balls and my rubber balls, right? So like a glass ball, if it's on my to-do list, and I drop it, it shatters. If a rubber ball is on my to-do list, it will just bounce along, and I can pick it up whatever I have the energy or time to do it.
Michael: Oh, I love the analogy.
Lauren: I don't remember where I heard it. It was years ago. But, "Oh, my gosh, it has served me so well." And I just have learned to prioritize presence. So when I get home from work, I don't keep my phone with me. I don't have an Apple watch or anything like that. My phone stays where I come in, and I leave my keys. And I spend that time with my daughters until they go to bed. I prioritize presence.
I try to do the same thing at work. If I'm with one of my team members, and I'm helping them with something, if I'm focused on an initiative for our firm, I prioritize being present there. That has been really, really helpful for me. And then just having a great team, a great team at home, a great team at work.
And then also realizing that I think it's made me a more effective advisor if you go back to the female physicians. They are juggling all of these things too, right, a demanding job, oftentimes children and all of the things that come with that, navigating maternity leave, and how they're going to that, and how they're going to get paid for that.
And so, I have been able to, again, just level up the impact that I can deliver because I now understand it in a way I never did before. And so, I can be advocates for them in a way that I couldn't be before.
What Success Means To Lauren [1:34:30]
Michael: As we wrap up, this is a podcast about success. And one of the themes that always comes up is we see just the word success means different things to different people. And so you're on this fantastic path for success and growth of the firm. But I'm wondering, how do you define success for yourself at this point?
Lauren: Yes. You know what's next? I should have said, "I do want Vestia to be a billion-dollar firm." So there's that.
For myself, success is an ever-moving target for me. It depends on when you ask what I think success is. It's honestly beyond what I even dreamt of that I'm here having this conversation with you today. And that so many advisors are going to be listening thinking that they can glean wisdom from me.
So it used to be, if you would have asked me that question about what success is, I would have put a number on it. A number that I wanted my practice revenue to be at or something like that. I've definitely pivoted that, probably since becoming a mom and just starting to think about things in a little bit, or leading a firm, as opposed to just my individual practice.
Now, I definitely think about my impact. I always have this vision of, I have so much respect for my great grandmother, and I always think about when I'm where she was in her 80s, living her best version of life, and the stories that she would tell, what are those stories that I want to be able to tell and what do I want to look back and know where I had impact.
And that's my clients. That's my team. I want to see other people be successful because of the foundation that I have laid, and I want to see them realize their full potential. That's part of it for me.
There's my family and my daughters, right? I want to help them figure out who they are and where their gifting are best suited. And I want to be able to make that investment in them to help get them to their fullest potential.
And then I have charitable involvement, too. I'm very involved in the Crohn's & Colitis Foundation. I have Crohn's disease. That's very, very important to me. I think about just generosity for that cause and for other causes.
Yes, it ultimately goes back to impact and I want to be able to look back when I'm 80 and I'll say, "Holy cow, I impacted a lot of people." I don't know exactly how that looks yet, but I'll tell you when I'm 80.
Michael: Awesome. Hopefully, it has a good turning point here for the Advisor Moms Group that gets created from this podcast.
Lauren: Yes, I love that.
Michael: Awesome. Awesome. Well, thank you so much, Lauren, for joining us on the "Financial Advisor Success Podcast."
Lauren: Thank you for having me. This is really fun. It's been a pleasure to talk with you, Michael.
Michael: Likewise, likewise. Thank you, Lauren.