Executive Summary
W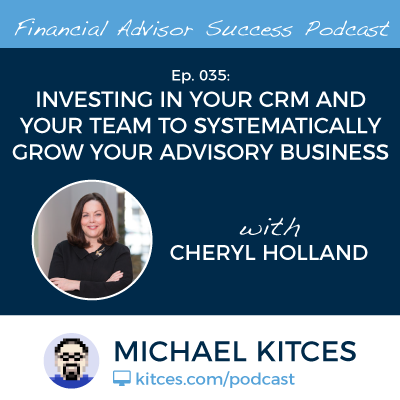 elcome back to the thirty-fifth episode of the Financial Advisor Success podcast!
My guest on today's podcast is Cheryl Holland. Cheryl is the founder of Abacus Planning Group, a private wealth management firm located in Columbia, South Carolina, that manages more than $1B of assets under management for just over 200 affluent clients.
What's fascinating about Cheryl's firm, though, is the way that she has systematized the processes of the firm - in a way that actually helps them be even more high touch and customized for their clients. From automating workflows, tasks, and reminders of client needs, to building a templated meeting agenda for every client meeting that covers check-ins, celebrations, investment, financial planning, and administrative tasks, to refining an investment process around model portfolios with DFA funds, Cheryl's firm has invested heavily in systematizing the business... and invested heavily into customizing Salesforce as their CRM to facilitate the process.
In this episode, Cheryl shares how her firm structures its blended AUM-plus-planning fee structure, why Abacus sets a minimum fee - rather than an asset minimum - in deciding which new clients to work with, why the firm decided to make a shift towards focusing on a niche of closely-held family businesses after already growing successfully for nearly 20 years, and how the firm markets with a combination of COI referrals, national board volunteerism, and client referrals, to drive its growth.
In addition, we talk about Abacus' approach to reinvesting into its team – because as Cheryl puts it, "you can't grow your firm if your people aren't growing" - with everything from sending employees out to conferences, bringing in psychologists to teach active listening and empathy skills, management training classes for emerging leaders (including Cheryl herself!), and how every the Operations and Administrative team members at Abacus have a chance to take the Registered Paraplanner course and advance themselves in the firm.
And be certain to listen to the end, where Cheryl shares the two key advisory business books that she re-reads every year to advance the firm, how she decides when it's time to make a change and evolve the firm and her role, and her advice to young women who are trying to grow their own advisory careers and manage the competing demands of work, home, and family.
So whether you're curious about how to balance the dynamic between systematizing your firm's processes and procedures without losing the sense of high-touch customization, or simply want some ideas of what, exactly, you might standardize, or are looking for ideas on how to deepen the training and education of the advisors (and emerging leaders) in your firm, I hope you enjoy this episode of the Financial Advisor Success podcast!
What You'll Learn In This Podcast Episode
Abacus Planning Group as it exists today [5:40]
Why it's so imperative that Cheryl and her team keep learning and growing as their clients become more numerous and complex. [29:45]
What she's learned about hiring and working with Millennial advisors and investing in their development. [34:27]
Why investing in Salesforce alongside another financial planning firm has been a cost- and time-efficient way to increase its utility. [38:04]
How Cheryl and her team have extensively customized Salesforce as their CRM to maximize efficiency and service quality. [41:42]
How Cheryl navigated leaving her previous firm in a relatively small city without poaching clients. [56:28]
How Abacus has maintained high-return referrals from CPAs, attorneys, and other professionals that can be tricky to land referrals from. [59:07]
Why Abacus chose to pursue the niche of families with businesses and other closely held assets. [1:06:13]
The management, listening, and empathy skills Cheryl invites professionals to teach her team. [1:08:43]
Resources Featured In This Episode:
Never miss a Financial Advisor Success podcast episode! Get notified of the latest episodes (and all our research as it's released!) directly via email:
Full Transcript: Investing In Your CRM And Your Team To Systematically Grow Your Advisory Business with Cheryl Holland
Michael: Welcome everyone. Welcome to the 35th episode of the "Financial Advisory Success" podcast. My guest on today's podcast is Cheryl Holland. Cheryl is the founder of Abacus Planning Group, a private wealth management firm located in Columbia, South Carolina that manages more than one billion dollars of assets in her management for just over 200 affluent clients.
What's fascinating about Cheryl's firm though is the way that she had systematized the processes of her firm in a way that actually helps them to be even more high touch and customized for their clients. From automating workflows task and reminders of clients needs, to building a templated meeting agenda for every client meeting that covers check-ins, celebrations, investments, financial planning, administrative tasks, to refining an investment process around modern portfolios using DFA funds. Cheryl's firm has invested heavily in systematizing the business, and invested heavily into customizing Salesforce as their CRM to facilitate the process.
In this episode, Cheryl shares how her firm structures its blended AUM plus planning fee structure, while Abacus sets a minimum fee rather than an asset minimum and deciding which new clients to work with, why the firm decided to make a shift towards focusing on a niche of closely-held family businesses after already growing successfully for 20 years, and how the firm markets today with the combination of COI referrals, client referrals, and national board volunteerism to drive its growth.
In addition, we also talked about Abacus's approach to reinvesting into its team. As Cheryl puts it, "You can't grow your firm if your people aren't growing." With everything from sending employees out to conferences, bringing in psychologists to teach active listening and empathy skills, management training classes for emerging leaders of the firm, including Cheryl herself, and how every operations and administrative team member at Abacus has a chance to take the register paraplanner course and begin advancing themselves in the firm.
And be certain to listen to the end, when Cheryl shares the two key business books that she reads every year to advance the firm, how she decides when it's time to make a change and evolve her role in the business, and her advice to young women who are trying to grow their own advisory careers and manage all the competing demands of work, home, and family.
And so with that introduction, I hope you enjoy this episode of the "Financial Advisor Success" podcast with Cheryl Holland.
Cheryl Holland to the "Financial Advisor Success" podcast.
Cheryl: Michael, good morning and thank you.
Michael: I'm excited to have you on the podcast. I was actually trying to figure out how long we've known each other. And I'm not even quite sure how far it goes. I think, it's, like, 10 or 12 years now maybe?
Cheryl: I think on the long end of 12, Michael.
Michael: Yeah, yeah. And I can't even remember why I was in town, but I was coming through Columbia, South Carolina, where you guys are based, and you were kind enough to invite me to your office, and you have this beautifully designed office. I know you guys made and created and designed it yourself with this really cool space and different types of client conference rooms.
So there's a really formal conference room for the clients that tend to be, shall we say, a little more formal. And there's a more casual conference room with low tables and comfy chairs for clients that are a little bit more casual. There were just so many things that were clear were, sort of, deliberate, intentional design elements of your firm that I had never seen any other advisory firm do before, that it left me just fascinated with what you're building there in your business.
Cheryl: Michael, I think that's a fascinating comment. Many of the listeners may not know, I'm married to an architect. And so, the genesis of the building was I thought to myself, I'm really good at my human capital, and evolving it and monetizing and growing it. And he's really good at he's human capital. We had never used our human capitals together, except to have a child, I guess you could say. And I begged him to do a building for me, and he finally gave in, and he found this building, and it was a really pig's ear that he could turn into a silk purse in my mind.
And with the work of our wealth psychologist, he designed a beautiful space for clients that incorporated learning environment elements, collaborative workspace elements, confidential space for intimate meetings. All the things that we were hoping to achieve at the time, and the space for growing our art collection, which is something that's important to Doug and I, too, and helps brand us in our community.
So the elements of the physical building are part of our brand. People who don't know us, know the building, and we try to expand that 2500 Divine, which is our address, look into the implementation of our website, so that that every experience you have of Abacus has a similar feel of collaboration, inclusiveness, flatness in terms of hierarchy, all the ways that we operate, we should be communicating it to you via everything we do, our space, our website, how we answer the phone, etc.
Abacus Planning Group As It Exists Today [5:40]
Michael: Yeah, well, I mean, we'll talk about more on the podcast, that you create things in your business with a very unique level of focus and intent about how you craft the way your space looks, the way your brand looks. I know you spend a lot of time on just developing your people and developing your culture. It's a fascinating thing. So I don't see that very often in our advisory industry, where firms are created with that kind of focus on the intentional design of the business itself. But maybe it's a starting point. Can you just share with us a little about the firm, what is Abacus Planning Group as it exists today?
Cheryl: We're about 24 team members. The others might find it interesting that we have five permanent virtual team members, and we could talk about that a little bit later. We have about a billion dollars under management, discretionary management on behalf of our clients, although we think of money managements as an area of excellence, but a subset to the broader holistic financial planning that we do on behalf of clients. We have about 225 clients. And our team members, who number about 24, have a variety of designations. I think we have something in the neighborhood of 13 certified financial planners, CPA-enrolled agents, JDs. And what I'm particularly proud of is we have five registered paraplanners.
So everyone who works on the operations team comes on to Abacus and grabs right away this idea of growing your human capital and improving your skill set. And they, early in their careers, typically get…they register paraplanners, which I think makes us a stronger institution on behalf of our clients.
Michael: So your operations staff. So it should be, like, client administration, account reports…
Cheryl: Exactly.
Michael: …that kind of stuff…
Cheryl: Exactly.
Michael: …go into a registered paraplanner program.
Cheryl: They do.
Michael: And where is that or who is that crew?
Cheryl: Well, that's a great question. I think they do that through the C…
Michael: College for Financial Planning?
Cheryl: That's exactly right. There's a program you can go. If you Google "register paraplanner," it will pop right up. It's a coursework that you need to take, and the test that you do. And then they have to do continuing education, and gives them a better understanding of what the planners in the office are doing. Not quite a strong of a knowledge of what the investment advisors are doing, but the investment advisors do some continuing education for them to help them understand what they're doing on a day-to-day basis.
Michael: And we'll put a link out to the registered paraplanner program in the show notes as well, for anyone's curious. So this is episode 35. So if you go to kitces.com/35, and scroll down a little, you can see the resources mentioned in the episode, and we'll include a link there for people who are curious.
So I'm just, kind of, doing the rough math here, a billion dollars under management, 225 clients, so your typical client is $4-$4.5 million dollars? Does that sound about right?
Cheryl: That's true. Although the range is quite broad because we have our legacy clients, we've got grandma comes on board with business…she sold his business. So, you have a range.
Michael: Do you operate with minimums at this point? Is there a certain type of client that you have to be to come on board with Abacus at this point?
Cheryl: I would answer that in two ways. One is we have a fee minimum. And so, our fee minimum is $24,000, and we tell people, "If you have x amount of assets and x complexity, this is a good value. If you have less than that or we don't think you're complex enough to get enough value, we'll make referrals to other planners in the region." Or, sometimes those individuals come on anyway because this is where they want to be. So that's how we've established our minimum.
Michael: And that's a fee minimum and then ultimately, there's some kind of AUM fee schedule if you're over that number, or are all of the fees just flat dollar amount fees?
Cheryl: Yes. So it's a combination of a flat fee and an AUM fee. So every client pays a flat, but we call it "financial planning fee." But it's a fee that gets at the complexity of the clients, not just the investors that we're managing on their behalf.
And the second gate I would say, Michael, is that we are focused primarily on families with shared assets, typically, a closely-held business, but sometimes real estates, sometimes timber holdings. And so we will take other clients, but we want people to know out of the gate, that's where we focus our time and energy in our technical development.
Michael: And what's a typical breakdown of how you do fees between financial planning fees and AUM fees?
Cheryl: So our financial planning fees range from 6,000 to 125,000 knowing that not that may people follow the talk, right?
Michael: Right. You can complex enough, you can get that that high.
Cheryl: That's right. Our AUM fees run from .6 to .25.
Michael: So you're relative to, I think, what most advisors charge, you're much lower on the AUM fee with a pretty hefty planning fee.
Cheryl: Exactly. And that's why we really communicate to clients to come here, they need to have some need on the planning side. We don't take…we have some clients who've become to invest only because they're 82, and they've been here forever, and we can't think up anything to do on their behalf. But almost everybody else has ongoing routine, tax, estate, charitable gifting, business' challenges that they need our assistance.
Michael: So if someone comes to you with $3 million of assets that's a 60-basis point fee is $18,000, and then a minimum planning fee is $6,000. So if I'm around 3 million of asset, I'm probably getting pretty close to where your fee schedule matches up with your fee minimum?
Cheryl: Exactly. And where you can…if you're not that complicated, you would be a 6,000 and this would be a value, I think, in pricing.
Michael: So why the structure that way? I mean, why not just, "We have a $3 million minimum," as opposed to a $24,000 fee minimum?
Cheryl: I think that's a good question and I think it has to do with how many people who've come in at that fee at lower assets under management. Probably 15% of our clients at some point in time were lower than that, and then grew into that fee over time. But we didn't have the bandwidth to take them on, given that we were on the growth cycle at certain points in time to lower the fee, and they want to be here anyway.
Michael: Okay. So, maybe they've got a lot of financial planning complexity and they just say, like, "Hey, I know the AUM portion of my fee is, whatever, the half of this or less, but I value the planning work that you do, so if we want to pretend I'm paying $12,000 of AUM, and $12,000 of planning fees, that's fine, because I think your planning fees are worth it to get to your $24,000, and because I want to work with you."
Cheryl: And sometimes it's family members who have family members here, or partners who have partners here, so they already have transparency into what happens.
Michael: And if you're doing a lot of work with families with shared assets, do you set up this fee structure and servicing for the family in the aggregate? Like, your family has a $24,000 fee minimum, or is it's, like, "No, no, no. We work with mom and dad, and here is their fee structure." If the kids want to work with us, they've got to pay their own fee for their own way for their own stuff.
Cheryl: It's almost always the second. Occasionally, it's the first, but for one thing, we want a different kind of advisory agreement with each individual for confidentially, so that each person feels safe, and that we are an advocate for them. So the challenge you could imagine in that set up is surfacing all the conflicts of interest at the right time.
Michael: Yup. And so, I got to ask, what do you do for a $24,000? That's a good size amount of planning fee, dollars. If I'm a perspective client, and I ask you, like, "So what exactly get for my $24,000 to Abacus?"
Cheryl: You'd be surprised how rarely people actually ask that. I wish people ask it more often because I worry when they walked out the door, how are they making good decision? Because, I think, first and foremost, what we're really doing as advisors are helping for people to make good choices, good decisions. It's not just about good decisions in the markets, but a mortgage or not a mortgage? Is it time to gift to your children or not? And how do you do the education of financial skills from the time their 6 until their 30? So when they are getting a large inheritance, they're ready for that.
We do all the classic tax planning, that most advisors do. We're very heavily involved in the estate planning. We go with clients to the attorney. We help them select one. You and I know, then on the backend, it's execution, getting the beneficiary designations correct, to retelling all the radical, and trust all those general partnership interest. But for many clients, they have a closely-held business. So we may be having annual meetings with the accountant to do year-end tax planning. We've got a piece of the puzzle, the CPA has the piece of the puzzle, let's put that together so that the strategies are appropriate year after year after year, and have a multi-year plan for that particular.
We oftentimes manage small 401ks for the client where we wouldn't be profitable on that, but they need to have it for their organization. We do the education. So it's a customized pick from the menu that we do for each client. But as you mentioned earlier, we're highly process-driven, so our goal is to customize what typically would be a mass-produced products so that we can serve a higher clientele, and be very efficient internally.
We have family meetings for every client. So if you just finished your estate planning, and you have adult children, we come in and we go through the plan with them, allow them to ask questions. And the things that come up are never, "Who gets what?" That's rare. It comes up occasionally. But it's more, "Hey, Dad, you know, what are all those binders over your desk? And do I need to worry about those?" "Mom, you know, you've always told me you don't want to go a nursing room, but what if that happens? How do we talk about? Can we talk now about that eventuality?" So, that's very valuable to people, having family communication.
Michael: Interesting. So between family meetings and estate planning meetings, and you're in tax planning meetings, and I presume at some point, maybe clients want to know what's going on with that portfolio you're happy to be helping out with, I mean, how often do you meet with clients on an ongoing basis?
Cheryl: So I would say most clients around a couple of times a year. That's the interesting thing about financial advising is people go through cycles and they may not need you at all for two years. And then last week, we got an email from a client and said, "We're in Peru. We lost our green cards. Can you help my daughter figure out what to do so we can get home and do surgery Monday morning?"
Michael: And those are the kinds of things you're clients call you about?
Cheryl: We thought it was a phish for getting money.
Michael: Yeah, this is exactly the story how fake wire fraud transfer requests begin.
Cheryl: Exactly what we thought. But they truly did need that assistance, and we were first call. And so, that's not an unusual story that we share on our weekly staff meetings of…we're in a helping in a profession, yes. We're in a expertise profession. People trust us to make sure that they're getting on the boat, Noah's Ark, great. And that at the end of the 40 days that we may go through in the future, they're going to land on dry land, and we're going to have helped them do that, but that's not the only think they're looking for. In fact, I will tell you, Michael, we've gone to a new systems saying, "Would you like the headlines for your portfolio or would you like the full story?" And I bet 80% of our client say, "Just give me the two paragraphs, or just give me the headlines. I trust you all."
Michael: So you literally ask them that question?
Cheryl: Yes. Yes.
Michael: And write it down in the CRM or something, like, "This is a headlines client."
Cheryl: We check in every time because people can change depending…your beautiful work around risk tolerance, risk perception, right?
Michael: Yes.
Cheryl: Risk capacity. So risk perception does change for some people. But I would encourage clients…I mean, I would encourage listeners to try it and see how often the individual really doesn't want to be talked to about their portfolio. There are clients who love that, and we are prepared for that. But checking in has been a real surprise to us.
Michael: Yeah. I mean, the flip side, I know for at least some firms, if they're still trying to get deeper on their planning process, there's actually kind of a fear that comes from asking clients that question, because if they say, "I just want the headlines," you may not actually have enough things to talk about for the remainder of the one hour meeting that just got scheduled with them. I mean, there's sort of dynamic. Beware asking clients more planning questions because you have to actually be ready to do the work when they answer with the needs and problems.
Cheryl: Because the follow-up to that is, well, I'm curious about what other questions you may have for us today.
Michael: Yeah. And is that actually part of how you run meetings? Do you set agendas that, sort of, go through all of these different pieces? Or, just start every meeting with, "Hey, so we got some investment stuff, and we can do a headline or details, anything else you want to talk about," and just go from there?
Cheryl: Well, you won't be surprised that we have a big template agenda that we call down based on the client's needs for that meeting. It's sent to them in advance for input so that they're co-creating the agenda with us. And then we prepare for the meeting. I think two things I would add that you mentioned. Interesting is, learning meeting management skills is a skill that you oftentimes have to help your other team members develop, so that you are having an hour-meeting rather than a two-hour meeting. So I think that's your point. And the second reason we're asking open-ended questions is, we deeply believe that if we're superior listeners, then we will always be in a position to grow as a business.
Michael: So. I'm just curious for one more minute on this agenda's structure. So, what do you…well, I guess two questions. What kinds of things are actually on the agenda or maybe on the giant template agenda before it narrows down? And what's the actual process for sending it to clients? How far in advance do you send it? How much back and forth do you have about the agenda beforehand? Do you actually, physically, print it, then when it's meeting time…? Just what is that agenda process looks like?
Cheryl: Michael, you know me. We use iPads, unless the client has asked for a paper. So, we're actually in the transition of automating so much of this, but it breaks into four basic chunks, sort of an update where we will say, "Check-in on goals, check-in on family and health and business." And then we have a celebration section because we just love to celebrate. We always love to ask the clients, "What can we celebrate?" We then have a section on financial planning, a section on investments, and administrative section that we might have to do some paperwork, or something that needs to be taken care of at the detail level, but not the discussion decision making level. And that has components under that you can well imagine what they might look like, and depending on what the client wants to do, we move that around.
So, some of the things we're starting to do is we have automation is that…this is a small example, but we always like to give clients whose child is turning driving age, and quite frankly, this is 15 for most of our clients. So when a client's child turns 15, there's an automated to-do that says, "Add I promise to," the agenda, which is I think it's one of the insurance company's document that we go through with your child over all the issues if they promise to do now that they're beginning to drive. It's a wonderful document if you have children that age, or clients who have children that age. And so who wants a research when a kid turns 15, so having that automated…we're not at this stage yet, but it'll automatically go on to the agenda for the clients has children that age.
So that's just a tiny example, but you have all these high touched things like that that the client appreciates if you can do something like that at every meeting based on age, stage of life, cycle of marriage, process of grieving, any transition is very powerful. And showing the client that we actually do care about them, and then allowing that to be a process, so everyone's getting a consistent experience across the firm.
Michael: Well, I think it just sets an interesting structure to the agenda of this check-ins, celebrations, financial planning, investments, administrative. That's a lot of stuff on an agenda.
Cheryl: It can be, but usually the meetings are usually somewhere around an hour and 15 minutes, and run properly. And obviously for newer clients, there's going to be more on there. We go through a financial crisis. We're not going to talk a lot about the financial planning, unless clients want to know, "Did you update my cash flow planning?" And when there's a big tax reformat, we spend less time on investments.
And I bet many people listening to us do this, but each client has four team members. They have a lead advisor, they have an investment advisor, and they have financial advisor, and an operations person. So, I'm not in there the whole time as the big talking head if I'm the lead advisor. So that makes it shorter, too. It makes it more interesting for the client because they have interaction with multiple people.
Michael: So lead advisor, investments, financial planning, just like a paraplanner, associate planner, support kind of person, and then operations? Okay. And so how many of those teams do you have across 24 team members?
Cheryl: Yeah, we're sort of unusual and we probably over time will morph into a more siloed approach, but right now, for two reasons, we have cross-teams. So it's rare for me to work with the same team members for more than 10 clients, if I had 40 clients. It would be rare to have the exact team for more than 10 clients. We're such a young organization. We do that for training, so that our young people are getting exposure to various senior planners. We do that, so it would be very difficult for a team to lift off and go out on its own because they wouldn't be able to take much with them, unless the entire firm left, which is always a possibility. And so we rediscuss this about every two years and say, "Should we silo?" And the young people typically end up saying, "No, we actually like having the variety, working with different planners, and different investment advisers."
Michael: Because from the training perspective, it gives them a wider variety of learning opportunities and lessons?
Cheryl: And it also keeps irritation level low, I think, because we're a very direct feedback organization, and people know where they stand in terms of where they're strong and where they're weak, but it also allows you to appreciate the gifts of everyone in the organization. So. if you're only working with one person, it might be that their gifts be good to me, for example, right? I might be very good in client meetings, but I can also create a lot of chaos, and I run from one meeting to the next experience, and I'm out of town. And that can really drown somebody out in terms of energy and capacity and tolerance. But if they're with me just once in a while, it's a lot of fun.
Michael: So you have rotating teams to temper everyone's exposure to you.
Cheryl: Right. And also, and really the primary motivation at the beginning is, you know, Richie Lee, one of our founders of our profession once said to me, "Cheryl, you know, you can jump the gender fence, and you can jump the age fence, but not everyone can do that." And so we do very carefully craft who we think will be the ideal fit for each client, and that is going to be very different.
Michael: So, of 24 team members in total, how does this breakdown into the different areas? How many folks are lead advisors? How many are in investments? How many are operations? How many are in the financial planning support roles?
Cheryl: So, we have four on the investment team, and two of those are completely…well, one has completed their CFA, one is completing his CFA, one's a CFP, and the other starting in the CFA. So the investment team, it has half of fifth person who's part-time. And then on the operations time, we have a full time dedicated Chief Operating Officer. We have a fulltime Office Manager, who has expertise in human resources which is a wonderful gift to us. And then we have four people who are on the client service administrative team, and everyone else is on the financial advising team, whether they're new to the system or not.
Michael: It's upwards of half the total headcount are on the planning side?
Cheryl: Absolutely. So, that tells you something about where we put out resources and how we service our clients. And as you know, the investment side tends to be more scalable, and we have been Dimensional Fund advisers since, gosh…even before I started Abacus. So that's the loudest in efficiencies and how we think about the world.
Michael: So, your investment portfolio process is DFA-driven model portfolio?
Cheryl: It's centered. It's not exclusive, yes.
Michael: Okay. Okay. And so, of the more than a dozen on the planning side, is there a breakdown, like, how many of those are lead advisors? How many are those in support advisors?
Cheryl: So, they're in stages. There are five who are firmly in the lead advisor side. There are others who are in transition, and are taking over responsibility for that for clients with less complexity.
Why It's So Imperative That Cheryl And Her Team Keep Learning [29:45]
Michael: And how do you set…I'm just curious how you set some of those staffing levels. I spend a lot of time looking…in terms of our advisory firm, an industry benchmarking studies, and you're at a dozen on the planning side with 225 clients. I mean, you're 11 to 12 clients per advisory staff, when a lot of firm staff, 40 or 50.
Cheryl: Well, you have to remember that three of our people are brand new out of school, and so not…
Michael: So, some folks are still kind of gearing up. They certainly aren't at the multimillion dollar client relationships level yet.
Cheryl: No. And so we are staff for growth part of that. But we learned a long time ago that being in Columbia, South Carolina, we kind of had to hire three people out of college, or sort of the beginning of their career, given place in life, engagement, children, aging family members that probably one is going to actually stay here over the long term, even if they were delighted to be here, and had to leave for other reasons, and attracting professionals in a later stage in life. It's a smaller community. It's a little tougher for us to do that.
So, we're just taking what we have in our environment to be successful and running with it, which also has led us to do so much on the developmental side because we tend to attract, we tend to have younger team members or people who are coming to us with very little expertise in financial planning. So, we needed to do a lot of intentionality around growing our team members. We would do that anyway because it's a lot of fun, it's a joy, it's important. You can't grow your firm if your people aren't growing, but that's where we kind of begun to realize we have to bring a lot of resources to bear.
Michael: I find it striking that...and there's been tons of discussion in our industry around the challenges of hiring young people and millennials, and getting them to stick in your advisory firm, and like you…it felt almost nonchalant for you to point out that when you hire three millennials out of college, you're assuming only one of them is likely going to end up staying in the long run. I don't know. There's an interesting mentality shift there that you've seem to be assuming two-thirds of them won't work out and you're fine with that.
Cheryl: Well, I don't know that I've…I always feel sad when anybody leaves, and I'm not sure, but I would say…and let me tell you the epiphany. So, we had an extremely talented intern, and her parents were in the financial planning industry. And I knew that ultimately, if we hired her, she would move on to work for them. And so we made the decision not to give her an offer, and afterwards I thought, "That was one of the stupidest decisions we've ever made." If we had had her for two years, it would have been a brilliant two years, and the gifts she would have given us, and the energy, and the hard work she would have brought to bear would have been well worth the salary and the energy we would have put into her.
So, that was a shift in my mind from to this position. Now, I don't want to say it's not difficult to train people at the time, but you have to face the reality and then have positive energy on how you're going to solve that particular challenge.
Michael: Well, I think you make a good point that…I find a lot of firms are anxious about hiring younger advisors for fear that they're going to spend time training them, and the advisors can move on, and they're sort of no acknowledgement of, "Yeah, but they're going to do work for you in the meantime." Like, they're still going to, hopefully at least, be a good employee and get things done and contribute to the firm. It's okay that not everybody that is working in your firm is going to be there for the next 30 years, as long as you're paying them a reasonable compensation, and they're doing reasonable work that contributes to the value of the firm.
Cheryl: Absolutely. And also, for someone who's been doing their work for 10 or 15 years, the kind of work those young men and women do, some of it is not work that they need to be doing or want to do, or could experience burnout if they were still doing it.
What She's Learned About Hiring And Working With Millenial Advisors [34:27]
Michael: So, are there dynamics then that you find that are different in hiring and working with millennial advisors as you bring them into the firms? I know you've been doing this for a number of years. You've hired a lot of people over the years. As someone that actually hired and developed a lot of young talent, do you see a lot of the issues in practice that tend to be talked about in the media of hiring, and training, and developing or retaining young advisors?
Cheryl: I have to say no, Michael. I think the way I think about it is is that being a millennial, or a baby boomer, or a Gen X, is one part of who you are perhaps, but you're also a male or female, may have a specific race, or culture, or ethnicity background, your family of origin, the region or country you grew up, your spiritual upbringing. All of those things are also factors, and so that's just one piece and it just doesn't appear to us as an organization to be a dominant piece. And we have one millennial who's already a shareholder. We've made an offer to four additional young members of our team, three of whom are millennials. So, that's just not been my experience.
Michael: Is there anything you attribute that gap to? What everybody seems to say about millennial advisers that you don't find and practice with millennial advisers?
Cheryl: Well, I guess some of it may be true, but maybe those are issues that just don't disrupt or challenge the organization. And I think when I was 22, I can't imagine what the silent generation felt about the youngest of the baby boomers, so…
Michael: Well, I mean there is an interesting dynamic there.
Cheryl: I mean, they fought World War II, and I'm, like, "Yeah, I'm going to Europe for the summer." I just…
Michael: There is to me some amusement, like, if you look back at what was written about the boomer generation in the '60s, in the '70s, when they were 20-somethings and training the workforce. It wasn't very complimentary at the time either.
Cheryl: I think as a women at that young age, boy, I had that book, "Dress for Success" that I still keep on my shelf. So I took work highly seriously, and I took having a career as a woman who knew she wanted to have a family, and there would challenges very seriously, and there wasn't many role models to look up to. So, if this next generation, the next two generations have different ways of thinking they have just been born and come into their own at a different moment in time, and so they have different options. I had all of our summer interns over for dinner at my house a couple of weeks ago. The thing that popped into my mind, it was so fascinating, I asked them all what was on their bucket lists?
And all of them talked about world travel, and all of them talked about extended stay in a culture that was not their own. And these are kids from all over the country, all over. And some of them from small cities, some of them from big cities, and that was not something that my generation would have said. And I was, like, "Wow. I love that. Go for it."
How Cheryl And Her Team Have Extensively Customized Salesforce [38:04]
Michael: So, for the rest infrastructure of the firm, what do you guys build on from the technology? So, most firms have kind of three core pieces of technologies, some kind of CRM, some kind of portfolio accounting, and some kind of financial planning software. So, what's the technology infrastructure look like at Abacus?
Cheryl: So, do you know, technology is so core of what we do. Although these three pieces probably don't speak to that except the CRM. We use Salesforce. We've highly customized it and that's where all of our automation and efficiencies are coming now. And we've had a CRM for 15 years of our existence almost, and the data we have in it is a huge a competitive advantage in my opinion in the way we can manipulate and do reports and get…
Michael: And is that why you picked Salesforce over Juncture or Redtail or others?
Cheryl: Yeah. We were in Saleslogix way before any of those existed really to any degree. And so we decide to go with Salesforce, and we've been delighted, and we have barely scratched the surface of what we'll be able to do with the program. And we collaborate with another firm on this.
Michael: I was going to ask, how do you do your customizing and building automations? That's not inexpensive to adapt Salesforce.
Cheryl: Well, I have to say, for, one, we collaborate with JoycePayne Partners, Michael Joyce's firm in Richmond, Virginia, and Harrisburg, Pennsylvania. And we have a gift. One reason we've been able to do is we have a team member, Stephen Scott, who is on our investment advisory team, but he is a brilliant, a virtuoso in these areas. So, yes, we outsource to a group when we first moved over, but the automation and customization that we do now, he can do a tremendous amount of it, then we outsource it to firms what we both want to do together. Now, the cost isn't that much for what we're getting in return in terms of scaling and automation.
Michael: So, who did you outsourced to, initially, as you were both, do you remember?
Cheryl: Oh gosh, they've changed their names so many time. I think it's Red... I don't…see, this is good news. I'm so far away from those decisions now, I don't know the answer. That's actually good.
Michael: So I'm curious what this collaboration structure looks like. So, they have their version of Salesforce, and you have your version of Salesforce. It's just when you make changes, you make changes to some template that both of you use, like, that kind of structure? Or you're literally sharing a Salesforce license?
Cheryl: So, originally, there were three of us, Mary…before Mary retired, and you got to remember, we began all those years ago, and so we did make group decisions and it was very effective wisdom in the crowds. And now, there's a team between the two firms that collaborate and they make decisions. And then we prioritize at the leadership level between the two firms, and then they outsource for execution. So, we have a plan, a three-year plan usually. We've moved that probably down to a two-year plan now. And, yes, we may not use everything they do, we may not use everything we do, but we always split the cost.
Michael: Okay, interesting.
Cheryl: And it's so much stronger because you've got a broader set of brains and different ways of looking at things that you can call.
How Cheryl And Her Team Customize Salesforce [41:42]
Michael: And what's kind of changes are you making? I feel for a lot of us, maybe we're so not used to adapting our CRM that way. It's hard to even imagine what you would do and adapt your CRM to do. What kinds of changes or automations or customizations are you putting in place that helps your efficiency?
Cheryl: So, all the checklist that we have, most of them now auto-populate based on a trigger point. It might be a date, it might be an age, it might be entering the date that we received a tax return.
Michael: These are planning, checklists, or operations checklists?
Cheryl: Yes. Yeah. So, for example, a very simple one is a tax return comes in the door, it gets scanned, the person in charge of this enters the date received the tax return on a panel. And then the whole process populates, a to-do, an automatic email to the client draft is set up, a checklist for the tax return is set up. So all of those…that's not many steps, but that simplifies so much work for so many of the team members. All things like birth date, so the birthday card report, and the anniversary report. Simple things that I'm sure other CRMs are doing, all the way to getting our…we only send out investment report semi-annually, and then we do to the virtual files monthly. All of that is also automated through Word Docs and our CRM with help from Trumpet, who, you know, excels in this area.
Michael: Okay, so you work with Jo Day at Trumpet as well?
Cheryl: Absolutely.
Michael: And so what about the rest of the technology infrastructure? So, you're a very Salesforce centric firm clearly.
Cheryl: We are. And we are in portfolios, although the operations team has just written, released a leadership team memo about moving to Tamarac, so, that is probably in the works. And then we've always used Golden Years.
Michael: The Money Tree product?
Cheryl: We do the Money Tree product, and I'll tell you why we are looking at the other options. We have been slow to move only because our clients are complex, and we have such technical knowledge around how that black box works, and how to enter data to get accurate, predictable…
Michael: One of the things that's always been popular I know for users of Money Tree's Golden Years, is it's flexible enough, you can pretty much…you can cram in any cash flow at any point you want, if you've got complex client situations you're trying to manage or model, and they're particularly good in that. They give you a very detailed audit trail…
Cheryl: Exactly.
Michael: …of where numbers come from. So, if you want to print out all the supporting pages, you can manually recreate every single calculation in their software, not that most people would want to.
Cheryl: Exactly.
Michael: But it's really nice to know that you can actually validate every number because, unfortunately, for a lot of other planning software, sometimes numbers come out, and you'd ask where that number comes from and nobody can actually show you where that number comes from. Like, it really is a black box.
Cheryl: You're exactly right, Michael. And our Head of Financial Planning, Alex Chastain, is the guru of all of that, and, I mean, ultimately, we will probably make a transition, too, but that's a tough one for us because of the complex nature of our clients. I mean, we might be putting in an oil and gas holding, and cattle, and rental rural estate, and pension and just many moving parts.
Michael: So, given that and the depth that you have on the software, what would drive a change at all? Why do you feel this need or desire, inclination that you may have to change?
Cheryl: I don't feel any, and I think that's the nature of having younger advisors who are coming out of a program, something they're familiar with, and I don't…in fact, right on my desk, while we're talking, I have a big button that says, "Yes." And historically, when I was starting to be a leader, I would say, "I don't like that idea." If it wasn't my idea, it wasn't a good idea I think I may have had as a bad habit. And so, I think, it's much better to say, "Go explore that. Go out and tell us why." And give them the bandwidth and the delegation, the proper delegation, the resources to explore, so that they come back and say, "You know what? We do like Money Tree." Then they're going to be a more convicted user themselves.
Michael: So, either they'll come back with a conclusion that gives them more buy into what you're already using, or they'll come back and actually successfully persuade you that there's a…
Cheryl: Absolutely. I mean, that's a skill. Selling your idea is a skill they need to develop.
Michael: So, can you tell us a little bit about your own story? How did you come to the advisory industry and running a billion dollar advisory firm in Columbia, South Carolina?
Cheryl: Well, when I got out of college, I majored in Economics, and I went to work for an econometrics firm. And I realized after a couple of years that I did not want to sit in the back room with virtual eyeshades and think deep thoughts and just work with myself. And so I actually went to work for my college in the admissions office for a year, and as a part of that, I met someone who was a stockbroker at Merrill Lynch who loved what he did, and he said, "You should do this." And so I knocked on the door, I was living at the time in Alabama, the door of the local office and they said, "We're not hiring." And they kept saying that for about a year. Finally that manager was fired, and when a new manager came in, he said, "Oh, we've had new positions all along. They just didn't want to hire any women." And so…
Michael: When was this? What year was this again?
Cheryl: This would have been 1983. And so I tried, and I went through the process to be hired, and at one point in time, and you will laugh because you know me, one of the assessments on my sales walk game was that I was too aggressive for a woman, which is not a word that people normally says here with me. So I did…
Michael: But, I mean, if we would just try to pair this together, you couldn't get hired initially as a woman for some kind of stereotype that you wouldn't be aggressive enough at sales to get the job done, and then you went through a sales assessment that said you were too aggressive.
Cheryl: Exactly, right. So I went to work for them, and just learned so much, and had a great group of friends that entered the business with me. But about a year and a half into it, I began to realize I love the knowledge part of this. I don't like it. I'm not very good at the sales part compared to my peers, and begun scratching my head. And I went to an IAFP meeting in New Orleans, and a man named Harold that you may not know, Michael's, spoke at that conference. He was from Dean Witter and he said, "In the future, everyone in this room would charge a fee for what they do like a lawyer or a CPA, and commissions will be a thing in the past." And truly, the light bulb went off of in my head and I said, "That's what I want to do."
So I started taking my CFP, I quit my job at Merrill Lynch, and I went to work as a secretary. And I worked at a CPA firm for a while and a law firm for a while. And the reason I did that was there were no financial planning firms to go to work for that I knew of. I had written a note I'd found them in an association book in the library and had written in a note to join, and it came back, return to sender addressee not found. Now, if I happened to have moved in the time that I sent my letter. And so I thought I was out there by myself basically because the people that I met at IAFP would say, in a kind way, "Girl, you won't be back next year if you're going that direction." And so I went to learn how to be a professional…
Michael: Because you wanted to go in the fee direction and…
Cheryl: That's exactly right.
Michael: …and IAFP at the time was still very much certifications.
Cheryl: That's right. And it wasn't…
Michael: Well, I guess, mid-1980s there was still the hay days in real estate limited partnerships.
Cheryl: Absolutely. And they weren't being cruel, they were just being frank. And so I thought, well, I have to learn how to be a professional. I don't know how to do that. And it was wonderful because I learned what it was like to be in the administrative team, quote, of an organization, and the power of that team, and how to leverage the power of that team. I learned about confidentiality and how critical that is. Nothing goes out of these four doors ever as a part of our cultural norms. So, I learned so much from that experience, and then I was bartering, I would, like…I had a lot of friends who were artists so they would give me a painting for a financial plan, I got my MG, engine rebuilt, and the interior done for a plan. So I was sort of…that was about I was worth. I wasn't worth very much. I didn't know very much, and then I moved back home to Columbia.
Michael: So Columbia, South Carolina was home for you?
Cheryl: That's right. And I knew if I wanted to work and have children…I wasn't married, didn't have children, and I didn't have a job, it would be good to have parents nearby to help out, which they have graciously done throughout raising my daughter and starting a business.
So, I actually went to work for another organization in town for about eight years, and when they decided, for a variety of reasons, we just were not a cultural fit, I made a decision to leave and start Abacus.
Michael: So what was the work you were doing in time for eight years? Is that another advisory firm?
Cheryl: That was another firm. Yeah, it was another…J.E. Wilson Advisors. And James, at the time, was president of NAPFA, and he was also on the…whatever the board of standards was at that time.
Michael: Okay, so the IBCFP. The CFP board before, it was CFP.
Cheryl: Exactly. Very influential on the first stab at getting fee transparency, as we knew, and it's the only printed into the standards, didn't fly very far at the time. But he and Dick Wagner and many others who put their energy behind that effort.
Michael: I guess, what were you doing there and then what ultimately led to a split?
Cheryl: So I was a planner there. I was a partner there. And I just think, culturally we were not a good fit. We had high employee turnover for a lot of different reasons. You could have a high employee in turnover and be a wonderful organization. We all have lost people that still break our hearts.
Michael: Sure.
Cheryl: And we can see where we went wrong. Not a good culture fit. That firm really wanted to focus just on investment management. I enjoyed both. I like wearing both hats. And so just decided I would do my own thing. And at that point in time, I got office space because I knew people would say to me, and they did, "Oh, are you working out of your home?" And I wanted to be able to say, "No, I have an office and here's my business card." We have some card tables in there…
Michael: And the business card has an address and you can say, "It's not my home address. It's real office."
Cheryl: Now, the whole cycle has come back to working from your home, but for me, at that time as a woman, it was important to be able to say, "I'm a professional." And having an office was a way to say that.
Michael: So, this is early 1990s at this point?
Cheryl: This is '98.
Michael: It strikes me. You left Merrill Lynch because you didn't enjoy the…you like the planning, but didn't enjoy the sales and business development side. And then 10 years later, you end at going and starting a firm where you will be entirely and solely responsible for sales and business development.
Cheryl: No one put it to me like that, Michael. I don't think I…
Michael: I mean, how does that transformation come back? Because I feel like I see this more and more lately that for most folks that have been in the business for 20 plus years, it was kind of a dynamic that if you couldn't figure out sales and development and be decent at it, you probably didn't last very long. You didn't really last long enough to do other stuff and get planning oriented later. Now, we have more and more people who come in because they're interested in the planning and they want to do the planning, and they're not at all inclined towards sales and business development, and so they take jobs in planning firms because they don't want to do sales and business development. And then I see a lot of folks start coming back after they've got 5, 10 years of experience under their belts, and they want to go do sales and business development and start a firm.
Cheryl: I think that's a fascinating observation, and I think what happens is during that 5 to 10 years you're in development as advisor, that 10,000 hours of shoe leather, we know it takes for mastery, you become a trusted advisor. And you exude that in everything that you do. So, yes, you may go out and do marketing and business development and ask for referrals, whatever your strategy is, and everyone's different, but that comes through. And so if you live in a town you grew up, you also have your first grade teacher calling you, you have your Mom and Dad's neighbors. And so that all, you have a trusted advisor brand that you can build on.
Michael: So, it's just that level of building competency to the point that you become trustworthy that means you can start getting clients. When you start getting clients, you say, "Hey, maybe this business development thing isn't so bad after all."
Cheryl: I think that's true. I mean, think of your own lives, you want to get your lawn done, or you want to have someone…pick out a good physician. You typically, automatically, understand who someone you can trust, someone who's authentic, and their brand in your community is often times built on that, and you're going to want to wait for them, you're going to want to find them. And so it's a natural process that happens.
How Cheryl Navigated Leaving Her Previous Firm Without Poaching Clients [56:28]
Michael: When you made the transition to go out on your own, did you have clients you brought with you at that point? Clients as a partner with J.E. Wilson that came with you as you started Abacus? Or did you have to make a cold break, a clean break when you went out on your own?
Cheryl: So, that's an important ethical and legal question. And so I consulted my pastor, and my husband, my family on the ethical side to think through that, legal counsel. And so what we ended up doing is making a clean break, but we were allowed legally to let people know we were open, and then people made the choice to come to us. So, I had about $30 million…
Michael: So, you didn't solicit them, but you accepted once you followed through.
Cheryl: That's exactly. So, I had about…within six months about $30 million, which that's a lovely base to start with.
Michael: Yeah, that's…
Cheryl: It paid the rent. It paid the first employee. And it gave me a base to build. And this may sound strange, but the Dot Com Bubble came not long after that.
Michael: Yeah, you start in '98. That was fortunate timing in retrospect.
Cheryl: Yeah, and people just…well, no, it's great timing. I think crises are good for us because fell on the door, right? Because people who had been saying, "Put me out of misery yesterday." And we couldn't handle the volume. I think we had 24 clients that year which was just insane for the small organization we were. The good news was we changed a lot of what we did because we realized what's really valuable to the client, what do we need to stop doing? And we need to ask ourselves that here more often.
And then the other evolution of the firm in 2007, my husband quit his job as an architect to start his own firm. I was, like, "Oh, wow, Ms. Feminist now has to be the breadwinner. Wait a minute. This has just been fun. A party. A good time." But I wanted him to do what he wanted to do, and he's much more risk-adverse, so I didn't want him to see any of the whites in my eyes while he was going through it. And he has turn out to be fabulous and successful in his own profession.
And then not long after that, the great recession came, and my husband said to me at the time when I was whining, he said, "Every time you go through one of these phases, you get more clients than in good times." And I just think that's true. In good times, you have to work harder at business development, bringing in the inquiries. In difficult times, it's man on the ground.
How Abacus Has Maintained High-Return Referrals From Other Professionals [59:07]
Michael: So where do clients come from for you at this point? Right or wrong, I feel, like, there's a lot of discussion that it's hard to big advisory firms unless you're in big metropolitan areas because big metropolitan areas have people with big piles of money. And even healthy mid-sized cities struggle with the level of affluence. And the more rural you get, the harder it gets. And Columbia is a good-sized city, but you're not a giant metropolitan area the way that maybe Atlanta or DC or Boston are, yet you're bringing $3 to $4 million clients and have a few hundred of them.
So I guess, (A), I'm just wondering where do these clients come from? How do you market and get these sorts of clients? And, (B), do you view that as different when you're doing it Columbia, South Carolina as opposed to a larger metropolitan area?
Cheryl: Well, I think there's no doubt that there's a high correlation between the size of the firms in our profession and where they're located, but there are always outliers. And I would say, we have three benefits going for us. One is, we have had some very dedicated senders of influence over the years to CPAs, and to estate planning attorneys who have been very good to us, and put us in front of very high net worth individuals.
Second thing I would say is even though we're at a billion. The two top guys at Merrill Lynch and the top guy at the local Smith Barney are all at four billion, so there is money to be had. And the next part…and so, centers of influence. Obviously, existing clients have…if you can go back and look at there's…you're encouraged to draw the family tree of clients and you can go back and look at, there a handful clients who have just been tremendous advocates of our organization. And so if you can get a few of those, they continue to be the gift that keeps on giving.
And then, finally, you know, my passion…I'm passionate about volunteer work and, particularly, social justice and education. And so I'm on some national boards that give me proximity to individuals of wealth, too. That's not as sustainable because they're picking me in many cases, or they quickly adapt to being a client of the firm, and some of those clients' children who live in other cities have now become clients of our younger advisors. And so, I'm not saying that wouldn't be sustainable, but you always have to be somewhat region-centric, or have a fabulous virtual process touch to make that work.
Michael: So how did the…
Cheryl: And, Michael, may I say one more thing? I think it's really important. I apologize. We also have another employee with tremendous gift to us, Eddie Kramer. Eddie came here at a Texas tag. This is a beautiful story. As an intern, came to work with us for four years, and then as often happens, marriage, and then children got to draw back to home in Texas, and went back to work for USAA, went to work USAA. Called us back up after four years and said, "You know what? I think I want to come back." And the beauty of that is he came back, he was always a natural salesman. I mean, listening to him on the phone or at a party, I just want to drop dead on the floor and swoon, he's so good at it.
He's so authentic and natural with all kinds of people, but that training that he got at USAA is something we could never have done. So that loss, his experience turned out to be a tremendous gift for us. So not only is he really good at business sales, but he's really good at grooming other people, and seeing their strengths, and helping them build skills that are natural to them, not skills that aren't natural to them, including me. He sits down with me and does my business development plan, so we've really begun to turn the corner and having a culture of business development because of his skill set and his leadership in that area.
So sometimes a loss becomes a win in strange ways.
Michael: Interesting. Your COI relationships with attorneys and accountants, I feel like that's a thing that people talk about a lot in the industry, and a lot of advisors struggle at actually to get any referrals from attorneys and accountants. What is it about those relationships that has worked for you? Or is there something that you just have found makes it work that other advisors aren't doing?
Cheryl: Well, I can only speak for what we are doing, and there are clearly dozens of attorneys and CPAs now who don't refer to us, and I think particularly on the CPA side as the regional firms tend to develop their own in-house wealth management talent. We've seen that dry up. But for the smaller CPA firms and the smaller boutique estate planning firms, I think two things happen. One is you've known them a long time. We've always shown up to be doing the right thing for their clients. And, secondly, because we go to the meeting, they get to know how well the client knows us, they know we're there to translate, we're there to execute, to help facilitate the best outcome, same thing with the CPA annual strategy meetings.
So because we do those extra meetings, we're learning how to be better on our side as planners by listening to experts in their area. We're solidifying the client gets the best advice. And we're also building in their brains the talent that we bring to bear at our organization. I think we get two or three multimillion dollar referrals from each of those for a year, and they're almost always closed because of that strong referral.
So I just think it takes…what I always say is it takes a really long time. The other thing we do and this has probably has no impact, whatsoever, but we do take Girl Scout cookies and milk to every CPA firm in town that we share clients with on March 15th, the corporate tax deadline.
Michael: You take Girl Scout cookies and milk to accounting firms on corporate tax deadline, March 15th?
Cheryl: Yes, with a little note.
Michael: Just to build…
Cheryl: That's our branding.
Michael: That's your branding.
Cheryl: And then attorneys always get Honeybells from Florida in January because they're exhausted for the December push. They're tired of Christmas candy. And so we have ways of branding ourselves with our different niches that we work with that they look forward to and that keeps us top of mind along with all the other people do, but I just mentioned the Girl Scout cookies because…
Michael: I love it.
Cheryl: I love that we help Girl Scouts. We're branding ourselves.
Why Abacus Chose To Pursue The Niche Of Families With Businesses [1:06:13]
Michael: So you just mentioned niches, and I know you had said earlier, you've got a focus on families with shared assets. Can you talk a little bit more about niches, what you guys do with niches, how you position yourself that way?
Cheryl: I think that two years ago, we sort of launched in the long terms strategic plan of how we were going to grow, where we're going to do mergers and acquisitions, where we're going to grow organically, where we're going to pick an ideal client, and we just decided out of a lot of reading and thinking and talking, organizationally, that we were going to finally after Tracy Beck as coach of many years, almost two decades, has been trying to get me to do this, I finally said, "Yes." I'm very hard. I'm very resistant to change sometimes. Even though one of our cultural principles is to embrace change. That's mostly a reminder to myself.
So we have decided to focus on families with closely held businesses. That doesn't mean if someone calls us up and says, "I'm a widow," we won't take them, but we're just very clear about where we're spending our resources and energy in developing expertise.
Michael: And so how has that shaped what you do with the firm where you spend the resources?
Cheryl: Well, what was interesting…yeah, what was interesting is about 50% of our clients already fit into that category.
Michael: Okay, so you went with something where you already had a healthy goal.
Cheryl: And we realized we did. We also realized that because…we call ourselves "spiky generalists," too, because we have CPAs, we have JDs. We can bring a lot of technical expertise to bear that overkill for our smaller clients. And that it was team members that they were getting bored. And so now we, kind of, have a blue ocean strategy. There aren't many people serving closely-held businesses the way that we do. Our team members who are devoted to mastery have new areas to master, and it marries our unique skills of technical expertise and soft skills.
We put as much training into our emotional intelligence skills as we do our technical skills. And we think that's a unique combination, and it particularly serves situations where you have complexity on the technical side, and complexity on the family system side, which might include ADHD. It might include dementia. It might include multiple divorces.
The Management, Listening, And Empathy Skills Cheryl Invites Professionals To Teach Her Team [1:08:43]
Michael: So how do you actually train empathy and listening skills?
Cheryl: So, we have for almost a decade had a wealth psychologist, Jim Grubman, who would come twice a year for two days of training, and active listening is one of the building blocks of that.
Michael: A wealth psychologist.
Cheryl: Yes. Who, Roy Valentine…
Michael: Can you expand on that a little? What's a wealth psychologist?
Cheryl: Yeah. Well, so the full disclosure, Roy Valentine first begun working with Dr. Grubman. He's a clinical psychologist by training, but works specifically in areas of wealth, and so that might mean anything, the basic of active listening. He and Roy developed the wonderful proper apology based on the journal of financial planning that I would highly recommend, which is just a basic skill set, but if all the errors that were made here, there are many, and they happen more routinely than any of us would like.
If I'm the only person who can deliver an adequate apology, we won't ever make the distance. So it's those small skills that are part of active listening. We have a smart decision tree. So literally, we have an algorithm that he taught us about how to help a client through a decision. They call up and they want to do something you know is not wise, "I'm going to buy that third vacation home." Or, "I'm going to borrow against the house to send my second child to get his MBA." There's a process we have coached them through that allows them to come to a better decision than they might have, have we not gone through the process.
We learned about how to help people to negotiate among family members or for a job. We learned some basic skills. Like, you're in a meeting, and someone starts crying, or gets upset, how do you tolerate your own anxiety level? That's a big skill. How do you tolerate your own anxiety in a situation that's high anxiety?
Michael: One of the things that hit home to me on that, in particular, one name Amy Florian did a book a couple of years ago for advisors on how to work with grieving clients. And the point she made in there which I have to admit I had done at least once that I can recall on the past, when you're sitting across from a client that is upset and crying, resist the urge to offer them the tissue box because handing the tissue box really effectively says to them, "Here are some tissues. I'm ready for you to be done crying now, so we can get on with the meeting." Or, "I'm uncomfortable," or whatever combination of it. But it's which I'll admit is definitely a struggle for me. I'm not at all comfortable when clients get toward that level of emotion.
And I know in the past I've offered the tissue box and, like, "Yeah, I guess that is actually not really very good for letting the client have their space for their grieving." Just, like, all those little things of being comfortable with clients when clients just need to express emotional upset that has been definitely a hefty personal learning curve for me to get through over the years.
Cheryl: And I think that's true for all of us, Michael. Some of us may have more natural skills, but we need to grow those, and deepen our empathy and skills to handle situations. I still am anxious and uncomfortable in those situations, but how do I manage myself so it's not as you…Amy so beautifully puts it, disempowering or intruding improperly on the client.
Michael: So you have Dr. Grubman coming down, you said to do two two days trainings a year with your team?
Cheryl: Yes.
Michael: That's four days of not office productivity of…
Cheryl: Well, not everybody said…
Michael: Like, that's a hefty. Oh, yeah, I understand. I'm sure there are a couple of folks in investments and operations maybe that don't need to…
Cheryl: Well, no, everybody…
Michael: …be on that meeting.
Cheryl: …does it, but not everybody's in for the two days. So I might be four hours. It's tiered. We're pushing those with the most experience further into their discomfort zone of what they need to know, and then to just seeing those who are…sure, you do assertiveness training with your operations people where they might get pushed around by clients, and giving them the tool set for that is part of what we do.
Michael: Interesting. So, Dr. Grubman does these trainings for advisory firms. That's what he does or is this part of what he does?
Cheryl: Well, sadly, that's what he did for a decade now. He's written a wonderful book, "Strangers in Paradise," which really put him in the forefront of multibillion dollar families, and he's gone on to be a partner at Cambridge Research, where they exclusively work in that area. So he will not be coming to train us anymore.
Michael: Oh, no.
Cheryl: But Amy is a perfect example. Amy Florian is a perfect example of…if Amy came here, and talked with us for a couple of days, the kinds of skills she's teaching are exactly the kind of skills that you can adapt to other situations.
Michael: So, are you now actively looking for new alternative trainers with Dr. Grubman moving on to Cambridge?
Cheryl: You know what, Michael? I think that's one thing about being successful, Abacus can never everything it needs to be. So we are always looking for Amy Florian, going to her seminars. Asking, "What do you do?"
Michael: And I know she's doing workshops now…
Cheryl: Yeah, she is.
Michael: …for advisory firms.
Cheryl: And I would highly recommend our Molly Thomas, who is our lead advisor in insurance, went to that and came back, just blown away with what she learned.
Michael: So, we'll make sure we put a link up to Amy Florian's training programs as well in the show notes. So, again, those who are listening, this is Episode 35. So, go to kitces.com/35, and you can get links out for Amy Florian's training programs.
Cheryl: So, we've always had outside resources, and, I mean, we have Tracy Bacchus and I worked together for a long time. So, she's helped us in strategy, in our idle client work. I found it at a certain in my journey that I was really good at basic work habits, I show up on time, I say, "Thank you." And I'm prepared. I do what I say, what I say I'm going to do it. I was gifted to be a sort of natural leader, but I was terrible management, and I really…people were almost like guinea pigs in trying to learn what was the right thing to do. And so, we had a management coach for quite a while, and she helped us develop a lot of skills around what is proper delegation, what is proper feedback. And so we have these tools that we now use, but that made me…I'm never going to be as gifted as a manager's many team members here, but I'm better and I know what I should do. And I sleep better at night because of that.
Michael: Do you just keep a hefty training budget as a line item on the Abacus…
Cheryl: Oh, sure, absolutely.
Michael: …PNL statement for doing all these different trainings for you, and for team, and…?
Cheryl: Absolutely.
Michael: I'm wondering how much do you budget for training across all these? I mean, you put out a lot of stuff.
Cheryl: Well, here's what I say, it's not every year that we do everything. So, I think it's probably around $25,000 a year.
Michael: Of just bringing folks in and doing these kinds of trainings. Do you send folks out for conferences as well? Or, do you tend to bring these trainings in more than sending people out?
Cheryl: Both. People have a development program, and oftentimes, the development program will include going to a conference. And, again, because the expectations they're bringing a lot back to the organization to move us forward.
Michael: So, what is a typical day? Or, maybe it's better say, a typical week look like for you at this point? I mean, what's your role in the firm? When you started, you do everything because that's how it works. Now, there's 24 people and half of them are advisors, and lots of folks around. What is a typical week actually look like for you at this point?
Cheryl: Well, I'm having a lot of fun. So, I travel quite a bit between…I'm on three national boards, so those are board meetings I go to where I have an opportunity to see really great leaders at work, and that's a wonderful training ground for me, as well as being able to do something for others. So, I'm probably gone a week out of every month. And then some of that is client travel, and so then that's professional development in our own profession. And then when I'm here in the office, I will have client meetings, I still have clients for who I'm either the lead advisor, or I'm a team mentor, where I don't really do any of the work, but if they need to check in and do some role play around the difficult situation, or want to check in on strategy, I'm available for that.
So I have client meetings, I meet with all the leadership team one-on-one once a month. So we have a two-hour segment, usually, for their development and check in, checking on their goals, feedback for me, feedback for them. I'm just all of the time jettisoning things. So I don't…human resources, the CFO team I don't sit on. I don't sit on the investment team or the financial planning team. So I really I'm working on business development, strategy, and then communication. I still do a lot of the writing for the organization. I love it. It's a way to help me think about what we're doing, do our newsletter still that seems to be a good use of my time because it doesn't take me long, and it keeps me energized.
Michael: As these roles evolve, you kind of alluded to…you've got a core of value around embracing change, but that's actually a challenge for you personally. How do you manage through that? I mean, I can only imagine how many role changes you've been through as the firm goes from just you to 24 people, and 30 million to a billion. Like, how do you manage, or nudge, or force yourself into these changes?
Cheryl: Well, I think we're all are own worst enemies. And so our strengths are also hindrances, sometimes I see in myself. But I've learned to watch for is I hit a ceiling of complexity. I've just created so much chaos physically or for those around me that I realize I need to evolve, and the organization probably needs me to evolve. And so I think that's sort of a signal to me. I enjoy learning new things, and so changing my role is always…the difficulty is going from high efficiency to low efficiency when you evolve into a new role. And then there's gift around me that I know the people who are doing the technology, business development, leading the financial planning team, chief investment officer, are all so much better at that than I ever was when I wore that hat. So there's high energy for that.
And I actually recently had a funny thought, like, I keep telling everyone I'm going to retire around 70, and if they want me to work here, I might be an employee. But you know? They may not offer me a job. And so I think there is a drive, a joy in learning and mastery that keeps me going. There's also a high motivation for…I mean, I love this quote in Anna Karenina, Tolstoy says, "To be happy in life, if you love the work you do, and work for the ones you love, that's happiness." And I feel I have that, and I'm just blessed to have that. And so I, part of that for me is…transitions for a firm aren't just a transaction of shares. You have to develop the leadership skills, and then you have to have a new form of governance, because governance of one is very different than governance of 4 or 8 or 12, which we'll be at in the near future.
So there's a lot for me to master, and learn, and explore that will make the firm stronger and give everyone else here an opportunity for wealth creation, personal growth, personal fulfillment, however they see that, it's going to be different than I see it if I can accomplish those goals.
Michael: So, how do you know when one of those walls actually hit? Does it just…life just literally gets overwhelmingly complex where you say, "Oh my gosh, something's got to change." How do you know when you're actually at one of those transition points?
Cheryl: I think there are two bell weathers for me and one for the firm, and I'll talk about the firm first. We do a 360 every year with one more person. So, we do a 360 every your, with our corporate psychologist, who has to have the opportunity. He evaluates every employee we've ever hired. And so he knows them, he knows us, and he does a 360 where everybody weighs in.
Michael: 360 review, you mean?
Cheryl: Hmm?
Michael: You get reviewed by everyone around you.
Cheryl: Exactly.
Michael: The people on your level, the people above you, and the people below you…
Cheryl: Exactly.
Michael: …who can reporting up about how you're doing.
Cheryl: And I get rated on cultural norms and several leadership skills. And so, if I get that report back and the critical comments make note of my stress level, that's a signal to me that we've hit a ceiling of complexity that I'm saying if they are, and they're not comfortable saying it to me in real time is the real danger, because usually they are able to say things to me in real time. But if they're not and it shows up on that a report, I know we've hit the ceiling of complexity.
And then personally, I think, what I notice is I'm not having fun anymore. Like, I'm not waking up going, "Oh, my gosh. I'm so grateful. I can't wait to do this, that and the other." And that shift away as a telltale sign for me that why am I doing this if it's not enjoyable?
Michael: That's a pain point, I think, all of us get into at some point, the job or the business, the role of sort of point that it's not fun anymore. Maybe it gets too complex. Maybe it gets too hard. And maybe there's too much growth or not enough growth, but there's…I don't know. There's an interesting distinction I find that some people are just particularly good at saying, "Well, crap, I got to figure out whatever it is I got to do to change this to make it fun again." And others just seem to let themselves get stuck there because it's so demotivating when it's not fun, that it's hard to get excited about then creating the additional pain of change to hope maybe it will be fun again on the other ends. But if you let yourself get stuck there, then you get stuck. The business get stuck, and the fun gets stuck.
Or, look you just, I guess, coming back to that wonderful Merrill Lynch assessment, you're just naturally wired to be aggressive enough to push through those challenge points that maybe some others get caught in.
Cheryl: I think so. Actually, I think, the true answer is I'm a natural optimist. I believe there's a better day tomorrow, and so that usually gets me through to the other side. There's got to be a better way. It's have that, and then I'll wonder around with the problem in my head, and I read something , and I'll go, "Oh, here's something," or I listen to one of your podcasts, I'll go, "Oh, that's been staring me in the face."
And now with great shareholders, I don't solve that problem alone anymore, I go to them, we talk together. So, I expect to hit those ceilings again. And if I don't, then I am worried about myself because I'm not challenging myself enough.
Michael: So, where do you go for inspiration and ideas?
Cheryl: Well, I love to read and I love to read outside the profession.
Michael: So, what's on the night table now that you're reading?
Cheryl: Well, I'm actually reading that just won the Pulitzer Prize about religion in China because I went there and came back. And so that's completely outside of the box that we do every day. I'm rereading as I do every year two books. I always reread "Trusted Advisor." Maybe not in detail, but I always go, "Ah, that's who we are. That's what we should be doing."
Michael: "The Trusted…
Cheryl: Advisor.
Michael: …Advisor" Is that Charlie Green's book.
Cheryl: No, it's David Maister.
Michael: By David Maister? Okay, "The Trusted Advisor." We'll put a link to that in the show notes.
Cheryl: In parallel, I oftentimes reread, "High Performing Investment Teams," which is one of the things that got us started on our establishing a tight culture.
Michael: What's it called? "High Performing Teams?"
Cheryl: "High Performing Investment Teams" by Jim Ware.
Michael: "High Performing Investment Teams."
Cheryl: Jamie Ziegler and Fran Skinner have talked about it at a couple of conferences. It's a really good book. A deeply researched on what were the commonalities on culture among high performing management. And not our type of firms as much as money management firms, but Jamie and Fran will say, "Good cultures are binary. You either hate them or you love them." And example would be if you go to work for Vanguard and I haven't worked there, but my sense would be they're a low cost structure permeates their culture, and you're probably bringing your lunch to work. And when you go on the road, you're probably not staying at The Peninsula.
And that probably would fit many, many people the way they live and the way they want to live. But if you're the kind of person who's more drawn to a different culture, a Wall Street banking firm and you want to stay at the fancy hotel, and have a fancy car, this is a different culture, and you cross people on those cultures, and they're going to be miserable even though they're equally talented.
So I've come to understand that just because people don't like our culture doesn't mean they're not terrific talent, they just don't belong here.
Michael: So, as you look back on your career and the track and the progression that you've had, any particular turning points to you of, like, here's one thing I think I did right that got me on this good track. Do you find there are inflection points like that in the journey?
Cheryl: Michael, that's a good question. I thought you were going to ask me my regrets as you were steering through that. There's so many of those. The right list is much shorter.
Michael: Oh, no. You can talk about regrets. You seem to be an optimist. I would just presume there weren't any…
Cheryl: Mistakes.
Michael: …regrets. It's like Rick Kahler's episode on "Financial Advisor Success," because he doesn't have regrets. He just calls them "FGOs," another freaking growth opportunity.
Cheryl: It's completely true. I'm 100% in sync with Rick on that. I think I have a passion for what we do, and I haven't veered away from your holistic financial advisors. There's been a lot of shiny opportunities along the way, and sometimes I've reached out towards to them, but in general, the focus has been unrelenting on we bring tremendous value to people's lives by being talented holistic advisors that relenting focus of getting better at it every day, being more effective as a business every day, developing myself and others every day to target those outcomes is I think where we've gone right.
Michael: And I am struck, you had mentioned it earlier, you've kind of jumped both a gender fence and age fence in building your career and financial services starting out as a 20-something female in the industry. So, for comments or words of wisdom, maybe for young women in their 20s and 30s today that are still facing some of those walls because, unfortunately, we still have a lot of those walls in our industry.
Cheryl: Well, I guess one regret I do have is that I didn't…once I got to more of a position of power and opportunity, I didn't speak out as much as I had at one time, and I'm now speaking up and out more vigorously in situations where I realized I've been interrupted or spoken on top of or my ideas stolen not for me, but to understand if I don't do that, it will keep on happening.
This is what I tell the young men in my office, and, of course, the young men, too, but for the young women, don't ever be afraid to invest yourself. And by that, I mean, you have to do at home, too. So, that means, investing in a house cleaner earlier than you think you can afford it so that you can put in a couple of hours extra at the office. That's a much better outcome. I had a person who ran errands for me…
Michael: That's an interesting one. Investing in a housekeeper to clean the house so that you can put in more time at the firm?
Cheryl: Well, or read, or relax, or whatever you want to do, spend it with your child. But I see as an investment in yourself when you…I've always had someone gas and wash my car, run on my errands. I mean, I like going grocery shopping because I love to cook, but I'm better off not doing that and all the things I want to do in my life. I'd rather read an extra book, or take my daughter to ballet lessons when she was a ballerina all those years ago. So, I think, don't be afraid to invest in yourself and that includes wardrobe. Always dress up for the job you want, and spend money to do that. And I also think for young women…just create your own flexibility.
If you are a powerhouse…so, we have so many young women who are here, and you are going to get your work done, doesn't matter if you come in…and I, for years, came in at 6:00 a.m. in the morning and left at 3:00. I mean, moved through the school system, I adjusted that schedule to her. And I always work full time, but I worked in a strange way, so that my family could the family it wanted to be.
So I think those two things. Create your own flexibility and invest in yourself. And you're extraordinarily good at what you do.
Michael: And dress up for the job that you want. Well, you had mentioned earlier the dress for success quote. So, I guess...
Cheryl: I have the little silk, floppy tie, and my navy blue IBM pumps.
Michael: So, as we come to the end here, you know, this is a show about success, and one of the things that we have long observed in our guests…well, success means very different things to many people, and sometimes even different things to us at different stages of our life, or different stages of the business. And so, as you look at it from here, in this firm with multiple employees, multiple owners, and you're building forward from here, how do you define success?
Cheryl: When a team member comes up to my desk to share a story about a client success, a difficult situation they were navigating together, an outcome they weren't expecting, and a series of decisions they have to make, a happy family that have been arguing with one another. Anything like that just brings so much joy for me. So, seeing others thrive is so powerful.
I enjoy ways of, as you have done so beautifully, Michael, accelerating the professionalization of our industry. So, I'm writing more. I have the opportunity to write an article for the "Journal of Financial Planning" on stages of change, and I want to do more of that where we have a unique…that cross-over, again, between technical and soft skills that we can bring to bear for others to use. That gives me a sense of success. Learning and sharing always us.
So, I think other people thriving and that continued opportunity to learn and share learning...and happiness in my family with my husband, and my daughter, and my parents, my in-laws. Those are all things that my community…those are all still very much pieces of success to me, and I feel blessed to have those.
Michael: Well, amen. Well, I'm glad that's been a good, optimistic, aggressive journey for you to get you to that place, and really appreciate you joining us here on the podcast to share.
Cheryl: Well, Michael, thank you. And let me underscore it, my professional expertise has been enhanced, my entire team has by what you've done with your skill set. So, please keep up the podcast, keep up your technical writing, all that you're doing with XY, those are just amazing businesses, and they make a difference for our communities and our businesses. And I'm personally grateful and appreciative.
Michael: Wow. Well, thank you. I really appreciate that. And thank you, again, so much for joining us, Cheryl.
Cheryl: You're welcome. See you at a conference.
Michael: See you at a conference soon.