Executive Summary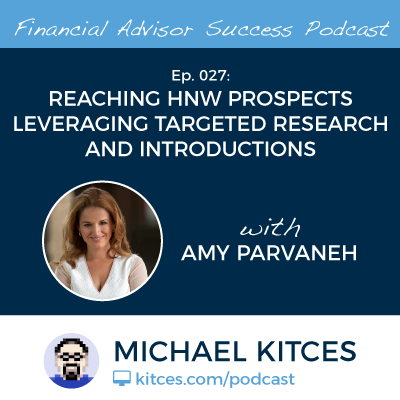 Welcome back to the twenty-seventh episode of the Financial Advisor Success podcast!
My guest on this week's podcast is Amy Parvaneh. Amy is the founder of Select Advisors Institute, a practice management consulting firm with a focus on helping financial advisors to grow through targeted referrals of high-net-worth prospects, and providing them the sales and business development coaching that's needed to ensure those prospects actually close when the opportunities come.
What's fascinating about Amy, though, is how she put these techniques to use in growing her own career as a financial advisor. Because Amy started out as a 26-year-old working in wealth management at Goldman Sachs, and managed to grow her asset base to more than $50M in just 18 months, primarily through COLD-calling and COLD-emailing! But Amy didn't just target anyone with her cold-calling efforts; instead, she spent her Sundays every week preparing to execute a highly targeted, research-based effort to network her way directly to high-net-worth prospects, by figuring out exactly what it would take to reach them, and how to get to them.
In this episode, Amy talks about the exact strategies that she used to succeed in business development with ultra-high-net-worth prospects from such a young age, how she identified the potential prospects she could reach out to, the way she researched them to figure out what the best way was to actually work around their gatekeepers and reach them, how she leveraged not just referrals but targeted introductions from her personal network and growing client base to reach the exact prospects she wanted to reach, and how she used that information to craft a cold message to them that still got a whopping 80% response rate.
And be certain to listen to the end, where Amy talks about how she's expanded her success in sales and business development with high-net-worth prospects into a program she calls Referralytics, where she trains advisors on how to utilize her system of targeted, research-based referral introductions to grow their own advisory firms.
So whether you're struggling to figure out how to even reach ultra high net worth prospects, or even where to find them in your local market, or want ideas about how what it takes to actually sell to and close high net worth clients – even and especially when they weren't already referred to you – I hope you enjoy this latest episode of the Financial Advisor Success podcast!
What You'll Learn In This Podcast Episode
How Amy brought $50M of ultra-high-net-worth AUM in just 18 months despite starting at the age of 26. [2:38]
The creative ways Amy has found high net worth individuals and approached them for a first meeting. [13:27]
Why "Telling Isn't Selling" and how to structure your pitch to prospective clients around solutions, not just your capabilities. [15:44]
How to make things easier for a referrer by offering specific people or criteria, instead of broad requests for referrals. [20:45]
Why Amy chose wealth management instead of trading or investment banking when she arrived at Goldman. [31:23]
A methodology for getting in front of specific people through strategic networking, and warming up leads before reaching out. [34:39]
The research methodology around identifying high-net-worth prospects that Amy uses. [40:47]
How important it is to have a strong digital presence to make a great first impression. [59:53]
Resources Featured In This Episode:
Never miss a Financial Advisor Success podcast episode! Get notified of the latest episodes (and all our research as it's released!) directly via email:
Full Transcript: Reaching HNW Prospects Leveraging Targeted Research and Introductions with Amy Parvaneh
Michael: Welcome, everyone. Welcome to the 27th episode of the Financial Advisor Success Podcast. My guest on today's podcast is Amy Parvaneh. Amy is the founder of Select Advisors Institute, a practice management consulting firm with the focus on helping financial advisors to grow through targeted referrals of high net worth prospects, and providing them in the sales and business development coaching that's needed to ensure those prospects actually close when the opportunities come. But what's fascinating about Amy is how she put these techniques to use in growing her own career as a financial advisor because Amy started out as a 26-year-old working in wealth management at Goldman Sachs and managed to grow her asset base to more than $50 million in just 18 months primarily through cold calling and cold emailing.
But Amy didn't just target anyone with her cold calling and cold emailing efforts. Instead, she executed a highly targeted research-based effort to network her way directly to specific high net worth prospects by figuring out exactly what it would take to reach them and how to get to them. In this episode, Amy talks about the exact strategies that she sued to succeed in business development with those ultra high net worth prospects and from such a young age. The way she researched them to figure out exactly what the best way was to work around their gatekeepers and reach them, and how she leveraged not just referrals, but targeted introductions from her personal network and growing client base to reach the exact prospects she wanted to reach, and how she used that information to craft even a cold email message sometimes that still managed to get a whopping 80% response rate.
And be certain to listen to the end where Amy talks about how she's expanded her success in sales and business development with high net worth prospects into a program she calls Referralytics, where she actually trains us as advisors on how to utilize her system of target research-based referral introductions to grow your own advisory firm. And so, with that introduction, I hope you enjoy this episode of the Financial Advisors Success Podcast with Amy Parvaneh.
Welcome, Amy Parvaneh to the Financial Advisor Success Podcast.
Amy: Thank you so much for having me, Michael.
How Amy Brought In $50M In Just 18 Months Despite Starting At The Age Of 26 [2:38]
Michael: So, I'm excited to have you on the podcast today because you have frankly a pretty amazing story that I first came across through RIA Biz which as I later learned was not a coincidence because you were actually very proactive in contacting them to get to talk about your story which even of itself is fascinating to me because the whole story and background of what you've done that we'll talk about on the podcast today is starting out as a 20 something in Goldman Sachs and hitting their infamous $50 million of AUM target in like barely a year and a half and then six years later closing in on billion dollars of assets under advisement. And just those kinds of numbers and kind of success is not something we see often in the industry and sadly, particularly from young women that come into the industry because we don't have a very good history of doing good by young people or by women in financial services much less both. And so I'm really excited to share this story and journey of what you've done in your career working in financial services.
Amy: Absolutely. Well, just like you mentioned, I cold called Brook from RIA Biz and the majority of my life has really been cold solicitation or cold ways of getting my foot into the door of areas that most people are very scared of, you know, conquering. So, starting out as you mentioned, 26 years old coming out of business school, really starting in the most overbanked city in the world, New York City, trying to achieve the ultra high net worth market, which is not only extremely saturated but also extremely discrete. Finally, really, you know, having no gray hair trying to have these people who are at the top of their game really build their trust in me, so yeah, absolutely, I've had a lot of challenges for me.
Michael: Well, and even the timing of that is interesting because I started in the business in a world of cold calling, you know, "Here's a directory and a phone," as well. But I started I think a little bit earlier than you. I started in 2000 when we were allowed to do that. I think you started in 2005, so you started in the era of cold calling in the do not call list world. Although, I don't even know. Like, is do not call list even a thing when you're trying to call on ultra high net worth folks or it's not even about do not call lists, it's just about gatekeepers and everything that those folks tend to do to insulate themselves from inbound calls and solicitations?
Amy: Absolutely, Michael. No matter what generation we're in, the regulatory environment is just going to get more and more challenging, right? But my methodology for getting in front of people has always been although cold, really finding ways of warming up those introductions, so I never went down like I mentioned yellow pages or white pages. I always came in with, "I have three names and I'm going to get in front of these three names." Because I've researched them so much that I know exactly what to do.
Michael: Was that the nature, kind of the secret of what you did that you weren't doing broad-based cold calling or even just like broadly based prospecting? You would say, "Okay, like here's three people that I want to figure out how to go after their high net worth. I think there's a business opportunity and I'm just going to research them to figure out whatever it takes to get some opportunity to interact and communicate with them." Is that what it looked like?
Amy: Research is the key word that you just mentioned, Michael. And actually, it's kind of we do right now in our Referralytics program, and the genesis of it actually started with while I was at Goldman Sachs because exactly like you mentioned, there is no way you could just go down a list of names and just cold call, cold call. It would be the most disappointing, time-consuming, and exhausting experience you can think of. But if you are able to really dig, dig, dig deep into who those people know, how you're connected to them, the whole Kevin Bacon, Six Degrees of Separation will always work out for you. It's very time consuming but I would spend every single Sunday, Michael, while everyone else was partying it up at 26 years old or, you know, going and meeting up with their family. I physically told my family, "I want to make this work." So, I would spend every Sunday really doing the due diligence so Monday I would come in armed with... So, we had five names that I knew everything about and I would write emails to them or call them knowing exactly what will be the hook for them.
Michael: All right, so this springs to mind a couple of questions to tell you. There aren't a lot of advisors that approach it this way so I'm fascinated by it. So, my first two questions. How do you pick who you're going to go after, and where do you actually do this kind of research?
Amy: Sure. So, what worked for me was really starting from scratch, but the great thing is in the financial advisory world that you know, everyone on your podcast is in, they already have a gold mine, and I literally call that a gold mine because I've seen advisors hit their head over the wall trying to do SEO client appreciation events, you know, blogs that they're writing, newsletters. You know, go after LinkedIn, lead generation strategies. Put all those aside. Your goldmine is your current client base. Within each of our, you know, clients, there's 250 people that each of your clients know. If you're able to actually do the research amongst those people and who they know, that's already the three to four names you need weekly to be able to get in front of. So, for me, it was really figuring out who's connected to me, who's connected to my current client base, and how can I use the Six Degrees of Separation from them to other people that I wanted to meet? And I would either ask the current client to give me the introduction or I would write to them cold and really try to get in front of them using the information I had.
Michael: So, I'm still curious, how do you come up with these people? I don't know how to find like the master list of really wealthy people so that then I can start applying my Six Degrees effect to it. I mean, do you... Like, did you have particular companies you were going to go after or particular groups or would you like just look up your clients on LinkedIn, see who they were connected to and look for names that were familiar that you wanted to network to them? Like, I feel like, for most people, the challenging starting point would just be, "I don't know who I'm looking for to figure out what my Six Degrees connection is."
Amy: That is the most exciting part of this business, Michael. And it's the part I'm fascinated by and I enjoy. So, the way I would do it back then is I would choose one campaign every week, so let's say I would go to the Met, you know, the Metropolitan Museum of Arts that week and I just went there for fun, instead of everyone else there being, you know, fascinated by the art and everything else like that which I'm still fascinated by.
Michael: You're looking at the donor list, aren't you?
Amy: I'm taking pictures of the donor list and I'm going back to my apartment, you know, my 300 square foot apartment in New York City and spending my Sundays you know, detecting who each of those people are, but more importantly because everyone who's wealthy, everyone knows about. Everyone knows who's Bill Gates, everyone knows Jeff Bezoz, but no one knows who is their accountant, who is their sister, who is their, you know, their circle. So, I would take one name and I would spend maybe an hour researching that person, and that person would lead me to which events they go to. That gives me a lot of insight on what event I should go to. It will give me insight on who's who in their circle because everyone on that list is coming from a different world: Hedge funds, arts, consulting. And so, each of those names opened up so much to me that finally I would get, "Oh, this is the person who would definitely take a meeting with, maybe because they're in real estate and I have a lot of real estate clients and they've worked on a deal with one of my clients." So, it would just open up angles for me, and I see so many times advisors passing by names, clients, you know, even within their own buildings directories that they're not fascinated by the way I am. And so part of what I try to do in my coaching but also through the Referralytics Program is really open up their eyes that you know, they don't need to go far. Lists are abundant. If your biggest issue is finding lists, you know, we could conquer that within, you know, literally an hour because there is one thing there is a lot of in this world and that's lists.
Michael: And so what kinds of lists? I mean, the quintessential classic is like the Forbes billionaire list, but will this just be looking up lists in your town who are active donors, who's charitable, who's like 40 under 40 or entrepreneur of the year? Like, you look up that kind of stuff to try to identify people that have financial means that you might be able to work within an ultra high network context?
Amy: Absolutely, lists in your building, let's start with there. We just pass by your building and look at the directory. A list within your major nonprofits within your city like the library, friends of the library, you know, I'd look at the museums that are local to you, look at the donor list there. And as you start researching them you'll start seeing them come up in other lists so it becomes kind of like a domino effect of lead generation for you to first gather thousands and thousands of names. I would start bookmarking those names or have a folder for yourself. I would look at hedge fund lists. I would look at the Forbes 400 but then every time I would get one of those names, their name would come up in other lists. I would look at an industry, for example, the real estate industry and just Googling, "Top real estate developers in San Francisco." And then they would come up with lists. Top foundations, top school donors. I mean, we've all gone to colleges and law schools or business schools. Each of those have a really wealthy donor list or alumni base. All of those will give you lists that you could start to build that world for yourself. I always equated to this, Michael. It's almost like working at a technology company and not knowing who's who in the technology world. And I think a lot of times advisors don't know who's who in the wealthy arena, but that is the area we need to know if we're going to go after these people.
The Creative Ways Amy Has Approached HNW Individuals For A First Meeting [13:27]
Michael: And so you would go through...you would have some folks you were targeting, you would try to do your research and... The research ultimately about just trying to figure out, "How do I approach this person to get the first meeting? Do I have to cold email or cold call them or get in through someone I Know?" Like, was that the whole objective? We're doing all this research, I guess A, just trying to affirm do they actually have financial means that would make them a high net worth client that I can work within that context? And then B, like "What's the angle that I can or have to pursue in order to try to get the door open?"
Amy: That's exactly it. So, the first part would be, "Where is the part of this that would attract them? So, if they just sold a company, like let's say, "John Smith has sold this company to X, Y." I would say on the subject line I would write something that's relevant to them like X, Y. You know, something that would pop out and it would attract their attention. Then the next step would be, "What angle of what I do is attractive to them?" I think a lot of times...
Michael: Yeah, I mean what do you pitch, right? When you got like a cold email, what on earth do you pitch that says like, "Yeah, I already have like 47 advisors calling me and I've worked with one for 17 years, but Amy sounds awesome. I'm going to take a meeting with her."?
Amy: Absolutely right. And that's where the whole boilerplate idea goes out the garbage. If you have this standardized email that you've created and you know, polished. This is what we do and this is how we're so different in the financial planning world. I really would like you to reevaluate that because like you mentioned, this guy has hundreds of advisors, right? If you have something interesting, an idea, a tax beneficial strategy that he's never heard of, a concentrated stock idea that you have that you think would be good. That's the best way of getting your food in the door and I think a lot of times advisors are worried about doing that because they say, "Well, I'm not a stock picker, I'm not a trader." But if you don't go in with one idea at first and then you know, roll out the red carpet for them, you're never going to even get your foot in the door.
Why "Telling Isn't Selling" And How To Structure Your Pitch To Prospective Clients [15:44]
Michael: There were two interesting things that actually jump out at that. Number one is so many of us try to market and communicate with this discussion of what do and how are we differentiated from the rest? And I mean, it does strike me in the context of what you're saying. That's still a very advisor-centric way of marketing, right? I'm not reaching out to the client to say, "I'm pretty sure this is an issue that's worrying you and I've got a solution," right? Which would be very centered around the client. We tend to lead with, "Well, here's what I do and here's why my firm is unique, and I hope in reading this you'll be so amazed by the glow of awesomeness that you'll want to work with my firm and call me back based on this email." Right? Like we do at this sort of, you know, "Here's the awesome stuff about me, don't you want to call me?" Instead of really trying to target it to what does the prospect actually care about? Like, "What is on their mind and what one idea can I throw out to them that connects with them?" And frankly, just the idea of leading with one idea. I mean, was that sort of the idea? I mean, "I'm going to look at this prospect, I'm going to try to figure out whatever it is that is probably most weighing on them or maybe it's a concentrated stock position, maybe it's a business liquidity event issue. I'm going to try to figure out the one thing that's bothering them most. I'm going to pitch an idea, a solution, a strategy that fits to it and if I'm right that it's really bothering them they'll probably open my email and reply.
Amy: Absolutely, so I always tell advisors, telling isn't selling. Like, if you just keep telling people, "This is what I do." You have not achieved what you're trying to do. So, just to piggyback exactly what you mentioned, Michael, you don't always have to lead with any investment idea. It could be around something that they're looking for, like let's say they're looking for deals within the real estate world. And maybe your firm obviously does not offer that until you're probably thinking to yourself, "Well, what can I offer?" Maybe you have connections that you want to introduce them to. So, leading doesn't just have to be about an investment strategy or a sexy trade idea. It could just be about, "I work with a lot of real estate developers and I'd love to introduce you to them." Or you know, "I have a few weeks that I'm thinking about, you know, getting a second opinion on and I would love your second opinion on those strategies." So, whatever it is, it really should not smell in any way that you're trying to get their money because these people are extremely smart and they could read through it right away. And you know, I actually coach a lot of people, you know, throughout, not just RIA's but in the wirehouse including Goldman Sachs. And to this day I still have to tell them, "Don't go in with that whole boilerplate idea. Let's reevaluate the email you're sending them." And the response rate is always significantly different.
Michael: So, it feels like this is incredibly time-consuming, the time to do this level of research and analysis and coming up with the one crafted email. So, I guess well A, how often do they still actually get through and work? I mean, are putting all this time in and you really found like half the time you could actually get a good reply or is it still down to... Yeah, even with all this you only got a reply one out of every 10 times, but the good news is when you're in a very high net worth space you only need like 1 out of 10 to make the math really, really good, so that was okay that it still had a huge miss rate. But I mean like, how much time were you actually cumulatively spending per prospect and how often did you even actually get to an initial meeting much less a business opportunity from going in this kind of deep targeted direction?
Amy: I would say...and I know this probably sounds like crazy, but 80% of my emails got through and I got a positive response and I got a meeting. Now, closing that strategy is not always the case, right? Because let's say we didn't always have what they wanted or they really enjoyed their meeting and I brought, you know, the full army of people I needed but it didn't necessarily lead to a business opportunity. That being said, your biggest goal should be to try to get that meeting, right? If you're looking to grow, you want to get more leads so you can get more business. Now, I would say the process is extremely time-consuming, Michael, for cold leads, right? Like, the whole library lead or for anyone starting out the process is a lot longer. So, there is a good resolution or solution to this which is that if you start looking within your own client base, the process becomes even easier. So, I was looking at cold leads and cold lists, but if you just start doing the same process with your current client base, which is what we do in the Referralytics Program that I was mentioning, it becomes even more advantageous and the results are a lot more effective.
How To Make Things Easier For A Referrer [20:45]
Michael: Because now we don't have to go into the world of cold emails and all the time it takes to figure out the one cold email pitch that's likely to get a reply. Now you're just, "Hey, Jim, I know you know Susie, I'd love an introduction to Susie because I think I have so and so solution to help her. Could you give me an introduction?"
Amy: Spot on. That's exactly the genesis behind this. You know, when I first started this program, Select Advisors Institute over three years ago, at first, I really wanted to help advisors with cold solicitation kind of like the cold lead approach I took while I was at Goldman Sachs, but what happened is I slowly, you know, just seeing the results and seeing what the difference was between doing this and doing, you know, their current client referrals, I notice that the best approach for them was to do this, you know, research process around the current client base. The cold leads still will work if someone is building out their practice. You know, that's great for someone starting out, a younger advisor. But for current advisors you know, you have something that the larger wirehouses don't which is you have a client base which is looking to refer. In the wirehouses, you don't see that as much so it's a great solution for advisors if they're looking to grow their practice.
Michael: And so I feel like a lot of advisors sort of tried this and it doesn't work. And it's registering to me in this discussion. I think part of the challenge of why so many of us struggle with is...I mean we've all heard forever that you know, most advisors get most from your business and referrals from existing clients. So we go and ask them for referrals, "Hey, do you know any rich people that I could work with?" Hopefully, stated slightly better. And we don't get much of a response. And I guess the key distinction here is you're not actually talking about going to existing clients and saying, "Do you know anyone that you can refer me to who would be a good fit for our services?" Kind of ask. You're talking about something much more specific. Like, "I already know I want to get to Susie." I'm just going to Jim and ask for a specific introduction to Susie because I already know that's who I want to get to. I'm not just asking for Jim to come up with anybody he knows, I know who I want the introduction to, I'm just going to ask for that pointed specific introduction.
Amy: Absolutely. So, here's the thing, Michael. You know, if you think about in any other profession, right, if you are talking about someone breaks their leg, you know, playing soccer over the weekend and they're looking for an orthopedic surgeon. That's pretty visible for the refer to see, "Okay, this person is limping and he's looking for a surgeon." It's visible, they could see it with their own eyes." If a woman is frantically crying because she needs to get a divorce from her, you know, husband, it's pretty simple to see, you know, it's visible. Like, she needs immediate help. In the wealth management arena when you say, "If you know anyone who's looking for a second opinion on their portfolio or if you know anyone who is looking for help with their wealth management." How is that referrer, you know, their current client supposed to see with their own eyes who is an eligible candidate, and even when they do make that referral?
Michael: How would you know your... I mean, unless maybe it comes up in some weird water cooler chat, like how would you even know your friend has not only portfolio problems that merit a second opinion, but like multi-million dollar portfolio problems that mirror a second opinion if you're trying to work in a high net worth space?
Amy: Exactly. And at lot of times, I hear... Yeah. Well, the funny thing is...so advisors tell me, "Oh, I always get referrals." Great. But then if I ask them a second question, "Is there a process around you getting referrals? Is it predictable?" They, 99.9% of times tell me, "No." And even, I would say 50% of the referrals they do receive are below their firms minimum or not a good fit because again, they've asked their client, "Can you refer me to someone?" And it ends up not being a good fit because the client can't see who is eligible. That's why we're twisting this on its head and turning it around. And we are telling the client who we're looking for and saying, "I know you know them. Please refer this person to me or just can I email them and say I know you?"
Michael: And the starting point again for this is some kind of list that you're looking at to try to understand, you know, who might have financial wear with all that I would want this introduction in the first place so, you know, who's the mover and shaker in my town or the industry that I'm working in or an active donor or just like some other means to indicate there's money with financial wear with all that, that means this is probably a good introduction if you reach them.
Amy: Exactly. So, let's say I was going to do research on Michael Kitces. We do that on behalf of advisors so they don't have to spend any time, especially the ones who don't have much time. But what we do is we spend hours researching you on public domains but also on subscription-based databases, on you know, software that we have that are supposed to be generating, you know, looking at your profile. So, we look...
Michael: This is the part when we all get a little bit creeped out when we discover how much the Internet actually knows about it.
Amy: The Internet has, exactly. And unfortunately, you know, fortunately, and unfortunately, everyone is doing this. You know, your clients, if they're looking to grow their practice, their business, their startup, they're doing this too. You have to research who, you know, your market and our market is people so we have to research them before we go in with the referral. Ask.
Michael: Interesting. So, I mean is this a thing that it took the Internet age to make this so feasible. Like, would this have been... I mean, there's the who's who in business lists that go back like 75 or 100 years I think, but the nature in doing that sort of research must have been brutally hard up until maybe 10 or 15 years ago that we either in good ways or slightly scary advertising market ways. Like, just started collecting all of this data on people that made it feasible to start doing this sort of research.
Amy: Well, just going back to what you mentioned at the beginning of our call, you know, 10, 15 years ago we were allowed to just go down a list of cold emails and it was easy because there weren't as many gatekeepers, there weren't as many regulations. Now, we have a lot more gatekeepers and a lot more regulations, but what we have in comparison is that we have a lot of information about people that we could research them on and we could, you know, grow our practice in a different way.
Michael: I'm curious, how often would you go through this research process and reach out to someone and get a meeting with them and as you got in the meeting realize like, "Oh, there's actually not that much money here," or like, "I thought this was going to be a good person to work with." And it turns out there's actually not a business opportunity and now I need to extricate myself from this having pushed for a meeting in the first place. Like, did that come up for you or were you generally so on target with the research that by the time you got in front of them you had already effectively qualified them?
Amy: You hit the nail on the head. Think about if you were going to look for a new job, Michael. You could either wait for a headhunter to give you a call and then go, you know, go search the company and then see what it's all about or you could look at a prominent company that you want to meet with and you want to get a job at, and when you're at that job you know a lot about the company more, you're excited about that opportunity. So, the passive way is us waiting until, you know, we get our introduction or referral and I'd say in that scenario 80%, 90% of the time it's not even as great of an opportunity, but you kind of have to entertain it because your client referred you. The opposite is if you tell your client, "Look, I know this person's rich because I already read about them. I know their company just went public and I know you know them. So, just let me get a meeting with him."
Michael: So, the other thing I'm so curious about. So, you're doing this as a 20 something female, so when you read out by email no one knows, right? They see your email name and signature but no one knows at least maybe until they start Googling you to figure out who this inbound is. Likewise, an introductory phone call they don't know. So, I'm curious, what happens at that first meeting for you when they realize that you're a woman and that you're a woman in her 20's when that's a challenge unfortunately in our industry? I'm just curious, what does that dynamic look like or how do you try to establish your credibility when you're in that moment?"
Amy: Absolutely. I love this question because again it goes back to research, Michael. If you have researched the person and you know how old they are, what kind of investor they are, you will know if they will be turned off by a female who's in their 20's or if they will actually you know, embrace it. So, not only was I a female who was 26, 27 at that time, but I was also an immigrant who'd come to the U.S. with you know, two suitcases. So, that added to my background and people that I went after, people who I wanted to meet purposely had that same type of background. I never went after people who were old money, ever. So, I went looking for people who were similar to me and that's where the proactive research comes in. I went after aggressive, a lot of times new wealth. So, a lot of hedge fund managers, a lot of immigrants from Europe, a lot of real estate investors who came to the U.S. with $500 in their pockets and are now worth $500 million, and those people loved hearing about me.
Michael: Right, because that now actually becomes one of the shared stories and shared bonds just to connect with them in the first place.
Amy: You know, it's so funny. The funny thing is we never even brought it up as much, believe it or not, Michael. And I know this sounds very, you know, alternative thinking, but you could almost connect with someone even without saying that's who you are because it's mutually the same feeling. I never had that same experience with like an 80-year-old guy who was at a corporate executive.
Why Amy Chose Wealth Management Instead Of Trading Or Investment Banking [31:23]
Michael: What was that story that brought you over to the U.S. and into the industry in the first place? I mean, did you have some background to financial services or family background to financial services or did you land in our industry somewhat randomly? What was the lead-in for you to decide to go and get a job as a 26-year-old at Goldman Sachs working in private wealth?
Amy: Sure. So, I started, you know, when I first went to college I went to an undergrad in New York called Stony Brook. I looked at the very beginning for the career path that would get me the most money at the youngest age possible. I didn't want to be like 90 years old and then that's when you know your company, your wealth starts accumulating. So, I started digging in as a freshman and found out that finance was it for me. I began my career in investment banking at City Group and the first week we started September 11th happened and so unfortunately, that was my first experience as a, you know, 21-year-old coming into my career. And the first year in banking was just horror, you know, being in New York City and everyone, you know, there's like so much of low morale and my entire class except for like 5% got laid off. And so I moved over to...
Michael: That was unfortunate timing.
Amy: Very unfortunate timing. Then I moved from there. I could've quit and said, you know, my parents were constantly telling me, "Just move back to Long Island, we'll figure it out." And during that very, very difficult year of job market which was, you know, the year 2002 I went and tried, you know, I would wake up at 4:00 in the morning to try to look for a job and I luckily found a job as an assistant at Bear Stearns as an equity research assistant and slowly moved my way up to an associate. Just researching companies, companies like Caterpillar, John Deere, and there I realized, "You know what? I really like finance, but I just hate the fact that there's no people interaction. I'm really good at this." So, I went to business school at Duke University, really worked hard to get into a top, you know, Ivy League school because I knew in bank and wealth management I wanted to go into Goldman Sachs, and that's where, you know, I got in and I started really pursuing the career of wealth management. But what was interesting about it, Michael is this is a very self-selective process. So, companies like Goldman, like Morgan Stanley would come on campus looking for candidates and everyone would be flocking to banking, to trading, and there'd be like two people who pursued wealth management. And everyone would tell me, "What are you doing? What are you talking about, wealth management? You need that gray hair."
Michael: This is our struggles in hiring into wealth management is everybody is going towards banking and trading and hedge funds.
Amy: And I started doubting myself, "Should I be going after investment banking? I could make like $150,000 the first year. Wealth management you got to earn your own keeps, and is this really good?" And I actually loved that challenge, I really loved the Goldman platform. I got to tell you a lot of my class at Goldman got laid off but I was able to really do well because I persevered.
Amy's Method For Getting In Front Of Specific People Through Strategic Networking [34:39]
Michael: And so you take this job at Goldman for the sheer entrepreneurial challenge of breaking in when everybody else is in the other line for investment banking and trading, so what does it look like on day one? On this whole discussion, there's no getting referrals from your existing clients because you didn't have any. So, how do you get started when you show up the first day? I feel so many advisors, one of the biggest struggle points, "I show up on day one, I'm ready to be an advisor, I have no clients, I have to go find some." Where do you look first? Like, where do you go first, what do you do first?
Amy: Right. And it's interesting because I started putting out the feelers from everyone I knew. So, I was, you know, 26 at the time like we mentioned, and the first thing I had to do was find an apartment in New York City, you know, I had to first of all, I specifically showed something like two minutes away from the office as you could tell I was extremely loyal to this job. And I started befriending my real estate agent because she was very friendly, I could tell she's a social person, and I could just tell, you know, she goes out and she gets to meet people, so I need to befriend someone like her who could get me in. And I started building that relationship and believe it or not, she ended up being the first person to refer me to a client, and that was like a $30 million opportunity, which was great as your first.
Michael: That's a big client.
Amy: That's a huge client, exactly. And that was really by me befriending this girl, going out with her, going to Miami with her, going to, you know, going out to believe it or not clubs with her, and I always tell young people who are entering this industry, take advantage of the fact that you're young. At that age you have no kids a lot of times, you have a lot of energy, you want to go out, you want to party, so why not party with the rich and famous? You know, why not change your social life to be more a little bit off a higher end so that you're also doing two things at once? So, I think that it's a perfect age.
Michael: And is that part of what you tried to do? Like, were you trying to get into the parties of the rich and famous in your marketing efforts?
Amy: Yes, but I'm talking about parties like galas and expensive, you know, high ticket items.
Michael: That's expensive stuff when you're getting started and you don't have any money in revenue yet.
Amy: Exactly. I would actually not go to any of those and even when I started making money, still those events did not, you know, lead to any fruits. What I did do was go out with girls and guys my own age and we would go to clubs and there would be like wealthy people there. We would go to high-end restaurant and we would have a drink at the bar and we would start talking to people. I would sit at the, you know, in the airplane if I could I would try to get first class or start talking. Every single person in this world knows at least 250 people, so if you start putting out feelers amongst their wealthier friends, you will start getting some of the referrals from those people.
Michael: And then the research process for you starts to kick in and you start trying to network your way to specific people and off it went?
Amy: And then off it went. It all came together after about a year and a half, yeah. So, if you do that where you start putting feelers with the right people and start going to the right kind of location, in every city in America there's one place that everyone, you know, who's wealthy goes out and associates. And it doesn't have to be anything expensive, but at the same time on the weekends I would do my research on who's who in my community and in the client base that I want to get to meet. All of that comes together where you become the master of the target market you're trying to go after. And I also would advise advisors from relying too much on centers of influence being traditional, you know, trust in estate attorneys and accountants. Guys, just like keep this in mind, those people are also busy and they're very protective of their client base, so it's very time-consuming to get the trust of one or two of them and have them refer. They will refer but it'll be a lot longer than the two methods I mentioned before.
Michael: And so what kinds of places are they that you can go and rub elbows with affluent people that don't require giant expensive gala tickets? Like, you've mentioned there are places for this in most towns around America. Like, what kinds of stuff would you even be looking for?
Amy: Sure. So, I think everyone's heard my story that I found a $13 million opportunity in my Bikram yoga class, right? Bikram yoga is hot yoga, something, you know, you pay $40 per session. It was $40, you know, I went there just to relax. Again, I wasn't going to yoga in order to meet people. But again, it's a place that a higher net worth people also work out, they exercise. So, I would say gyms, high-end gyms. If you go work out, why not go work out in a more expensive place? If you go to restaurants, why not first have a drink of like $20 at a high-end hotel. If you're going out with your friends, why not go to a little bit more of hard to get into nightclub, get to know the owners and bouncers in order to do that. So, in New York that was the process in LA, in Newport Beach, in San Francisco it's the same exact thing. I think in other states, every state and every city has it's own intricate culture and just get to know what do wealthy people, you know, do? I work with some advisors that are in very discrete and very private areas and we use the research process that I mentioned to you to find out where they go on our own and then we start going to those places or we recommend to them to go to those kind of places. So, even that information you should be researching.
The Research Methodology Amy Uses To Identify HNW Prospects [40:47]
Michael: Interesting. And researching any particular go-to places online about where you find all this stuff? I mean, is it just a lot of you Google for a name and you just start going to a couple of pages deep on the Google search results as you look at what you find or are there like particular resourced sites that are especially good for doing this sort of prospect recon kind of analysis?
Amy: Yeah. So, we have our own proprietary research methodology, but it really is like you mentioned, a little bit of the Google searching, a few subscription-based databases that we like to use that show a lot more. Social media strategies that show you a lot more of, you know, following the right kind of people, and so it becomes like a web of information at your fingertips, and I know this is very, you know, it takes a lot of time but we hope advisors do that research. Some people are really good at it already. For those who don't know where to start, the good thing is there is a solution which is like I mentioned, you know through our research methodology, but the more important thing, Michael, is research and information is only as good as the strategy on how to use it, right? You could be researching for hours and hours, "Okay, well, what do I do with this now? How do I even..."
Michael: "What do I do next?"
Amy: Exactly. And so you need that additional coaching if you don't have that strategy because otherwise, it could flop on its face.
Michael: And the strategy for you was all about, "Once I've targeted the person, now it's all about the networking process to figure out how do I get the introduction to them if I've got no way to get the introduction? How am I going to craft this email to try to reach them?" And I guess you have to just guess an email address, right? Because I'm assuming most of these folks don't have personal email addresses listed on the Internet very often.
Amy: Exactly, yeah. Well, finding the email address or finding the best avenue for getting in front of them is key, but also what we call guiding questions. So, let's say you found some really interesting information on Michael Kitces and he's your client and you want to ask him, instead of the regular chitchat, "How was your weekend? Great, let's talk about your portfolio." Having some of these guiding questions that we like to call them to lead him towards remembering what he did over the weekend and the people he was with. I can't tell you how many times I've worked with advisors who changed their traditional chitchat with their clients to more guiding questions. And just asking, "Well, who did you go to your vacation with? I never asked you." And they, you know, they bring up people that were never, you know, the client never even thought about. So, I think taking the information, converting it into more guiding questions or guiding emails that could make the most impact on what you're trying to achieve.
Michael: Can you give me more of an example on that? I mean, like what is a guiding email versus how most of us I guess would put craft emails, you know, "Dear Susie, I know you're recently out on a business liquidity event. We do a lot of work in business liquidity events and how to shelter the taxes, we'd love to talk to you. I'm assuming it gets a little bit more sophisticated than that. Where do guiding questions start coming in, in that context?
Amy: Sure. So, I could give you an example of someone that we did this for. We researched this one guy, John, and John was a big real estate developer in New York City, and what we were trying to do was get in front of him. And we knew this guy, John, and done 100% returns in a real estate market every single year. So, leading with, we could talk about us at allocation and diversification. No, this guy's...
Michael: Not going to go well when you're doing those kind of returns, you're not going to peel someone away from that.
Amy: Right. We led with... We work with a lot of real estate investors who are doing a specific project that they're looking for partners to come in on. And we did, you know, it has to be factual and it has to be truthful. And so that peaked his interest and he said, "Okay, let's get a meeting on the calendar. I would say that's a guiding email in order for him to went to meet with you. And believe it or not, that client at the very beginning he never invested in anything beyond real estate, now his entire net worth is allocated outside of real estate into this firm for his wealth management. We started doing margin lending and we starting doing, you know, things that are co-investing with private equity funds that he would be interested in. So, again, you have to also have something to provide to this person, and if you don't, that's a whole other story as far as talking about, "What are you offering?" Because if you're targeting the high net worth market or people who are difficult to get in front of, you have to have strategies and ideas that would allow you to get in front of them. But even the mass affluent I think you have to go with something that's unique and something that's differentiated.
Michael: So, you continued down this road for several years at Goldman Sachs. Did it change over time or did you kind of start on this formula and it works? You just kept wash, rinse, repeat and every Sunday you're researching new prospects and then you spend the week going after them and then the next Sunday you find the next list and keep going?
Amy: No, the good news is it gets much, much easier. Just like if you're, you know, if you're following politics, you know, let's say you haven't followed any politics in a while you have a lot of catching up to do. So, you start finding out what's happening with this, this, that and you start reading CNN and New York Times and so many different periods, but after the firs month or two, now you need just a little bit more detail to be caught up. So, I think it's the same thing with what you're trying to do. At the beginning, it's going to be a lot of information overload. You're going to learn a lot and you're going to say, "I can't believe I didn't know this about my clients, about my market, about my city, about my state." And then as you start knowing this you become a wealth of knowledge on who's who. So I would say I would pass around and I would talk to people and they would give a name to me and I would know exactly who that is. And more importantly, if I ran into them on the street I would know what they looked like. I've done this roleplay with some of my advisory clients and I say, "Does anyone know who this is?" And it's like the wife of an extremely wealthy, you know, Forbes 400. If you ran into her at a restaurant would you know who that is? No, because you don't know your own target market which is the, you know, what they look like. Again, it's the fact that advisors I don't think are as aclimated and as verbose in who they're trying to go after.
Michael: It's an interesting point, you know, are you so targeted in who you're going after that if you had the great serendipity to bump into them, would you even know? So, you did this at Goldman for a couple of years, you're not there now, so what ultimately happened or what changed, what transitioned for you?
Amy: I was really eager to start my own business. I am extremely entrepreneurial and I think a lot of advisors obviously are because if they are, you know, doing this it's because they like to do their own thing. So, I wanted to leave and start my own business. Through the grapevine, I actually was introduced to PIMCO manager, and I was just expecting my first baby so the timing for starting my own business was not necessarily ideal, you know, I started doing it and I...
Michael: One of the best ability for salary doesn't hurt while a baby is coming.
Amy: No, it definitely doesn't. So, I decided to take that great opportunity because it was a great brand name, and also you know, learn to see what the whole RIA they said we're going to be targeting RIA's. I said, "Okay, great. What is an RIA again? I have no idea what an RIA is."
Michael: So, you were taking like a wholesaling distribution kind of job with PIMCO into the RIA channel?
Amy: Michael, when I entered that role I had never in my lifetime heard the term "wholesaler." So, I was like...when they started saying, "You're a wholesaler now." I said, "What does that mean?" But what I loved about it is that first of all, it really deepened my investment knowledge. Believe it or not, when I was in wealth management I didn't really try to hone that side of me. I was really focusing a lot on building trust and building relationships, so it really made me a great investment professional, but more importantly, it opened up my eyes to the whole world of RIA's the challenges they had relative to those in, you know, on the wirehouse side. And so I was there for about two and a half years before I fully decided, "Okay, time is of the essence and I really want to build my own business now."
Michael: So, when did you actually go to PIMCO and make that change?
Amy: Well, right after Goldman, you know, I went to PIMCO, but then after PIMCO I right away started Select Advisors.
Michael: When was that?
Amy: So, in 2011 is when I started with PIMCO and 2014 is when I started Select Advisors Institute.
Michael: Oh, so like you left and then Bill Gross said, "I can't just take it anymore, Amy isn't here so I'm leaving PIMCO as well."?
Amy: Yeah, so did Muhammad with literally...
Michael: That's so sweet of them.
Amy: Yeah, I know, exactly.
Michael: So, as you lived in this world in PIMCO for a while, I'm curious, there's not a lot of people ever really get to see multiple channels the way that you have, so for those who are outside the Goldman Sachs kind of world, what is the difference between what RIA's build or even what independent broker-dealers build versus what it's like inside of a firm like Goldman Sachs?
Amy: You know, when I was traveling around the nation meeting with these RIA's, it was at first kind of like eye opening to me that they would be managing, you know, altogether trillions of dollars amongst the RIA world where, you know, you have the name, you know, when you're a Morgan Stanley, you know, Merrill Lynch or a Goldman or UBS. So, I could really see that challenge affecting them and their ability to get new business, and so that was actually the stepping stone for me wanting to help them differentiate themselves and really be able to get new clients.
Michael: Which is an interesting point because I think a lot in the RIA community were very privy to some of what goes on within the industry and across firms. I think even in the RIA some of the independent broker-dealers as well like a lot of us I think have this feeling of big brand names have been so sullied in the financial crisis that were pure as the driven snow because we don't have, you know, we're not associated with those big names that had the big consumer media debacles. And so, I think it's striking that you know, we view that as an asset may be right or wrong, you seem to characterize that more as a liability that we need to overcome not necessarily as an asset or at least not an asset out of the gate.
Amy: Exactly. I think a lot of times we think about things... Again, telling isn't selling, right? What we think is right. We always have to switch the table around, "What is the investor thinking?" And the investor is thinking, "If I'm a real estate investor, you know, these larger firms can offer me lending, can offer me access, can offer me cool, sexy strategies." And it's also, you know, big name it shows my success working with such a large organization, I've made it. If we're talking to a startup who's now generating $200 million he needs those large firms to take in public and to really be a differentiator to him. So, I think there's a lot more education that we need to provide investors on why they should work with us rather than those larger firms, and like you mentioned, just seeing the bad press around them is not going to cut it. They need a lot more to know, to be convinced to want to work with you. I personally think if advisors are able to better articulate financial planning in more of a concise way, that is their biggest differentiator because to this date I've still not had any advisor who is a financial planner explain to me what is financial planning. And I know it's a very general term, it's a lot of different things to different people but that I think is the biggest difference between the large wire houses and planners because they don't do that in the wirehouse world, that's not how they make money.
Michael: And I remember there was a study that had come out a couple of years ago. You're looking at trusts and financial services and turnover of clients working at wirehouses, and the study was basically coming out of the question of there was so much bad press about some very large firms in the financial crisis, why haven't their wealth management units taken more of a hit than they have? And the conclusion of the study was basically something in the effect of the average client said, "Yeah, I don't really like the firm anymore but I trust my advisor and I don't want to leave them." And that even problems of a high-level brand name only pull it down so far because this is still ultimately a person and a relationship-driven business and if you trust your advisor in the relationship then at some point, you even imagine right or wrong that "Well, if any other bad stuff's happening to the company, I trust my advisor, my advisor will insulate me from this stuff anyways."
Amy: Right, exactly. I think you have two types of clients. Some are at those large wirehouses because of the name, the brand name, and the safety that it's a publicly traded company, you know, there's a lot of scrutiny and security around this, and they still to this day tell me these investors, "Oh, I don't know happens if this company goes down." They still have this negative stigma I think a lot of times about the independence, like, you know, even you could explain to them all day long about the safety and no custody of assets and things like that, but I think there's more education that we need to do. We underestimate how little investors know about the RIA world. Just a couple of weeks ago I was talking to a multi, multimillionaire. I think his net worth is somewhere around $500 million. And I said, "I work with RIA's now. Do you know anything about that?" And he'd never heard the term before, "What is an RIA?" He works with UVS, he didn't know what that is. So, we need to do more education.
Michael: And I think that's a striking thing just to pause on that. I know a lot of RIA's that are listening. You know, here's a high net worth individual that literally doesn't know what an RIA is, and I suspect that's not as rare as maybe we might hope it is on the RIA side of the business that at the end of the day, we live in this world of all the different channels and we talk about them all the time and you know, wire houses differentiate themselves from the independents by saying they have the strength of the brand, and independent broker-dealers differentiate themselves by saying they're separate from big brands and they have more control of their destiny and the RIA's differentiate by their control of their business and their independence. And I think sometimes we forget that for particularly affluent and very busy people, they trust brand names they see on television all the time and in the news media. And you know, those are big national brand names and they instill a level of trust that we probably underestimate a lot more than we should.
Amy: Exactly. And that's why, Michael, when I first started and wanted to help advisors, you know, I tried every tool in my toolkit. I tried cold calling solutions for them, lead generation mailers, events, and I realized, "You know what? Why are we going after the highest hanging fruit when the lowest hanging fruit is instead of trying to educate that $500 million guy on why work with an RIA, let's start working from the in, our inner web which is our current client base." And that's why the Referralytics Program is the most exciting part of what we do because it's the most impactful. Your current clients are going to be the biggest educator of why they're working with an RIA.
Michael: So, could you talk a little more about that? You had said back in 2014 you left PIMCO, Muhammad and Bill were so distraught that they quit the firm in response and you went off to start your current company which is Select Advisors Institute. So, can you talk a little bit about what you do there at this point, like who do you work with and what exactly do you do for them?
Amy: Sure. So, we currently work with a network of advisory firms which collectively manage $70 billion, and what do for them is three-fold. One is general sales coaching so that includes everything from communicating, better communication, better ways of using your social media, better ways of talking about your value proposition, and more importantly, closing.And at every firm it's a different need when it comes to sales coaching. The second part of what we do is just branding and marketing. So, helping advisors look prettier because I remember what I just said that we're competing with the big brand household names, and imagine if on top of that you also have an antiquated website or marketing material. I mean, how much more do you want to lose business, right, by not only not having household name but also looking like you don't really care about that?
Michael: Have a household name or aren't deserving of one. What kind of changes does that involve? I mean is that just, "Hey, you just need a website and we'll make one for you." Or is that like an entire overhaul of absolutely everything marketing related. I mean, what kinds of projects do you usually end out in with people with advisory firms and try to give them this sort of branding marketing facelift?
Amy: I think the first step is, "Let's redo the website and your pictures." You know, a lot of times they don't even have pictures on the website, so it doesn't even look like it's a humanly owned company. Make it a lot more personable, have some more information about your firm because if you are going to be reaching out to people, they're going to be doing the first thing which is to check out your website, and so you want to have that as your online digital brochure. So, really I would not recommend any more than your website and just general head shots. And that's one of the things. You know, that's not the bulk of our business but we liked to redo any advisors website if we believe that it's not up to par.
The Importance Of A Strong Digital Presence [59:53]
Michael: It always strikes me, you know, for so many advisory firms that you know, we say we're a deep relationship business, yet if I go to your website I can't see a picture of a single human being I would relate to. You know, we value transparency above all else which is why I can't find your fee schedule on your website or anything about what you charge or your minimums are. And we end out with all these inconsistencies in what we try to say we're going to deliver and then the website doesn't really visualize and show. And I think there's been this challenge for so long that because most of us generate our prospects from referrals for so long, the assumption has been, "I don't need a good fancy website because I don't get my clients from a website, I get my clients because they're referred to me."
You make an interesting point that even or perhaps especially when an affluent person is referred to you, they're going to do their research, they're going to do their due diligence which starts with Googling your name, making sure you weren't like Madoff's lesser known partner, and then checking out your website and verifying that you actually appear to be a legit professional given that I've heard of Morgan Stanley and Merrill Lynch and Wells Fargo and UBS and I've never heard of you and your firm before. So, I'm going to go online, I'm going to try to figure out, "Is this a legit firm that can handle my money the way that big firms can?" And if you don't show well the referral just never calls you, right? I think we don't realize how many referrals are made to us that never contact us because the website wasn't good because we only hear from the ones that do contact us and not from the ones that don't, that I suspect for a lot of advisors there's a huge referral gap between how often people are being referred to and how often they actually contact you. And the weak point is they get referred to, it sounds interesting, they go online, they check out your website, they're saying, "Yeah, I don't know if I want to work with this person after all."
Amy: Absolutely. And it's a lot more prevalent amongst the mass affluent and the millennials, right? Some of the biggest RIA's in the nation if you think about them like Iconiq, Summit Rock. You know, they go after and are working with ultra, ultra high net worth. If you look at their websites they don't even have a website. Why? Because they're going after a different market which is extremely discreet, it's word of mouth, it's very private, and they don't even want to have any information. That's a different story if you're trying to go after and get the client base that's mass affluent, who is doing a lot of their research online and who is doing a lot of, you know, information insight in order for them to make their own decisions. A lot of times there are the 40, 50-year-old corporate executive who builds, you know, everything he does is making new decisions about, you know, his family and his business. So, the first thing that they're going to do, just like you said is to look at your website, and then not to mention millennials, right? Those people are definitely not going to be making any decision without a digital presence.
Michael: And a lot of extras as well now we see that extras are kind of legendary for being cynical about everything and you look at the extra demographic now it's basically late '30s to early '50s, which means if you want to capture upwardly mobile professionals and people who are new wealth having their first liquidity event may be of several, they're probably an extra and they're cynical and they look online for everything.
Amy: Exactly, exactly. So, that's the second component of our business. And the third one is which is really the bulk of what we do is our Referralytics Program, and that's our research methodology and coaching at the same time around your contacts. So, advisors send us, you know, names of contacts that they're looking to, you know, do more research on because frankly, they just don't have the time, you know, or the capability to really dig through the weeds and find the right information, so we find that information for them but more importantly, we coach them on how to bring this up with their clients, what would be the insightful questions they could ask in order for that client or contact or intermedia to say, "Oh yeah, sure, I can make that introduction for you." That's our Referralytics Program, that's really a sub-segment of our coaching program but we are big, big, big proponents of going after your current clients and current contacts for getting more referrals as the best avenue for growth.
Michael: But they still often know who the people are they want to target that you'll then the do research to figure out the paths to them or do you even work with them to try to figure out... Like, I feel like most advisors the struggle isn't, "I know I want to reach these seven people, I'm just not sure how to get to them." The challenge is, "So, I've got 87 clients I've been working with over the years, I have no idea who they know that has money that I should be trying to reach like I don't know who I'm looking for."
Amy: We believe that every person knows a lot of wealthy people. So, I get told that all the time, "Oh, this person's tapped out. I don't think this person has anybody that they know." And we end up doing the research for them, "Really? Did you know that these are the people that he's associated with?" So, what we do is we first try, you know, a lot of times we tell advisors, "You can send us one name or you can send us 100 names and within each of those we will come up with guiding questions that will lead to more referrals amongst each of your clients. So, you can first choose either the top 10% or all or one, you have the choice, but share with us that information and we'll do the research for you and then we'll have a call and discuss what our discovery was.
Michael: So, can you give me an example of the kinds of guiding questions you ask that helps people tell you who they know that have lots of money?
Amy: Sure. So, for example, one of clients he sent us a list of contacts, his profession is restaurant industry. So, you know, he always said, "Oh, you know what? I don't really..." You know, he doesn't know anyone else that would be good because all of his, you know, staff are waiters and he doesn't go out at all. So, we did the research and we said, "Did you know that he started these businesses with two other silent partners? Did you know about that? Did you know that he has been a panel speaker with these two other people at three different conferences on the restaurant industry?" And so, our guiding questions ended up being, "Hey, I never asked you this, Joe, but were you the sole owner of this company or did you start it with other partners?" You know, so instead of the regular chitchat...
Michael: "Oh no, I have two partners. You probably don't see them much but yeah, I've been working with them for 18 years, they're great."
Amy: And I cannot tell you how many times the client is like, "Oh yeah, I forgot to tell you about that." Because that's not on the top of their mind to help you grow your business, so it's not really something...
Michael: Or they think of who they know who has money and might want to work with you even if you ask them point blank.
Amy: Exactly. So, rather than the typical, "Oh, by the way, if you know anyone just let me know." It's more kind of like going into their brain and reminding them, "This person who's your partner is the perfect person for me to meet with and I can't believe you didn't make the introduction yet."
Michael: And you also mention that you do some coaching just around sales and closing. Do you find a lot of interest and demand for that? Because I find it's a strange double-edged sword particularly in the independent community and especially amongst RIA's in particular that a lot of us we wear it as a badge of pride that we're not a sales centric organization and we don't do salesy stuff because we're holistic advisors. But then a huge number of RIA's that are growing are all going through the same problem right now which is they have lots of associate and senior financial advisors who have been managing clients for 10 years and have no sales and business development skills because they're never taught hem, never learned them, didn't have to when the firm was growing because the partners brought in all the business and now the partners want to retire and there's no one to do sales and business development.
Amy: Right, that's exactly... So, that is the bulk of who we are coaching. It's always a firm where it's been one or two founders who are amazing sales people, but frankly, they don't have the patience or the time to teach one after the next the ongoing, "This is how we get leads. This is how we source COI's. This is how we close. This is how we expedite the process and who to bring on the meeting." And so, a lot of times their associate are working with a large Rolodex of clients but nothing new is coming from it. So we come in and we really re-energize the team as far as teaching them the methodology and the methods, but also kind of take that off the plate of the CEO and help them get their own, teach these people to become the next generation of leaders.
Michael: And so what does that look like? Do you do coaching over time? Do you like fly into their firm and do a two-day boot camp with all the people there or like what is sales coaching and training look like for RIA's look like for you? I guess RIA's are independent firms or anybody not in a wirehouse environment where it's already maybe being taught at the top level.
Amy: So, we spent two days in their office in what we call our core day and in our core day the first day is just grouped, the group is there, and we typically don't like to work with more than 20 in one room because it just becomes to, you know, the intimacy goes away as far as what you need to do role plays and to do group discussions. And then the next day is more breakouts into small groups in order to go into to go into a little bit more detail. And then after that, the advisors have a choice if they want to do more satellite sessions with us so those become webcams around one or two topics that really, you know, is the part of their business that they really want to work on, and that could be Referralytics that I mentioned which is to get more referrals from their current clients and use our methodology, it could be our wealth detector program which I mentioned at the beginning like going the museums and, you know, kind of like being the matrix that just sees lists, you know, how could you do that as the wealth detector?
Michael: Like the matrix, I'm actually seeing, you know, the numbers floating down from the sky and you're connecting them and making links together, yes.
Amy: Yeah, literally kind of like being this, you know, a beautiful mind guy when he's like seeing, "I see names." And then the third one is the closing if they need help like they don't have any problems getting names, they don't have any problems getting referrals but they just aren't able to close, something happens. And so, that's the third component of our business.
Michael: Is there a particular blocking point that you see most often where...of why certain advisors can't close or struggle to close? Like, "I can get in front of people but no one does business with me?"
Amy: Yeah, there's two. The first one is the fact that advisors are still two rigid, they don't pivot and accommodate when the investor is looking for one thing versus the other. So, I've actually put like a few ultra high net worth individuals in front of advisors and, you know, let's say we have lunch and then the investor says, "Yeah, I like what you're doing in this strategy, but would we be able to have a conversation every day about this stock versus that stock?" Keep in mind, this guy's net worth.
Michael: Yeah, I'm not doing that. I don't want to talk to my client every day about stock stuff, that's not efficient, no.
Amy: This is like mega, mega hundred million dollar, multi-million dollar prospect and that I've arranged this lunch for and we're eager to do this, and yeah, the advisor literally just like you said says, "No, I'm not going to do that. I cannot..." So, they actually got into an argument over lunch. So, this is like...I'm like, "You know, I went out of my way to get this introduction for you, they guy actually wanted to give you some assets to manage and you basically lost that opportunity." So, not being able to pivot, accommodate and go with what the investor wants at the beginning until slowly transitioning into what you are looking for.
Michael: So, the idea is be less resistant up front about finding the perfect client and a little more open to working with the client and adapting them over time to being a better fit?
Amy: Exactly. Obviously, you're not going to do that for a $200,000 client, but if you get those larger opportunities and they are the good for you, and you think that just one of those could be better than five of your other you know, $100,000 clients, then you need to be more flexible. And I think the second component of why they're not closing is because I'm a big fan of your Rocky story. So, being more human rather than just about...let's do this and let's do that. The minute you are able to disclose some information about your personal life that shows how hard you've worked and how hard you will work, you will really tighten that relationship with a prospect. I'm a big fan of that.
Michael: As you look out there overall, I'm curious where you see the gaps in the marketplace for advisors. Now, to me, you've kind of framed it or maybe these are my words that there's a little bit of a dynamic right now between independents that want to grow and actually have lots of assets but are struggling still to compete with big brand names because those just carry more weight and consumer minds than maybe we all realize or give credit for, especially at the ultra high net worth end. And that we've just got this gap around stepping up on our marketing and branding and closing and how we generate referrals and introductions in order to reach those people. I mean, that's the terrain that you see it? Is that a fair characterization?
Amy: It is. I think this might be a little bold to say but I think there is a lack of hunger amongst a lot of advisors out there to grow. They say they want to grow but at the same time they don't have that same kind of hunger that you see in the wirehouse world. Why? Because in the wirehouse world if you don't bring in the right assets you're going to be kind of kicked out the curb. So, that level really builds the momentum and everyone has, you know, hundreds of millions of dollars in their pipeline on a daily basis. I think on the advisory side every time, you know, we go in and we coach them and we kind of help them with building a process, many times it's really up to them to want to institute those to want to grow, and so I would always say to advisors, at the very beginning decide what would growth look like for you? Because this is not going to be comfortable. I told you, going in, doing the matrix wealth detector program or really asking your clients for referrals.
Michael: Well, and as you said, you know, your friends were going out on Sunday nights to have fun and you're sitting down and doing research on Matrix style connections of high net worth prospects, right? Like, there's just a level of sheer extra work and hustle that it still takes if you really want to move growth forward.
Amy: Absolutely, absolutely. And I think a lot of advisors just rely on, "I'll do a good job and I'll grow, and I'll count on you to tell me why that's potentially not good for the whole industry." I mean I think then it's just going to dissolve as more and more investors get pursued by those household names.
Michael: I think there's a dynamic that emerges that for most of us, you know, it's hard for everyone getting started, it's hard for everyone getting started and getting those first few clients in and getting to enough revenue, that's a livable wage and lets you survive. And most people that takes a couple of years to get there. But then you get over that hump and you get a few more years in and you start accumulating more clients, and particularly in the AUM model whether you're in the RIA channel or the BD channel, if you're working on an AUM basis, at some point, you're 5 or 7 or 10 years into your career and there's $20 million or $30 million or $50 million or $75 million or even $100 million under management, if you're charging a 1% fee give or take a little, suddenly there's hundreds of thousands of dollars of revenue coming through, you probably don't have a ton of staff yet so you're making a really, really good number that's probably many multiples of the average U.S. household income, and I think a lot of us just get comfortable there. And I don't know that I can blame anyone.
The label we've given it in the industry is a lifestyle practice where you kind of make the decision to stop growing and just earning a really good income and living your life and doing what you enjoy doing. And I think part of the...maybe even the challenge for the whole industry is just this acknowledgment that we tend to talk about all of ourselves as advisors as being entrepreneurial and no offense to advisors out there but I think a lot of us we're not actually that entrepreneurial. We just want to be our own bosses and work with the clients we'd like to work with and make good money whatever good means to us, and once you get there you're kind of done. Like, I need to hold onto my clients and maybe get a few ones to replace the ones that pass away or one or two that just leave because life happens, but you know, we decide we don't want to grow anymore I think because when it comes down to what it really takes to grow as you said it, it takes a lot of work and we decide we don't actually want to do that much work and just there's a split that happens somewhere around $50 million give or take a little where you're going to start making some pretty good money and you have to actually decide, are you driven for growth and building a business or not?
Amy: That's exactly it, right. And so, you know, we have the strategies in my opinion that are time tested and tried and bulletproof in my opinion, as extensively as it could go, right? I mean, there's no bulletproof as much as, you know, nothing is guaranteed but like I mentioned, I tried every tool in the toolkit. And as someone who has built my whole life basically through cold calling whether it be to get into Goldman or to build my business at Goldman or to become a professor without a Ph.D. And then a faculty professor, all these things I've done through cold calling and I've tried it for advisors and it just does not work. And then figuring out how to get more referrals for them. All of these things we have the strategies I think but it's more about now, you know, advisors need to show us if they have a hunger for it. And I see some that are growing massively and they are, you know, doing what I did, the Sunday nights, their whole weekends are around mingling with their client. And then there's those who are, you know, "I'm happy with this." And again, it really goes back to what you were saying, "Which one do you want?"
Michael: So, for advisors who are interested. Like, how would they engage you? What does it cost? Does everybody go through all these different pieces or do you tend to do it more piecemeal? Like, we can come and do a business development in closing boot camp or we can help you with your brand and marketing or we can do the Referralytics process if you're trying to figure out who in your network of clients you can do business with? Like, what does that look like for firms that work with you?
Amy: Sure. So, there's a lot of different moving parts. If an advisory firm is, you know, one or two people it really doesn't make sense as far as doing out regular coaching. If they're coming to us, they're really looking to grow assuming fast and their budget is not as high, so I would definitely advise the piecemeal which is the Referralytics because it's the only thing that will get them more leads, you know, as far as growing their practice. And then we could do more coaching on closing and things like that. For larger firms they could get the full languages of us coming in doing the core, learning about everything as it pertains to sales, but more importantly still, you know, using the Referralytics to get more referrals from their client. So, I would recommend anyone who's looking to engage or figure out exactly what's the best strategy for them to contact us and we will evaluate together what's the best solution. But if someone was to do the Referralytics it's very simple, they would have to just give us the names and they do that verbally so there's nothing on email or nothing, you know, just as far as like being 100% confidential we sign a confidentiality agreement and then they...we do our research and within a week or two we'll have the information for them, but more importantly, we'll have the guiding questions for them that they could use in their next client or contact conversation.
Michael: Typical pricing or like a range of pricing? How do you usually price services? Is it one time or are they typically ongoing over time?
Amy: Actually, the Referralytics is very affordable because it ends up being the number of contacts. So, it ranges between $300 and $500 per contact name for us to do that research. So, if there is like one or two names you're like, "I really want to get more referrals out of these people or I have a meeting coming up." Send those names to us and then we'll do that research for you and then we'll have an hour conversation about it.
Michael: And just to clarify, that's per name of my clients that you will figure out who they're connected to or that's per name of like the distant person that I'm trying to reach that you'll help me network my name to?
Amy: No, per name of the client you send us. And it doesn't have to be a client, it could be an attorney, it could be, you know, someone that you...but it has to be someone you have a connection with, it has to be your business connection.
Michael: Okay, so someone I've got a connection with and you'll help me figure out could I be asking them for introductions to that might have financial means and be a good prospect for me?
Amy: Exactly, exactly. And we will do our research. And if we don't find anything which is very rare, you actually get your money back.
Michael: Okay, but otherwise it's a couple of hundred dollars and it's like, "Here's a prospect, show me what you guys can do." Oh, sorry, "Here's a contact, here's a person. Show me who I could be networking through them to get to.
Amy: Absolutely. And make sure it's someone you're actually going to be able to have a conversation with and, you know, soon. So, if you have client reviews coming up over the next couple of weeks, send us those names in advance so that we could research for you and those conversations could go way beyond just, "How's your portfolio doing?"
Michael: Okay, so that's the Referralytics methodology, and then you do the branding and marketing as an add-on in the closing sales coaching and training is an add-on as well?
Amy: Exactly. Those end up being a lot more expensive, so I would recommend really start with what's your real goal. If it's growing quickly with your current existing contact base, I think the Referralytics is best, but if you are a firm that's really looking to grow holistically, I would say you could definitely do the sales coaching program which ranges somewhere between $20,000 to $50,000, you know, if you have a large number of people, and then the website branding is again somewhere a little bit lower, but I think the reason why we have the Referralytics is just because it's so pointed and it's so, you know, targeted.
Michael: And that's why you said, you know, typically at least mid to large sized firms, right? If I'm a billion dollar RA and I've got a dozen advisors, putting a dozen advisors through a $20,000 to $50,000 training program is pretty reasonable. It costs me about that much just to send all those people to a conference anyways and I can bring this one in and they'll actually learn to do more business development, but not such a good fit for someone who's a solo and just trying to get better at sales and needs a sales coach, you're not really built for that?
Amy: Exactly. And I see all of this. Like, I've had one man or two man firms come and say, "We want sales coaching." And I point blank tell them, "Cold calling and cold solicitation is just not going to be a good use of your time, so don't waste your money on getting coaching on how to do the wealth detector program, let's start with the Referralytics first."
Michael: So, I'm curious, even looking back over the past 10 or 15 years of your career, so if an advisor is coming into the business today, I mean maybe younger maybe not maybe a career changer as well, but if someone's coming in today, like what would your advice be on how they should be trying to build and get started today from scratch? Like, you know, advice for 26-year-old you in today's environment.
Amy: Would I be joining like a BD or an RIA?
Michael: Like, how would you do it? How would you start doing your marketing and prospecting and sales and business development? I mean, would you still build it the way that you did or was it like, hey that worked for you but you wouldn't try that going forward from here?
Amy: I would absolutely do it the same way I did. First thing is sit down with your family and let them know you're not going to be as available as much because I think this required a lot of upfront work to build your connections and build your network. The second thing I would do is really start getting the world out. Get the word out with your preschool parents, your school parents, to anyone you've gone to school with and just writing them a note on LinkedIn and letting them know, "Now I'm doing wealth management because X." Don't just say, "Now I'm doing wealth management."
Michael: So, you're not calling them to say, "Hey, do you want to do business with me?" You're just contacting them to say, "Hey, I'm in the business now."?
Amy; Exactly, in the business.
Michael: Just let it be implied like, "So, if you anyone who..."
Amy: Exactly, just make it very... Because again, remember some of these people are people that you've not talked to in a really long time, and if you do it like that initial method it's not going to be nice to your connections. The third point is what I mentioned like with my real estate agent. Start pointing to people that you know, know a lot of wealthy people, you know, and start getting to know them. Pick up a couple of luxury magazines that are in your city and who's who. And sort of really building an idea about who you need to know, where you need to hang out and really develop it like that. Believe it or not, if you do it in this methodology coming in with a blank slate, within a year if you're doing it like proactively, you'll really get a good landscape into who's who, who you need to get in front of. And then the second component is to really build a story around why someone should work with you, and if you marry these two you'll really be able to build a good practice pretty quickly.
Michael: And the story part is all about whatever it is you need to do to get credibility or to feel credible? So, if you're a nerd like me you go get a bunch of designations. You came in as a first generation immigrant so that became your story and your connection point, just whatever it is for you that gives you confidence to feel credible and be able to tell a story that will connect with someone and then just find the prospects that would seem to like that kind of story?
Amy: Exactly, absolutely.
Michael: So, as we come to the end, this is a show about success, advisor success. And one of the things we always talk about on every show is that success means very different things to different people like we define that word very differently. And so, as someone who's had a pretty incredibly successful career like right out the gate starting from a young age, as you look forward from here, I'm curious how do you define success?
Amy: Do you mean in my own business or with the advisory world?
Michael: For your business and you personally. Like, what are you building towards? I mean, you had a heck of a launch and a career through Goldman Sachs wealth management already. Some people would've just taken a check and kind of hung up the gloves after that. You're still going making new businesses, so what's success for you going forward from here?
Amy: Success for me would be to really be able to help as many advisors as I can get bigger. I love to watch that, kind of like the player-coach mentality. You know, as a coach seeing the players that I work with, you know, win the championships is really my goal, and I want to be seen kind of like a Michael Kitces, as the person that advisors can rely on for growth and for getting new business. And we've worked on so many different strategies to help advisors, and they're all extremely pleased with the results they're getting but we want to reach more. And so, to me, that's my goal is to really be the go-to as far as growth and business development as it pertains to financial advisors.
Michael: Very cool. And we'll make sure that we include in the show notes some links out to Select Advisors Institute and out to their Referralytics Program as well. So, those of you who are listening if you want to look it up quickly, this is episode 27, so kitces.com/27 and you can get to all the show notes where I'll have information for anybody who's interested in reaching out to Amy directly to explore further. Well, thank you very much for joining us on the podcast today, this was a really interesting conversation, I think you definitely came at this with a different level of hustle certainly, just a different style and perspective than a lot of other advisors, so I think this is going to be very popular for our listenership, the way that you frame a lot of these issues are really important.
Amy: Thank you so much, Michael, for having me, and I just want every advisor on this call to know that you could absolutely grow your platform to be at that billion dollar level if you are just able to find the right strategy and be able to really hustle your way through because it's an exciting world to be in, the ultra high net worth affluent and it's just a matter of knowing exactly how to get in front of them and to be able to share your story.
Michael: Amen. Well, thank you again. Thank you, Amy Parvenah for joining us on the podcast.
Amy: Thank you.