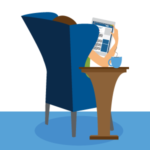 Enjoy the current installment of "Weekend Reading For Financial Planners" - this week's edition kicks off with the news that the CFP Board of Standards launched its 1st ad campaign, dubbed "It's Gotta Be A CFP", following its transition to a 501(c)(6) organization. In a change from previous campaigns, the first ad directly recommends that consumers seek out a CFP professional for financial advice, and future ads could more directly explain the benefits of earning the CFP marks.
Also in industry news this week:
Top Democratic Senators are urging the Treasury Department to crack down on a range of estate planning strategies for high-net-worth individuals, including GRATs and IDGTs
Amid fallout from recent bank failures, both Republicans and Democrats are considering whether current FDIC insurance limits should be increased
From there, we have several articles on retirement planning:
Why contributions to Roth accounts can sometimes have greater uncertainty than traditional contributions in terms of their after-tax accumulation despite not being affected by future tax rate changes
How the 'funded ratio' metric can help advisors create effective retirement spending recommendations
A comparison of a range of variable spending strategies in retirement, from a 'floor-and-ceiling' approach to a 'ratcheting rule'
We also have a number of articles on advisor marketing:
How to optimize the 5 most important pages on an advisory firm website
4 tools advisors can use to improve their website's search visibility
How advisors can create and deploy effective keywords to help consumers find their websites when searching online
We wrap up with 3 final articles, all about changes to professional credentials:
The CFA Institute has unveiled a slate of changes to its certification process, from incorporating practical skills modules to new job-focused pathways in private wealth and private markets
Why some states are considering reducing the higher education requirements to become a CPA
CFP Board has announced the members of its new standards commission, which will review and evaluate its competency requirements for Education, Examination, Experience, and CE to earn and maintain the CFP marks
Enjoy the 'light' reading!
Read More...