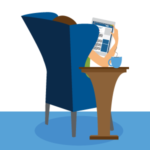 Enjoy the current installment of "weekend reading for financial planners" – this week's edition kicks off with latest tracking report on mergers and acquisitions of advisory firms, that finds firms in the first quarter of 2019 doing deals at a near-record pace… but at a volume that is still ultimately a minuscule fraction of the total number of advisory firms in the marketplace, and with storm clouds looming that advisory firm sales could quickly grind to a halt if a bear market emerges (and firm owners may not want to sell at depressed valuations on reduced AUM revenues). Also in the news this week is the somewhat surprising revelation that the Department of Labor is working on a new fiduciary rule… but this time, one that will from-the-start be written to conform to whatever the SEC puts forth in its final Regulation Best Interest rule.
We have several other regulatory-related articles as well, including a look at how the SEC is stepping up its scrutiny on Chief Compliance Officers (and whether RIAs really have a bona fide compliance oversight program in place for their firm), the new expectations that the SEC is setting forth for advisory firms working with seniors (including establishing policies for the firm about how to handle senior clients experiencing cognitive decline), and a recent high-profile case of an RIA that was fined $150,000 by the SEC for failing to disclose over the span of a decade its revenue-sharing solicitor arrangement with Fidelity's custodial referral program.
From there, we have several articles on advisor marketing and specifically websites, from the reasons why most advisory firm websites are useless (as even when they laud the benefits of the firm, they typically do so in the exact same undifferentiated way as every other advisory firm), updates to focus on first to make an advisory firm website look more modern, common blogging mistakes of advisors who are creating fresh content for their websites but aren't necessarily distributing or leveraging it properly, and an interesting look in what Baby Boomers really search for online using Google's Search tools (and why advisors are less likely to get clients with "10 Reasons Why Fiduciaries Deliver The Best Objective Transparent Financial Advice" and more likely to find prospects with "The Best Retirement Cake Inscriptions" instead… with, of course, the advisor's contact information in the byline at the end!).
We wrap up with three interesting articles, all around the theme of how the advisory industry is forever growing and changing: the first looks at how entrepreneurs may actually be better off by launching their firms alone rather than starting with a team of 2-3 co-founders (at least, as long as they're ready and willing to hire outside help in the areas they need it when they do need help); the second explores the evolution of the famous Andreessen Horowitz venture capital firm, and how the company is restructuring itself into an RIA (rather than a traditional VC firm) to have even more flexibility to make big focused bets with their client assets; and the last is a fascinating deep-dive into the evolution of Charles Schwab, and how the company grew from a discount broker for do-it-yourselfers into a mega-firm that's increasingly focused on the full range of financial services… including a growing footprint in financial planning as well.
Enjoy the "light" reading!