Thanks so much for viewing my webinar presentation to NAPFA!
Presentation Materials
Click the links/images below to download a copy of the presentation materials: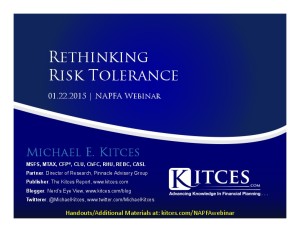 Further Reading/Materials
Separating Risk Tolerance From Risk Capacity – Just Because You Can Afford To Take Risk Doesn't Mean You Should
Can We Really Measure Risk Tolerance Or Does It Swing Too Wildly With Market Volatility?
Markets May Be Volatile, But Research Shows Risk Tolerance Isn't!
Difficult Investment Clients? It's Not Their Risk Tolerance, It's Their Risk (Mis-) Perceptions
The Kitces Report September 2008 – Rethinking Risk Tolerance