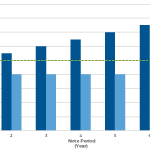 In the early days of insurance broker-dealer recruiting efforts, it was so lucrative to attract new brokers who could sell the broker-dealer's proprietary products to their clients, that insurance broker-dealers began to outright pay for new brokers to join the firm… in the form of a loan that would be forgiven as long as certain proprietary product sales requirements were met. Over time, these "forgivable notes" have morphed from being contingent on the sale of proprietary products, to overall maintenance (or growth) of the broker's production, to (as regulators began to crack down on the conflicted incentives) simpler time-based contingencies. Yet even as the requirements have changed, the underlying structure remains – where many broker-dealers today try to attract advisors to switch firms by offering potentially substantial upfront recruiting "bonuses" in the form of forgivable notes… in the hopes of making back that recruiting cost (and then some) from the advisor's clients.
In this guest post, Jonathan Henschen – president of Henschen & Associates, a recruiting firm that specializes in helping advisors find and match themselves to the right independent broker-dealer when making a switch to a new platform – discusses the history and mechanics of forgivable notes, some of the ethical concerns they raise for brokers and their clients, and how the evolving landscape of the industry is encouraging broker-dealers to reconsider their incentive structures (and advisors to reconsider whether forgivable note recruiting bonuses are worth their long-term consequences to clients).
Typically, forgivable notes are structured as a percentage of the broker's trailing 12-month Gross Dealer Concession (GDC), and have evolved from notes (issued prior to 2000) that ranged from 5 – 20% of trailing-12-month GDC and were forgiven over five years, to notes as high as 40% of trailing-12-month GDC that are forgiven over seven years. Throughout, though, the core principle has remained the same – the advisor receives an upfront "bonus" to join the new broker-dealer, but it is actually in the form of a loan, that the advisor will have to repay (i.e., the unpaid balance of the loan) if certain requirements are not met over time.
Today, forgivable notes have become so ubiquitous that many advisors who switch broker-dealer firms consider forgivable notes as a required component to their job offer. Yet the reality is that broker-dealers only offer such "bonuses" because it is profitable to do so in the long run… which means advisors and their clients must bear higher costs in order for the broker-dealer to recover its own costs!
Specifically, the particular revenue sources driven by broker production that help to recover the cost of forgivable notes include brokerage account transaction charges (often substantially marked up over the raw costs to increase the profit margin of the broker-dealer), revenue sharing with product vendors (e.g., mutual funds, variable annuities, REITs, alternative investments, and to some extent ETFs), markups on No Transaction Fee (NTF) mutual fund expense ratios, markups on third-party money managers, proprietary advisory platforms, advisory administrative fees for advisory accounts managed by the brokers themselves, platform fees for holding  TAMP assets directly at the TAMP (which, without this extra fee, would otherwise avoid the broker dealer markup for being held within the TAMP provider), and platform fees for holding advisory assets at third-party RIA custodians (e.g., Schwab, Fidelity, TD Ameritrade). Some or all of which are additional layers of expenses that the advisor and their clients may not have had to pay if not pursuing a broker-dealer's forgivable note recruiting bonus.
In fact, when determining how much to pay into forgivable notes in today's marketplace, broker-dealers consider the advisor's product mix and asset levels, to determine a forgivable note amount based on a profitability matrix that each broker-dealer establishes based on its various profit centers imposed and the actual revenue generated from various asset classes (influenced more by assets held in brokerage accounts or managed by the broker dealer, and less in assets held away).
Notably, though, a new crop of some fiduciary-friendly brokers are beginning to emerge, that aim to compete specifically by limiting the markups and fees (which aren't necessary if substantial forgivable notes aren't being paid in the first place).Instead of forgivable note bonuses, these firms often recruit brokers with more limited incentives, that may still include some transition expenses (e.g., ACAT transfer expenses to move assets over to the new broker dealer, registration costs, and broker transition/startup costs), payback loans to cover larger set-up expenses incurred by the new broker (e.g., new office space), and providing 100% of GDC for a short period (e.g., 3-6 months) to accommodate initial cash flow for the new broker… but without the need to place as much burden on the advisor's costs to their clients.
Ultimately, while forgivable notes can be attractively alluring to brokers seeking new broker-dealer firms, the cost of recovery for broker dealer firms to offer these notes, in the end, is passed onto the client who (often unknowingly) may pay heavily in a wide array of fees and expenses related to proprietary advisory platforms. And while broker-dealers, like any other business, are entitled to generate revenue for the services they provide, the rising attention on fiduciary practices and the recent transition by many large custodians to 'zero-commission' trades on stocks and ETFs are pressuring many to rethink how they structure their incentive programs and profit centers, lest their advisors lose clients as the layers of additional cost risk rendering them uncompetitive in the current marketplace. The bottom line, though, is simply to understand the bottom line – that there's no such thing as a "free lunch", and that broker-dealer recruiting bonuses come with real costs that must be carefully considered.